---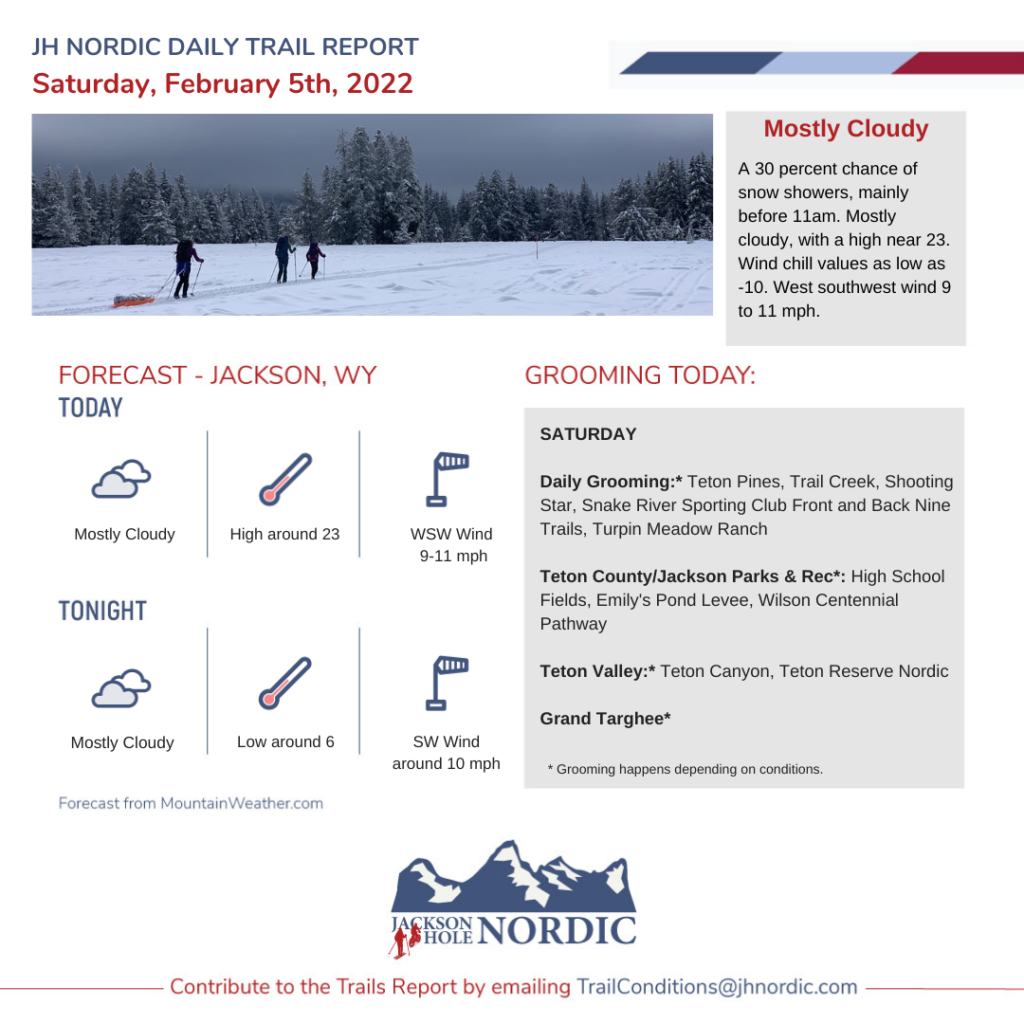 ---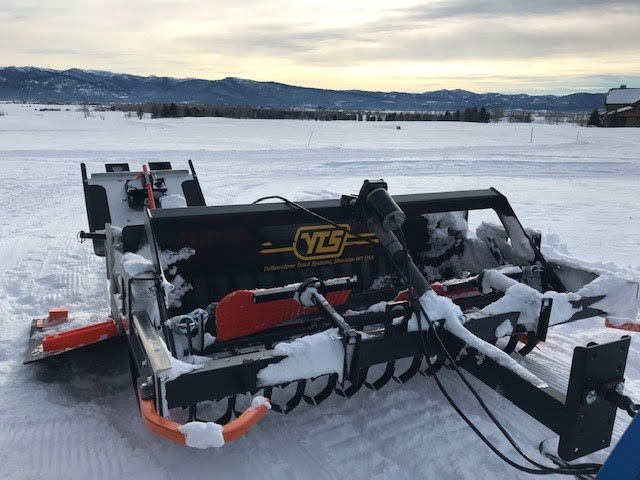 TVTAP: Fresh Equipment for Fresh Trails
We love to add to the fleet. Why? It takes the pressure off older workhorses and aging equipment. Sharp Ginzus and new rollers make tight surfaces. And well, 'chines are fun. 
We were only able to purchase the $40,000 of equipment because of your donations and support. You helped us keep things humming so that we could take time to write a grant for the CHC Foundation. This new fleet includes a Ginzu groomer, two rollers and two snowmobiles that will keep Winter Trails accessible and in great condition throughout the season. The rollers are specifically for grooming fat bike single track. Adding equipment also gives us the opportunity to consider program expansion.
Thanks for helping us help you have a great walking, skiing and riding experiences in the winter. 
Fun Incentives for Winter Trails Challenge:
We've reached the half-way point on the Winter Trails Challenge. How are you feeling about your mileage & donations? We've raised more than $8400 for Winter Trails, which is 50% of our goal. This is a great start! Thanks for shaking down your friends, sister, mom and roommates for donations.
If you still want to do the Challenge, you can register today with the link below. Need to log miles? You can do that too.
This week, we've got some great mini-challenges to motivate you:
Top Individual Fundraiser from 2/1- 2/6 = $100 Peaked Sports Gift Card
Top Fundraising Team from 2/1 – 2/6 = $50 Peaked Sports Gift Card to each team member
Top Individual Mileage since 1/15 = $50 Garage Grown Gear Gift Card
+ prizes from a random drawing
Stir up some pennies and crank up those miles. You could have some new gear in your life! Winners will be determined/drawn on Monday, February 7.
Thank you to local businesses that are donating great prizes.  And a big skate ski pole high five to our Challenge sponsors Coldwell Banker Mountain Properties (formerly Sage Realty), RAD Curbside & Silver Star. Please support these local business that are helping us get outside.
---
TRIP REPORT: Harriman State Park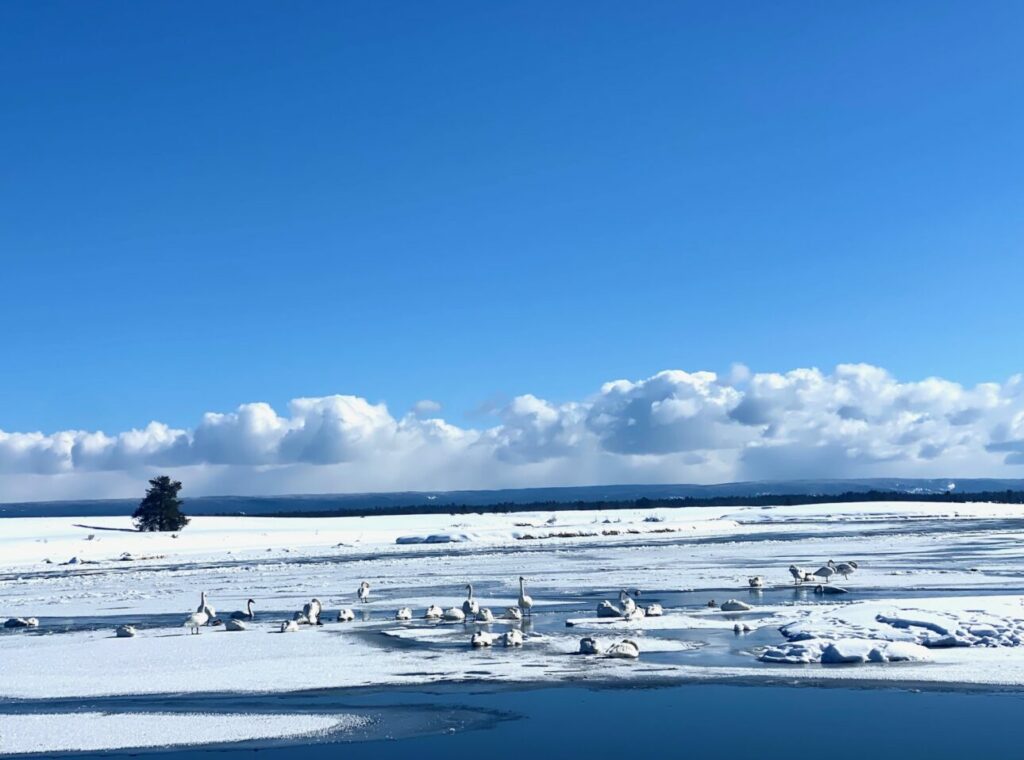 Beautiful little getaway to Harriman State Park to West Yellowstone. Excellent skiing and change of scenery. Photos and Words Submitted by Chris W.
As always, you can submit your trip reports to be featured in JH Nordic by sharing photos and reflections with trailconditions@jhnordic.com or you can share your adventure here.
---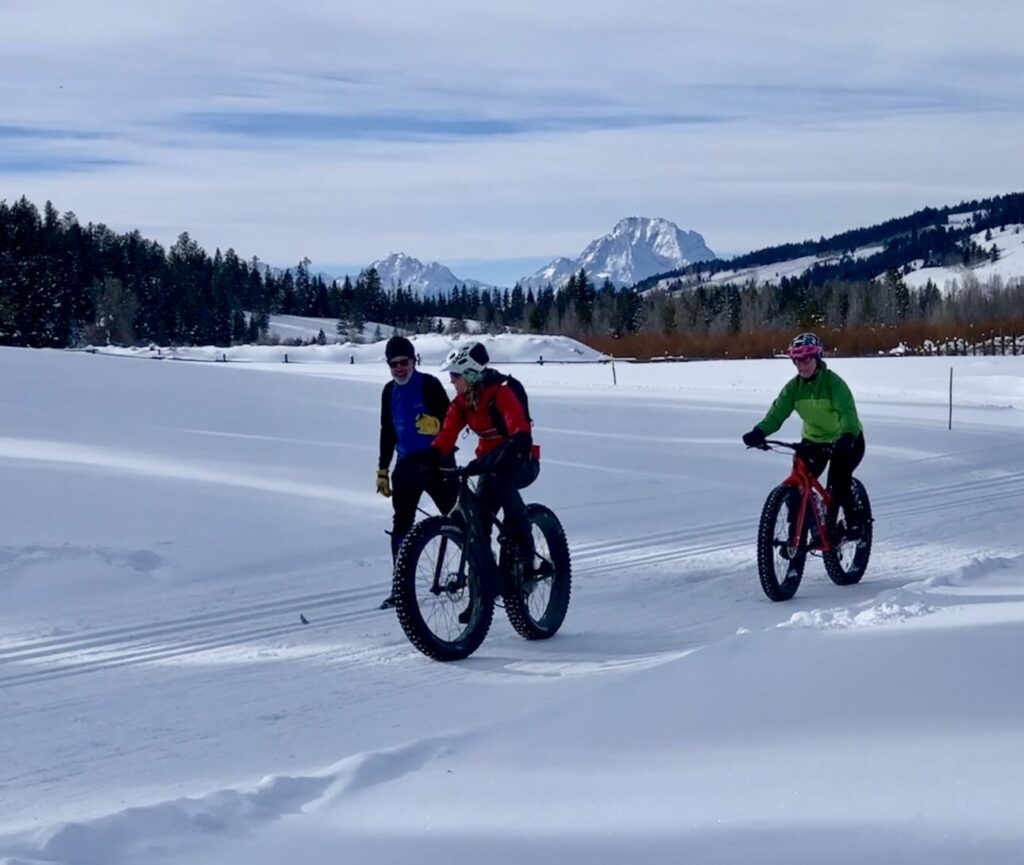 Ride in Winter, Even Without a Fatbike
Joe Lindsey recently published an article for Outside in which he points out that riding in the winter is possible, even if you don't have a fat bike. "Whether you're mountain biking or just commuting around town, a few key parts will keep you riding, regardless of the elements."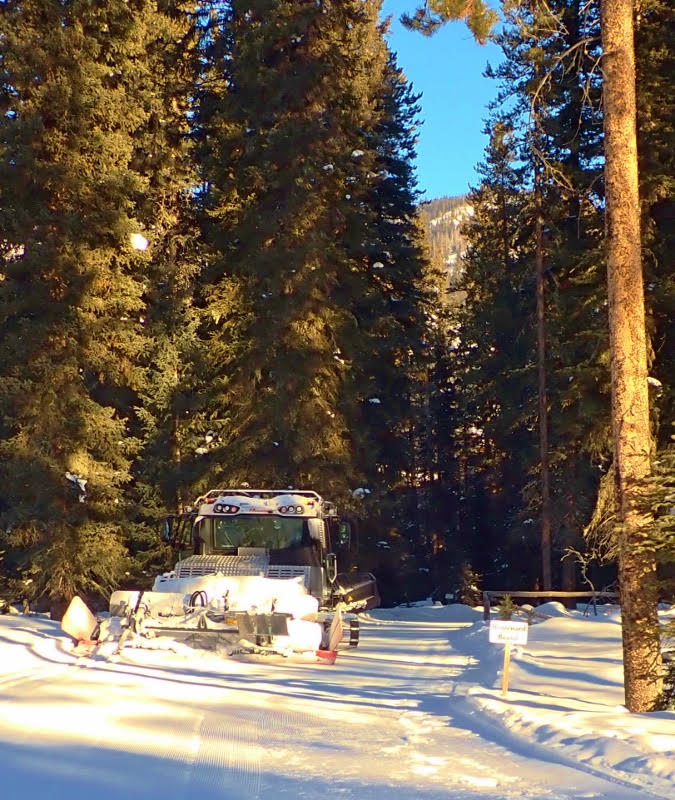 Grooming Daily
Last Update: 2/4
Unique and Fantastic Opportunity!
Many of our high school age skiers are involved in the Wyoming High School Nordic races in Lander today and tomorrow; this race actually presents a pretty cool thing. Tomorrow's venue is freestyle and after the high school students race, there are two additional races, a citizen race and a novice race. No matter what your ability, if you'd like to make the scenic drive to Lander tomorrow, you can watch our skiers ski and then test yourself against them on the same course, how cool is that! All the information is available on the event website.
If your aspirations are a little closer to home, things are pretty cool as well, both literally and figuratively.  Yesterday was an especially light practice day at Trail Creek and many trails were un-skied.  However, the Husky was out and about today, touching up what needed touching up.  While the overnight temps did go below zero, the February sun is blazing and the forecast calls for a high around 20ºF.  Looking ahead a bit, we're even supposed to get an inch of snow tomorrow which would be grand.
Groomer's choice for today is to plan to race against the high school students; if not that then doubly worked Homeward and Outward Bound.
---
Grooming Monday-Saturday
Last Update: 2/4
Cache creek and May park are groomed and in good shape. Game Creek and Three creek pathway are groomed and in decent shape.
Saturday Grooming Schedule: The levee, stilson, and the school fields
---
Last Update: 1/31

I ran a drag over the trails in Cache tonight to smooth out the new snow into ruts and footprints. Things are still nice and firm up there.
Grooming by Friends of Pathways.
---
Grooming Daily
Last Update: 1/23
Our trails continue to be in incredible shape with this awesome weather we've recently had! The cold temps and clear skies are great for the track. We groom 13km+ daily for both skate and classic with our new snowcat.
Our trails and shop are fully open to the public 9am-4pm daily. Day passes, 10 punch cards, and season passes are available at the shop.
Please call us in advance to book lessons at: (307) 733-1733. You do not need a reservation for skiing and we do not take reservations for rentals. Please contact us in advance to check availability for off-site rentals.
We still have a great selection of skate skis, a few classic track and BC skis, boots, jackets, pants, gloves, and hats. We also have a good selection of used skate gear available. Call or come by to see if we have your sizes! We have a full tuning shop so drop off your skis for a wax done by our great wax techs!
Visit our website for pricing and other information: www.tetonpinesnordiccenter.com
---
Grooming Daily
Last Update: 2/1
All trails and the sled hill have been groomed following yesterday's wind and snow event. Expect to encounter soft spots in the track where drifting occurred. Cold temperatures and sunshine dominate the next few days forecast. The trails should remain in great shape and boast excellent conditions for Nordic skiing.
TRAIL STATUS
YELLOW LOOP OPEN
SLED HILL GROOMED on 2/1 (Grooming will occur as needed)
CLASSIC TRACKS SET
SNOWSHOEING OPEN (BLUE LOOP ONLY, STAY ON THE EDGE OF THE TRAIL OR IMMEDIEDATEY NEXT TO TRAIL)
ORANGE LOOP OPEN
WALKING, NOT ALLOWED
---
Daily Nordic grooming for both "Front Nine" (south side) and "Back Nine" (North side) Nordic Trails
Public access to the groomed Nordic trails is $50 per person per day, with no season passes available. Ski rentals are available at the Sports Shop. Guests must check in at the Sports Shop to sign a waiver and make payment before heading out. The daily pass does not allow access to the Restaurant this season. The clinics that are being offered are for members and lodging guests only.

Please call the Sports Shop with any questions you may have at 307-200-3093
---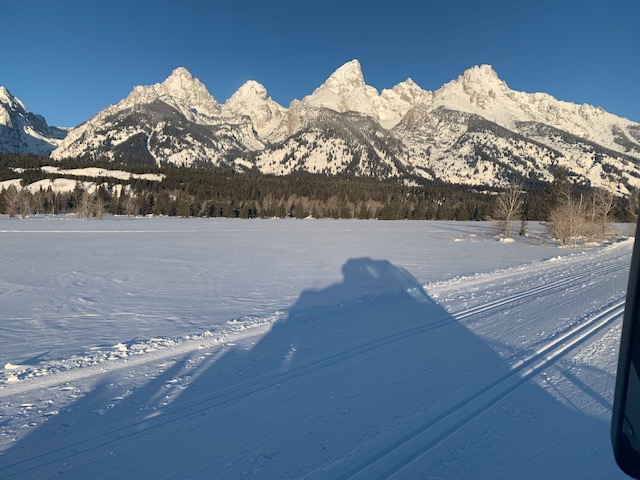 Last Update: 2/4
Today GTNP Taggert to Signal and all four lanes to the south.
Grooming is sponsored by the GTNP Foundation and generous donations from our community.
---
Grooming Daily
Last Update: 2/4
The skate lane was reset with the ginzu Friday evening, the classic track is in good shape. There are a few moose hanging near the ranch, please be extra cautious in the Mule and/or Willow Loops.
Please sign waivers and pay for trail passes online ahead of your visit. Call the front office (307) 543-2000 ahead of your visit for booking equipment rentals and Nordic adventures (lessons and tours).
https://www.turpinmeadowranch.com/the-ranch/live-conditions/
https://www.turpinmeadowranch.com | 307.543.2000
---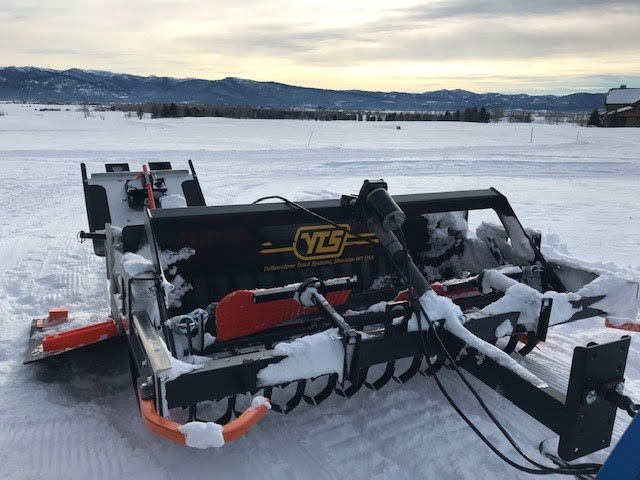 Trail Etiquette: Please keep your dogs leashed in the parking lot and be sure to clean up after them!
---
Grooming Schedule: Tuesday, Thursday, Saturday & Sunday
Last Updated: 2/3

Cross Country 15k: XC OPEN
Fat Bike Trails : Open
Snowshoe Trails: Open
Targhee's Nordic trails are groomed Tuesdays, Thursdays & Sat/Sundays. Fat bike/snowshoe trails are groomed regularly but not on a set schedule – the groomer usually waits until after a storm cycle to groom the single track.
Trail day passes are $20 this winter.
Remember, singletracks will be closed when there is more than 3 inches of snow in a 24 hour period.
---
Grooming Schedule: Tuesday, Thursday, & Sunday
Last Updated: 2/3
Skate: Set | Classic: Set
Dear Santa, Thanks for the sweater and wool socks. I will be wearing all of that and more today. Next year can you please bring me a snowcat with a heated cab and maybe even satellite radio? I'm heading out to groom this morning, starting around 8:30. Please send warm wishes to all the groomers today. Thanks
Please do not park in the library parking lot. Please be sure to keep your dogs on a leash and to clean up after them.
---
Grooming Schedule: Monday, Wednesday & Friday
Last Updated: 2/2
Skate: Set | Classic: Not Set

Skate track is in great shape and very firm. Can't do much with the classic track until we get more snow. The middle track is in the best shape for classic skiing. The rest is hit or miss.
---
Grooming Schedule: Monday, Wednesday & Friday
Last Updated: 2/4
Skate: Set | Classic: Set
Headed out to groom at Reset the skate track with the drag and again, left the classic track as is. It's still in good shape except for in tight areas or where the single track crosses.
---
Grooming Schedule: Monday, Wednesday, Friday & Saturday
Last Updated: 2/3
Skate: Set | Classic: Set
Reset the skate track late Thursday afternoon. Classic in good shape, for most part, from Wednesday groom.
---
Grooming Schedule: Tuesday, Friday & Sunday
Last Updated: 2/3
Skate: Not Set | Classic: Not Set
Heading out now. Should be done by 8pm.
No dogs December 1 – April 15.
---
Teton Reserve Nordic
Grooming Schedule: Monday, Thursday & Saturday
Last Updated: 2/4
Skate: Set | Classic: Set
Friday evening I reset the skate and classic track. They should set up well overnight and make for a great day. Enjoy the glide.
No dogs allowed.
---
Southern Valley Singletrack
Grooming Schedule: As needed
Last Updated: 2/4
Singletrack: Set

Friday morning early a.m. I was able to drag and reset happy hour, Powerline all the way to Pole Canyon, upper and lower lady slipper and Sherman Springs access road. The entire singletrack system is rockin and rollin. Enjoy the ride.
Happy Hour (aka Mike Harris to ID/WY state line)
No dogs December 1 – April 15.
---
Grooming Schedule: As needed
Last Updated: 1/13

Grooming to summer trail head 1/13
---
Grooming Schedule: As needed
Last Updated: 12/15

The USFS is continuing to monitor snow levels on our roads and will close them to wheeled motorized vehicles when there is enough snow to groom.
---
Grooming Schedule: As needed
Last Updated: 2/3

Groomed 2/2/22.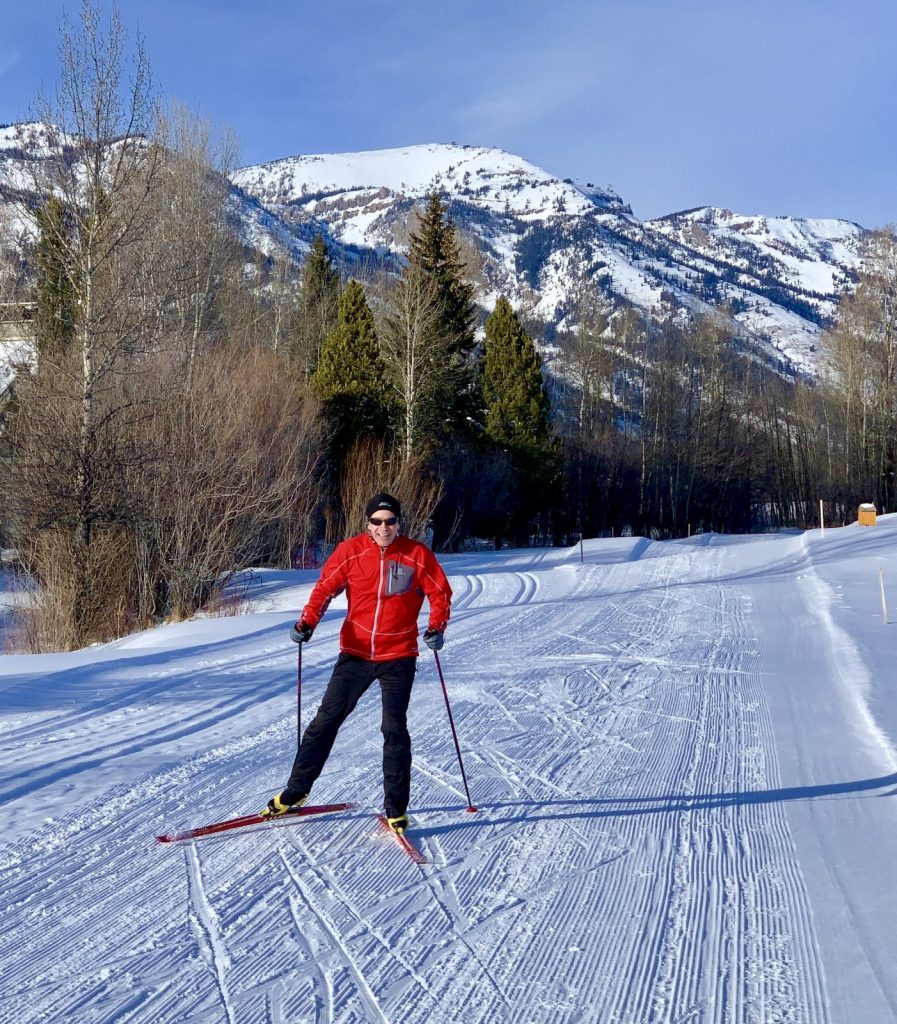 SKATE SKI CLINIC
THURSDAY, FEBRUARY 10, 2022
11am – 12:30pm

Hosted by Scott Horn and JH Ski Club Nordic Team Coaches
There will be 10 clinics running every Thursday in January and February from 11am-12:30pm. The Nordic Masters clinics will focus on skate ski and classic cross country skiing every other week.
Joining all 10 clinics is your best approach to developing your full Nordic skiing technique, balance, stride, stamina, and overall fitness while having fun in a small group. For those who only wish to focus on one technique, we are offering a Skate Ski Clinic series of 5 clinics or a Classic Cross country series of 5 clinics.
---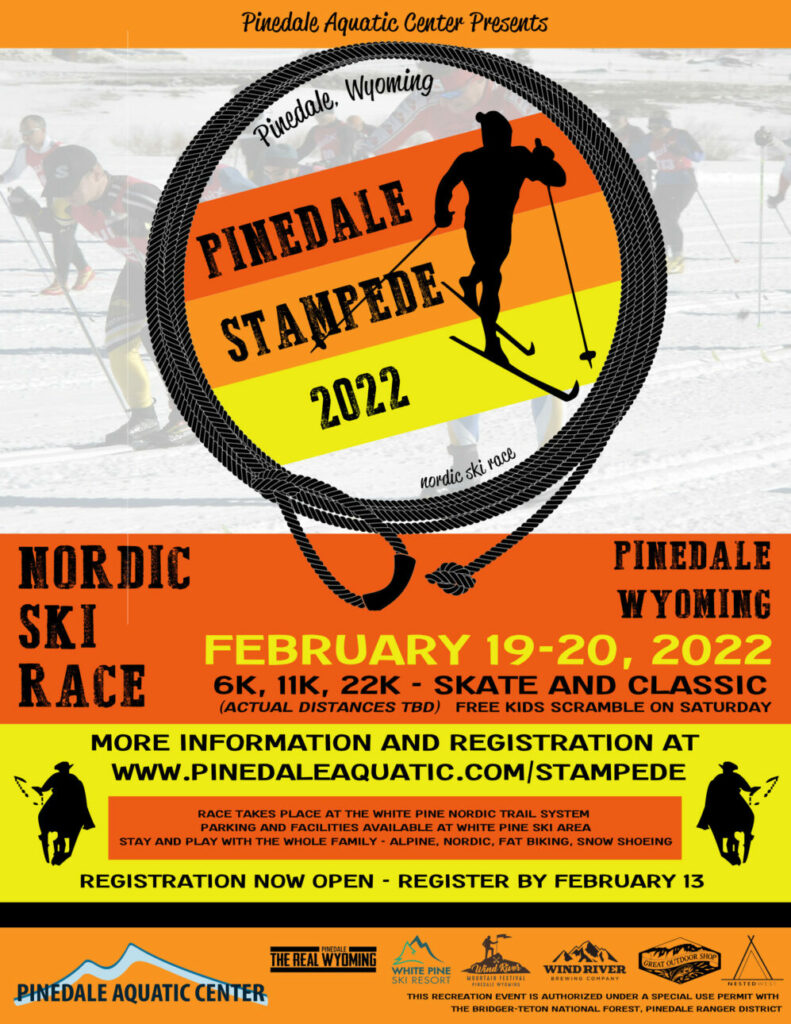 ---
---
We'd love to hear about your outdoor adventures, what your doing to stay healthy, safe, respectful of community health guidelines – send pictures or post on FB and Insta – #JHNordic