Teton Canyon
7.6mi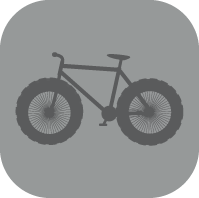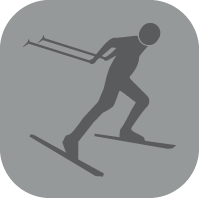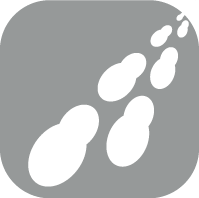 ---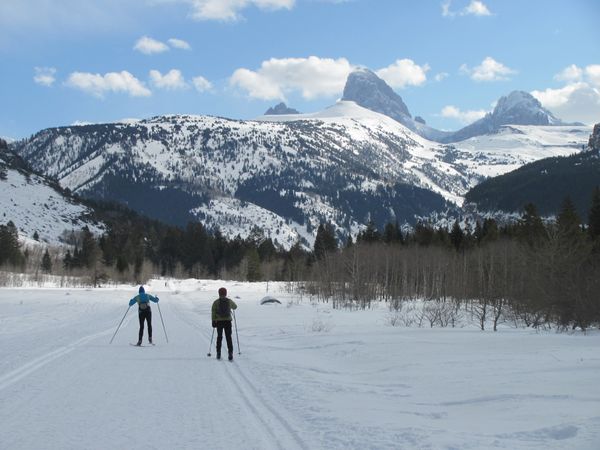 Access via: From Driggs ID, drive east on Ski Hill Road (in the direction of Grand Targhee Ski Resort). Turn right onto teton Canyon Road, parking area is at trailhead.
Fee: $0.00 - donations appreciated
---
PLEASE BE RESPECTFUL TO MANAGE YOUR DOG -KEEP ON LEASH 1ST 100 YARDS ON TRAIL, PICK UP POOP, GOOD BEHAVIOR!! THANKS!

From the parking area right off Ski Hill Road, the trail heads south-east along the snow-covered, groomed road that is the summer access road to Teton Canyon. This ski trail offers some of the best views of the Grand, Middle and South Teton from the west side of the Tetons.
Grooming is maintained by the local non-profit "Teton Valley Trails and Pathways" ( aka TVTAP), who rely on your contributions to operate grooming service.

This trail offers excellent classic and skate skiing on near level terrain, and is open to dogs. The trail runs flat for approx 5 miles (10 miles out-and-back), and ends in a cul-de sac at the inner summer parking lot and trailhead for Alaska Basin. A half mile from the end of the groomed section, there are a few loops one can take on classic skis off the main road for variety.

For those on classic/BC skis wishing to explore the upper valley a bith further, from the end of the groomed trail, a skier tracked trail continues east, following the hiking trail past a frozen waterfall on the left (south), and through meadow and forests. After 1 mile, the trail begins to rise up through the forest into the back of the Canyon. As steepness increases, the difficulty rises out of the range of most skinny skiers, and becomes the domain of the AT skier. The risk of avalanche exposure also increases as the trail runs below steeper side sploes and it beyond the scope of this trail guide.

Return from the cul-de sac/end of the groomed trail back to the start.
Remember to give generously to TVTAP.org to support both winter and summer trails in Teton Valley.
Other trails in Teton Valley