Hillbender to Nemo Loop-Southern Valley Trails
6.6mi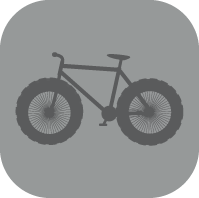 ---
Access via: 4 miles east of Victor ID, off ID Hwy 33 (west of Teton Pass, on ID Hwy continuation of WY Hwy 22). Park at the access parking Mike Harris Campground (depending on winter plowing conditions, you may need to park on the plowed pullout along the side of Hwy).
Fee: $0.00 - donations appreciated
---
Hillbender to Nemo Loop trail is a fun fat bike trail, a popular summer mountain bike trail, and can be skied on wider (BC) Nordic classic cross-country skis. With easy access from Teton Valley and Jackson Hole, this trail loop and wider Southern Valley Trails network are popular, especially on weekends.
Teton Valley Trails and Pathways (TVTAP) grooms this trail with a snowmobile several times a week, with help from community sponsors such as Fitzgerald's Bicycles. If you enjoy these trails, please consider donating to TVTAP's grooming fund and buying a winter trails sticker @ TVTAP.org
As this is a popular trail, please be courteous, share the trail, use your best trail etiquette. The trail is not open to dogs in the winter -Dec-April.
The trail starts from the Mike Harris parking area off ID Hwy 33 at the western base of Teton Pass. Follow the main trail west approx 500 feet into the woods. The trail splits -take the right-hand fork to ride the trail in a counter-clockwise direction, taking Hillbender up, then later, Nemo down.
Hillbender was designed in 2018 specifically for mountain biking and fat biking, with grades and switchbacks to allow reasonable climbing and corners to allow upward momentum to be maintained. The trail winds up a ridge, through aspen and lodgepole pine forests, occasionally breaking into sub-alpine meadows. It follows a northwest direction, so crosses from shade on one side of the ridge or in the forest, to sunny of the southwest side in the meadows.
The trail starts at 6550 feet and steadily climbs to the junction with Nemo at 6840 ft. On this GPS map, from the upper trail junction with Grumpy's (another mountain bike trail loop), we added a short, fun, flowy section into upper Grumpy's and Upper Ladyslipper by continuing straight. You can skip this out and back section, though it is a beautiful, curving, flow section of trail. If you descend Ladyslipper, it will take you all the way down to another trailhead at Teton Springs. Return back up the trail to 6750 ft elevation level and turn right (south) onto Nemo.
Nemo has a nice progressive uphill, crosses the powerline open cut, then crests at 6800 ft. The trail turns to the east and winds through the forest, flowing back down to the original trailhead.
Other trails in Teton Valley