---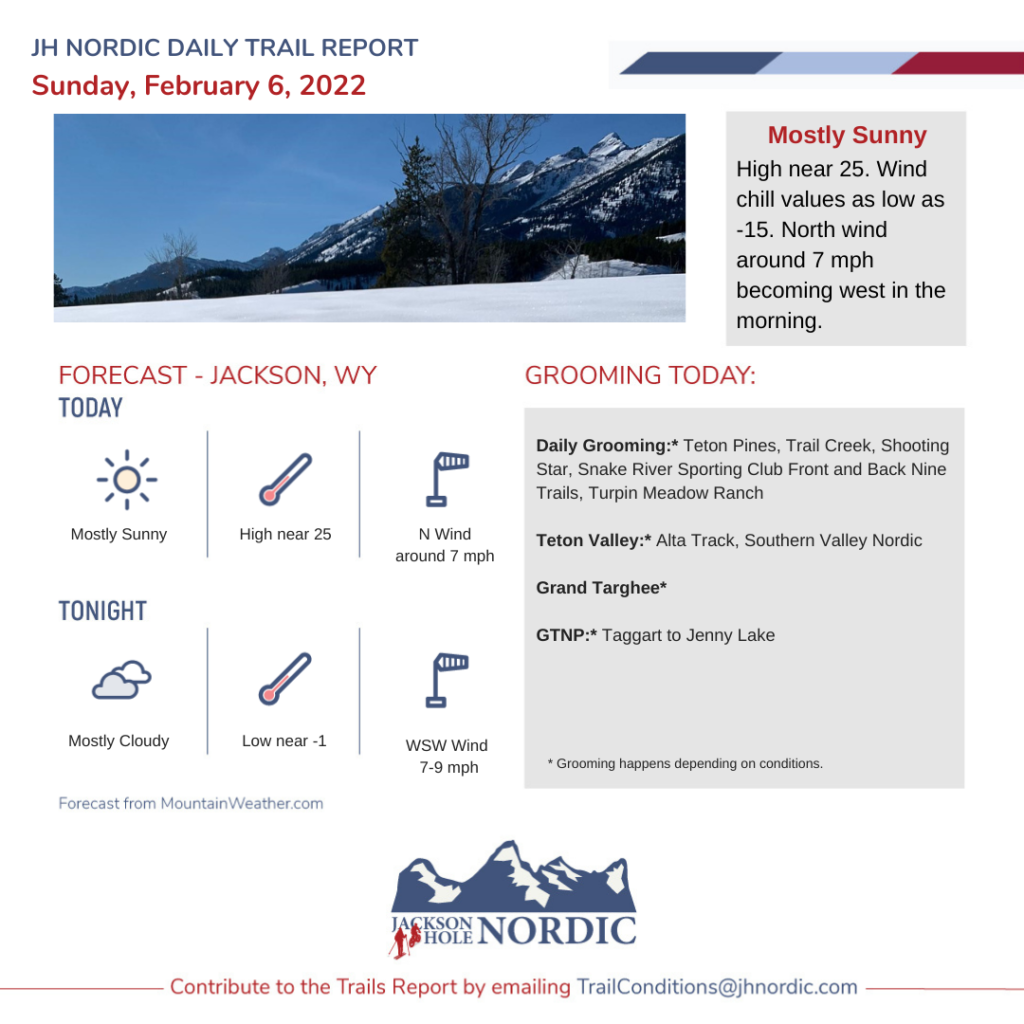 ---
You're Needed for Moose Day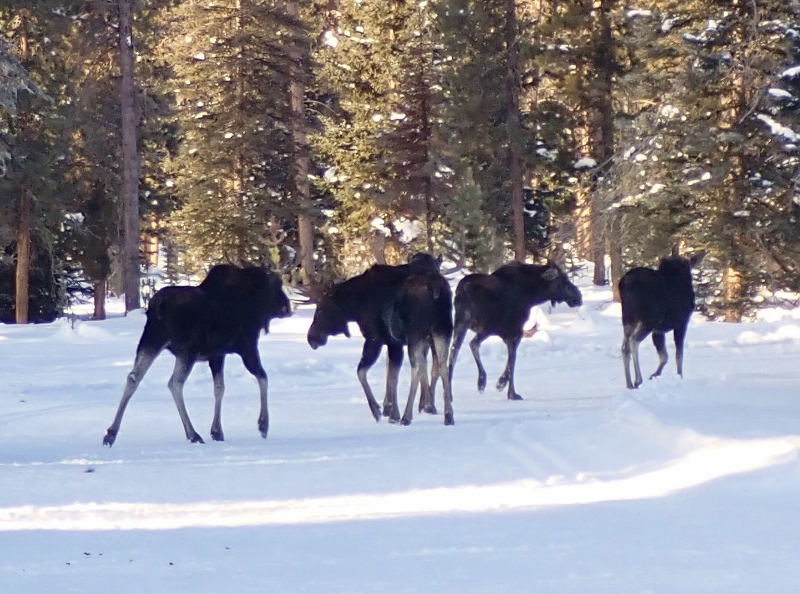 It's that time of year; Moose Day is coming up on February 26th, 2022!
There are still a few territories without coverage, so we are still recruiting Nature Mappers to help collect these very important data. If you know someone who may be interested but is not yet a trained Nature Mapper, please have them email hilary@jhwildlife.org for more information on becoming certified and collecting these important data for WGFD.
We are especially in need of strong skiers to cover the sections in the northern end of Grand Teton National Park and the west side of the Tetons.
If you are a skier who lives in or is willing to travel to Teton Valley for Moose Day, we would love to enlist your help survey the canyons and creeks in Wyoming that are more accessible from the Idaho side (Darby Canyon, Moose Creek, etc.).
---
Help Support Wildlife Tourism for Tomorrow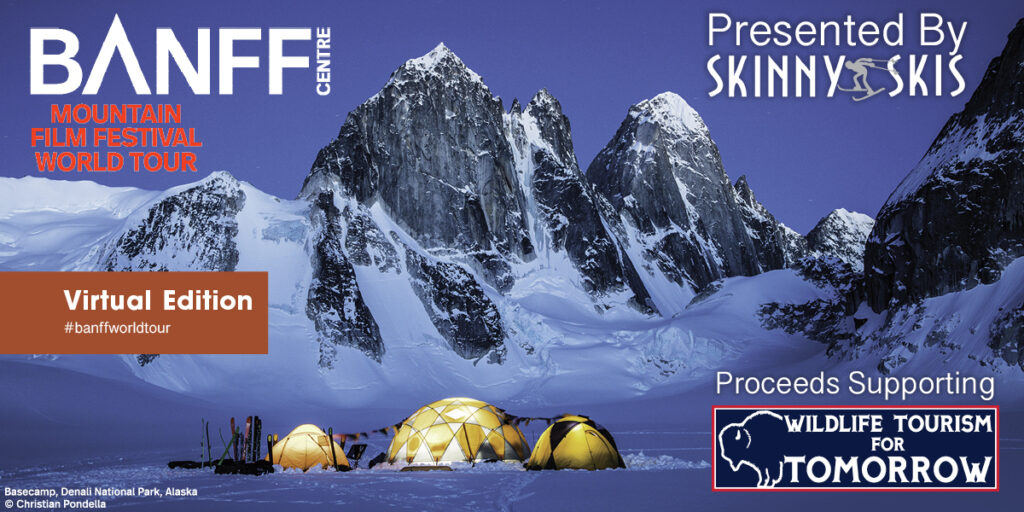 February is historically Banff Film Festival month here in Jackson, the time when we get to invite all of our friends in the community to join us down at the high school to watch these amazing films together. Unfortunately, with community health and safety always in mind, we've once again had to make the tough choice to go digital this year for the Banff Mountain Film festival. Instead, we hope you take the opportunity to enjoy the film festival in its online format from the comfort of your own home. Additionally, we've taken the opportunity to partner with one of our favorite local non-profits, Wildlife Tourism for Tomorrow, who invest in helping important wildlife conservation projects.

During the month of February, we will be donating all of the proceeds Skinny Skis earns from Banff Mountain Film Festival rentals to Wildlife Tourism for Tomorrow and the Jackson Elk Project. This project provides funding to help gather data and track the Jackson Elk heard that calls the National Elk Refuge and Greater Yellowstone Ecosystem its home. The next "article" below is a brief introduction to the organization and the Elk project shared by the founder of Wildlife Tourism for Tomorrow, Taylor Phillips.
To make the festival easier to watch in this virtual format the films have been divided up into 2 programs, the Pine program and the Sage program. Each program features a diverse set of films but we'd strongly recommend getting the Pine and Sage Bundle for the full Banff Film Festival experience.
So plan yourself a couple nights, some fun intermission activities, ample snacks, get on some comfy PJ's, turn the lights down low, the sound way up, and enjoy the show!

Individual programs: $15 (3-day rental period)
2 Program Bundle: $28 (14-day rental period)
---
Wildlife Tourism for Tomorrow and the Jackson Elk Project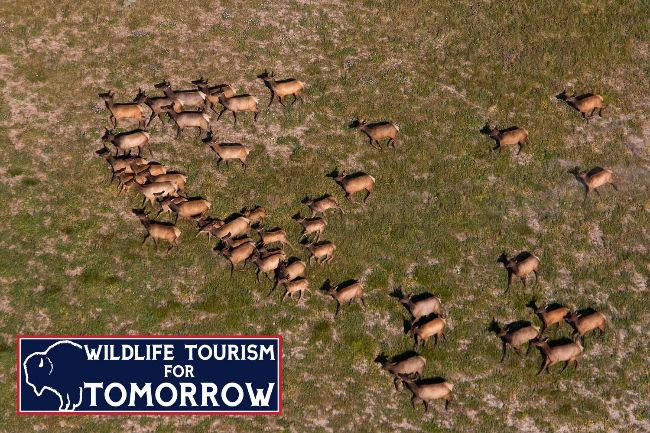 Wildlife Tourism for Tomorrow aims to engage the tourism industry in Teton County and across the state to contribute financially to wildlife conservation projects. Currently hunters and anglers are primarily responsible for the costs associated with wildlife management and conservation. The money generated from the sale of fishing and hunting licenses and taxes levied on firearms and associated goods primarily fund The Wyoming Game and Fish Department. It's this department that is responsible for managing and conserving our state's wildlife.
Wildlife is the #1 driver of tourism across the state and Wildlife Tourism for Tomorrow strives to unite and engage the tourism industry to support their most important asset, the wildlife. This movement is bringing money to the table to support wildlife as we are building this important constituency.
The Jackson Elk Project is the focal project that Skinny Skis and the Banff Mountain Film Festival is supporting through their support of Wildlife Tourism for Tomorrow. The Jackson Elk Herd is one of the largest elk herds in North America. Since the Jackson Elk Herd migrates over such a large area and contains so many animals, management and conservation can be challenging. In addition, elk have been changing their seasonal movement patterns and wintering in different areas in recent years. Since the Jackson Elk Herd is so important, the Wyoming Game and Fish Department, along with the National Elk Refuge, National Park Service, and U.S. Forest Service have prioritized gathering better data on elk to inform future decisions. One of the primary ways that we gather data is using GPS satellite collars, which track elk movements. These collars collect a GPS location approximately every hour and automatically drop off the elk after 3 years. Each elk GPS collar costs approximately $1,600. Elk are typically captured using a net from a helicopter, which costs approximately $750 per elk. The Wyoming Game and Fish Department strives to collar 20-50 elk annually through this project.
– Taylor Phillips, Founder of Wildlife Tourism for Tomorrow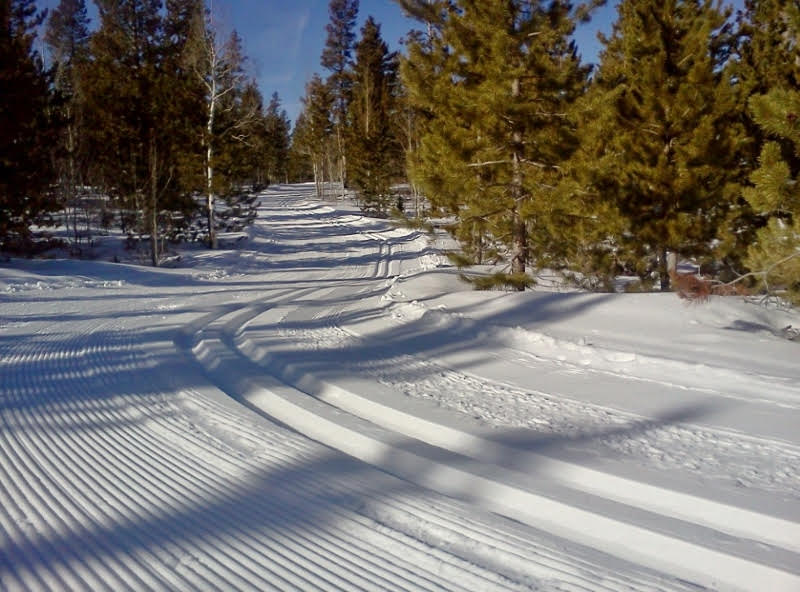 Grooming Daily
Last Update: 2/5
Brigham and Wheeler on Top Again!
Our very own Kate Brigham and Mason Wheeler were once again winning in Wyoming High School Nordic racing yesterday. The two day race is ongoing today as well; full results can be found on this High Plains Nordic page.
Closer to home it's blustery and warm today at Trail Creek. While the forecast called for the possibility of up to an inch of snow, so far mainly a heavy dusting has occurred. The Husky began its mission today traversing the woods trails. Pretty much every trail received attention with about half of the distance being skate only grooming and the other half being a skate/classic pass depending on what was most needed.
The fields also received skate and classic grooming although as of report time there was still a bit of drifting filling in the classic tracks in some spots.
Groomer's choice for today is to head to the warm sheltered woods.
---
Grooming Monday-Saturday
Last Update: 2/5
The levee, stilson, and school fields were groomed Saturday and in good shape.
---
Last Update: 1/31

I ran a drag over the trails in Cache tonight to smooth out the new snow into ruts and footprints. Things are still nice and firm up there.
Grooming by Friends of Pathways.
---
Grooming Daily
Last Update: 1/23
Our trails continue to be in incredible shape with this awesome weather we've recently had! The cold temps and clear skies are great for the track. We groom 13km+ daily for both skate and classic with our new snowcat.
Our trails and shop are fully open to the public 9am-4pm daily. Day passes, 10 punch cards, and season passes are available at the shop.
Please call us in advance to book lessons at: (307) 733-1733. You do not need a reservation for skiing and we do not take reservations for rentals. Please contact us in advance to check availability for off-site rentals.
We still have a great selection of skate skis, a few classic track and BC skis, boots, jackets, pants, gloves, and hats. We also have a good selection of used skate gear available. Call or come by to see if we have your sizes! We have a full tuning shop so drop off your skis for a wax done by our great wax techs!
Visit our website for pricing and other information: www.tetonpinesnordiccenter.com
---
Grooming Daily
Last Update: 2/5
Anticipate light to moderate winds and possible drifting to occur today (2/5) as a quick weather system passes through. More sunny/calm weather is expected again Sunday and forecasted to last throughout most of next week. Overall, the trails have been grooming out well and should provide excellent skiing especially after this brief system passes. Get outside and enjoy!
TRAIL STATUS
YELLOW LOOP OPEN
SLED HILL GROOMED on 2/4 (Grooming will occur as needed)
CLASSIC TRACKS SET
SNOWSHOEING OPEN (BLUE LOOP ONLY, STAY ON THE EDGE OF THE TRAIL OR IMMEDIEDATEY NEXT TO TRAIL)
ORANGE LOOP OPEN
WALKING, NOT ALLOWED
---
Daily Nordic grooming for both "Front Nine" (south side) and "Back Nine" (North side) Nordic Trails
Public access to the groomed Nordic trails is $50 per person per day, with no season passes available. Ski rentals are available at the Sports Shop. Guests must check in at the Sports Shop to sign a waiver and make payment before heading out. The daily pass does not allow access to the Restaurant this season. The clinics that are being offered are for members and lodging guests only.

Please call the Sports Shop with any questions you may have at 307-200-3093
---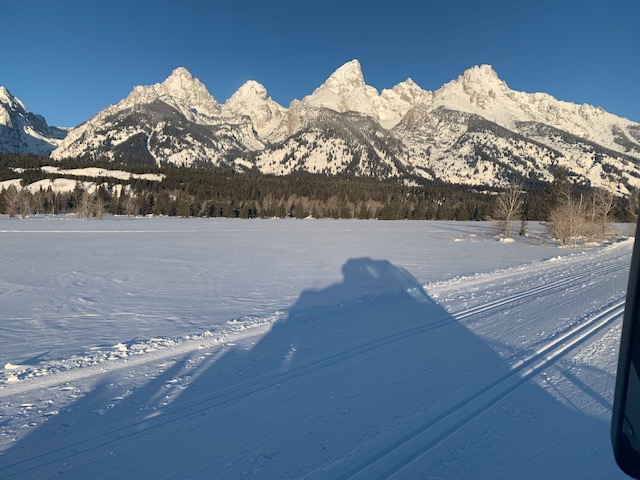 Last Update: 2/4
Today GTNP Taggert to Signal and all four lanes to the south.
Grooming is sponsored by the GTNP Foundation and generous donations from our community.
---
Grooming Daily
Last Update: 2/5
The skate lane was reset with the ginzu Saturday evening, the classic track is in good shape. There are a few moose hanging near the ranch, please be extra cautious in the Mule and/or Willow Loops. Skate and classic ski lessons for the rest of the season are filling up quickly!
Please sign waivers and pay for trail passes online ahead of your visit. Call the front office (307) 543-2000 ahead of your visit for booking equipment rentals and Nordic adventures (lessons and tours).
https://www.turpinmeadowranch.com/the-ranch/live-conditions/
https://www.turpinmeadowranch.com | 307.543.2000
---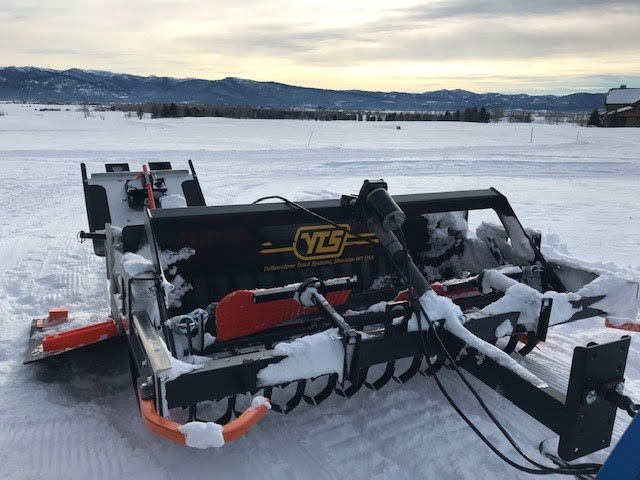 Trail Etiquette: Please keep your dogs leashed in the parking lot and be sure to clean up after them!
---
Grooming Schedule: Tuesday, Thursday, Saturday & Sunday
Last Updated: 2/5

Cross Country 15k: XC OPEN
Fat Bike Trails : Open
Snowshoe Trails: Open
Targhee's Nordic trails are groomed Tuesdays, Thursdays & Sat/Sundays. Fat bike/snowshoe trails are groomed regularly but not on a set schedule – the groomer usually waits until after a storm cycle to groom the single track.
Trail day passes are $20 this winter.
Remember, singletracks will be closed when there is more than 3 inches of snow in a 24 hour period.
---
Grooming Schedule: Tuesday, Thursday, & Sunday
Last Updated: 2/5
Skate: Set | Classic: Set
Reset skate track. Left the classic track as is because Nick did such a great job on it Thu. 10% of the classic track – mostly on N end – is blowing in some.
Please do not park in the library parking lot. Please be sure to keep your dogs on a leash and to clean up after them.
---
Grooming Schedule: Monday, Wednesday & Friday
Last Updated: 2/5
Skate: Set | Classic: Set

Driggs was groomed 9:30am Saturday.
---
Grooming Schedule: Monday, Wednesday & Friday
Last Updated: 2/4
Skate: Set | Classic: Set
Headed out to groom at Reset the skate track with the drag and again, left the classic track as is. It's still in good shape except for in tight areas or where the single track crosses.
---
Grooming Schedule: Monday, Wednesday, Friday & Saturday
Last Updated: 2/5
Skate: Set | Classic: Set
Plan to reset skate track this morning. Will see if I can make any improvements on the classic track, or will leave alone.
---
Grooming Schedule: Tuesday, Friday & Sunday
Last Updated: 2/5
Skate: Set | Classic: Set
Saturday evening 5:45 PM I will start to groom yetis in campground loops.
No dogs December 1 – April 15.
---
Teton Reserve Nordic
Grooming Schedule: Monday, Thursday & Saturday
Last Updated: 2/4
Skate: Set | Classic: Set
Friday evening I reset the skate and classic track. They should set up well overnight and make for a great day. Enjoy the glide.
No dogs allowed.
---
Southern Valley Singletrack
Grooming Schedule: As needed
Last Updated: 2/4
Singletrack: Set

Friday morning early a.m. I was able to drag and reset happy hour, Powerline all the way to Pole Canyon, upper and lower lady slipper and Sherman Springs access road. The entire singletrack system is rockin and rollin. Enjoy the ride.
Happy Hour (aka Mike Harris to ID/WY state line)
No dogs December 1 – April 15.
---
Grooming Schedule: As needed
Last Updated: 1/13

Grooming to summer trail head 1/13
---
Grooming Schedule: As needed
Last Updated: 12/15

The USFS is continuing to monitor snow levels on our roads and will close them to wheeled motorized vehicles when there is enough snow to groom.
---
Grooming Schedule: As needed
Last Updated: 2/3

Groomed 2/2/22.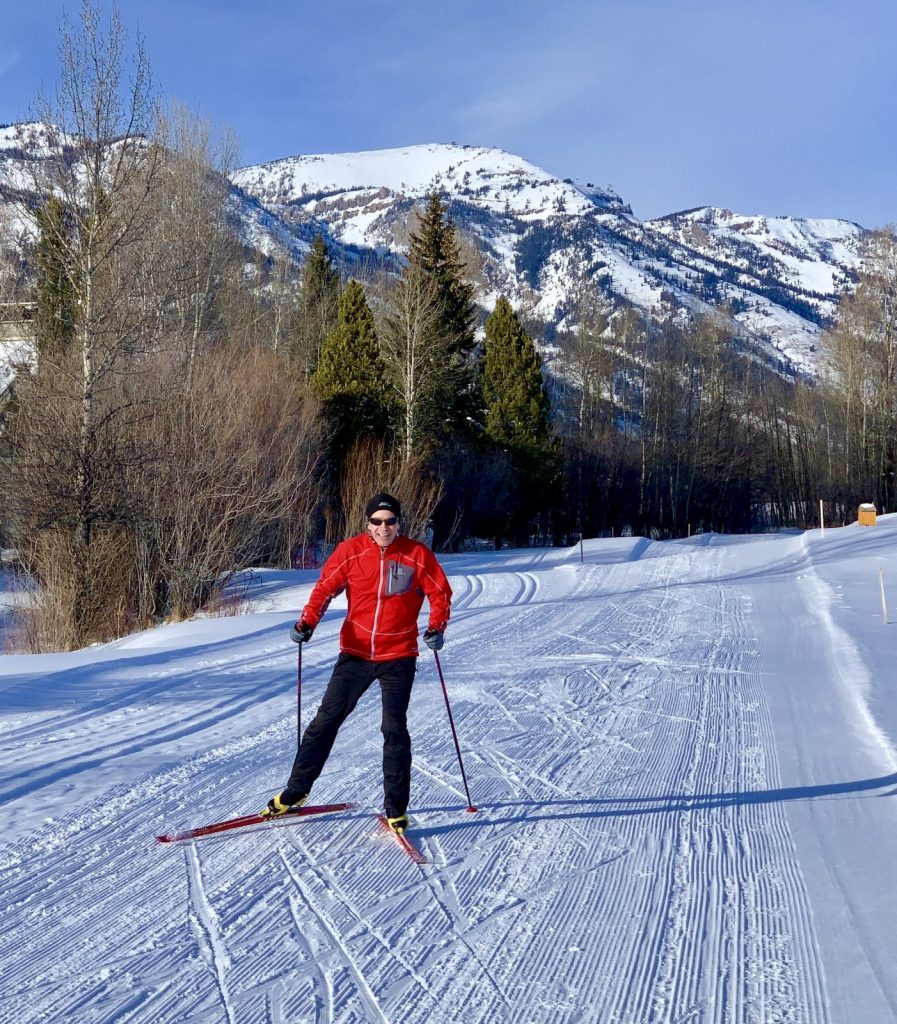 SKATE SKI CLINIC
THURSDAY, FEBRUARY 10, 2022
11am – 12:30pm

Hosted by Scott Horn and JH Ski Club Nordic Team Coaches
There will be 10 clinics running every Thursday in January and February from 11am-12:30pm. The Nordic Masters clinics will focus on skate ski and classic cross country skiing every other week.
Joining all 10 clinics is your best approach to developing your full Nordic skiing technique, balance, stride, stamina, and overall fitness while having fun in a small group. For those who only wish to focus on one technique, we are offering a Skate Ski Clinic series of 5 clinics or a Classic Cross country series of 5 clinics.
---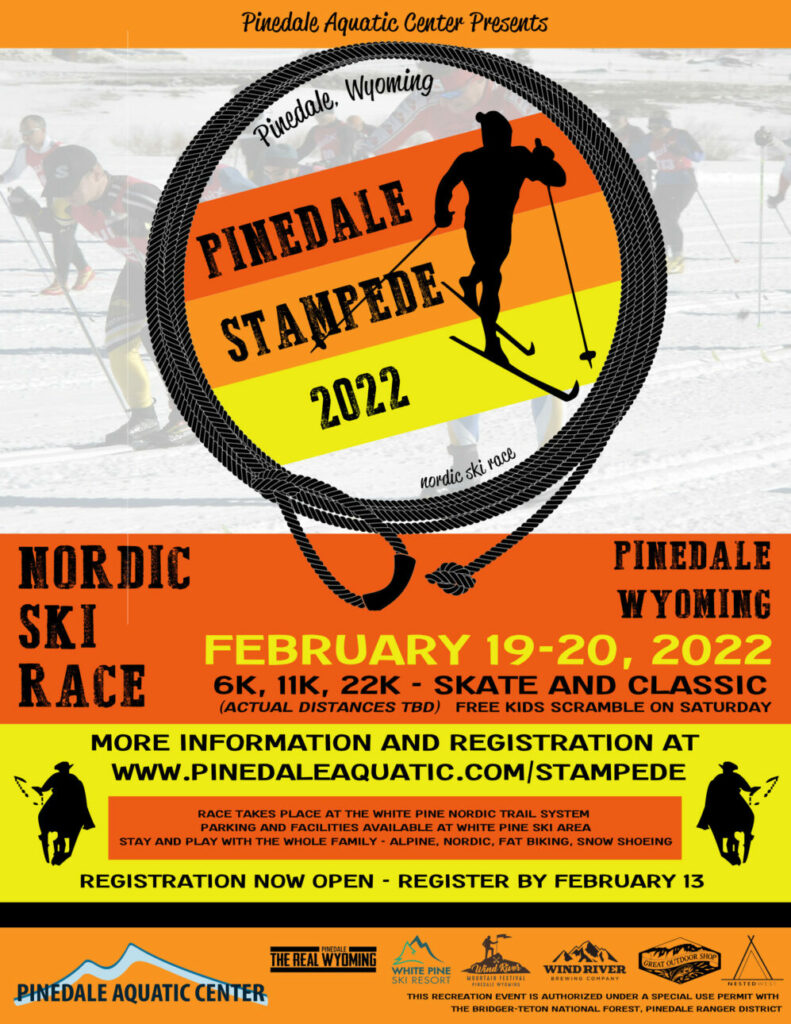 ---
---
We'd love to hear about your outdoor adventures, what your doing to stay healthy, safe, respectful of community health guidelines – send pictures or post on FB and Insta – #JHNordic