---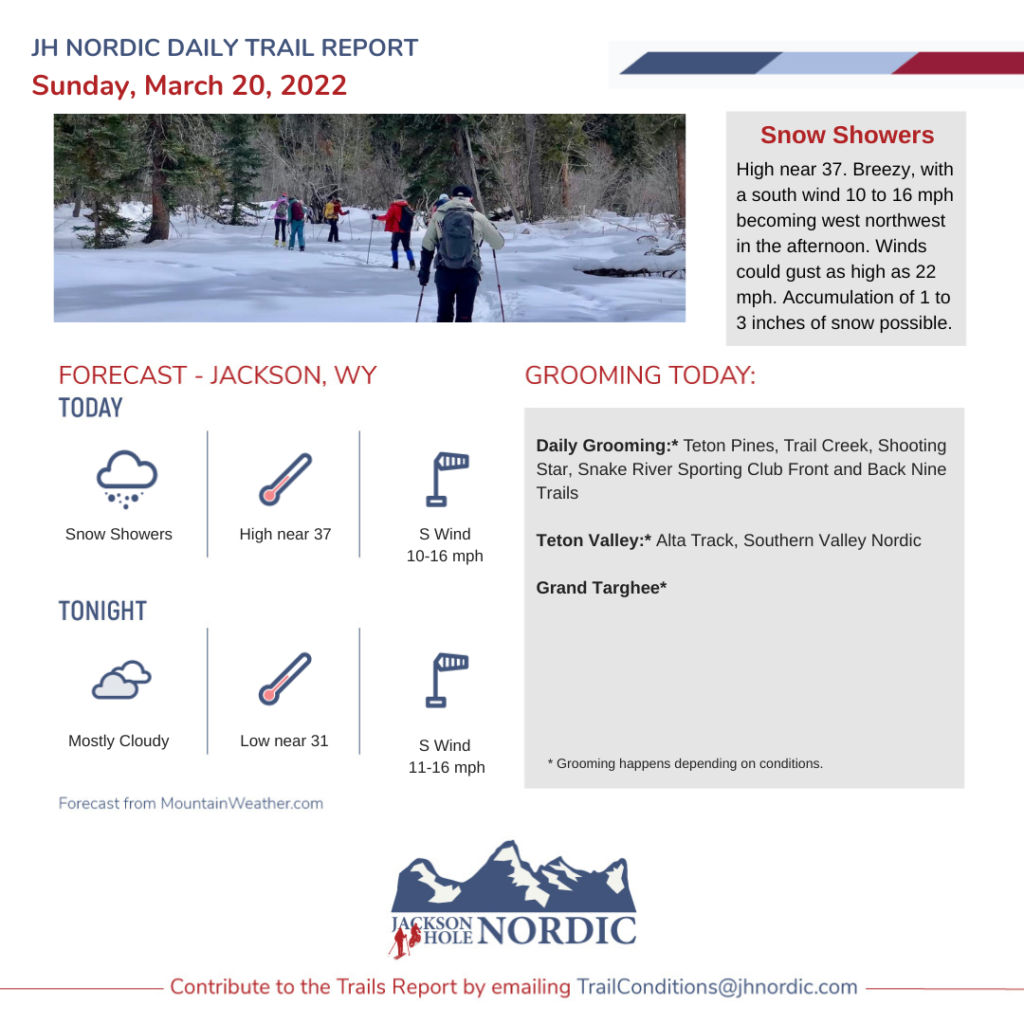 ---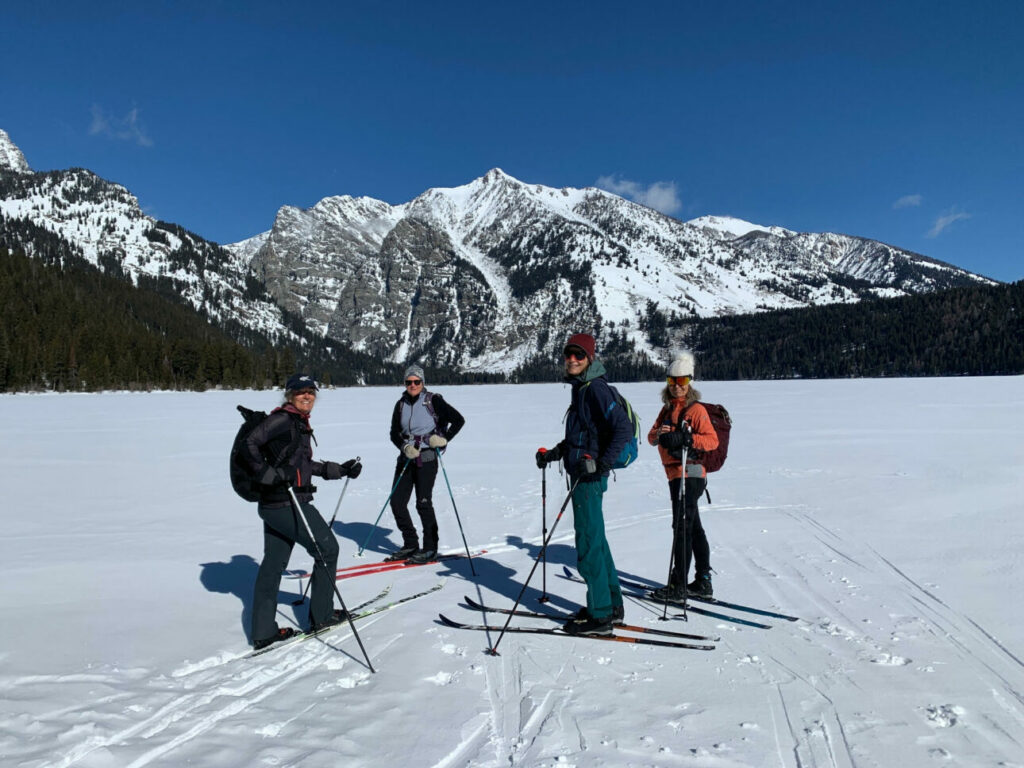 On a cloudy Thursday, five of us decided that the short ski to Phelps Lake and back would be the perfect destination. Imagine our wonder when the clouds disappeared, the Tetons came into view and the sun shown so brightly that it felt like sparks on the icy lake surface! We saw only one other snowshoer on our glorious morning ski. And for those who love crust skiing, the conditions appeared to be perfect. Photos and words submitted by: Karen D.
---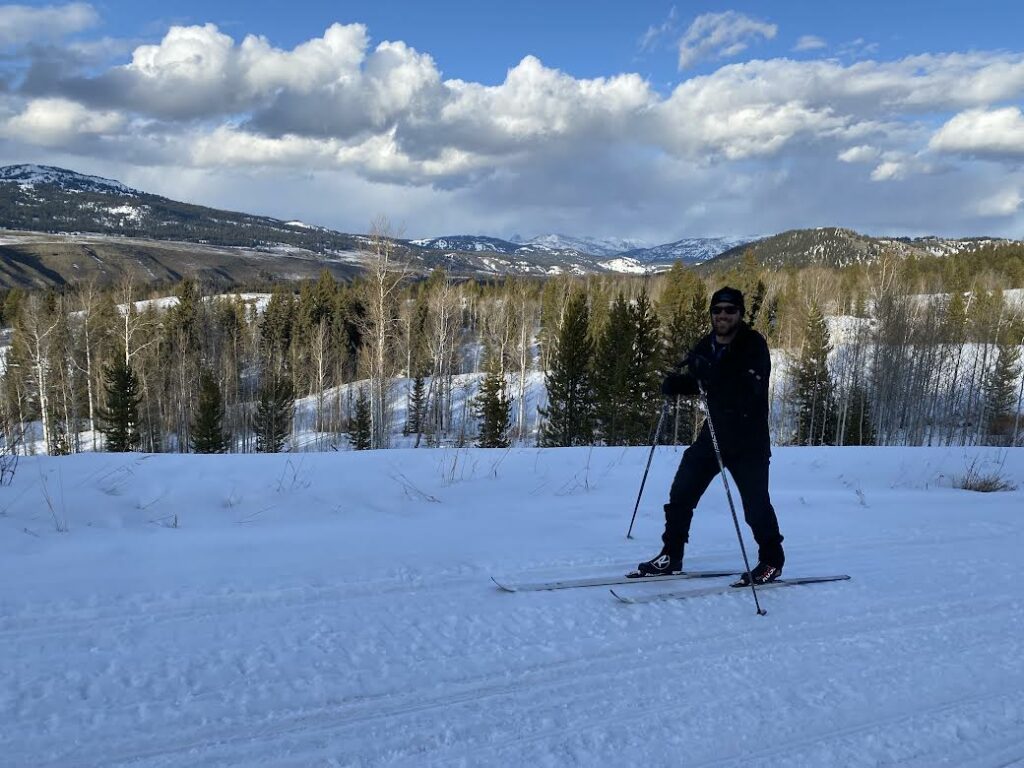 The Moran version of Cache Creek is the Flagstaff road, aka the CD snowmobile trail. That's where Aaron and I took our pups for a ski Friday evening. The big difference is how few users are out on these trails. We saw one other set of ski tracks, though the parking lot was empty when we arrived. On our adventure the groomer came down and made the delightful conditions even more lovely. This reminded me that there is a website that gives up-to-date grooming for the snowmobile trails in the Togwotee area. The website is: https://wyo.evtrails.com. This is a handy resource for those interested in traveling on recently groomed snowmobile trails. If you adventure up this way remember to carry your bear spray! Trip report submitted by Elee D.
---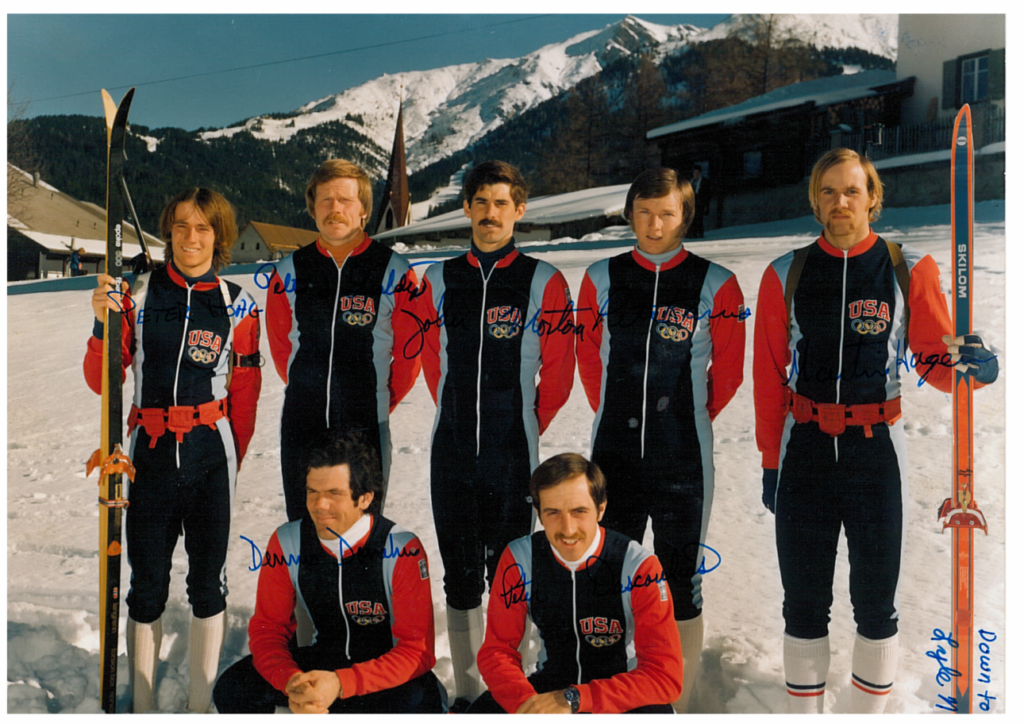 This profile highlights two former JH Ski and Snowboard Club student-athletes, coaches, Hall of Famers, Nordic Biathlon Olympians. Read their stories in their own words. Also included in the blog is a video link where you can learn more about Martin and Pete in conversations with the Jackson Hole community at the JH Historical Society and Museum's Beer and Banter night.
---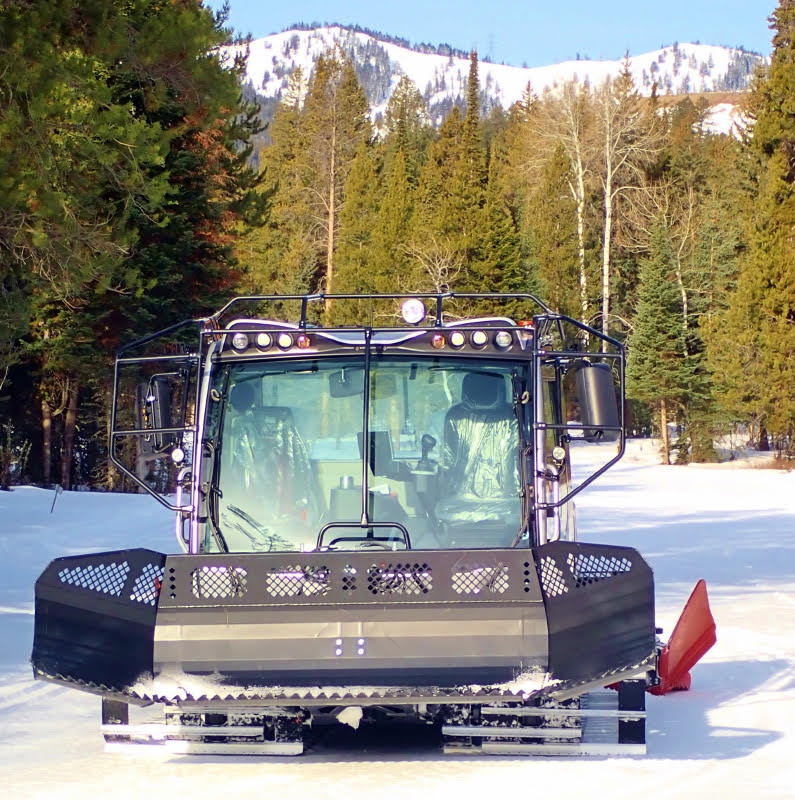 Grooming Daily
Last Update: 3/19
Scorcher of a Saturday!
Temps are forecast to reach into the upper 40's this afternoon so channel some corn skiing and head on out to enjoy the still plentiful white winter bounty! A dramatic change is in store for tomorrow however, with up to six inches forecast to accumulate in the next 48 hours; this weekend will give you a full spectrum of Nordic conditions.
The Husky was hard at it again today, covering nearly every trail in the system.  Classic tracks were mostly a bit glazed early this morning so all of the single Husky passes were with fresh classic tracks as well.  The close field did receive multiple passes.  As of 10:30 things were just starting to soften and skiing nicely.  Of note, the squirrels seem to be really enjoying the spring weather lately; hopefully you will see a few on your next ski!
The tentative grooming schedule is mid-morning Sunday in order to do the most good for the most skiers in the blustery snowy conditions, Monday morning to knock down the fresh snow, then Tuesday evening.
Groomer's choice for today is Moose Loop.
---
Grooming Monday-Saturday
Last Update: 3/19
The levee and stilson are groomed and should ski ok this morning before it warms up. The school fields will no longer be groomed this season.
Most trails are still holding up decently except three creek pathway and the school fields, so they will no longer be groomed this season.  I am hoping to groom through next week on stilson, the levee, game creek, cache creek, and Wayne May Park but it all depends on how they hold up with the warm weather that is forecasted for next week.
---
Last Update: 3/13
I did a pass on all the Cache Creek trails this evening. Things are holding up well but as the temps get above freezing try to avoid using the trails in the late afternoon.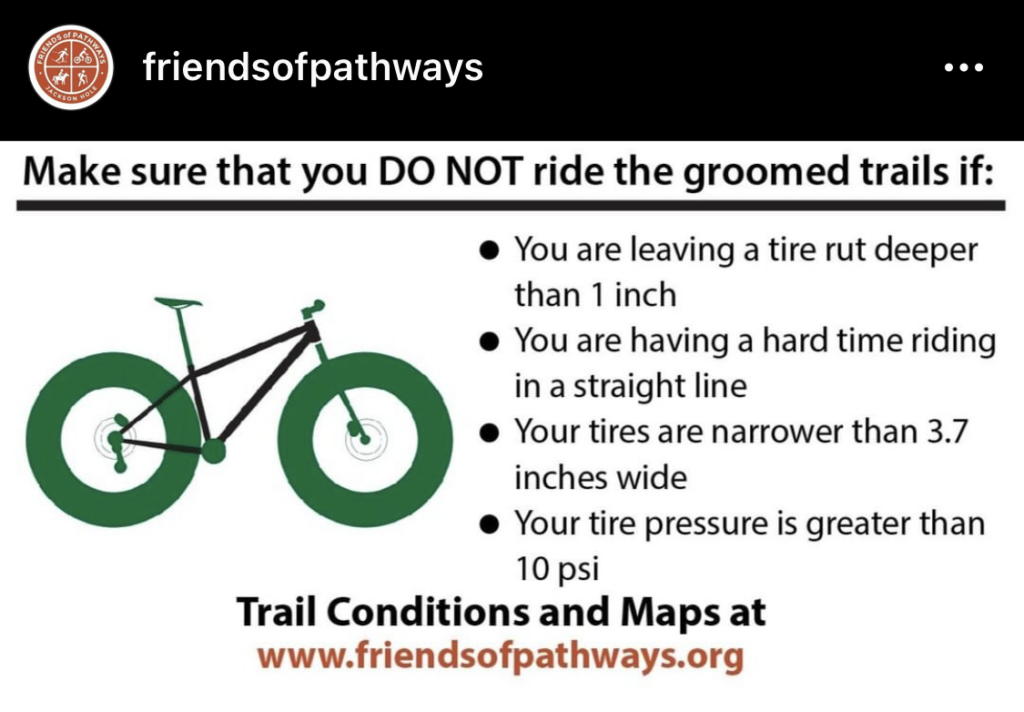 Grooming by Friends of Pathways.
---
Grooming Daily
Last Update: 3/18
Come out and enjoy our final weekend of the 21-22 ski season. We've had incredible conditions all winter and our track should still ski great this weekend.
We have a sale rack full of clothing, a shop full of accessories/clothing/etc and we have skis available if you'd like to get stocked up for spring skiing. Our hours are 9-4pm daily. Sunday March 20 is our closing day. Thanks for a great season!!
Please call us in advance to book lessons at: (307) 733-1733. You do not need a reservation for skiing and we do not take reservations for rentals. Please contact us in advance to check availability for off-site rentals. We have a full tuning shop so drop off your skis for a wax done by our great wax techs! Visit our website for pricing and other information: www.tetonpinesnordiccenter.com
---
Grooming Daily
Last Update: 3/19
It looks to another nice weekend with lots of sun this Saturday followed by potential snow Sunday afternoon. Spring skiing conditions will be in full effect for the remainder of the season. Looking ahead, I anticipate we can provide daily grooming for the upcoming week through 3/27. Beyond the 27th, we'll need to evaluate if grooming can be extended as warm weather is forecasted to return towards next weekend. Also, reminder the Nordic leg of the PPP will be here on Saturday 3/26. Fingers crossed the weather cooperates!
TRAIL STATUS
YELLOW LOOP OPEN
SLED HILL GROOMED on 3/19 (Grooming will occur as needed)
CLASSIC TRACKS SET
SNOWSHOEING OPEN (BLUE LOOP ONLY, STAY ON THE EDGE OF THE TRAIL OR IMMEDIEDATEY NEXT TO TRAIL)
ORANGE LOOP OPEN
WALKING, NOT ALLOWED
---
Daily Nordic grooming for both "Front Nine" (south side) and "Back Nine" (North side) Nordic Trails
Public access to the groomed Nordic trails is $50 per person per day, with no season passes available. Ski rentals are available at the Sports Shop. Guests must check in at the Sports Shop to sign a waiver and make payment before heading out. The daily pass does not allow access to the Restaurant this season. The clinics that are being offered are for members and lodging guests only.

Please call the Sports Shop with any questions you may have at 307-200-3093
---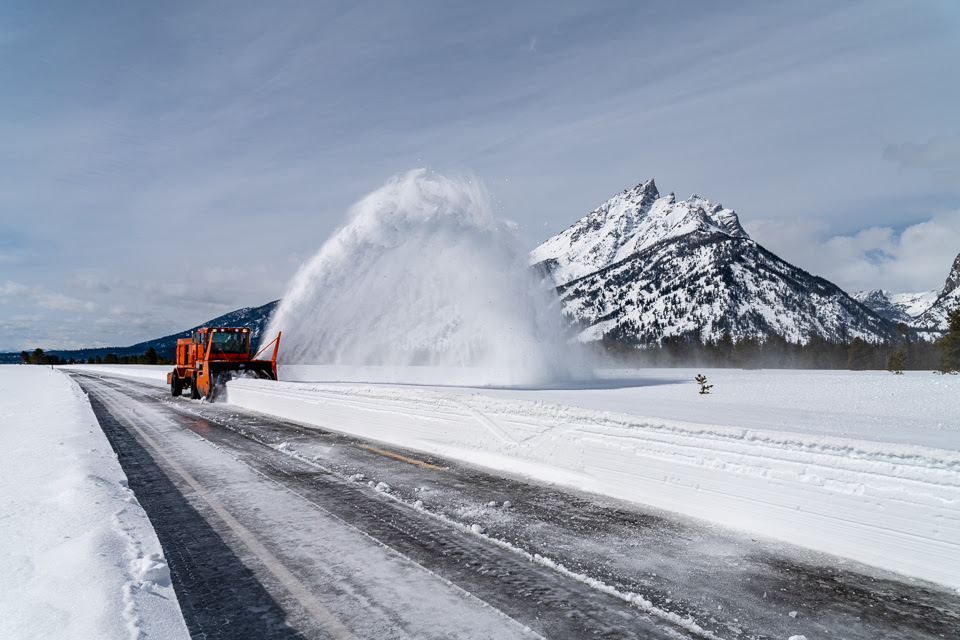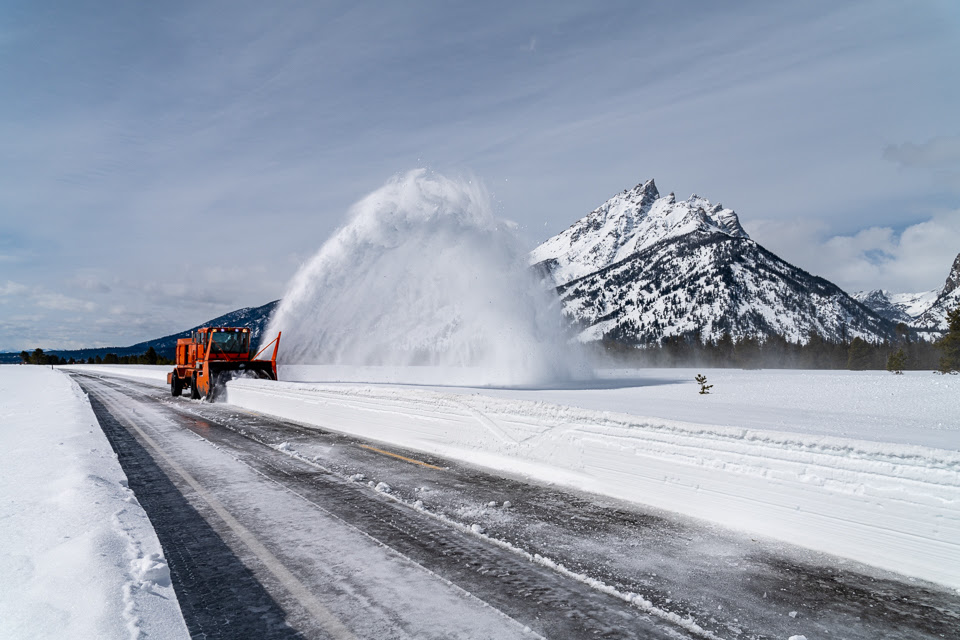 Grooming is finished for the season and plowing operations began 3/14
Grooming is sponsored by the GTNP Foundation and generous donations from our community.
---
Grooming is finished for the season.
Last Update: 3/18
The lodge is closed for the season and grooming has come to an end. Thanks to all who came out and visited the ranch this winter! The lodge and restaurant will be open for summer activities mid-June.
https://www.turpinmeadowranch.com/the-ranch/live-conditions
https://www.turpinmeadowranch.com | 307.543.2000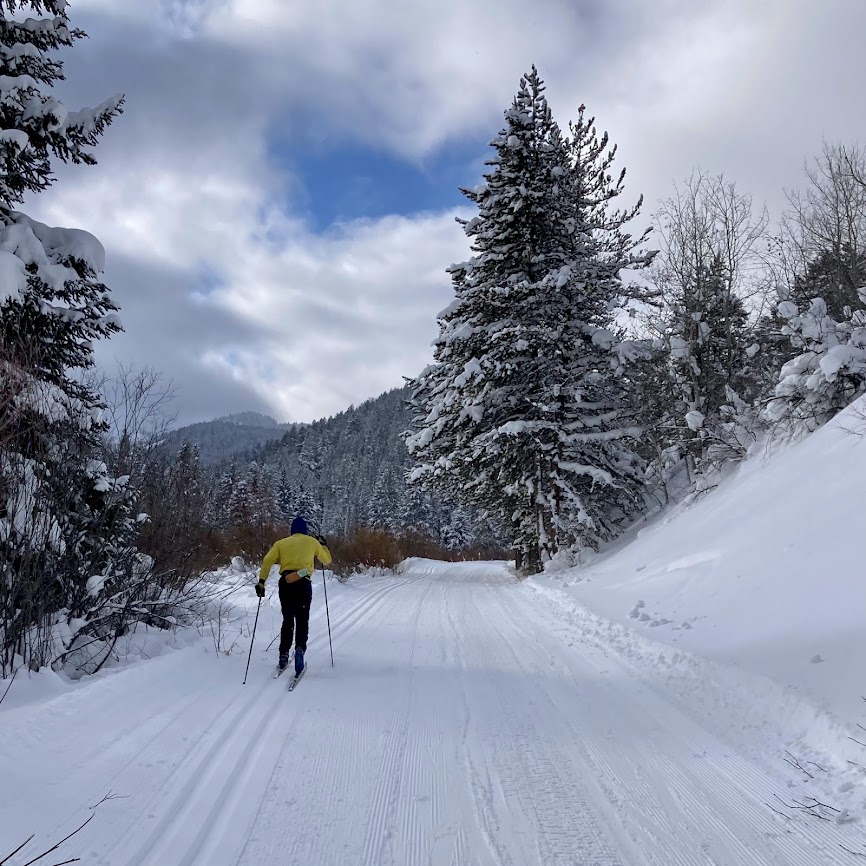 Trail Etiquette: Please keep your dogs leashed in the parking lot and be sure to clean up after them!
---
Grooming Schedule: Tuesday, Thursday, Saturday & Sunday
Last Updated: 3/19
Cross Country 15k: XC OPEN
Fat Bike Trails : Closed
Snowshoe Trails: Open
Targhee's Nordic trails are groomed Tuesdays, Thursdays & Sat/Sundays. Fat bike/snowshoe trails are groomed regularly but not on a set schedule – the groomer usually waits until after a storm cycle to groom the single track.
Trail day passes are $20 this winter.
Remember, singletracks will be closed when there is more than 3 inches of snow in a 24 hour period.
---
Grooming Schedule: Tuesday, Thursday, & Sunday
Last Updated: 3/19
Skate: Set | Classic: Not Set
Skate track set well on all loops. Residual classic track was not set and is hard, icy, and shallow. Northeast inner loop on the far north hill is melting out but you can currently bypass the dirt by following my detour.
Please do not park in the library parking lot. Please be sure to keep your dogs on a leash and to clean up after them.
---
Grooming Schedule: Monday, Wednesday & Friday
Last Updated: 3/19
Skate: Set | Classic: Not Set
Driggs track will be groomed at 8:30 am Saturday.
---
Grooming Schedule: Monday, Wednesday & Friday
Last Updated: 3/16
Skate: Set | Classic: Set
Rolled out the new snow Wednesday night. Made a few extra passes to smooth out the waves. The perfectionist in me doesn't like it but over all both the classic track and the skating should be pretty damn nice! Get out there and enjoy as the forecast next week looks like this might be it?…keeping the dream alive! Walking single track was also packed down and groomed, watch for old post hole marks!
---
Grooming Schedule: Monday, Wednesday, Friday & Saturday
Last Updated: 3/19
Skate: Set | Classic: Set
Plan to reset skate track this morning, should be good. Classic tracks still in good condition from Friday groom.
---
Grooming Schedule: Tuesday, Friday & Sunday
Last Updated: 3/18
Skate: Set | Classic: Set
Yeti and Campground both shaped up pretty well. Set the classic track on All of Yeti and the campground part of the campground loop. The trails are a bit rough near the trail head but should ski well up in the trees. Have fun!
No dogs December 1 – April 15.
---
Grooming Schedule: Monday, Thursday & Saturday
Last Updated: 3/19
Skate: Set | Classic: Not Set
Skatetrack was last groomed on Thursday and the classic track has been left alone since last Monday. 7 AM Saturday 19th morning after scouting for pre-groom, I determined that the snow is too frozen to have any success. I'll try to have a look mid-morning and see if the timing is right. Standby for updates.
No dogs allowed.
---
Southern Valley Singletrack
Grooming Schedule: As needed
Last Updated: 3/14
Singletrack: Set
Happy hour, Hill benders and Nemo were all groomed after the last storm cycle March 7th & 8th. Trails are still in decent shape and mostly rider packed. Enjoy the ride.
Happy Hour (aka Mike Harris to ID/WY state line)
No dogs December 1 – April 15.
---
Grooming Schedule: As needed
Last Updated: 3/16

Groomed to Pinnacle TH only.
---
Grooming Schedule: As needed
Last Updated: 3/16

Grooming is done for the 21/22 season.
---
Grooming Schedule: As needed
Last Updated: 3/17

Groomed 3/17.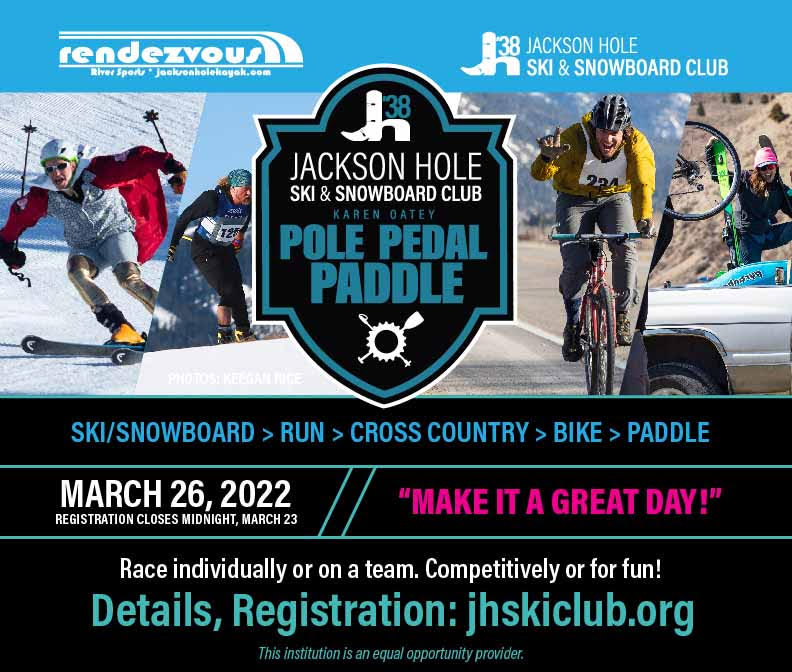 Registration is now OPEN for JHSC's Rendezvous River Sports Karen Oatey Pole Pedal Paddle on March 26th. Since 1975 the "PPP" has served as the annual kickoff to spring in Jackson Hole with a five-leg race that includes:
Ski/snowboard alpine race at Jackson Hole Mountain Resort
Running leg from Teton Village to Shooting Star
Cross country ski leg at Shooting Star Nordic track
Cycling leg from Shooting Star to Von Gontard's Landing at South Park Bridge
Paddling leg on the Snake River to Astoria boat ramp
Competitors are invited to race individually or on a team and competitively or for fun. Either way, costumes are highly encouraged! The PPP will conclude with a large community celebration at Astoria Hot Springs Park open to the public*.
Registration closes at midnight on Wednesday, March 23rd Details and registration HERE.
*Please no dogs at any leg of the PPP and if you plan to soak at Astoria, reservations are required.
---
---
We'd love to hear about your outdoor adventures, what your doing to stay healthy, safe, respectful of community health guidelines – send pictures or post on FB and Insta – #JHNordic