Fat biking is a super fun way to explore snow-covered winter trails and pathways. It is especially enjoyable when the snow is firm and packed. This outdoor sport has been all the hype and hasn't lost any steam. With over 50 fat bike friendly trails in Jackson Hole and Teton Valley, there are many opportunities to get to and explore beautiful snow-covered trails from easy, beginner (flat) trails to hilly single track.
Check out the top Fat Bike Trails (+ all 57 fat bike friendly trails)  JHNordic.com/trails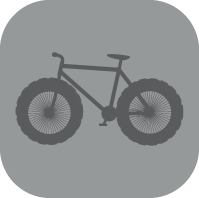 Click on the fat bike icon to list all fat bike trails. You can filter your list further by location, difficulty, dog friendly, length.  
What is Fat Biking?
Fat biking (aka snow biking) refers to a bike with very fat tires (4 inch wide) that grip on snow. Since the tires are so wide, the bike needs to have a frame that allows for the fat tires. Think of a mountain bike with a wide fork and frame. Some fat tire bikes have studded snow tires, to allow extra grip on very firm snow and ice. Fat bikes can be ridden year-round, on pavement, dirt, gravel and sand. The early versions were heavy, but now, there are aluminum and carbon framed fat bikes, as well as e-fat bikes. 
Top Fat Bike Trails in Jackson Hole – from Easy to More Difficult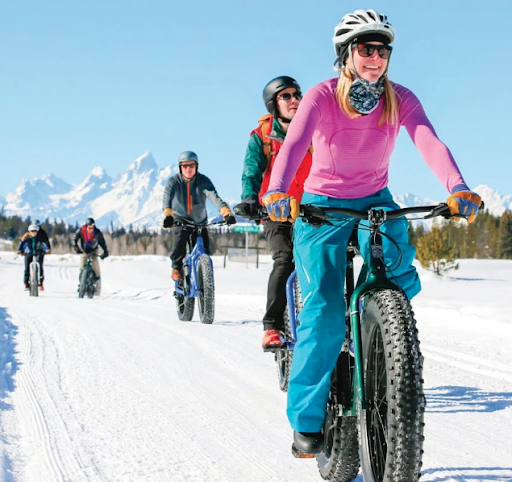 Top Fat Bike Trails in Teton Valley- from Easy to More Difficult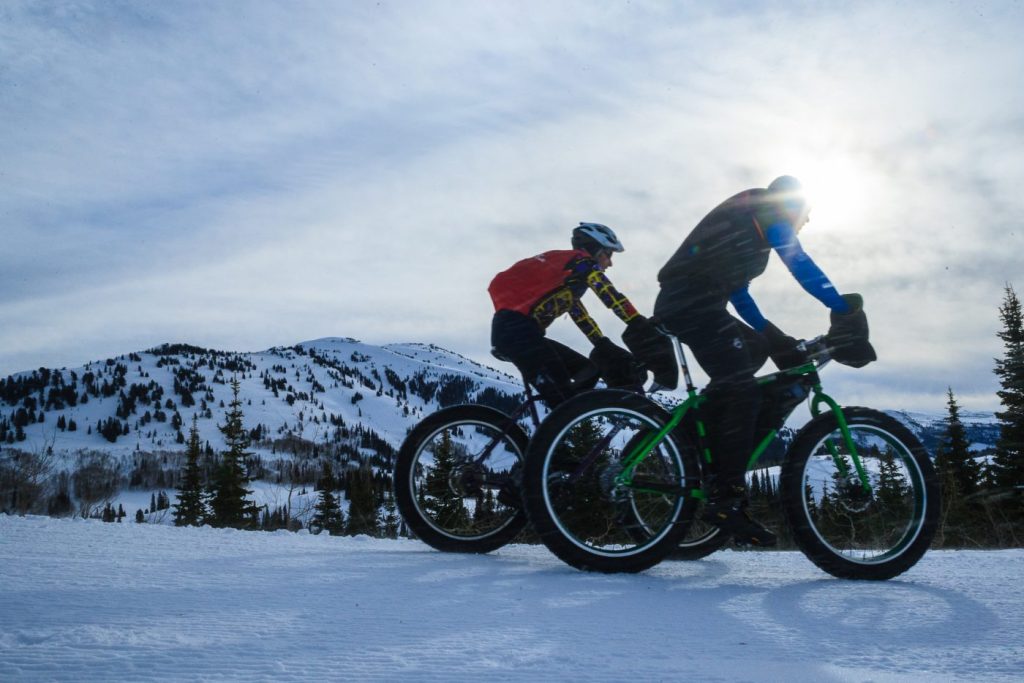 Take a Fat Biking Tour
Tap into local biking expert's knowledge of the best fat bike trails and conditions, including a bike rental, by taking a Fat Bike tour. Teton Mountain Bike Tours, on N. Cache St in Jackson hosts both group and private tours. If you prefer to find your own trail, demo, rent or buy a fat bike at Hoff BikeSmith, Fitzgerald Bicycles, The Hub Bikes.
Before You Go
How to dress/what to bring: 
Dressing for fat biking is similar to dressing for Cross-country skiing, possibly with an extra wind-proof shell and warm mid-layer since you are moving faster than on skis.
Weather (temperature, wind and snow/precipitation) plays a key factor in what to wear.
Be prepared for winter weather to change. Even if the day starts out sunny, a blizzard can come in quickly
Handlebar mitts are great additional feature you can velcro right on your handlebars, it helps keep the wind and the cold off your hands so you can enjoy the ride more fully
Typically, one needs:

Warm, snow proof boots with a grippy sole
Wool knee socks
Base layer -top and bottom
Wind-proof, water resistant pants with some stretch – some people going for a long ride may even wear their summer bike shorts for some extra padding on the seat)
Top: -dress in layers -to allow to start warm, shed a layer if going uphill which will warm you up. You'll want to add those layers back on the downhill. Wear wool or synthetic -no cotton.
Mid-layer -light puffy or fleece
Outer shell -Wind-proof, water proof (or water resistant)
Warm hat
Neck gaiter "buff" -nice to keep your face or neck warm
Warm mittens or gloves and hand-warmers

What to bring:

Helmet (ski or bike helmet) -supplied by bike tour company or BYO
Goggles or sunglasses
Sun cream
Water and a snack, lunch, or healthy energy bar
Small day pack or large waist pack -to store food, drink, phone, a place for extra clothing layer.
Have a Plan, Let someone know where you're going

Before you head out, be sure to let someone know where you're going.
Find a trail before you go, Make a plan.
In case of an Emergency -Before you go:
Fat Biking Trail Etiquette
For those of us on fat bikes there are a few simple rules of etiquette that should be followed:
Bikes yield to all other users. When a cyclist approaches another trail user, it is important to remember that other trail users (Nordic skiers, walkers, horses) have the right-of-way. If possible, say "Hello" and let other users safely pass.
Slow down in congested areas. Popular trail heads can get crowded. Cyclists should ride slowly or consider walking their bikes when other users are present. While out riding the trails, remember Nordic skiers may require a wide lane. Additionally, cyclists should signal skiers before passing to prevent collisions.
Ride when the trail is firm. Do not ride when the trail is soft and you are leaving ruts 1″ or deeper. This damages the groomed trail for all users. Tires of 3.8″ or wider should be used and it may be necessary to drastically reduce tire air pressure to minimize ruts and increase traction. If on a shared Nordic trail, stay to the side – Don't ride in the classic skier track.
– Consider turning around or riding alternate routes if wildlife is present. Winter is extremely difficult on wildlife and there is no excuse for stressing animals just to ride our bikes. In Jackson Hole and Teton Valley, you may see moose, deer, wild sheep, and elk -give them a wide-berth.
– Know where you are riding and make sure fat bikes are allowed. Although many of the groomed trails and forest trails are multi-use and allow fat bikes, there are exceptions. Areas such as Trail Creek and Teton Pines are skier-only and off limits to fat bikes. Additionally, Grand Teton Park does not allow winter use of fat bikes along the main groomed track between the Bradley/Taggart and Signal Mountain Lodge gates. Only on the plowed roads.
There are many country pathways and snow covered roads that are perfect for fat biking!
See JHNordic.com/trails/ and click the fat bike icon to see many excellent choices!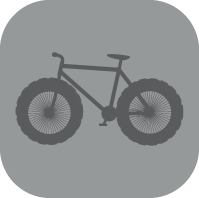 Love the Fat bike trails? 
We encourage you to support fat bike grooming efforts provided by: Friends of Pathways and Teton Valley Trails & Pathways. And show your support to Bridger-Teton US Forests by donating to Friends of Bridger-Teton (our public lands where most fat biking is done).