Fat biking is a super fun way to explore snow-covered winter trails and pathways. It is especially enjoyable when the snow is firm and packed. This outdoor sport has been all the hype and hasn't lost any steam. With over 40 fat bike friendly trails in Jackson Hole and Teton Valley, there are many opportunities to get to and explore. Go to JHNordic.com/trails/ and click on the fat bike icon to list all trails. Here are some of the top trails:
There are currently 49 fat bike friendly trails on JHNordic.com/trails
Top Fat Bike Trails in Jackson Hole
Top Fat Bike Trails in Teton Valley
Snake River Road, Swan Valley (with Fall Creek side road)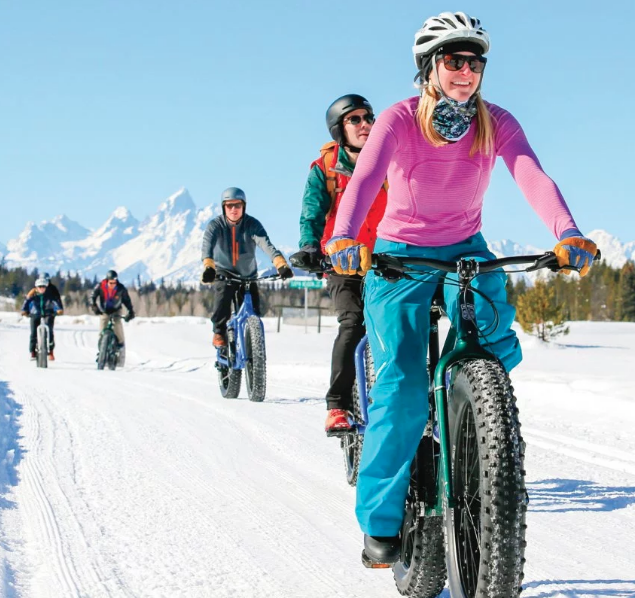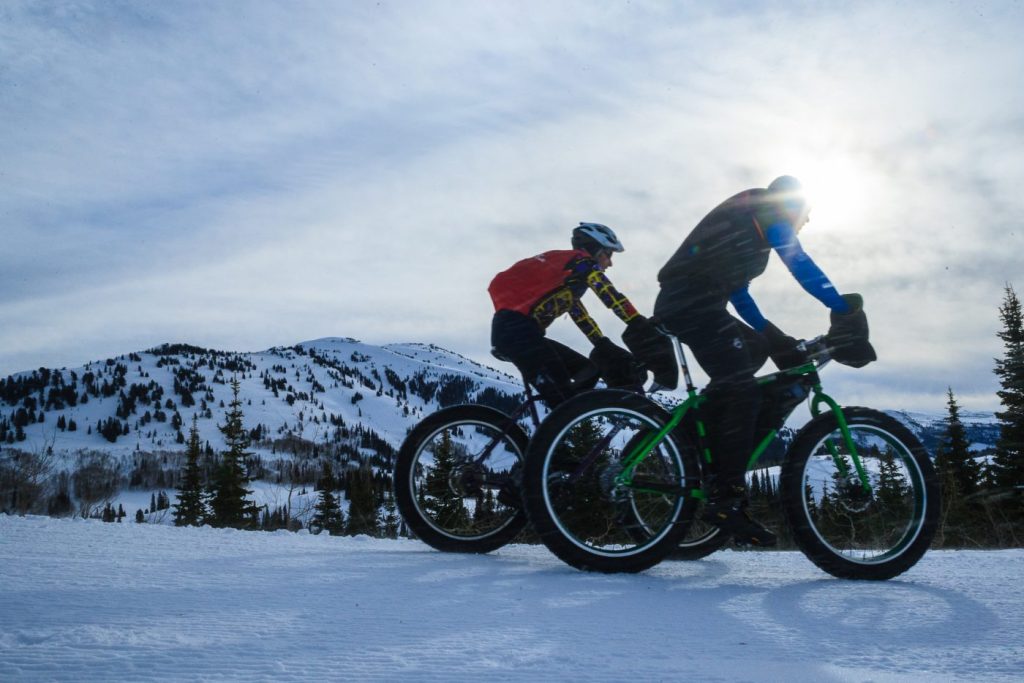 Take a Fat Biking Tour
Take a fat bike tour with Teton Mountain Bike Tours, Jackson. Demo, rent or buy a fat bike at Hoback Sports, Fitzgerald Bicycles, The Hub Bikes.
Support fat bike grooming: Friends of Pathways, Teton Valley Trails & Pathways. Support Bridger-Teton US Forests – Friends of Bridger-Teton (our public lands where most fat biking is done)

Before you Go: Fat Biking Trail Etiquette
For those of us on fat bikes there are a few simple rules of etiquette that should be followed:–
Bikes yield to all other users. When a cyclist approaches another user it is important to remember that the user has the right-of-way, as well. If possible, Say "Hello" and let other users safely pass. 
Slow down in congested areas. Popular trail heads can get crowded. Cyclist should ride slowly or consider walking their bikes when other users are present, as well. Also, while out riding the trails, remember nordic skiers may require a wide lane. Additionally, Cyclists should signal skiers before passing to prevent collisions. 
Ride when the trail is firm. Do not ride when the trail is soft and you are leaving ruts 1″ or deeper. This damages the groomed trail for all users. Tires of 3.8″ or wider should be used and it may be necessary to drastically reduce tire air pressure to minimize ruts and increase traction. Don't ride in the classic skier track.
– Consider turning around or riding alternate routes if wildlife is present. Winter is extremely difficult on wildlife and there is no excuse for stressing animals just to ride our bikes.
–  Know where you are riding and make sure fat bikes are allowed. Although many of the groomed trails and forest trails are multi-use and allow fat bikes, there are exceptions. Areas such as Trail Creek and Teton Pines are skier-only and off limits to fat bikes. Additionally, Grand Teton Park does not allow winter use of fat bikes along the main groomed track between the Bradley/Taggart and Signal Mountain Lodge gates.