---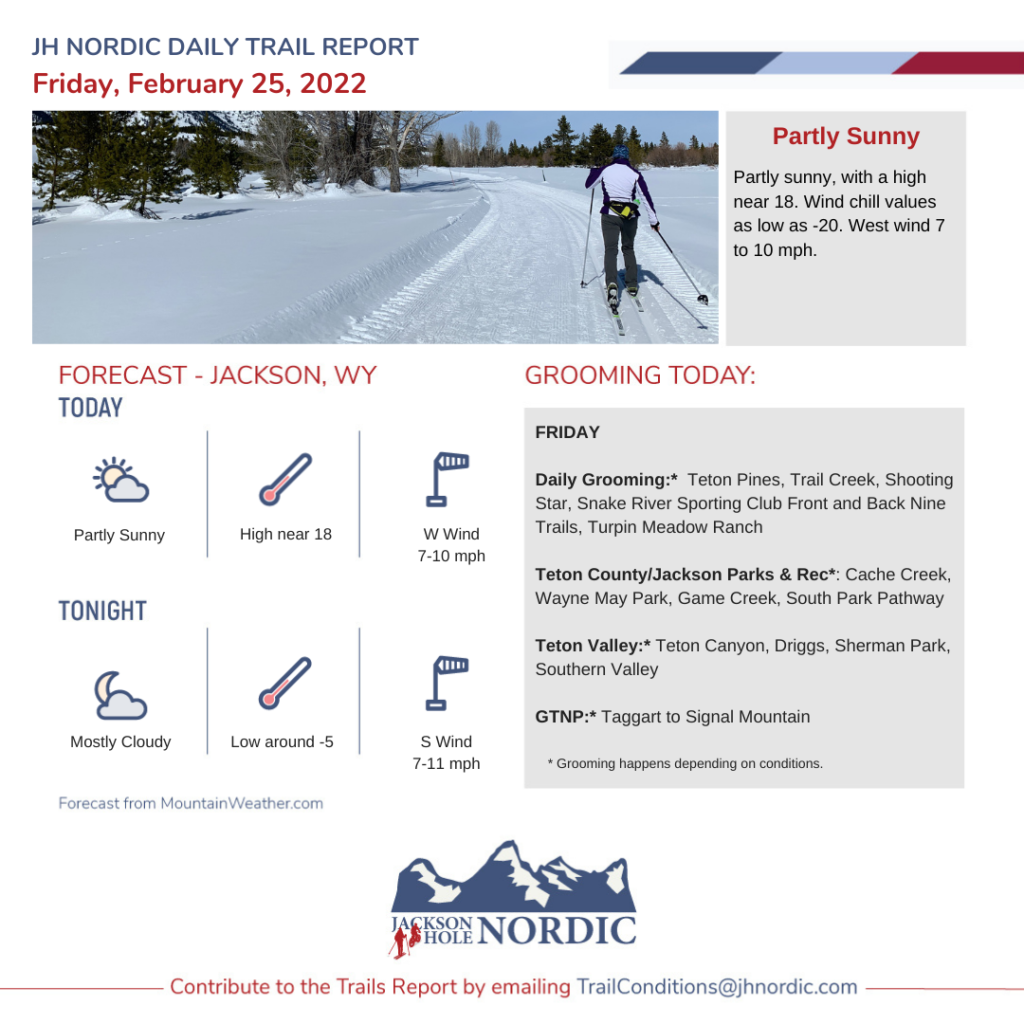 ---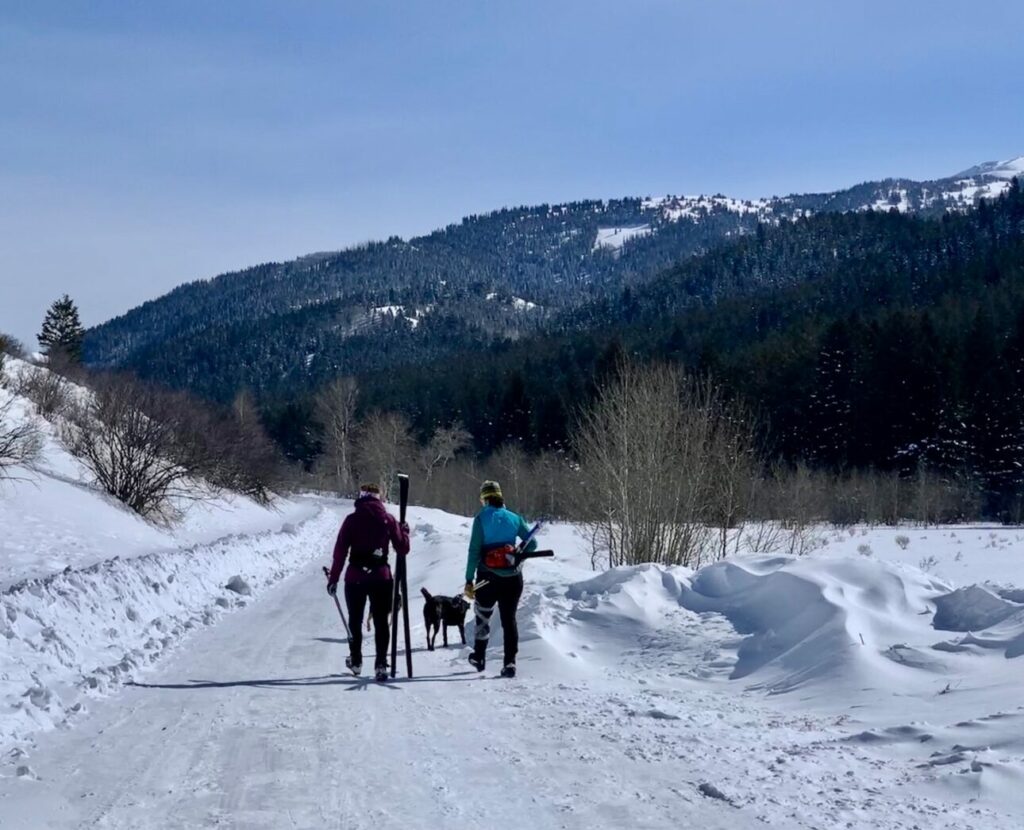 Looking for a new trail to explore that's skier tracked (ungroomed), relatively flat, dog friendly, following a pretty creek into a forested valley, and 30 minutes from Jackson/5 min from Victor?
Moose Creek is a Teton Valley locals favorite! Roadside parking near Moose Creek Ranch, the initial 100 yards of trail are firmly packed, then the snow softens for a nice skiing experience on classic skis.
Ski out as far as you like, picnic lunch in the sun! We passed several friendly , happy dogs (lots of tail wagging!).
---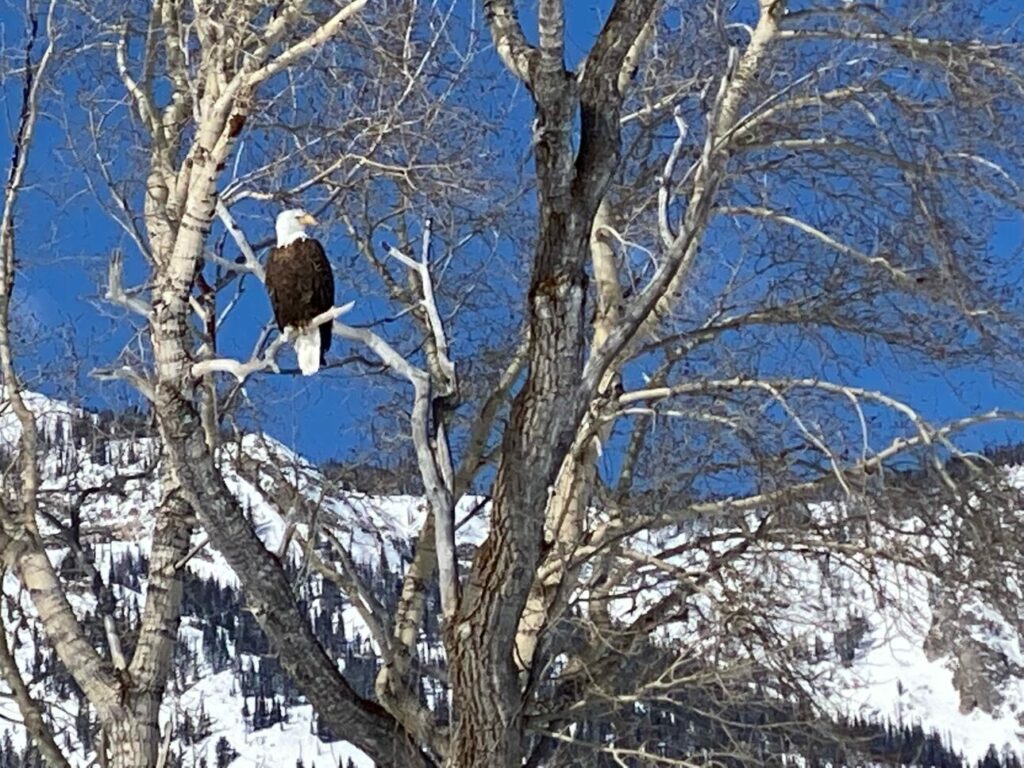 Sunny days and bald eagle at Shooting Star
Friends gathered for a skate ski at Shooting Star to enjoy the sunny, bluebird days, excellent grooming over the gently rolling trails. Local bald eagle oversees their enjoyment!!
---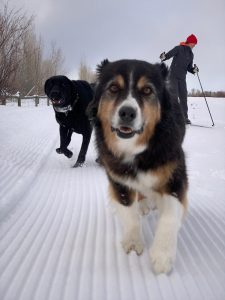 A Reminder: Clean up After your Pet on Public Trails
Department (TCJPRD) would like to remind the public to clean up after pets when utilizing
public hiking and walking trails. There have been numerous complaints to TCJPRD this year regarding owners leaving their pets mess on the trails. "There are always those people who don't pick up their pet's mess, but this year it seems to be quite substantial," said Parks Manager Andy Erskine. "It's not just that it is unpleasant for others to have to walk around, but it can have serious consequences on others and the
environment."
Cleaning up after our fur friends not only preserves the beauty of our natural environment, but it also protects human health, dog health, and our waters. Erskine says that Emily's Pond and Cache Creek are especially susceptible to watershed contamination from animal waste.
Many diseases are also transferred between dogs through fecal matter/oral transmission, such as intestinal parasites, like roundworms and hookworms. Bacterial and viral infections, such as Parvovirus, can also spread through fecal matter.
Trail etiquette starts with being mindful of sharing public trails with others. When pet fecal matter is not picked up, it can diminish the outdoor experience for others: It smells; it can be stepped in; it is visually unpleasant; it carries diseases. Please be respectful of shared trails by controlling your pet, picking up after them, and properly disposing the bag. Please do not leave a bag behind for others to pick up.
---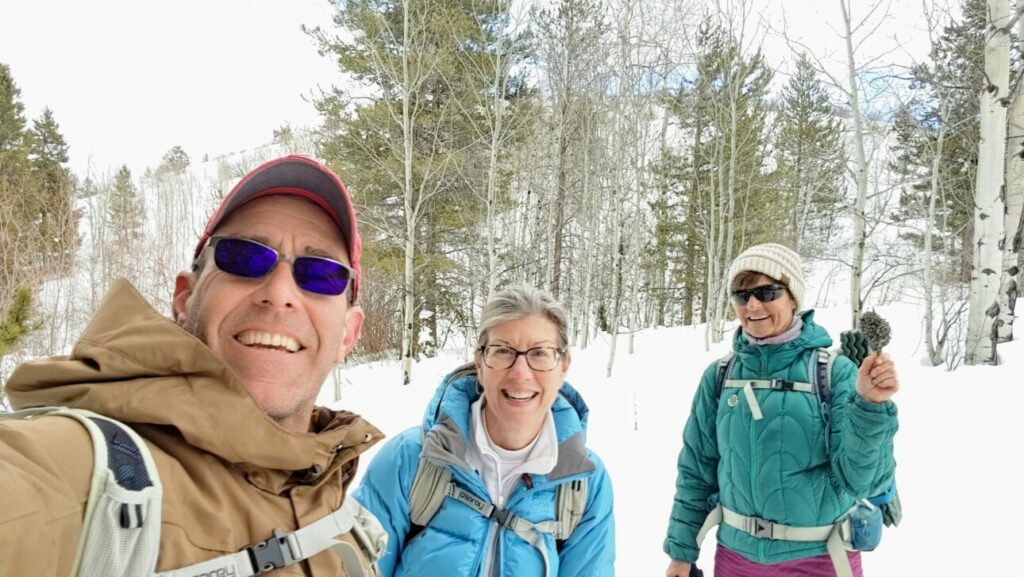 Hole Hiking Nature Update
Provided by Cathy Shill
www.holehike.com
307.690.4453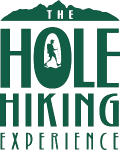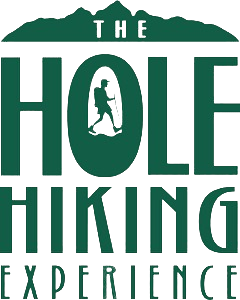 "Hello, sun in my face. Hello
you who made the morning
and spread it over the fields…
Watch now, how I start the day in happiness,
In kindness."
-Mary Oliver
Recent 40-degree temperatures felt a bit like spring. It has not been our usual snowy February. The hills around town are now brown and snow is melting throughout the valley. Current Teton snowpack is 75% of average. Fortunately, we received a foot of snow Sunday night and an arctic front has now settled over the valley. Another month of winter and I hope for a snowy one.
Over the weekend, I took my dog for a walk-up Cache Creek. The trailhead is right outside of Jackson with many fun tour options. You can walk, ski, or snow bike up and down the drainage. The Hagen trail is south of the road and easy to access. The area is groomed and a nice place to explore. Birds were active. I saw a Clark's Nutcracker, Chickadees, and Ravens. I heard both a nuthatch and jay call. Peaceful and nice. Moose do frequent the area so stay observant.
A winter highlight is the large herd of elk near the town of Jackson. The National Elk Refuge is 25,000 acres and adjacent to town. Each winter thousands of elk come to the feed ground for supplemental feed. Biologists monitor the vegetation and begin to feed the elk alfalfa pellets when forage becomes limited. This year, feeding began on February 7, 2022. The most recent biological update reports 7,200 elk, 120 bison, and 45 bighorn sheep. Wolves were seen last week. The refuge is about ¼ of the historical winter range for the Jackson herd so an important part of their winter survival. You can observe the refuge from a variety of pullouts or take the winter sleigh ride (add link to winter sleigh ride) https://www.nersleighrides.com/.
Enjoy the longer days and change in light. March begins next week so more signs of spring to come. Our expert naturalists make the most of a visit with time on the trail to look for wildlife, track, discover and explore. Can't be beat! Client photo is a couple that joined us in 2014, 2016 and again this winter. Guide, Beverly, is in the blue coat. Each tour day is new and different! Join us! www.holehike.com 307.690.4453
---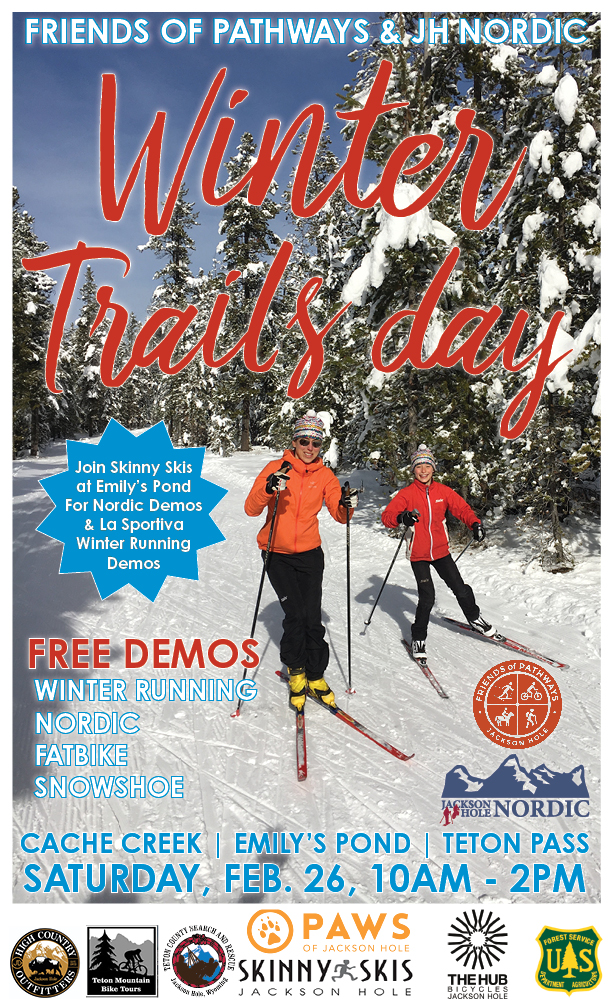 Join us at Winter Trails Day this weekend! JHNordic's Nancy Leon will be at Emily's Pond Saturday, so feel free to come by and demo some skis from Skinny Skis or take a fat bike ride from Teton Mtn Bike Tours!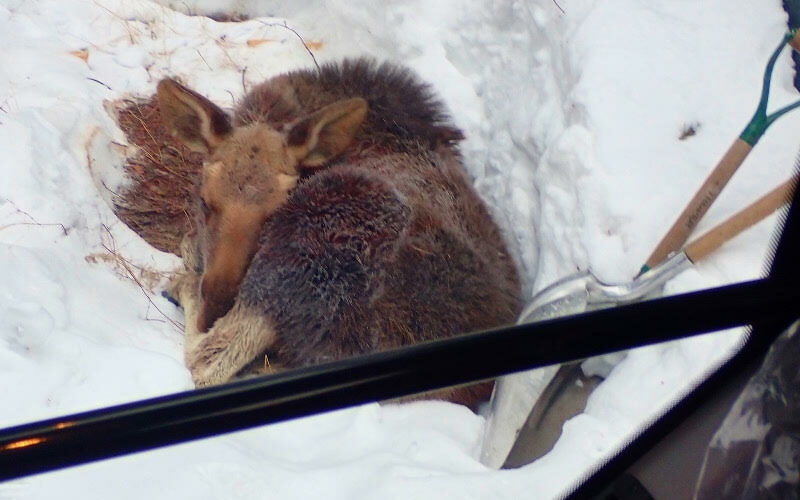 Grooming Daily
Last Update: 2/24
Home Sweet Home!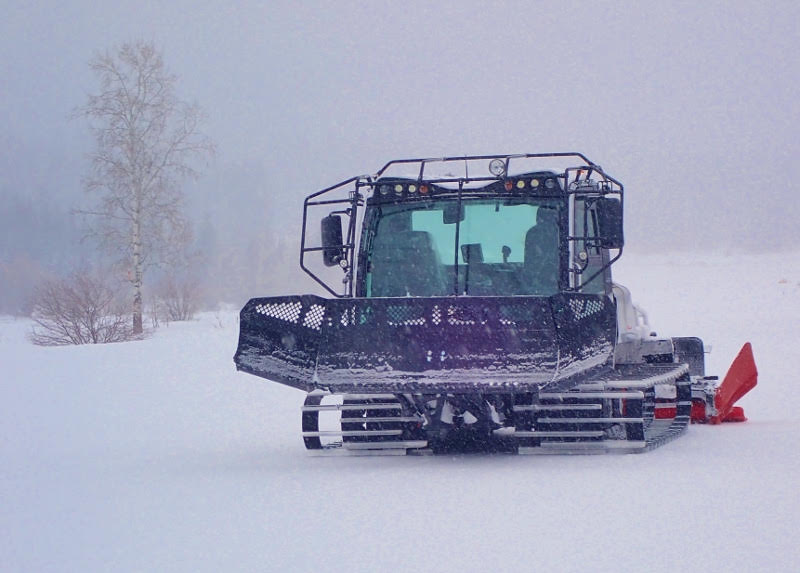 This little bull moose calf was sound asleep right between the Husky and the big green tent when the grooming department arrived this morning. He didn't seem to be in too much of a hurry to take off, although eventually he did decide that maybe the Husky was a little bit scary. No momma was in sight, and while on the one hand he did look a little thin, he still seemed to be getting around fine with much of the winter behind him. Hopefully he can continue to find a good home around Trail Creek until things turn green again.
If Trail Creek is your skiing home and you're thinking of heading out for a ski today, you'll be able to find plenty of great skiing. While cloudy skies and single digit temperatures might turn down your motivation dial, the wind is calm and with the right clothes, you'll not regret getting in a ski today.
With recent classic tracks all sharp and crisp and a touch of light snow falling, today's grooming call was a buff out of the skate lanes. The Husky made the rounds of almost every trail today, only resetting classic tracks in the narrower sections. The snow is just a touch slow, but pliable and forgiving, and who doesn't love a little bit of gently falling snow on a great Nordic ski?
Groomer's choice for today is a skate tour of the woods.
---
Grooming Monday-Saturday
Last Update: 2/24
Friday Grooming Schedule: Cache Creek, Wayne May Park, Game Creek, South Park Pathway
---
Last Update: 2/22
I groomed the trails in Cache last night and will take another lap this afternoon to firm things up and will snowshoe the smaller trails on Wednesday. That way everything should be in good shape for Winter Trails Day this Saturday!
Grooming by Friends of Pathways.
---
Grooming Daily
Last Update: 2/23
New Salomon skis in stock now!! Today we received a surprise shipment of classic skis that are perfect for the 110-145lb and 160-195lb weight range. We have boots and poles to go with them too! These skis were supposed to arrive last September but have been stuck in the Covid shipping delay situation. We are happy they finally made it to the shop!

Our trails are in great shape after the recent snowfall so come out and ski! We groom 13km+ daily for both skate and classic with our new snowcat. Our trails and shop are fully open to the public 9am-4pm daily. Day passes, 10 punch cards, and season passes are available.

Please call us in advance to book lessons at: (307) 733-1733. You do not need a reservation for skiing and we do not take reservations for rentals. Please contact us in advance to check availability for off-site rentals.We still have a small size selection of skate skis and BC skis, but have lots of boots, poles, jackets, pants, gloves, and hats.

We also have a good selection of used skate gear available. Call or come by to see if we have your sizes! We have a full tuning shop so drop off your skis for a wax done by our great wax techs! Visit our website for pricing and other information: www.tetonpinesnordiccenter.com
---
Grooming Daily
Last Update: 2/21
Overnight 2" of new snow fell and was a welcomed change to soften the block of ice we've been grooming over the recent weeks. The trails are in great shape and should ski well through Friday. Please, be aware that some light drifting will likely occur throughout each day, especially Monday & Tues as an artic front will push through bringing substantially colder temperatures for most of the week. Stay warm and enjoy! Next Update will be Friday (2/25).
TRAIL STATUS
YELLOW LOOP OPEN
SLED HILL GROOMED on 2/21 (Grooming will occur as needed)
CLASSIC TRACKS SET
SNOWSHOEING OPEN (BLUE LOOP ONLY, STAY ON THE EDGE OF THE TRAIL OR IMMEDIATELY NEXT TO TRAIL)
ORANGE LOOP OPEN
WALKING, NOT ALLOWED
---
Daily Nordic grooming for both "Front Nine" (south side) and "Back Nine" (North side) Nordic Trails
Public access to the groomed Nordic trails is $50 per person per day, with no season passes available. Ski rentals are available at the Sports Shop. Guests must check in at the Sports Shop to sign a waiver and make payment before heading out. The daily pass does not allow access to the Restaurant this season. The clinics that are being offered are for members and lodging guests only.

Please call the Sports Shop with any questions you may have at 307-200-3093
---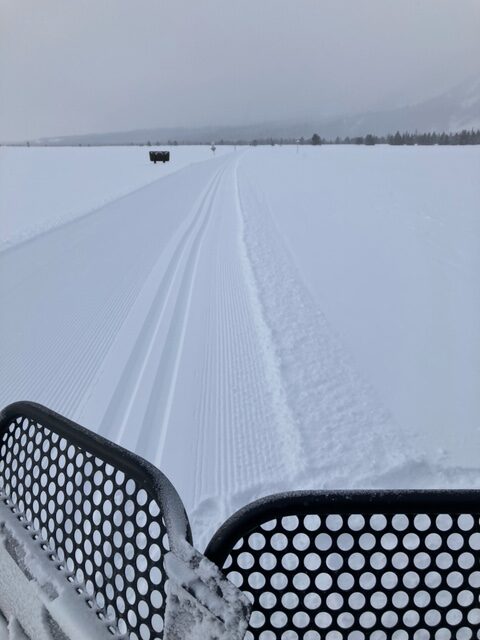 Last Update: 2/22
GTNP – Taggart to Signal today.
Grooming is sponsored by the GTNP Foundation and generous donations from our community.
---
Grooming Daily
Last Update: 2/23
It was a quiet day at the ranch on Wednesday though the pisten bully was out in the afternoon dealing with the drifts in the flats and the trail came out beautiful. The ginzu made a pass on the skate lane in the lower pasture and way back 40. The mule loop was neglected as there was not enough traffic on it to warrant grooming. All of the fat bike trails were groomed on Wednesday as well.
Please sign acknowledgment of risk forms and pay for trail passes online ahead of your visit. Call the front office (307) 543-2000 ahead of your visit for booking equipment rentals and Nordic adventures (lessons and tours).
https://www.turpinmeadowranch.com/the-ranch/live-conditions/
https://www.turpinmeadowranch.com | 307.543.2000
---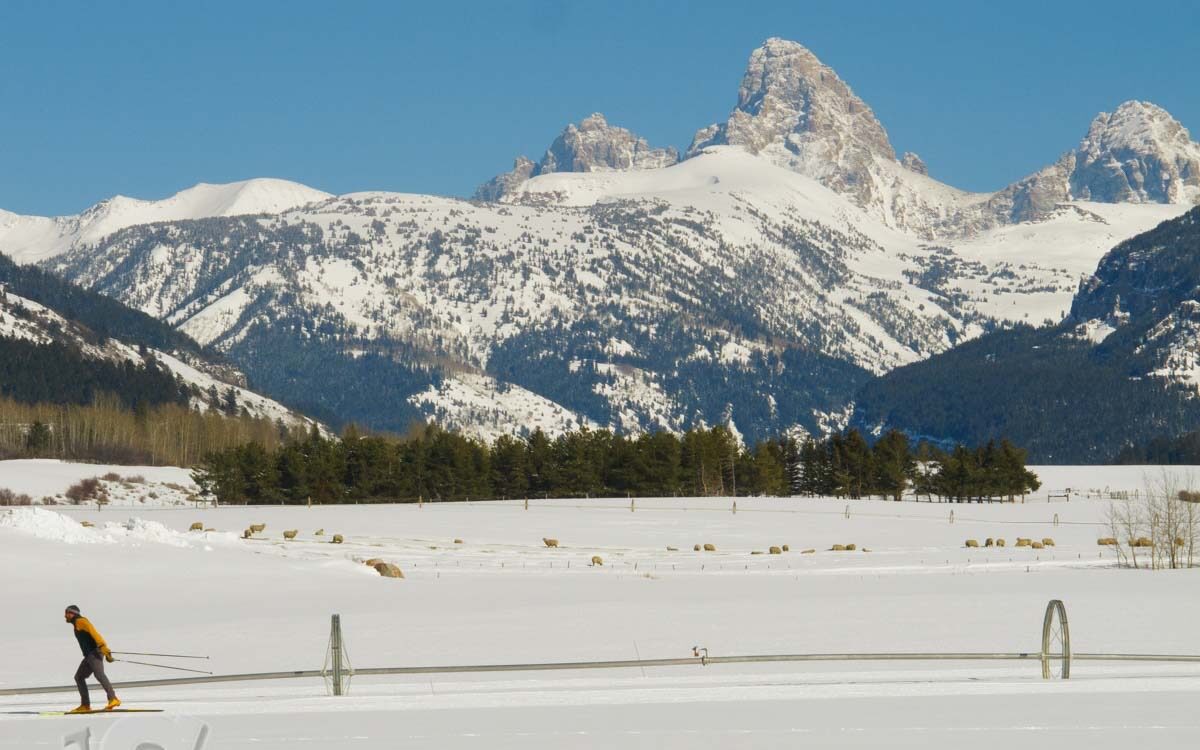 Trail Etiquette: Please keep your dogs leashed in the parking lot and be sure to clean up after them!
---
Grooming Schedule: Tuesday, Thursday, Saturday & Sunday
Last Updated: 2/24
Cross Country 15k: XC OPEN
Fat Bike Trails : Open
Snowshoe Trails: Open
Targhee's Nordic trails are groomed Tuesdays, Thursdays & Sat/Sundays. Fat bike/snowshoe trails are groomed regularly but not on a set schedule – the groomer usually waits until after a storm cycle to groom the single track.
Trail day passes are $20 this winter.
Remember, singletracks will be closed when there is more than 3 inches of snow in a 24 hour period.
---
Grooming Schedule: Tuesday, Thursday, & Sunday
Last Updated: 2/24
Skate: Set | Classic: Set
Starting to groom at 8am, should be finished at 10:30.
Please do not park in the library parking lot. Please be sure to keep your dogs on a leash and to clean up after them.
---
Grooming Schedule: Monday, Wednesday & Friday
Last Updated: 2/24
Skate: Set | Classic: Set

Groomed out nicely! Have fun and stay warm.
---
Grooming Schedule: Monday, Wednesday & Friday
Last Updated: 2/23
Skate: Set | Classic: Set
Reclaimed both the single/walking track and the full Nordic track. Used multiple passes with the Ginny to knock down wind drifts and flattened trail. Came out pretty good! Both the classic track and skating will be soft but it's a beautiful day… Enjoy
---
Grooming Schedule: Monday, Wednesday, Friday & Saturday
Last Updated: 2/22
Skate: Set | Classic: Set
Reset both skate and classic tracks late Tuesday afternoon. Both turned out very well. Unfortunately, on my last pass out, two snow machines rode up middle of the track. You win some, you lose some.
---
Grooming Schedule: Tuesday, Friday & Sunday
Last Updated: 2/22
Skate: Set | Classic: Not Set
Tuesday afternoon I finished grooming and was able to reset the skate track on yeti's and campground loops. I was not able to set the classic track. Enjoy the glide
No dogs December 1 – April 15.
---
Grooming Schedule: Monday, Thursday & Saturday
Last Updated: 2/23
Skate: Set | Classic: Set
Set both skate and classic tracks. It came out really nice.
No dogs allowed.
---
Southern Valley Singletrack
Grooming Schedule: As needed
Last Updated: 2/23
Singletrack: Set

Wednesday evening we were able to groom multiple passes on happy hour, powerline, pole connector, upper and lower ladyslippers, upper and lower Hillbenders.
Happy Hour (aka Mike Harris to ID/WY state line)
No dogs December 1 – April 15.
---
Grooming Schedule: As needed
Last Updated: 2/18

Groomed to summer TH 2/16
---
Grooming Schedule: As needed
Last Updated: 2/10

Groomed 1/14
---
Grooming Schedule: As needed
Last Updated: 2/18

Groomed 2/16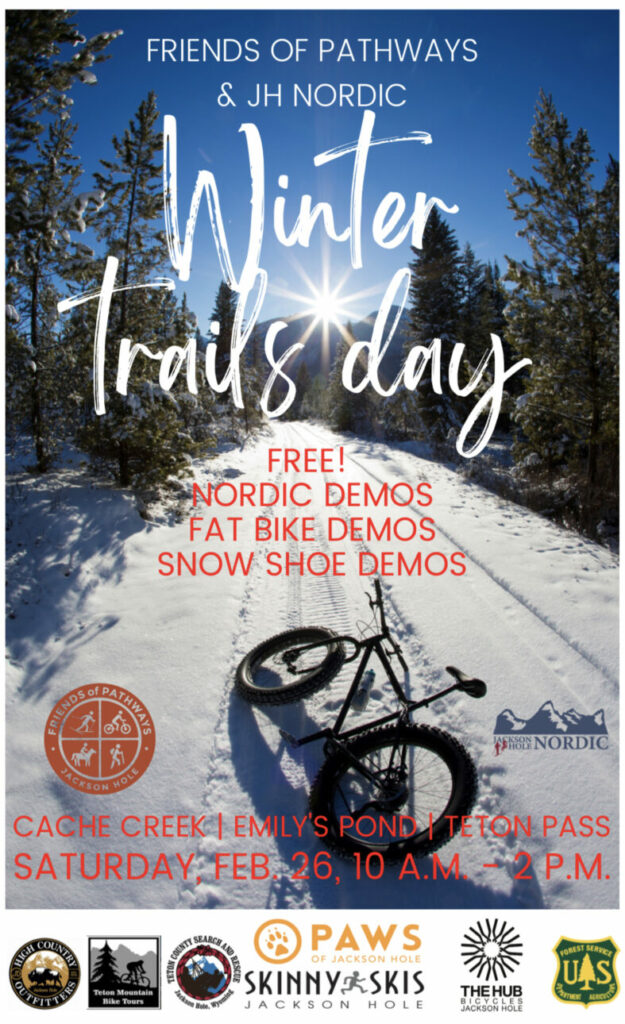 ---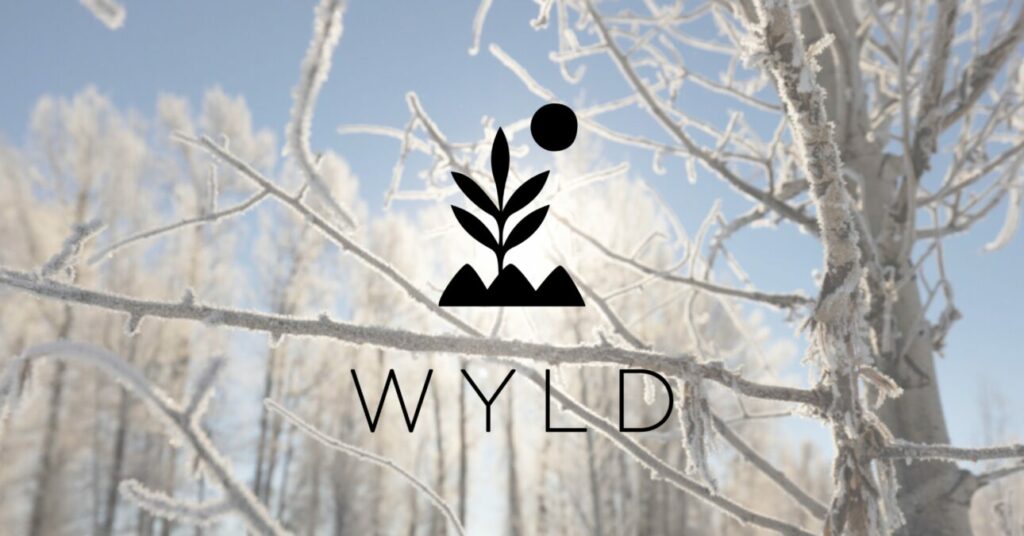 WYLD Times at R Park, Hosted by JH Land Trust
Saturday, March 5th
Rendezvous Park | 3 – 5 pm
On Saturday, March 5 from 3-5 pm the Jackson Hole Land Trust (JHLT) will host WYLD Times at R Park. You are invited to enjoy this free, winter festival to kick off the JHLT's new WYLD membership initiative. WYLD members fuel free community conservation programming that enriches the livability of this valley and invites accessible open space experiences for all.
WYLD Times at R Park will feature several activity stations with something for everyone. You can take a fat tire bike for a spin courtesy of The Hub Bicycles and brush up on avalanche rescue skills and backcountry preparedness with Teton County Search and Rescue. Kids (or those young at heart) can learn about nature with the JHLT's Discovery Boxes and sled R Park's iconic knolls. All activities are free, and you are invited to join WYLD for fun extras like hot cocoa, beer, and custom donuts from Provisions. Don't have avalanche safety gear to practice with? You can join WYLD for a chance to win an ARVA Evo 4 Combo Kit, including a beacon, probe, and snow shovel!
Become a WYLD member by visiting jhlandtrust.org/wyld today. Attendees who join the WYLD membership program before or during the March 5 WYLD Times at R Park event will be entered into the giveaway to win the ARVA Evo 4 Combo Kit, including a beacon, probe, and snow shovel.
---
We'd love to hear about your outdoor adventures, what your doing to stay healthy, safe, respectful of community health guidelines – send pictures or post on FB and Insta – #JHNordic