Moose Creek
5.8mi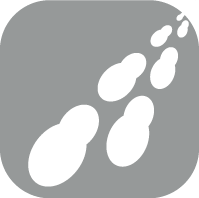 ---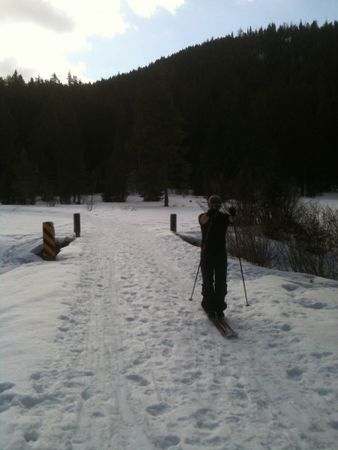 Access via: Off Hwy ID 33 (continuation of Hwy WY 22) - 14 miles west of Wilson WY, 3 miles SE of Victor ID - To find the Ranch turn northeast on Old Jackson Hwy two miles west of the WY/ID border on Hwy 22. Turn east (right), Park along the side of the summer access road right in front of Moose Creek Ranch, ID
Fee: $0.00
---
The Moose Creek ski trail offers a wonderful ski along Moose Creek. The trail follows Moose Creek east, and ultimately runs behind (i.e. north side) Taylor Mountain, and deep into the main ridgeline of the Tetons. On the weekends the canyon is well travelled by skiers, snowshoers and enjoyed with many dogs.
The trail is an "out-and-back". The further up canyon you go the slightly steeper the terrain, however the elevation gain is very gradual (440 ft. in the first 3 miles).

Start skiing east on the summer gravel access road. About 1/2 mile in you will ski over Moose Creek on a car bridge. Just before the bridge you cross the WY/ ID state line, unfortunately the sign no longer exists. The trail will now travel on the south side of the creek until the footbridge crossing at mile 3. After about another ¼ mile you will come to the summer trailhead parking lot, complete with maps, continue east along a more intimate trail under tree cover.
At ¾ mile from the winter parking a trail option to the left (straight east) takes you to Plummer Canyon and eventually to the Plummer Yurt. Following this option for another ¼ miles brings you to a makeshift winter bridge (a ladder supported by logs and stuffed with branches and snow), which is used to cross Moose Creek. See photo in late season.

The longer ski option is to the right (southeast) at the ¾ mile marker. Between mile markers 1 and 3 there will be three side creek crossings draining north into Moose Creek that need negotiating. In a big snow year, there are snow bridges in smaller snow years you will need to side step over the side creeks. These creeks and/ or springs flow year round.

After 3 miles, the trail splits at the western edge of a large meadow, "Moose Meadows". The left trail continues up Moose Creek, the right trail heads southeast behind Taylor Mountain and connects with the Coal Creek-Mesquite Creek trail. The meadows are glorious open spaces.

Skiing up Moose Creek is worth the time you have – short or long. It is a beautiful gradually climbing drainage that warrants winter exploration.

Moose Creek is also a favorite summer hiking trail, that can be an out-and-back (per the winter trail description ), or can be continued to connect with the Teton Crest Trail at its eastern end , to lead south over Mesquite Pass and down into Coal Creek.
Other trails in Teton Valley