---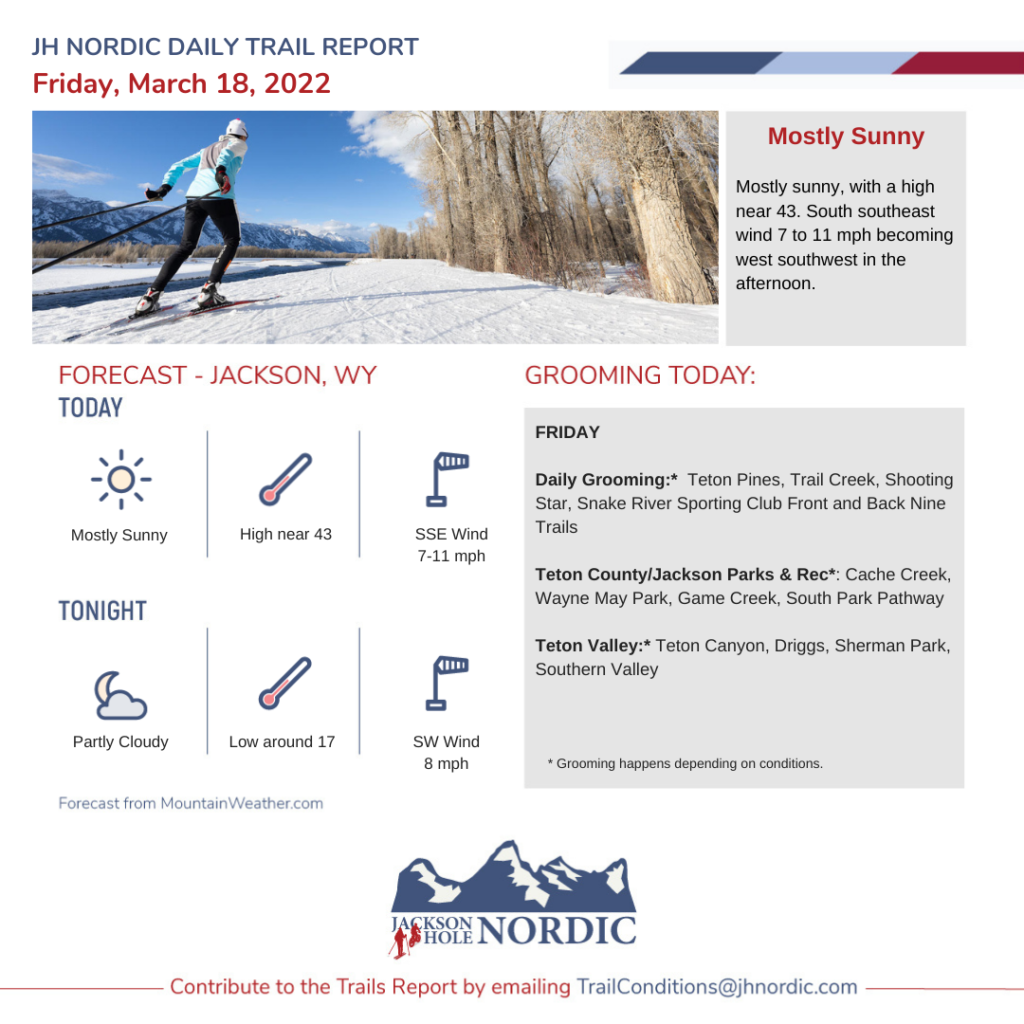 ---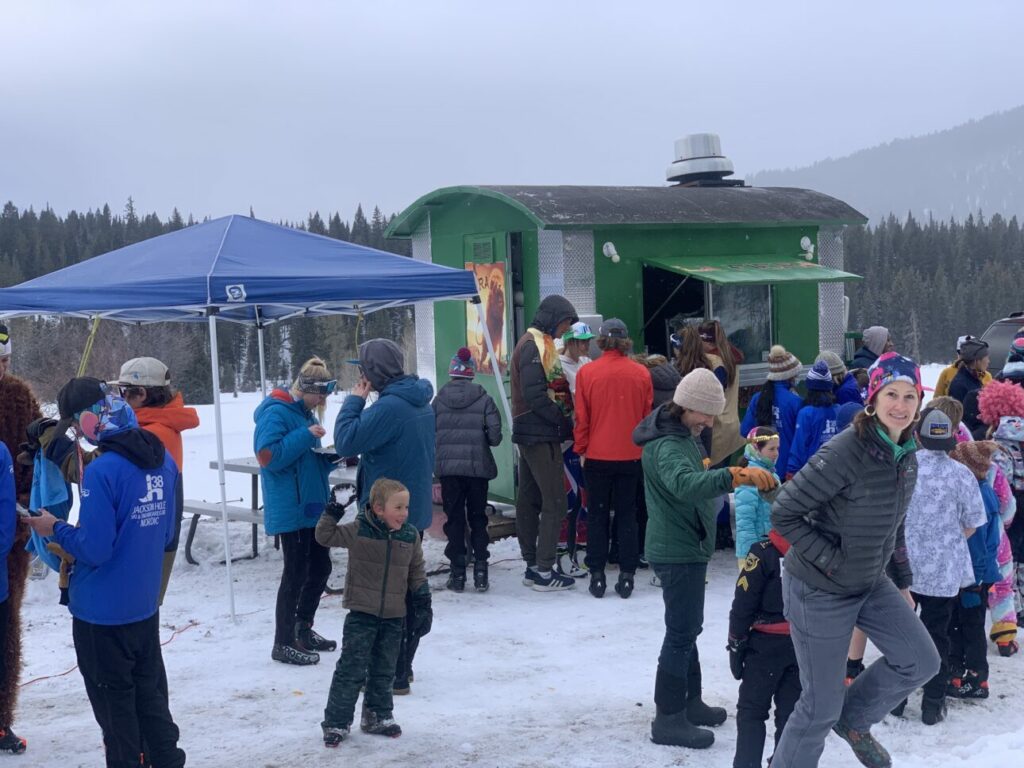 End of Year JH Ski Club Nordic fest at Trail Creek Nordic
Highlights from yesterday's End of Season JH Ski Club Nordic fest at Trail Creek Nordic. Awards for the student-athletes, taco truck, Nordic X fun course, and celebrating our Jackson Hole Ski Club Nordic Junior National results- 5th in the US!! Way to go!
---

What is, Ambassadors for Responsible Recreation for $1 million?
WE DID IT!! Friends of the Bridger-Teton secured $1 million for visitor education & mitigation in Teton County through our Ambassadors for Responsible Recreation.

Watch our presentation to the Jackson Hole Travel and Tourism Board here.There is ample public comment at the meeting start but for our presentation, skip ahead to 23:30 and watch the presentation followed by discussion and vote.

We will leverage visitor education & outreach before travel, in Teton County, on Bridger-Teton National Forest, & after travel. This pitch & the financial support will have rippling benefits throughout the forest and beyond.

Thank you for your support. We are excited to continue this work!
---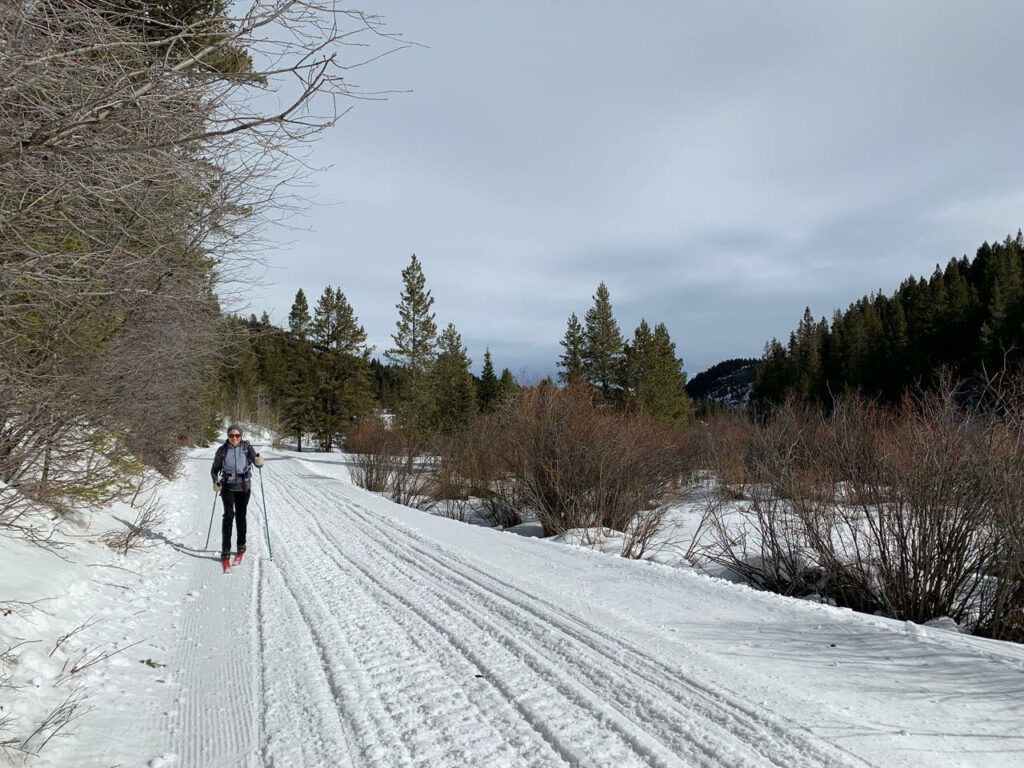 Trip Report: Horseshoe Canyon
Heading to Teton Valley for a ski? We would recommend skiing the 7.1 mile out and back Horseshoe Canyon ski! Although this road is known as being for snowmobiles, we saw only two groups in our three hour ski and they were gone in a flash. The grooming was like corduroy on the sides and the sun softened the track by 10:00! -Karen D.
---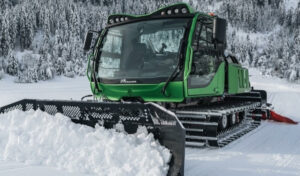 Grooming Daily
Last Update: 3/17
Happy St Patrick's Day!
How about a lovely coat of green paint on our hard working Husky? Rather good looking, especially today. Have a happy St. Patrick 's Day!
Yesterday was all about happy Nordic experiences as well as the JHSC programs whooped it up at the "end of the season celebration". Gravity defying feats on the Nordic X course as well as tacos and awards celebrations marked a great way to cap off a great year. The kids really outdid themselves in dressing for a festive event!
The Husky was once again hard at it today, buffing the two inches of snow that fell since yesterday's grooming into some quite nice conditions today. The fields, Moose Loop, and Animal Farm all received multiple passes with fresh classic tracks while almost every other trail received a single skate/classic pass.
Of note today, the Seiffert family is once again visiting for a while so the trail to their cabin has been reset. Also the final official JHSC practice is tomorrow (Friday) so tomorrow will be the final grooming of the Nordic X course which also received a pretty thorough buff today. If you've been itching to check it out, get on it!
Groomer's choice for today is the Nordic X course.
---
Grooming Monday-Saturday
Last Update: 3/17
The levee and stilson are groomed and in decent shape except for shallow classic tracks. The school fields will no longer be groomed this season. Next week will most likely be the last week for grooming.
Friday Grooming Schedule: Cache Creek, Wayne May Park, Game Creek, South Park Pathway
---
Last Update: 3/13
I did a pass on all the Cache Creek trails this evening. Things are holding up well but as the temps get above freezing try to avoid using the trails in the late afternoon.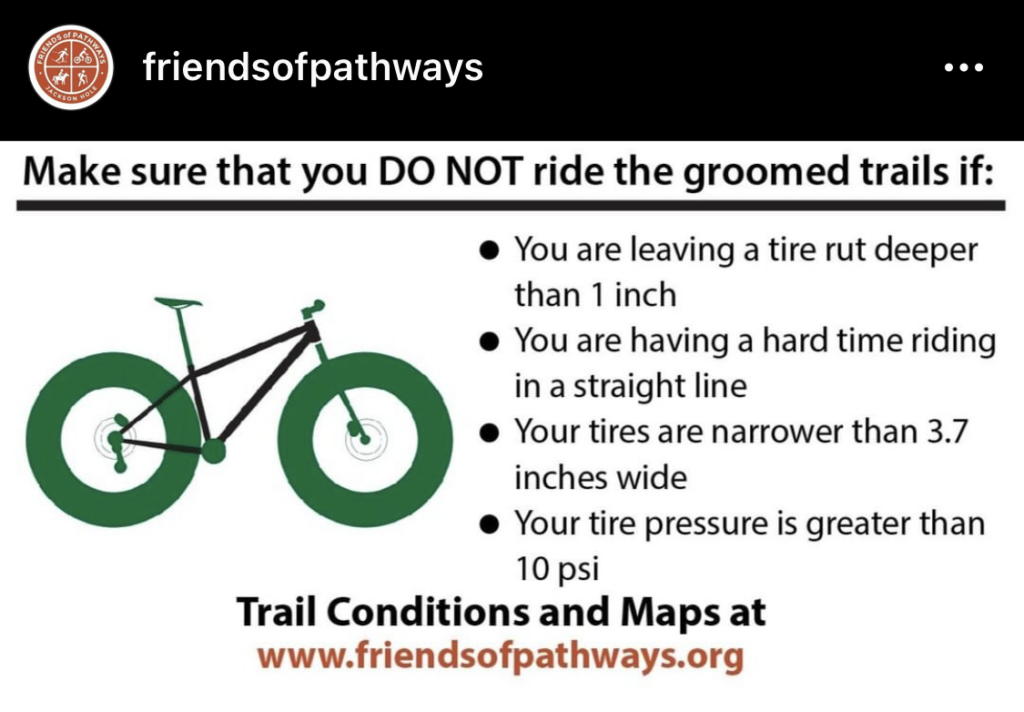 Grooming by Friends of Pathways.
---
Grooming Daily
Last Update: 3/9
Winter is back! The snowcat was out this morning and the track is perfect! Conditions should be awesome through the weekend. Wax for today: am Swix green, pm Swix blue. Our retail shop is still well-stocked with gear and clothing so come on out and see us!
Our trails and shop are fully open to the public 9am-4pm daily. Please call us in advance to book lessons at: (307) 733-1733. You do not need a reservation for skiing and we do not take reservations for rentals. Please contact us in advance to check availability for off-site rentals.
In our retail shop we still have a small size selection of skate skis and BC skis, but have lots of boots, poles, jackets, pants, gloves, and hats. We also have a good selection of used skate gear available. Call or come by to see if we have your sizes! We have a full tuning shop so drop off your skis for a wax done by our great wax techs! Visit our website for pricing and other information: www.tetonpinesnordiccenter.com
---
Grooming Daily
Last Update: 3/16
All trails and the sled hill were groomed this morning as flurries continue to fall. Trails are holding up well throughout the course. Expect cloudy weather and enjoyable skiing today with the sun possibly making an appearance later in the afternoon. Mostly sunny and warm temperatures tomorrow will make for a spring day out on the track. Cloudier skies on Saturday and a chance of snow on Sunday will round out the weekend.
Enjoy!
TRAIL STATUS
YELLOW LOOP OPEN
SLED HILL GROOMED on 3/16 (Grooming will occur as needed)
CLASSIC TRACKS SET, INCONSISTENT DUE TO SPRING PROFILE
SNOWSHOEING OPEN (BLUE LOOP ONLY, STAY ON THE EDGE OF THE TRAIL OR IMMEDIEDATEY NEXT TO TRAIL)
ORANGE LOOP OPEN
WALKING, NOT ALLOWED
---
Daily Nordic grooming for both "Front Nine" (south side) and "Back Nine" (North side) Nordic Trails
Public access to the groomed Nordic trails is $50 per person per day, with no season passes available. Ski rentals are available at the Sports Shop. Guests must check in at the Sports Shop to sign a waiver and make payment before heading out. The daily pass does not allow access to the Restaurant this season. The clinics that are being offered are for members and lodging guests only.

Please call the Sports Shop with any questions you may have at 307-200-3093
---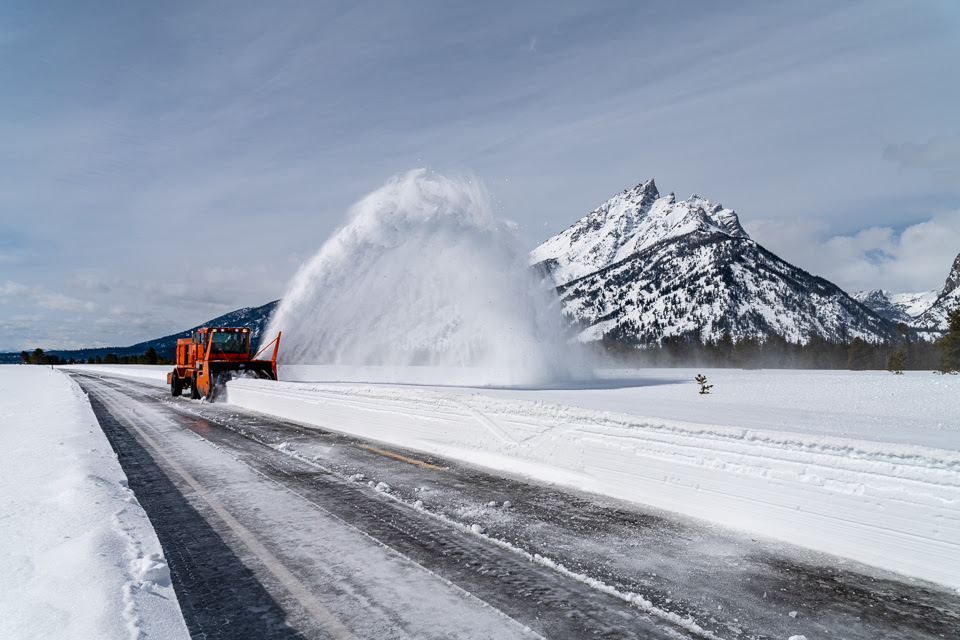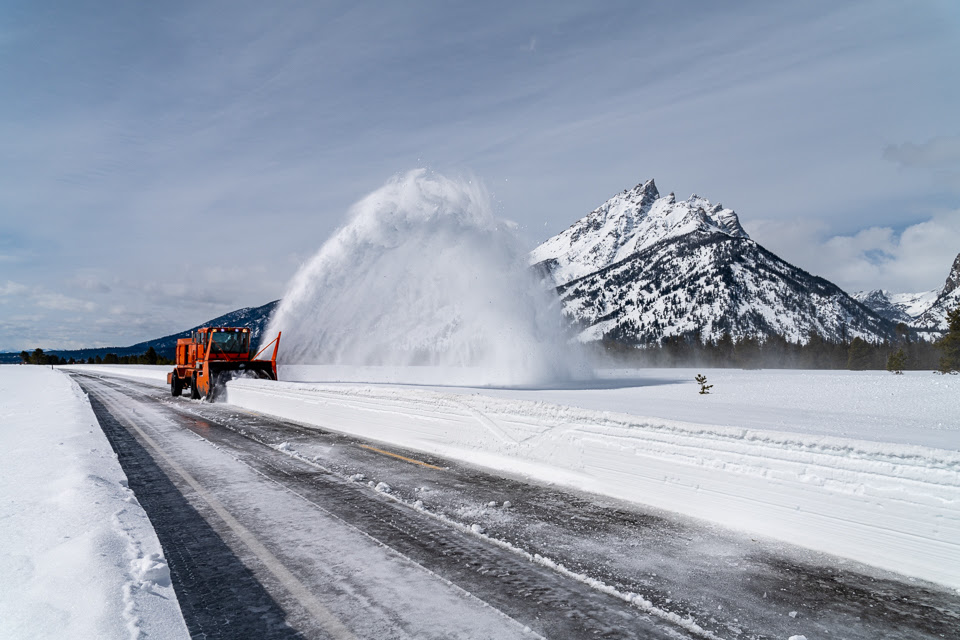 Grooming is finished for the season and plowing operations began 3/14
Grooming is sponsored by the GTNP Foundation and generous donations from our community.
---
Grooming is finished for the season.
Last Update: 3/14
The lodge closes for the season today. Grooming has come to an end for this winter season. As I groomed for the final time last night, I found myself already looking forward to seeing all the familiar faces again next year and meeting some new ones. Thanks to all who came out and visited the ranch this winter.
–Cheers, Aaron and/or Elee Deschu
https://www.turpinmeadowranch.com/the-ranch/live-conditions
https://www.turpinmeadowranch.com | 307.543.2000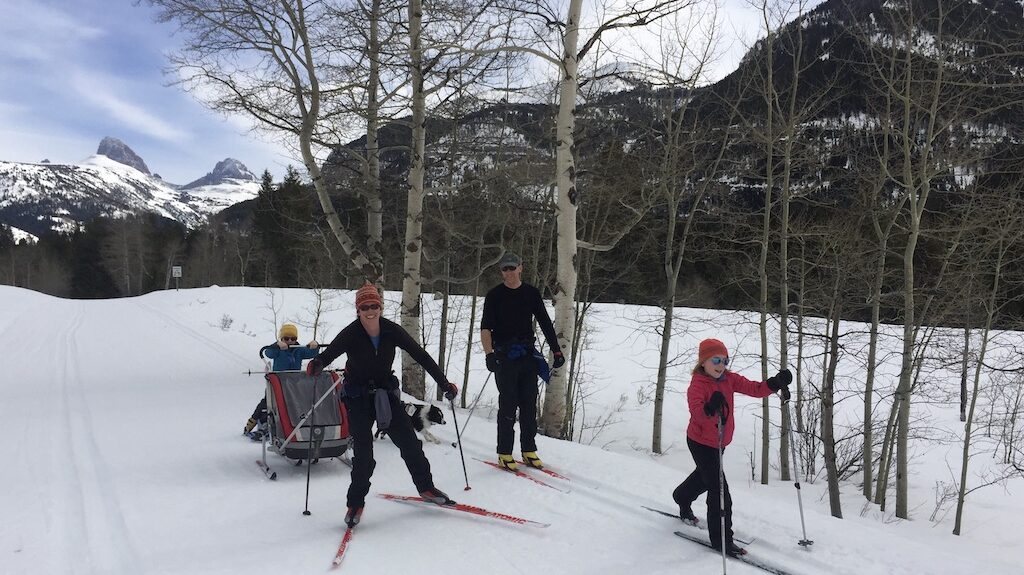 Trail Etiquette: Please keep your dogs leashed in the parking lot and be sure to clean up after them!
---
Grooming Schedule: Tuesday, Thursday, Saturday & Sunday
Last Updated: 3/17
Cross Country 15k: XC OPEN
Fat Bike Trails : Closed
Snowshoe Trails: Open
Targhee's Nordic trails are groomed Tuesdays, Thursdays & Sat/Sundays. Fat bike/snowshoe trails are groomed regularly but not on a set schedule – the groomer usually waits until after a storm cycle to groom the single track.
Trail day passes are $20 this winter.
Remember, singletracks will be closed when there is more than 3 inches of snow in a 24 hour period.
---
Grooming Schedule: Tuesday, Thursday, & Sunday
Last Updated: 3/17
Skate: Set | Classic: Set
Welcome back Randy! The track was groomed Wednesday evening. Skate looks to be great and only marginal for classic.
Please do not park in the library parking lot. Please be sure to keep your dogs on a leash and to clean up after them.
---
Grooming Schedule: Monday, Wednesday & Friday
Last Updated: 3/16
Skate: Set | Classic: Not Set
Pulled the drag around all 3 loops. It's all in pretty good shape really considering the temperatures. No way to set a classic track however. Enjoy! May not be much left, starting to see dirt on south facing slopes.
---
Grooming Schedule: Monday, Wednesday & Friday
Last Updated: 3/16
Skate: Set | Classic: Set
Rolled out the new snow Wednesday night. Made a few extra passes to smooth out the waves. The perfectionist in me doesn't like it but over all both the classic track and the skating should be pretty damn nice! Get out there and enjoy as the forecast next week looks like this might be it?…keeping the dream alive! Walking single track was also packed down and groomed, watch for old post hole marks!
---
Grooming Schedule: Monday, Wednesday, Friday & Saturday
Last Updated: 3/17
Skate: Set | Classic: Set
Plan to reset south side classic and skate tracks this morning, as a couple inches of snow fell yesterday after grooming.
---
Grooming Schedule: Tuesday, Friday & Sunday
Last Updated: 3/17
Skate: Not Set | Classic: Not Set
Headed out this evening to see if I can improve Yeti or Campground. Won't start until 730 or eight.
No dogs December 1 – April 15.
---
Grooming Schedule: Monday, Thursday & Saturday
Last Updated: 3/17
Skate: Set | Classic: Not Set
Groomed skate lane this morning; came out well. Unable to groom classic track; surface under the 2″ of yesterday snow was rock hard.
No dogs allowed.
---
Southern Valley Singletrack
Grooming Schedule: As needed
Last Updated: 3/14
Singletrack: Set
Happy hour, Hill benders and Nemo were all groomed after the last storm cycle March 7th & 8th. Trails are still in decent shape and mostly rider packed. Enjoy the ride.
Happy Hour (aka Mike Harris to ID/WY state line)
No dogs December 1 – April 15.
---
Grooming Schedule: As needed
Last Updated: 3/16

Groomed to Pinnacle TH only.
---
Grooming Schedule: As needed
Last Updated: 3/16

Grooming is done for the 21/22 season.
---
Grooming Schedule: As needed
Last Updated: 3/17

Groomed 3/17.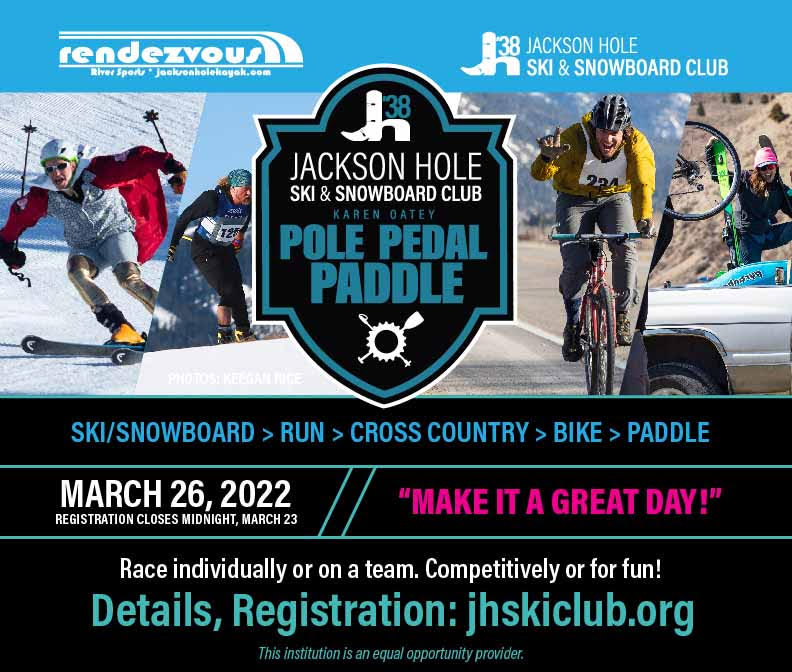 Registration is now OPEN for JHSC's Rendezvous River Sports Karen Oatey Pole Pedal Paddle on March 26th. Since 1975 the "PPP" has served as the annual kickoff to spring in Jackson Hole with a five-leg race that includes:
Ski/snowboard alpine race at Jackson Hole Mountain Resort
Running leg from Teton Village to Shooting Star
Cross country ski leg at Shooting Star Nordic track
Cycling leg from Shooting Star to Von Gontard's Landing at South Park Bridge
Paddling leg on the Snake River to Astoria boat ramp
Competitors are invited to race individually or on a team and competitively or for fun. Either way, costumes are highly encouraged! The PPP will conclude with a large community celebration at Astoria Hot Springs Park open to the public*.
Registration closes at midnight on Wednesday, March 23rd Details and registration HERE.
*Please no dogs at any leg of the PPP and if you plan to soak at Astoria, reservations are required.
---
---
We'd love to hear about your outdoor adventures, what your doing to stay healthy, safe, respectful of community health guidelines – send pictures or post on FB and Insta – #JHNordic