---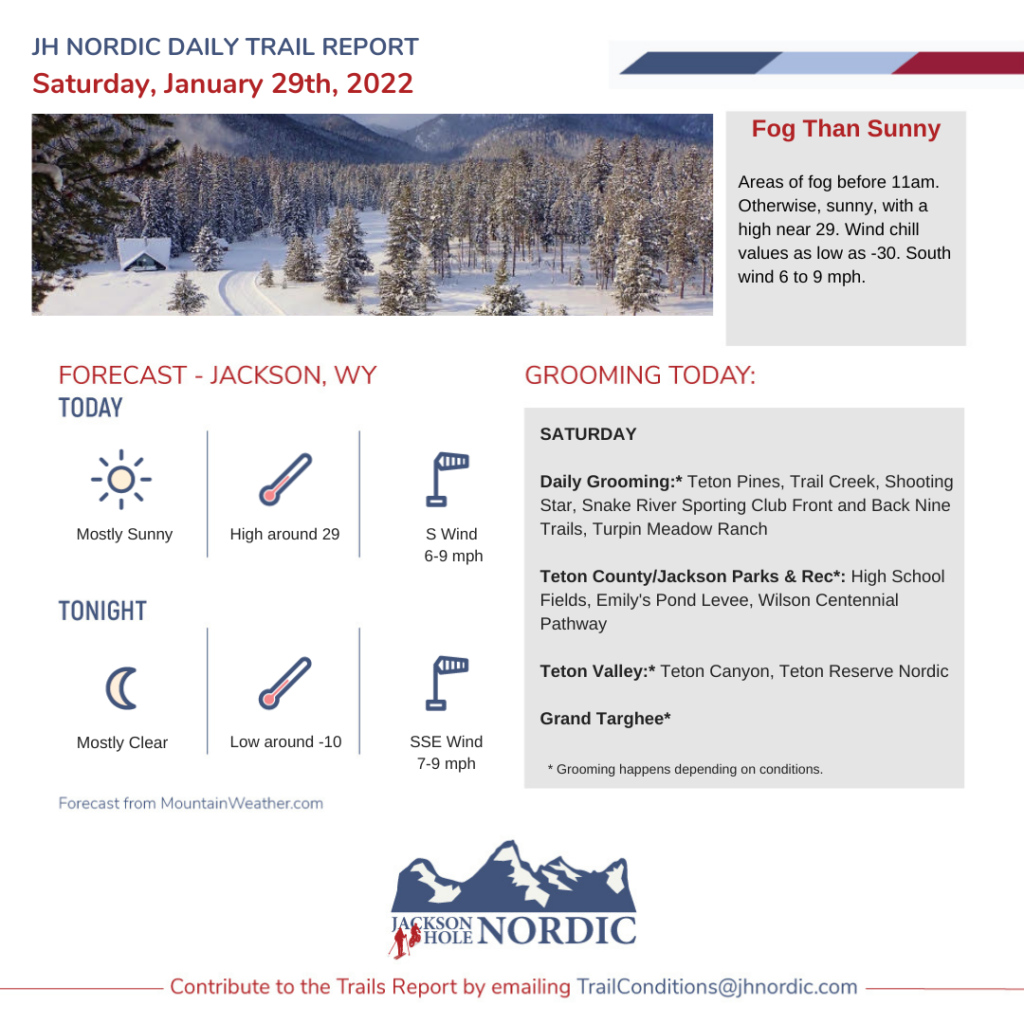 ---
NEW ON THE BLOG: Stay The Ranch. Ski The Ranch – Harriman State Park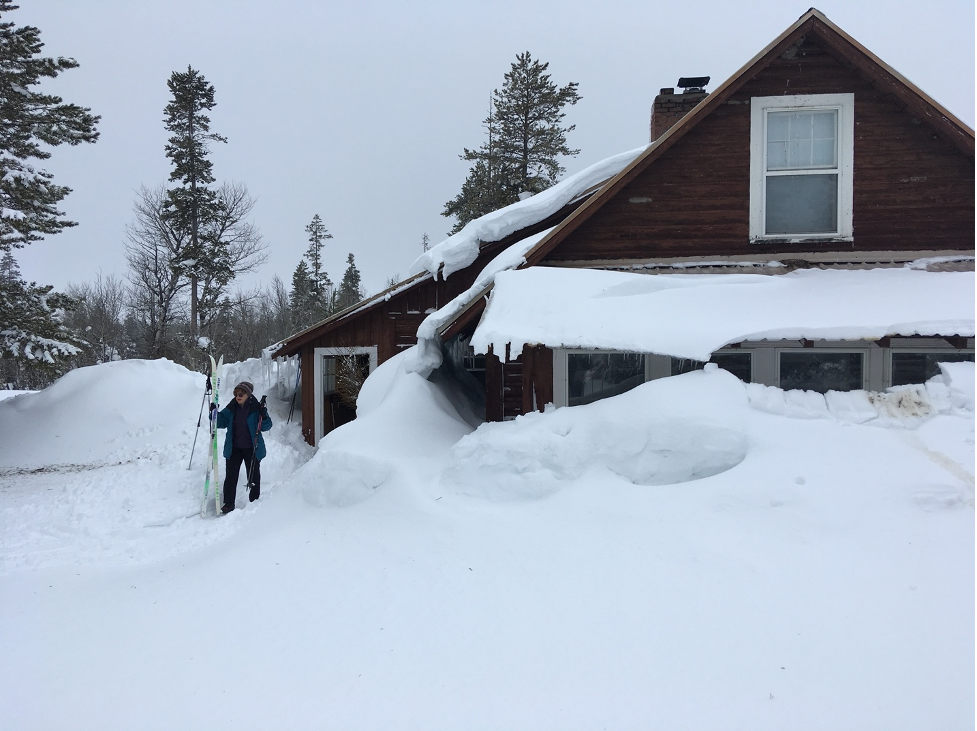 Let's be honest, we Nordic skiers are kind of spoiled here in Jackson Hole, with so many great groomed trails within twenty minutes of the town square. But just imagine the luxury of a skate and classic track, beckoning on crisp winter mornings say, fifty feet from your kitchen coffee pot. Add to that, twenty-four miles of connected trails that first hug the edge of a meandering river—steam rising among a lamentation of swans—and then climb up into sunny conifer-covered hills to a yurt with a welcoming wood burning stove. Try to imagine the silent nights, the only sound being the crunch of snow underfoot, and stars sparkling like sequins on a black dress. Then you would have either to be dreaming; or enjoying a winter retreat at Harriman State Park in Island Park, Idaho.
Harriman State Park, just over ninety miles from Jackson and thirty miles from West Yellowstone, offers year-round recreation and accommodations in a gorgeous historic ranch setting stitched together by the scenic and sinuous Henry's Fork of the Snake River.
---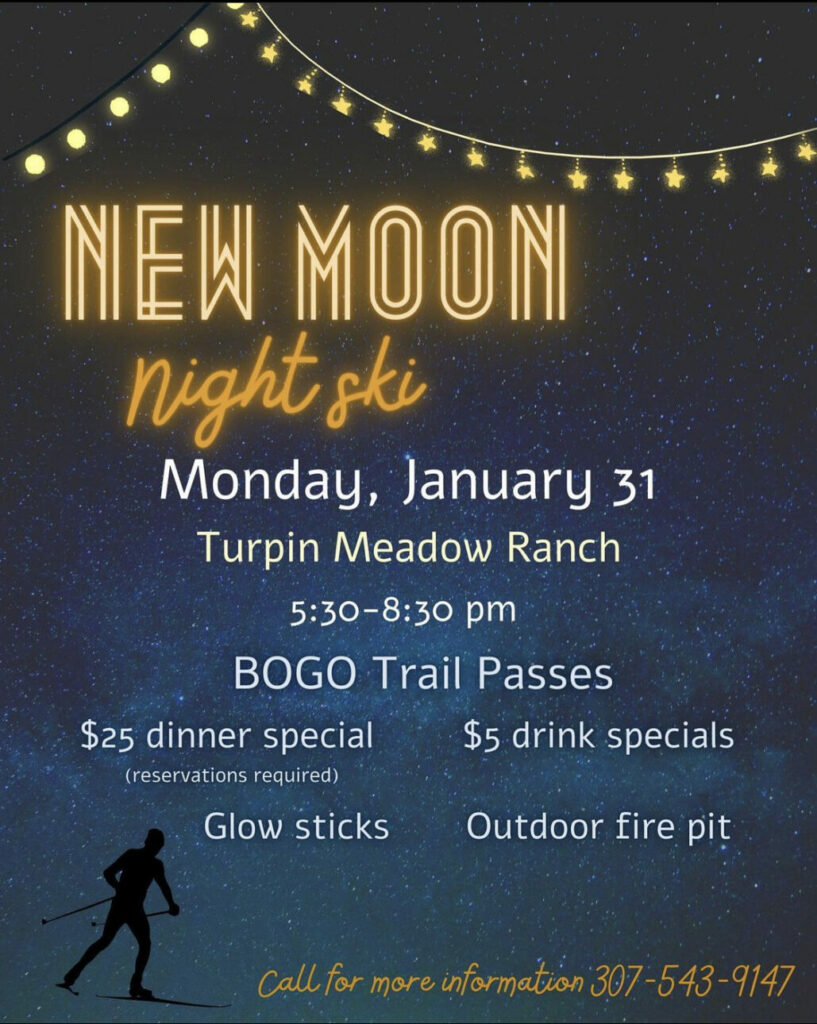 ---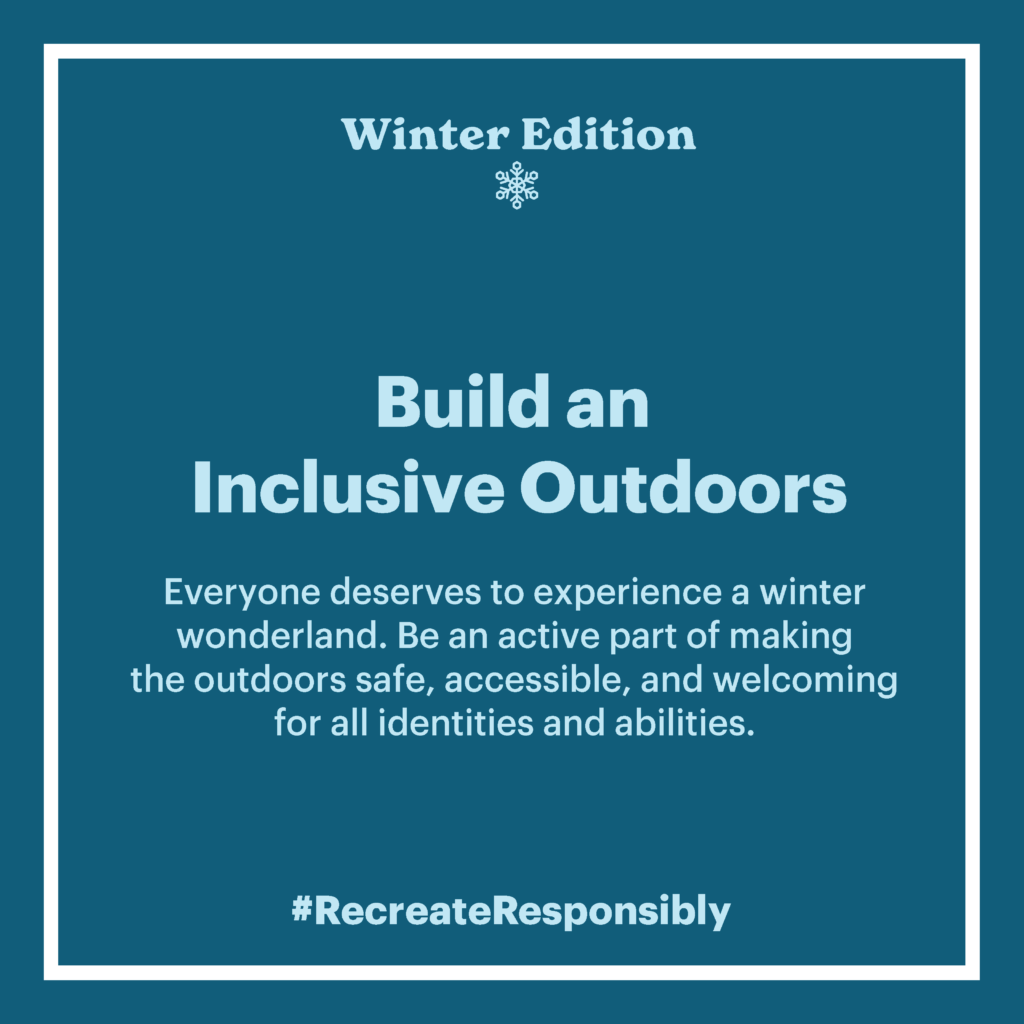 ---
Heading out for a ski, bike or snowshoe? We invite you to hit the Nordic trails, take photos of your adventures and share them with us. When you submit your photo(s) and describe your outing we may share your adventure on social media, our trail reports, and we will also enter you to win our Photo Buff Competition! We'll be seeing you on the trails.
---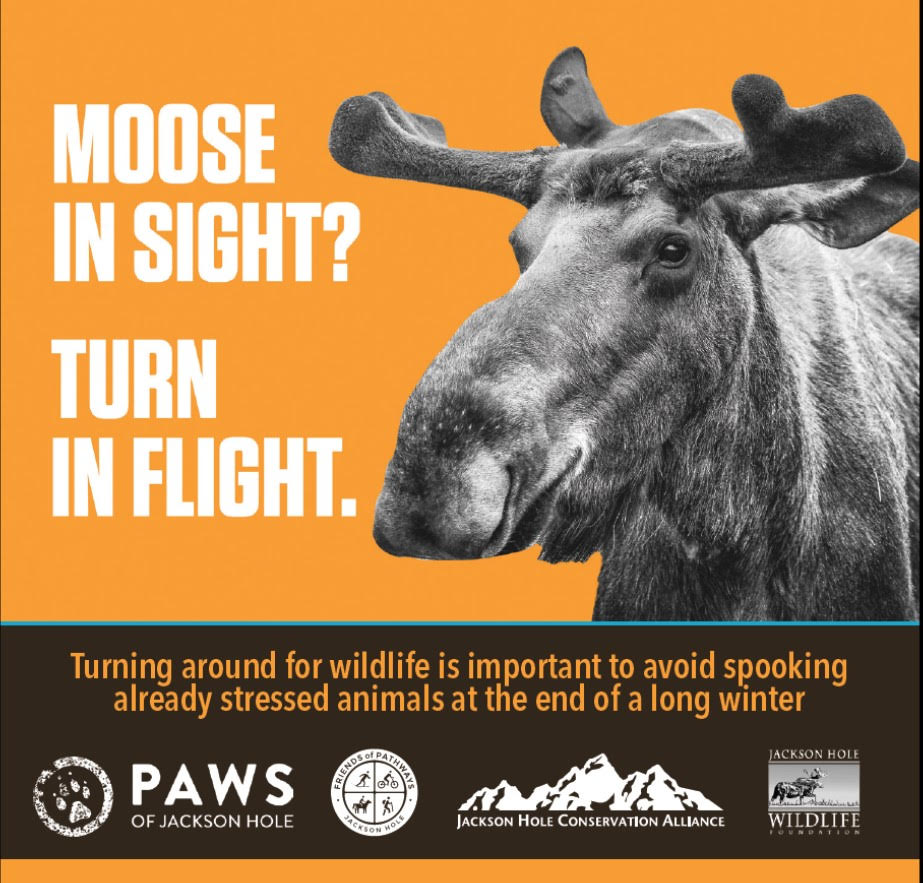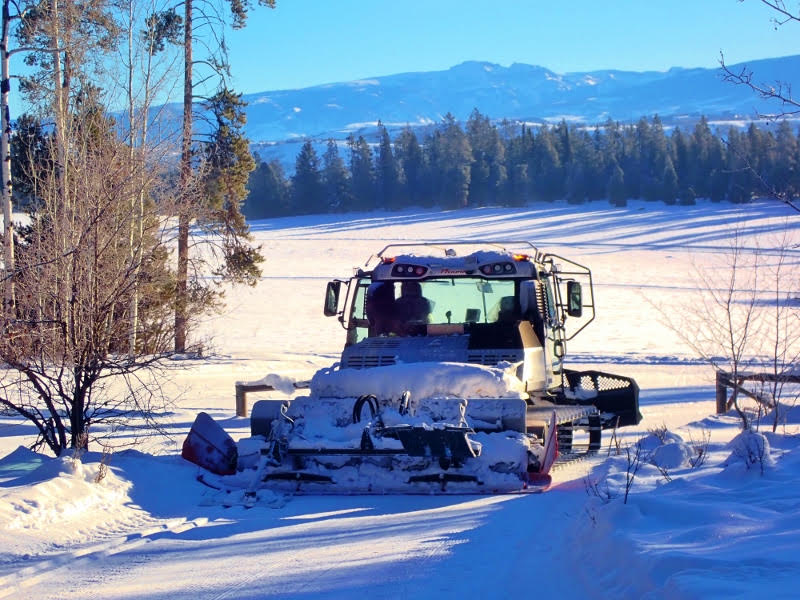 Grooming Daily
Last Update: 1/28
Off to the Races!
Vehicles full of skiers and coaches are on their way to West Yellowstone to compete in the second Intermountain Division Junior Nordic Qualifier of the year. It looks to be a crisp and sunny weekend of great racing, all the information and results will be posted on the event website.
Some unusual critters have been showing up in the past few days, Coach Libby's Teewinots spotted an eagle sitting on a tree top recently, and just this morning a big mound of dirt appeared next to a trail in the east fields. This most probably means that once again we have a badger working the area, check it out on your next ski.
Today's grooming made its subzero start with the Husky and ended up covering most trails. Single passes with classic touch up here and there was pretty much the rule. After a busy hour or so mid-day for Wilson Winter Sports, the schedule will be quite light for the rest of the day as only a few Junior skiers not going to the races will be practicing. Skiing continues to be a bit chilly but calm, sunny, and very nice.
Groomer's choice for today is the sunny East Fields.
---
Grooming Monday-Saturday
Last Update: 1/28
Cache creek and May park are groomed and in decent shape. The classic track up Cache is getting shallow. Game creek and three creek pathway are groomed and in good shape. The levee, stilson, and the school fields will be groomed tomorrow.
Saturday Grooming Schedule: High School Fields, Emily's Pond Levee, Wilson Centennial Pathway.
---
Last Update: 1/21

I groomed Cache to Noker Mine, Gauging Station, Hagen, Sidewalk, Hagen Highway, and Ferrins Friday night.
Grooming by Friends of Pathways.
---
Grooming Daily
Last Update: 1/23
Our trails continue to be in incredible shape with this awesome weather we've recently had! The cold temps and clear skies are great for the track. We groom 13km+ daily for both skate and classic with our new snowcat.
Our trails and shop are fully open to the public 9am-4pm daily. Day passes, 10 punch cards, and season passes are available at the shop.
Please call us in advance to book lessons at: (307) 733-1733. You do not need a reservation for skiing and we do not take reservations for rentals. Please contact us in advance to check availability for off-site rentals.
We still have a great selection of skate skis, a few classic track and BC skis, boots, jackets, pants, gloves, and hats. We also have a good selection of used skate gear available. Call or come by to see if we have your sizes! We have a full tuning shop so drop off your skis for a wax done by our great wax techs!
Visit our website for pricing and other information: www.tetonpinesnordiccenter.com
---
Grooming Daily
Last Update: 1/28
The temperatures may be cold, but the views and trail conditions are extra hot! Anticipate chilly blue bird conditions to persist through Sunday, followed by light snowfall during the day on Monday. Also, skiers should be aware that icy areas are beginning to form due to lack of fresh snow combined w/the existing snow's pliability is reduced from the bitterly cold temps. Overall, skiing should continue to be great… Bundle up and enjoy! Next Update will be Tuesday (2/1).
TRAIL STATUS
YELLOW LOOP OPEN
SLED HILL GROOMED on 1/25 (Grooming will occur as needed)
CLASSIC TRACKS SET
SNOWSHOEING OPEN (BLUE LOOP ONLY, STAY ON THE EDGE OF THE TRAIL OR IMMEDIEDATEY NEXT TO TRAIL)
ORANGE LOOP OPEN
WALKING, NOT ALLOWED
---
Daily Nordic grooming for both "Front Nine" (south side) and "Back Nine" (North side) Nordic Trails
Public access to the groomed Nordic trails is $50 per person per day, with no season passes available. Ski rentals are available at the Sports Shop. Guests must check in at the Sports Shop to sign a waiver and make payment before heading out. The daily pass does not allow access to the Restaurant this season. The clinics that are being offered are for members and lodging guests only.

Please call the Sports Shop with any questions you may have at 307-200-3093
---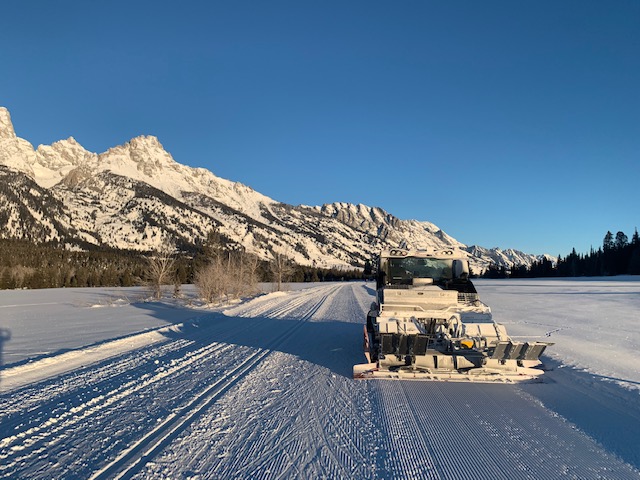 Last Update: 1/28
Went Taggart Lake to Signal Mountain on Friday.
Grooming is sponsored by the GTNP Foundation and generous donations from our community.
---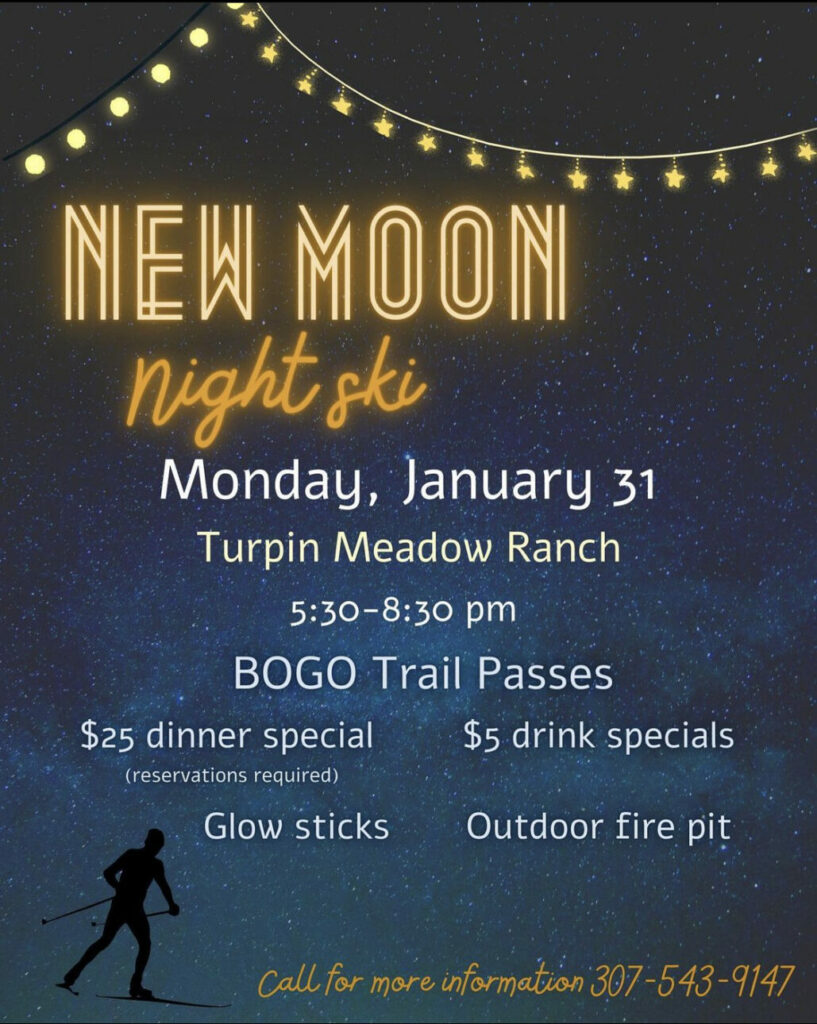 Grooming Daily
Last Update: 1/28
Coming up this Monday, a new moon night ski at Turpin Meadow Ranch!
The skate lane on all trails was reset with the ginzu on Friday night. Conditions are variable as our snow is getting a bit tired… That said, our trails are prime for fat biking AND we have a new dedicated fat bike loop along the summer homes and riverside trails! Come check it out for yourself. Please sign waivers and pay for trail passes online ahead of your visit. Call the front office (307) 543-2000 ahead of your visit for booking equipment rentals and Nordic adventures (lessons and tours).
https://www.turpinmeadowranch.com/the-ranch/live-conditions/
https://www.turpinmeadowranch.com | 307.543.2000
---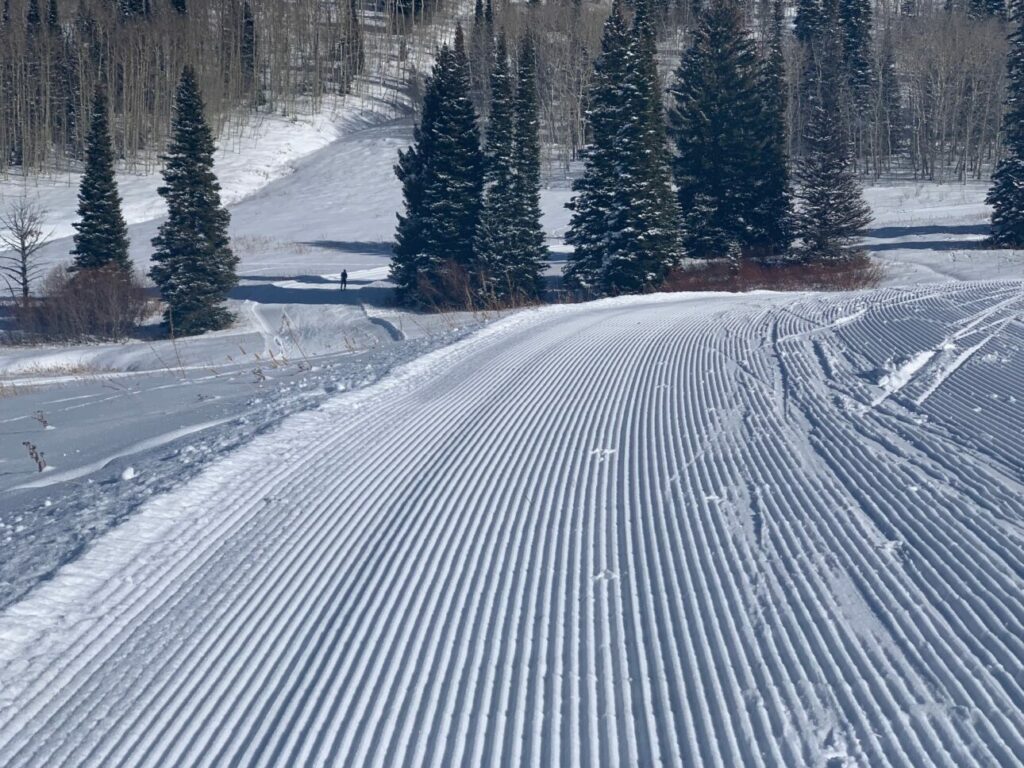 Trail Etiquette: Please keep your dogs leashed in the parking lot and be sure to clean up after them!
---
Grooming Schedule: Tuesday, Thursday, Saturday & Sunday
Last Updated: 1/28

Cross Country 15k: XC OPEN
Fat Bike Trails : Open
Snowshoe Trails: Open
Targhee's Nordic trails are groomed Tuesdays, Thursdays & Sat/Sundays. Fat bike/snowshoe trails are groomed regularly but not on a set schedule – the groomer usually waits until after a storm cycle to groom the single track.
Trail day passes are $20 this winter.
Remember, singletracks will be closed when there is more than 3 inches of snow in a 24 hour period.
---
Grooming Schedule: Tuesday, Thursday, & Sunday
Last Updated: 1/27
Skate: Set | Classic: Set
All trails groomed out nicely. Classic track still in good condition from previous grooming. All skate lanes freshly groomed. Pack your over-boots this morning!
Please do not park in the library parking lot. Please be sure to keep your dogs on a leash and to clean up after them.
---
Grooming Schedule: Monday, Wednesday & Friday
Last Updated: 1/28
Skate: Set | Classic: Set

All trails were groomed Friday afternoon.
---
Grooming Schedule: Monday, Wednesday & Friday
Last Updated: 1/27
Skate: Set | Classic: Set
Sunday evening I was able to groom and reset the singletrack, skate track and classic track. In these cold temperatures it should turn out well. Walkers and fat tire riders please use the singletrack trail. If you do choose to Set the single and skate tracks. Did not reset the classic track, but left it as is – still a decent track, but shallow in a few spots.
---
Grooming Schedule: Monday, Wednesday, Friday & Saturday
Last Updated: 1/28
Skate: Set | Classic: Set
Groomed the skate track Friday afternoon, during the warmer temperature. Classic tracks still in good condition, for the most part. Continued dry, cold, weather has allowed all of our Nordic venues to remain in great shape. Thanks to all the volunteers.
---
Grooming Schedule: Tuesday, Friday & Sunday
Last Updated: 1/28
Skate: Set | Classic: Set
Ginzu groomed skate; left classic alone as it is in fine condition. Gonna thaw my fingers out now…
No dogs December 1 – April 15.
---
Teton Reserve Nordic
Grooming Schedule: Monday, Thursday & Saturday
Last Updated: 1/28
Skate: Set | Classic: Set
Heading out Friday 5:30 PM to reset the classic and skate track. I hope to be done by 7:30 PM. Please be aware of grooming equipment.
No dogs allowed.
---
Southern Valley Singletrack
Grooming Schedule: As needed
Last Updated: 1/25
Singletrack: Set

Groomed Pole Canyon connector single-track. All trails in South Valley system are now groomed. Enjoy the ride!
Happy Hour (aka Mike Harris to ID/WY state line)
No dogs December 1 – April 15.
---
Grooming Schedule: As needed
Last Updated: 1/13

Grooming to summer trail head 1/13
---
Grooming Schedule: As needed
Last Updated: 12/15

The USFS is continuing to monitor snow levels on our roads and will close them to wheeled motorized vehicles when there is enough snow to groom.
---
Grooming Schedule: As needed
Last Updated: 1/19

Groomed 1/19/22.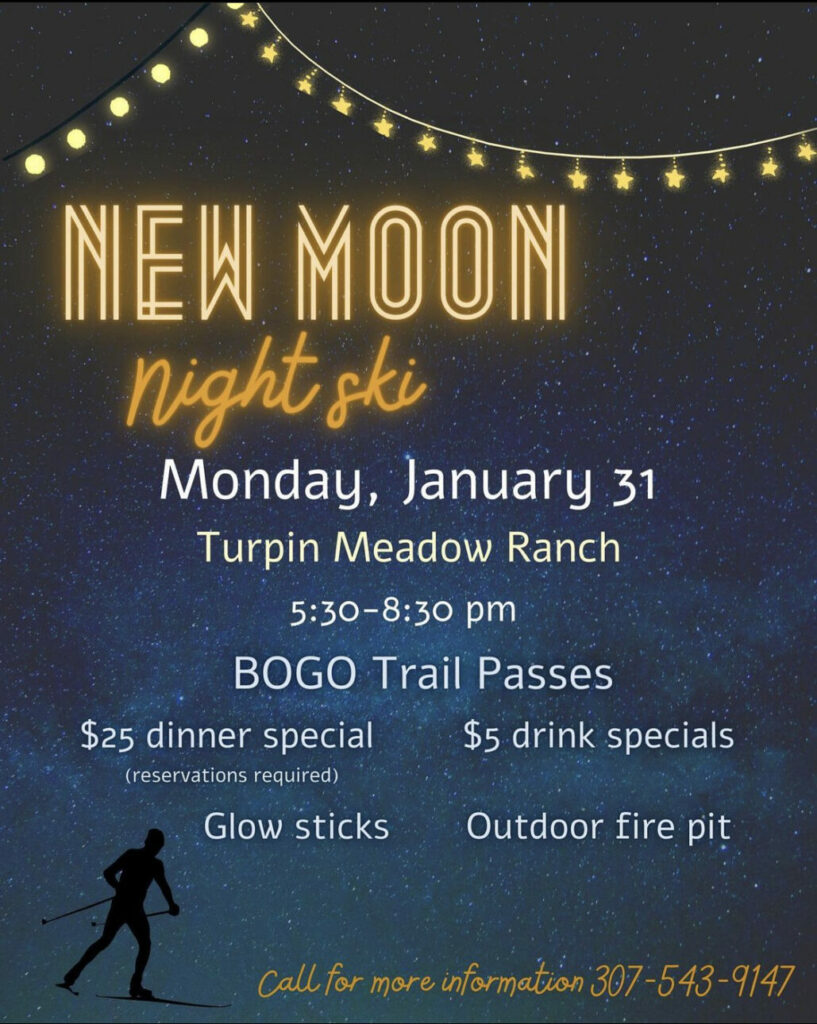 ---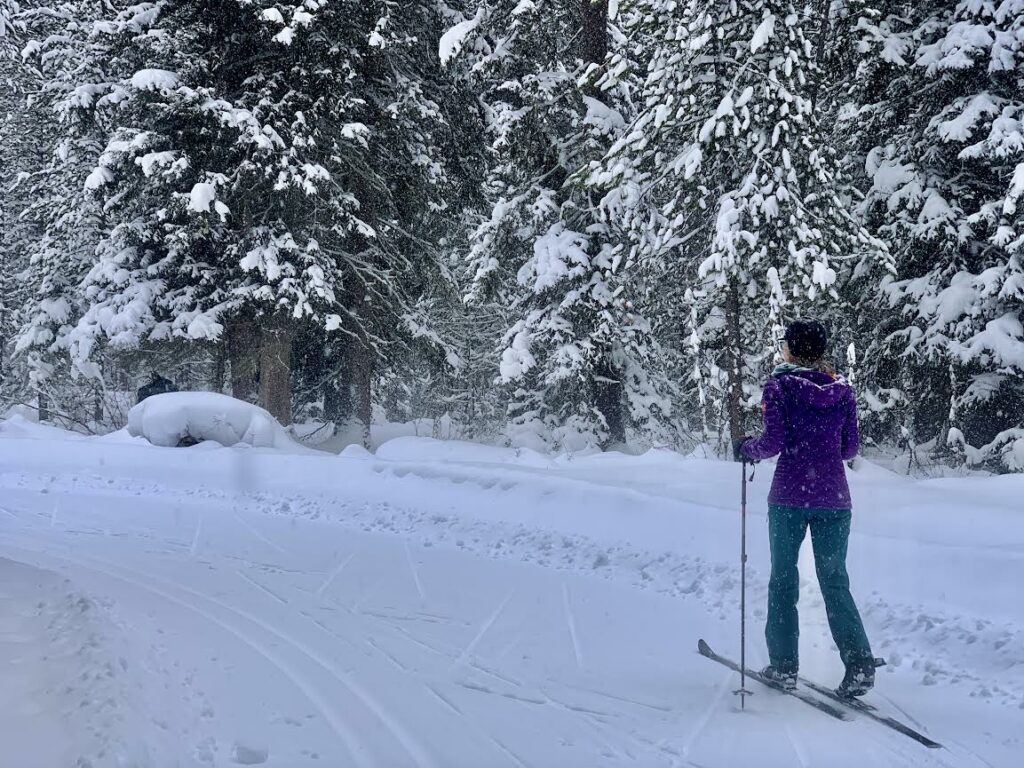 CLASSIC SKI CLINIC at Teton Pines
THURSDAY, FEBRUARY 3, 2022
11am – 12:30pm

Hosted by Scott Horn and JH Ski Club Nordic Team Coaches

There will be 10 clinics running every Thursday in January and February from 11am-12:30pm. The Nordic Masters clinics will focus on skate ski and classic cross country skiing every other week.
Joining all 10 clinics is your best approach to developing your full Nordic skiing technique, balance, stride, stamina, and overall fitness while having fun in a small group. For those who only wish to focus on one technique, we are offering a Skate Ski Clinic series of 5 clinics or a Classic Cross country series of 5 clinics.
---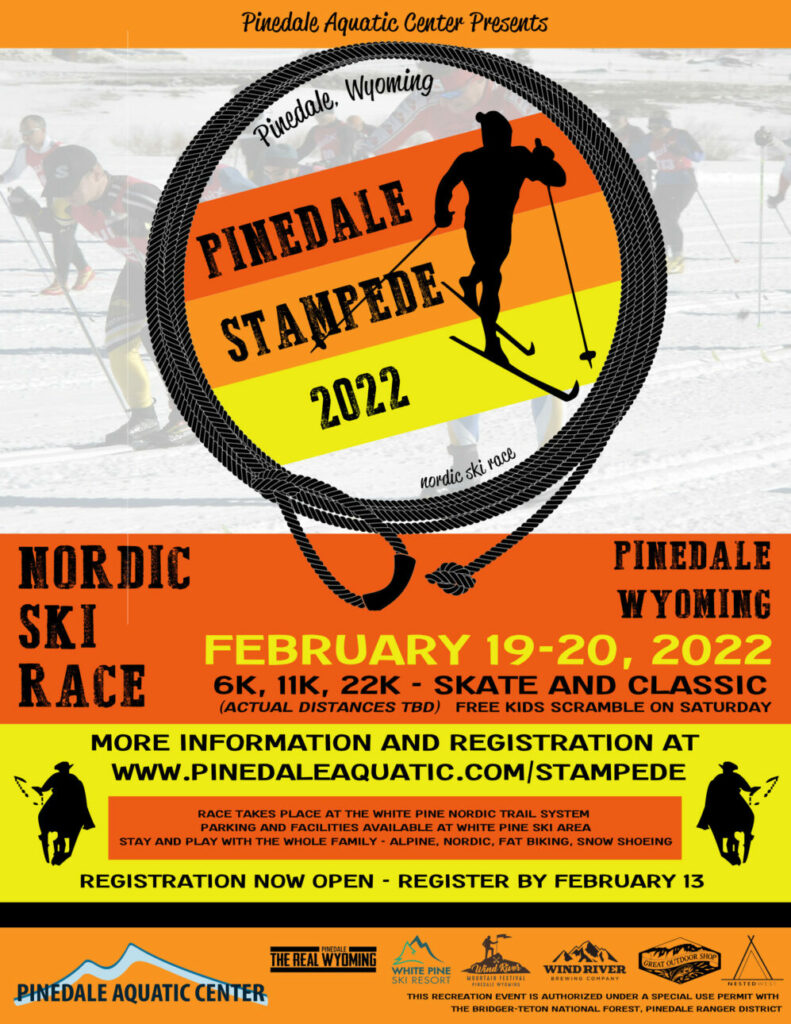 ---
---
We'd love to hear about your outdoor adventures, what your doing to stay healthy, safe, respectful of community health guidelines – send pictures or post on FB and Insta – #JHNordic