---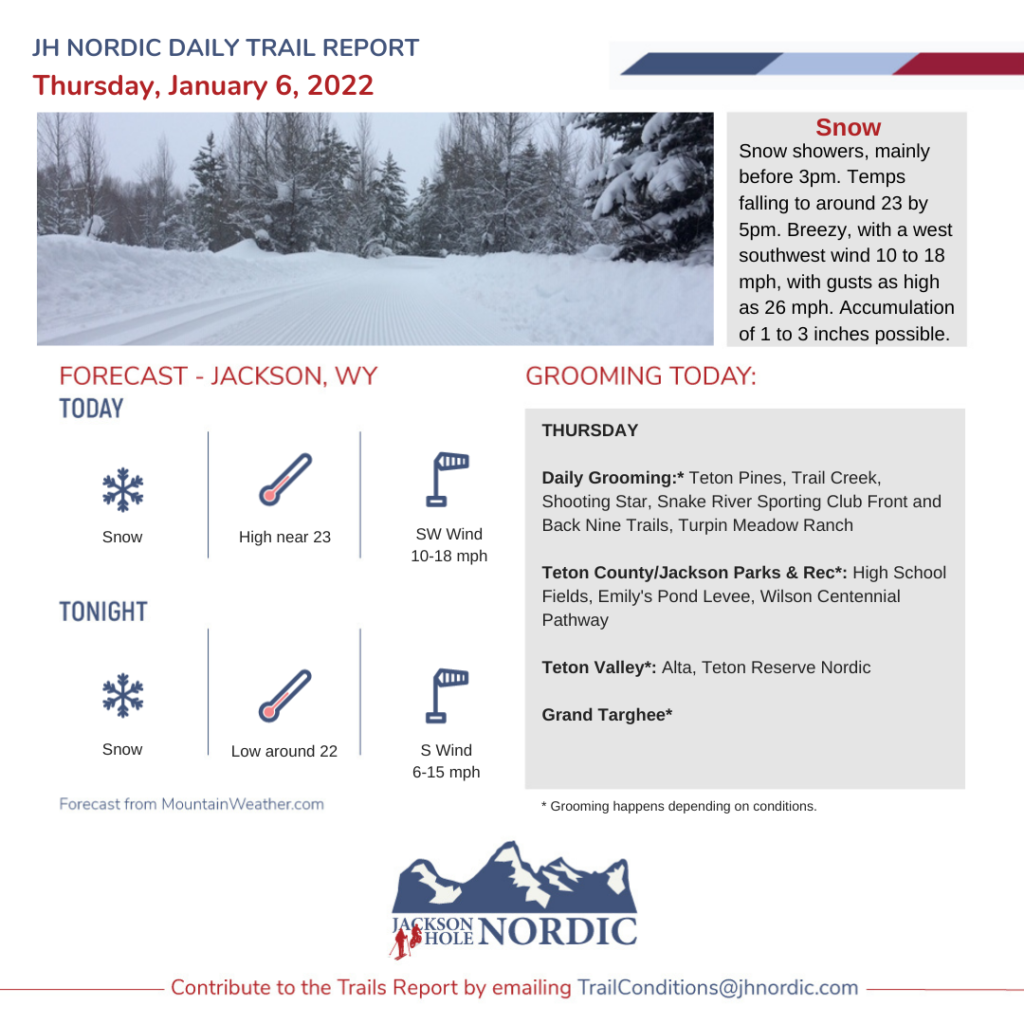 ---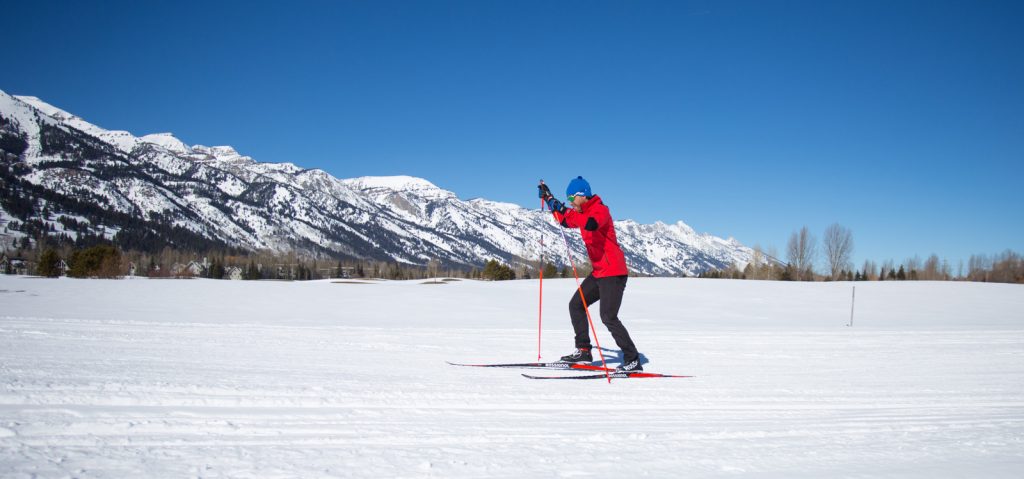 Today's Master Rec Clinic at Teton Pines Nordic Center
Today's Masters Rec Clinic will feature Classic Cross country ski techniques and will be held at Teton Pines Nordic Center from 11am – 12:30pm. Enjoy 13 km of groomed trails, groomed every morning before the clinic. Conditions are excellent right now at Teton Pines!
Sign up online for a drop-in class participation. Or email : info@jhnordic.com. Drop-in class:$40 (pay online with registration or cash or check at the clinic).
---
January 6, 2022 Nature Update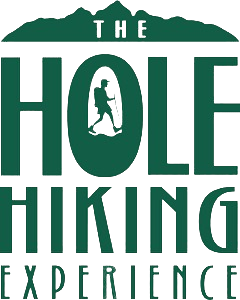 Provided by Cathy Shill
founder of The Hole Hiking Experience
https://www.holehike.com
You will never get bored when you try something new.
There's really no limit to what you can do. -Dr Seuss
A blast of cold kept temperatures in the single digits earlier this week and only a short break between snow storms. Our winter weather is determined by the position of the jet stream and how storms track along the continental divide. We are west of the divide and currently, the jet stream is overhead bringing lots of snow to Jackson Hole.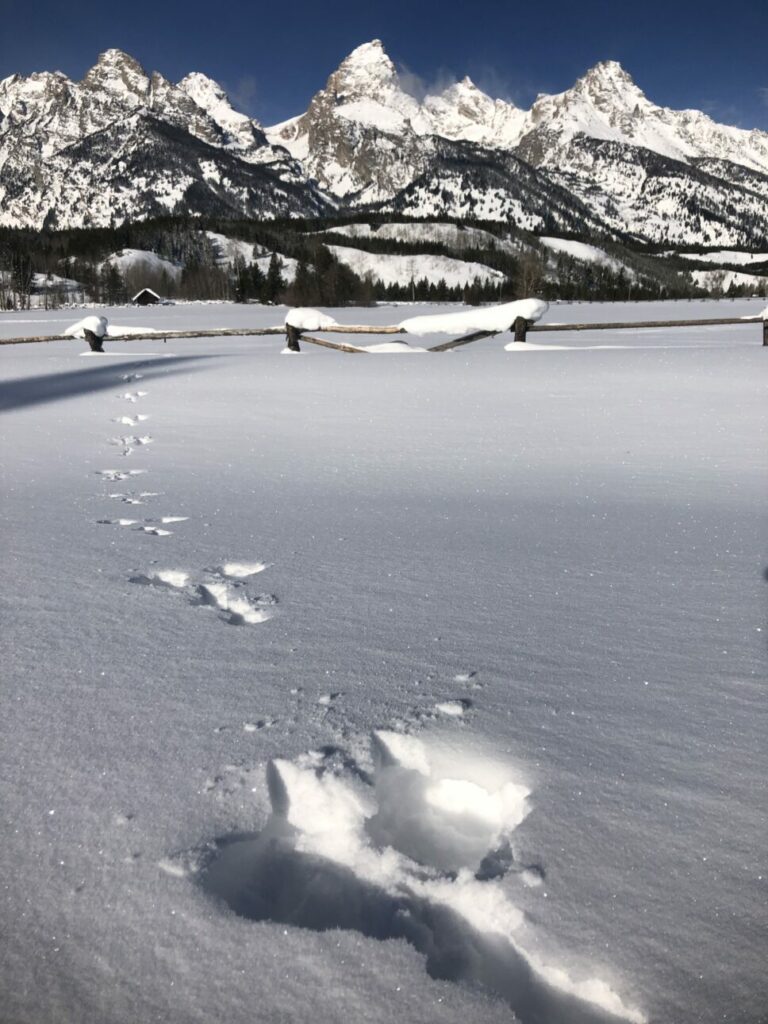 As wildlife adapt to winter, they use the insulating properties of snow to help them stay warm. The snow world is known as the nivean environment. The subnivean is the interface between the ground and the snow. When 6-8 inches of snow accumulates, ground temperatures will regulate close to freezing. Small mammals burrow at ground level and create tunnels so they can move freely in search of food and be protected by a roof of snow and ice. Amazing how creatures adapt and use the properties of snow to survive.
A wonderful part of winter is the story that is left in the snow. Animal tracking is a big part of our naturalist tours. Each animal leaves a track and with some experience, you can decipher the track and interpret the story. Family groups move in certain ways. Alternating track patterns are common for members of the dog family, deer family and cow family. Rabbits and rodents hop and weasels bound. Each of these gaits or track patterns have a similar shape. It's fun to walk through the woods and learn about a habitat and the animals that are nearby.
All this fresh snow means lots of tour options. We have been touring in Death Canyon in Grand Teton Park since it is a wooded area and a wonderful place to explore. Both Cache Creek and Game Creek near the town of Jackson are great on stormy days. Both get groomed and short distance to reach the trailheads. Have fun and make sure to be prepared, plan for various temperatures and check in with a friend or family for safety.
We hit the trail daily so join us to learn about the season of winter and all the fun tracks we see along the way.
Hole Hiking Experience
Bhutan Himalayan Experience
www.holehike.com
307.690.4453
---
Nordic New Years Adventure in Yellowstone
The Hogan family spent 3 days- 2 nights at the Snow Lodge in Yellowstone to welcome the New Year. So many nordic ski options, visiting waterfalls, geysers, wintering bison.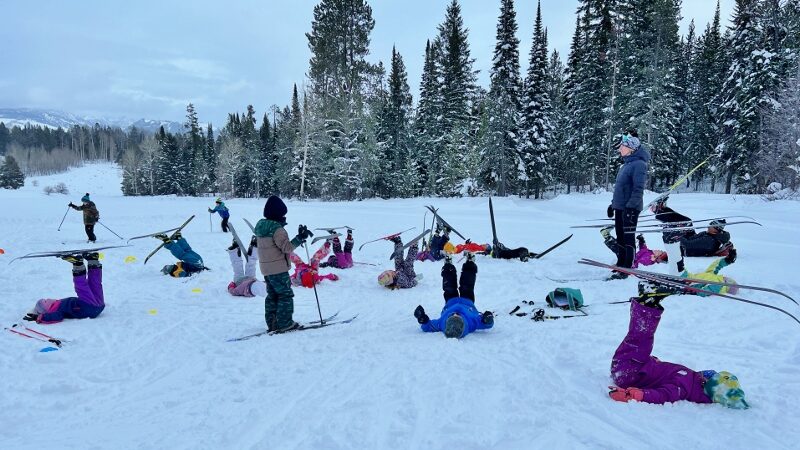 Grooming Daily
Last Update: 1/5
Dead Bugs?!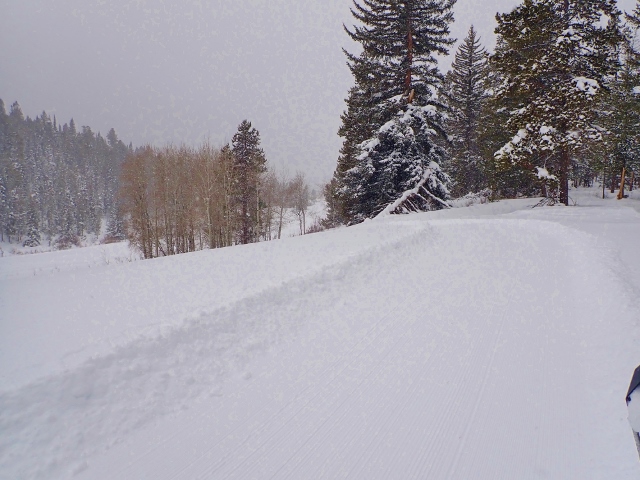 Coach Kathy and one of her groups of Lollipoppers were recently taking advantage of Lolliland for a fun and protected practice venue. Part of the agenda was playing "dead bugs". Looks like they nailed it, a great thing to try next time you're out on your Nordic skis, you'll most likely get a world view you haven't experienced in a long time!
If your plan for today includes putting on Nordic skis and heading to Trail Creek, you're going to find a huge amount of snow. Early in this morning's grooming session the 24 hour snowfall totals went from a foot to really deep. Snow has been falling heavily and continues to do so. Realistically even since grooming began this morning around 6 inches have fallen; winds are currently calm however which is always a nice thing.
Pretty much every trail received at least a single Husky pass with almost all of those receiving classic tracks. Moose Loop, Armins, and the Close field received multiple passes and finally multiple play areas were set for the full venue of teams that will be out reveling in the bountiful snow later this afternoon.
Groomer's choice for today is to check out Gut Flop which received its first full grooming of the year today (it will also be about as slow as you'll ever find it with all the fresh snow).
---
Grooming Monday-Saturday
Last Update: 1/5
Our primary grooming staff is out sick so we have a back up operator today. This the reason for no updates. Everything that is supposed to be groomed today will be groomed by 1:30. Stay tuned for additional updates if there are any.
Thursday Grooming Schedule: High School Fields, Emily's Pond Levee, Wilson Centennial Pathway
---
Last Update: 1/4

We groomed the cache trails tonight and will groom each night this week to stay ahead of the storm.
Grooming by Friends of Pathways.
---
Grooming Daily
Last Update: 1/4
The snow is great at Teton Pines! We groom 13km+ daily for both skate and classic with our new snowcat. 

We are open to the public 9am-4pm. Please call us in advance to book lessons at: (307) 733-1733. You do not need a reservation for skiing and we do not take reservations for rentals. Please contact us to check availability for off-site rentals.

We still have a great selection of classic skis, skate skis, boots, jackets, pants, gloves, and hats. We have a full tuning shop so drop off your skis for a nordic wax done by our great wax techs who are all nordic skiers!
Visit our website for pricing and other information: www.tetonpinesnordiccenter.com
---
Grooming Daily
Last Update: 1/5

Severe Winter Weather will continue today and tomorrow (Thursday). Heavy snow and high winds will create disorienting & very difficult/less than desired Nordic conditions. We'll continue to groom the yellow loop daily, but would not recommend any Nordic activities until this storm passes. Conditions look to improve around Saturday. Next update will be Friday(1/7). Stay safe!
---
Grooming Daily
Both the Front and Back Nine trails are groomed daily and are in excellent condition. Call for info 307-201-3093 and check in at the Clubhouse to pay trail fee. www.snakeriversportingclub.com
---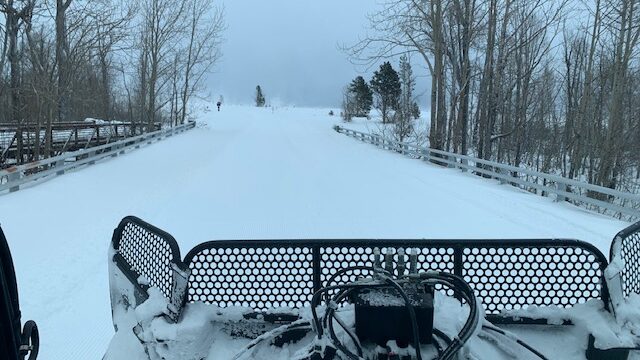 Last Update: 1/4
Taggart to South Jenny this morning. Blowing/snowy conditions
Grooming is sponsored by the GTNP Foundation and generous donations from our community.
---
Grooming Daily
Last Update: 1/5
We had knee deep snow on the trails the morning of 1/5 and there is forecasted to be a lot more on the way (potentially 5″ during the day today)! We are still building a base in our hills so we are beyond grateful for the new accumulation. The pisten bully will be out early the morning of 1/6 but the way things have been going, new snow has been piling up faster than we can pack it down. If you venture north today classic skis and/or snowshoes are recommended. Please sign waivers and pay for trail passes online ahead of your visit. Call the front office (307) 543-2000 ahead of your visit for booking equipment rentals and Nordic adventures (lessons and tours).
https://www.turpinmeadowranch.com/the-ranch/live-conditions/
https://www.turpinmeadowranch.com | 307.543.2000
---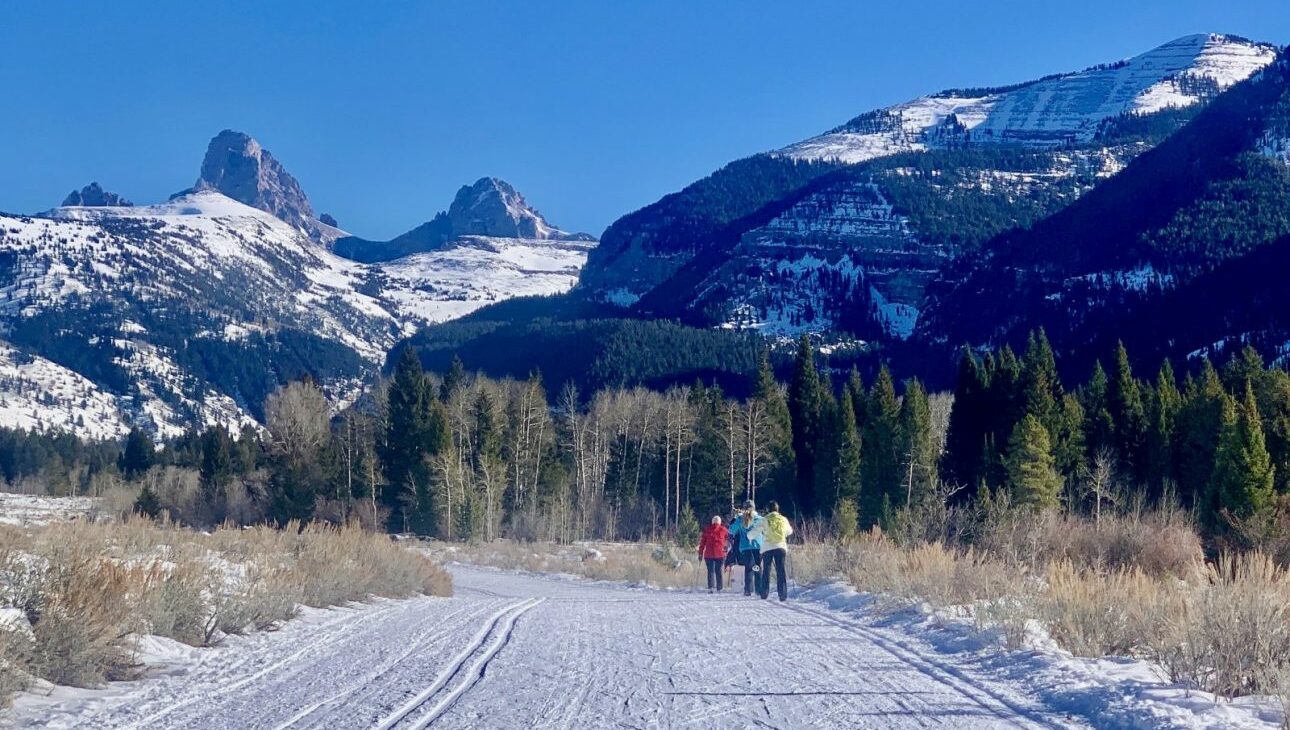 Trail Etiquette: Please keep your dogs leashed in the parking lot and be sure to clean up after them!
---
Grooming Schedule: Tuesday, Thursday, Saturday & Sunday
Last Updated: 1/5

Cross Country 15k: XC OPEN – last groomed 1/4/2022
Fat Bike Trails : Open
Snowshoe Trails: Open
Targhee's Nordic trails are groomed Tuesdays, Thursdays & Sat/Sundays. Fat bike/snowshoe trails are groomed regularly but not on a set schedule – the groomer usually waits until after a storm cycle to groom the single track.
Trail day passes are $20 this winter.
Remember, singletracks will be closed when there is more than 3 inches of snow in a 24 hour period.
---
Grooming Schedule: Tuesday, Thursday, & Sunday
Last Updated: 1/5
Skate: Set | Classic: Not Set

Rolled north and south loops this afternoon. Very soft conditions.
Please do not park in the library parking lot. Please be sure to keep your dogs on a leash and to clean up after them.
---
Grooming Schedule: Monday, Wednesday & Friday
Last Updated: 1/5
Skate: Set | Classic: Set

Groomed everything at least two laps but there was a LOT of snow. Track was not discernible when I got there so it may not be on the exact same spot. It was snowing and blowing pretty good when I left and track will be soft with how much snow has fallen in the last 48 hours.
---
Grooming Schedule: Monday, Wednesday & Friday
Last Updated: 1/5
Skate: Set | Classic: Set

Found the trail and packed down the close to 15 inches! Multiple laps…set the classic track. Will be soft but skiable. Nice to see some people getting on it before it started snowing again!! Whoop Whoop
---
Grooming Schedule: Monday, Wednesday, Friday & Saturday
Last Updated: 1/5
Skate: Set | Classic: Set

I'm running a bit late this morning. Plan to use roller to compact new snow and set classic track. Should begin around 9am.
---
Grooming Schedule: Tuesday, Friday & Sunday
Last Updated: 1/4
Skate: Set | Classic: Not Set

Packing down the soft stuff as best we can. Yeti and campground are roller packed and it's still snowing. The parking area hasn't been plowed yet. Take care driving in the lot and make sure you have the right vehicle. 4WD and snow tires a minimum.
No dogs December 1 – April 15.
---
Teton Reserve Nordic
Grooming Schedule: Monday, Thursday & Saturday
Last Updated: 1/5
Skate: Not Set | Classic: Not Set

No grooming today. discretion was the better part today due to blowing/drifting snow and very poor visibility (flat light). see what tomorrow brings.
No dogs allowed.
---
Southern Valley Singletrack
Grooming Schedule: As needed
Last Updated: 1/3
Singletrack: Not Set

All the trails have been snowmobile compacted, but not groomed. With more snow and rising temperatures in the forecast, it may be a few days till they're fat bike ready.
Happy Hour (aka Mike Harris to ID/WY state line)
No dogs December 1 – April 15.
---
Grooming Schedule: As needed
Last Updated: 12/28

Groomed 12/28 to summer trailhead.
---
Grooming Schedule: As needed
Last Updated: 12/15

The USFS is continuing to monitor snow levels on our roads and will close them to wheeled motorized vehicles when there is enough snow to groom
---
Grooming Schedule: As needed
Last Updated: 12/28

Grooming 12/28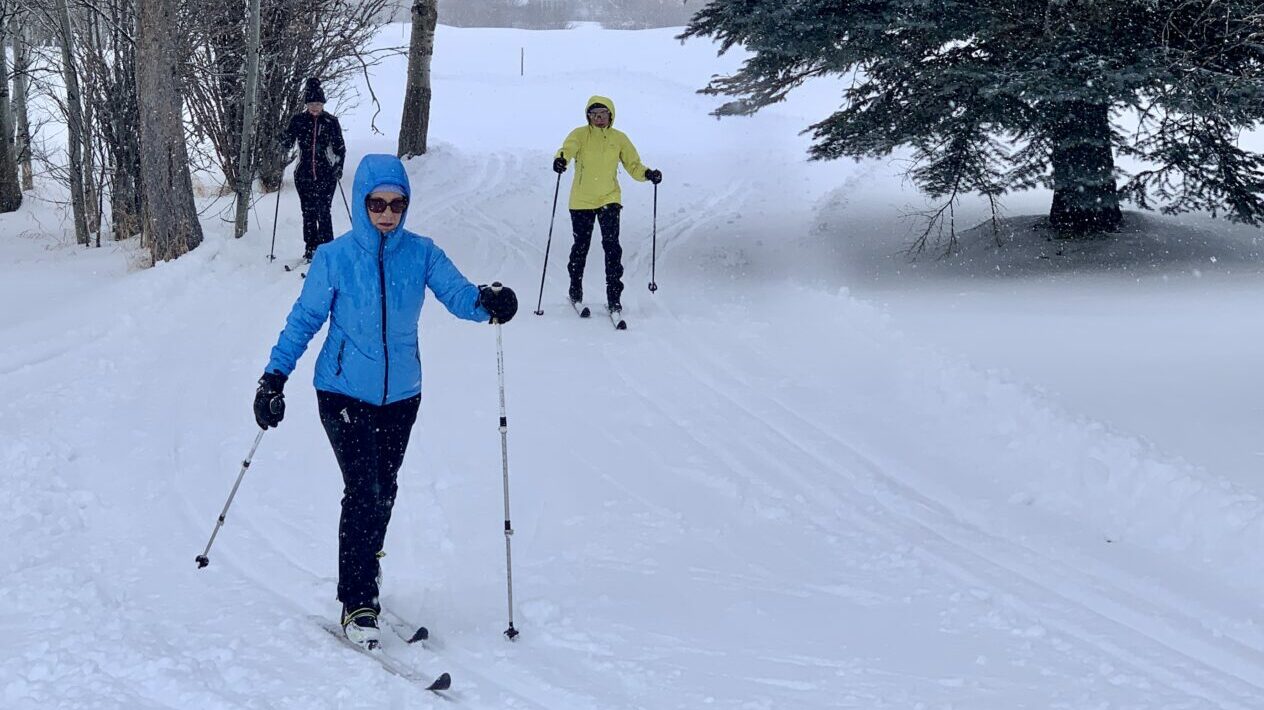 TODAY!
CLASSIC SKI CLINIC THURSDAY JANUARY 6, 2022
11am – 12:30pm

Hosted by Scott Horn and JH Ski Club Nordic Team Coaches
There will be 10 clinics running every Thursday in January and February from 11am-12:30pm. The Nordic Masters clinics will focus on skate ski and classic cross country skiing every other week.
Joining all 10 clinics is your best approach to developing your full Nordic skiing technique, balance, stride, stamina, and overall fitness while having fun in a small group. For those who only wish to focus on one technique, we are offering a Skate Ski Clinic series of 5 clinics or a Classic Cross country series of 5 clinics.
---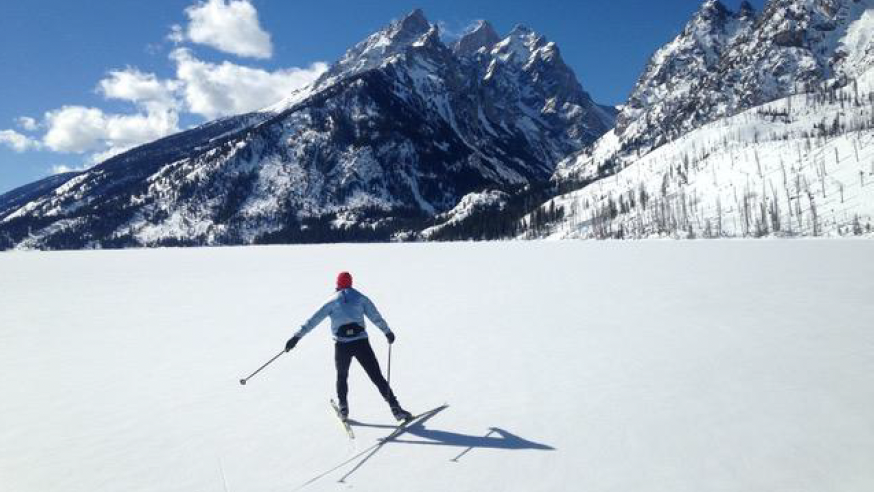 January Women's Skate Skiing Clinics
Dates: Fridays: January 7, January 14 and January 21
Time: 11am-12:30pm
Teton Pines Nordic Center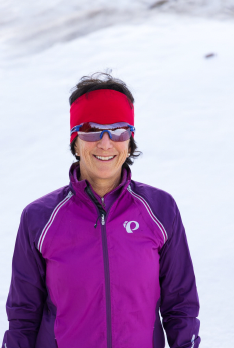 If you'd like to improve your skate technique and fitness, come join us for three Skate lessons at Teton Pines. We'll improve our glide on skate skis and learn to be more efficient uphill, downhill, and review the different skating strides. These clinics are for those with some skate skiing experience who would like to improve. We will cover more than the basics to get you skating longer distances with ease and going up and down hills with proficiency and confidence. Each session will be part instruction with plenty of time to ski and practice. $50/Clinic or $135 for all 3 ($45/Clinic for Teton Pines Nordic Center season pass holders). Rentals available for $35. Trail pass is included.
Instructor: Kim Springer Kim grew up warming her fingers in the Octagon on Mt. Mansfield in Stowe, Vermont. After college she discovered the warm world of Nordic skiing and has been passionate about all aspects of the sport ever since. She loves sharing that passion with others and has taught in and around Jackson Hole for many years.
Questions or to register: Call Teton Pines Nordic Center at: (307) 733-1733
---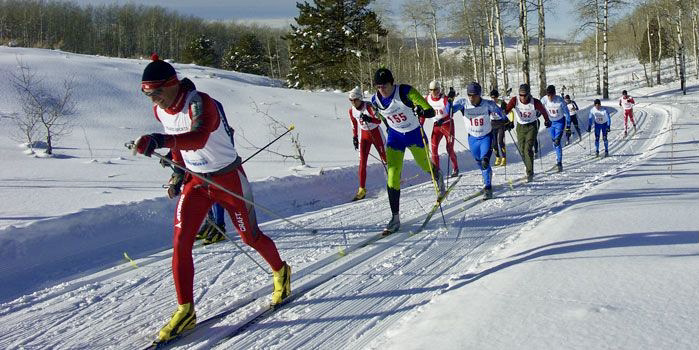 SATURDAY, JANUARY 8TH, 2022
Grand Targhee Nordic Trails, Alta Wyoming
19th Annual Classic Cross Country Ski race – Race format: wave starts based on distance; 24 km, 14 km, 7 km, and 2 km.
For more info and registration: https://tetonridgeclassic.com/registration
For race trail maps: https://tetonridgeclassic.com/maps
---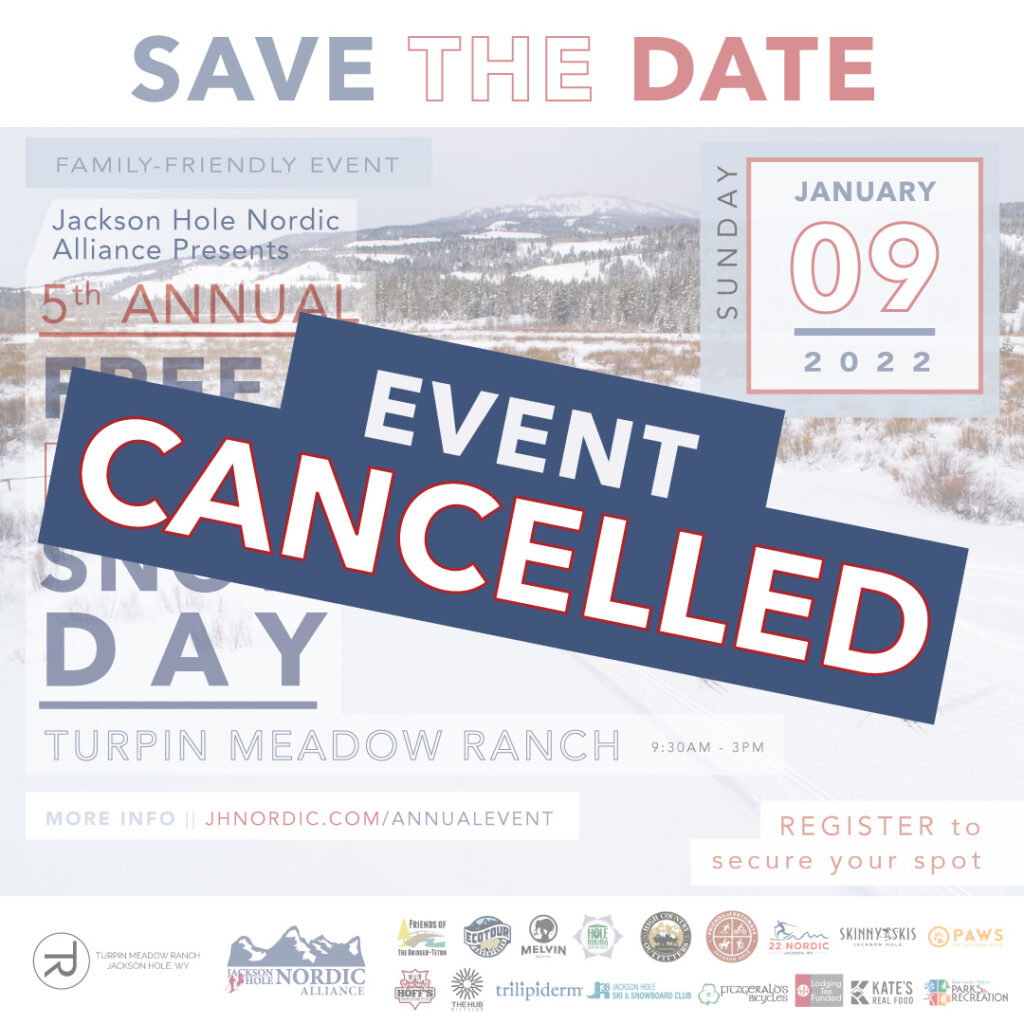 ---
---
We'd love to hear about your outdoor adventures, what your doing to stay healthy, safe, respectful of community health guidelines – send pictures or post on FB and Insta – #JHNordic