---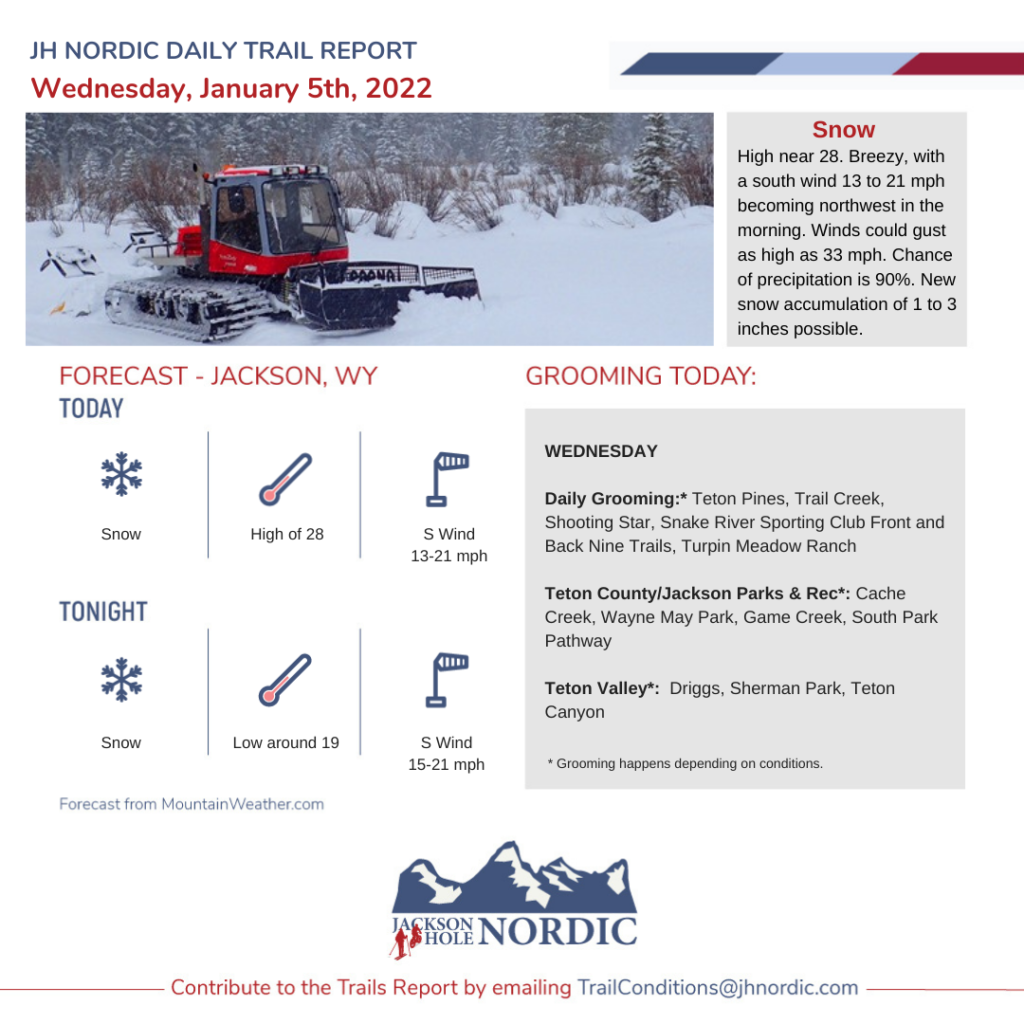 ---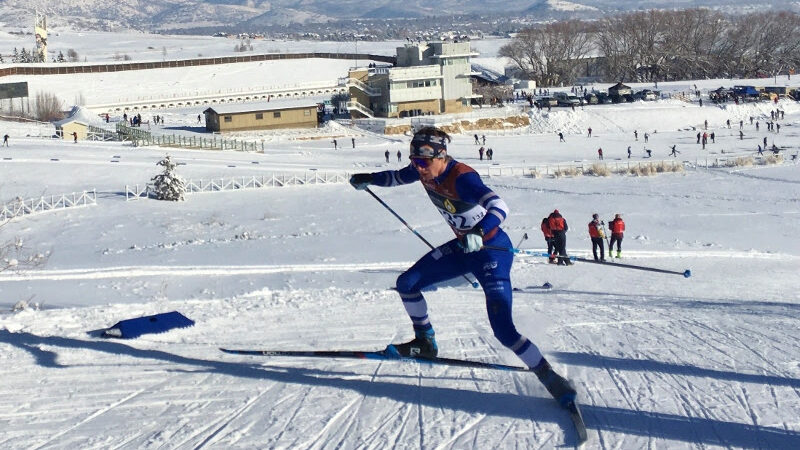 January JHSC Club and Community Nordic Update
Happy New Year from JHSC Nordic! The month of December was a rollercoaster. We went from not having any snow, and training in shorts, to absolutely drowning in powder in the course of about a week. Devos, Juniors, and Prep/Comp have all been training, while Teewinots, Lollipoppers, and Ositos started on January 3rd! Our Nordic Masters clinics have been going well, with strong attendance for every session. It has been great to get the Husky out on the trails, and it has already been put it to great use for the Betty Woolsey Classic. The JH News & Guide covered the Betty Woolsey Classic and the arrival of the Husky, with our very own Ali Sehnert featured on the front cover! The Husky and Steve the Groomer also made the cover of the Jackson Hole Daily in the New Year's Eve edition. All in all we are in a good place going into the winter, with a packed slate of programming for the community!
We have six athletes competing in Soldier Hollow, UT at US National Championships. The level of racing is extremely high, but the athletes are battling it out and we are getting some good results! The skate sprint was yesterday and we have a skate mass start and a classic individual start on deck for the rest of the week. It has been inspiring seeing the level of American Nordic skiing right now; the fields are large and strong, which is good for our country. These races serve as selection for the Olympics, World Cup races, and Junior National Team development trips.
---
A beautiful New Year in Grand Teton National Park.
---
Learn More About Winter Wildlife Closures
Professional Skier Lynsey Dyer and Bridger-Teton Wildlife Biologist Jason Wilmot take a trip up Snow King Mountain while discussing the importance of protecting wildlife and how to do so while recreating during the winters in the Bridger-Teton National Forest. They make their way to the borders of the wildlife closure areas surrounding the Snow King Resort boundaries to place notices of closure for skiers, snowboarders, and hikers. Video Courtesy of the Jackson Hole Conservation Alliance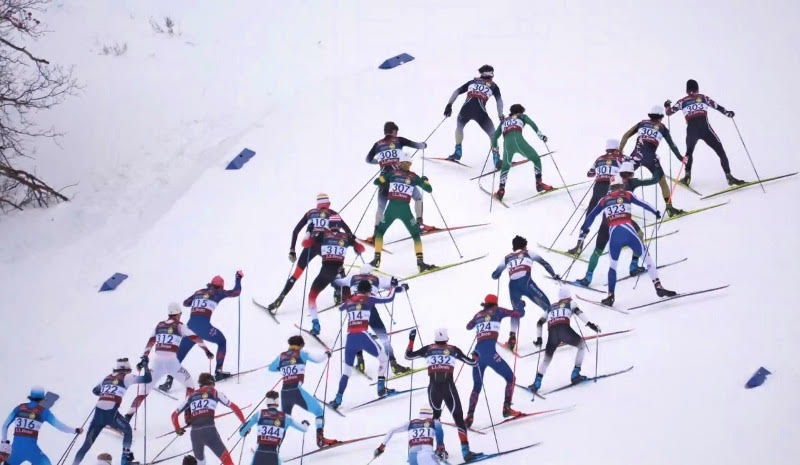 Grooming Daily
Last Update: 1/4
Racing in Progress!
The image above is a screen shot from just moments before posting time from the live stream of the 2022 L.L.Bean U.S. Cross Country Ski Championships and Supertour Coach Will and a small crew are hard at it today, you can live stream and get results by clicking on the link above.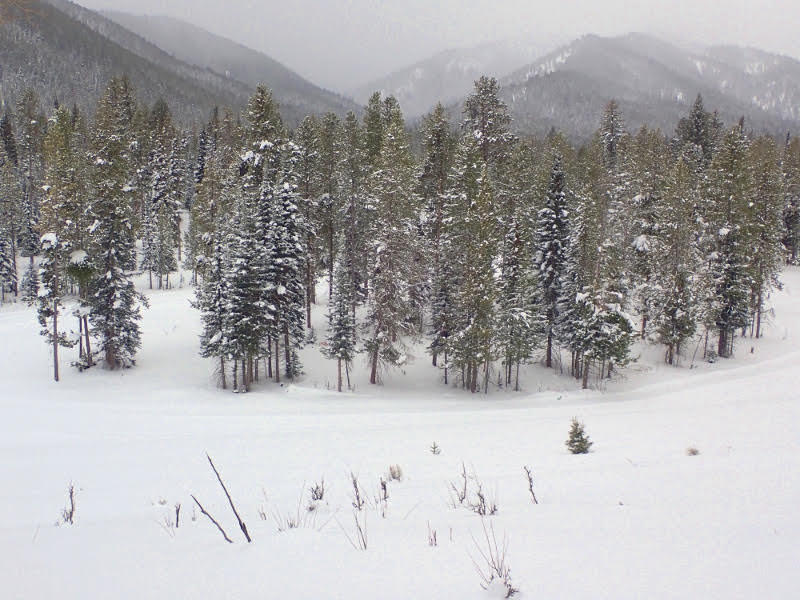 Another bit of great news today; Coach Will is going to be able to head to Norway at the end of the month as a coaching representative for the USA in the Scando Cup. More information is available in the January Nordic Newsletter which readers of this report will be receiving shortly.
Today at Trail Creek is a bit of a wild day with moderate snowfall and moderate to strong winds. The Husky did venture out on pretty much every trail, planting classic tracks along the way, however, the field trails are drifting over quite rapidly. Best bet for skiing today would be to head to the woods where you will be able to have a great ski accompanied by the symphony of your skis gliding through the snow along with the wind howling over the ridges and whistling through the trees; this is one of those days where it's fun to feel the power of a storm.
Practice will be light this afternoon with a reduced Prep/Comp team and probably the Juniors. Head to the woods and you'll have a great ski.
Groomer's choice for today is Moose Loop.
---
Grooming Monday-Saturday
Last Update: 1/4
Cache Creek was groomed Monday 1/3, looks pretty nice up there!

Wednesday Grooming Schedule: Cache Creek, Wayne May Park, Game Creek, South Park Pathway
---
Last Update: 1/4

We groomed the cache trails tonight and will groom each night this week to stay ahead of the storm.
Grooming by Friends of Pathways.
---
Grooming Daily
Last Update: 12/27

The snow is great at Teton Pines! We groom 13km+ daily for both skate and classic with our new snowcat.
We are open to the public 9am-4pm. Please call us in advance to book lessons at: (307) 733-1733. You do not need a reservation for skiing and we do not take reservations for rentals. During the next two weeks we don't allow multi-day or off-site rentals.

We still have a great selection of classic skis, skate skis, boots, jackets, pants, gloves, and hats so come on out to pick up last minute gifts for the XC skier on your list.

Visit our website for pricing and other information: www.tetonpinesnordiccenter.com
---
Grooming Daily
Last Update: 1/4

1/4 As mentioned yesterday, severe winter weather is occurring and will last over the next several days. I would advise against Nordic skiing today (Tuesday 1/4) as sustained winds of 20+ mph and white out conditions are to be expect all day. Trails we be groomed this morning, but weather will dominate, creating disorienting & less than ideal conditions.

1/3 Enjoy the skiing today as it looks to be a very snowy week at Shooting Star. Plan ahead, as windy/drifty/snowy weather will persist from Tuesday- Saturday, bringing daily accumulations of 4"-8" and 24"-36" total for the week. We hope to keep the Snowcat somewhat functional during this storm system and continue to freshen the yellow loop up daily. Please, note our snowcat will be headed to Utah for repairs this Friday (1/7) and hopefully returned back between Thursday (1/13) & Monday (1/17). While the snowcat is gone next week, we'll continue to groom only the yellow loop using our snowmobile. Fortunately, after this next storm passes, the weather appears to be calmer, which should assist us once we no longer have the snowcat and need to rely only on our snowmobile for grooming. Next update will be Thursday (1/6)… Again, plan ahead and use common sense if you decide to Nordic ski during severe winter weather events.
TRAIL STATUS
YELLOW LOOP OPEN
SLED HILL GROOMED on 12/31 (Grooming Frequency Depends on Machinery Functioning)
CLASSIC TRACKS NOT SET
SNOWSHOEING CLOSED
ORANGE LOOP, CLOSED
WALKING, NOT ALLOWED
---
Grooming Daily
Both the Front and Back Nine trails are groomed daily and are in excellent condition. Call for info 307-201-3093 and check in at the Clubhouse to pay trail fee. www.snakeriversportingclub.com
---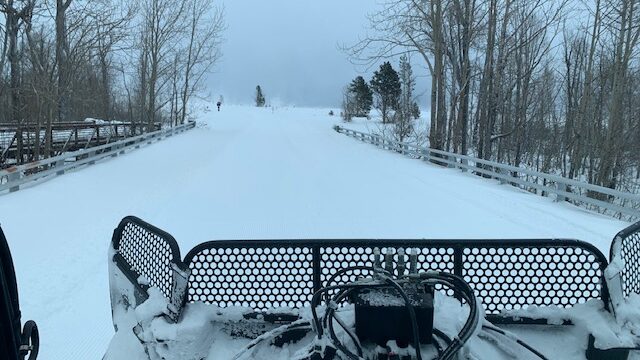 Last Update: 1/4
Taggart to South Jenny this morning. Blowing/snowy conditions
Grooming is sponsored by the GTNP Foundation and generous donations from our community.
---
Grooming Daily
Last Update: 1/4
No skiers visited Turpin on Tuesday, January 4. The wind was significant in the flats and we got a small amount of new snow accumulation at the ranch. I will take the pisten bully out Tuesday afternoon to reopen the drifted trails and again Wednesday morning if the forecasted snow indeed shows up. Please sign waivers and pay for trail passes online ahead of your visit. Call the front office (307) 543-2000 ahead of your visit for booking equipment rentals and Nordic adventures (lessons and tours).
https://www.turpinmeadowranch.com/the-ranch/live-conditions/
https://www.turpinmeadowranch.com | 307.543.2000
---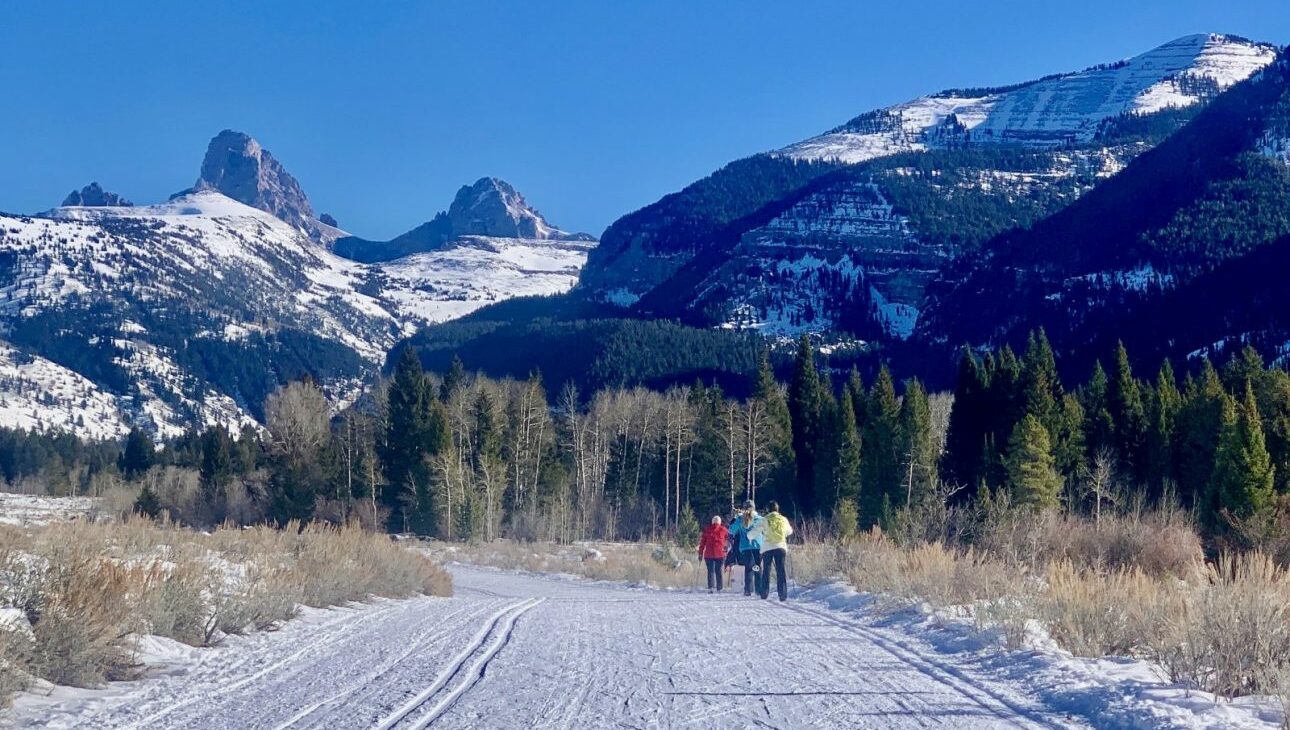 Trail Etiquette: Please keep your dogs leashed in the parking lot and be sure to clean up after them!
---
Grooming Schedule: Tuesday, Thursday, Saturday & Sunday
Last Updated: 1/4

Cross Country 15k: XC OPEN – last groomed 1/4/2022
Fat Bike Trails : Open
Snowshoe Trails: Open
Targhee's Nordic trails are groomed Tuesdays, Thursdays & Sat/Sundays. Fat bike/snowshoe trails are groomed regularly but not on a set schedule – the groomer usually waits until after a storm cycle to groom the single track.
Trail day passes are $20 this winter.
Remember, singletracks will be closed when there is more than 3 inches of snow in a 24 hour period.
---
Grooming Schedule: Tuesday, Thursday, & Sunday
Last Updated: 1/4
Skate: Set | Classic: Set

Skate and classic set. Soft conditions but will firm up as the days goes on. A few rough spots due to groomer error.
Please do not park in the library parking lot. Please be sure to keep your dogs on a leash and to clean up after them.
---
Grooming Schedule: Monday, Wednesday & Friday
Last Updated: 1/3
Skate: Set | Classic: Set

All trails have good coverage and the skiing is getting better and better.
---
Grooming Schedule: Monday, Wednesday & Friday
Last Updated: 12/31
Skate: Set | Classic: Set

Set both the skate and classic track. The singletrack was also groomed. Enjoy the ride and the glide.
---
Grooming Schedule: Monday, Wednesday, Friday & Saturday
Last Updated: 1/4
Skate: Set | Classic: Set

Tuesday: Plan to roll the 6 inches new snow and set classic. Should finish around noon.
---
Grooming Schedule: Tuesday, Friday & Sunday
Last Updated: 1/4
Skate: Set | Classic: Not Set

Packing down the soft stuff as best we can. Yeti and campground are roller packed and it's still snowing. The parking area hasn't been plowed yet. Take care driving in the lot and make sure you have the right vehicle. 4WD and snow tires a minimum.
No dogs December 1 – April 15.
---
Teton Reserve Nordic
Grooming Schedule: Monday, Thursday & Saturday
Last Updated: 1/4
Skate: Set | Classic: Not Set

Rolled plenty of fresh snow on all 4 loops this afternoon. should be firm tomorrow am. weather man forecasts more snow the next couple days. no fresh elk or moose tracks on the south end today, but most likely still in the vicinity (heavily wooded area). be observant, and give them plenty of space.
No dogs allowed.
---
Southern Valley Singletrack
Grooming Schedule: As needed
Last Updated: 1/3
Singletrack: Not Set

All the trails have been snowmobile compacted, but not groomed. With more snow and rising temperatures in the forecast, it may be a few days till they're fat bike ready.
Happy Hour (aka Mike Harris to ID/WY state line)
No dogs December 1 – April 15.
---
Grooming Schedule: As needed
Last Updated: 12/28

Groomed 12/28 to summer trailhead.
---
Grooming Schedule: As needed
Last Updated: 12/15

The USFS is continuing to monitor snow levels on our roads and will close them to wheeled motorized vehicles when there is enough snow to groom
---
Grooming Schedule: As needed
Last Updated: 12/28

Grooming 12/28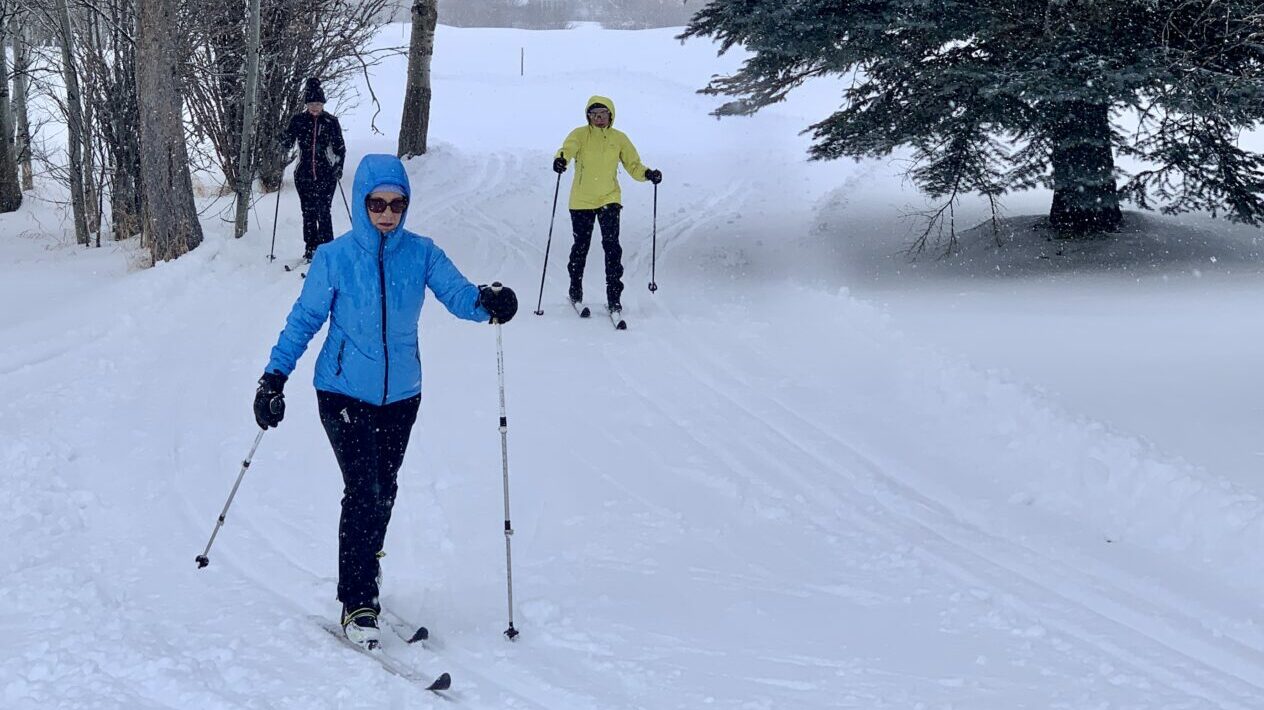 CLASSIC SKI CLINIC THURSDAY JANUARY 6, 2022
11am – 12:30pm

Hosted by Scott Horn and JH Ski Club Nordic Team Coaches
There will be 10 clinics running every Thursday in January and February from 11am-12:30pm. The Nordic Masters clinics will focus on skate ski and classic cross country skiing every other week.
Joining all 10 clinics is your best approach to developing your full Nordic skiing technique, balance, stride, stamina, and overall fitness while having fun in a small group. For those who only wish to focus on one technique, we are offering a Skate Ski Clinic series of 5 clinics or a Classic Cross country series of 5 clinics.
---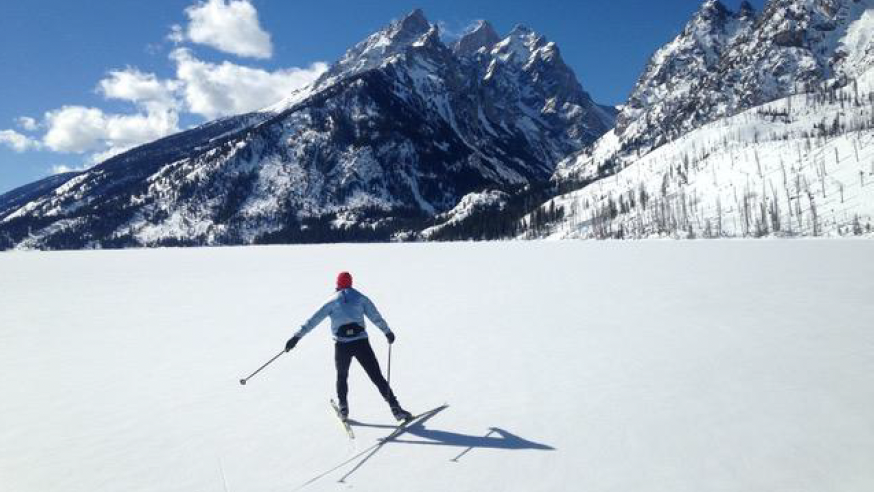 January Women's Skate Skiing Clinics
Dates: Fridays: January 7, January 14 and January 21
Time: 11am-12:30pm
Teton Pines Nordic Center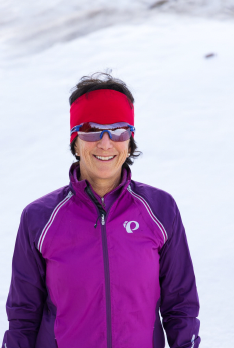 If you'd like to improve your skate technique and fitness, come join us for three Skate lessons at Teton Pines. We'll improve our glide on skate skis and learn to be more efficient uphill, downhill, and review the different skating strides. These clinics are for those with some skate skiing experience who would like to improve. We will cover more than the basics to get you skating longer distances with ease and going up and down hills with proficiency and confidence. Each session will be part instruction with plenty of time to ski and practice. $50/Clinic or $135 for all 3 ($45/Clinic for Teton Pines Nordic Center season pass holders). Rentals available for $35. Trail pass is included.
Instructor: Kim Springer Kim grew up warming her fingers in the Octagon on Mt. Mansfield in Stowe, Vermont. After college she discovered the warm world of Nordic skiing and has been passionate about all aspects of the sport ever since. She loves sharing that passion with others and has taught in and around Jackson Hole for many years.
Questions or to register: Call Teton Pines Nordic Center at: (307) 733-1733
---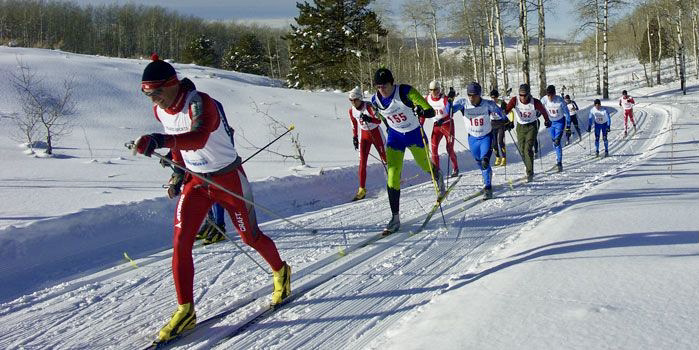 SATURDAY, JANUARY 8TH, 2022
Grand Targhee Nordic Trails, Alta Wyoming
19th Annual Classic Cross Country Ski race – Race format: wave starts based on distance; 24 km, 14 km, 7 km, and 2 km.
For more info and registration: https://tetonridgeclassic.com/registration
For race trail maps: https://tetonridgeclassic.com/maps
---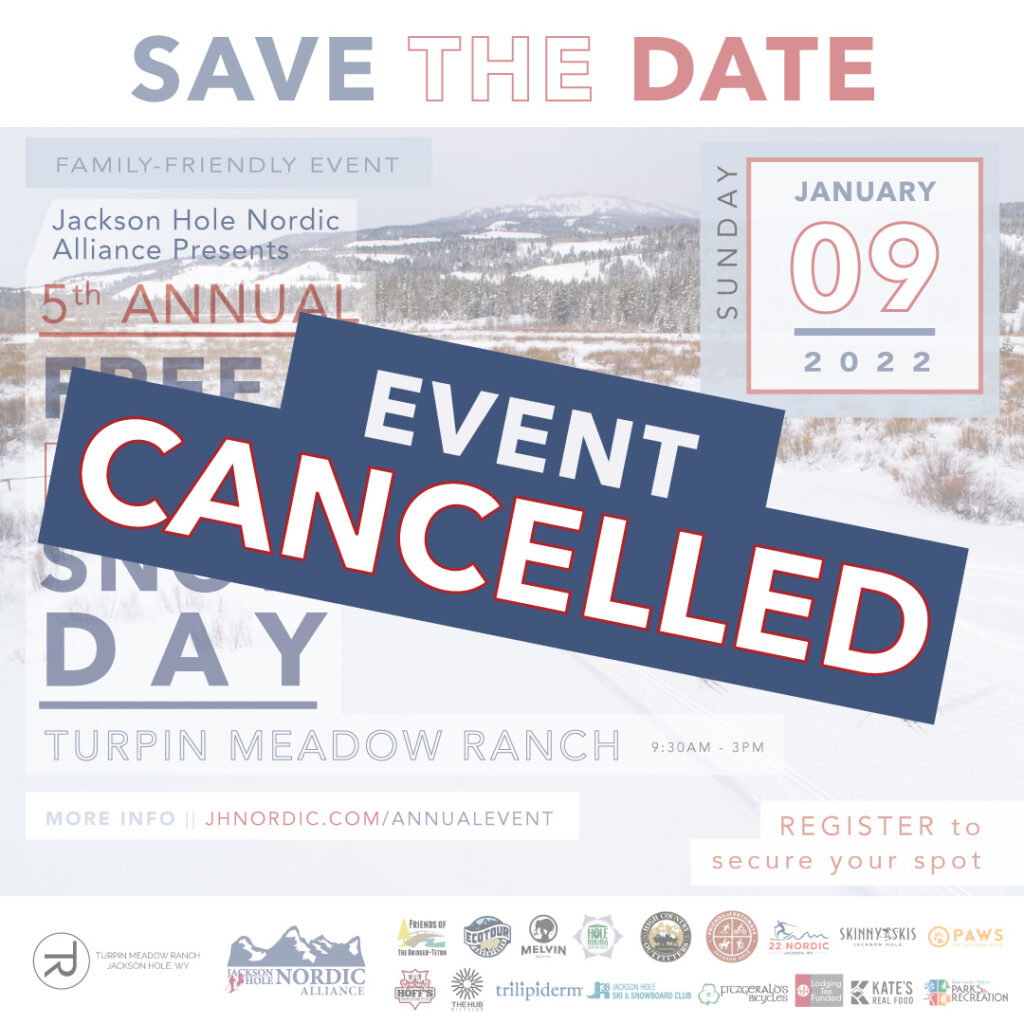 ---
---
We'd love to hear about your outdoor adventures, what your doing to stay healthy, safe, respectful of community health guidelines – send pictures or post on FB and Insta – #JHNordic