---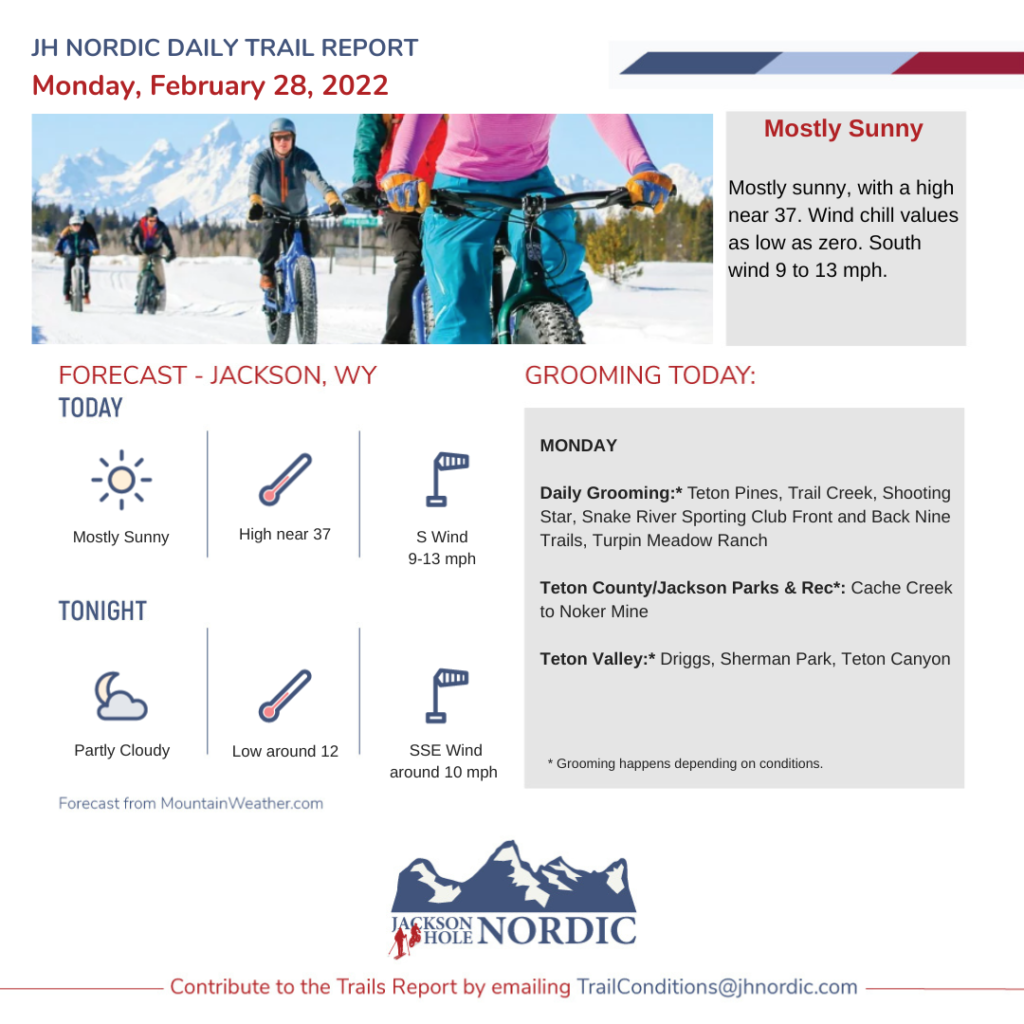 ---
Help Support Wildlife Tourism for Tomorrow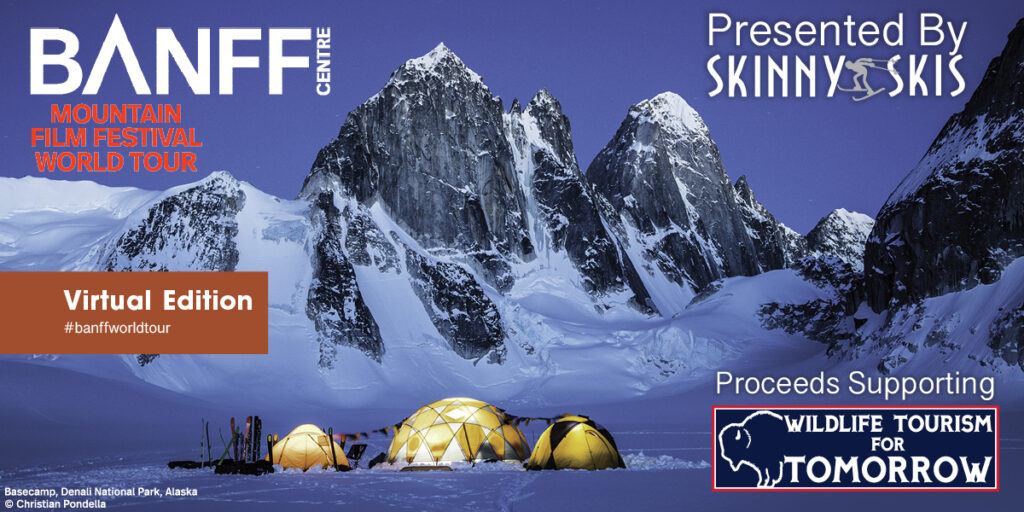 February is historically Banff Film Festival month here in Jackson, the time when we get to invite all of our friends in the community to join us down at the high school to watch these amazing films together. Unfortunately, with community health and safety always in mind, we've once again had to make the tough choice to go digital this year for the Banff Mountain Film festival. Instead, we hope you take the opportunity to enjoy the film festival in its online format from the comfort of your own home. Additionally, we've taken the opportunity to partner with one of our favorite local non-profits, Wildlife Tourism for Tomorrow, who invest in helping important wildlife conservation projects.
During the month of February, we will be donating all of the proceeds Skinny Skis earns from Banff Mountain Film Festival rentals to Wildlife Tourism for Tomorrow and the Jackson Elk Project. This project provides funding to help gather data and track the Jackson Elk heard that calls the National Elk Refuge and Greater Yellowstone Ecosystem its home. The next "article" below is a brief introduction to the organization and the Elk project shared by the founder of Wildlife Tourism for Tomorrow, Taylor Phillips.
To make the festival easier to watch in this virtual format the films have been divided up into 2 programs, the Pine program and the Sage program. Each program features a diverse set of films but we'd strongly recommend getting the Pine and Sage Bundle for the full Banff Film Festival experience.
So plan yourself a couple nights, some fun intermission activities, ample snacks, get on some comfy PJ's, turn the lights down low, the sound way up, and enjoy the show!

Individual programs: $15 (3-day rental period)
2 Program Bundle: $28 (14-day rental period)
---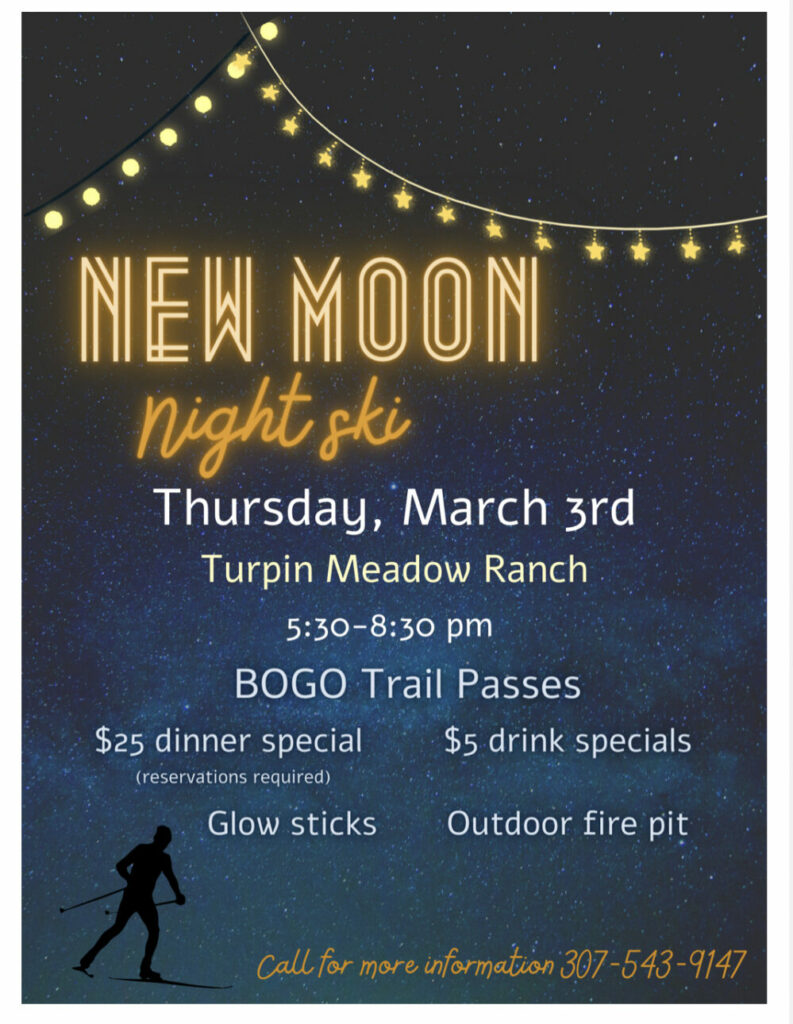 Are you craving something out of the ordinary? Give yourself the boost you need to beat the winter blues: get on your skis or bike as the sun sets, ride and glide to your content and than warm up with drink specials and a hearty meal near the crackling fire in the lodge. Thursday, March 3 is the last night ski at Turpin Meadow Ranch for the season. These events have been lighthearted and festive, you never know who you might meet out there on the trails. There are a few cabins available if you want to stay after you play. Trail passes will be buy one, get one free for the evening. Call the office to make your reservations for dinner and lodging (307) 543-2000.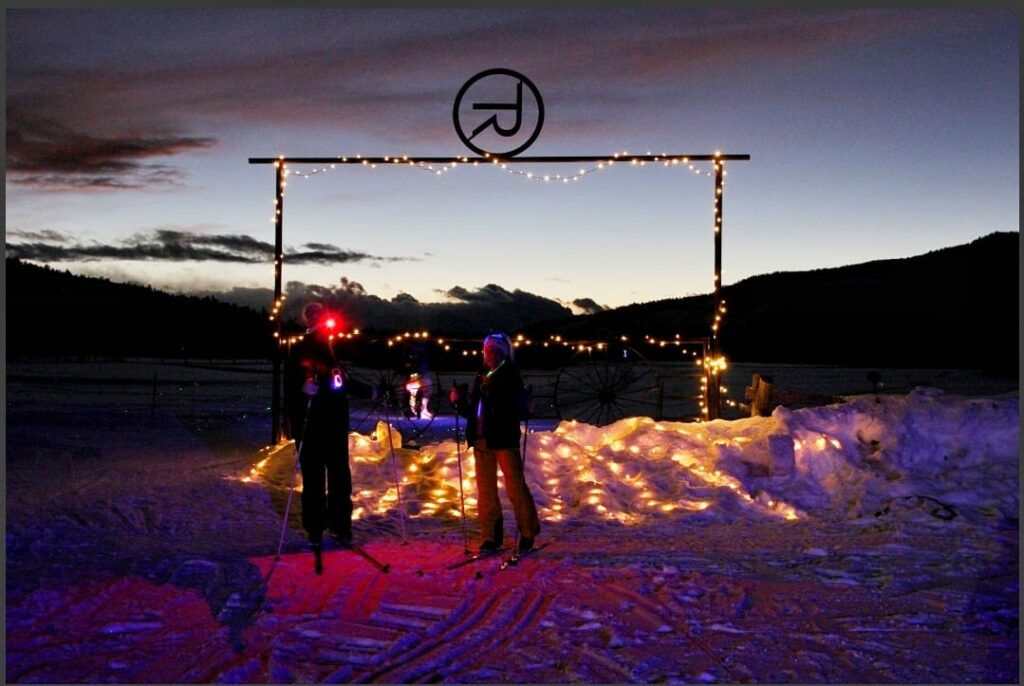 ---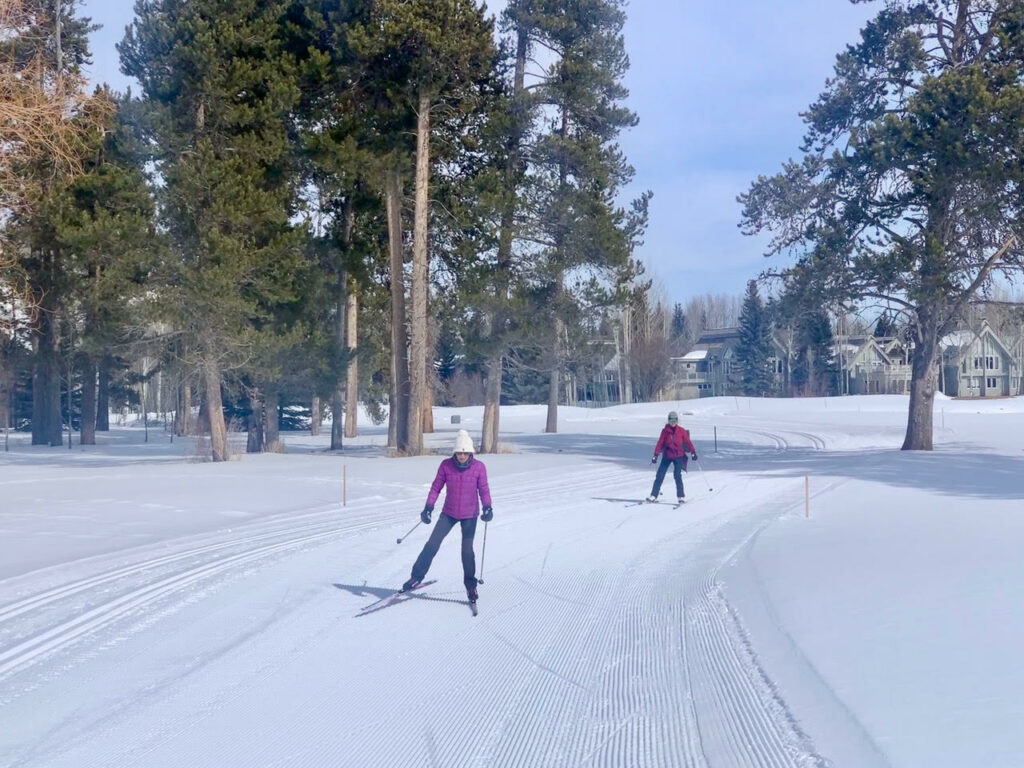 Teton Pines Nordic trails – some of the best snow in JH right now , daily grooming for skate and Classic cross country skiing, open spaces, access via car, bike path, START Bus (to Westbank Center stop, then walk 100 yards). Photos and words by Nancy L.
---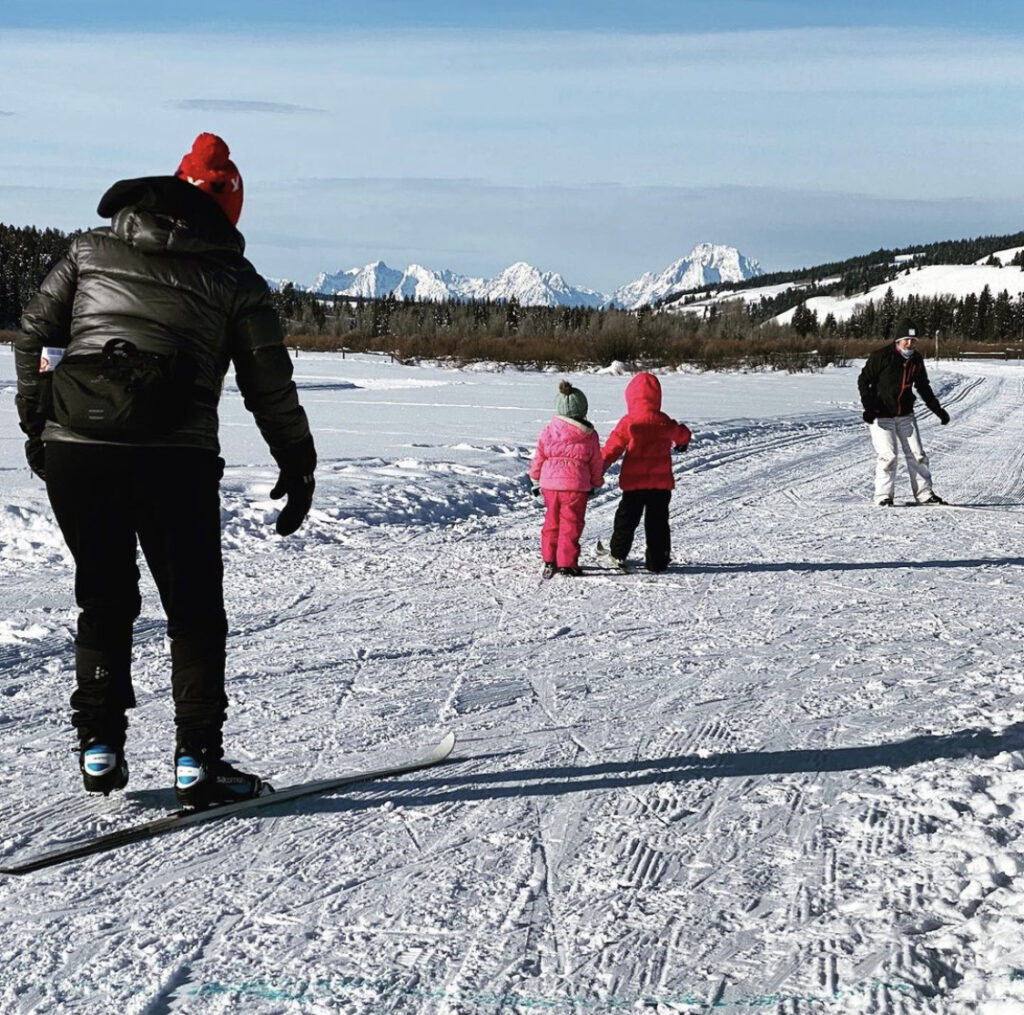 Looking for Nordic Instruction?
First timer or seasoned Nordic skiers? Young or mature skiers? Cross country or skate? Looking for a good time, technique skills, a good workout, an awesome adventure? Check out the programs and lessons offered here in Jackson Hole and the Teton Valley for the perfect fit for you. While some programs have finished up for the season, others are still going strong.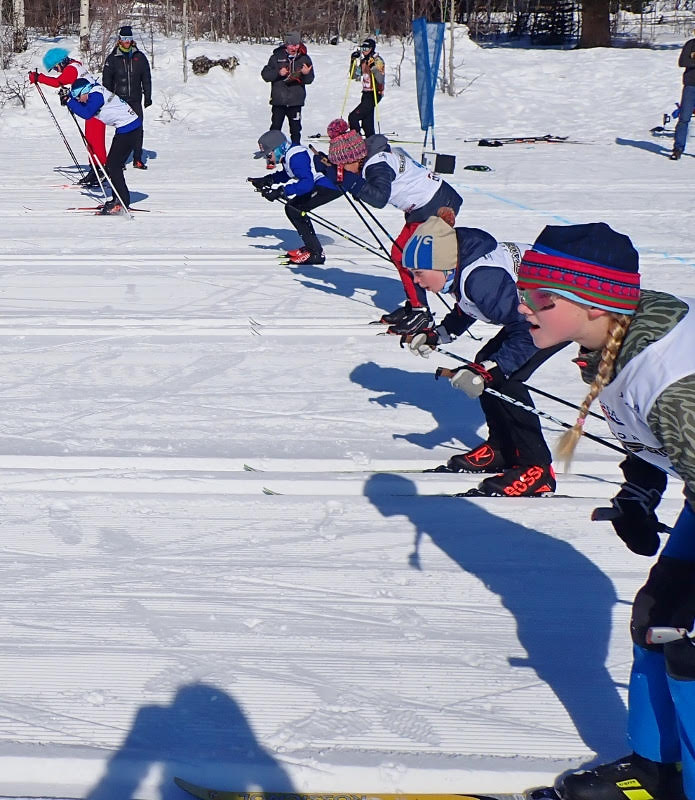 Grooming Daily
Last Update: 2/27
Busy Busy Weekend!
Many of our valley youth have been pushing themselves in Nordic adventures in Pinedale and here at Trail Creek over the past two days. On Friday and Saturday the 2022 Wyoming High School Nordic Skiing Championships were taking place in Pinedale. It is a pleasure to report that Mason Wheeler and Kate Brigham dominated the male and female divisions on both days and that the Jackson team once again won the state title. Full results can be found on this High Plains Nordic page and a good article with the details of the racing is available at this Wyopreps webpage. Congratulations to all of our racers!
Here at home, Coach George was leading (literally in the image above) a festive and fun day of racing for many of our younger skiers. The day started with laps through the field and onto the Nordic X course, of course, and finished with food, festivities, and many laps on the Nordic X course. Fun was in evidence and no major injuries were reported. Nordic is fun!
If you come out to Trail Creek today you too can have some Nordic fun. The Husky has once again been busy grooming our trails. After sunset last night the woods trails received a single pass with fresh classic tracks being set almost everywhere. Early this morning the fields received skate and classic grooming. The cold temps of the recent days have resulted in firm and nice conditions which should ski faster as the day warms.
Groomer's choice for today is to find your fun ski.
---
Grooming Monday-Saturday
Last Update: 2/25
Monday Grooming Schedule: Cache Creek to Noker Mine.
---
Last Update: 2/22
I groomed the trails in Cache last night and will take another lap this afternoon to firm things up and will snowshoe the smaller trails on Wednesday. That way everything should be in good shape for Winter Trails Day this Saturday!
Grooming by Friends of Pathways.
---
Grooming Daily
Last Update: 2/23
New Salomon skis in stock now!! Today we received a surprise shipment of classic skis that are perfect for the 110-145lb and 160-195lb weight range. We have boots and poles to go with them too! These skis were supposed to arrive last September but have been stuck in the Covid shipping delay situation. We are happy they finally made it to the shop!

Our trails are in great shape after the recent snowfall so come out and ski! We groom 13km+ daily for both skate and classic with our new snowcat. Our trails and shop are fully open to the public 9am-4pm daily. Day passes, 10 punch cards, and season passes are available.

Please call us in advance to book lessons at: (307) 733-1733. You do not need a reservation for skiing and we do not take reservations for rentals. Please contact us in advance to check availability for off-site rentals.We still have a small size selection of skate skis and BC skis, but have lots of boots, poles, jackets, pants, gloves, and hats.

We also have a good selection of used skate gear available. Call or come by to see if we have your sizes! We have a full tuning shop so drop off your skis for a wax done by our great wax techs! Visit our website for pricing and other information: www.tetonpinesnordiccenter.com
---
Grooming Daily
Last Update: 2/26
Trails are in great shape and should ski well through Monday. Be advised that the snowpack is now hardpacked and icy from the lack of fresh snow. For the remainder of the season anticipate icier conditions in the morning and softer skiing in the afternoon as temperatures warm. Outlook is calling for warmer weather next week, which may bring spring like snow qualities (icy, slushy, thinning areas) . Side note… is we recently groomed all our greens to firm up/compact the snow for our annual application of black sand. Weather pending, we plan on applying the black sand around Monday, March 7th. Please stay off the greens to prevent turf damage or post holing of the snow, as we need a smooth surface for our push spreader to roll over when applying the sand. Enjoy the Sunshine! Next update will be Tuesday 3/1.
TRAIL STATUS
YELLOW LOOP OPEN
SLED HILL GROOMED on 2/26 (Grooming will occur as needed)
CLASSIC TRACKS SET
SNOWSHOEING OPEN (BLUE LOOP ONLY, STAY ON THE EDGE OF THE TRAIL OR IMMEDIATELY NEXT TO TRAIL)
ORANGE LOOP OPEN
WALKING, NOT ALLOWED
---
Daily Nordic grooming for both "Front Nine" (south side) and "Back Nine" (North side) Nordic Trails
Public access to the groomed Nordic trails is $50 per person per day, with no season passes available. Ski rentals are available at the Sports Shop. Guests must check in at the Sports Shop to sign a waiver and make payment before heading out. The daily pass does not allow access to the Restaurant this season. The clinics that are being offered are for members and lodging guests only.

Please call the Sports Shop with any questions you may have at 307-200-3093
---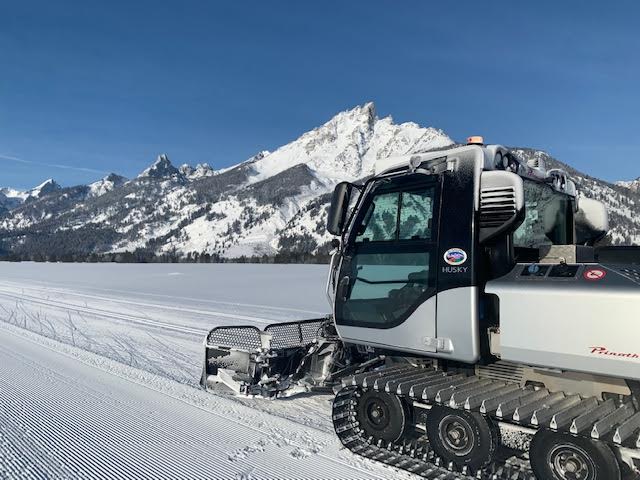 Last Update: 2/27
Sunny skies and good trail conditions in GTNP today. @grandtetonfoundation @jhnordic #gtnpgrooming
Grooming is sponsored by the GTNP Foundation and generous donations from our community.
---
Grooming Daily
Last Update: 2/27
The trails are looking good and skiing well. The ginzu was out Sunday afternoon resetting the skate lane everywhere, the classic track is in good shape. A few things to mark on your calendar for this week at Turpin: Thursday, March 3 is our final night ski event AND we still have a few cabins available if you want to stay after you play. Saturday, March 5, the lodge will be closed due to a private event.
Please sign acknowledgment of risk forms and pay for trail passes online ahead of your visit. Call the front office (307) 543-2000 ahead of your visit for booking equipment rentals and Nordic adventures (lessons and tours).
https://www.turpinmeadowranch.com/the-ranch/live-conditions/
https://www.turpinmeadowranch.com | 307.543.2000
---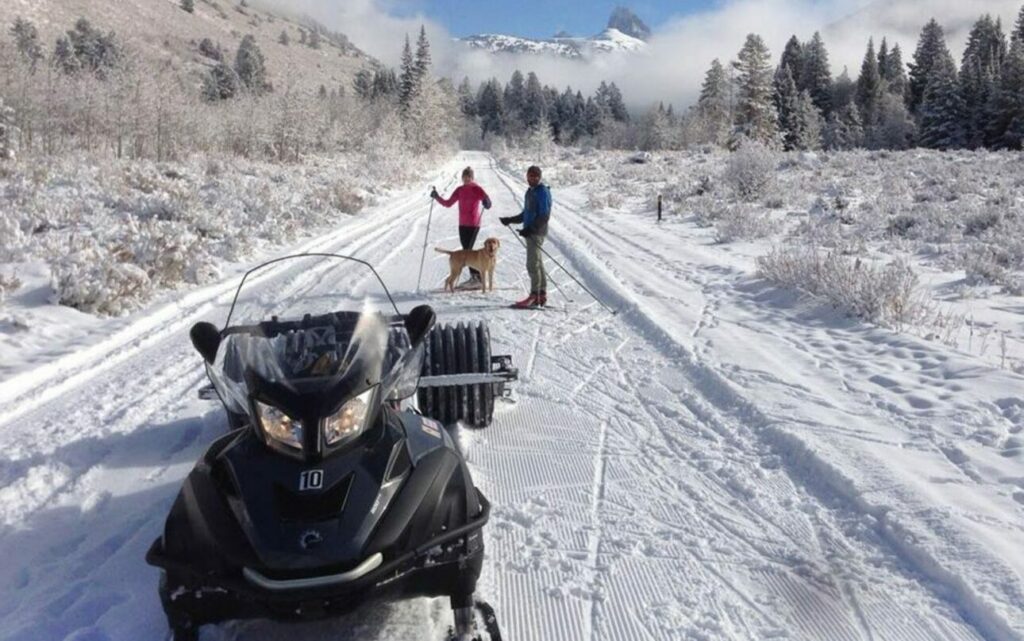 Trail Etiquette: Please keep your dogs leashed in the parking lot and be sure to clean up after them!
---
Grooming Schedule: Tuesday, Thursday, Saturday & Sunday
Last Updated: 2/27
Cross Country 15k: XC OPEN
Fat Bike Trails : Open
Snowshoe Trails: Open
Targhee's Nordic trails are groomed Tuesdays, Thursdays & Sat/Sundays. Fat bike/snowshoe trails are groomed regularly but not on a set schedule – the groomer usually waits until after a storm cycle to groom the single track.
Trail day passes are $20 this winter.
Remember, singletracks will be closed when there is more than 3 inches of snow in a 24 hour period.
---
Grooming Schedule: Tuesday, Thursday, & Sunday
Last Updated: 2/27
Skate: Set | Classic: Set
Plan to reset skate track all around and classic on the north loops, south classic was reset Saturday.
Please do not park in the library parking lot. Please be sure to keep your dogs on a leash and to clean up after them.
---
Grooming Schedule: Monday, Wednesday & Friday
Last Updated: 2/25
Skate: Set | Classic: Set

Driggs will be groomed 3PM Friday. Skate and classic will be set at this time.
---
Grooming Schedule: Monday, Wednesday & Friday
Last Updated: 2/27
Skate: Set | Classic: Set
Sunday evening 6 PM headed out to groom Sherman Park. Plan to reset the skate, classic and singletrack. Please be aware of the grooming equipment.rm up great in the next cold hour or two. Enjoy!
---
Grooming Schedule: Monday, Wednesday, Friday & Saturday
Last Updated: 2/27
Skate: Set | Classic: Set
Skate track groomed today and is in great shape. Classic is still great from Mark's work during the week.
---
Grooming Schedule: Tuesday, Friday & Sunday
Last Updated: 2/27
Skate: Set | Classic: Set
Saturday evening Campground and Yeti's Loop we're groomed. The classic and skate tracks have been reset on both.
No dogs December 1 – April 15.
---
Grooming Schedule: Monday, Thursday & Saturday
Last Updated: 2/25
Skate: Set | Classic: Set
Friday evening I plan to groom starting by 5:45. The plan is to reset the skate track and possibly the classic track. Please be aware of the grooming equipment.
No dogs allowed.
---
Southern Valley Singletrack
Grooming Schedule: As needed
Last Updated: 2/23
Singletrack: Set

Wednesday evening we were able to groom multiple passes on happy hour, powerline, pole connector, upper and lower ladyslippers, upper and lower Hillbenders.
Happy Hour (aka Mike Harris to ID/WY state line)
No dogs December 1 – April 15.
---
Grooming Schedule: As needed
Last Updated: 2/18

Groomed to summer TH 2/16
---
Grooming Schedule: As needed
Last Updated: 2/10

Groomed 1/14
---
Grooming Schedule: As needed
Last Updated: 2/18

Groomed 2/16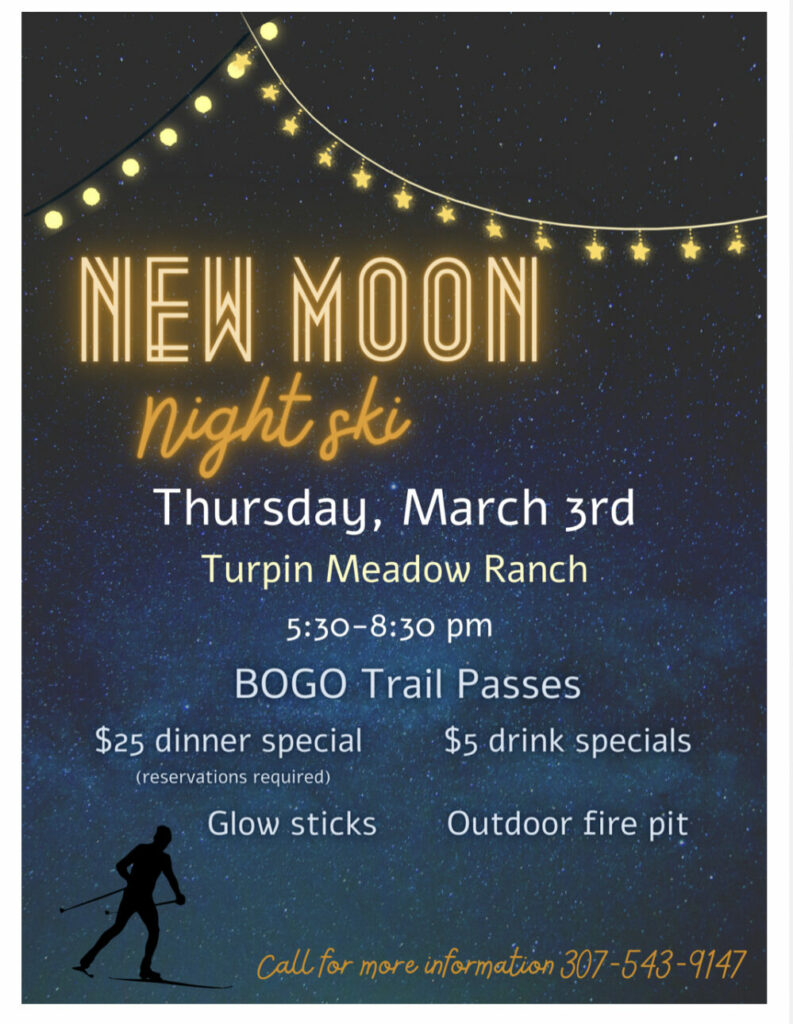 ---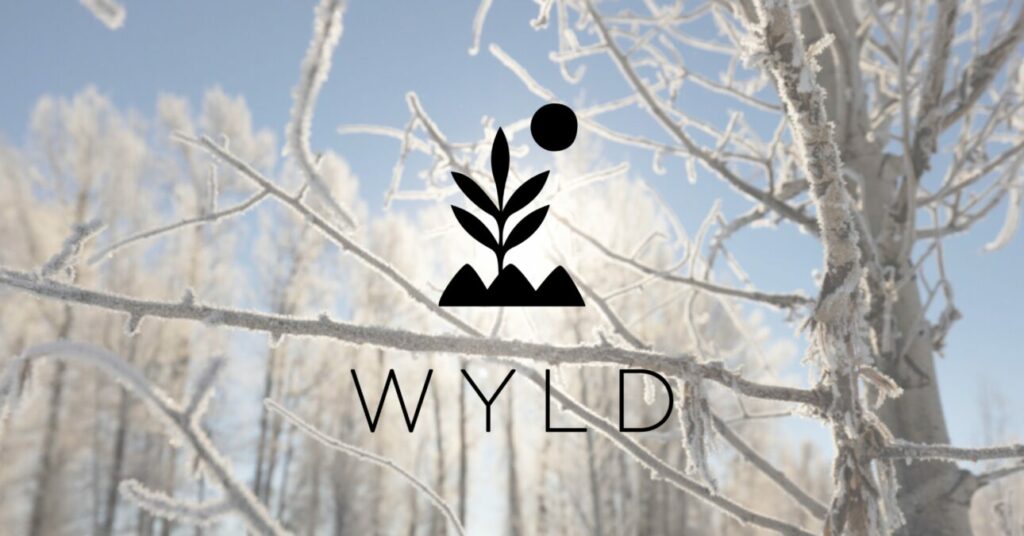 WYLD Times at R Park, Hosted by JH Land Trust
Saturday, March 5th
Rendezvous Park | 3 – 5 pm
On Saturday, March 5 from 3-5 pm the Jackson Hole Land Trust (JHLT) will host WYLD Times at R Park. You are invited to enjoy this free, winter festival to kick off the JHLT's new WYLD membership initiative. WYLD members fuel free community conservation programming that enriches the livability of this valley and invites accessible open space experiences for all.
WYLD Times at R Park will feature several activity stations with something for everyone. You can take a fat tire bike for a spin courtesy of The Hub Bicycles and brush up on avalanche rescue skills and backcountry preparedness with Teton County Search and Rescue. Kids (or those young at heart) can learn about nature with the JHLT's Discovery Boxes and sled R Park's iconic knolls. All activities are free, and you are invited to join WYLD for fun extras like hot cocoa, beer, and custom donuts from Provisions. Don't have avalanche safety gear to practice with? You can join WYLD for a chance to win an ARVA Evo 4 Combo Kit, including a beacon, probe, and snow shovel!
Become a WYLD member by visiting jhlandtrust.org/wyld today. Attendees who join the WYLD membership program before or during the March 5 WYLD Times at R Park event will be entered into the giveaway to win the ARVA Evo 4 Combo Kit, including a beacon, probe, and snow shovel.
---
We'd love to hear about your outdoor adventures, what your doing to stay healthy, safe, respectful of community health guidelines – send pictures or post on FB and Insta – #JHNordic