First timer or seasoned Nordic skiers? Young or mature skiers? Cross country or skate? Looking for a good time, technique skills, a good workout, an awesome adventure? Check out the cross country and skate ski programs and lessons offered here in Jackson Hole and the Teton Valley for the perfect fit for you.
Youth Programs
The Jackson Hole Ski and Snowboard Club is designed and developed around the U.S. Ski teams Long Term Athlete Development model. The JHSC Nordic Coaches build strong foundations through hard work and fun, while encouraging athletes to be patient and eager to test themselves in higher levels of competition.
The Nordic program offers year round training for more advanced athletes on the developmental and comp teams. Seasonal options are offered for younger Nordic skiers, starting at age 5.
The JH Ski & Snowboard Club serves over 500 local student-athletes, including 220 Nordic skiers. Scholarships are available to ensure all local kids have access to all programs. JHSC includes students from Coombs Outdoors as they progress into the sport.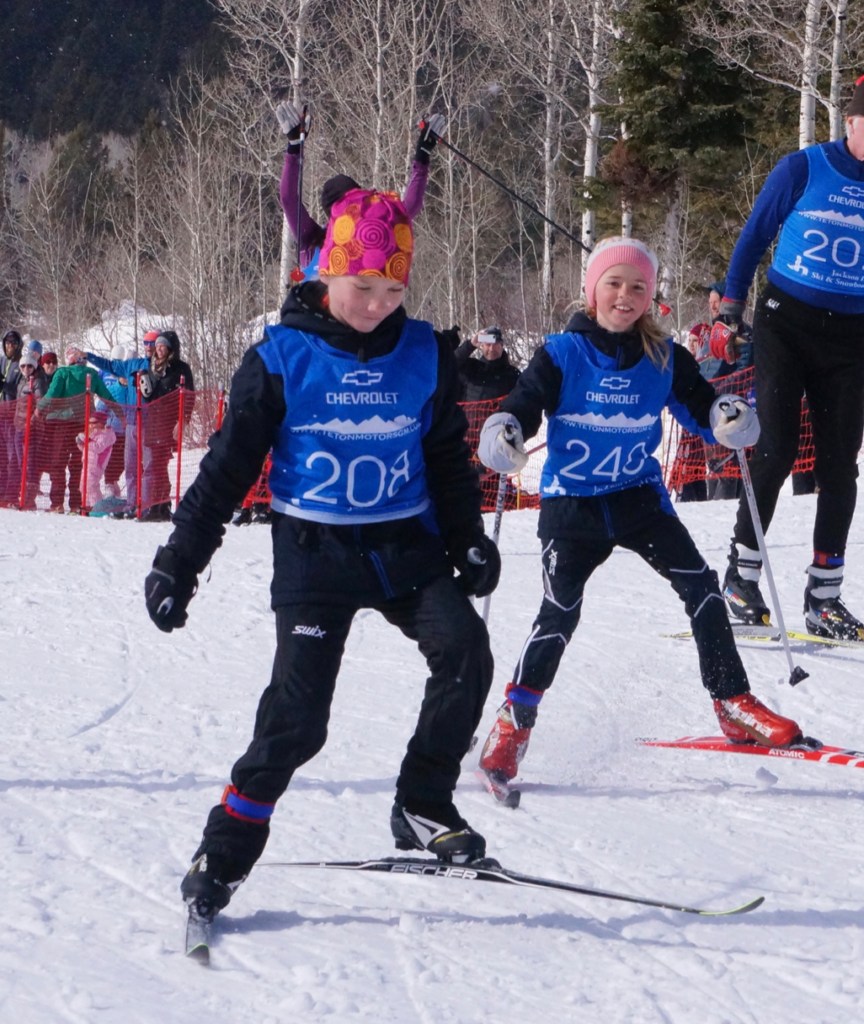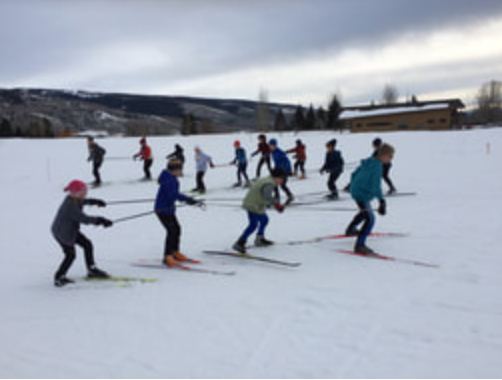 3. Teton County Elementary Schools
Ask your local school PE department if they have any nordic lessons offered and sign up!
Jackson Elementary -Offered by the PE department with support and coaching by 22Nordic

Munger Mountain – Offered by the PE department with support and coaching by 22Nordic

Wilson Elementary – Offered by the PE department with support and coaching by JH Ski and Snowboard Club Nordic Program

Colter Elementary – Offered by the PE department with support and coaching by JH Ski and Snowboard Club Nordic Program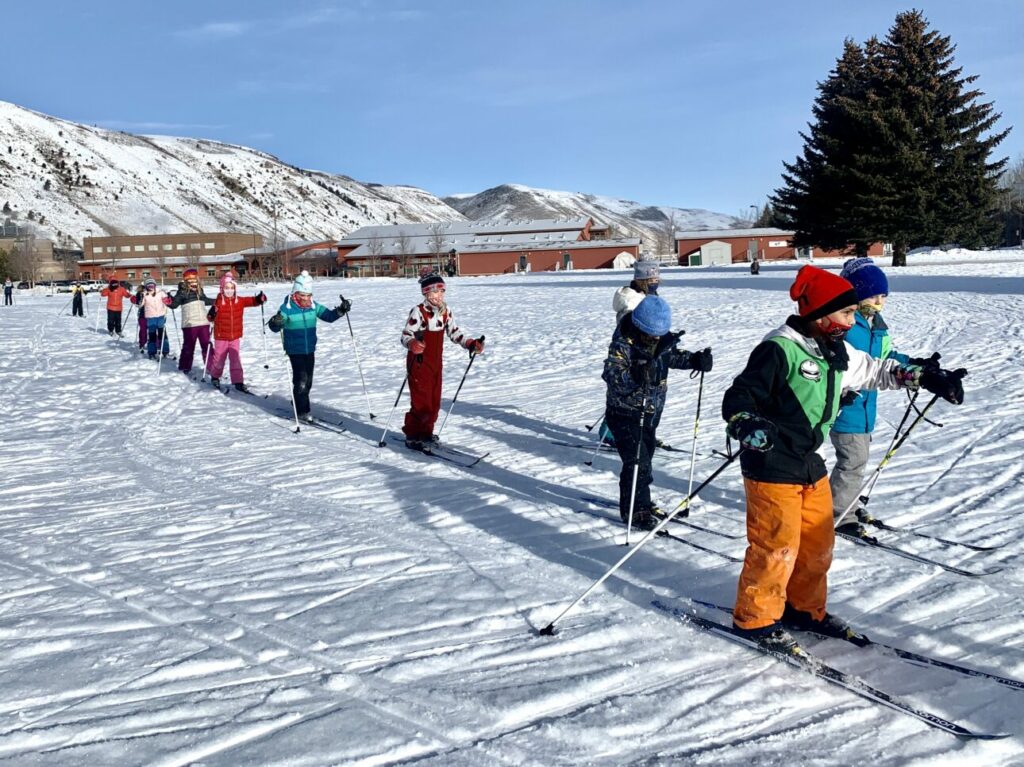 TC/J Parks and Recs Department offers elementary school nordic programs and adult nordic lessons and clinics.
Afterschool Cross Country Ski Club
Afterschool Cross Country Ski Club Registration is open and spots are available! Register TODAY!!!
This non-competitive club is open to all 2nd – 5th graders and is focused on fun, adventure, and learning!
No previous ski experience necessary, all abilities and backgrounds welcome.
Club meets Mondays and Thursdays during January on the following dates: 1/3, 1/6, 1/10, 1/13, 1/17,1/20, 1/24,1/27
Participants will learn the basics of cross-country skiing with instruction provided by experienced ski instructors.
All ski equipment is provided (skis, boots, and poles).
Club will meet at the Jackson Elementary School cafeteria and skiing will take place on the adjacent playing fields.
Students can use the after-school activity bus to attend from other elementary schools.
Students may arrive at the JES cafeteria anytime from 3:05 to 3:45. Skiing will begin by 4:00 pm with pickup at 5:30 pm at the JES cafeteria. Snacks will be provided!
Possibility for continuing classes in the month of February.
$98.00 Fee includes all 8 meet dates, instruction and use of ski equipment.
For specific questions contact Rachael Recreation Program Manager , at 307-732-8567

Whole Health Nordic Adult program :
Adult and family cross country ski programs will be available on Saturdays – 11am January 15th & 29th / February 12th and 26th . supported and coached by 22 Nordic.
Contact Rachael Recreation Program Manager , at 307-732-8567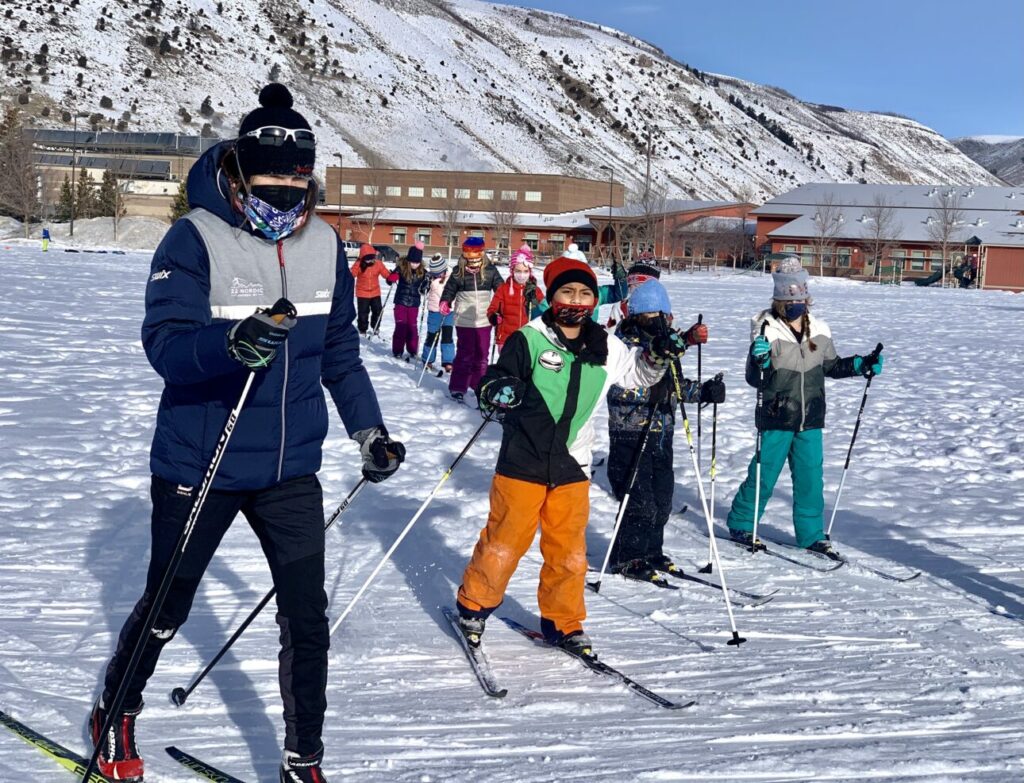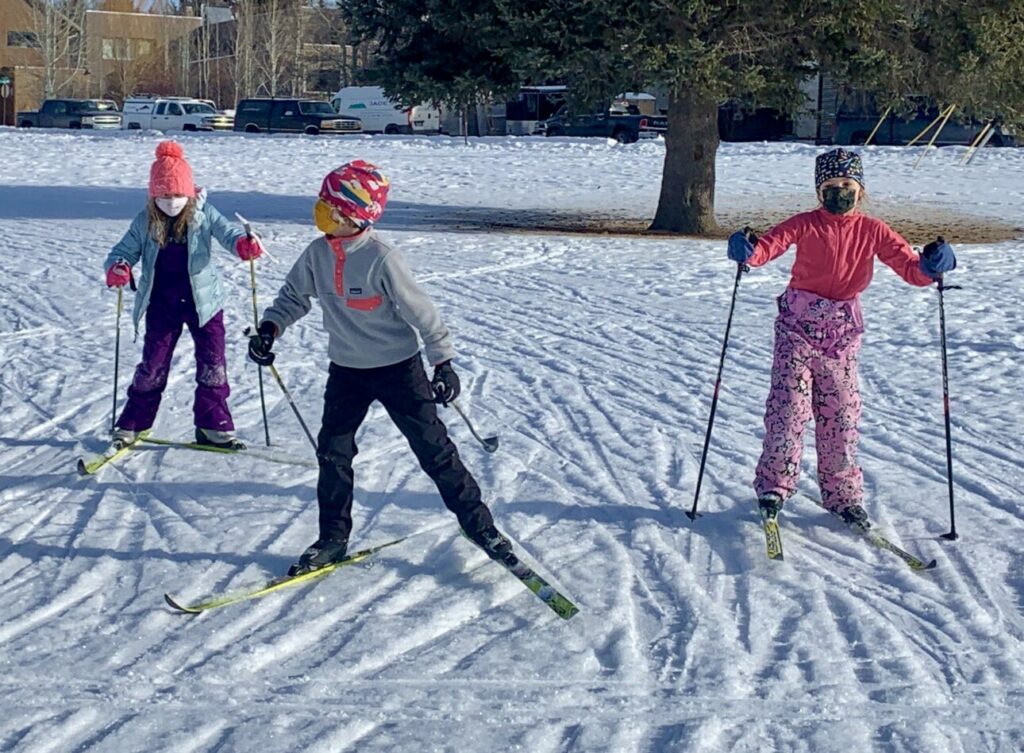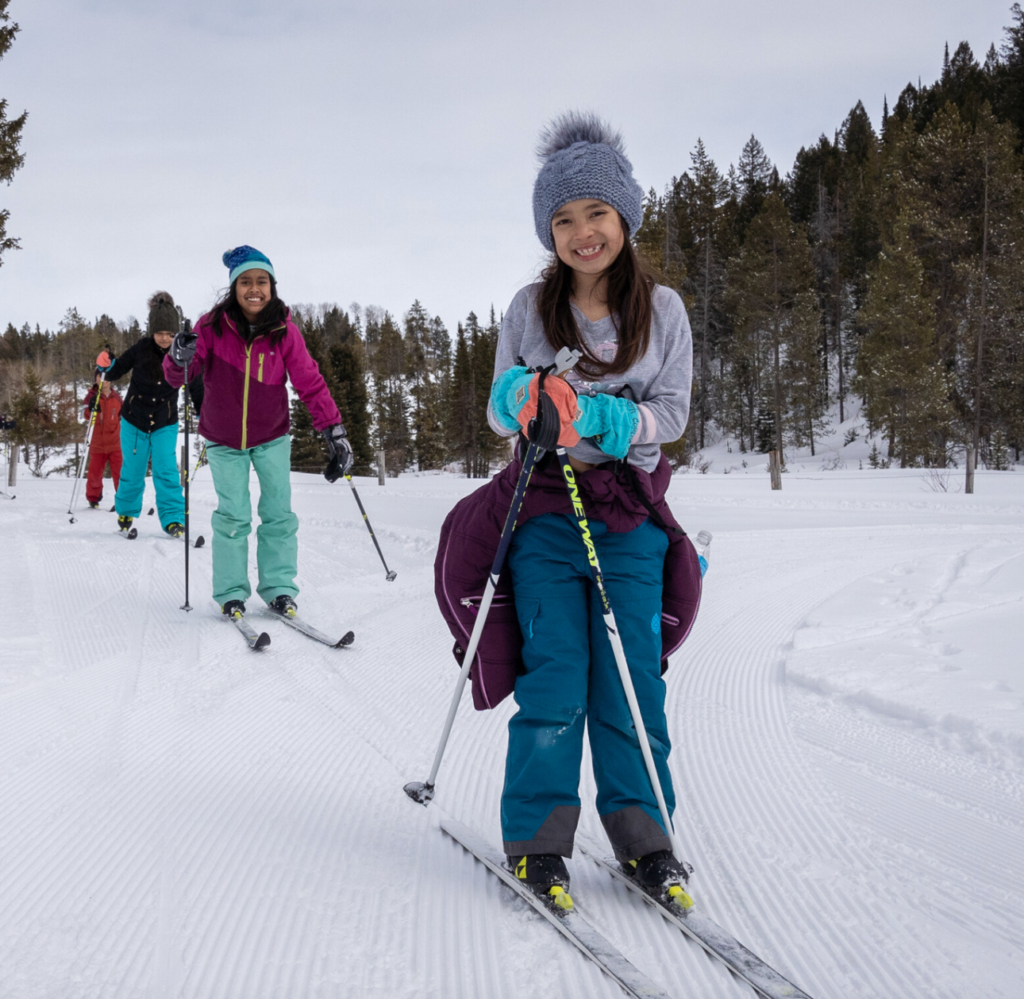 Coombs Outdoors has the goal of empowering local youth to grow and thrive by reducing barriers to outdoor recreation through programs, mentorship, and community building.
For the second year, Coombs is partnering with the Jackson Hole Ski and Snowboard Club to offer Ositos, an afterschool Nordic program at Trail Creek specifically for Coombs participants. This year, Coombs has 36 participants between grades 3-5 signed up for the program, which will begin the first week of January. JHSC will provide technical instruction to participants two days per week and Coombs supports the program with staff and high school interns from our Empower program.
Coombs has also partnered with Teton Valley Ski Education Foundation to scholarship 7 Coombs participants, living in Teton Valley, on their Nordic Devo team. They start skiing on December 7 at the Alta Track and will have afterschool lessons through mid-March.
Adult Nordic lessons & Clinics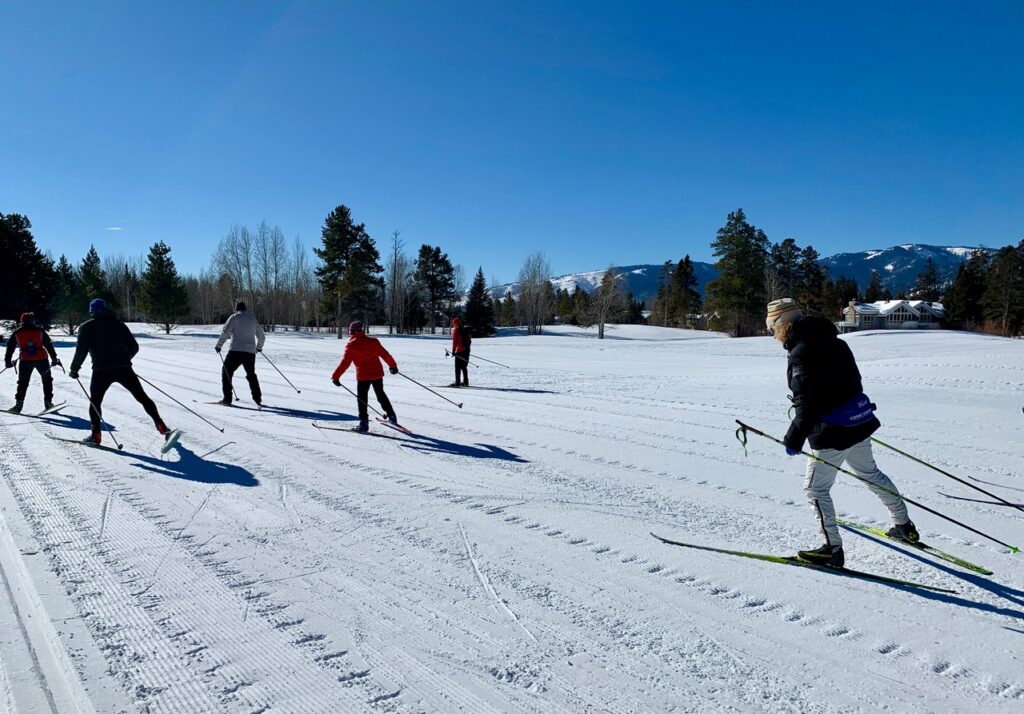 Hosted by the Jackson Hole Ski Club Nordic team coaches and Masters Nordic coach Scott Horn, these fun, informative, practiced based clinics are held every Thursday from 11am – 12:30pm, for 10 weeks , beginning in December until end of February. Each week focuses on either classic cross country or skate skiing technique, and is open to advanced beginners to intermediate to advanced skiers. Small group size, group and individual coaching, includes a full day Nordic ski pass.
Clinics are held at Teton Pines Nordic Center and Trail Creek Nordic, Wilson.
Sign up for the full 10 week clinic series or select either Skate or Classic clinics (5 each). Drop-in rates also available.
Thurs. Dec. 23rd –classic cross country ski
Thurs. January 6th – classic cross country ski
Thurs. January 20th – classic cross country ski
Thurs. February 3rd – classic cross country ski
Thurs. February 17th – classic cross country ski
Thurs. December 30th -Skate ski
Thurs. January 13th – Skate ski
Thurs. January 27th – Skate ski
Thurs. February 10th – Skate ski
Thurs. February 24th -Skate ski
For more information: see JH Nordic Masters Rec Clinics.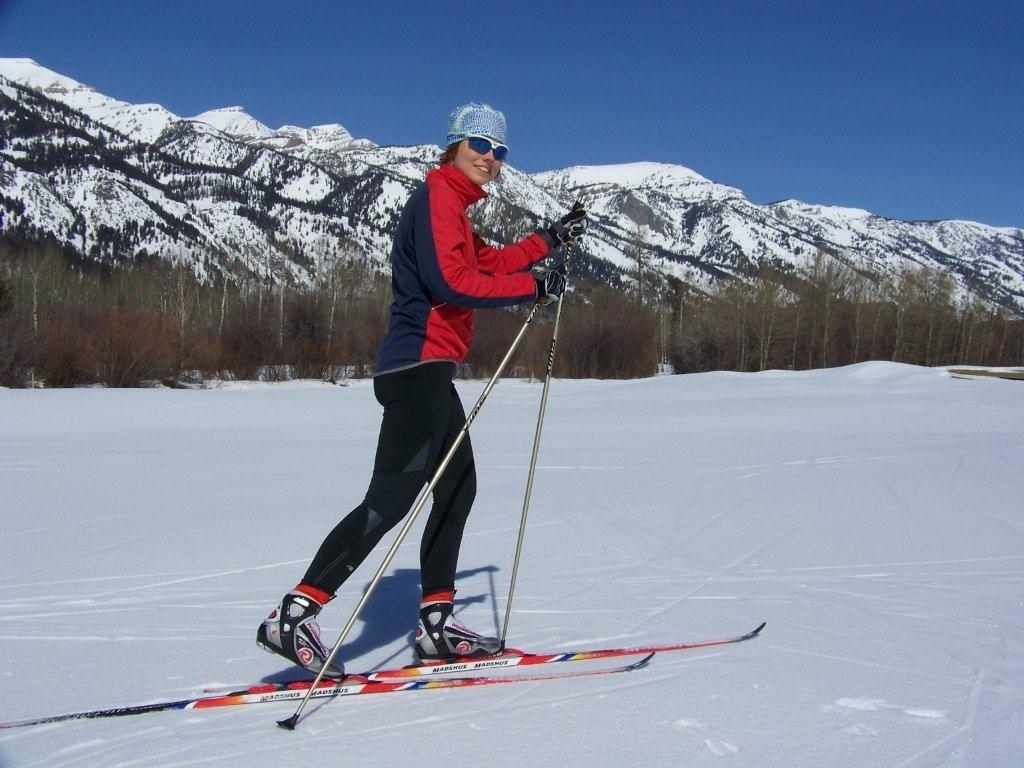 Teton Pine Nordic Center offers lessons to skiers of all abilities, from beginners to advanced, recreational to racing, open to the public.
Many of Teton Pines Nordic instructors are PSIA certified, so you are learning from qualified experienced instructors.
Teton Pines Nordic Center offers private ski lessons, Skate clinics that are focused on improving your skate skills so you are able to ski for a longer duration more efficiently (these clinics will take place on Saturdays).
Teton Pines Nordic hosts for its 4th year the JH Ski Club Masters Recreational clinics on most Thursdays – See above.
New for 2022: Women's Skate Ski Clinics with Kim Springer– @ Teton PInes Nordic Center – 3 clinics- Fridays: January 7th, 14th, & 21st.
Questions or to register: Call Teton Pines Nordic Center at: (307) 733-1733
Shooting Star Nordic Center offers private lessons that are open the public, and a variety of different options.:
1 hour individual lesson – $100
2 hour individual lesson – $150
1 hour group lesson:
2 students: $150
3 students: $175
4 students: $200
Enjoy a day on the trails at the Shooting Star Nordic Center (rentals are not included in the lesson)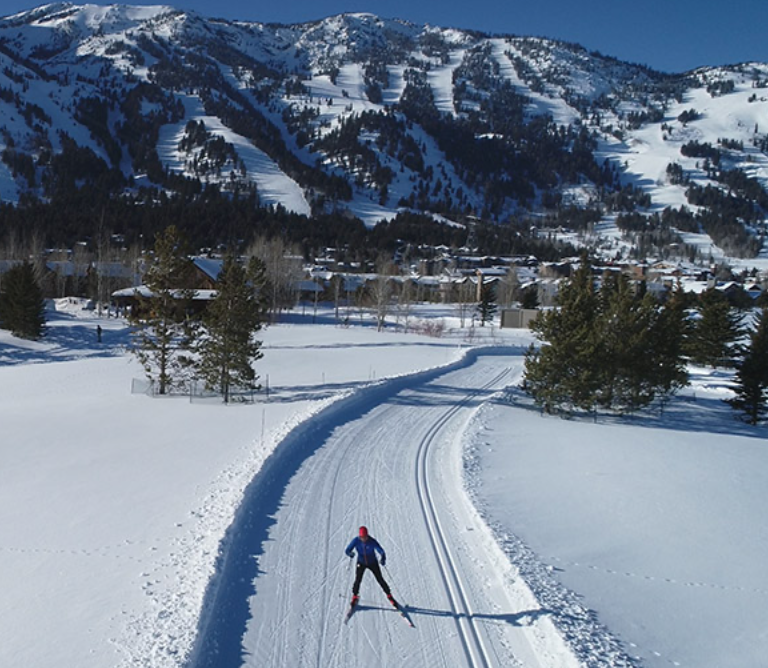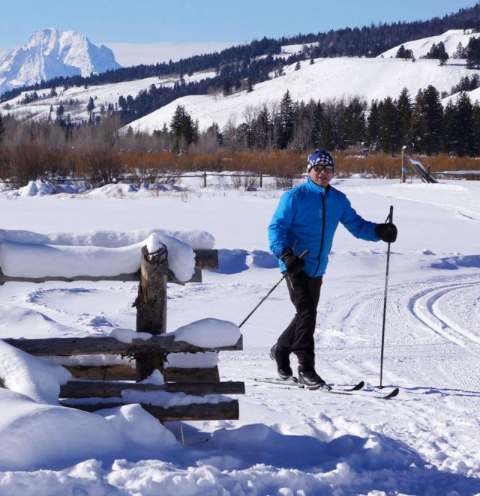 Turpin Meadow Ranch offers ski lessons and Nordic tours 5 days a week: Wednesday-Sunday. In order to book a lesson or tour call the ranch office at (307-543-2000). Turpin offers both classic and skate lessons, geared towards beginners but open to any level. Lessons are 90 minutes with a PSIA certified instructor. Lessons are small groups so each participant gets a lot of attention and feedback from the instructor. Each lesson is cater to the student(s) to help them accomplish their goals and to good time gliding on the snow!
In addition to the lessons Nordic tours are offered on classic skis or snowshoes. These tours are 3 hours in length. Guests will explore the surrounding area with an experienced guide, where they are sure to see the beauty of the winter environment and learn some things along the way as well.
All lessons and tours include a trail pass to Turpin Meadow Ranch for the day, and equipment rental for the duration of the adventure.
Ski lessons: ($69/person, $49/child age 6-12)
Wednesday, Thursday, Friday, Saturday and Sunday 9:30-11:00, 11:30-1:00, 1:30-3:00
Ski & snowshoe Tours: ($79/person, $59/child age 6-12)
Wednesday, Thursday, Friday, Saturday 9:30-12:30, 1:30-4:30
Sundays 9:30-12:30
Teton Nordic Ski School offers cross-country ski lessons in both the traditional classic style and the more modern skating style of cross-country skiing.
Teton Nordic is running a classic cross country group class on Saturdays at the Alta track starting mid-December through mid-March. The class will be $40/person; the classic lesson is scheduled for 10:30 and the skate lesson is scheduled for noon. Book directly on tetonxc.com or call to schedule: Celeste 208-709-8564 or Jan 208-399-2943.
Private lessons can be scheduled for 1-8 people for $90 for one person and +$50 for each additional person. Teaching locations include the Alta Track, Teton Canyon, Driggs Track, and Sherman Park track. Stay tuned for additional locations groomed by TVTAP.
The Teton Nordic Ski School often teaches families who are looking to try cross-country skiing. If families are interested in season-long programs for kids, we direct them to Teton Valley Ski Education Foundation (TVSEF). TVSEF runs a 10 week program for 5-6 year olds starting in January, a 14 week program for 7-10 year olds starting in December, and another 14 week program for middle and high school aged-skiers starting in December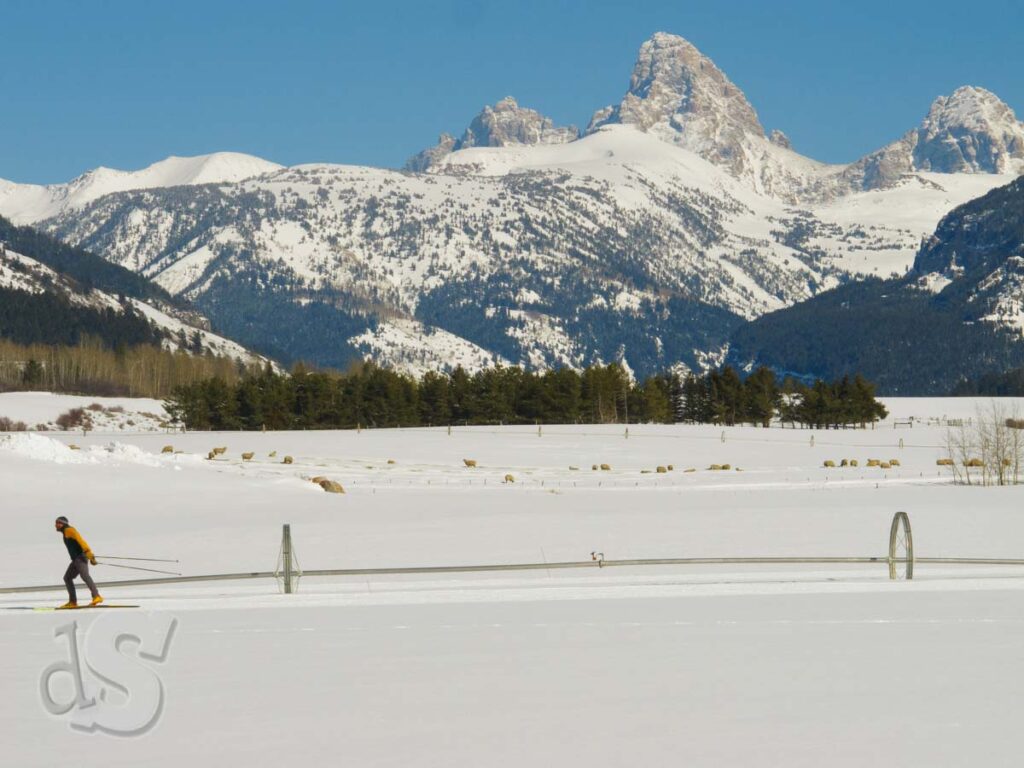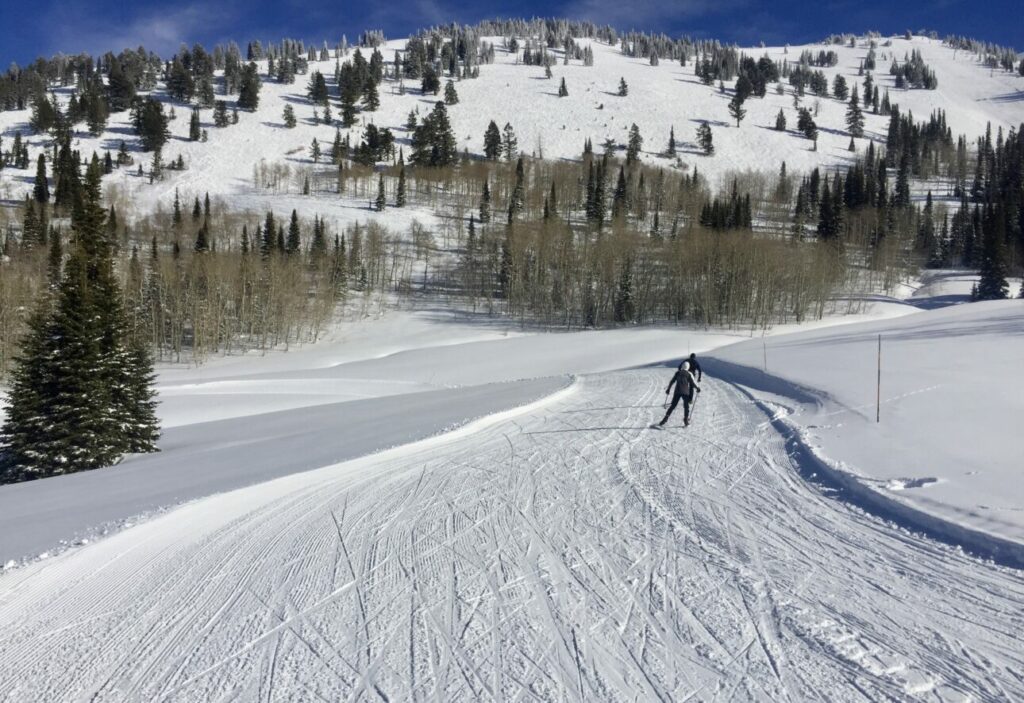 For more information about the lessons that Grand Targhee Nordic has to offer email:
info@GrandTargee.com or call 307.353.2300
Hope you enjoy the snow, and improve your skiing skills this winter. For more information check out JH Nordics Resource page.