---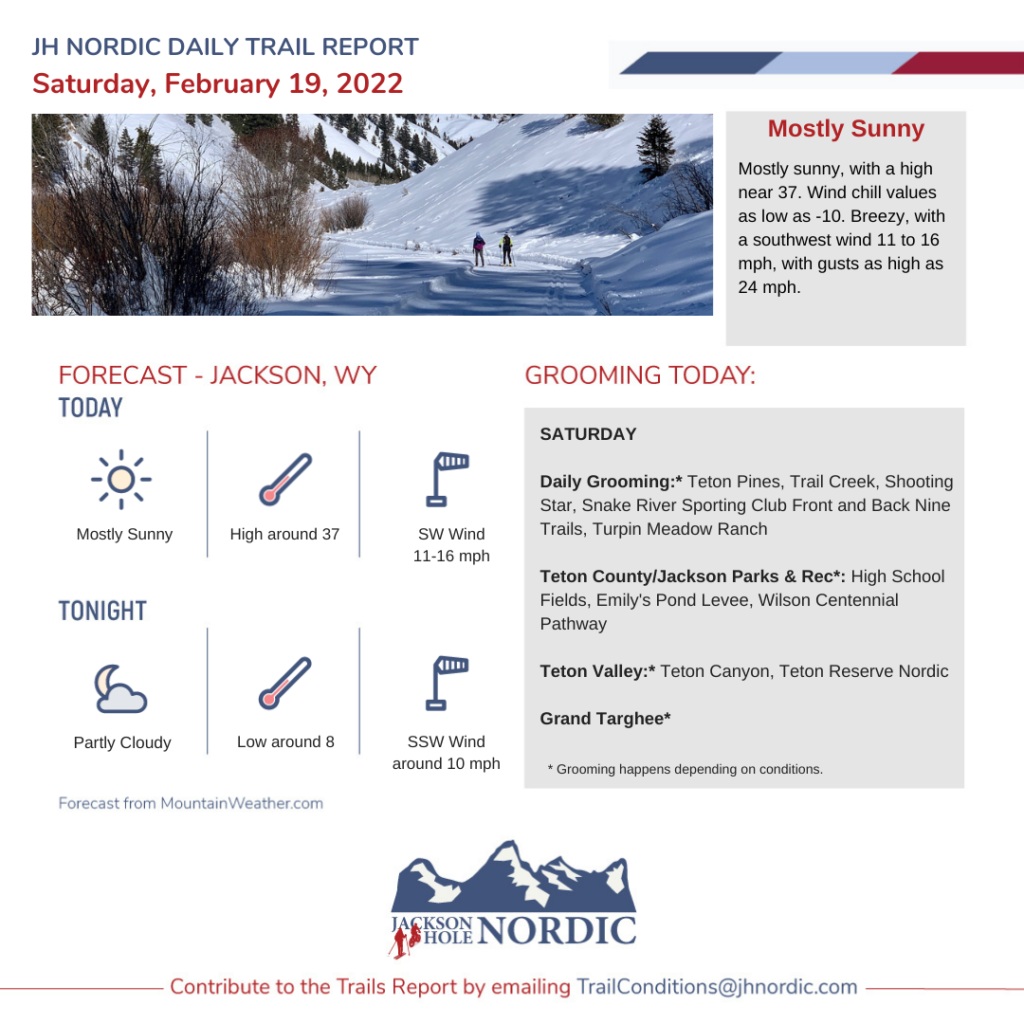 ---
Races Today in Alta and Pinedale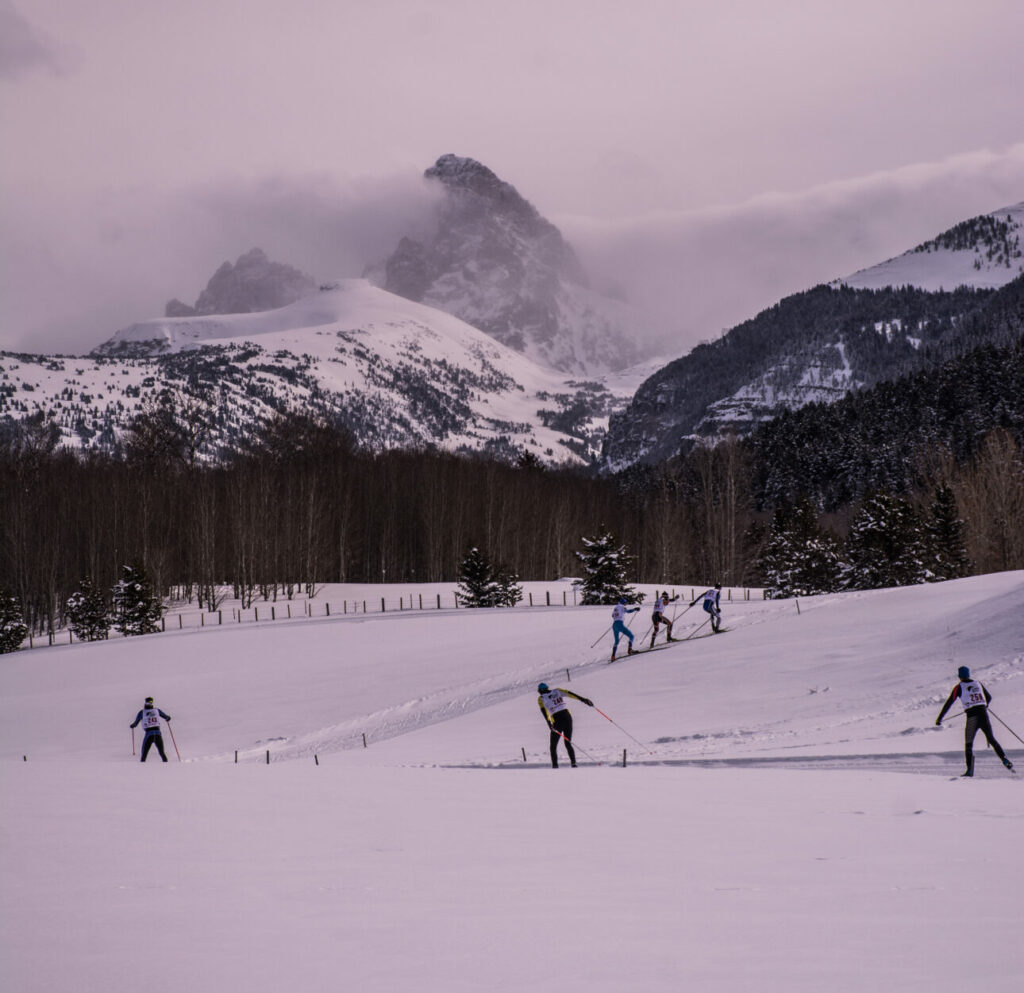 Alta Vista Freestyle Race
TVTAP is excited to host the Alta Vista Freestyle Race again this year. Whether you are in it for the hot chocolate or a PR, the Alta Vista Freestyle Race has something for everyone, on whichever type of skis suit you. This is a fun, family friendly event with stunning Teton views and a variety of distances. 10-20 (2 laps) km, 6 km 2.5 km, Kids 1/2 km. Day of race registration is available for $35 from 8:30-9:30 at the Alta Winter Trail.
---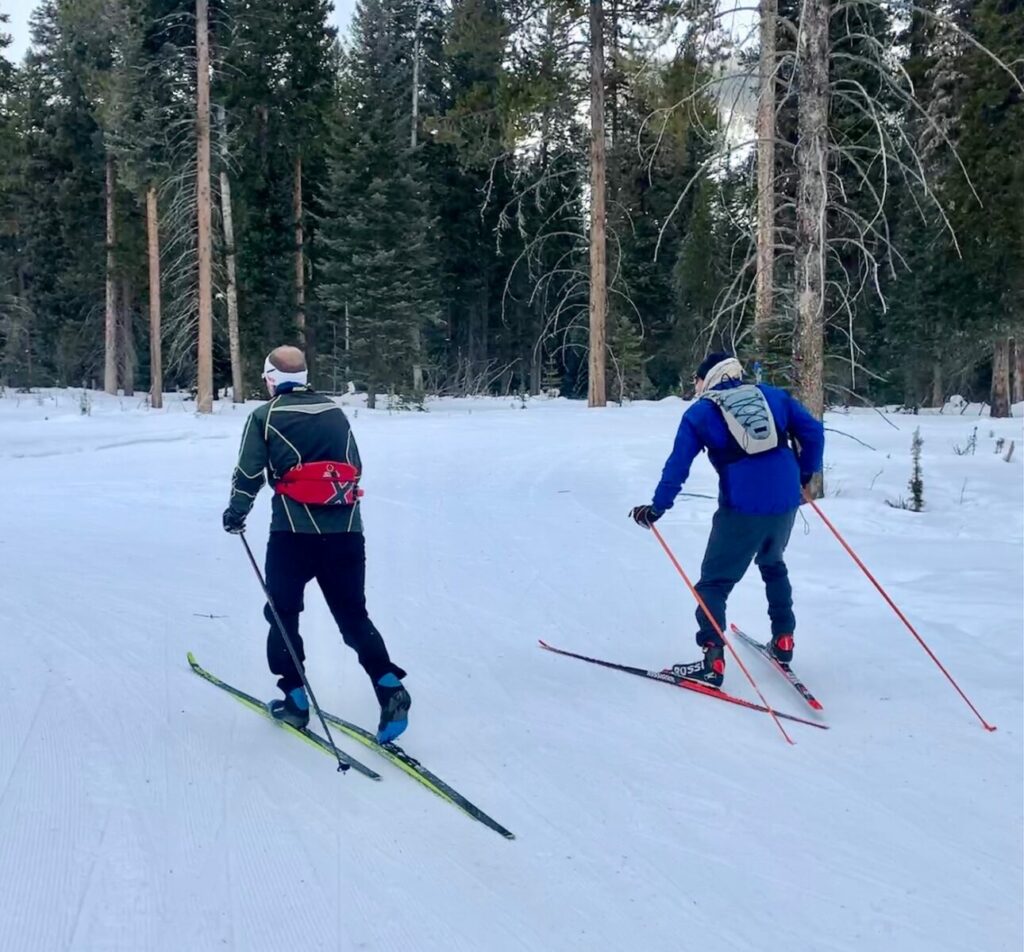 Larry T. and Rob M. kept lapping our Nordic Masters clinic on Thursday as they put in some serious miles at Trail Creek Nordic. They are training for the annual Birkebeiner Race in Hayward, WI later this month. Larry will skate ski 50k and Rob will classic cross country 55k. Way to go gents!!
---
Ask JHNordic: In Town Trails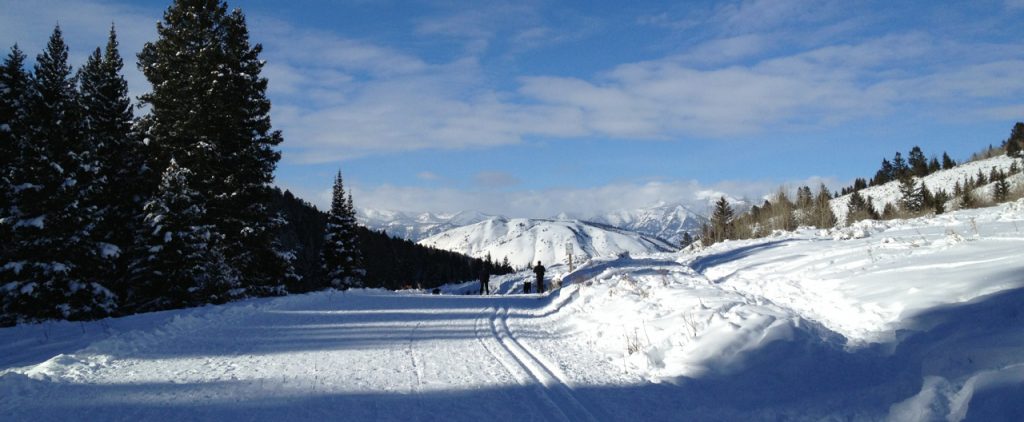 I'm a pilot for Delta Air Lines and I'm scheduled for a layover in JH this coming weekend. I'll be staying at the Snow King Lodge and would like to know the closest and most convenient place to rent xc skis and get in a few miles the morning before I fly out. Thanks for the assistance and looking forward to my stay. – Best, Dave G
Hi Dave,
For XC ski rentals, there are 2 stores on/near Town Square: Skinny Skis and JD High Country Outfitter. For info, see : JHNordic.com/resources/

The closest groomed Nordic trail to Snow King is Cache Creek. You can take a taxi there or perhaps the hotel can drop you there. It does climb a bit, so if you prefer a flatter trail, you can take the START Bus to Stilson and ski there (Stilson Loop, Wilson Centennial trail) or walk east a few hundred yards to the Snake River to Emily's Pond trail, with beautiful views of the Tetons and Snake river.
Teton Pines Nordic Center is also accessible via START bus, with nordic ski rentals and a 12 km groomed trail. You can find trail maps, elevation profiles, descriptions on: JHNordic.com/trails/
Hope you have an enjoyable ski!!
From Andy W. in response: "re: yesterday's Ask JHNordic: Delta pilot- great recommendations to Skinny & Jack Dennis & Stilson. Also for convenience, Hoback Sports rents waxless ski setups. School tracks are easy to get to via START OnDemand & bus."
---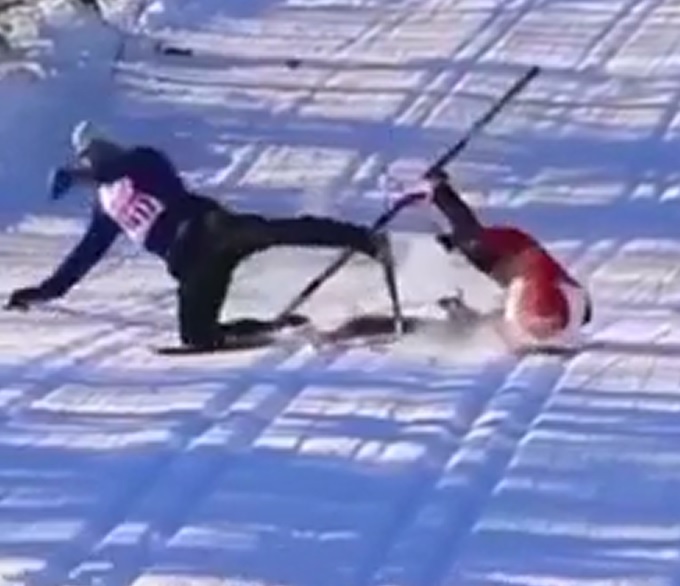 Grooming Daily
Last Update: 2/18
Oh No!
The image above is from a reader that sent in a video of how things can go wrong in a classic ski race. Nordic skiing is generally considered a pretty safe sport; this video demonstrates that sometimes that's not quite the case. At least it appears as if no major injuries occurred, click on this link to watch.
Things seem a bit safer here at Trail Creek with the major concern of the moment being that we do have a bit of wind to contend with. The Husky has been hard at it once again today, covering pretty much every trail. On the journey through the woods almost every classic track was set with multiple passes on Animal Farm and Olympic. The fields received multiple passes with fresh classic tracks. Unfortunately, the classic tracks were drifting pretty fast.
If you are an adrenaline junky and need a little risk today, the beginnings of the Nordic X course are in place. While the short snow conditions might be a somewhat limiting factor this year, it does look as if we'll be able to put out a pretty fun course over the next week or so.
Groomer's choice for today is the Animal Farm/Olympic Loop.
---
Grooming Monday-Saturday
Last Update: 2/18
Cache creek and May park are groomed. Game creek and three creek pathway are groomed. The levee, stilson, and the school fields will be groomed tomorrow.
Friday Grooming Schedule: High School Fields, Emily's Pond Levee, Wilson Centennial Pathway.
---
Last Update: 1/31

I ran a drag over the trails in Cache tonight to smooth out the new snow into ruts and footprints. Things are still nice and firm up there.
Grooming by Friends of Pathways.
---
Grooming Daily
Last Update: 2/18
Our trails continue to be in great shape despite the warm weather we've recently had. Our snowpack is holding steady right now and we are hoping the snow arrives late this weekend for a nice refresh. Skate skiing is off the charts and classic is good, but it will be better once we get this new snow! The classic track conditions are perfect for your skin skis but we are really hoping to get back to some Blue Extra conditions next week!
We groom 13km+ daily for both skate and classic with our new snowcat.
Our trails and shop are fully open to the public 9am-4pm daily. Day passes, 10 punch cards, and season passes are available at the shop.
Please call us in advance to book lessons at: (307) 733-1733. You do not need a reservation for skiing and we do not take reservations for rentals. Please contact us in advance to check availability for off-site rentals.
We still have a limited selection of skate skis, a few classic track and BC skis, boots, poles, jackets, pants, gloves, and hats. We also have a good selection of used skate gear available. Call or come by to see if we have your sizes! We have a full tuning shop so drop off your skis for a wax done by our great wax techs! Visit our website for pricing and other information: www.tetonpinesnordiccenter.com
---
Grooming Daily
Last Update: 2/18
Expect blustery conditions this President's Day weekend as a series of new weather systems are forecasted to push through. Windy weather will exist Friday-Sunday, followed by snow beginning Sunday afternoon and lasting through Monday. Possible Drifting and inconsistent snow profiles may exist as the wind will promote soft and icy sections. Overall, skiing should be enjoyable, but be aware that conditions may change very quickly depending on how this system develops. Next update will be by Monday (2/21).
TRAIL STATUS
YELLOW LOOP OPEN
SLED HILL GROOMED on 2/16 (Grooming will occur as needed)
CLASSIC TRACKS SET
SNOWSHOEING OPEN (BLUE LOOP ONLY, STAY ON THE EDGE OF THE TRAIL OR IMMEDIEDATEY NEXT TO TRAIL)
ORANGE LOOP OPEN
WALKING, NOT ALLOWED
---
Daily Nordic grooming for both "Front Nine" (south side) and "Back Nine" (North side) Nordic Trails
Public access to the groomed Nordic trails is $50 per person per day, with no season passes available. Ski rentals are available at the Sports Shop. Guests must check in at the Sports Shop to sign a waiver and make payment before heading out. The daily pass does not allow access to the Restaurant this season. The clinics that are being offered are for members and lodging guests only.

Please call the Sports Shop with any questions you may have at 307-200-3093
---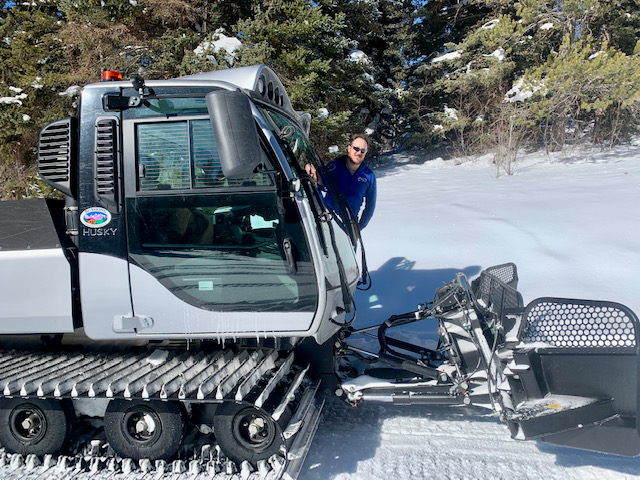 Last Update: 2/18
It is overcast and lightly snowing in GTNP today. Brandon is grooming from the Taggart Lake Trailhead to Signal Mountain.
Grooming is sponsored by the GTNP Foundation and generous donations from our community.
---
Grooming Daily
Last Update: 2/18
We woke up to 2″ of fluffy fresh snow Friday morning, the pisten bully reset all of the trails as a response. There is still some very thin spots in places but mostly the grooming came out really nice.
Please sign acknowledgment of risk forms and pay for trail passes online ahead of your visit. Call the front office (307) 543-2000 ahead of your visit for booking equipment rentals and Nordic adventures (lessons and tours).
https://www.turpinmeadowranch.com/the-ranch/live-conditions/
https://www.turpinmeadowranch.com | 307.543.2000
---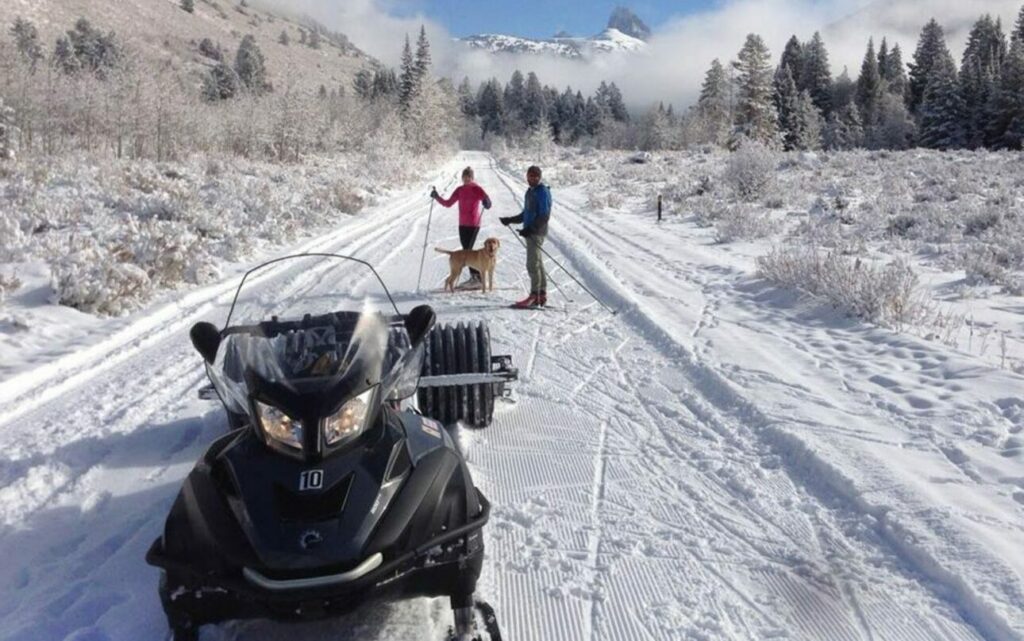 Trail Etiquette: Please keep your dogs leashed in the parking lot and be sure to clean up after them!
---
Grooming Schedule: Tuesday, Thursday, Saturday & Sunday
Last Updated: 2/18
Cross Country 15k: XC OPEN
Fat Bike Trails : Closed
Snowshoe Trails: Open
Targhee's Nordic trails are groomed Tuesdays, Thursdays & Sat/Sundays. Fat bike/snowshoe trails are groomed regularly but not on a set schedule – the groomer usually waits until after a storm cycle to groom the single track.
Trail day passes are $20 this winter.
Remember, singletracks will be closed when there is more than 3 inches of snow in a 24 hour period.
---
Grooming Schedule: Tuesday, Thursday, & Sunday
Last Updated: 2/17
Skate: Set | Classic: Set
It doesn't get any better, unless we groomed with a snowcat. Get out and enjoy the beautiful day!
Please do not park in the library parking lot. Please be sure to keep your dogs on a leash and to clean up after them.
---
Grooming Schedule: Monday, Wednesday & Friday
Last Updated: 2/16
Skate: Set | Classic: Set

New clean snow!!! All tracks groomed at least twice with the roller but snow is a bit sticky so some places aren't corduroy. It's all in great shape though just in time for the sun to come out.
---
Grooming Schedule: Monday, Wednesday & Friday
Last Updated: 2/18
Skate: Set | Classic: Set
Skating at Sherman park should be fantastic. The classic track I did not reset as I felt I wouldn't be able to put one in better!? The classic track is ok in spots and non existent in spots but it's there! Cheers and Ski On!
---
Grooming Schedule: Monday, Wednesday, Friday & Saturday
Last Updated: 2/18
Skate: Set | Classic: Set
Plan to reset both skate and classic tracks Friday morning.
---
Grooming Schedule: Tuesday, Friday & Sunday
Last Updated: 2/14
Skate: Set | Classic: Set
Just a heads up to tomorrow's skiers. We will be trimming branches and brush along the campground loop tomorrow. Expect to encounter workers, chainsaws, and snowmobiles on the trail. We will do our best to clean up behind us.
No dogs December 1 – April 15.
---
Grooming Schedule: Monday, Thursday & Saturday
Last Updated: 2/18
Skate: Set | Classic: Set
Friday evening I plan to start grooming by 5:45 PM. I plan to reset the skate track and possibly the classic track depending on conditions. Please be aware of the grooming equipment this evening.
No dogs allowed.
---
Southern Valley Singletrack
Grooming Schedule: As needed
Last Updated: 2/14
Singletrack: Set

I was able to drag and fill in some ruts and post holes on upper and lower lady slipper. All the other trails are in fine shape. Enjoy the ride.
Happy Hour (aka Mike Harris to ID/WY state line)
No dogs December 1 – April 15.
---
Grooming Schedule: As needed
Last Updated: 2/18

Groomed to summer TH 2/16
---
Grooming Schedule: As needed
Last Updated: 2/10

Groomed 1/14
---
Grooming Schedule: As needed
Last Updated: 2/18

Groomed 2/16


---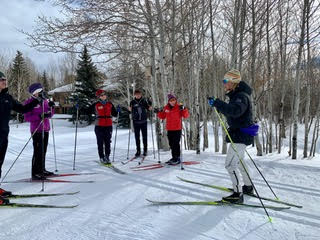 SKATE SKI CLINIC
THURSDAY, FEBRUARY 24, 2022
11am – 12:30pm

Hosted by Scott Horn and JH Ski Club Nordic Team Coaches
There will be 10 clinics running every Thursday in January and February from 11am-12:30pm. The Nordic Masters clinics will focus on skate ski and classic cross country skiing every other week.
Joining all 10 clinics is your best approach to developing your full Nordic skiing technique, balance, stride, stamina, and overall fitness while having fun in a small group. For those who only wish to focus on one technique, we are offering a Skate Ski Clinic series of 5 clinics or a Classic Cross country series of 5 clinics.
---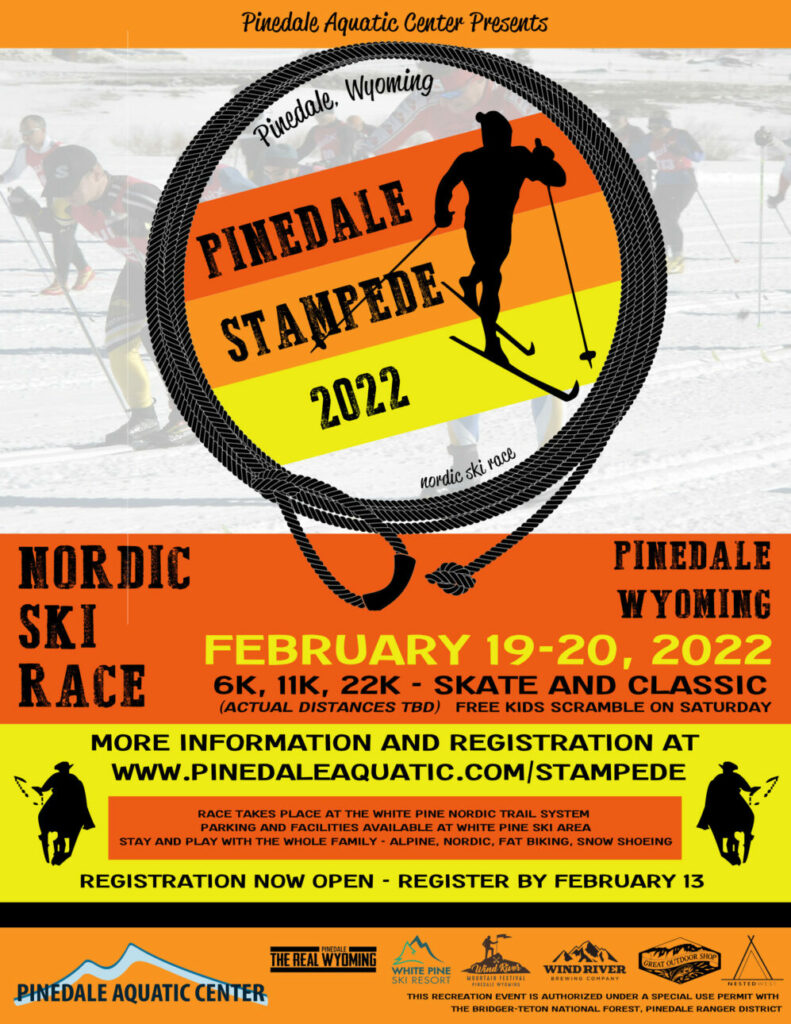 ---
---
We'd love to hear about your outdoor adventures, what your doing to stay healthy, safe, respectful of community health guidelines – send pictures or post on FB and Insta – #JHNordic