---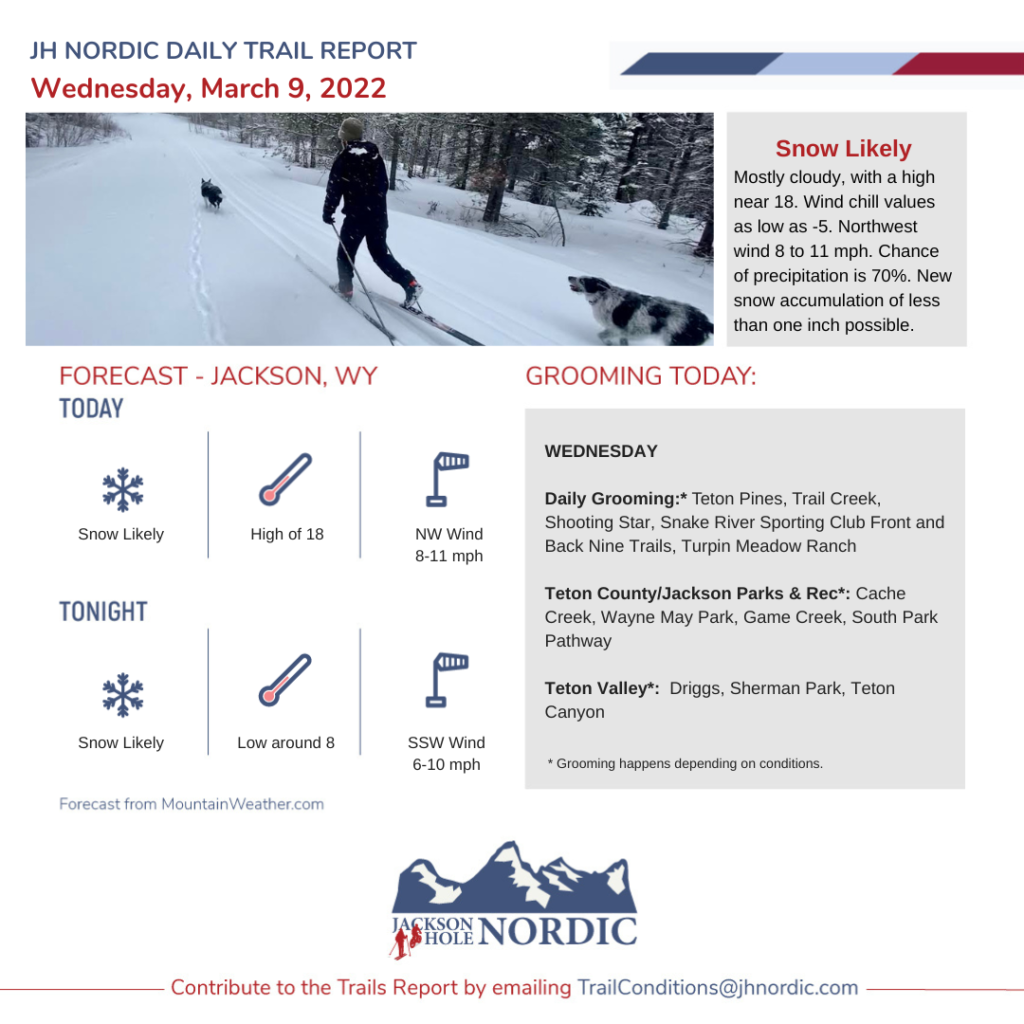 ---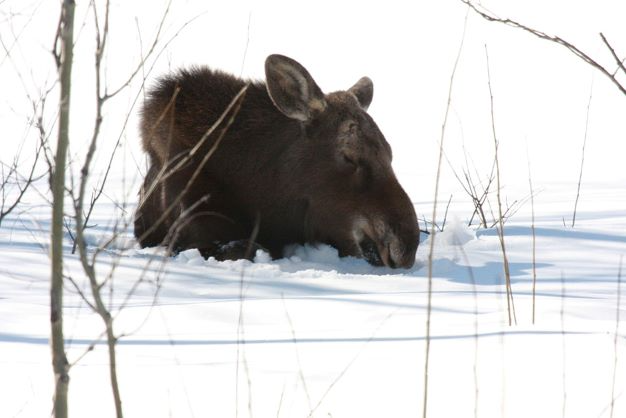 Thanks To All Moose Day Volunteers!
About a month ago we published a call for volunteers on behalf of the Jackson Hole Wildlife Foundation's Annual Moose Day. It occurred on February 26, 2022. Those who organized the event and coordinated the volunteers have shared a message of gratitude and some interesting information about the day. Below you will find the words of Frances, Moose Day Volunteer Coordinator:
A valiant cadre of over 95 volunteers ventured out on a frigid morning to scout for moose with great accomplishment. The latest count, still to be verified, is 94 moose. This compares well with Moose Day 2021 when 109 volunteers recorded 106 moose. Thank you intrepid surveyors, gracious landowners who granted permission to survey, and moose who turned up to be counted.
A moose-size thank you to all Moose Day volunteers for your time, diligence, and indeed perseverance on a frigid morning. Collectively you found and mapped dozens of moose: the goal of the day. Although some of you were understandably disappointed in not finding moose, most all of you reported enjoying the adventure of Moose Day. We are so glad!
We also appreciate the engagement of the wildlife agencies. Biologists spent their scant free time to find moose. In addition to those mentioned below, Mark Goecke of WGFD, Morgan Graham of Teton Conservation District; Linda Merigliano of USFS; and Rob Cavallaro of Idaho Fish and Game donated their time. These professionals are dedicated to the wildlife we all love. Thank you.
A very special thanks to Aly Courtemanch, biologist with WGFD, who leads this vital partnership with JH Wildlife Foundation's Nature Mapping program. JHWF Program Director Hilary Turner worked tirelessly on details of the event, especially with the new teams and areas of Teton Valley. Without Aly and Hilary, Moose Day would not happen or matter.
Finally, we want to extend our appreciation to the landowners and HOA managers who granted permission for strangers to ski across their properties–slicing tracks into untrammeled snow, and for cars to cruise down private roads, windows cracked with binoculars peering into back-yard bushes. Permission to survey private lands is essential to a successful Moose Day.
Final numbers and maps will appear in the next Nature Mapping enews.
Thank you all for your time and care.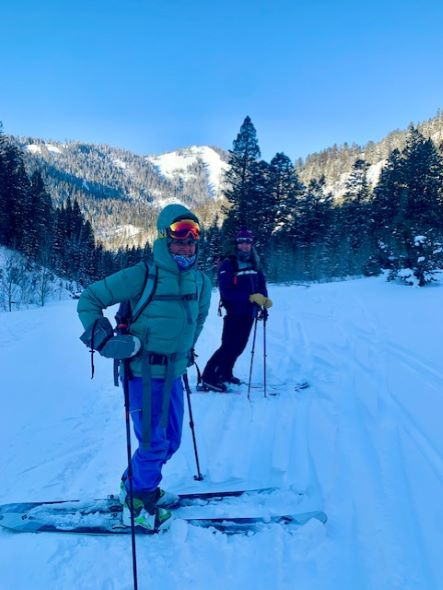 The dominant sense of the day was cold! Temperatures were gauged at -20F west of the Tetons and at the north end of the park at 7 a.m. when many of you set out to make your route. Temperatures barely made it into the single digits by noon time. (Moose don't mind this cold.)
However, while some of you were at first daunted by the cold, you persevered, and as one skier said, "Soon we were stripping off jackets once we warmed up." Another commented on the balancing benefit of a classic "blue bird" sky day. Morgan G, a veteran of all Moose Days, said this is the coldest he recalls for a Moose Day. "Blizzards yes, but not this cold!"
Dozens of teams spread out to the north end of Grand Teton National Park by Swan Lake, south past Hoback, and east up the Gros Ventre. For the first time, eight teams ventured up the canyons on the west side of the Tetons. Your observations will help determine which areas should be added to our Moose Day Survey.
We also had long-time valley residents participate: Dornans, Ewings, Barkers, and Linns. Gene Linn's grandchildren were keeping their eyes open for moose in Wilson and found two! These families have been advocates for wildlife for generations.
In total, you hardy Nature Mappers and other Moose Day volunteers spent 186 hours skiing, snowshoeing, walking, and snowmobiling. Other sets of volunteers drove slowly through neighborhoods in and around Jackson and Wilson peering behind buildings, across fields, and into willow thickets for another 160 hours. Total "effort" was over 350 hours in one morning!
Where were the moose?
While about half the teams were disappointed, others found moose. Almost half of the total moose were discovered in a just few areas (see map)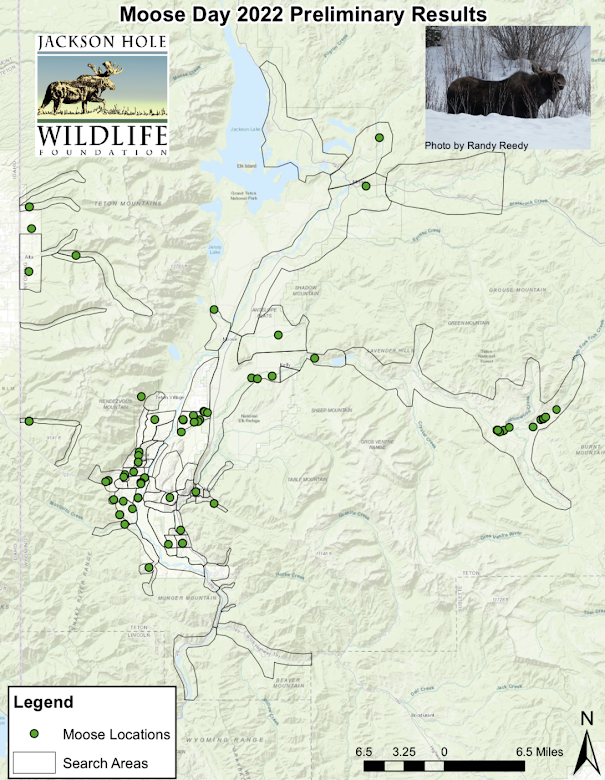 Coordinated by Ashley E, the USFS team of four spent much of the day snowmobiling east up the Gros Ventre. They found 20 moose! Sarah D and Carson B, biologists with GTNP, spent five hours finding 14 moose east of Moran (not yet mapped). These have been traditional sites for moose, likely because of large willow stands and limited disturbance.
A large team on skis and by car covered Kelly and the park roads north of town and found only a few moose. Last year this large team had 19 moose between Kelly and the rotary. Moose seemed to have moved west into the vicinity of the JH Golf and Tennis Club where a multi-modal team led by Randy R. scored 11 moose.
Many teams scoured smaller territories in and around Jackson and Wilson. As in past years, Wilson harbored a strong scattering of twig eaters in the lowlands with extensive willow cover. Sightings extended south down the dike and Fall Creek Road around Crescent H. Those who covered the buttes had great views but no moose, nor were any of the large ungulates seen around Hoback, Astoria Hot Springs, or Snake River Sporting club.
Other notes:
Two Teton Valley teams noted significant snowmobile tracks into canyons that yielded no moose.
Plentiful moose tracks surrounded exposed haybales indicating indirect feeding—not good for moose.
North of Wilson, a neighbor reported to the surveyors someone feeding moose, "If they want to see wildlife that much, they can look at National Geographic."
After skiing his survey area on the Snake River Ranch, Ben Wise of WGFD was called to East Jackson where a young moose was bedded down in an open garage. Ben gently nudged it on out. It was likely there for an hour or two.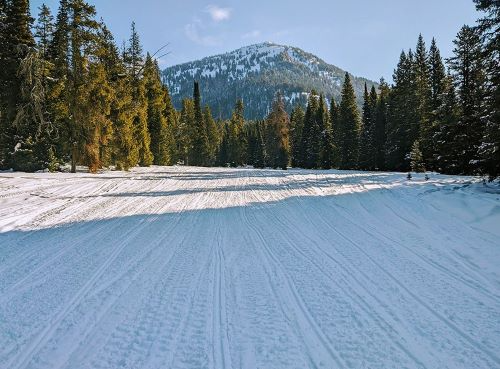 The contingent from "Hosted Moose Day", sponsored by the JH Travel and Tourism Board and JH Wildlife Foundation, added their data to Moose Day in an area that was not one of the original survey areas. Twelve years ago, R Park was a gravel pit which prohibited access. It had been left off the maps. Now the park and surrounding cottonwoods are a regular haunt of moose. Thank you Moose Day guests for adding data that count. We will formally include this area in the future.
We had reports from friends and neighbors of moose not spotted by our diligent teams—a reminder that chance plays an important part in seeing moose! Aly C. said that all reliable sightings within the count time should be recorded, regardless of who saw them. She can then check the data for any duplicates.
As in the past, we had several volunteers state they had moose in their backyards or out their windows the day before or after Moose Day. We veterans know: moose disappear on Moose Day.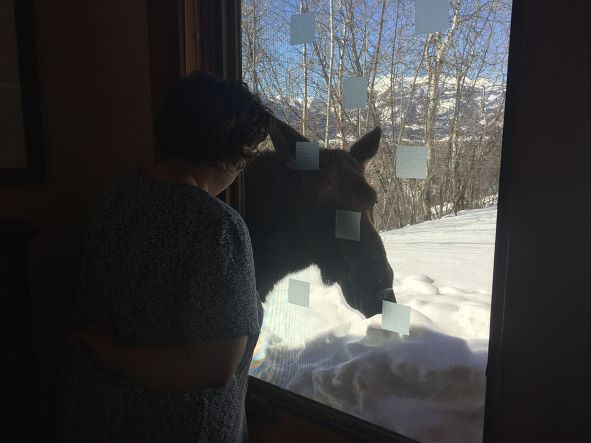 ---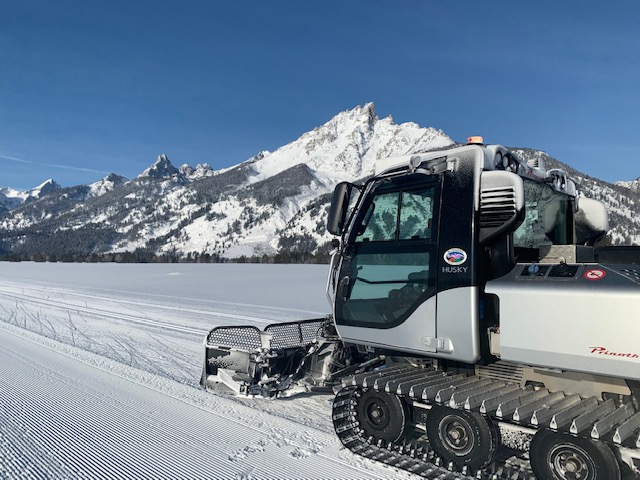 From Andrew O:
Hello – I'm coming from out of town and curious about the Taggart to Signal trail. Wondering what time the groomers typically head out in the morning and from which direction? I have a flight to catch Friday afternoon and really hoping to squeeze in some skiing Friday morning before I leave. Thanks!!
JH Nordic:
This Friday, March 11 is the last grooming day in Grand Teton NP – Taggart to Signal. The groomer normally heads out from Taggart at first light – around 7-7:30 am, reaching Signal around 10:30-10:50, depending on snow, then turns around and heads back south. Hope you can enjoy it this week! We recommend making a donation to the Grand Teton National Park Foundation, who organizes and financially supports winter trail grooming.
---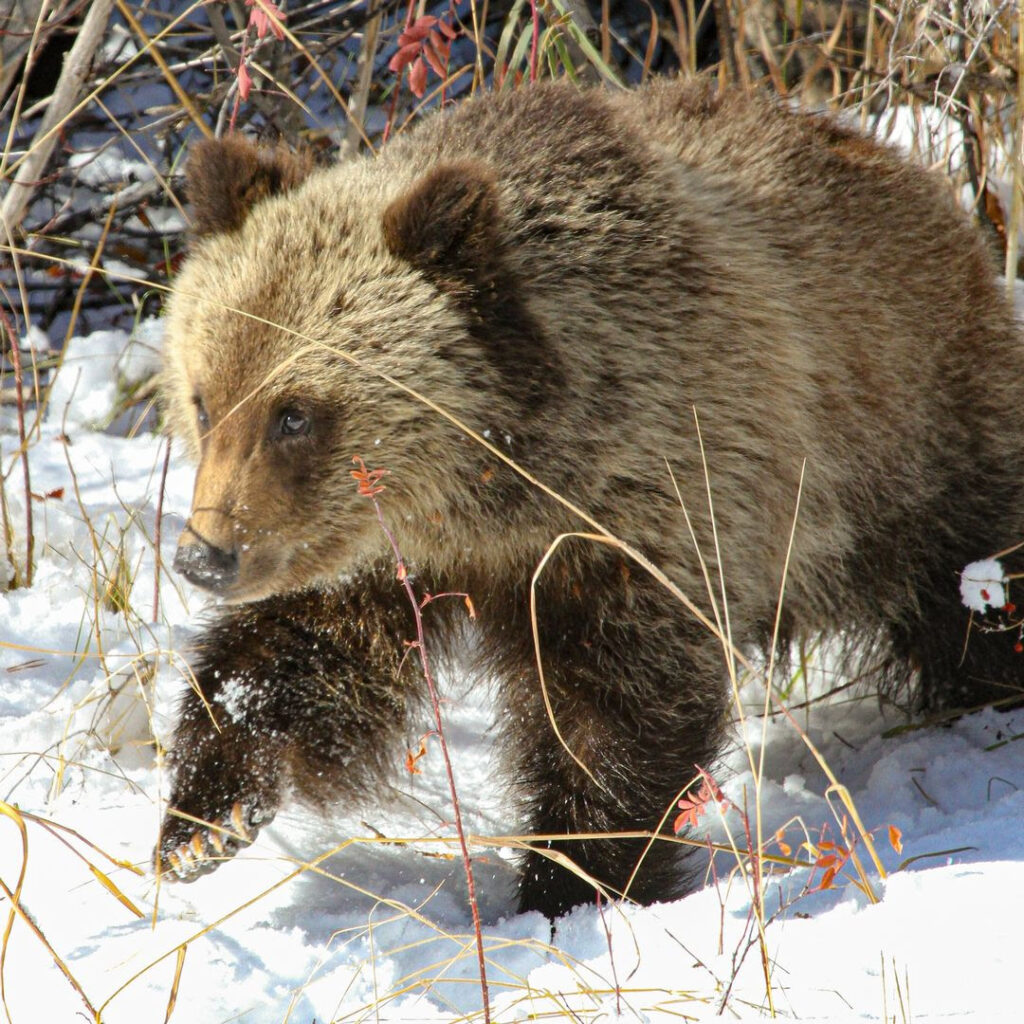 Nature Update from Jackson Hole Ecotour Adventures
Jackson Hole EcoTour Adventures guides are reporting snow is still present on the trails, but morning conditions are better for activities, as the snow stays firm. Guides want to remind everyone that March is the time when bears begin to emerge from hibernation, so please carry bear spray and travel mindfully in the park! In fact, one of our guides saw a grizzly bear in late February! We suspect it was a male; among grizzlies, males are typically the first to emerge. Most males are active by the end of March. Female grizzlies with cubs tend to come out of hibernation between April and May. Black bears tend to follow the same patterns as grizzlies. With all this said, EcoTour Adventures guides want to remind you to carry your bear spray again and be bear aware when traveling through the backcountry!
---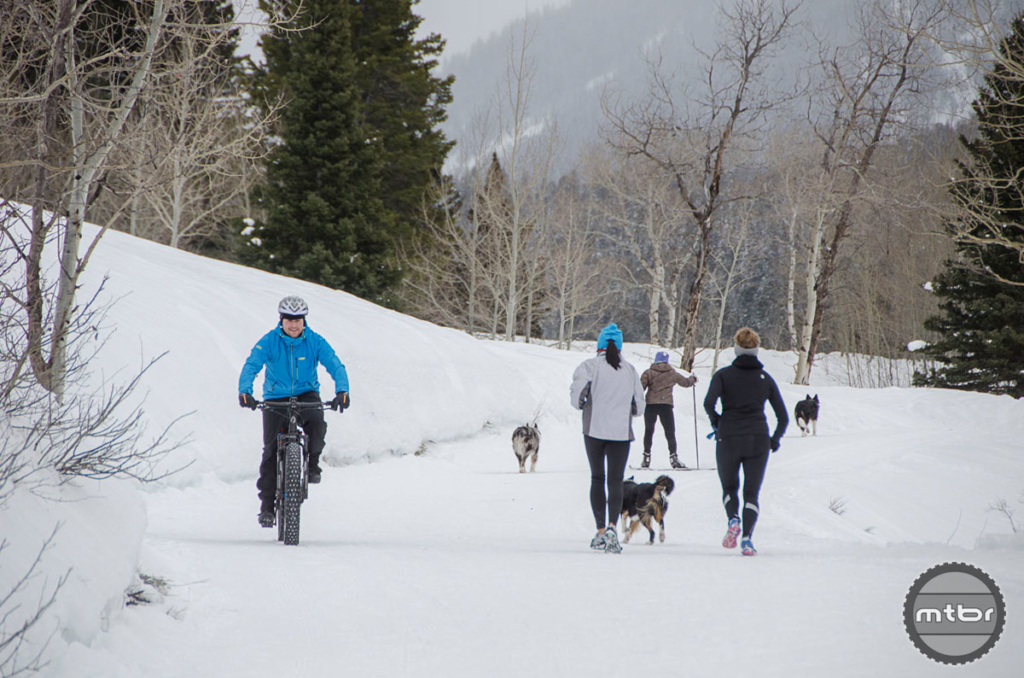 JHTTB Announces Community Engagement Meetings
March 15 -16
We encourage everyone in the Greater Jackson Hole community, including Teton Valley and Star Valley, to add their voice and thoughts to drive the future of life and tourism (one of our largest economic drivers). You can participate in the Sustainable Tourism Survey, as well as join in the Community Engagement Meetings on March 15 and 16 to learn more and contribute your thoughts and ideas. This is important that everyone actively participates to determine the future of Greater Jackson Hole!
See locations and links for virtual participation below:
Tuesday, March 15, 2022, 6:30-8:00 pm,
Grand Teton Ballroom, Snow King Resort, 400 E. Snow King Ave, Jackson
Tuesday, March 16, 2022, 6:30-8:00 pm,
Driggs Senior Center, 60 S Main St Driggs
For those who want to attend virtually, the event will also be broadcast via Facebook Live:https://www.facebook.com/jacksonholettb
This is a free public event, open to all members of the greater Teton County community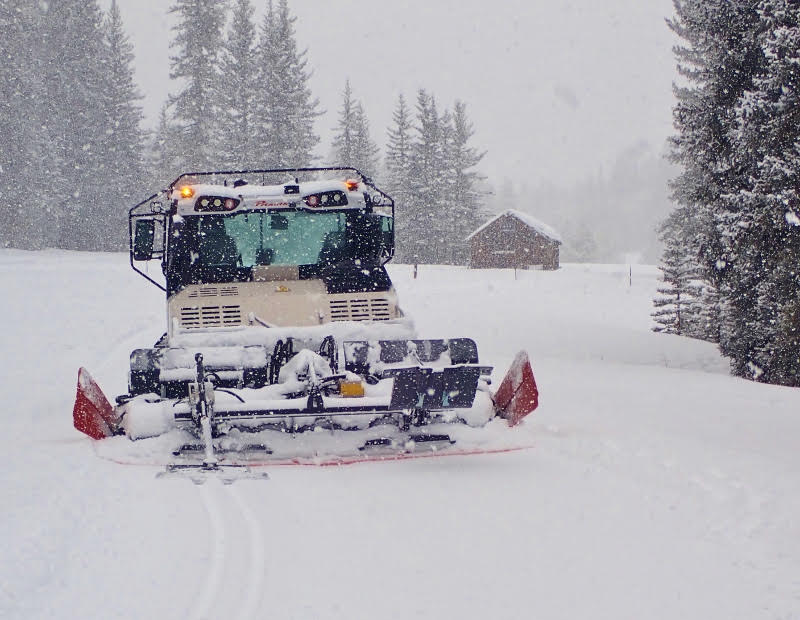 Grooming Daily
Last Update: 3/8
A Very Fast Skier!
Our very own Lena Poduska was the 6th fastest U16 female in the nation yesterday at the Loppet Foundation Junior National Championships. Way to go Lena! Our other racers weren't slacking either; you can follow the link above and find all the results. Many thanks to Coach Luna for coaching and sending in some great images of the racing action. In the image below clockwise from the upper right are Elizabeth Hall, Lucas Wilmot, Kate Brigham, and Natalie O'Brien.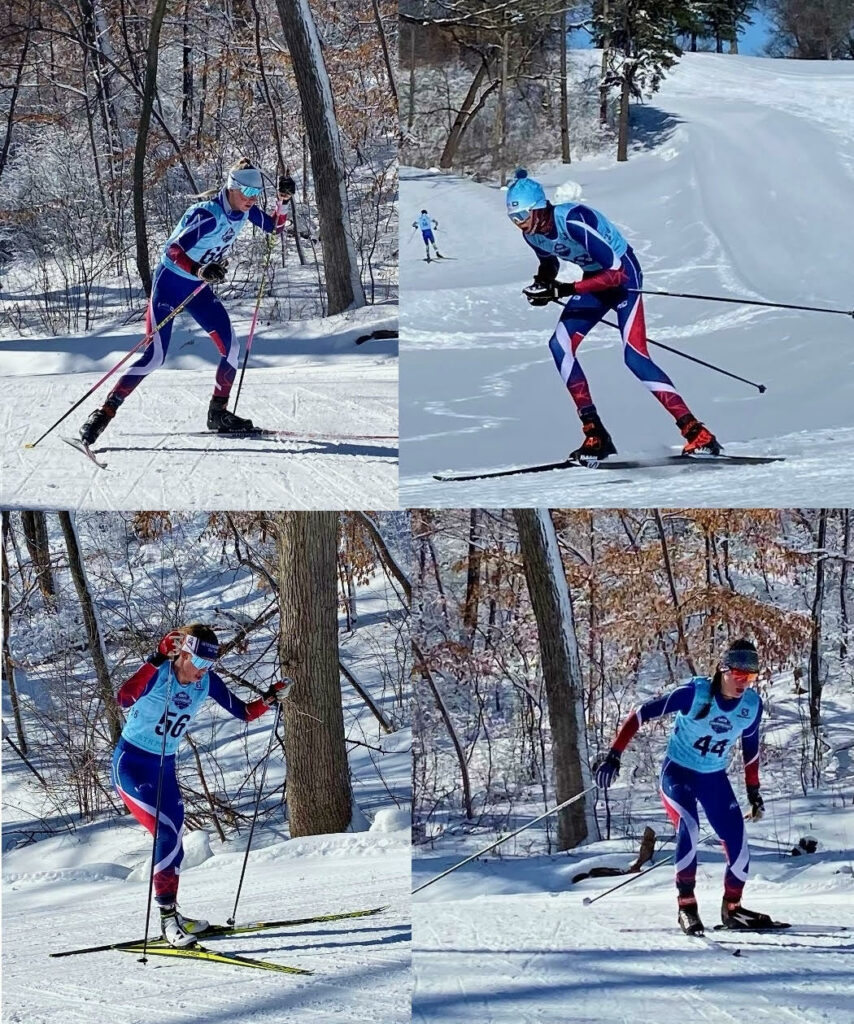 Today is a practice day at nationals, the schedule is as follows:
There is great news closer to home as well, after dipping to 70% of normal snowpack at our local reporting station Phillips Bench yesterday; it has been dumping today at Trail Creek. As of report time about 5 inches has fallen with more on the way. While conditions might be just a tad slow with all the fresh snow, winter has gotten a complete restart and our trails are once again clean and pristine.
The Husky was hard at it today, covering nearly every trail. The sections that received only one pass got a fresh classic track on that pass and Moose Loop, the fields, and the Nordic X course received multiple passes. As mentioned above it is just a smidge soft but still wonderful if you have a chance to get out and enjoy the splendor.
Groomer's choice for today is Olympic.
---
Grooming Monday-Saturday
Last Update: 3/8
The levee and stilson were groomed Tuesday morning although they filled in quickly with new snow. The school fields were not groomed Tuesday because of a lack of snow. If we get 4-5" I might be able to groom a small loop at the school fields on Thursday.
Wednesday Grooming Schedule: Cache Creek, Wayne May Park, Game Creek, South Park Pathway
---
Last Update: 2/22
I groomed the trails in Cache last night and will take another lap this afternoon to firm things up and will snowshoe the smaller trails on Wednesday. That way everything should be in good shape for Winter Trails Day this Saturday!
Grooming by Friends of Pathways.
---
Grooming Daily
Last Update: 3/3
Our trails are still in pretty good shape despite the last 3 super warm days and nights. We are currently grooming with our ginzu groomer to preserve our track until fresh snow arrives this weekend. The best time for skiing over the next couple of days is from 9:45am-11:30am. The classic track is more negatively affected by our current weather situation, so skate skiing is recommended! If the weather forecast holds up for next week, our ski conditions should be back to normal late this weekend. Stay tuned.
New Salomon skis in stock now!! We received a surprise shipment of classic skis in a couple of lengths. If you are between 110-195lbs we have skis for you. We have boots and poles to go with them too! These skis were supposed to arrive last September but have been stuck in the Covid shipping delay situation. We are happy they finally made it to the shop!
Our trails and shop are fully open to the public 9am-4pm daily. Please call us in advance to book lessons at: (307) 733-1733. You do not need a reservation for skiing and we do not take reservations for rentals. Please contact us in advance to check availability for off-site rentals.
In our retail shop we still have a small size selection of skate skis and BC skis, but have lots of boots, poles, jackets, pants, gloves, and hats. We also have a good selection of used skate gear available. Call or come by to see if we have your sizes! We have a full tuning shop so drop off your skis for a wax done by our great wax techs! Visit our website for pricing and other information: www.tetonpinesnordiccenter.com
---
Grooming Daily
Last Update: 3/7
Weather conditions worked out in our favor, and we were able to complete the black sand application today. Grooming will switch back to early mornings beginning tomorrow (3/8). Skiers should anticipate storm skiing during the day on Tuesday and possibly Wednesday, followed by colder weather through Friday. Next Nordic Update will be this Friday (3/11).
TRAIL STATUS
YELLOW LOOP OPEN
SLED HILL GROOMED on 3/4 (Grooming will occur as needed)
CLASSIC TRACKS SET, INCONSISTENT DUE TO SPRING PROFILE
SNOWSHOEING OPEN (BLUE LOOP ONLY, STAY ON THE EDGE OF THE TRAIL OR IMMEDIEDATEY NEXT TO TRAIL)
ORANGE LOOP OPEN
WALKING, NOT ALLOWED
---
Daily Nordic grooming for both "Front Nine" (south side) and "Back Nine" (North side) Nordic Trails
Public access to the groomed Nordic trails is $50 per person per day, with no season passes available. Ski rentals are available at the Sports Shop. Guests must check in at the Sports Shop to sign a waiver and make payment before heading out. The daily pass does not allow access to the Restaurant this season. The clinics that are being offered are for members and lodging guests only.

Please call the Sports Shop with any questions you may have at 307-200-3093
---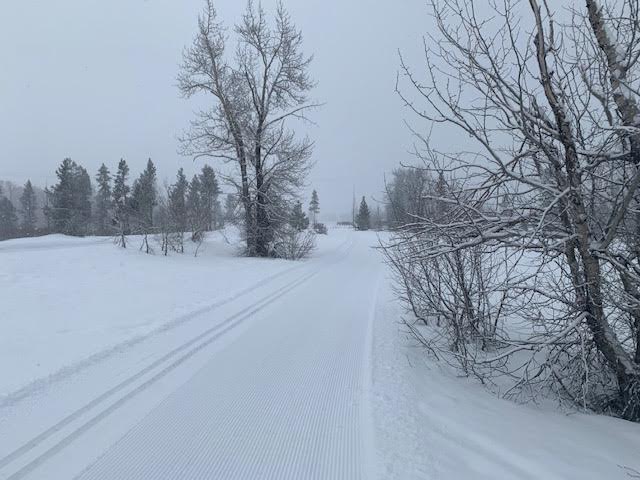 Last Update: 3/8
Today GTNP Taggert to Signal and all four lanes to the south. Overcast and snowing. Trail conditions are good. @grandtetonfoundation @jhnordic #gtnpgrooming
Grooming is sponsored by the GTNP Foundation and generous donations from our community.
---
Grooming Daily
Last Update: 3/8
The pisten bully will be out early Wednesday morning preparing the track for the intrepid and lucky skiers who will get to enjoy buttery snow conditions. The trails are smooth and so enjoyable, and have you heard about the food at the restaurant? It's like our trails, amazing. Come experience it for yourself before we close on Monday, March 14. If you're concerned about making the 1 hour drive we do have a few cabins available for Wednesday evening if you want to make a quick mid-week Nordic stay-cation.
Please sign acknowledgment of risk forms and pay for trail passes online ahead of your visit. Call the front office (307) 543-2000 ahead of your visit for booking equipment rentals and Nordic adventures (lessons and tours).
https://www.turpinmeadowranch.com/the-ranch/live-conditions
https://www.turpinmeadowranch.com | 307.543.2000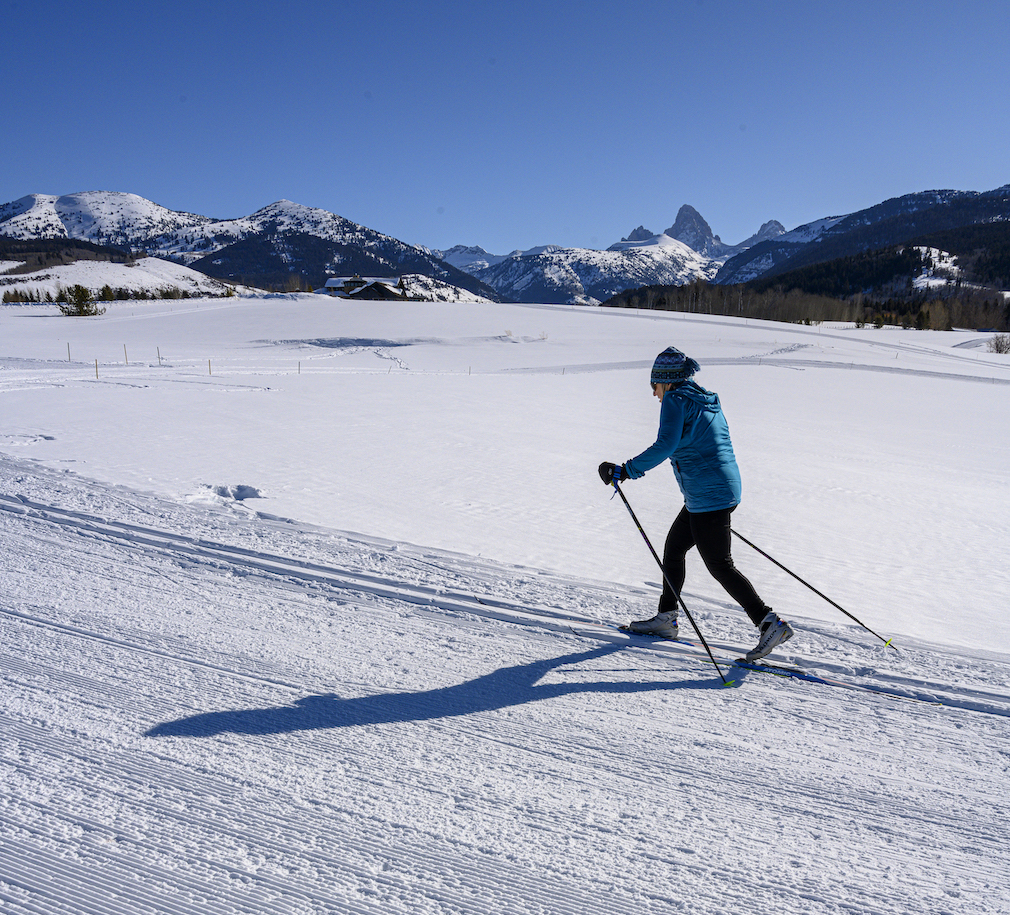 Trail Etiquette: Please keep your dogs leashed in the parking lot and be sure to clean up after them!
---
Grooming Schedule: Tuesday, Thursday, Saturday & Sunday
Last Updated: 3/8
Cross Country 15k: XC OPEN
Fat Bike Trails : Closed
Snowshoe Trails: Open
Targhee's Nordic trails are groomed Tuesdays, Thursdays & Sat/Sundays. Fat bike/snowshoe trails are groomed regularly but not on a set schedule – the groomer usually waits until after a storm cycle to groom the single track.
Trail day passes are $20 this winter.
Remember, singletracks will be closed when there is more than 3 inches of snow in a 24 hour period.
---
Grooming Schedule: Tuesday, Thursday, & Sunday
Last Updated: 3/8
Skate: Not Set | Classic: Not Set
Will begin grooming this afternoon around 3pm. LET IT SNOW!
Please do not park in the library parking lot. Please be sure to keep your dogs on a leash and to clean up after them.
---
Grooming Schedule: Monday, Wednesday & Friday
Last Updated: 3/7
Skate: Set | Classic: Not Set
Used drag to smooth out the entire track. Waiting for snow to set a classic track.
---
Grooming Schedule: Monday, Wednesday & Friday
Last Updated: 3/6
Skate: Set | Classic: Not Set
Sunday 11am Keeping the dream alive…thanks for your patience as we waited for things to firm up from the warm spell. Gave the track a comb over with the ginzu to try and cover up all the foot/paw prints. There are still there but shouldn't effect the skiing so much. Skating should be pretty damn nice out there and the sun just came out as well! Did not set classic track or groom the single track. Cheers
---
Grooming Schedule: Monday, Wednesday, Friday & Saturday
Last Updated: 3/7
Skate: Set | Classic: Set
Plan to reset skate and south classic track this morning. Hopefully north side classic remains in good shape from Sunday groom.
---
Grooming Schedule: Tuesday, Friday & Sunday
Last Updated: 3/7
Skate: Set | Classic: Set
With the storm coming in overnight Monday-Tuesday bringing several inches of snow we will postpone grooming until the storm ends. Standby for updates.
No dogs December 1 – April 15.
---
Grooming Schedule: Monday, Thursday & Saturday
Last Updated: 3/7
Skate: Set | Classic: Set
Monday morning I was able to groom and reset skate and classic track. Snows a little weird and classic track is not very deep but it's the best I could do given the conditions. Enjoy the glide.
No dogs allowed.
---
Southern Valley Singletrack
Grooming Schedule: As needed
Last Updated: 3/1
Singletrack: Not Set

With warm Temps any exposed trail will be soft by midday. Please try to ride before 10am or after 6pm. Thanks
Happy Hour (aka Mike Harris to ID/WY state line)
No dogs December 1 – April 15.
---
Grooming Schedule: As needed
Last Updated: 2/18

Groomed to summer TH 2/16
---
Grooming Schedule: As needed
Last Updated: 2/10

Groomed 1/14
---
Grooming Schedule: As needed
Last Updated: 2/18

Groomed 2/16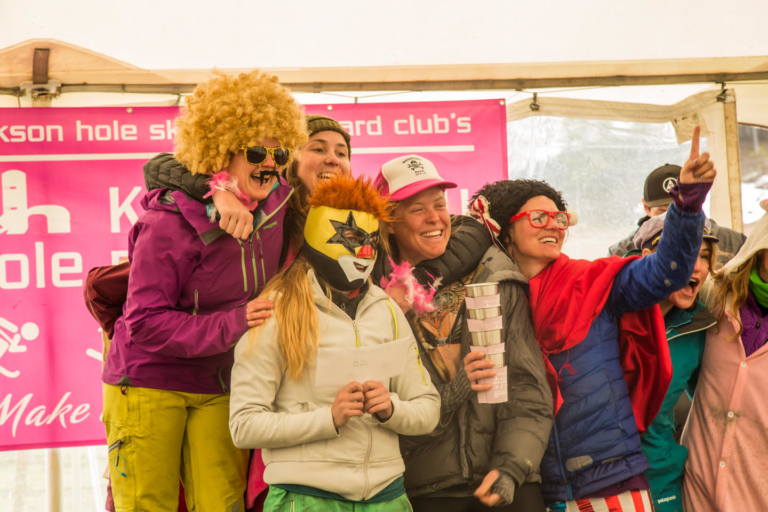 March 26, 2022
More details coming soon!
---
We'd love to hear about your outdoor adventures, what your doing to stay healthy, safe, respectful of community health guidelines – send pictures or post on FB and Insta – #JHNordic