---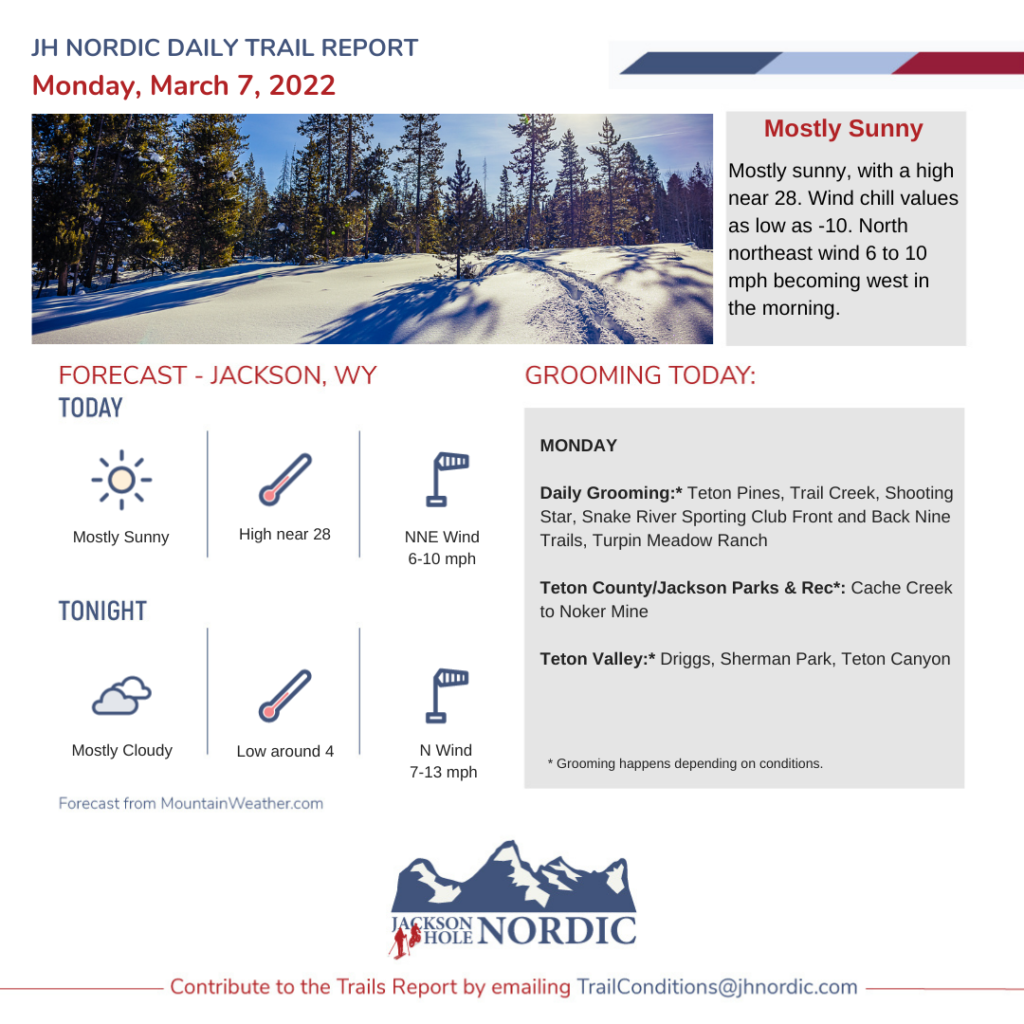 ---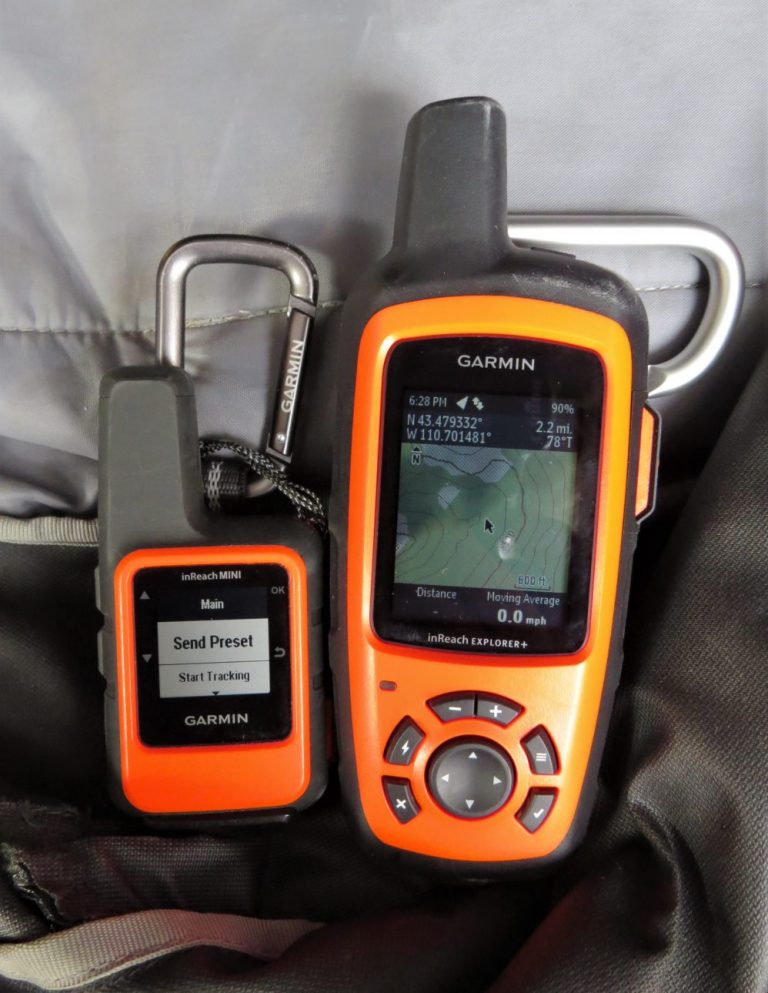 As grooming operations begin to wind down you may be finding yourself heading further out and higher up in elevation to get some Nordic skiing in. As you explore new territory that may not be regularly frequented, having a plan will be important. A Garmin InReach can be a safety net for you and a reassurance for your family and friends.
---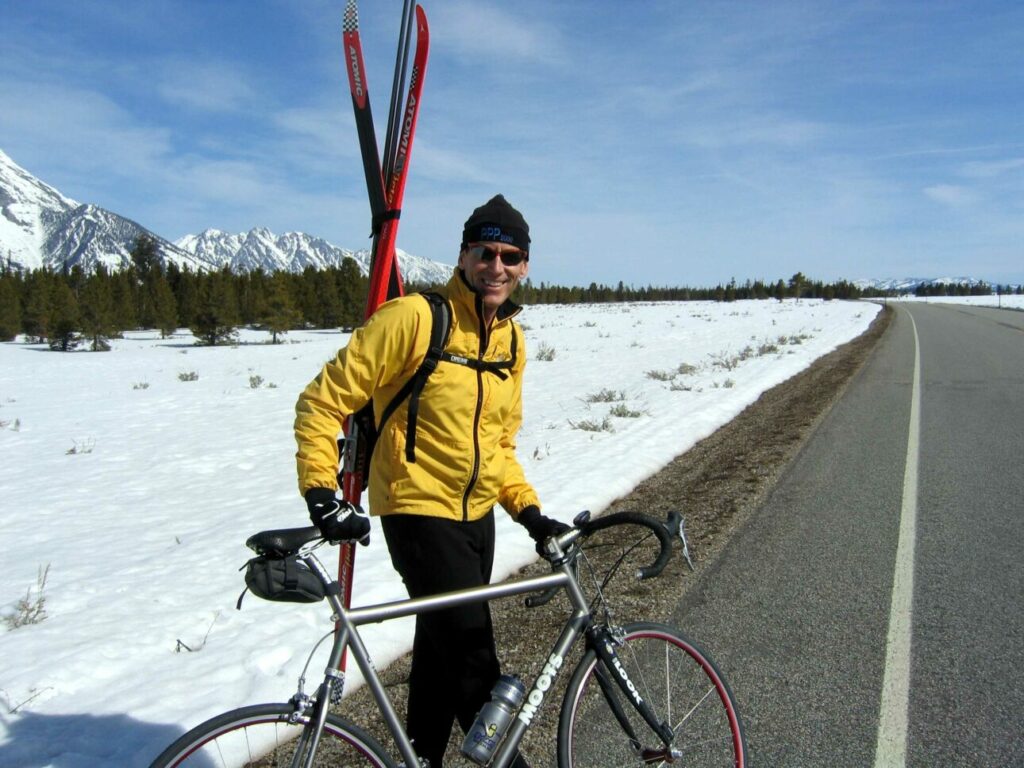 In this newest edition of Profiles in Nordic: In Their Own Words, JH Nordic interviewed Sean O'Malley, the original Jackson Hole Nordic News Editor, a Nordic master racer, JH Ski Club Nordic coach and all around inspiration to the community. Spoiler alert, there are some really fun retro pics in this article, including when Sean was a Nordic ski model. We can't say enough good things about him, he's one of the JH Nordic Alliance founders and a local Nordic hero.
---
The last day of grooming in GTNP will be next Friday, March 11. Make your plans to get out and enjoy the superbly groomed trail in the park this week! And keep your fingers crossed for a good crust cruising season starting later this month hopefully.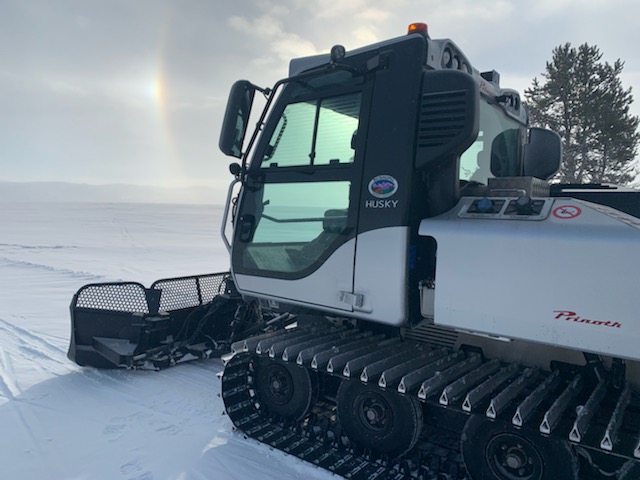 ---
The last day of grooming at Turpin Meadow Ranch will be Sunday, March 13. We have insider knowledge that the snow storm this weekend refreshed the ranch to create lovely skiing. As always the food in the lodge is delicious so make a day of it if you can! The lodge officially closes it's doors on Monday, March 14.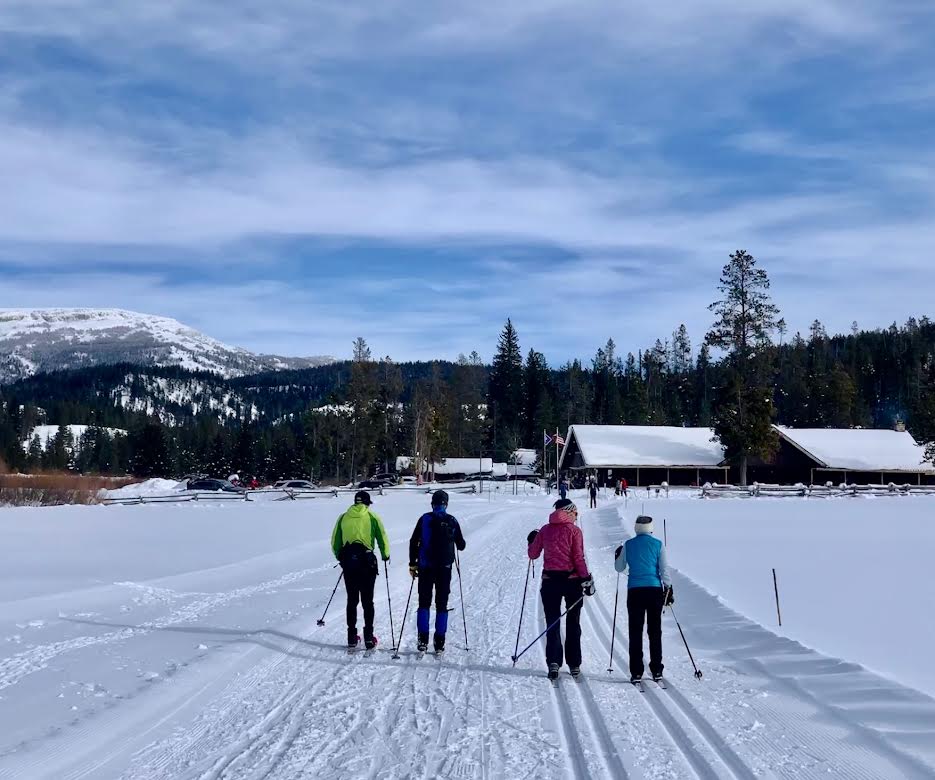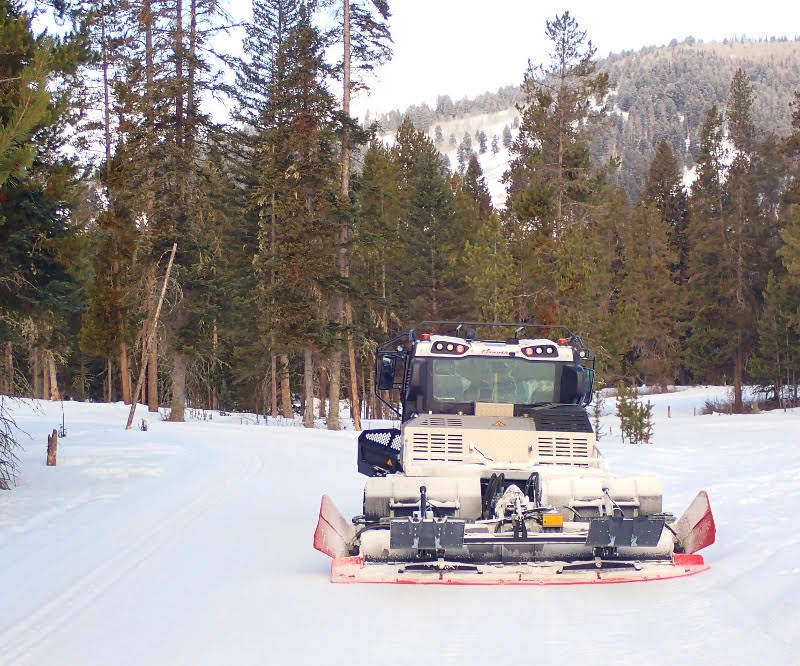 Grooming Daily
Last Update: 3/6
Keep on Skiing!
Even though the forecast 1-3 inches came in closer to a strong half, we've still got plenty of skiing today at Trail Creek. The week ahead holds the promise of more snow with quite cool temps so things should continue in a positive Nordic way.
Today's Husky grooming covered almost every trail. Since yesterday's classic tracks are still quite distinct and should ski well with the fresh half inch of snow, today's focus was on skate lanes. The narrower sections did receive fresh classic tracks and Moose Loop, Olympic, and the Close Field all received multiple passes. There are some of yesterday's tracks showing through but skiing should be nice today. Faceplant and Gutflop are probably done for the year. Parts of Black Hole and Boiler weren't groomed today, but hopefully some snow can be mined tomorrow to keep the problem areas going for some time.
There were a million tracks on the fresh snow this morning. With spring in the air, our critters have been very active. Moose, elk, fox, coyote, lots of birds, squirrels, and a pine marten were all tracking in the past few hours.
Groomer's choice for today is to enjoy some spring skiing.
---
Grooming Monday-Saturday
Last Update: 3/5
The levee and stilson were groomed and still in decent shape. The school fields were not groomed Saturday because there is not enough snow.
Monday Grooming Schedule: Cache Creek to Noker Mine
---
Last Update: 2/22
I groomed the trails in Cache last night and will take another lap this afternoon to firm things up and will snowshoe the smaller trails on Wednesday. That way everything should be in good shape for Winter Trails Day this Saturday!
Grooming by Friends of Pathways.
---
Grooming Daily
Last Update: 3/3
Our trails are still in pretty good shape despite the last 3 super warm days and nights. We are currently grooming with our ginzu groomer to preserve our track until fresh snow arrives this weekend. The best time for skiing over the next couple of days is from 9:45am-11:30am. The classic track is more negatively affected by our current weather situation, so skate skiing is recommended! If the weather forecast holds up for next week, our ski conditions should be back to normal late this weekend. Stay tuned.
New Salomon skis in stock now!! We received a surprise shipment of classic skis in a couple of lengths. If you are between 110-195lbs we have skis for you. We have boots and poles to go with them too! These skis were supposed to arrive last September but have been stuck in the Covid shipping delay situation. We are happy they finally made it to the shop!
Our trails and shop are fully open to the public 9am-4pm daily. Please call us in advance to book lessons at: (307) 733-1733. You do not need a reservation for skiing and we do not take reservations for rentals. Please contact us in advance to check availability for off-site rentals.
In our retail shop we still have a small size selection of skate skis and BC skis, but have lots of boots, poles, jackets, pants, gloves, and hats. We also have a good selection of used skate gear available. Call or come by to see if we have your sizes! We have a full tuning shop so drop off your skis for a wax done by our great wax techs! Visit our website for pricing and other information: www.tetonpinesnordiccenter.com
---
Grooming Daily
Last Update: 3/6
Beginning Monday (3/7), GCM will attempt to apply the black sand on the greens weather pending. We'll likely only be able to complete about half of the course tomorrow and then need to assess if we can keep working on Tuesday or must pause until the weather clears after Thursday. Please note that grooming will temporarily switch to the evenings today beginning at 530pm. All skiers need to be off the trails by 6pm. The evening groom is needed to allow us more mobility in the morning hours for applying sand. Be aware that during this process skiers may encounter our equipment hauling materials and there might be a few rough areas where the snowcat enters/exits the trails. Overall, skiing should continue to be great. Anticipate snow to return this Tuesday and linger through Thursday. I will try and keep everyone updated on how the black sand application is going throughout the week. Enjoy!
TRAIL STATUS
YELLOW LOOP OPEN
SLED HILL GROOMED on 3/4 (Grooming will occur as needed)
CLASSIC TRACKS SET, INCONSISTENT DUE TO SPRING PROFILE
SNOWSHOEING OPEN (BLUE LOOP ONLY, STAY ON THE EDGE OF THE TRAIL OR IMMEDIEDATEY NEXT TO TRAIL)
ORANGE LOOP OPEN
WALKING, NOT ALLOWED
---
Daily Nordic grooming for both "Front Nine" (south side) and "Back Nine" (North side) Nordic Trails
Public access to the groomed Nordic trails is $50 per person per day, with no season passes available. Ski rentals are available at the Sports Shop. Guests must check in at the Sports Shop to sign a waiver and make payment before heading out. The daily pass does not allow access to the Restaurant this season. The clinics that are being offered are for members and lodging guests only.

Please call the Sports Shop with any questions you may have at 307-200-3093
---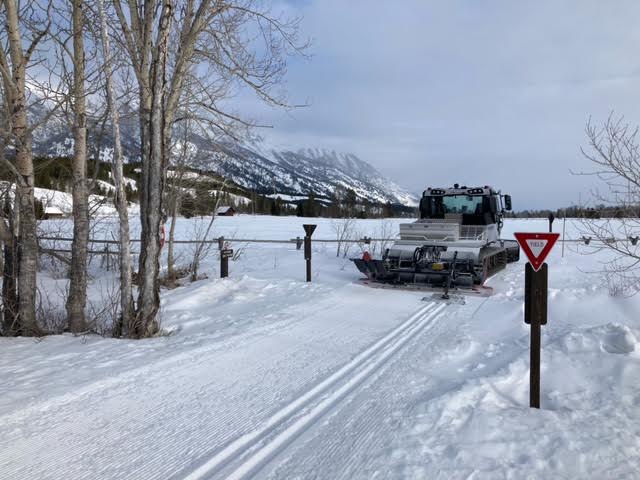 Last Update: 3/6
Sunday Grooming in GTNP. Taggart to South Jenny. @grandtetonfoundation @jhnordic #gtnpgrooming
Grooming is sponsored by the GTNP Foundation and generous donations from our community.
---
Grooming Daily
Last Update: 3/6
Everything was groomed Sunday morning with the bully. There is a double classic track around the summer homes loop, a single classic track was put in with the ginzu. With all this new snow the conditions have been reset to good and fun!
Please sign acknowledgment of risk forms and pay for trail passes online ahead of your visit. Call the front office (307) 543-2000 ahead of your visit for booking equipment rentals and Nordic adventures (lessons and tours).
https://www.turpinmeadowranch.com/the-ranch/live-conditions
https://www.turpinmeadowranch.com | 307.543.2000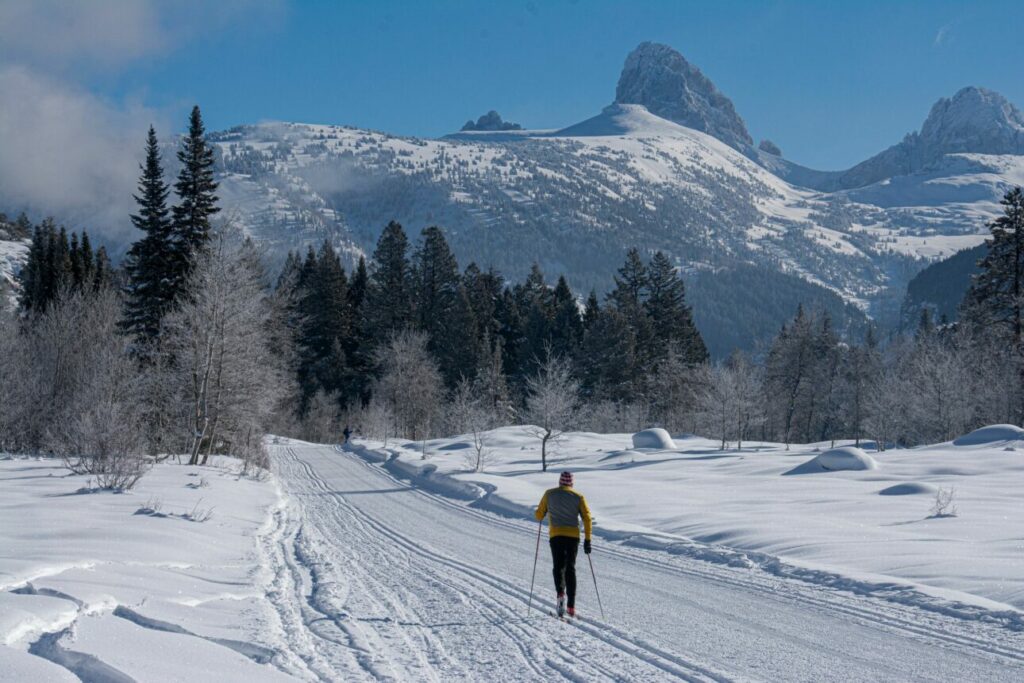 Trail Etiquette: Please keep your dogs leashed in the parking lot and be sure to clean up after them!
---
Grooming Schedule: Tuesday, Thursday, Saturday & Sunday
Last Updated: 3/6
Cross Country 15k: XC OPEN
Fat Bike Trails : Closed
Snowshoe Trails: Open
Targhee's Nordic trails are groomed Tuesdays, Thursdays & Sat/Sundays. Fat bike/snowshoe trails are groomed regularly but not on a set schedule – the groomer usually waits until after a storm cycle to groom the single track.
Trail day passes are $20 this winter.
Remember, singletracks will be closed when there is more than 3 inches of snow in a 24 hour period.
---
Grooming Schedule: Tuesday, Thursday, & Sunday
Last Updated: 3/6
Skate: Set | Classic: Set
Reset both skate and classic tracks all around. Both turned out well, for a change.
Please do not park in the library parking lot. Please be sure to keep your dogs on a leash and to clean up after them.
---
Grooming Schedule: Monday, Wednesday & Friday
Last Updated: 3/5
Skate: Set | Classic: Set
Driggs will be groomed 10 am Saturday.
---
Grooming Schedule: Monday, Wednesday & Friday
Last Updated: 3/6
Skate: Set | Classic: Not Set
Sunday 11am Keeping the dream alive…thanks for your patience as we waited for things to firm up from the warm spell. Gave the track a comb over with the ginzu to try and cover up all the foot/paw prints. There are still there but shouldn't effect the skiing so much. Skating should be pretty damn nice out there and the sun just came out as well! Did not set classic track or groom the single track. Cheers
---
Grooming Schedule: Monday, Wednesday, Friday & Saturday
Last Updated: 3/6
Skate: Set | Classic: Set
Plan to reset skate track and north side classic.
---
Grooming Schedule: Tuesday, Friday & Sunday
Last Updated: 3/6
Skate: Set | Classic: Not Set
Sunday morning I was able to groom and reset the classic and skate track on yetis and inner campground loops. I didn't reset the skate track on outer campground loop. Warning: the snow is faceted and very soft. If you find yourself post holy please turn around. Enjoy the glide if you can.
No dogs December 1 – April 15.
---
Grooming Schedule: Monday, Thursday & Saturday
Last Updated: 3/4
Skate: Not Set | Classic: Not Set
Friday evening I went out for a scout to groom the reserve. The snowpack has gone isothermal and is either a sloppy mess or frozen block of ice in the early morning. We're going to need to hold off on grooming until we receive some new snow and let these temperatures drop. We'll give it another go in day or two. Standby.
No dogs allowed.
---
Southern Valley Singletrack
Grooming Schedule: As needed
Last Updated: 3/1
Singletrack: Not Set

With warm Temps any exposed trail will be soft by midday. Please try to ride before 10am or after 6pm. Thanks
Happy Hour (aka Mike Harris to ID/WY state line)
No dogs December 1 – April 15.
---
Grooming Schedule: As needed
Last Updated: 2/18

Groomed to summer TH 2/16
---
Grooming Schedule: As needed
Last Updated: 2/10

Groomed 1/14
---
Grooming Schedule: As needed
Last Updated: 2/18

Groomed 2/16


---
We'd love to hear about your outdoor adventures, what your doing to stay healthy, safe, respectful of community health guidelines – send pictures or post on FB and Insta – #JHNordic