---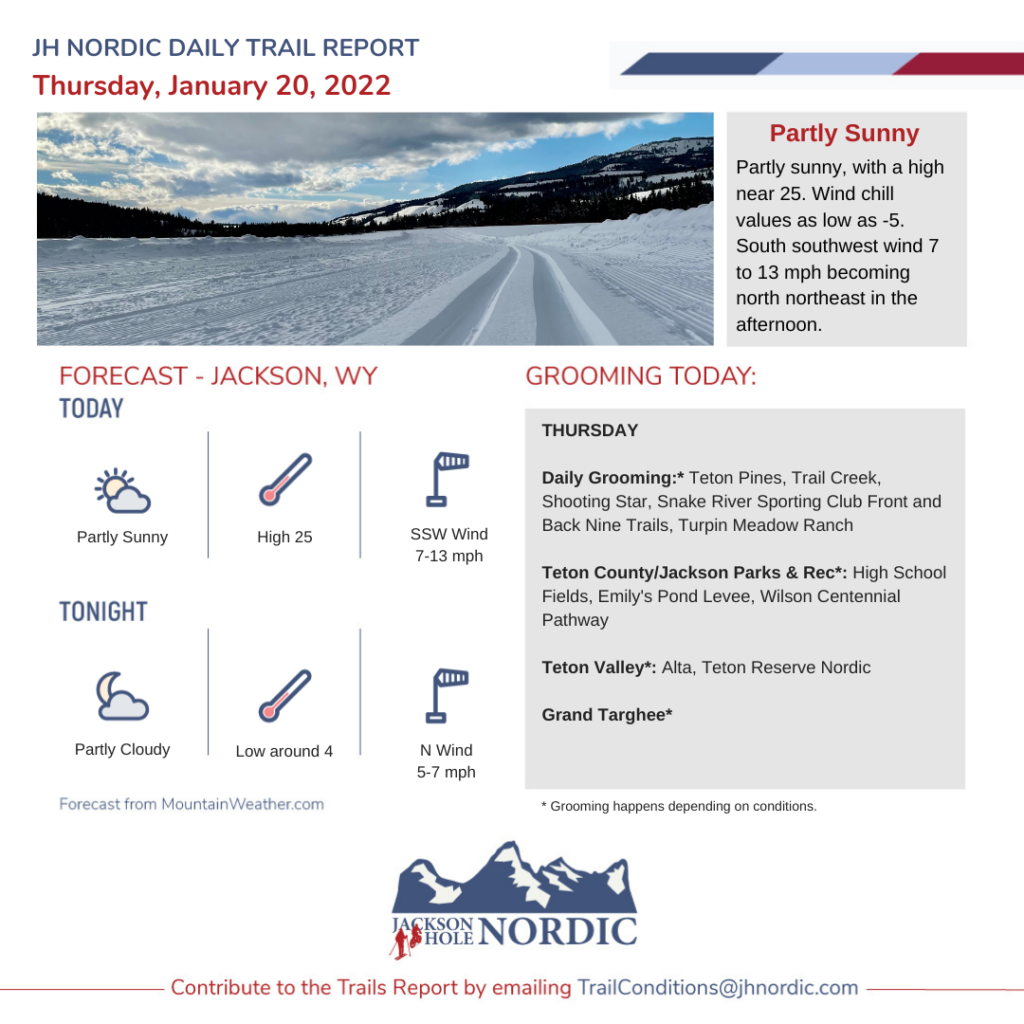 ---
TRIP REPORT: Teton Canyon
There is nothing like an afternoon on the Teton Canyon trail! We encountered all sorts of happy trail users. One group of four had been out all weekend, skiing up Table Mountain, and carried sleds behind them full of their overnight gear! Another party included a homemade dog-sled pulled by two gorgeous dogs! And of course, there were all sorts of classic and skate skiers – all excited to be in the sunshine and on a beautifully groomed trail!
Karen Daubert
Friends of the Bridger Teton
---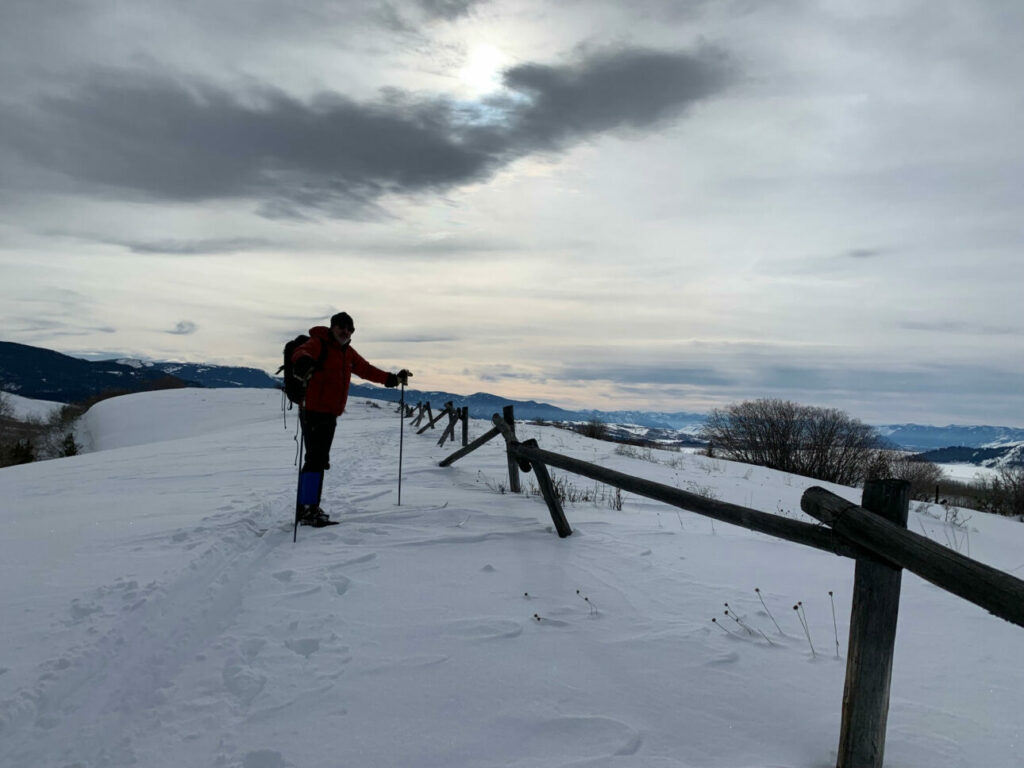 The Overwhelming Peace and Quiet of the Outdoors
"The door to the woods is the door to the temple." Mary Oliver
"Love is the greatest force in the universe…the heartbeat of the moral cosmos." Martin Luther King Jr.
Simply being in the peace and quiet of the snowy outdoors inspires a sense of overwhelming peace! And when one shares this with our four and two legged friends – and with a sense of history – a sense of true bliss results. Such is the case at the Hunter Hereford Ranch where an adventure is often shared with bald eagles, mule deer, moose, elk and many who left only their beautiful tracks. One friend smiled the grandest of smiles and said she felt "pure bliss".
And if inspired to research the history of your special adventure, there is no better place than the Jackson Hole History Museum. In this case, Nordic adventurers cross the valley that is now part of the Grand Teton National Park and borders the Bridger Teton National Forest. How fortunate to have such grand pieces of public land so close to home. https://jacksonholehistory.org/hunter-hereford-ranch/
Karen Daubert
Friends of the Bridger Teton
---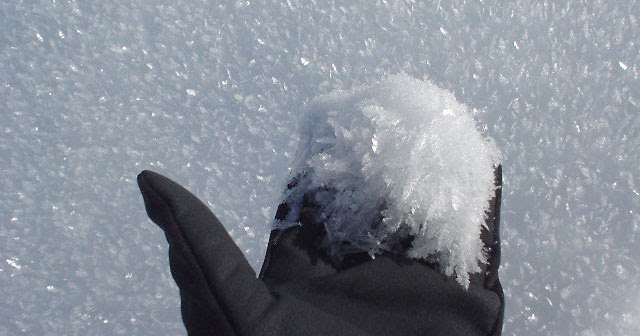 Wildlife Wednesdays with EcoTour Adventures
It's been a little while since we've seen fresh snow in Jackson. The clear, sunny days have created perfect conditions for surface hoar, which is created when the temperature of the top layer of the snowpack is lower than the frost point of the surrounding air. Frost point is a temperature that is below 32° F, at which moisture condenses as frost on exposed surfaces that are also at a temperature below the frost point. To become surface hoar, moisture skips the liquid phase, going directly from vapor to solid and creating ice crystals.
---
TC/J Parks and Recreation hosts After school Cross Country Ski Club for 3rd-5th graders
Registration is open and spots are available! Register TODAY!!!
This non-competitive club is open to all 2nd – 5th graders and is focused on fun, adventure, and learning! No previous ski experience necessary, all abilities and backgrounds welcome.
Club meets Mondays and Thursdays during January on the following dates: 1/10, 1/13, 1/17,1/20, 1/24,1/27 and we are hoping to open up a February session!
Participants will learn the basics of cross-country skiing with instruction provided by experienced ski instructors.
All ski equipment is provided (skis, boots, and poles). Please come dressed for the outdoors!
Club will meet at the Jackson Elementary School cafeteria and skiing will take place on the adjacent playing fields. Students can use the after-school activity bus to attend from other elementary schools. Students may arrive at the JES cafeteria anytime from 3:05 to 3:45 Skiing will begin by 4:00 pm with pickup at 5:30 pm at the JES cafeteria. Snacks will be provided!
$98.00 Fee includes all 8 meet dates, instruction and use of ski equipment. Pro-rated for late registrants
For specific questions contact Rachael Recreation Program Manager , at 307-732-8567 Teton County/Jackson Parks and Recreation
---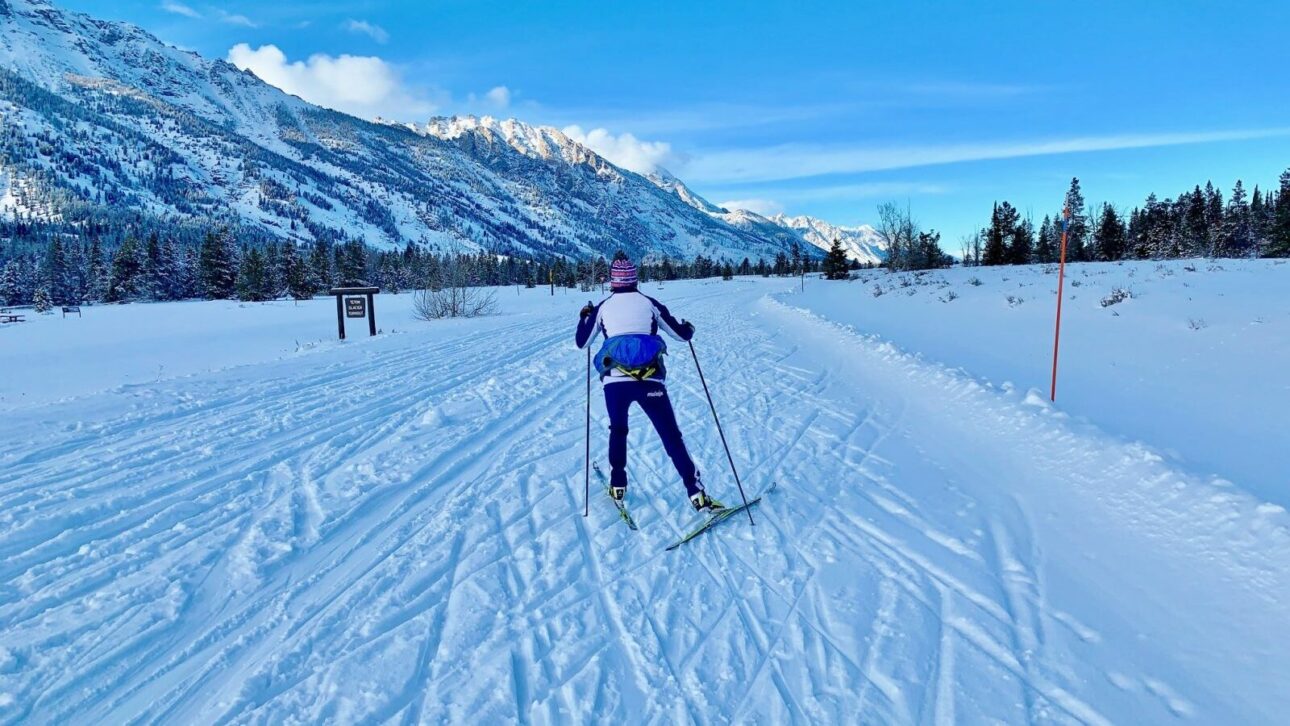 Ask JH Nordic Guidance
I was hoping to get the local scoop on Nordic ski trails throughout the area. I have explored your website and was slightly overwhelmed at all the locations. Therefore, I was wondering if you could give me a recommendation for a trail that is either groomed or single-track, has spectacular scenery, won't be too icy, is anywhere from 3-6 miles in length, and isn't too trafficked. I am planning to travel to the area on Monday (1/16) and would greatly appreciate your input. – M
Hi M, thanks for getting in touch. We are having beautiful weather, so I would recommend a trail with nice big Teton views. If you have a car, one of our favorite groomed trails is in Grand Teton National Park, a 20 min drive north of Jackson. Drive to Moose, then to Taggart Trailhead. The road is closed for Nordic skiing at this point. Grooming on Tues, Fri, Sun, so not icy. Big Teton views. You can ski out as far as you wish then turn back.

If you do not have a car, I recommend taking the local START bus to Stilson. Get off the bus, walk east back toward the Snake River, cross under the road via a bike path tunnel, walk or ski across the river to Emily's Pond levee trail. It gets a lot if dog walkers, so will be hard packed- Groomed Tues, Thurs, Sat.

A third choice is to ski at Teton Pines Nordic center. Groomed daily. Ski pass: $20. You can take the bus to the Westbank Center/ Aspens stop and walk 100 yards to the Nordic center.

Do you have a question? Submit to info@jhnordic.com and we'll try to help!
---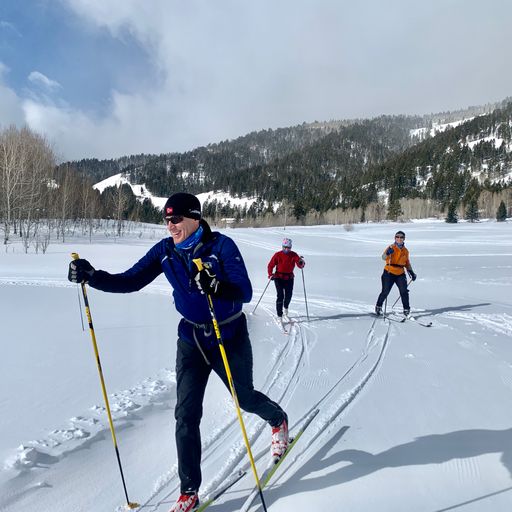 CLASSIC SKI CLINIC THURSDAY JANUARY 20, 2022
11am – 12:30pm
Trail Creek Nordic Center

Hosted by Scott Horn and JH Ski Club Nordic Team Coaches

This weeks JH Nordic Masters Clinic will be held at Trail Creek Nordic Center, West of Wilson on Trail Creek Road (off of Hwy 22 at the base of Teton Pass). The focus for this week is the classic technique.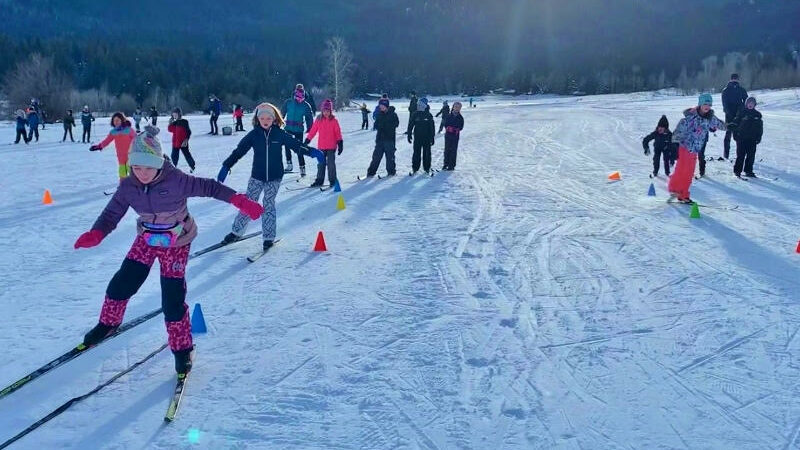 Grooming Daily
Last Update: 1/19
Teewinots Have Fun Too!
Many thanks to Coach Libby for sending in an awesome video of the Teewinots "jumping the rope" during a recent practice session. Click on this link to watch the video, it definitely looks like all were having a great time!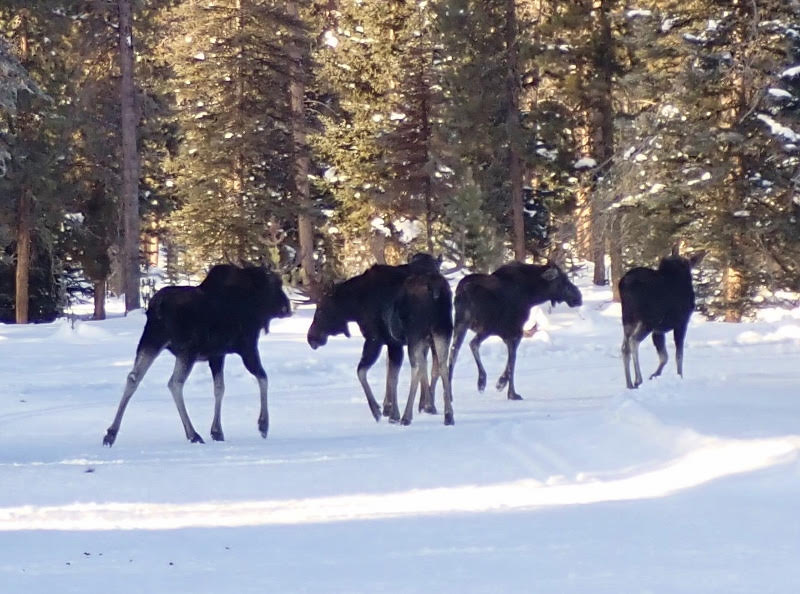 A great time was also being had by a group of five bull moose earlier in the Moose Loop section of our trails. It seems as if we have a larger than usual number of bulls hanging around; these guys were mainly focusing on sparring with one another. No blood was shed, it seems like they're just killing time and having fun while their antlers are still hanging on.
Skiing is also a fun activity that you can do today. The Husky was once again hard at it, reworking almost every trail in the network. In addition to skate lanes being reworked, some of the upper East Field classic tracks were reset as well as many of the classic tracks in the woods. The well-conditioned snow continues to ski nicely.
It looks like the recent drought is finally going to be broken beginning tomorrow. Forecast totals are currently calling for around 5 inches, mainly on Thursday night with another slight chance cropping up for early next week. While our new Prinoth Husky has been doing a great job of reconditioning the snow pack, a little fresh never hurts anything.
Groomer's choice for today is Armin's.
---
Grooming Monday-Saturday
Last Update: 1/19
Cache and May park are groomed and in decent shape. Let's hope for some snow Thursday night to freshen up the tracks. Game Creek will be done around 11:00.
Game Creek finished. Tomorrow the school fields, the levee, and Stilson will be groomed.
Thursday Grooming Schedule: High School Fields, Emily's Pond Levee, Wilson Centennial Pathway
---
Last Update: 1/15

I touched up the trails in Cache Friday night so they should be good to go for the weekend.
Grooming by Friends of Pathways.
---
Grooming Daily
Last Update: 1/14
The skiing conditions have been incredible at Teton Pines! The cold temps and clear skies are great for our track. Our track is immaculately groomed every morning so come on out and check it out!
We groom 13km+ daily for both skate and classic with our new snowcat.
Our trails and shop are open to the public 9am-4pm daily. Please call us in advance to book lessons at: (307) 733-1733. You do not need a reservation for skiing and we do not take reservations for rentals. Please contact us in advance to check availability for off-site rentals.
We still have a great selection of classic skis, skate skis, boots, jackets, pants, gloves, and hats. We have a full tuning shop so drop off your skis for a nordic wax done by our great wax techs who are all nordic skiers!
Visit our website for pricing and other information: www.tetonpinesnordiccenter.com
---
Grooming Daily
Last Update: 1/18
The weather continues to be very nice and should provide great conditions for nordic skiing through Thursday. Our pistenbully/snowcat is currently being tested outside in Utah to see if repairs have been successful and we're waiting to hear back on the results along with when it will be return. Until further notice, only the yellow loop will be groomed via the snowmobile, and we'll continue to keep you posted regarding the status of the Pistenbully. Overall, the forecast looks great for snowmobile grooming and would expect the trails to remain smooth & enjoyable. Next update will be Friday (1/21).
TRAIL STATUS
YELLOW LOOP OPEN
SLED HILL GROOMED on 1/10 (Grooming will occur again when Snowcat is back from Repairs)
CLASSIC TRACKS NOT SET (Will be set once Snowcat is Repaired)
SNOWSHOEING CLOSED (Will be open once Snowcat is Repaired)
ORANGE LOOP, CLOSED (Will be open once Snowcat is Repaired)
WALKING, NOT ALLOWED
---
Daily Nordic grooming for both "Front Nine" (south side) and "Back Nine" (North side) Nordic Trails
Public access to the groomed Nordic trails is $50 per person per day, with no season passes available. Ski rentals are available at the Sports Shop. Guests must check in at the Sports Shop to sign a waiver and make payment before heading out. The daily pass does not allow access to the Restaurant this season. The clinics that are being offered are for members and lodging guests only.

Please call the Sports Shop with any questions you may have at 307-200-3093
---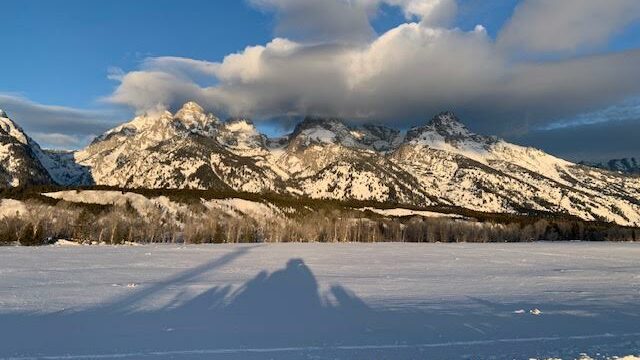 Last Update: 1/18
Today GTNP Taggert to South Jenny. Cold and overcast. Trail conditions are good.
Grooming is sponsored by the GTNP Foundation and generous donations from our community.
---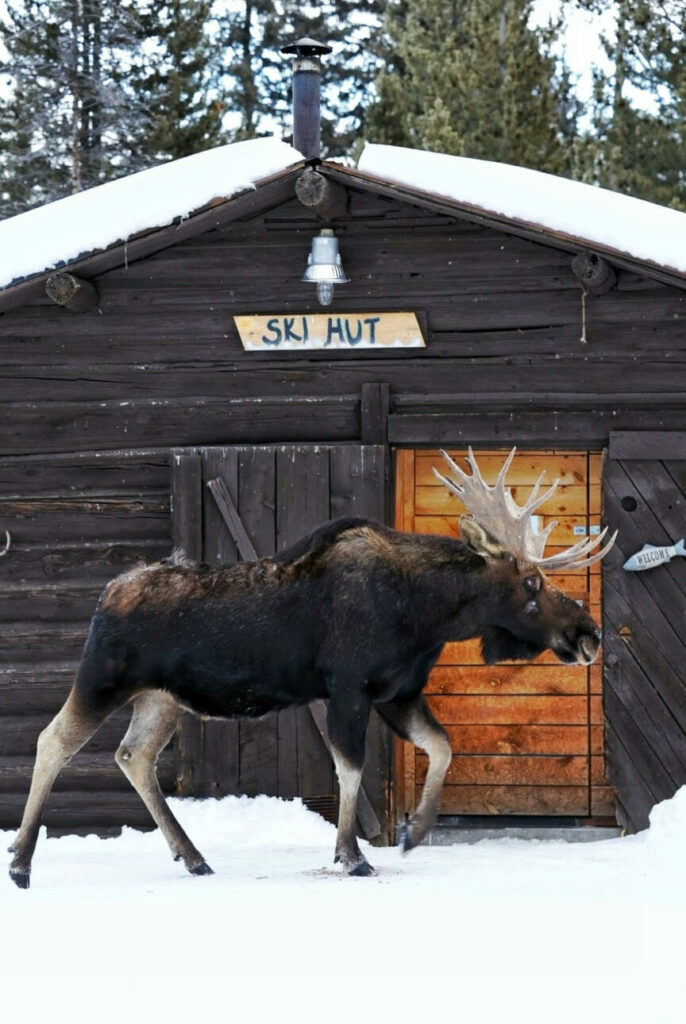 Grooming Daily
Last Update: 1/19
There is a light dusting of snow on our trails and the conditions are so fine. There has been much excitement around the ranch with a moose keeping us company at the ski hut and Turpin being nominated for a few categories in the Best of Jackson Hole! We'd love your support in the categories of Best Hotel, Best Overall Restaurant, Best Family Friendly Activity (Nordic Skiing!), Best Chef – Josh Black, and Best Musician – Gabe Hassan. If you've not experienced the magic of Turpin you've got to come up and enjoy first hand why we're in the running for "best of JH." Please sign waivers and pay for trail passes online ahead of your visit. Call the front office (307) 543-2000 ahead of your visit for booking equipment rentals and Nordic adventures (lessons and tours).
https://www.turpinmeadowranch.com/the-ranch/live-conditions/
https://www.turpinmeadowranch.com | 307.543.2000
---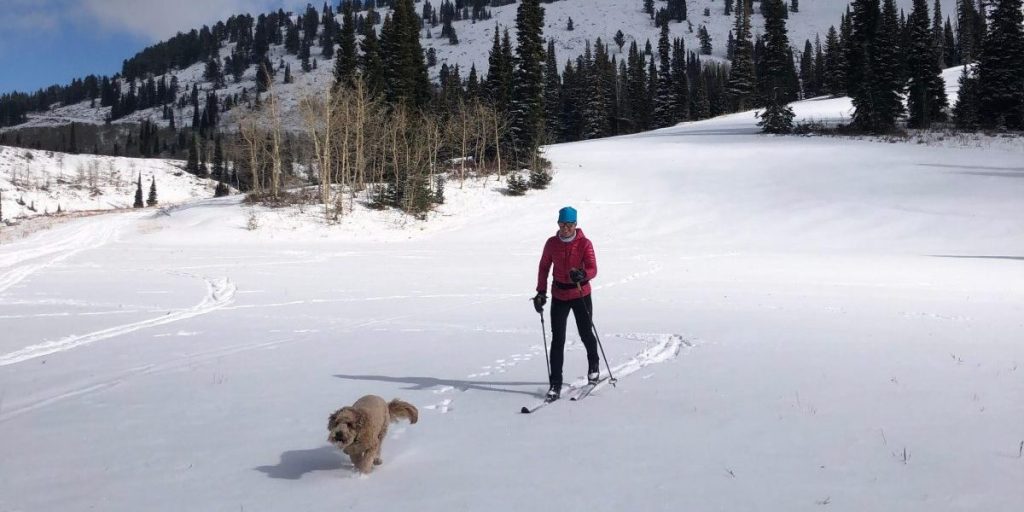 Trail Etiquette: Please keep your dogs leashed in the parking lot and be sure to clean up after them!
---
Grooming Schedule: Tuesday, Thursday, Saturday & Sunday
Last Updated: 1/19

Cross Country 15k: XC OPEN
Fat Bike Trails : Open
Snowshoe Trails: Open
Targhee's Nordic trails are groomed Tuesdays, Thursdays & Sat/Sundays. Fat bike/snowshoe trails are groomed regularly but not on a set schedule – the groomer usually waits until after a storm cycle to groom the single track.
Trail day passes are $20 this winter.
Remember, singletracks will be closed when there is more than 3 inches of snow in a 24 hour period.
---
Grooming Schedule: Tuesday, Thursday, & Sunday
Last Updated: 1/17
Skate: Set | Classic: Set
Reset the skate lane by the light of the moon. Classic track was in pretty good shape so did not reset it. Should be good firm skiing.
Please do not park in the library parking lot. Please be sure to keep your dogs on a leash and to clean up after them.
---
Grooming Schedule: Monday, Wednesday & Friday
Last Updated: 1/19
Skate: Not Set | Classic: Not Set

Heading out now to see if I can smooth out the skate track. Will update this evening upon completion
---
Grooming Schedule: Monday, Wednesday & Friday
Last Updated: 1/18
Skate: Set | Classic: Not Set
The skate track and singletrack both wereGroomed Tuesday evening in the fog… Was able to comb/ drag most but most all of the holes out of the track. With the cold temps and firm snow the skating should be great! Classic track is gone and will need new snow to reset. Please, Please watch your dogs and pick up after them…lots of poop out there. We don't want to loose another place where are furry friends can run!
---
Grooming Schedule: Monday, Wednesday, Friday & Saturday
Last Updated: 1/19
Skate: Set | Classic: Set
Plan to reset skate track this morning. Unable to improve classic until new snow falls.
---
Grooming Schedule: Tuesday, Friday & Sunday
Last Updated: 1/17
Skate: Set | Classic: Set
The skate track and classic track have been reset on yetis and campground loops.
No dogs December 1 – April 15.
---
Teton Reserve Nordic
Grooming Schedule: Monday, Thursday & Saturday
Last Updated: 1/16
Skate: Set | Classic: Set
Set both skate and classic tracks with the Ginzu Sunday evening. It should be good for Monday skiing!
No dogs allowed.
---
Southern Valley Singletrack
Grooming Schedule: As needed
Last Updated: 1/12
Singletrack: Set

The entire singletrack system has been groomed. Happy hour, upper and lower hillbender, Nemo, Lady slippers, Grumpy connector and Powerline all the way to Pole Canyon. Enjoy the ride.
Happy Hour (aka Mike Harris to ID/WY state line)
No dogs December 1 – April 15.
---
Grooming Schedule: As needed
Last Updated: 1/13

Grooming to summer trail head 1/13
---
Grooming Schedule: As needed
Last Updated: 12/15

The USFS is continuing to monitor snow levels on our roads and will close them to wheeled motorized vehicles when there is enough snow to groom.
---
Grooming Schedule: As needed
Last Updated: 1/19

Groomed 1/19/22.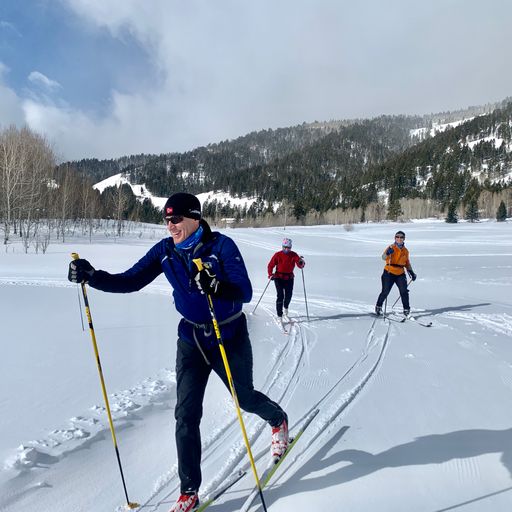 TODAY!
CLASSIC SKI CLINIC THURSDAY JANUARY 20, 2022
11am – 12:30pm
Trail Creek Nordic Center

Hosted by Scott Horn and JH Ski Club Nordic Team Coaches
There will be 10 clinics running every Thursday in January and February from 11am-12:30pm. The Nordic Masters clinics will focus on skate ski and classic cross country skiing every other week.
Joining all 10 clinics is your best approach to developing your full Nordic skiing technique, balance, stride, stamina, and overall fitness while having fun in a small group. For those who only wish to focus on one technique, we are offering a Skate Ski Clinic series of 5 clinics or a Classic Cross country series of 5 clinics.
---
January Women's Skate Skiing Clinics
TOMORROW!
Dates: Friday January 21
Time: 11am-12:30pm
Teton Pines Nordic Center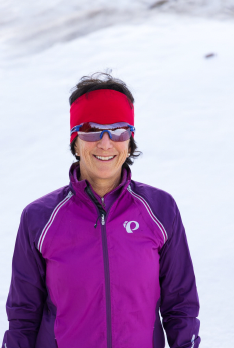 If you'd like to improve your skate technique and fitness, come join us for three Skate lessons at Teton Pines. We'll improve our glide on skate skis and learn to be more efficient uphill, downhill, and review the different skating strides. These clinics are for those with some skate skiing experience who would like to improve. We will cover more than the basics to get you skating longer distances with ease and going up and down hills with proficiency and confidence. Each session will be part instruction with plenty of time to ski and practice. $50/Clinic or $135 for all 3 ($45/Clinic for Teton Pines Nordic Center season pass holders). Rentals available for $35. Trail pass is included.
Instructor: Kim Springer Kim grew up warming her fingers in the Octagon on Mt. Mansfield in Stowe, Vermont. After college she discovered the warm world of Nordic skiing and has been passionate about all aspects of the sport ever since. She loves sharing that passion with others and has taught in and around Jackson Hole for many years.
Questions or to register: Call Teton Pines Nordic Center at: (307) 733-1733
---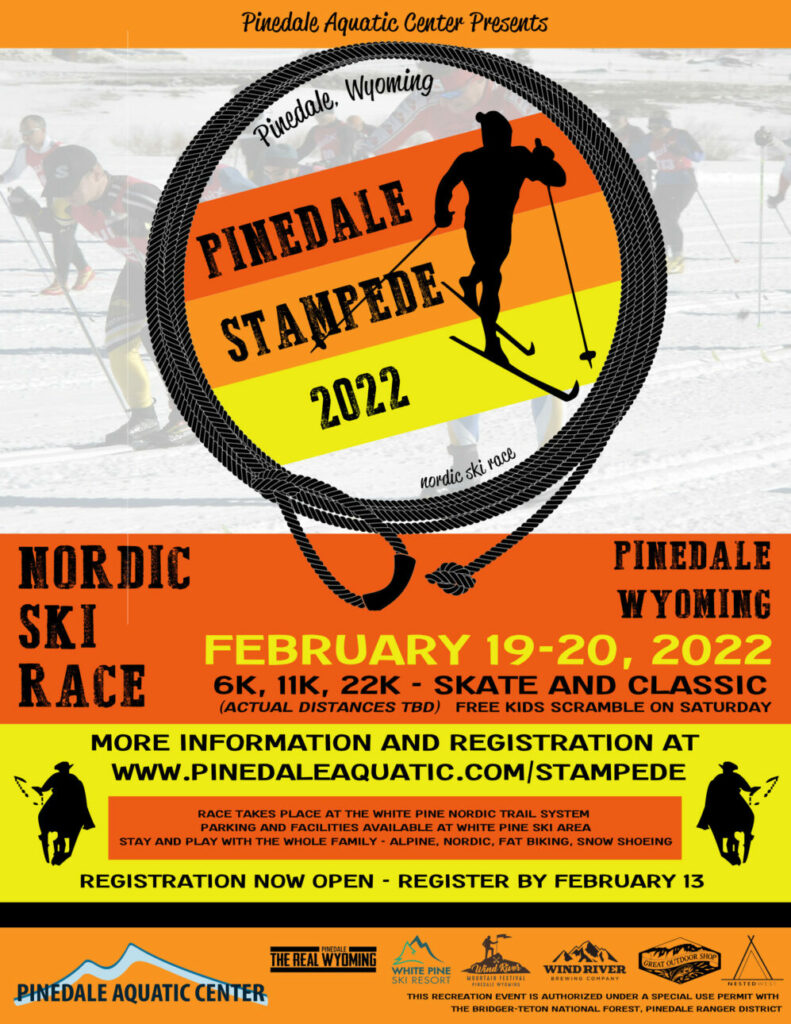 ---
---
We'd love to hear about your outdoor adventures, what your doing to stay healthy, safe, respectful of community health guidelines – send pictures or post on FB and Insta – #JHNordic