---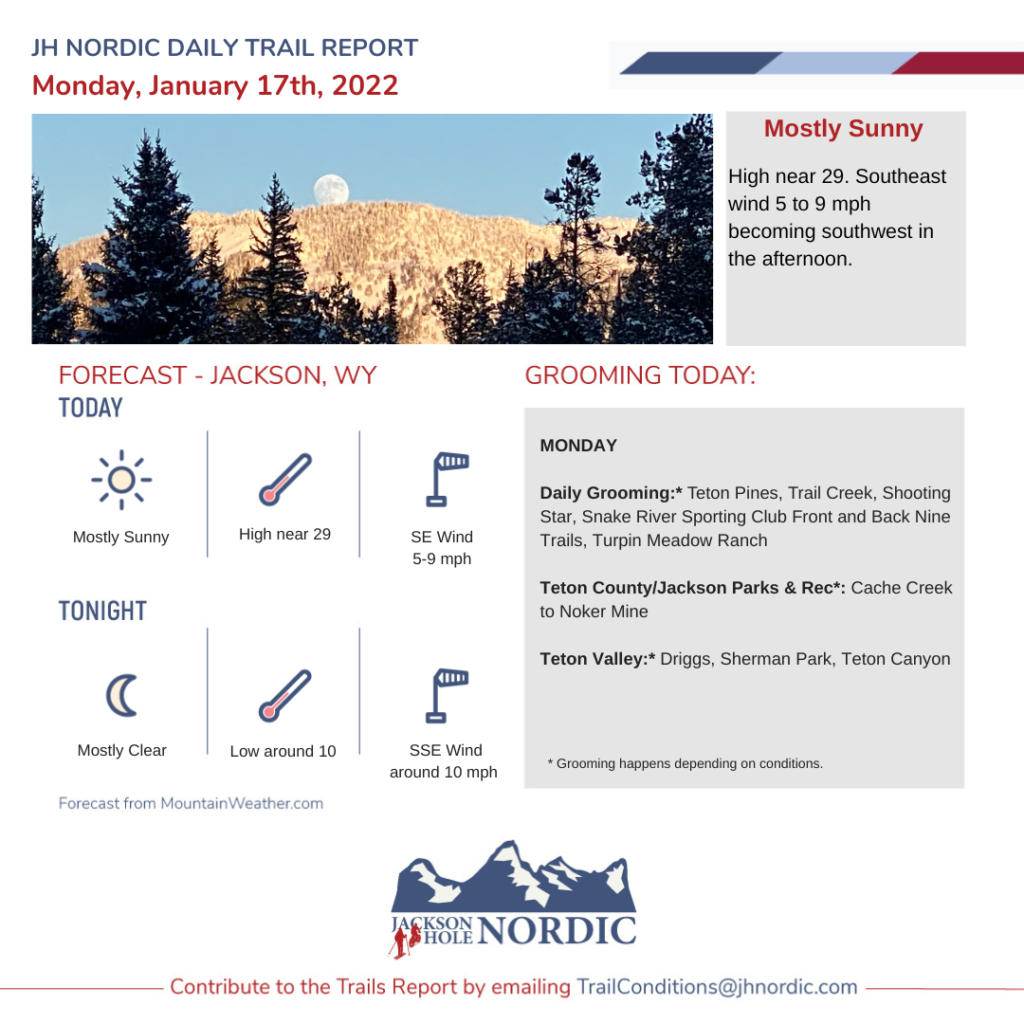 ---
January's Full Moon, TONIGHT
"The sunset embers smolder low, the Moon climbs o'er the hill, the peaks have caught the alpenglow, the robin's song is still." -John L. Stoddard
Tonight look for the Wolf Moon to rise out of Northeastern skies at 4:51PM. According to the Old Farmers Almanac the Wolf Moon got its name because wolves can likely be heard howling during this time. Historically people thought the howling from wolves in the winter was because of hunger, though now we now they are vocal for a number of reasons (territory, pack location, hunting, reinforcing social bonds). Another fitting name for this full Moon is the Center Moon, used by the Assiniboine people of the Northern Great Plains, it refers to the idea that this Moon roughly marks the middle of the cold season.
Consider a Nordic adventure under tonight's full moon, bundle up and enjoy the peace that winter nights can bring. The sky is forecasted to be clear, the moon will be bright and reflect off of the snow. Perhaps you'll be inspired to write your own poem or verse in honor of your ride or glide underneath the Wolf Moon.
---
REPORTS FROM THE FIELD: A Beautiful Day in the Park
What a gorgeous day and big Teton views to explore on the edge of Grand Teton National Park! Clearly the JH Nordic community was out enjoying winter trails yesterday; we received multiple field reports. Thank you to Karen D., GTNP Nordic ambassador Steve M., and anonymous others for sharing their photos and descriptions of their adventures! Hopefully the sharing of these reports might help you plan your own adventure. As always you can contribute to inspiring others by sharing your field reports with trailconditions@jhnordic.com
The Kelly Hayfields is an out-and-back trail just under a 5 miles. Ranchers tried growing hay in this area before it became part of the park.
The trail from Taggart to Signal is in impeccable condition, perhaps now is the time to consider a big trip along the base of the Tetons as the weather continues to be mild and you'll have the full moon to ski under if you're out late!
---
Today is Martin Luther King Day
Did you know that MLK day is designated as a national day of service? It is a day in which all Americans have the opportunity to improve their communities. Dr. Martin Luther King Jr. said: "Life's most persistent and urgent question is, 'What are you doing for others?'" One way the JH Nordic community can serve others is by recreating responsibly. How will you recreate responsibly while serving your community today?
---
Observations: Continuing the Conversation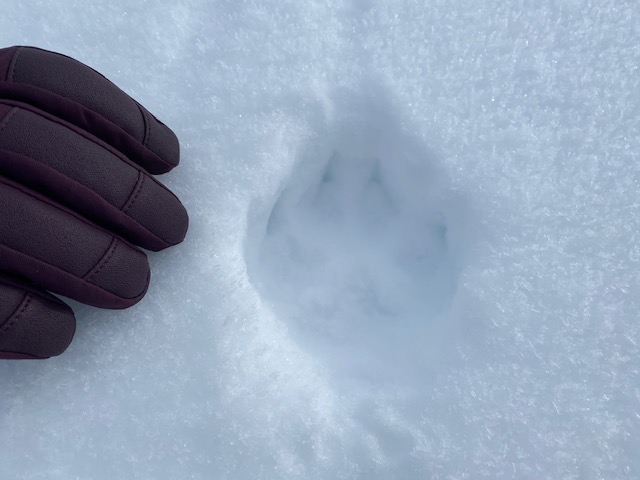 In answer to the recent question on the JH Nordic web site: "There are lots of interesting observations to make out on our winter trails if we take the time to pay attention to our senses and be present…What interesting things have you observed on your Nordic adventures?"
Lori spotted these wolf tracks on Saturday while Nordic skiing on the Teton Park Road south from Signal Mountain. They were located just south of the Potholes turnout. 
She observes that "while it's fun to see wildlife while you're skiing, it can be just as satisfying to know you've shared space with a magnificent animal!"
---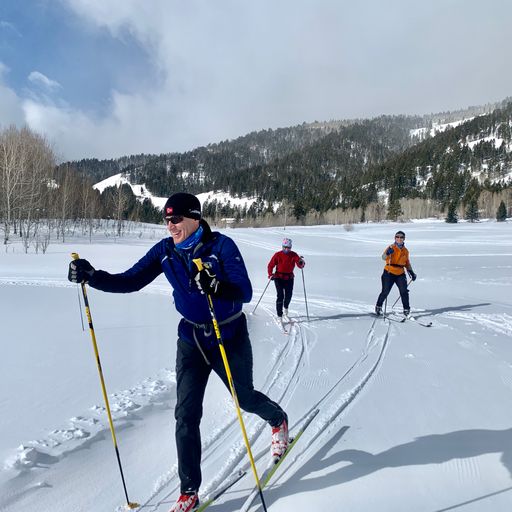 CLASSIC SKI CLINIC THURSDAY JANUARY 20, 2022
11am – 12:30pm at Trail Creek

Hosted by Scott Horn and JH Ski Club Nordic Team Coaches

This weeks JH Nordic Masters Clinic will be held at Trail Creek Nordic Center, West of Wilson on Trail Creek Road (off of Hwy 22 at the base of Teton Pass). The focus for this week is the classic technique.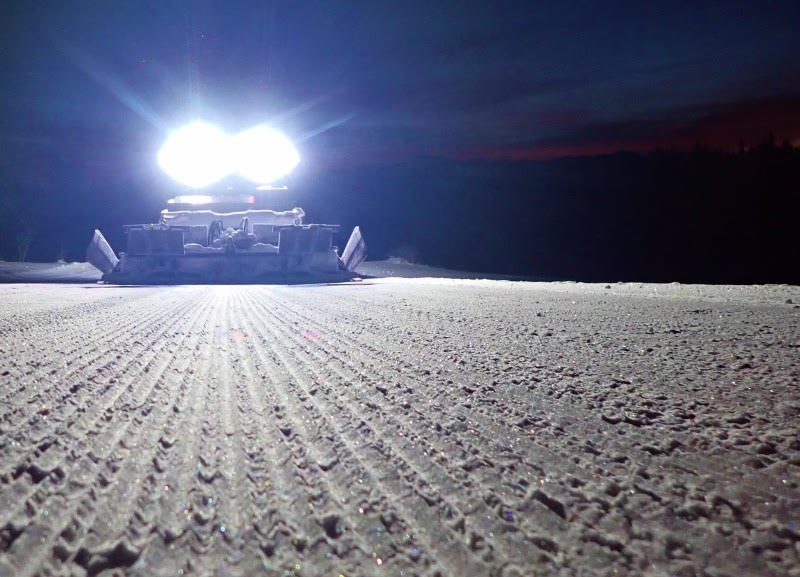 Grooming Daily
Last Update: 1/16
Just Another Day in Paradise!
Our string of benign weather days continue for yet another today with more blue skies and moderate temperatures. While powder hounds around the valley are surely hoping for more of the white stuff, Nordic skiers can find much happiness with what we have been receiving as of late. Snow does look to return to a certain extent later in the week, stay tuned…
Today's early morning grooming covered most trails with the Husky. The main focus in the fields was the skate lanes with the classic tracks remaining mostly pristine. In the woods however, most classic tracks were reset on the grooming journey, clearing out some of the recent damage by our friendly four footed herbivores (moose, elk, and a couple of deer). All in all skiing is quite nice.
Our racers have been doing well in Sun Valley at the first Junior National Qualifier for the Intermountain Division; yesterday's results are up on the event website.
Groomer's choice for today is Animal Farm.
---
Grooming Monday-Saturday
Last Update: 1/15
The Levee, School Fields and Stilson were groomed and in good shape Saturday.
Monday Grooming Schedule: Cache Creek to Noker Mine
---
Last Update: 1/15

I touched up the trails in Cache Friday night so they should be good to go for the weekend.
Grooming by Friends of Pathways.
---
Grooming Daily
Last Update: 1/14
The skiing conditions have been incredible at Teton Pines! The cold temps and clear skies are great for our track. Our track is immaculately groomed every morning so come on out and check it out!
We groom 13km+ daily for both skate and classic with our new snowcat.
Our trails and shop are open to the public 9am-4pm daily. Please call us in advance to book lessons at: (307) 733-1733. You do not need a reservation for skiing and we do not take reservations for rentals. Please contact us in advance to check availability for off-site rentals.
We still have a great selection of classic skis, skate skis, boots, jackets, pants, gloves, and hats. We have a full tuning shop so drop off your skis for a nordic wax done by our great wax techs who are all nordic skiers!
Visit our website for pricing and other information: www.tetonpinesnordiccenter.com
---
Grooming Daily
Last Update: 1/14
It looks to be a great weekend for skiing as the trails are smooth and the skies will be sunny! Conditions have been favorable for snowmobile grooming on the yellow loop and the track should provide enjoyable conditions through Monday. Watch out for Moose… and reminder that we'll continue to only groom the Yellow Loop via snowmobile until our Pistenbully/Snowcat is back from repairs. Next update will be Tuesday (1/18).
TRAIL STATUS
YELLOW LOOP OPEN
SLED HILL GROOMED on 1/10 (Grooming will occur again when Snowcat is back from Repairs)
CLASSIC TRACKS NOT SET (Will be set once Snowcat is Repaired)
SNOWSHOEING CLOSED (Will be open once Snowcat is Repaired)
ORANGE LOOP, CLOSED (Will be open once Snowcat is Repaired)
WALKING, NOT ALLOWED
---
Daily Nordic grooming for both "Front Nine" (south side) and "Back Nine" (North side) Nordic Trails
Public access to the groomed Nordic trails is $50 per person per day, with no season passes available. Ski rentals are available at the Sports Shop. Guests must check in at the Sports Shop to sign a waiver and make payment before heading out. The daily pass does not allow access to the Restaurant this season. The clinics that are being offered are for members and lodging guests only.

Please call the Sports Shop with any questions you may have at 307-200-3093
---
Last Update: 1/16
We've got Aaron out there grooming Sunday morning. Have a great day out there everyone!
Grooming is sponsored by the GTNP Foundation and generous donations from our community.
---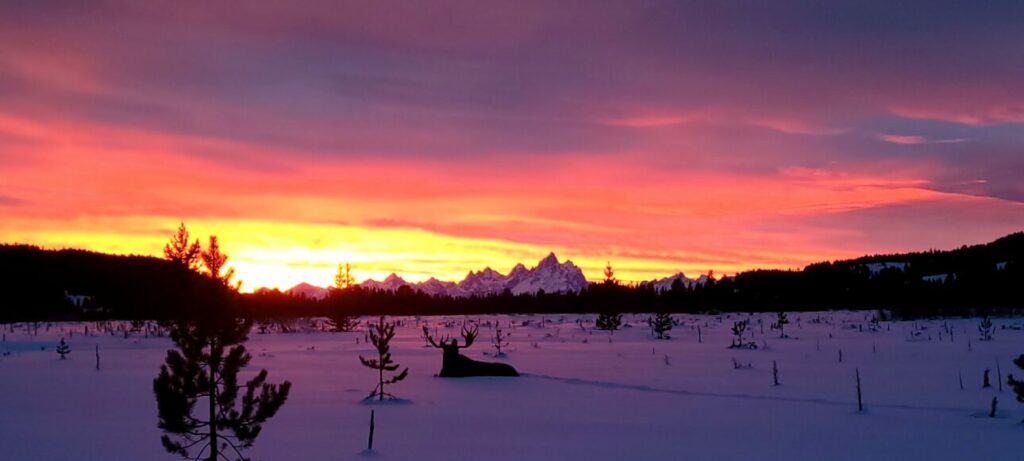 Grooming Daily
Last Update: 1/16
Do you have today off in observance of MLK day? Come up to ski, snowshoe, fatbike, eat, drink, and see a different perspective of the Tetons. Thanks to all who have signed waivers and paid for trail passes online ahead of your visit. Call the front office (307) 543-2000 ahead of your visit for booking equipment rentals and Nordic adventures (lessons and tours).
https://www.turpinmeadowranch.com/the-ranch/live-conditions/
https://www.turpinmeadowranch.com | 307.543.2000
---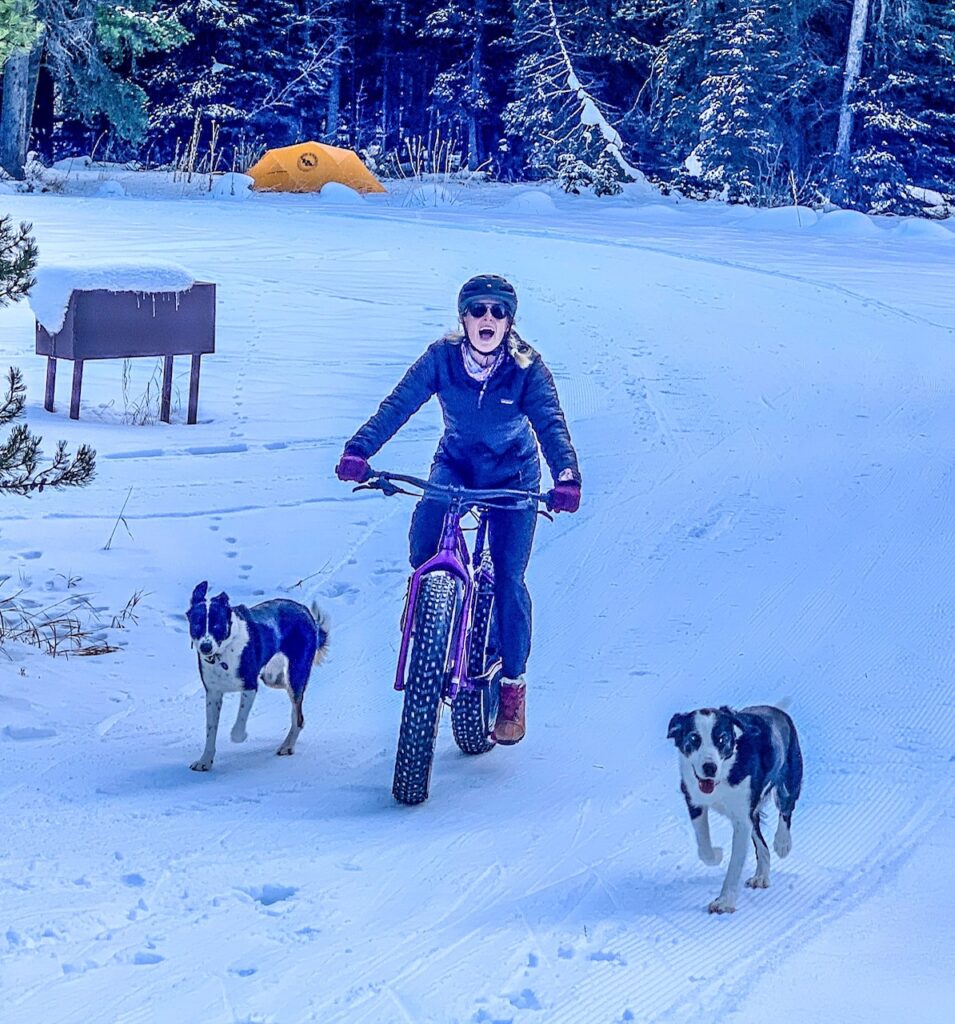 Trail Etiquette: Please keep your dogs leashed in the parking lot and be sure to clean up after them!
---
Grooming Schedule: Tuesday, Thursday, Saturday & Sunday
Last Updated: 1/12

Cross Country 15k: XC OPEN
Fat Bike Trails : Open
Snowshoe Trails: Open
Targhee's Nordic trails are groomed Tuesdays, Thursdays & Sat/Sundays. Fat bike/snowshoe trails are groomed regularly but not on a set schedule – the groomer usually waits until after a storm cycle to groom the single track.
Trail day passes are $20 this winter.
Remember, singletracks will be closed when there is more than 3 inches of snow in a 24 hour period.
---
Grooming Schedule: Tuesday, Thursday, & Sunday
Last Updated: 1/16
Skate: Set | Classic: Set
Track is finally all in and groomed. The hills on north loops are still thin, with some grass and dirt showing.
Please do not park in the library parking lot. Please be sure to keep your dogs on a leash and to clean up after them.
---
Grooming Schedule: Monday, Wednesday & Friday
Last Updated: 1/15
Skate: Set | Classic: Set

It's a beautiful morning for grooming the Driggs Track! Broken equipment occupied my attention Friday, so will be grooming Saturday instead. Get out and enjoy the frosty sunshine.
---
Grooming Schedule: Monday, Wednesday & Friday
Last Updated: 1/16
Skate: Not Set | Classic: Not Set

Heading out Sunday night for an evening groom with a plan to set the skate, classic and singletrack trail.
---
Grooming Schedule: Monday, Wednesday, Friday & Saturday
Last Updated: 1/16
Skate: Set | Classic: Set
Deep ginzued the skate lane removing all the pot holes and tracks especially the first mile and near the yurt. Skate lane is clean, firm, and fast. Classic was still great from all of Mark's work last week.
---
Grooming Schedule: Tuesday, Friday & Sunday
Last Updated: 1/14
Skate: Set | Classic: Set
Ran the ginzu over the skate to refresh it. Classic was still very nice, so I left it alone. Now… does anyone have the number of that track-leaving moose?
No dogs December 1 – April 15.
---
Teton Reserve Nordic
Grooming Schedule: Monday, Thursday & Saturday
Last Updated: 1/16
Skate: Set | Classic: Set
Set both skate and classic tracks with the Ginzu Sunday evening. It should be good for Monday skiing!
No dogs allowed.
---
Southern Valley Singletrack
Grooming Schedule: As needed
Last Updated: 1/12
Singletrack: Set

The entire singletrack system has been groomed. Happy hour, upper and lower hillbender, Nemo, Lady slippers, Grumpy connector and Powerline all the way to Pole Canyon. Enjoy the ride.
Happy Hour (aka Mike Harris to ID/WY state line)
No dogs December 1 – April 15.
---
Grooming Schedule: As needed
Last Updated: 1/13

Grooming to summer trail head 1/13
---
Grooming Schedule: As needed
Last Updated: 12/15

The USFS is continuing to monitor snow levels on our roads and will close them to wheeled motorized vehicles when there is enough snow to groom
---
Grooming Schedule: As needed
Last Updated: 1/11

Groomed 1/11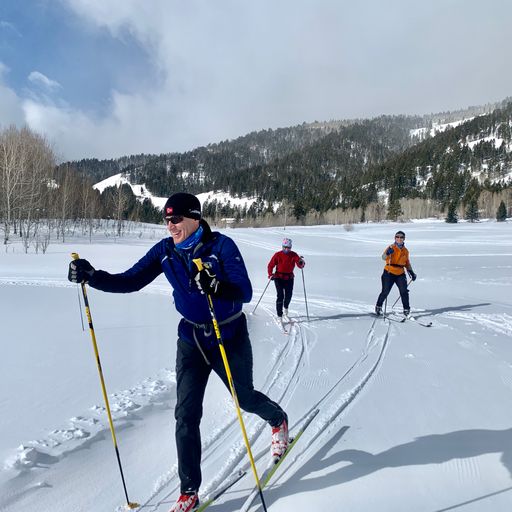 CLASSIC SKI CLINIC THURSDAY JANUARY 20, 2022
11am – 12:30pm at Trail Creek

Hosted by Scott Horn and JH Ski Club Nordic Team Coaches
There will be 10 clinics running every Thursday in January and February from 11am-12:30pm. The Nordic Masters clinics will focus on skate ski and classic cross country skiing every other week.
Joining all 10 clinics is your best approach to developing your full Nordic skiing technique, balance, stride, stamina, and overall fitness while having fun in a small group. For those who only wish to focus on one technique, we are offering a Skate Ski Clinic series of 5 clinics or a Classic Cross country series of 5 clinics.
---
January Women's Skate Skiing Clinics
Dates: Friday January 21
Time: 11am-12:30pm
Teton Pines Nordic Center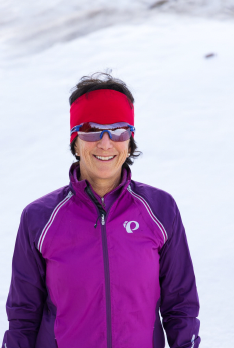 If you'd like to improve your skate technique and fitness, come join us for three Skate lessons at Teton Pines. We'll improve our glide on skate skis and learn to be more efficient uphill, downhill, and review the different skating strides. These clinics are for those with some skate skiing experience who would like to improve. We will cover more than the basics to get you skating longer distances with ease and going up and down hills with proficiency and confidence. Each session will be part instruction with plenty of time to ski and practice. $50/Clinic or $135 for all 3 ($45/Clinic for Teton Pines Nordic Center season pass holders). Rentals available for $35. Trail pass is included.
Instructor: Kim Springer Kim grew up warming her fingers in the Octagon on Mt. Mansfield in Stowe, Vermont. After college she discovered the warm world of Nordic skiing and has been passionate about all aspects of the sport ever since. She loves sharing that passion with others and has taught in and around Jackson Hole for many years.
Questions or to register: Call Teton Pines Nordic Center at: (307) 733-1733
---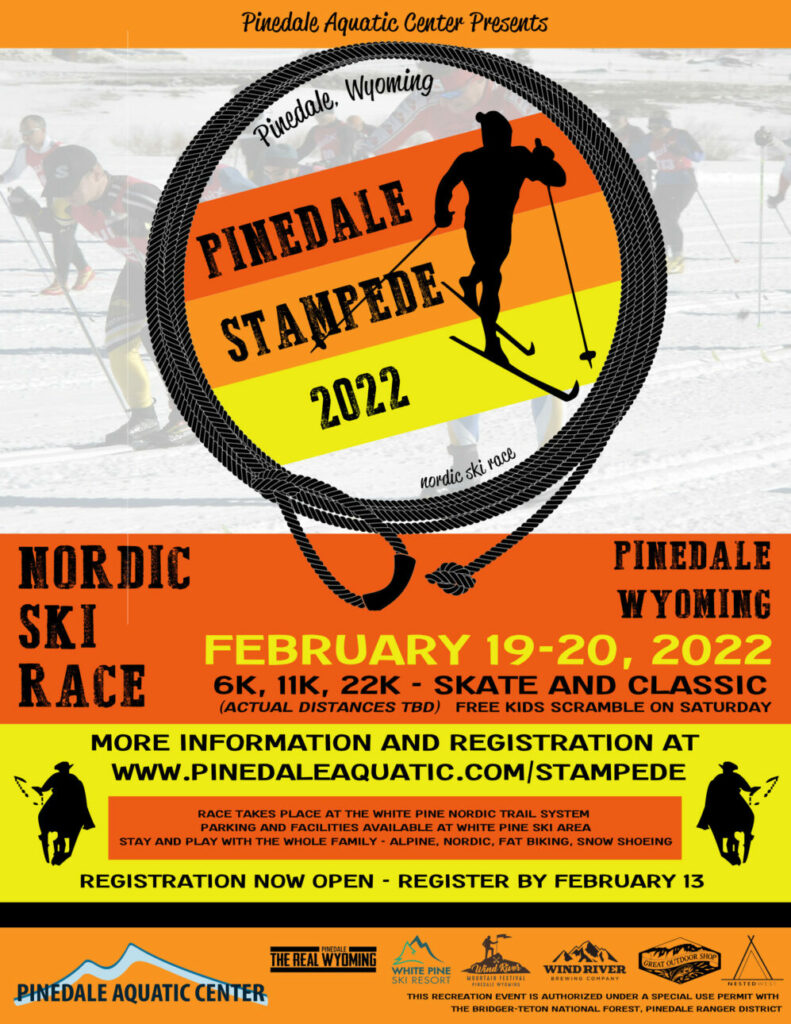 ---
---
We'd love to hear about your outdoor adventures, what your doing to stay healthy, safe, respectful of community health guidelines – send pictures or post on FB and Insta – #JHNordic