---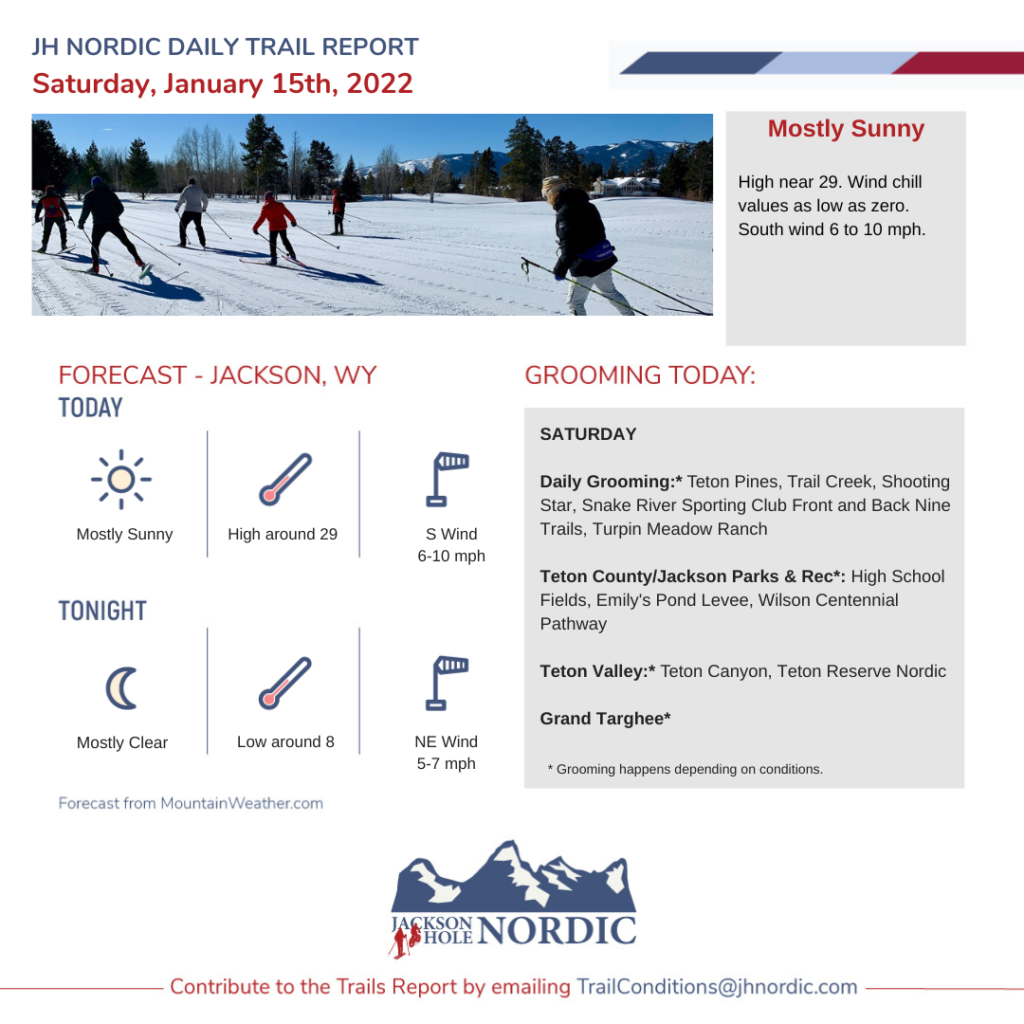 ---
TVTAP Winter Trails Challenge Starts TODAY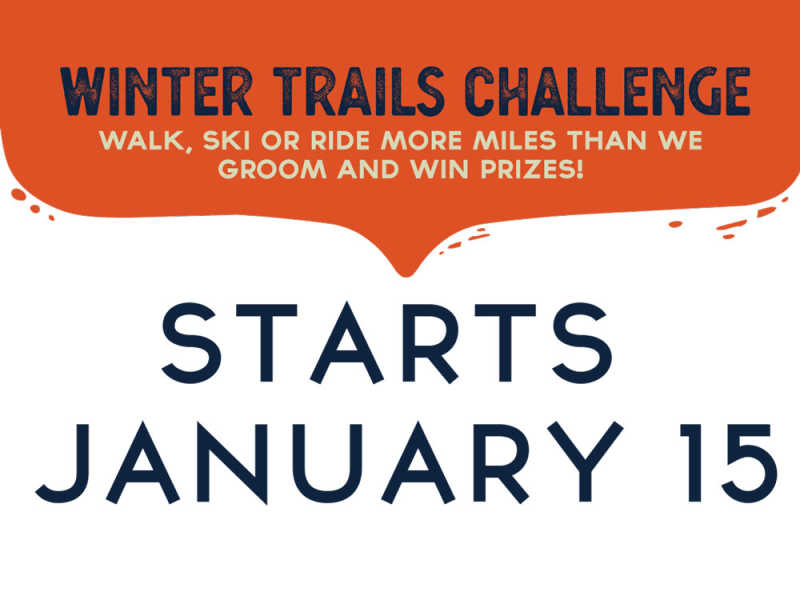 ---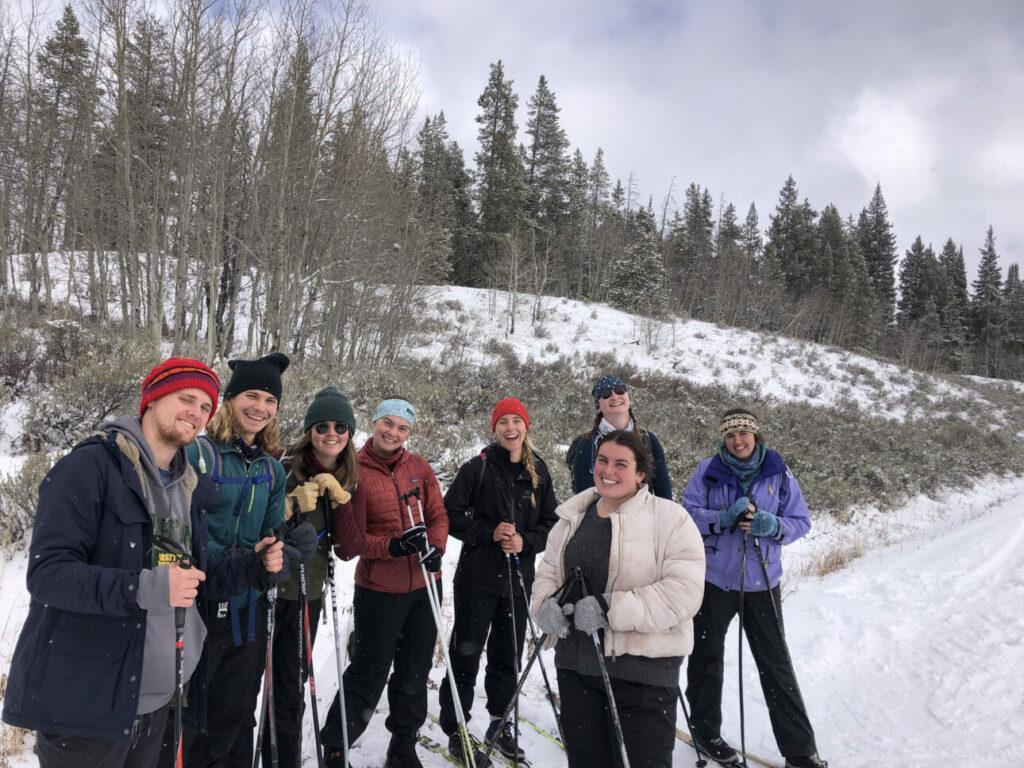 NEW ON THE BLOG: Why Gen Z Should be on Skinny Skis
Not many people are lucky enough to grow up cross country skiing. Or even lucky enough to grow up in a place where skiing is easily accessible. But Jackson has it all, there is way more than just steep and deep if you get on some skinny skis! Here are 10 reasons Why Gen Z should be on Skinny Skis: It's a great workout, easy adventure, dogs can usually come, après ski, no lines, being present, etc. Spoiler alert: this article is written from the perspective of a Gen Zer, but it is applicable to all generations.
---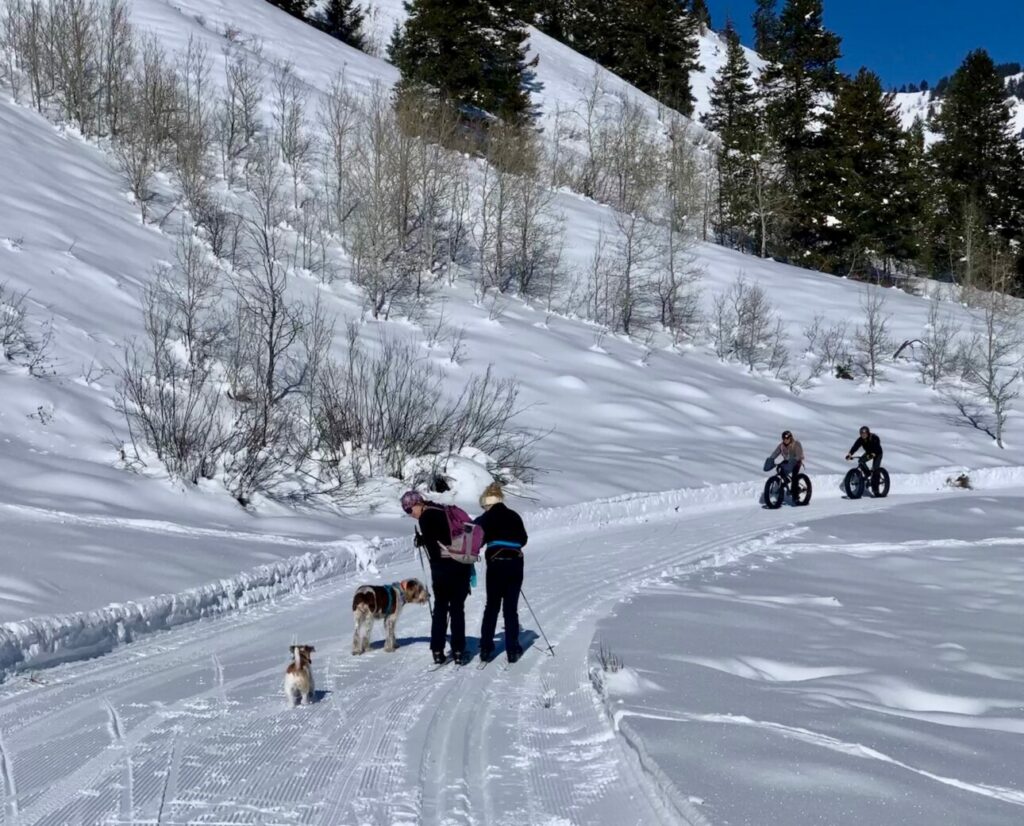 Adventures Up Game Creek
Blue bird day, freshly groomed in Game Creek yesterday. Nordic skiers with well behaved dogs, skate and classic skiers, fat bikers all sharing the trail for good times! Shout out to the Parks & Rec groomer, Brian, and Bridger-Teton USFS Ranger- Trail Ambassador, David!!
---
RECREATE RESPONSIBLY: Nordic Skiing, We All Belong
Whether we are Gen Z, parents, or mature masters: outdoor spaces are essential to who we are in Jackson Hole and Teton Valley. Show your love for this place and the community by recreating responsibly:
Share the trail & be kind
Preserve the groomed track
Control your dog
Respect seasonal wildlife restrictions
Together, we build a sense of belonging — to place and community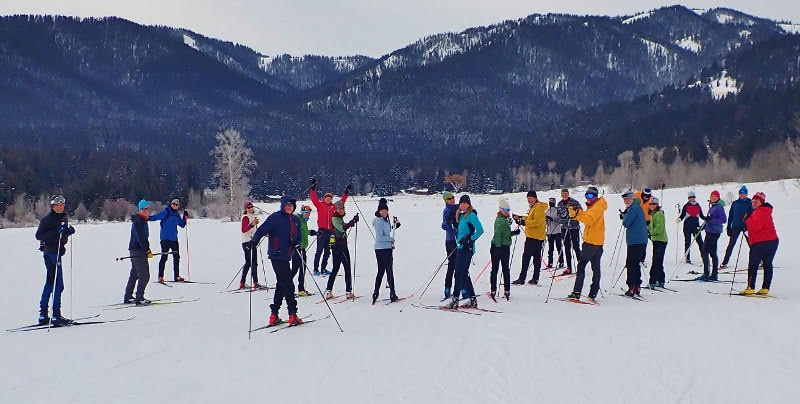 Grooming Daily
Last Update: 1/14
Just a Glorious Day!
Mid-January, with a blazing sun caressing the snowy slopes from the middle of a beyond blue sky, not a whiff of wind, and temps climbing into the 20's, it just doesn't get much better than that, especially if you're a Nordic skier at Trail Creek today! To top that all off it's Friday; a fantastic day to go for a ski.
Today's grooming at Trail Creek covered most trails with a few classic tracks being reworked here and there although the primary mission was buffing out the skate lanes with the Husky. Steady cool temps and weak mid-winter sun have contributed to nice snow conditions, in spite of a week without significant precipitation. All in all skiing is very nice.
Yesterday the Nordic Recreational Masters held their first clinic of the year at Trail Creek. As you can see a good crowd showed up and the image above doesn't show all that were participating.
The race teams are off today to the first Junior National Qualifier of the season in Sun Valley. They'll be racing over the weekend; results can be viewed on the event website. We've entered the serious race season with either IMD or Wyoming High School events almost every weekend for some time to come.
Groomer's choice for today is to make sure you take advantage of this great day and go skiing.
---
Grooming Monday-Saturday
Last Update: 1/14
Cache, May park, Game, and three creek pathway were groomed and in good shape on Friday.
Saturday Grooming: High School Fields, Emily's Pond Levee, Wilson Centennial Pathway
---
Last Update: 1/7

I did another lap with a lot of shoveling today so the trails should be in good shape as the temps drop this evening and the snow sets up.
Grooming by Friends of Pathways.
---
Grooming Daily
Last Update: 1/14
The skiing conditions have been incredible at Teton Pines! The cold temps and clear skies are great for our track. Our track is immaculately groomed every morning so come on out and check it out!
We groom 13km+ daily for both skate and classic with our new snowcat.
Our trails and shop are open to the public 9am-4pm daily. Please call us in advance to book lessons at: (307) 733-1733. You do not need a reservation for skiing and we do not take reservations for rentals. Please contact us in advance to check availability for off-site rentals.
We still have a great selection of classic skis, skate skis, boots, jackets, pants, gloves, and hats. We have a full tuning shop so drop off your skis for a nordic wax done by our great wax techs who are all nordic skiers!
Visit our website for pricing and other information: www.tetonpinesnordiccenter.com
---
Grooming Daily
Last Update: 1/14
It looks to be a great weekend for skiing as the trails are smooth and the skies will be sunny! Conditions have been favorable for snowmobile grooming on the yellow loop and the track should provide enjoyable conditions through Monday. Watch out for Moose… and reminder that we'll continue to only groom the Yellow Loop via snowmobile until our Pistenbully/Snowcat is back from repairs. Next update will be Tuesday (1/18).
TRAIL STATUS
YELLOW LOOP OPEN
SLED HILL GROOMED on 1/10 (Grooming will occur again when Snowcat is back from Repairs)
CLASSIC TRACKS NOT SET (Will be set once Snowcat is Repaired)
SNOWSHOEING CLOSED (Will be open once Snowcat is Repaired)
ORANGE LOOP, CLOSED (Will be open once Snowcat is Repaired)
WALKING, NOT ALLOWED
---
Daily Nordic grooming for both "Front Nine" (south side) and "Back Nine" (North side) Nordic Trails
Public access to the groomed Nordic trails is $50 per person per day, with no season passes available. Ski rentals are available at the Sports Shop. Guests must check in at the Sports Shop to sign a waiver and make payment before heading out. The daily pass does not allow access to the Restaurant this season. The clinics that are being offered are for members and lodging guests only.

Please call the Sports Shop with any questions you may have at 307-200-3093
---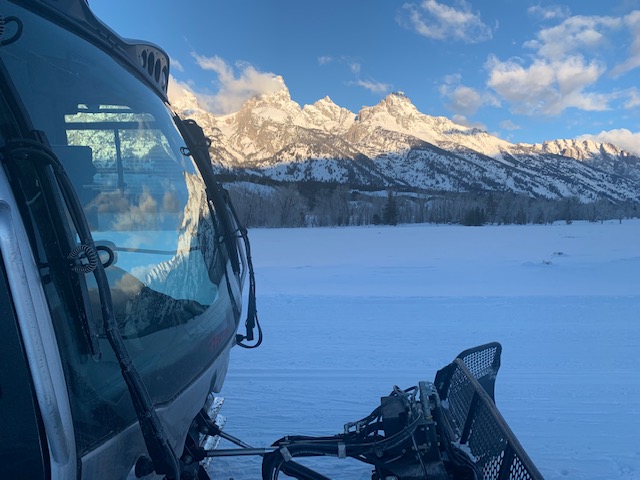 Last Update: 1/14
It is super nice to see the sun shining on the Tetons today. Brandon was grooming from Taggart Lake Trailhead to Signal Mountain Friday morning. The track is looking good for the weekend.
Grooming is sponsored by the GTNP Foundation and generous donations from our community.
---
Grooming Daily
Last Update: 1/14
WE ARE OPEN and it is going to be a beautiful weekend at Turpin! Come on up, ski with your kids, your dogs, and follow it up with a delicious lunch in our lodge. Take in those stunning Teton views and be aware of moose in the area. Please sign waivers and pay for trail passes online ahead of your visit. Call the front office (307) 543-2000 ahead of your visit for booking equipment rentals and Nordic adventures (lessons and tours).
https://www.turpinmeadowranch.com/the-ranch/live-conditions/
https://www.turpinmeadowranch.com | 307.543.2000
---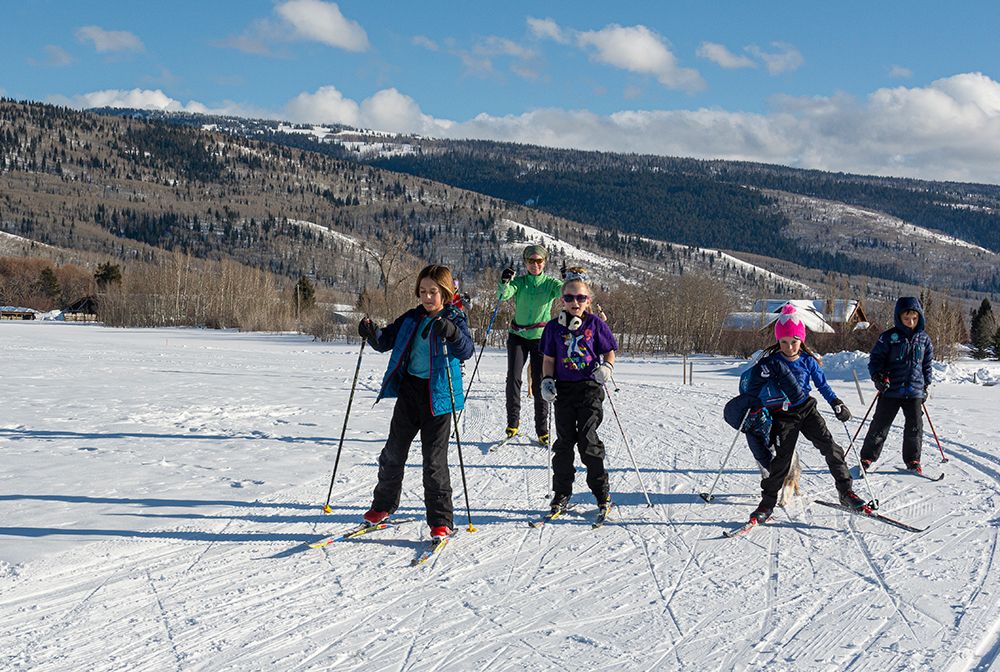 Trail Etiquette: Please keep your dogs leashed in the parking lot and be sure to clean up after them!
---
Grooming Schedule: Tuesday, Thursday, Saturday & Sunday
Last Updated: 1/12

Cross Country 15k: XC OPEN
Fat Bike Trails : Open
Snowshoe Trails: Open
Targhee's Nordic trails are groomed Tuesdays, Thursdays & Sat/Sundays. Fat bike/snowshoe trails are groomed regularly but not on a set schedule – the groomer usually waits until after a storm cycle to groom the single track.
Trail day passes are $20 this winter.
Remember, singletracks will be closed when there is more than 3 inches of snow in a 24 hour period.
---
Grooming Schedule: Tuesday, Thursday, & Sunday
Last Updated: 1/13
Skate: Set | Classic: Set
Set fresh skate and classic track on south loops, skate track only on north loops. Turned out nicely, but the wind is slowly blowing in the track. Get out early!
Please do not park in the library parking lot. Please be sure to keep your dogs on a leash and to clean up after them.
---
Grooming Schedule: Monday, Wednesday & Friday
Last Updated: 1/12
Skate: Set | Classic: Set

Did two laps on the main track with the comb then rolled the rest twice and tried to reset the classic track. It's a bit shallow and could use some more snow. Good conditions overall though.
---
Grooming Schedule: Monday, Wednesday & Friday
Last Updated: 1/14
Skate: Set | Classic: Not Set

I used to drag to the skate track and get rid of the ruts and post holes. I did not set a classic track. It should set up really well with his cooler temperatures. Enjoy the glide.
---
Grooming Schedule: Monday, Wednesday, Friday & Saturday
Last Updated: 1/14
Skate: Set | Classic: Set
Friday: Continued dry weather and moderate temperatures have set track up nicely. Plan to reset skate track this morning, expect fast and firm. Will see if able to reset classic, thinking I'll have to leave as is, in decent shape.
---
Grooming Schedule: Tuesday, Friday & Sunday
Last Updated: 1/14
Skate: Set | Classic: Set
Ran the ginzu over the skate to refresh it. Classic was still very nice, so I left it alone. Now… does anyone have the number of that track-leaving moose?
No dogs December 1 – April 15.
---
Teton Reserve Nordic
Grooming Schedule: Monday, Thursday & Saturday
Last Updated: 1/14
Skate: Set | Classic: Set
I plan to groom Teton reserve Friday evening.
No dogs allowed.
---
Southern Valley Singletrack
Grooming Schedule: As needed
Last Updated: 1/12
Singletrack: Set

The entire singletrack system has been groomed. Happy hour, upper and lower hillbender, Nemo, Lady slippers, Grumpy connector and Powerline all the way to Pole Canyon. Enjoy the ride.
Happy Hour (aka Mike Harris to ID/WY state line)
No dogs December 1 – April 15.
---
Grooming Schedule: As needed
Last Updated: 1/13

Grooming to summer trail head 1/13
---
Grooming Schedule: As needed
Last Updated: 12/15

The USFS is continuing to monitor snow levels on our roads and will close them to wheeled motorized vehicles when there is enough snow to groom
---
Grooming Schedule: As needed
Last Updated: 1/11

Groomed 1/11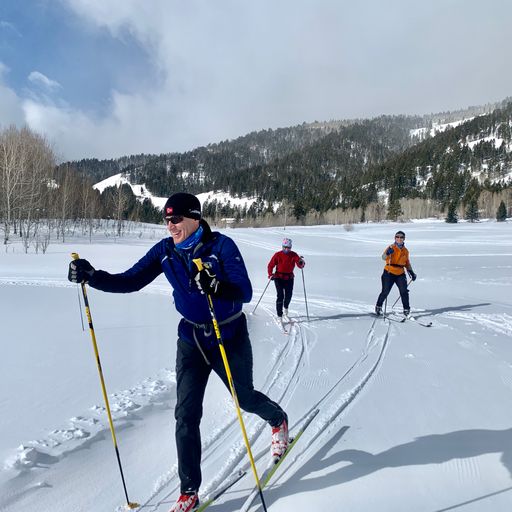 CLASSIC SKI CLINIC THURSDAY JANUARY 20, 2022
11am – 12:30pm

Hosted by Scott Horn and JH Ski Club Nordic Team Coaches
There will be 10 clinics running every Thursday in January and February from 11am-12:30pm. The Nordic Masters clinics will focus on skate ski and classic cross country skiing every other week.
Joining all 10 clinics is your best approach to developing your full Nordic skiing technique, balance, stride, stamina, and overall fitness while having fun in a small group. For those who only wish to focus on one technique, we are offering a Skate Ski Clinic series of 5 clinics or a Classic Cross country series of 5 clinics.
---
January Women's Skate Skiing Clinics
Dates: Friday January 21
Time: 11am-12:30pm
Teton Pines Nordic Center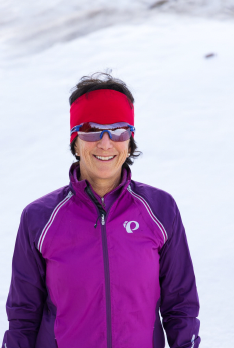 If you'd like to improve your skate technique and fitness, come join us for three Skate lessons at Teton Pines. We'll improve our glide on skate skis and learn to be more efficient uphill, downhill, and review the different skating strides. These clinics are for those with some skate skiing experience who would like to improve. We will cover more than the basics to get you skating longer distances with ease and going up and down hills with proficiency and confidence. Each session will be part instruction with plenty of time to ski and practice. $50/Clinic or $135 for all 3 ($45/Clinic for Teton Pines Nordic Center season pass holders). Rentals available for $35. Trail pass is included.
Instructor: Kim Springer Kim grew up warming her fingers in the Octagon on Mt. Mansfield in Stowe, Vermont. After college she discovered the warm world of Nordic skiing and has been passionate about all aspects of the sport ever since. She loves sharing that passion with others and has taught in and around Jackson Hole for many years.
Questions or to register: Call Teton Pines Nordic Center at: (307) 733-1733
---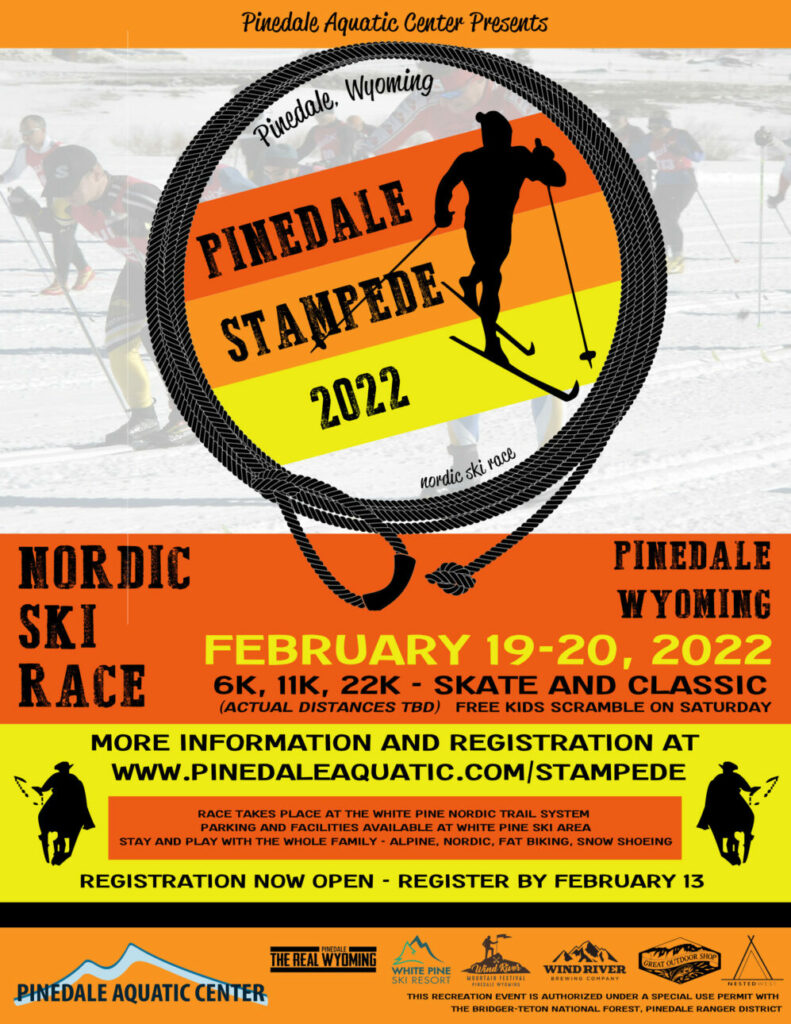 ---
---
We'd love to hear about your outdoor adventures, what your doing to stay healthy, safe, respectful of community health guidelines – send pictures or post on FB and Insta – #JHNordic