Not many people are lucky enough to grow up cross country skiing. Or even lucky enough to grow up in a place where skiing is easily accessible. But Jackson has it all, there is way more than just steep and deep if you get on some skinny skis! Here are 10 reasons Why Gen Z should be on Skinny Skis: It's a great workout, easy adventure, dogs can usually come, après ski, no lines, being present, etc.

Best places to start Nordic skiing in Jackson Hole
Teton Pines Nordic Center; This is a great flat location (with a beautiful view). Teton Pine Nordic Center also offers rentals and lessons for learning how to nordic ski.
Shooting Star Nordic Track; shooting star offers great quality groomed tracks for both skate and classic skiing. The trails move over gently rolling terrain, a perfect place to learn how to ski.
Stilson Loop; A free 1 mile groomed loop is the perfect place to practice your skiing technique and form at no cost and with a beautiful view.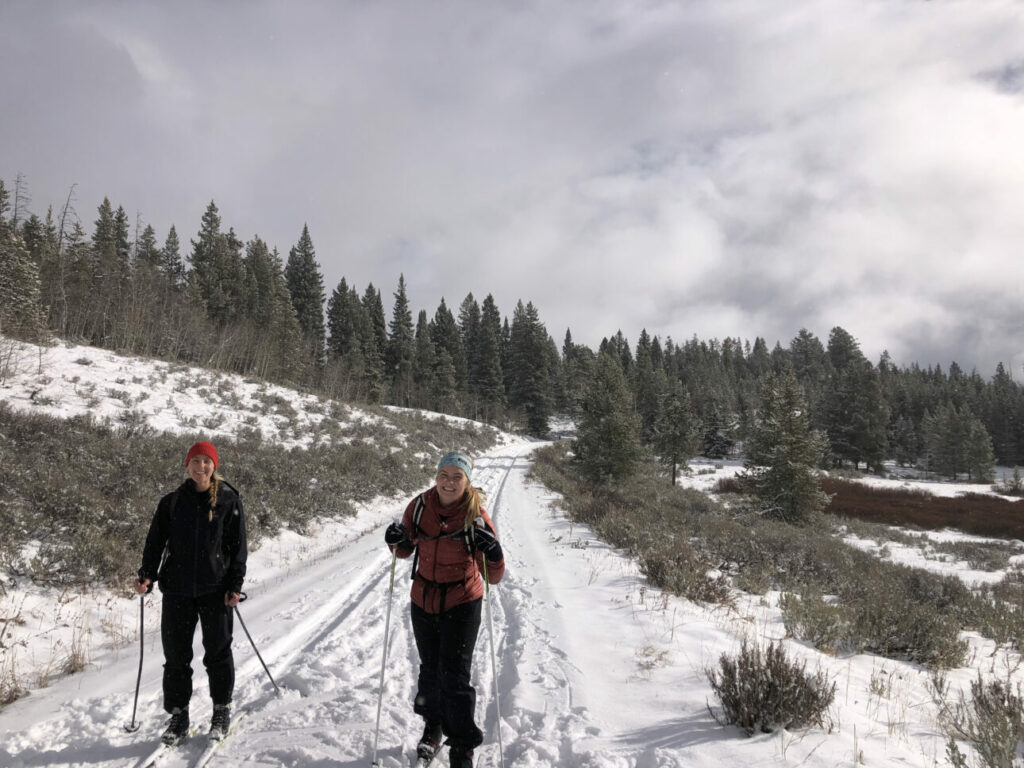 Top 10 Reasons Why Gen Z should be on Skinny Skis:
Great Workout
No matter how hard you push yourself on your skis, you are strengthening every muscle in your body; quads, shoulders, back, arms, etc.. AND you are soaring through beautiful scenery while doing it.
Easy adventure
Not only is skiing a great workout, it's an easy way to go on an epic winter adventure. Other than snowshoeing, there isn't a better way than skiing to traverse the white beautiful fields and forests.
Fancy gear is not required
With downhill skiing there is a big barrier to entry: the cost of all the essential gear. With cross country skiing, all you really need to wear is a base layer, midlayer, and some sort of jacket. Add a hat, gloves and a bottom layer (hopefully one that's somewhat breathable) and you are set. All of these items are pretty staple items that are likely sitting in your closet waiting to be used. Once you start moving, you will warm up nicely.
Check out, Headwall Sports, local used outdoor gear and clothing consignment shop for any missing pieces in your nordic set up. Or add cross country gear and apparel to your holiday list!
Cross Country skiers are sexy 😉
I'm sure you are saying, "`Where did that come from?".. But if you are a Gen Z (or really any generation) don't tell me it's not on your mind. Okay, but seriously, try to find a cross country skier that isn't attractive. You can't! Yes, most of the time you really can't tell what a cross country skier looks like; heads are covered by hats, and faces are covered with masks and sunglasses, but….
People who are out in the winter air, using their whole body to power themselves up the hills, letting brisk cold mountain air work their lungs are just more attractive than someone sitting on the couch. Cross country skiers are in shape and enjoy the outdoors and that is undeniably sexy.
Low risk injury
If you've been out on the Nordic tracks, you might notice that some of the best skiers out there are 50+. A main reason for this is that cross country skiing is a relatively low risk/low injury sport.
Are you an avid runner but find yourself getting hurt from the high impact of the sport? Cross country skiing is perfect cross training. It not only gets you in great shape, but also gives your body a break from the pounding of running. XC skiing is also low speed and therefore safer than many other winter sports. The younger you start skiing, the more life you have ahead of you to improve and grow to love the sport.
Variety of different types of skiing
Different types of skiing exist that you can choose from. If you skate ski one day (lateral pushing off, skating motion) and want to switch it up and classic ski (moving back and forth in parallel lines "classic cross country"), the next day you can. The variety is good for your body and helps keep the redundancy low, or if you really don't like one type of cross country skiing you can solely do the other.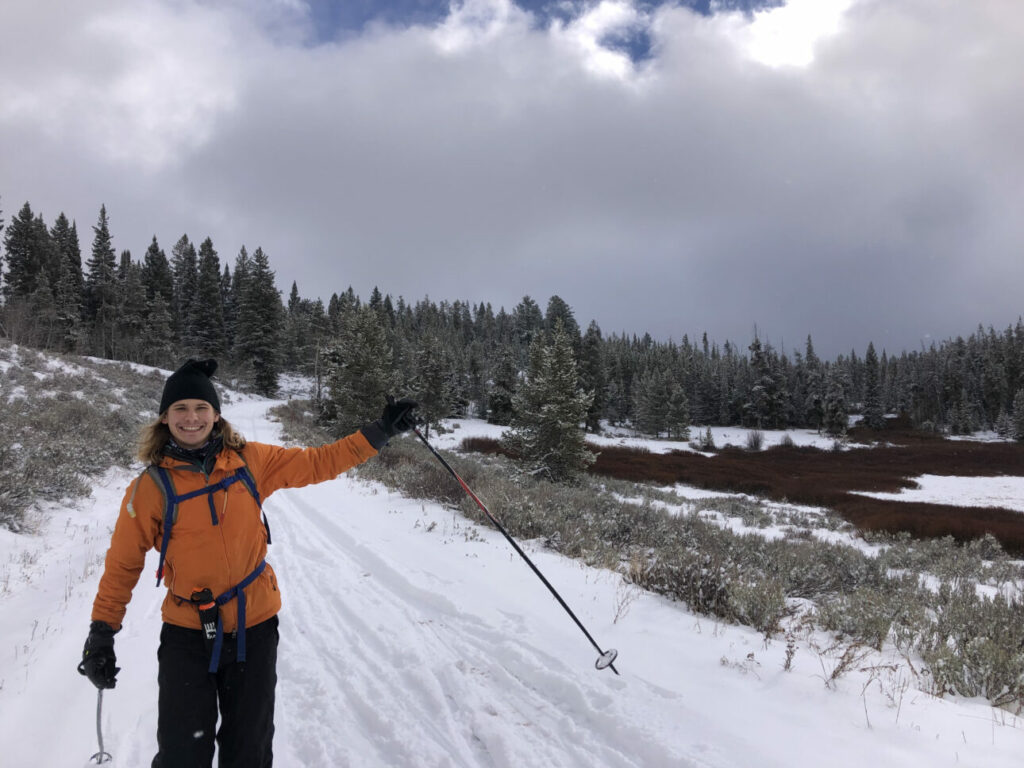 You can bring your dog along
With nordic skiing you don't have to feel the guilt of leaving your dog at home all day while you go play outside. Find a trail that is dog friendly and bring them along for a fun day in the snow. At the end of the day you will have a happy tired pup to take back home and cuddle up with. Go to JHNordic.com/trails/, click on the "dog" icon to find over 30 dog friendly trails.
The Apres Ski
There is something so nice about finishing a ski. You are tired, hungry, and feel good about getting outside and working your body. And because you got out there and worked hard, you can treat yourself to a delicious drink and pastry at your favorite coffee shop, or go home make some hot chocolate and curl up with a good book.
Being present
Do you ever feel like your mind is moving at 100 miles an hour? Skiing allows you to focus on the rhythm of the sport, your breath, and how your skis glide across the snow. Focusing on the rhythm and the beauty of the space you are traveling through takes your mind away from all your future responsibilities, which we all need sometimes to help us reset.
Rhythm of the day
One of the best parts of cross country skiing is the relaxed pace of the day. Unlike downhill skiing, you don't have to try to get as many runs in as possible to get your money's worth out of it. You can sleep in and make a big brunch, filling up on anything that you want to fuel your ski. Then you can leisurely head out the door for a ski, gliding through the white winter wonderland. When you start to get tired, head inside to warm up and fill up your body with yummy food. Whoever has it still in them can head back out to the trails for some more adventure, while others curl up next to the fire with a good book and cup of tea.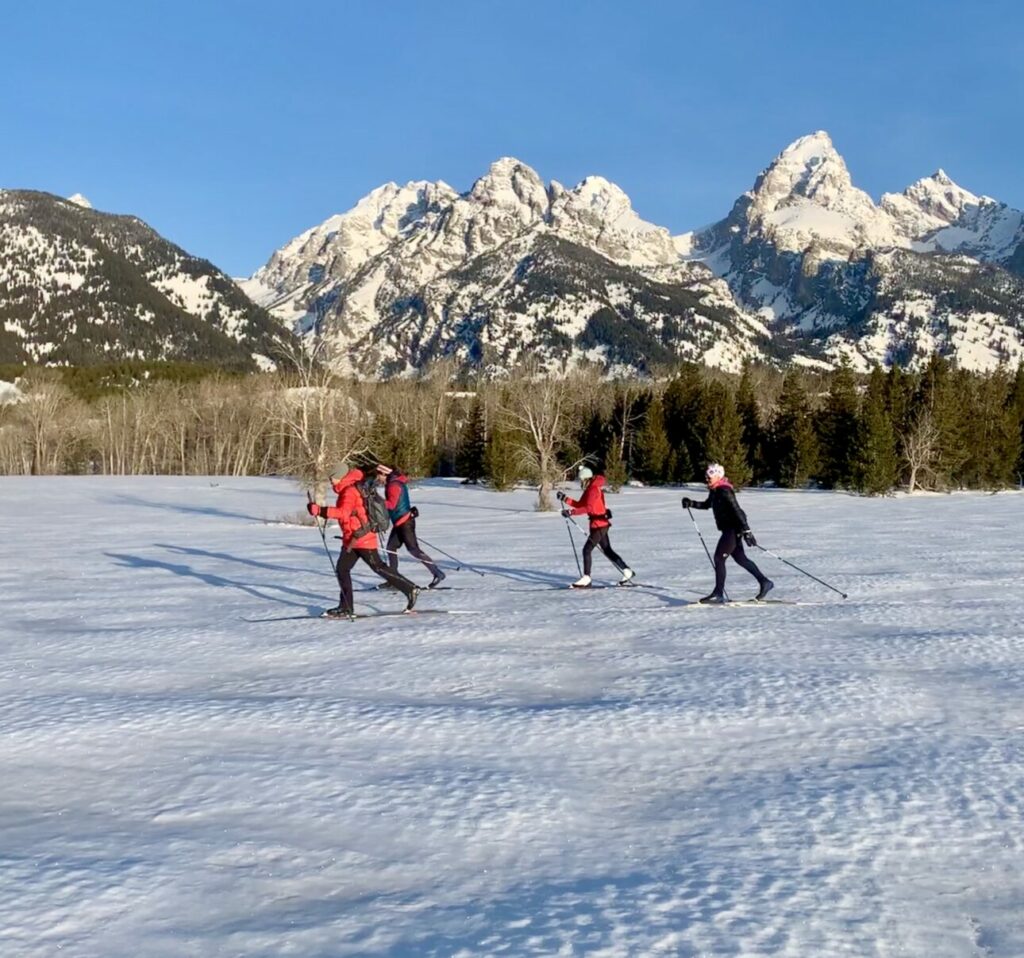 A little personal note from Karly G.
I was very lucky. My parents put me on cross country skis starting at around the age 3 or so, and trust me, I am sure they went through many phases of regretting it. They spent many hours literally and figuratively dragging me along the trails. However, about 10 years into dragging me along it finally paid off and my passion for nordic skiing really took off. Now it is truly one of my favorite things. Don't get me wrong, I LOVE ripping down the hills at the resort as well, but I DO NOT love the massive amounts of money that vanish from my bank account for one day on the slopes. I think that if more people my age (Gen Z) gave it a good shot, they would come to love it!
When I explain cross country skiing, people often think that I either tweedle around the woods on old wooden skis, or I am killing myself going up hills and collapsing at the end of my ski (like the cross country skiing they see on TV once every four years.) The reality of it is I do neither of the two extremes.
Don't get me wrong, cross country skiing can be very exhausting – especially if you are trying to go as fast as you can for a long time. But another way to think about it is – an amazing full body workout that gets you moving outside. It is a sport to love and not just for the "old farts" or people who can't hurl down mountains anymore due to knee blowouts.
"I spent 22 years of my life thinking that this sport was dumb?!"

Ellie W.
This past Saturday I took all 9 of my cohort members skiing up to Turpin Meadow Ranch. We had a wide range of skill levels from avid cross country skiers to people that had never put on a pair of skis before. Everyone had a great time and was chomping at the bit to go again. After our adventure I asked a couple of my cohort members some follow up questions: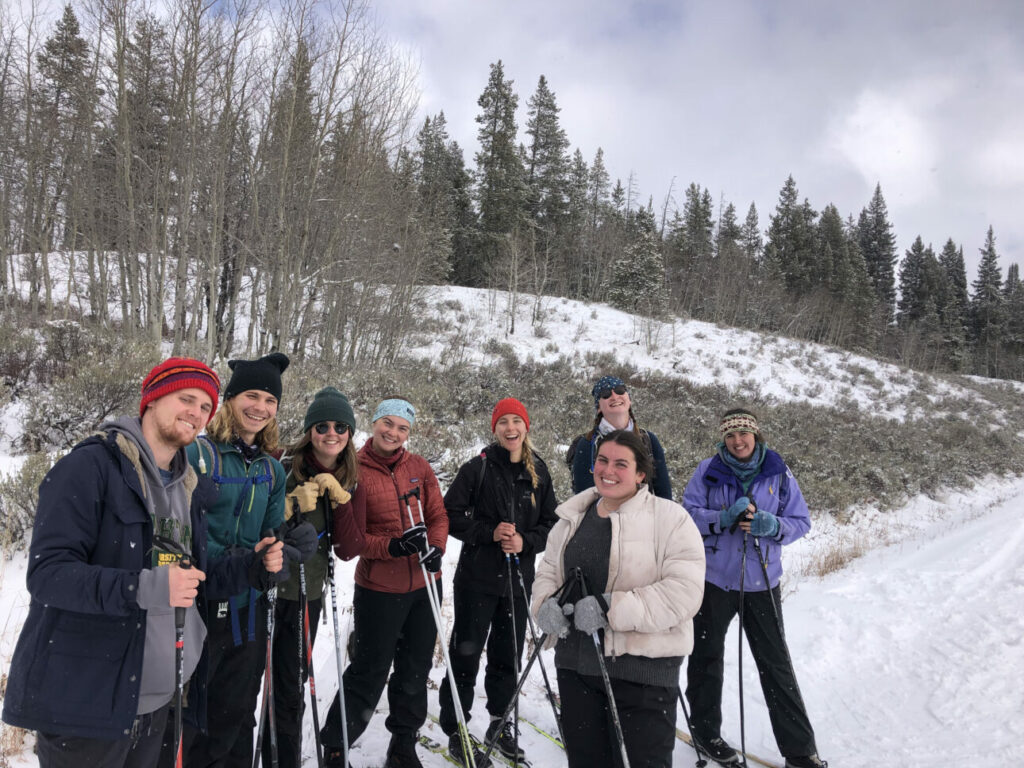 Q&A with Gen Z'ers after their First-Time on Nordic Skis
Q: How did you get into cross country skiing?
Michela: "When I was rowing in college, it was hard for me to solely do all my winter training inside on the erg machine. I picked up cross country skiing as a way to cross train and I grew to love it. I soon got all my teammates into it as well, which made it even more fun"
Ellie R: "In highschool no other winter sports interested me so I picked up nordic skiing, and honestly fell in love with the sport."
Q: What was the most challenging part of getting on to skis?
Lena (first time on skis): "I had a hard time getting used to the gliding motion, and not leaning backwards on my skis, but by then end of the excursion I had a much better feel for it. "
Q: What is your favorite part of cross country skiing?
Ellie W: "It's a GREAT way to get outside and explore in the winter. I can't believe I spent 22 years of life thinking this sport was dumb. It was awesome, I can't wait to go again!"
Michela: "I love that feeling when you are slightly going downhill for a long time, and just feel like you are flying"
Ellie R: " I think stepping around the corners while skiing could be my favorite part, but honestly I love it all."
Now really… what's stopping you, get out there! 🙂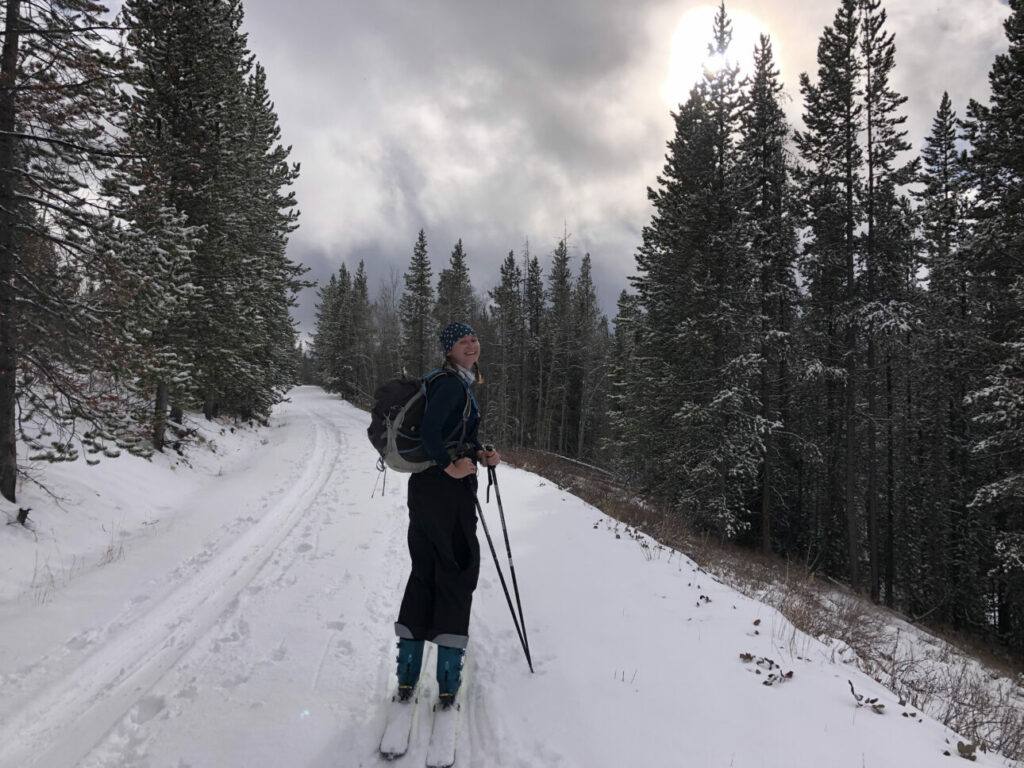 For more information about lessons and rentals check out JHNordic's Resources page.