---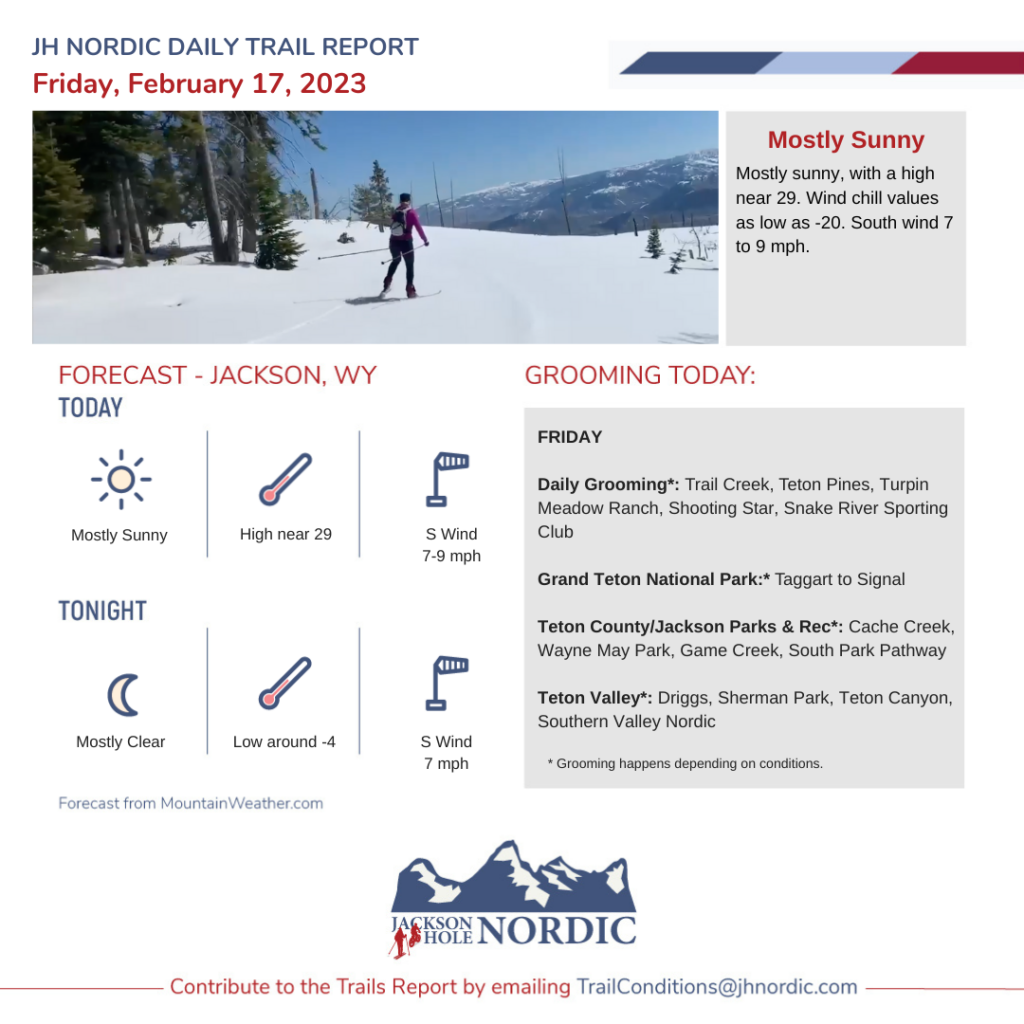 ---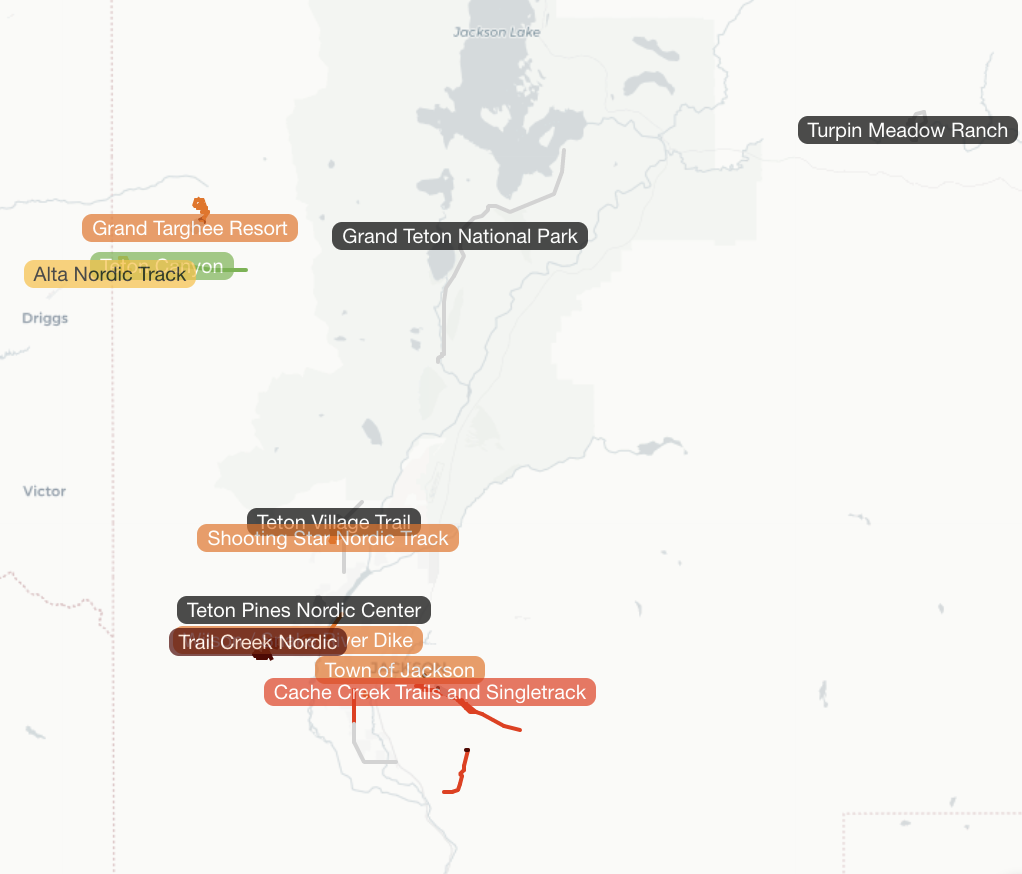 What's Groomed in Jackson Hole/Teton Valley?
See real-time grooming in the Jackson Hole/Teton Valley region. Find all the latest grooming & fresh groomed tracks. Plan your next Nordic Adventure with ease.
---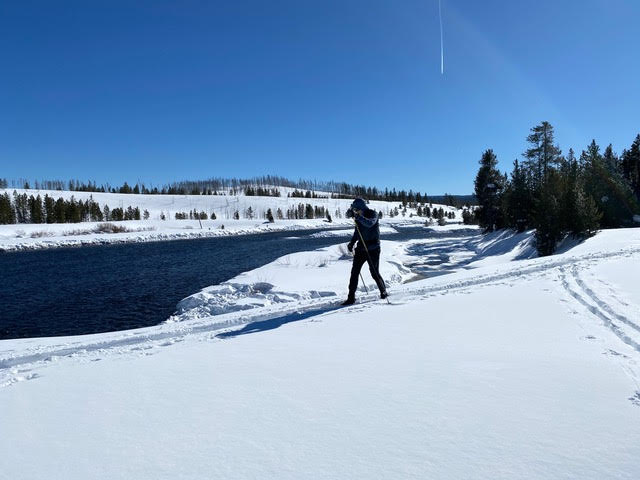 Riverside Trail, West Yellowstone
If you are headed up to or through West Yellowstone, there are a number of excellent groomed and skier track trails to explore. The Riverside Trail provides skiers with access to Yellowstone National Park and provides views of the Madison River. For a groomed trail network , visit the Rendezvous Trails – both right on the edge of town. rom Lori I.
---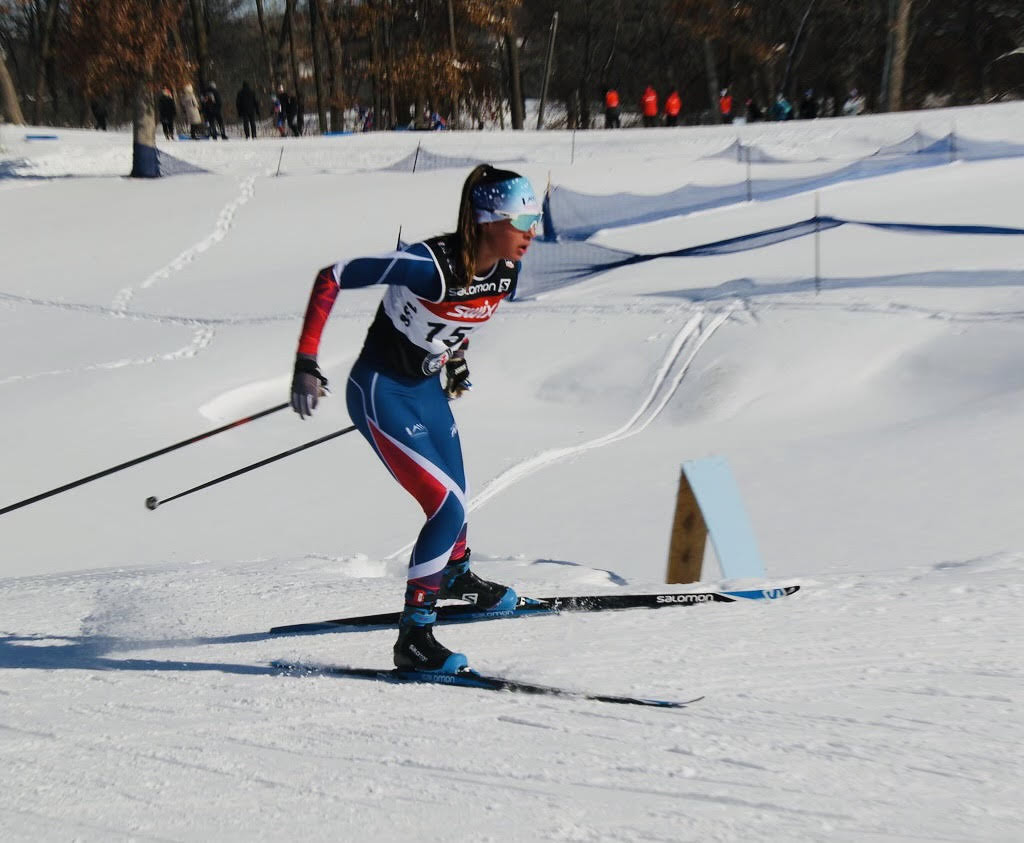 Lena Poduska races at the Nordic Nations Cup Feb 17-19
Lena, a sophomore on the JHSC Nordic Prep Team, qualified for the Cup in early January with her 7th-place finish in the Classic Mass Start at the US Cross Country Ski Championships. That finish at US Senior Nationals is all the more impressive when one considers that as a junior racer, Lena competed in a pool of 200 athletes, many of whom compete at the collegiate level.
She will race in Jyvaskyla, Finland, from Feb 17–19, and she's fortunate to be coached there by Nordic Program Director, Will Wicherski, who was already slated to coach for the US Team at the event—it's a bonus to have her there competing, he noted.
---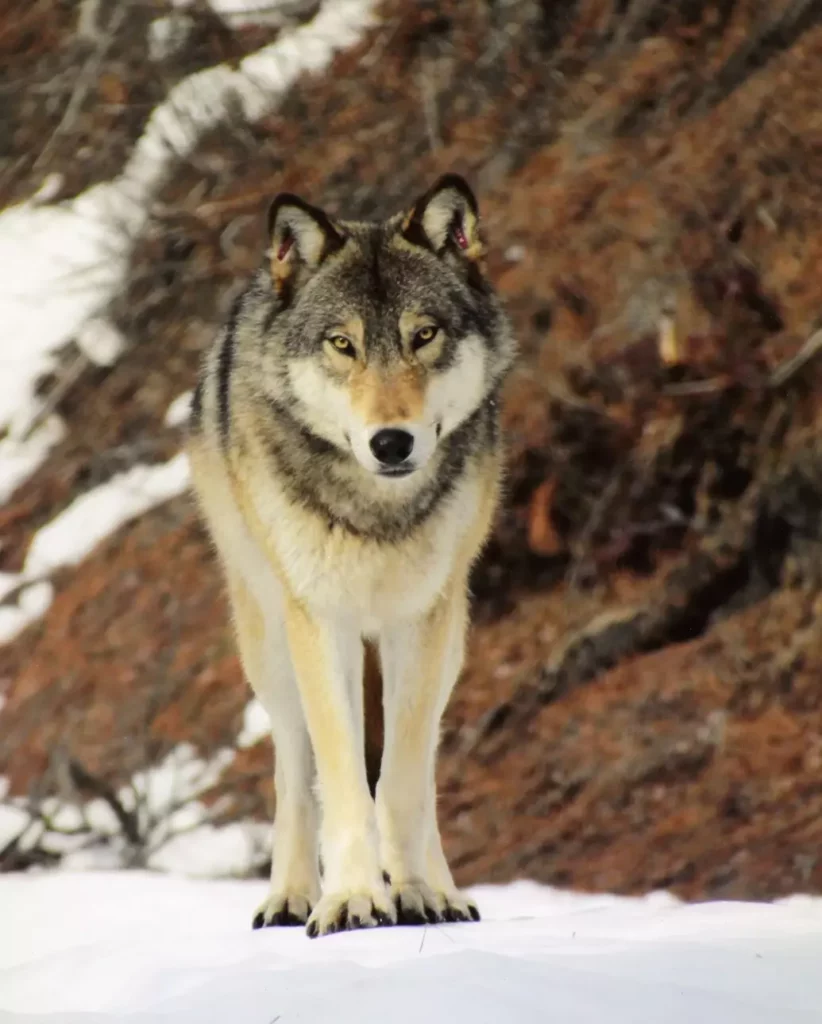 February 15, 2023 Nature Update
Provided by Cathy Shill
Founder of The Hole Hiking Experience
https://www.holehike.com/
"Winter is a season of recovery and inspiration." -Paul Theroux
This past week was mostly sunny with a temperature inversion. Clear, sunny days can trap cold air in the valley making warm air rise. Nice time to get up higher in the mountains. The Idaho side of the Tetons will also be warmer during an inversion so fun to go ski trails on the west side of the Tetons such as Teton Canyon in Alta, Wyoming. Endless options with deep snow, blue skies, and sunshine.
It's mating season for canines. Most animals mate so young are born in the spring. Canines have an 8-week gestation period, so mating occurs from mid-January to early March. Young are born in April and May.
Coyotes, fox and wolves are wild canines in Jackson Hole. Fox mate a bit earlier but February is an active month for them all. Canines can be found throughout the valley in mixed habitats and being predators, they thrive at this time of the winter as prey becomes more weakened. Wolves have been seen and heard on the National Elk Refuge. Coyotes and fox like to hunt for rodents so often seen out in meadows. Enjoy this active time of the year and stay alert, you may catch a glimpse of a wolf.
Can you feel it? Can you see it? Can you hear it? By mid-February, old man winter begins to loosen his grip and the whisper of spring can be felt. Valentine's Day means sunshine finally hits the ski slopes of Snow King Resort, our town ski hill. Since it is north facing, the slopes remain shaded until this time of the year. Birds are also being more vocal. Eagles can be seen sitting near nesting sites. Enjoy all the light, sunshine and wildlife in Jackson Hole and keep us in mind for your interpretive connection.

www.holehike.com | 307.690.4453
---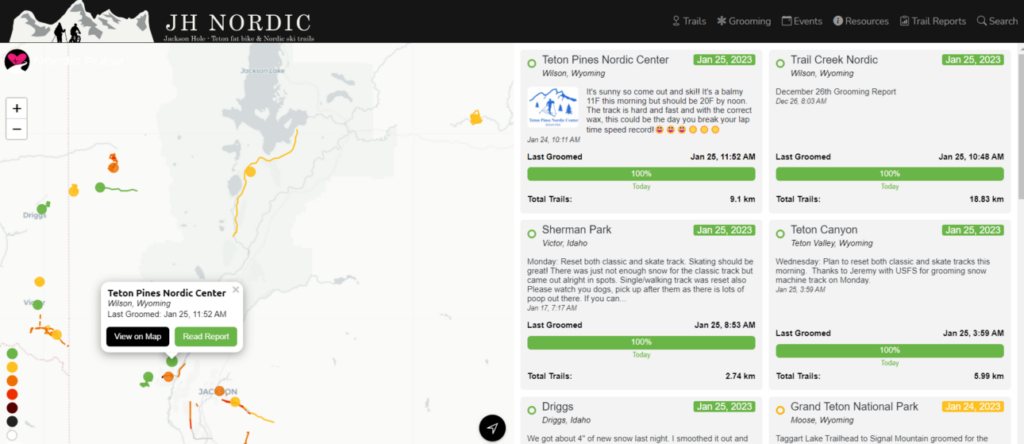 Nordic Pulse: An App for Nordic Skiers
Fresh snow in the forecast isn't the only exciting thing to come to Jackson Hole this winter—welcome Nordic Pulse technology! Nordic Pulse, a live GPS grooming app, gives you cross country ski trail reports in real time. Essentially, this platform connects Nordic-lovers like us, to a GPS tracker that grooming personnel use as they work on the trails. At JHNordic.com/grooming we have access to this technology. Simply view our website before your next cross country outing, and you will see a variety of helpful trail information.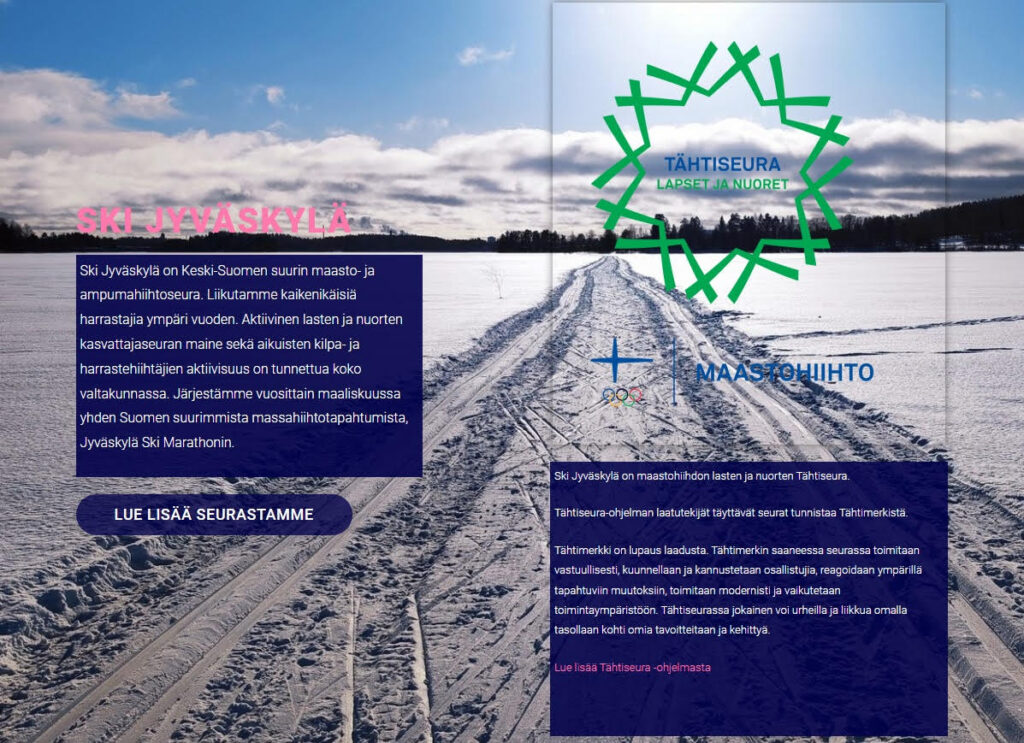 Grooming Daily
Last Update: 2/16
Do Your Groomer a Favor Day
If you can't understand the above photo, don't worry, you're not having a stroke. That's the information from the Nordic center where our team is currently competing! If you can read Finnish(or have access to a handy translator tool), you can check out more of the details at https://skijyvaskyla.fi/, and find tomorrow's race info at https://www.fis-ski.com/DB/general/event-details.html?sectorcode=CC&eventid=52477&seasoncode=2023.
In news closer to this hemisphere, today is National 'Do A Grouch A Favor' day, which also makes it the national Do Your Groomer a Favor day, and the favor you can do is go skiing at Trail Creek! Cold weather has kept the snow in good condition, allowing our trails to be crisp, clean, and fast. The canting process has continued today, most notably on the Old Pass Loop, but also several other places across the trails. With any luck, all our trails should be nice and level in time for the snow expected on Monday. Today's grooming was best-line passes on secondary trails, with double passes on Woolsey Woods, East Fields, and the Old Pass Loop.
Groomer's Choice is the Old Pass Loop.
---
Grooming Today: Cache Creek, Game Creek, May Park, South Park Pathway
Last Update: 2/16
The school fields and the levee are groomed and in decent shape but very firm. Stilson will be done around 10:15.
---
Groomed by Friends of Pathways
Grooming Schedule: As Needed
Last Update: 2/6
Singletrack groomed 2/6.
---
Grooming Daily
Our 20% off sale has been extended on some items in the store. We have most sizes available in everything in the shop including: skate skis, classic skis, bc touring skis, boots, poles, gloves, jackets, pants, and hats. We still have rental classic boots for sale for $60 (some sizes are still available).
We are open daily to the public for skiing. Click here for our current trails grooming and conditions: https://nordic-pulse.com/ski-areas/US/WY/Teton-Pines-Nordic-Center. We offer private skate and classic skiing lessons daily, skate/classic ski rental packages, and bc xc rentals for the park. We are open 9am-4pm. Please call to book lessons and with any other questions.
Note—We have a new shop phone number this season: (307) 732-4130
---
Grooming Daily
Last Update: 2/13
Trails continue to groom out well but pay attention to Tuesday & Wednesdays weather as a new cold front will bring breezy conditions and new snow. Look for calmer conditions Thursday & Friday. Enjoy!

Please help support trail grooming in GTNP by donating to the Grand Teton National Park Foundation. It's easy and encouraged. All you need to do is visit: GTNPF.org/donate/ and leave the comment "Nordic" in the designation section. There is the opportunity to leave a one time gift or reoccurring monthly donations in any amount.
Grooming: Tuesday, Friday, Sunday
Last Update: 2/14
Low visibility today in the park today so Brandon did not send a photo. Lee took this video on Sunday.
Lots of fresh corduroy from Taggart to Signal, thanks to GTNP grooming! Check out JHNordic.com/Grooming/ to find other fresh grooming in our new real-time map, thanks to our partner, Nordic-Pulse.
---
Grooming Daily
Last Update: 2/16
Skate lane was reset in the Willow Loop, Summer Homes Loop, Riverside Loop, and Lower Pasture Trails. Everything is extremely fast and hard packed! Classic track is holding up really well except where it lost a battle with the moose in the Willow Loop. Single track firmed up beautifully overnight after grooming yesterday. It's a great day to be on a fat bike!
Turpin Meadow Ranch is open to all for skiing, lodging, dining, Nordic lessons, and tours! Ours is a short season so be sure to plan a visit this winter between now and March 13, 2022. Call the office (307) 543-2000 or visit our website to book your adventure and/or meal!

Please support TVTAP winter trail grooming on your favorite TV winter trails by purchasing a TVTAP Trail sticker Please remember to manage your dogs and respect dog and wildlife closures. Buy a dog trail sticker, too!
Grooming Schedule: Sunday, Tuesday, Thursday, & Saturday
Last Updated: 2/16
Classic Track: Set | Fat Bike Trails: Open | Snowshoe Trails: Open
We will see sunny skies today with single digit temperatures most of the day. Good skiing and clear skies await you at the Ghee. Keep your eye on the forecast. A massive storm cycle is heading our way early next week.
Remember, singletracks will be closed when there is more than 3 inches of snow in a 24 hour period.
---
Grooming Schedule: Tuesday, Thursday, & Sunday
Last Updated: 2/16
Skate: Set | Classic: Set
Skate track reset and is awesome. Classic is still good from previous groom. Beautiful out there!
---
Grooming Schedule: Monday, Wednesday & Friday
Last Updated: 2/14
Skate: Set | Classic: Set
I smoothed out the new snow from Tuesday. Reset skate and classic tracks. Driggs should be smooth and fast.
---
Grooming Schedule: Monday, Wednesday & Friday
Last Updated: 2/15
Skate: Set | Classic: Set
Set the walking trail, classic track and made two passes for skate.
---
Grooming Schedule: Monday, Wednesday, Friday & Saturday
Last Updated: 2/15
Skate: Set | Classic: Set
Wednesday: Plan to reset both classic and skate tracks this morning. A couple inches of new snow should allow both to turn out well.
Trail Etiquette: Please keep your dogs leashed in the parking lot and be sure to clean up after them!
---
Grooming Schedule: Tuesday, Friday & Sunday
Last Updated: 2/16
Skate: Set | Classic: Set
I'll start grooming tonight around 5. Campground loop first, then Yeti's loop. Should freeze up well overnight and be great for Friday and Saturday. Happy sliding!
No dogs December 1 – April 15.
---
Grooming Schedule: Tuesday, Thursday & Saturday
Last Updated: 2/16
Skate: Set | Classic: Set
Thursday morning I reset the skate and classic track. It turned out nice and should be fast. Enjoy the glide.
No dogs allowed. Please stay on the groomed trails at all times.
---
Southern Valley Singletrack
Grooming Schedule: As needed
Last Updated: 2/15
Singletrack: Set
Wednesday afternoon plan to have two groomers, grooming happy hour, and hillbenders. Later in the evening we'll groom, Nemo. Lady slippers and one run on Nemo we're done on Tuesday evening.
No dogs December 1 – April 15.
---
Grooming Schedule: As needed
Groomed by USFS
Last Updated: 2/15
A short Haiku for you/ Darby canyon was groomed/ Enjoy the sunshine. 2/15 AM
---
Grooming Schedule: As needed
Groomed by USFS
Last Updated: 1/12
Groomed 1/12 PM.
---
Grooming Schedule: As needed
Groomed by USFS
Last Updated: 2/7
Groomed 2/7.
---
Pinnacle Trail
Grooming Schedule: As needed
Groomed by USFS
Last Updated: 2/1
Groomed 2/1

Mark your calendar so you don't miss out on all the wonderful events coming up! Explore the highlighted events below or find more events on our website at https://jhnordic.com/events/
---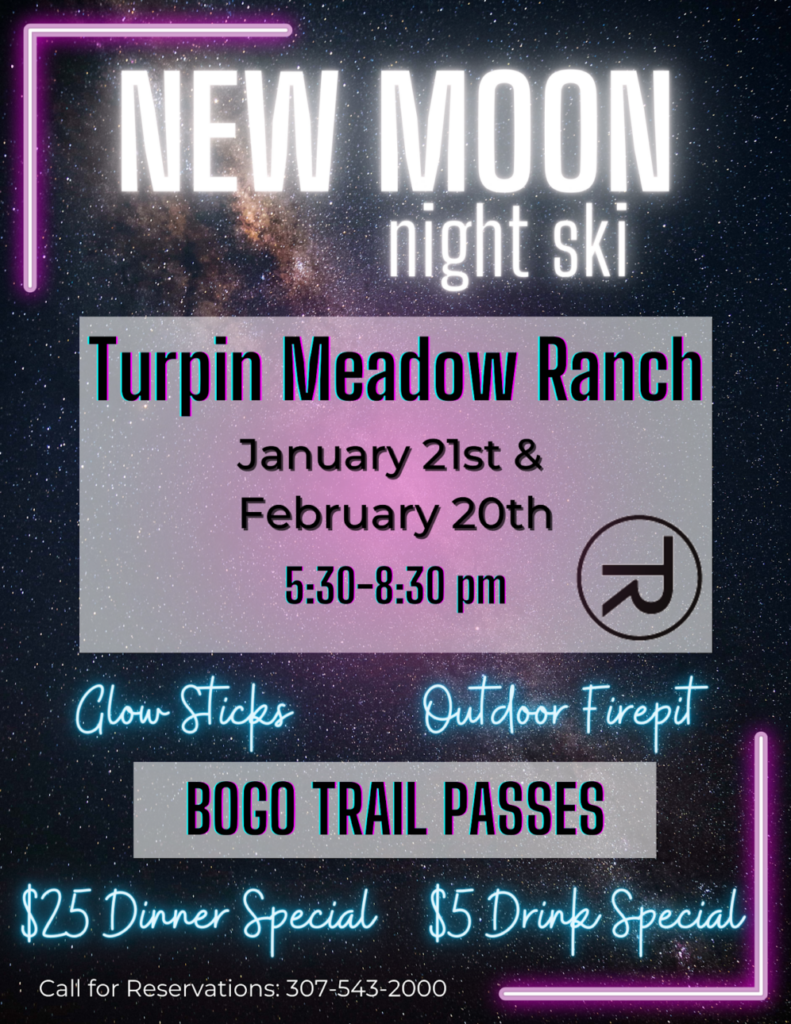 ---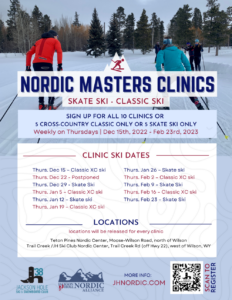 Last Clinic!
Thursday, February 23 – Skate Ski | Trail Creek
The JHSC would like to encourage participants to pre-register/pre-pay for the clinics, including drop-ins.

Join us to increase your ski speed, stamina, and strength. Work on your technique and form with professional tips and exercises from USSA certified coaches. Stay and ski all day with your clinic ski pass at Trail Creek Nordic Center.
---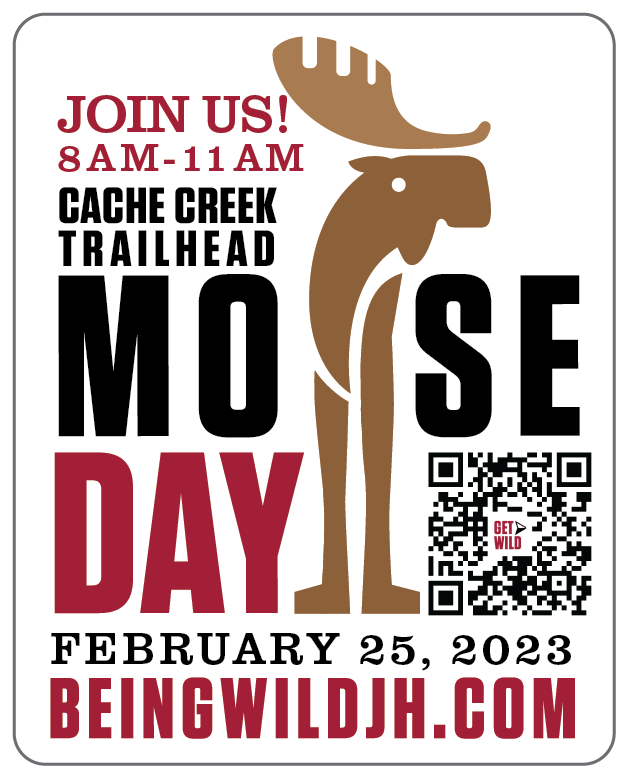 ---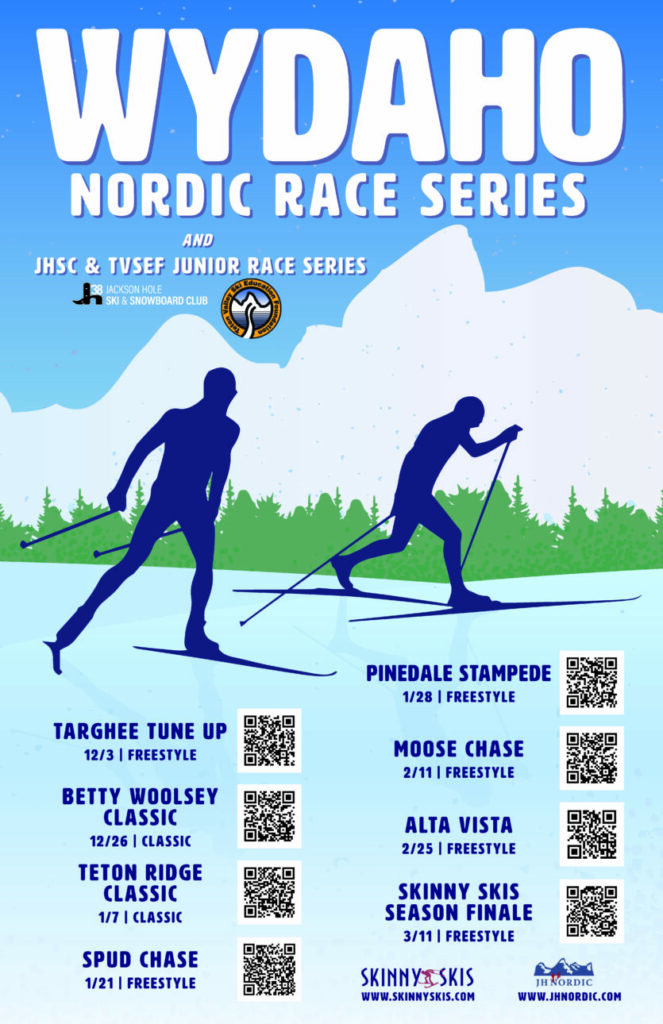 ---
---
---
We'd love to hear about your outdoor adventures, what your doing to stay healthy, safe, respectful of community health guidelines – send pictures or post on FB and Insta – #JHNordic