Trail Creek Nordic
8.7mi





---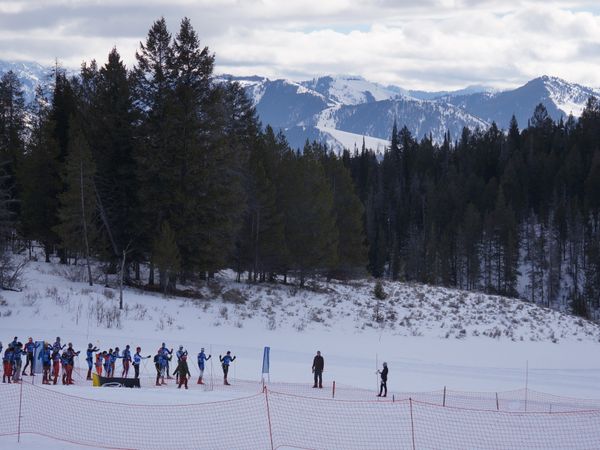 Access via: Old Pass Road at Hwy 22, Wilson WY. 2017-18 Pass Fees: Individual $250 • Family $450 • Day-use $15 • JH High School Nordic Team rate $200.
Fee: $15.00 - donations appreciated
---
Trail Creek is home to the Jackson Hole Ski and Snowboard Club Nordic program, hugely successful for training Jackson Hole youth and Masters to National championship level. The 10 mile ( 16 km) skate and classic track runs through the Trail Creek Ranch property, and extends in various loops into Bridger-Teton US forest land. Trtailk use operates under the guidelines of the Betty Woolsey Trust and generous legacy.

Subscription to a season pass ($300/individual; $500/family) is highly recommended, as the non-profit facility supports the JH Ski Club Nordic youth programs (ages 5-19) as well as community and master racing programs. Visitors may also ski outside race and training days - $15/day.

Trail Creek is also home to a number of Western Region youth Nordic races, and the Betty Woolsey Race, from December to March. The course has many loops in open meadow and forest, challenging uphills and descents ( i.e. Faceplant and Suicide Hill), ranging from .5 km to 15 km. The upper west section circles into Bridger-Teton National Forest near the base of Black Canyon. Moose and other wildlife are often spotted. Dogs are not allowed on the Trail Creek main section of trails, only on the west side (Bridger-Teton forest section).

One of the Greater Teton region's best skate tracks, groomed daily. GPS track courtesy of Trail Creek's dedicated groomer, Steve Swan.

Even if you choose to ski on the Bridger-Teton forest section of the trail network, we encourage you to pay the trail fee, to cover the cost of grooming (by the JH Ski Club groomer).

Please support the JH Ski and Snowboard Club, and respect user guidelines. see JHSkiClub.org for more info.