We are grateful to each of the public lands agencies, Trails and Pathways local agencies, non-profits, and Nordic centers for providing their operational plans and their efforts toward keeping this winter safe and healthy.
These past few months have seen unprecedented changes to our ways of life. Getting outside and staying active has provided refuge for many of us in the community. We ask that you respect community guidelines: wear a mask, stay outdoors and 6 feet or more apart, wash hands, and disinfect any shared gear.
Remember, things are always subject to change. Make sure you stay up to date with plans and changes by either checking in with us at JH Nordic or with the ski areas directly. Stay tuned for opening days and grooming updates on JH Nordic's Trail Report email and blog posts.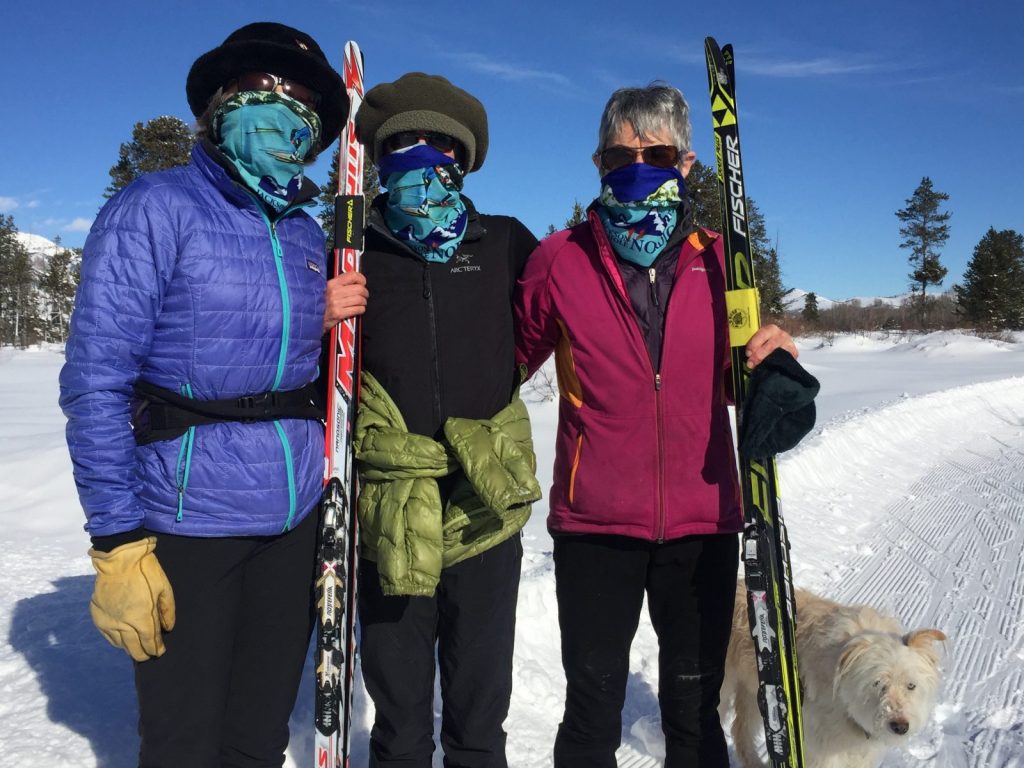 We all will need to be flexible, patient and understanding throughout this upcoming winter. It will take all of us.
Turpin Meadow Ranch is wrapping up one of their most successful and busy summer seasons in the history of the ranch. In the last week of September, the ranch was already booked at 60% of their last winter season capacity and bookings continue to come in at a steady pace. They anticipate this winter to also be a busy season. Operations follow county and state COVID guidelines and put guest and staff safety and health first.
All trails and tracks will be groomed daily with no changes to the grooming schedule.
Indoor operations, rental programs and facilities, and food operations (full menu and bar services for lunch and dinner) will be the same, with social distancing and masks, depending on the status of state and county guidelines.
Season Passes are available online or over the phone for advance purchase from October 15th through December 18th. Daily Trail passes will be available to purchase at the Lodge office desk from December 18 through March 6th.
Normal lessons and guided trail experiences will be provided for both snowshoe and Nordic guests.
Rentals are available for skate and classic Nordic skis, boots, poles, as well as fat bikes.
Day Trail Pass: $15 Adult, $10 Youth (12 and under)
Season Trail Pass: $100 Adult, $50 Kids (6 and under are always free)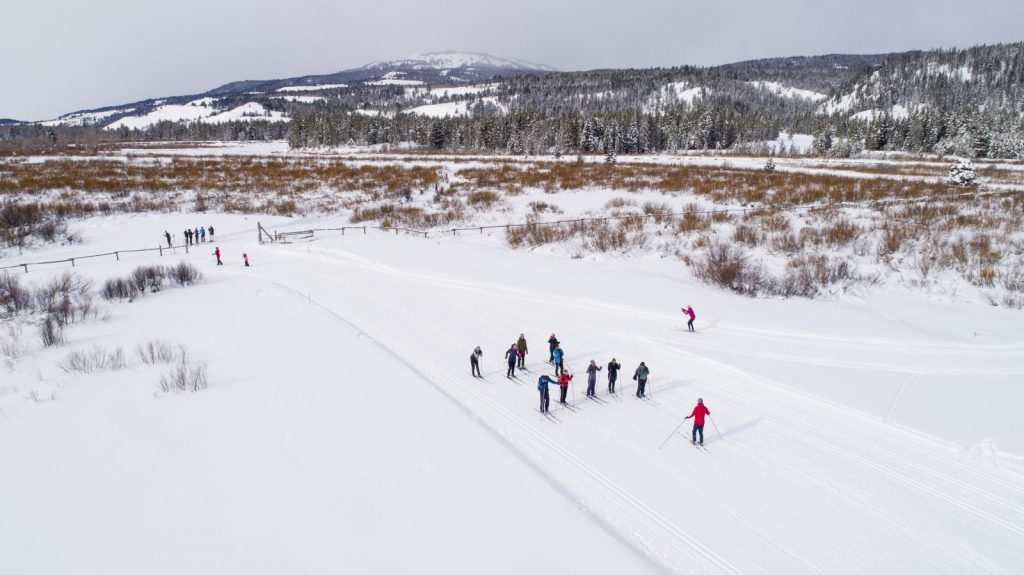 Teton Pines Nordic Center will be open for 2020-2021 offering lessons, clinics, rentals, and retail. We will be following all CDC guidelines. Please visit www.tetonpinesnordiccenter.com for our current covid precautions and opening day information.
Nordic Recreational Masters Clinics will be held every other week, starting December 10th at 11am-12:30pm and offering skate skiing and classic ski technique and tips.
Day Pass: $17 Adult, $12 Senior (65+), $10 Kids (6-12, under 6 free)
Season Pass: $225 Adult, $125 Child, $425 Family (2 adults and children under 18)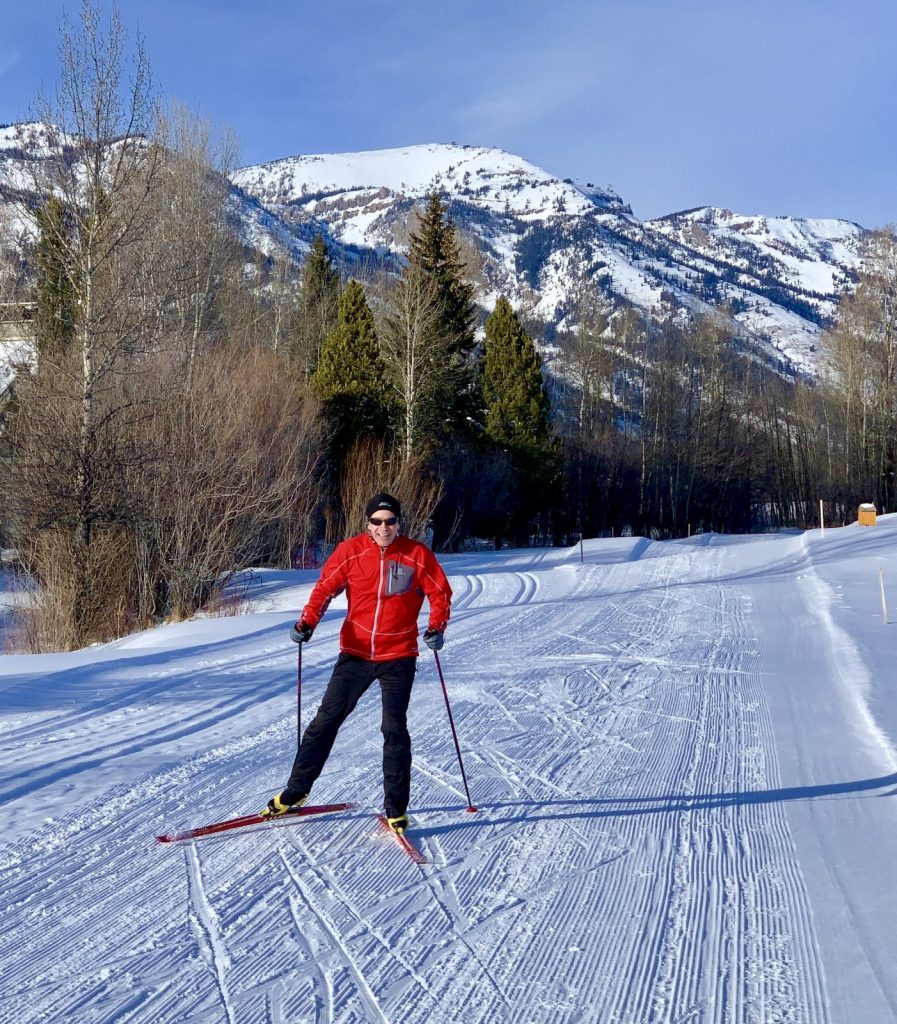 Snake River Sporting Club will be offering Nordic skiing to the public beginning January 2, 2021. Skiers will be welcome to eat in the restaurant, but no other amenities will be available. And no dogs, please!
Day Pass: $35 , Season Pass: $350
Teton Co/Jackson Parks & Recreation
Teton County/Jackson Parks & Recreation (TCJPR) winter service levels for 2020-2021 have been adjusted from prior years due to COVID-19 impacts on budgets and staffing levels. Their goal will still be to finish routes by 9AM daily; however, there will be times during large or prolonged storms that we will work into the late morning hours.
Changes to their winter service levels for the coming winter:
Highway 22 from the Town limits to Emily Steven's Pond will not be plowed.
Indian Springs connector from Cherokee Ln. to Highway 22 will not be plowed.
Grooming and all remaining pathways will remain the same thanks to partnerships with Friends of Pathways who will be responsible for the Monday grooming to Noker Draw.
TCJPR appreciates the support and patience of our community while they manage to provide adequate service levels in this unprecedented time. For information related to plowing, grooming, and ice rinks please go to the TCJPR website and click on 'Parks and Pathways' – www.tetonparksandrec.org.
Cost: Free (and donate to Friends of Pathways to help with Cache Creek Monday grooming and Hagen trail area fat bike trails)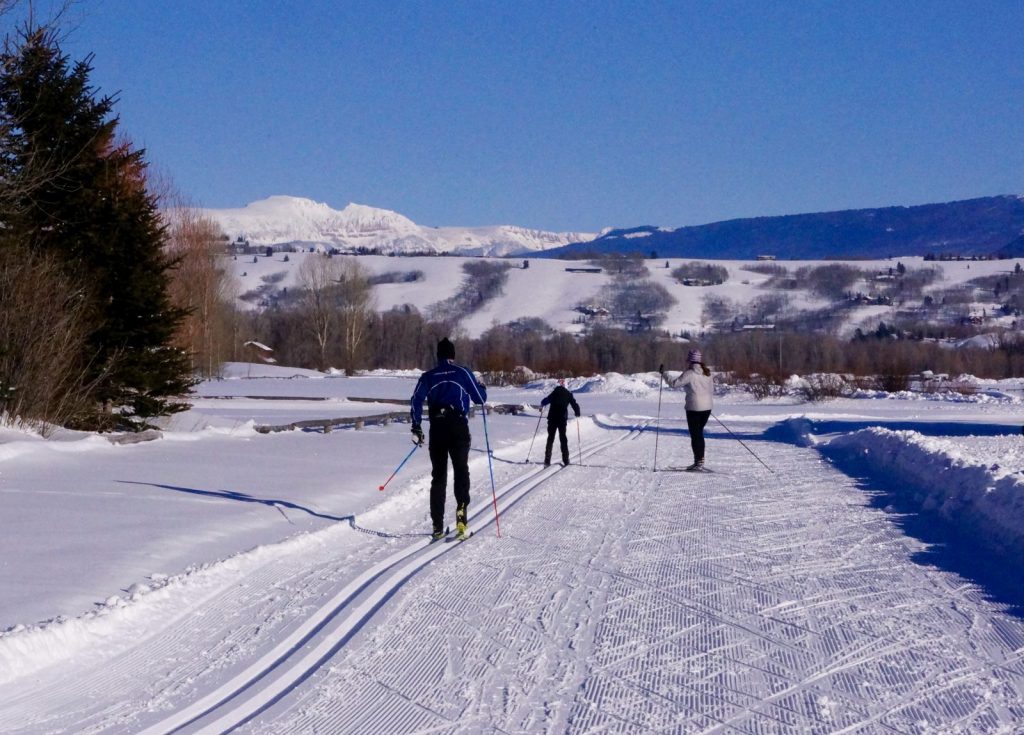 Shooting Star is still in discussion about particulars for the winter session and has not finely tuned everything yet, but here is what they know currently:
Grooming will take place daily as conditions permit (typical grooming schedule)
Current precautions (more to come) include sanitizing rental equipment after use and requiring masks when in the Nordic Center.
Though not concrete yet, they are discussing implementing required reservations and limiting the number of skiers per hour to limit gathering in the Nordic Center, as well as moving some of their rental equipment/staging outdoors.
Retail operation will run as it has all summer – masks required, request to sanitize hands prior to shopping, and all merchandise tried on will be sanitized by ultra-violet microwave.
Ski pass purchasing and lessons will run in the same format as usual
Food & Beverage is limited to Club members only
Daily Pass: $35, Season Pass: $350 (drops $50/month beginning in January)
Teton Valley Trails and Pathways (TVTAP)
TVTAP is anticipating an increased number of visitors on our groomed trail system in Teton Valley ID this winter season, but they don't believe capacity on the trails will be an issue. They are starting a trail ambassador program this winter to help communicate with trail visitors and answer questions they may have while out on the trail.
They plan to groom all the same venues with similar frequency as in year's past
A registration cap will be put on their Nordic races, so people should sign up early
Indoor fundraising events will likely be canceled or modified to allow for social distancing.
Ski pass purchases will only be through the Nordic sticker online or mail-in sales
TVTAP wants to remind people that if they are coming over to Teton Valley to ski or fat bike on our groomed trails, please consider purchasing a TVTAP trail sticker. With fewer fundraising events this winter we will need support more than ever to keep our grooming operation running at full steam.
Popular Teton Valley trails groomed by TVTAP include: Teton Canyon, Alta, Teton Springs, Driggs, Sherman Park, and Southern Valley Trails
Cost: Free (community supported). Donations highly recommended: buy a TVTAP trail sticker @ tvtap.org/donate/.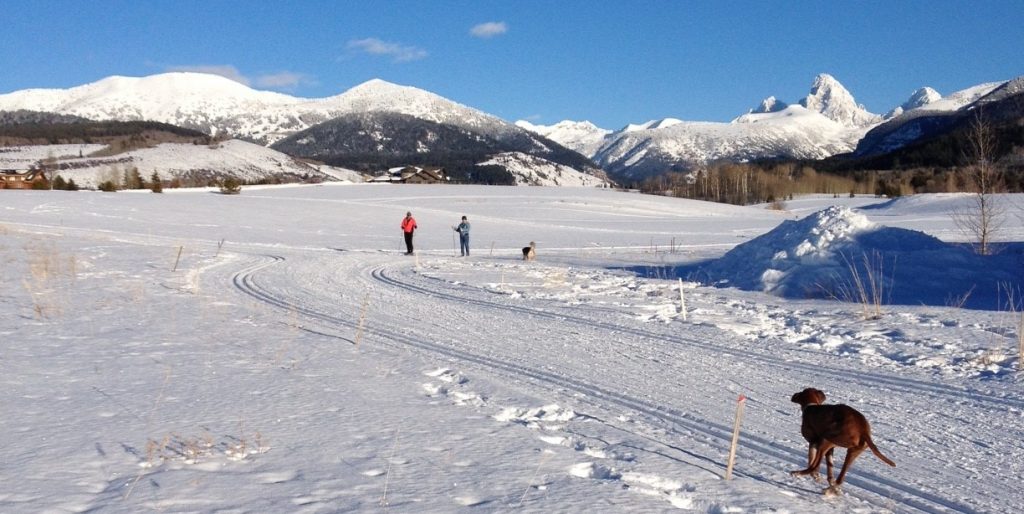 Grand Teton National Park Foundation – Teton Park Road
In conjunction with Grand Teton National Park, the GTNP Foundation will continue to provide grooming on Teton Park Road three times per week this winter.
Grooming schedule:
Taggart Trailhead to South Jenny Lake – Tuesday, Sunday.
Taggart trailhead to Signal Mountain Lodge – Friday.
Volunteer GTNP Nordic Ambassadors will be providing information services along the trail at Taggart trailhead out to South Jenny Lake. Most other GTNP visitor services are closed in the winter. For more information to help plan your winter visit to Grand Teton, visit https://www.nps.gov/grte/planyourvisit/winter.htm.
Cost: Free (community supported). Donations highly recommended @ gtnpf.org/donate/.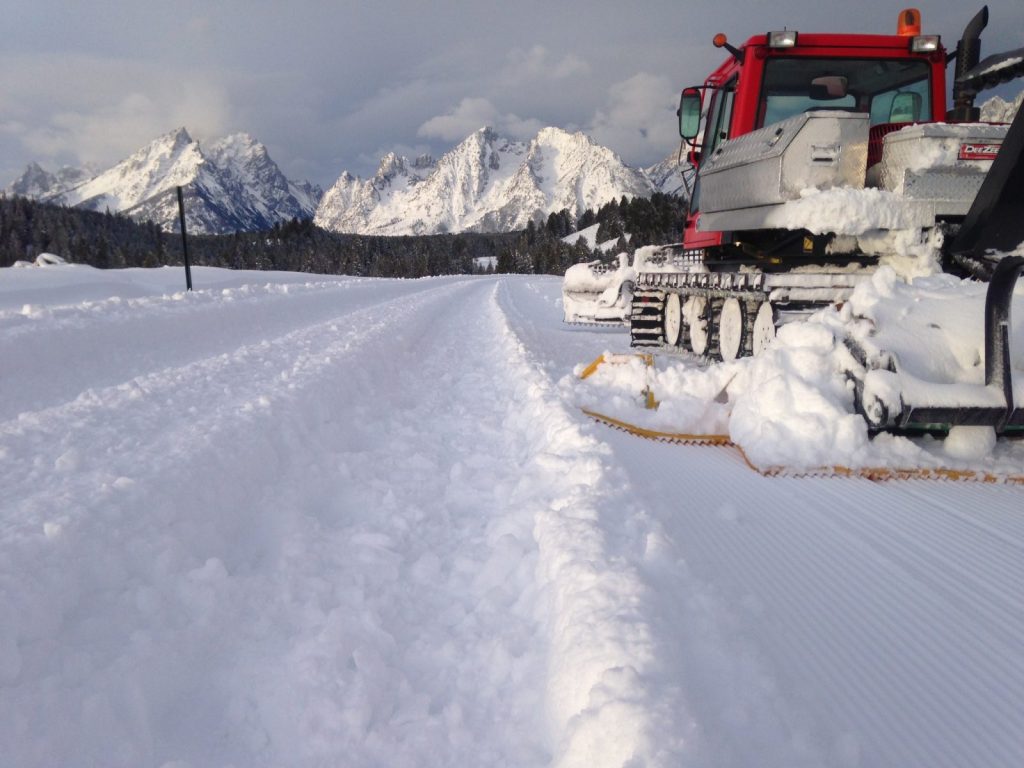 Bridger-Teton US Forest Service
This winter may be just as busy as the summer was for dispersed activities. It's important that everyone maintain and cultivate their forest ethics to recreate responsibly and ensure these public lands are shared and cared for. As we approach winter, here are some things to think about and know when on the national forest:
Plan ahead and prepare – parking at many trailheads is limited and will likely fill quickly. Have an alternative plan and be flexible
"Know before you go" – check the forecast, be prepared, check the stoke (http://jhavalanche.org/)
Respect Wildlife closures – (https://jhalliance.org/dont-poach-the-powder/) – give wildlife space (may need to turn around if encounter a moose on the trail)
Share the trail – follow the yield guidelines, be nice, announce presence, slow down in congested areas
Be a responsible dog owner – Scoop the poop, comply with leash requirements, always carry a leash to control dogs around wildlife or in congested areas
Respect the rules (e.g. closed hazard areas, snowmobiles steer clear of Wilderness, permit requirement for snowmobile use)
They will have a number of patrollers out this winter and hope to continue the winter ambassador program. The ambassador program focuses on the Cache and Game Creek trails and Teton Pass. The ambassador program is supported by partners – notably Friends of Pathways, PAWS, and Teton Backcountry Alliance.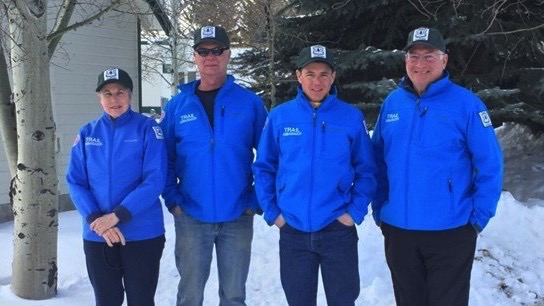 The more popular Bridger-Teton National Forest winter trails include:
Groomed trails:
Cache Creek and Game Creek trails for multi-use (groomed by Teton County Parks and Recreation)
Single-track trails in Cache Creek for fat-biking & walking/running (groomed by Friends of Pathways)
Forest Service portion of Nordic trails at Trail Creek Ranch (groomed by JH Ski Club Nordic – a portion of this system is on the National Forest and managed under a special use permit)
Nordic & fat bike trails at Turpin Meadows Ranch (managed/groomed under a special use permit by TMR)
Teton Canyon (Caribou-Targhee National forest; groomed by TVTAP)
Grand Targhee Nordic (Caribou-Targhee National forest; groomed by Grand Targhee)
A large network of trails primarily for snowmobiling and available for other others (e.g. Togwotee area, Gros Ventre, Granite Creek; groomed under Wyoming State trails permit operators)
Popular US Forest service non-groomed trails:
Cost: Most are free (community supported) except for Turpin Meadow, Grand Targhee, Trail Creek – JH Ski & Snowboard Club portion. Donations to help toward the cost of road access plowing, grooming operations, and signage are highly recommended via Friends of Bridger-Teton @ btfriends.org/join-us.
Other resources for recreating on USFS public lands:
Nordic and Fat Bike Trails & Activities (jhnordic.com)
Backcountry Skiing (Teton Pass Pledge) (tetonbackcountryalliance.org),
Alpine Skiing (Skier Responsibility Code)
Snowmobiling (snowmobile trail etiquette)
Grand Targhee has put precautions and plans in place to operate November 20, 2020 – April 11, 2021, opening day conditions permitting. However, the COVID environment is ever-changing and could disrupt operations and their plan at any moment, requiring quick operational changes to comply with local, state, and government authorities. Along with the cooperation of all guests and employees, below are some of the specific actions Grand Targhee is taking to keep this a safe and healthy winter.
Cost: day pass $ TBD, $169 for Nordic Season Pass
Covid update for Targhee winter operations:
Employees are undergoing daily health screens and additional training on COVID safety
Increased frequency of cleaning in high trafficked areas and high touch surfaces
Use of CDC-approved disinfecting solutions to clean throughout the resort and in vacation rentals, electrostatic sprayers in public areas, and UV light wands in guest rooms and vacation rentals.
Ask that guests minimize their time inside buildings and maximize time outdoors and use cars as a basecamp while gearing up for the morning
Additional outside seating and heaters, but access to buildings will be limited due to capacity restrictions
Mandatory face coverings will continue throughout winter. Face coverings will be required inside all buildings, and when a six-foot distancing cannot be maintained.
Encouraging advanced purchases of day trail tickets, gear rentals, and ski lessons
For season pass holders, in order to limit person to person contact, season passes will be shipped prior to opening day, and the flexible refund/deferral date has been extended to November 1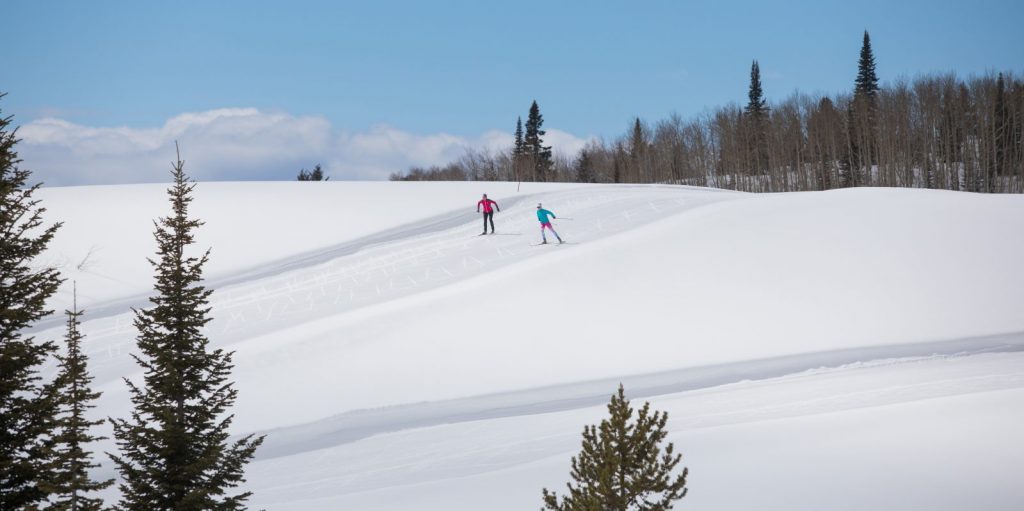 JH Golf & Tennis Club plan to groom their nordic trails approximately 3 times per week. Open this winter only to Club members and their guests.
Trail Creek Nordic Trails are reserved for the designated use for the JH Ski & Snowboard Club Nordic Youth programs, community youth Nordic training programs, and season pass holders. Contact: info@jhskiclub.org or 307-733-6433 for more info.
Cost: Season Pass $250 Individual, Family $450. Donations highly recommended @ JHSkiClub.org/donate/.