Skate Skiing trails in Jackson Hole, Teton Valley, and Grand Teton National Park offer an unmatched experience to explore the most magical, beautiful winter trails imaginable. With 160 miles of groomed trails available from Wilson-Westbank to Jackson, Grand Teton National Park and Teton Valley trails to Turpin Meadow Ranch along the banks of the Buffalo Fork of the Snake River. Come and enjoy the best local, national forest and national park groomed trails and vast open meadows in some of the most scenic areas in the West.
Click on the trail name below to learn more information on skate skiing trails in the Jackson Hole and surrounding areas. Additionally, by clicking on a trail link, you will open up a GPS trail map, elevation profile, full trail description, and directions to get to the trailhead. Discover 30 Skate ski trails and over 100 total Nordic and Winter trails at JHNordic.com/Trails/.
For the latest trail grooming information, daily and weekly grooming schedules and snow conditions, go to JHNordic.com/Grooming/.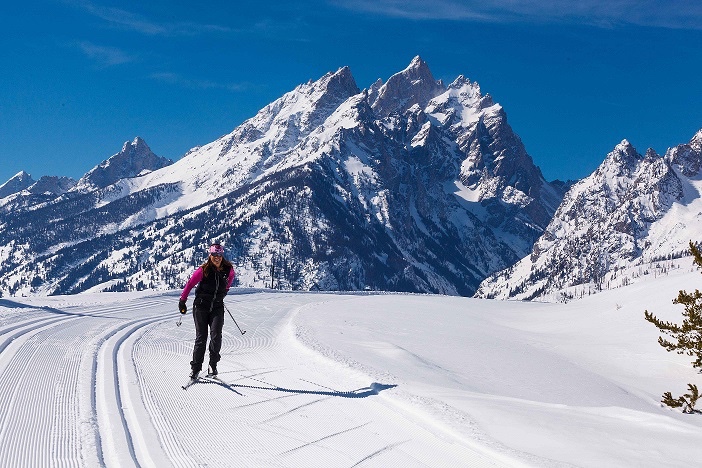 Jackson Hole
Explore skate skiing groomed trails in Jackson Hole with beautiful pinstriped snow and wide-open spaces for the perfect glide on your skate skis. Classic cross-country skiing is another excellent skiing option on these groomed trails.

Teton Pines Nordic Center spans 10 miles of flat, wide-open ski trails. It boasts big views of the southern Tetons and is groomed daily. Full-service Nordic ski shop offers rentals for skate and classic XC skis & boots, waxing/tune-up, lessons, skate ski and classic cross-country clinics, and a range of Nordic clothing and accessories. Easy to get to from Teton Village, Wilson, and Jackson. Walk from START bus. Trail Fee: $23 (2023)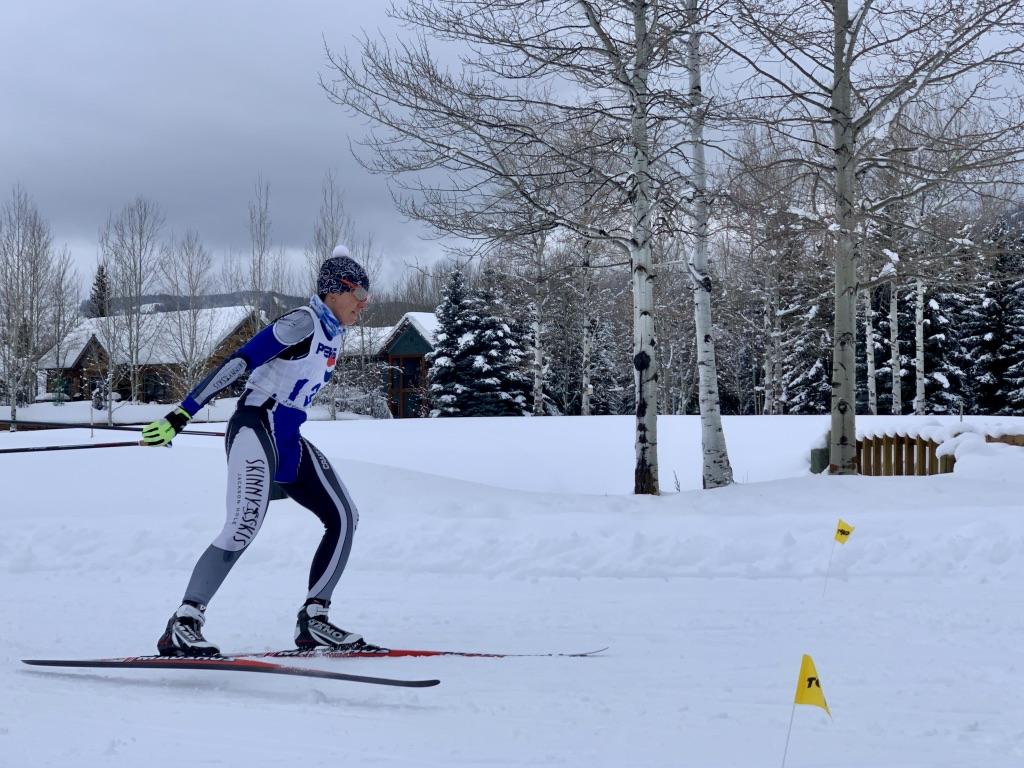 Shooting Star Nordic Center maintains 10 miles of flat to gently undulating ski trails at the base of Jackson Hole Mountain Resort. This trail system has dog-friendly loops and is groomed daily. Set on the southern edge of Teton Village, the trails flow up and over gentle hills, around ponds, across meadows with views of the Southern Tetons. Full-service Nordic Ski shop offers rentals for skate and classic XC skis & boots, waxing/tune-up, private lessons, and a Nordic clothing boutique. Non-club members trail access starts at 12 noon. Trail fee $40 (2023)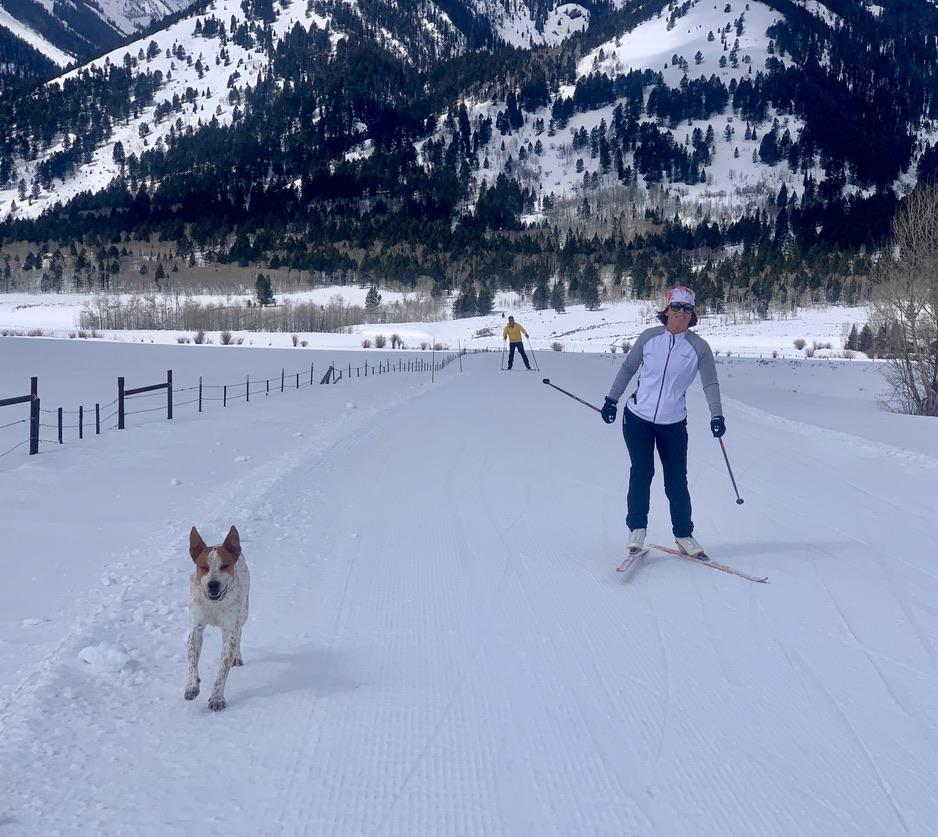 The Trail Creek Nordic Trails are groomed daily by the Jackson Hole Ski Club Nordic program. Trail Creek trails loop through the meadows and woodlands of historic Trail Creek Ranch, the Bridger-Teton US Forest lands, and adjacent private lands. Close and East Fields cross easy, gentle open trails and hills. Up a short uphill, trails extend for miles through forests and alpine meadows with easy to intermediate to challenging trails and loops. Ski pass fees ($20) benefit Jackson Hole Ski Club; Donate to contribute to grooming/youth ski programs and scholarships at JHSkiClub.org.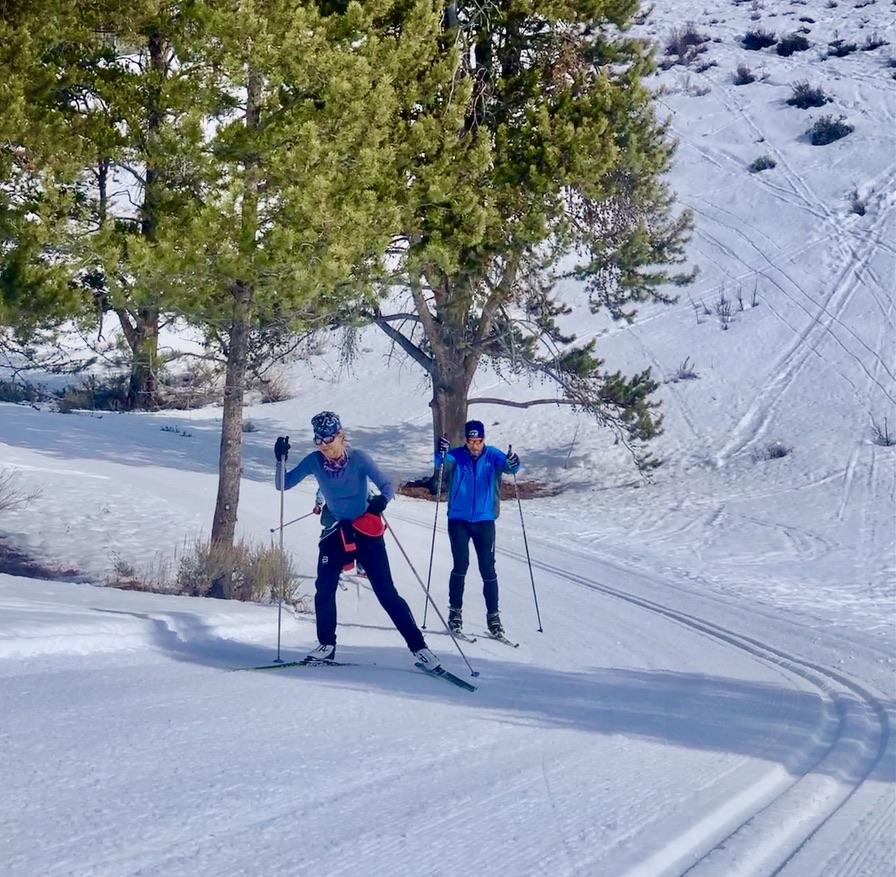 Emily's Pond is a local JH favorite, for skate skiing, classic cross-country, fat biking, walking your dog, trail running. Emily's Pond Trail is groomed 3 days/week by Teton County/Jackson Parks & Recreation, and follows the east bank of the Snake River for 2.2 miles (4.4 miles roundtrip) or shorter. Easy access from Jackson or the Westbank. Expect to see lots of dogs off leash. Nice wide-open views of the Teton Range from Teton Pass to the Grand. Free.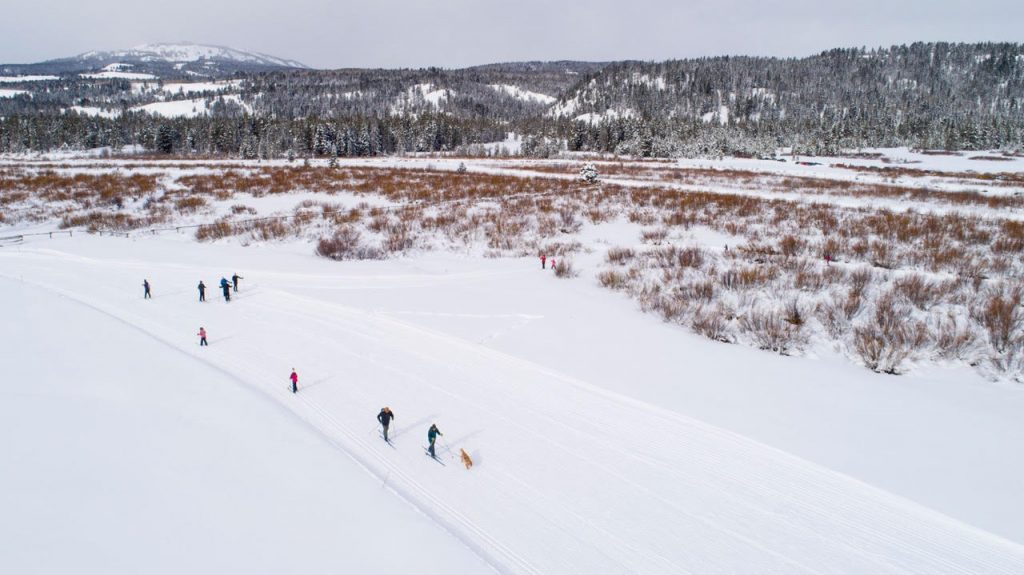 The Turpin Meadow Ranch trails are set in northern Jackson Hole along the banks of the Buffalo Fork of the Snake River, where this historic Ranch offers 12 miles of daily groomed Nordic trails. Warm up on the easy open meadow Summer home loop trail or Willow trail, before heading uphill to several rolling loops through the forest. The Ranch lodge has a cozy fireplace, and open dining area serving lunch and dinner (call for reservations), Nordic ski and fat bike rentals , and overnight elegant cabins. Daily trail fee: $15 (2023).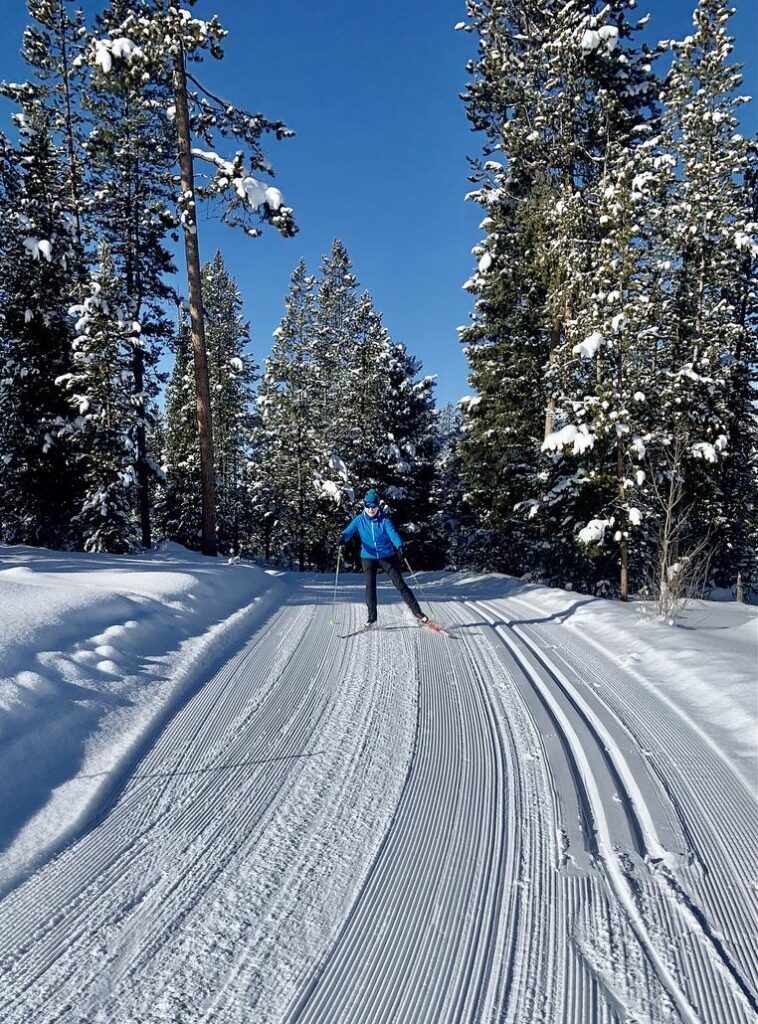 One of Jackson Hole's most stunningly beautiful Nordic ski trails is located in the heart of Grand Teton National Park, at the base of the Grand Teton. The Teton Park road trail runs from Taggart trailhead on a wide, flat trail out to Jenny Lake, groomed 3 mornings per week. The trail continues a full 14.4 miles one way/28.8 miles round trip to Signal Mountain Lodge (see Grand Teton National Park – Taggart to Signal Mountain Trail).
Grooming is funded by the Grand Teton National Park Foundation, thanks to donations. To contribute to grooming, go to GTNPF.org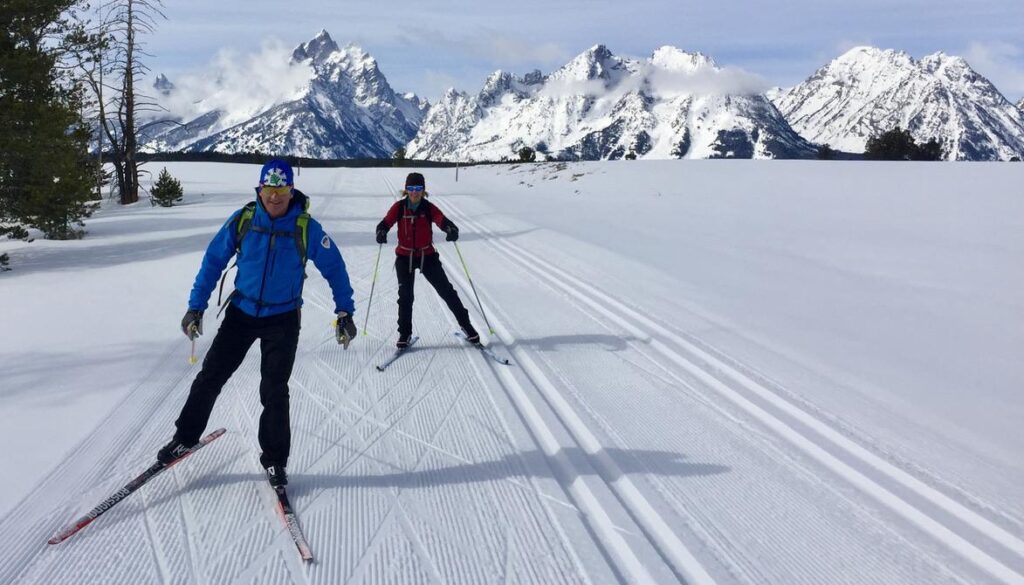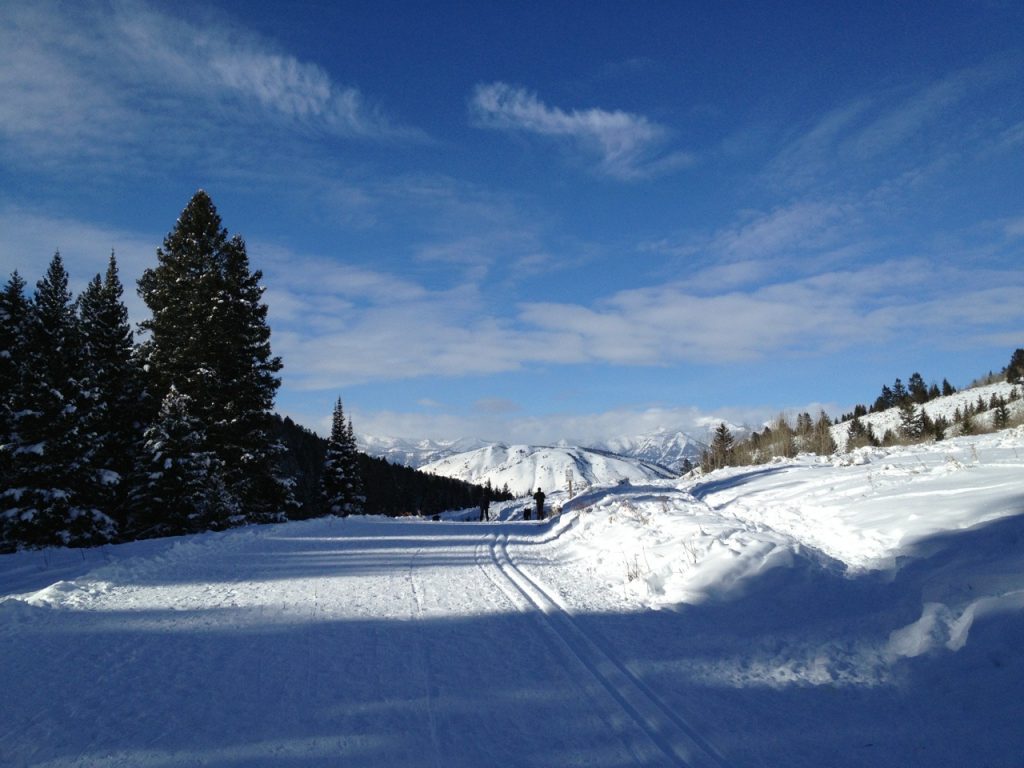 The trail for Cache Creek, located in East Jackson, is a slightly uphill skate ski on the way up the Cache Creek valley, and a fast trip back down. It is also a community favorite for all kinds of winter trails use: skate skiing, classic cross country skiing, fat biking, walking (with dog and without), and even the occasional snowmobile. Cache is groomed 3 days/week on Mondays, Wednesdays, and Fridays by TC/J Parks & Recreations. (Monday grooming goes to Nike Mine Draw at the Wilderness boundary). Frequent sightings of moose, deer and other wildlife thanks to the winter wildlife closures and adjacent forest service wilderness that border the trail.
Grand Teton National Park
Spring crust cruising only occurs in March and April, and only under special conditions. These conditions are present when the sun has melted the top of the snow to form a strong crust to support the skier without breaking. Once the crust forms and snow is smooth, it can be a thrilling experience to "cruise" over the wide open spaces in GTNP, as well as Brider Teton and Caribou-Targhee national forest lands. Check the JH Nordic Trail Reports in late March and April for updates. Or test the snow to see if a solid crust has formed, overnight temps have been well below freezing. Head out north from Taggart trailhead across the snow-covered meadows around Timbered Island. Be sure to return early enough before the snow softens.
The trail at Teton Canyon is groomed 4 days week by Teton Valley Trails & Pathways (TVTAP). This flat, wide trail heads straight toward the Grand Teton from its west side for 3.6 miles (7.6 miles round trip). No trail fee, however donations are encouraged to support regular, quality grooming @ TVTAP.org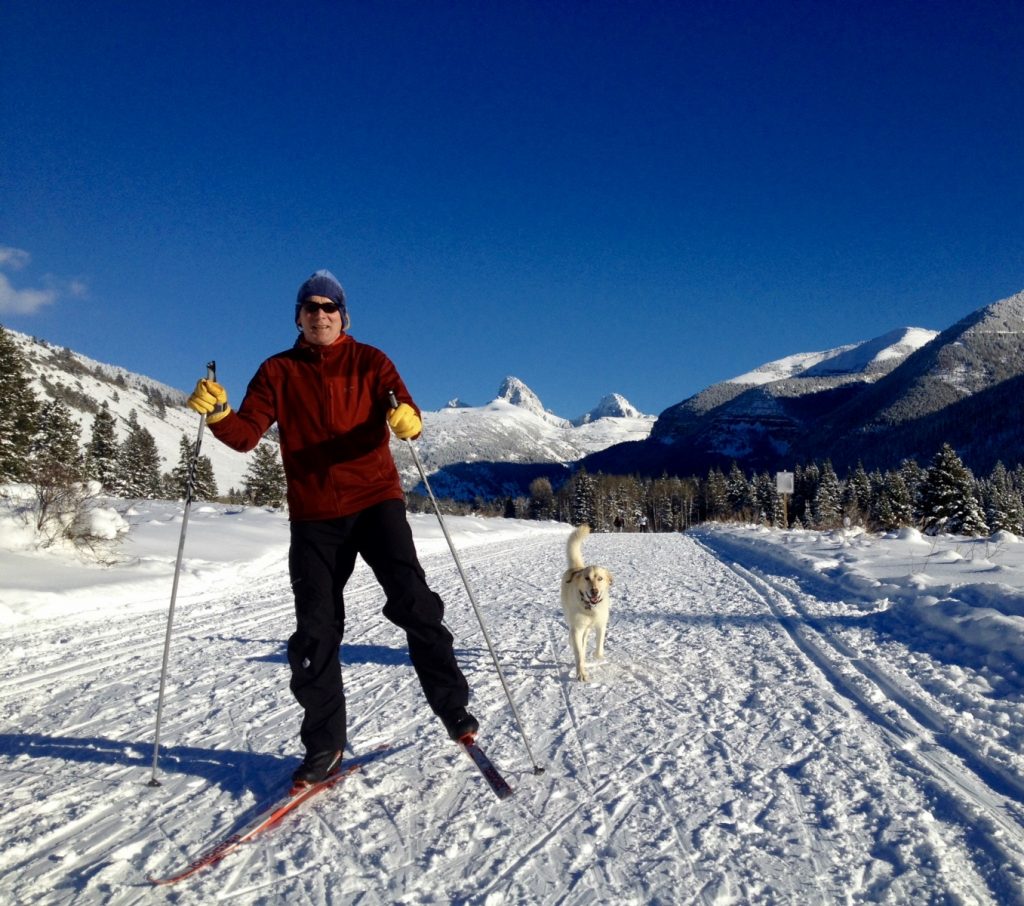 The Alta Track features a wide open groomed track set in the rolling gentle hills and fields east of Driggs just inside the Wyoming border. This track boasts distant views of the Grand, Middle and South Teton's west faces, and offers easy level skate skiing. Groomed 3 days/week by Teton Valley Trails & Pathways, our local year-round trails non-profit. No trail fee, but donations are welcome to support regular, quality grooming @ TVTAP.org. Dog-friendly, too.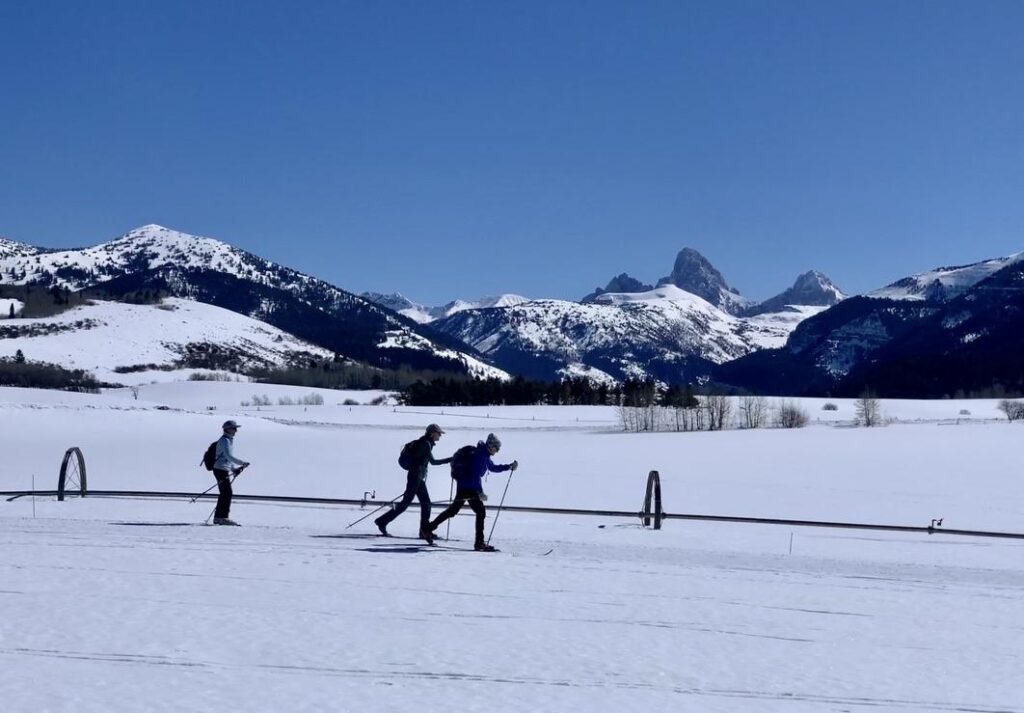 Teton Reserve is located half-way between Victor and Driggs, and is a family-friendly, nearly flat trail, so a good place for easy, gentle skate and classic skiing.

The trail is laid out in a way that allows skiers to create their own adventure. You can take a shortcut in a few places where the trails nearly touch each other, or it can be skied as one continuous 7KM loop. Groomed 3 days/week by local trails non-profit, Teton Valley Trails & Pathways, make a donation to support grooming @ TVTAP.org. No dogs.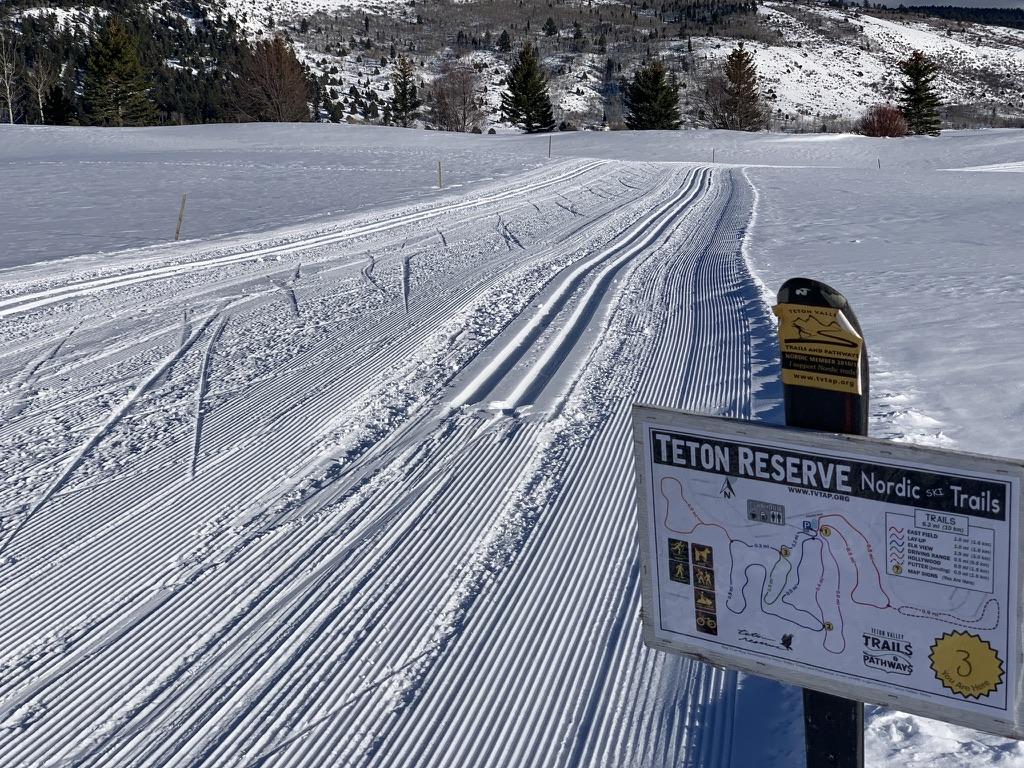 Thanks to its base elevation of 8,000 feet (2,000 feet above the valley floor), Grand Targhee Nordic Trails have one of the longest Nordic trail ski seasons in the region, typically with early and late season snow. Located on a shoulder on the side of the alpine ski resort, the terrain provides rolling hills in open alpine meadows and aspens forests overlooking Teton Valley. The base lodge of the ski resort has good food and drinks for apres-ski, and ski rentals. Trails are groomed 4 days/week. Nordic ski pass: $20 (2023)