Mail Cabin Creek
5.9mi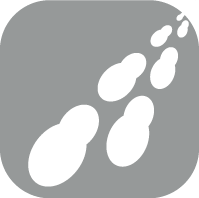 ---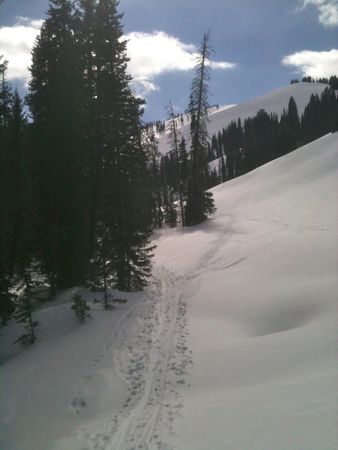 Access via: From Jackson Hole, head west over Teton Pass on WY Hwy22. Park on the north side of the highway in the Parking area for Coal Creek trailhead, 8.5 miles west of Wilson / 3 miles west of the summit of Teton Pass. If coming from Teton Valley, Coal Creek parking area is on your left, 9.3 miles east of V
Fee: $0.00
---
From Coal Creek parking area, cross WY Hwy 22 on foot – very carefully - due to fast moving traffic on Teton Pass, looking for a walkable passage over the snowbank.
Mail Cabin Creek is a popular back-country AT ski drainage, and is used by AT skiers for uphill access to several back-country bowls and ridges in the northern Snake River Range, as well as a common exit route from these bowls and other favorites between Teton Pass and upper Mail Cabin, such as Columbia Bowl and further west. As a nordic/ skinny ski outing, skiing is mainly in the tracks of the AT skiers, or breaking trail after new snow, and following a meandering creek up into the narrow valleys until the trail is too steep to be enjoyed.
Begin by heading east along the flats with Teton Pass road (WY Hwy 22) on your left (north) and the creek (possibly snow covered for most or all) on your right. Follow tracks through groves of trees and meadows, noting that the creek spreads out here into multiple channels, covered by snow-bridges in mid-winter, but notable enough to ski around in early and late winter. After approx. 500 yards, the creek begins to turn south and enters a narrowing canyon. One can cross the creek at this point, to the west bank (right side skiing up), and continue along a track that follows the west creek bank into the main canyon drainage.
Alternatively, one can continue to follow the east bank of the main creek, traversing a medium steep side bank, until the trail opens up at the edge of an open meadow, the beginning of a side canyon to the east. The eastern creek drainage is enticing by this open meadow, however, for skinny ski travel, does not go very far until the canyon narrows down and becomes steep. For extra mileage, one can ski this as a short out-and-back, then rejoin the main trail. Cross the main creek on the right (west) via a snow-covered log bridge, and rejoin the principal ski track heading up into the west /main branch of Mail Cabin Creek.
The main trail heads gradually uphill following the upper creek and a summer forest road, with periodic short climbs through tall stands of conifers. In total, this branch goes 3 miles from the trailhead up the creek to nearly 8000 ft, until the valley becomes too narrow and steep. Turn around here, unless you want to venture into "extreme" skinny skiing (moving into AT skiing terrain). The ski out is rapid after having gained approximately 800 vertical feet.

For further picture references, see: "Jackson Hole Ski Atlas - A Photographic Collection" by Thuermer, Wright and Bevier (p. 10 East Mail Cabin and p. 11 West Mail Cabin), as well as the Tom Turiano's "Jackson Hole Backcountry Skier's Guide: South".

In summer, this trail is a delightful hike up to the ridgeline, then east or west.


Other trails in Teton Valley