---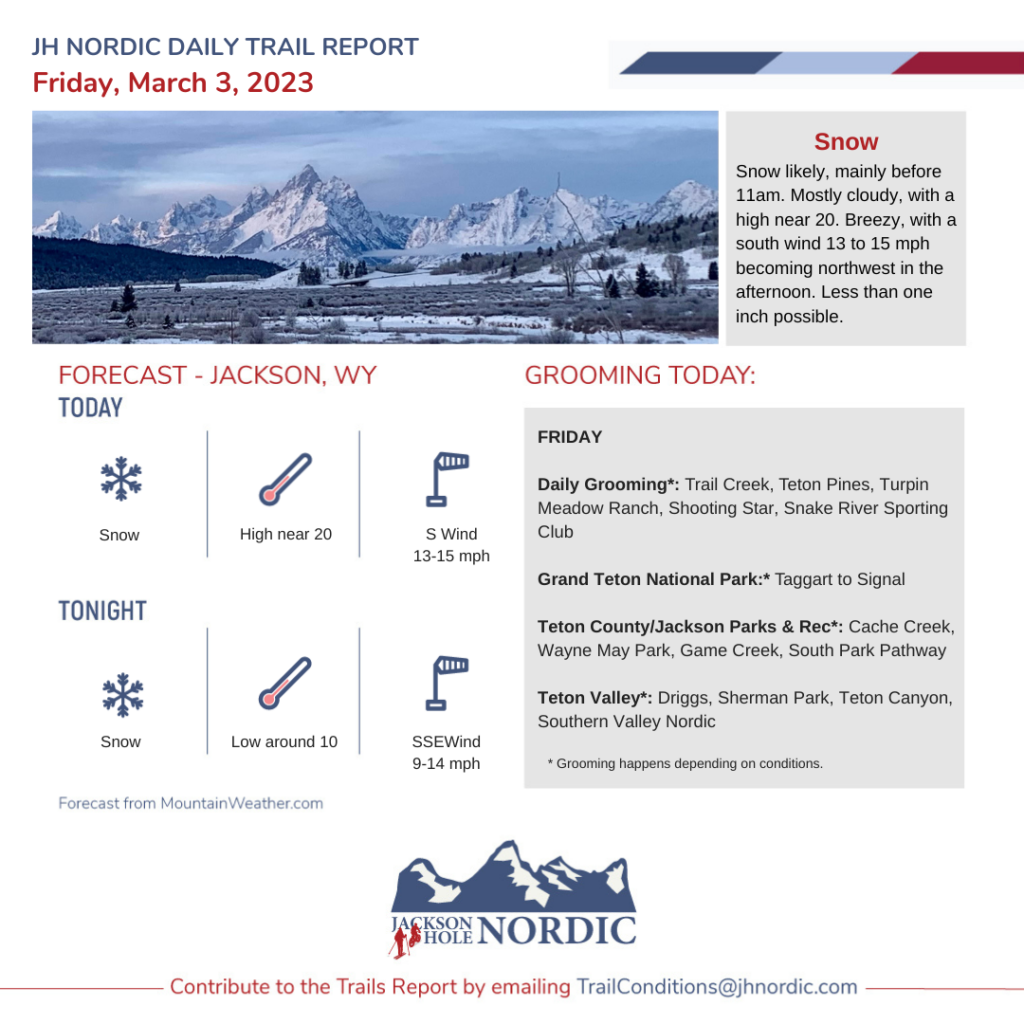 ---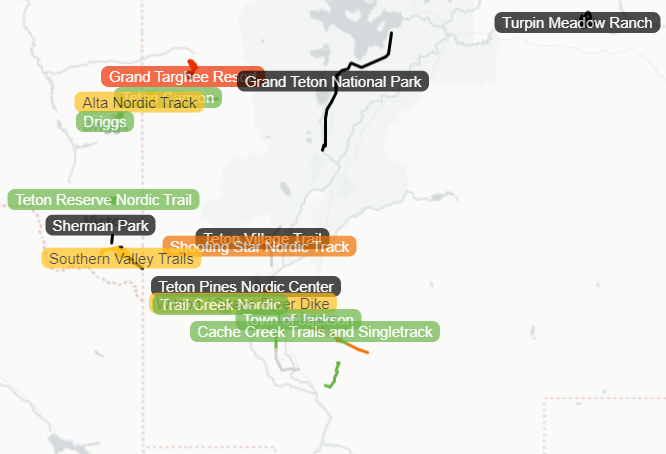 What's Groomed in Jackson Hole/Teton Valley?
See real-time grooming in the Jackson Hole/Teton Valley region. Find all the latest grooming & fresh groomed tracks. Plan your next Nordic Adventure with ease.
---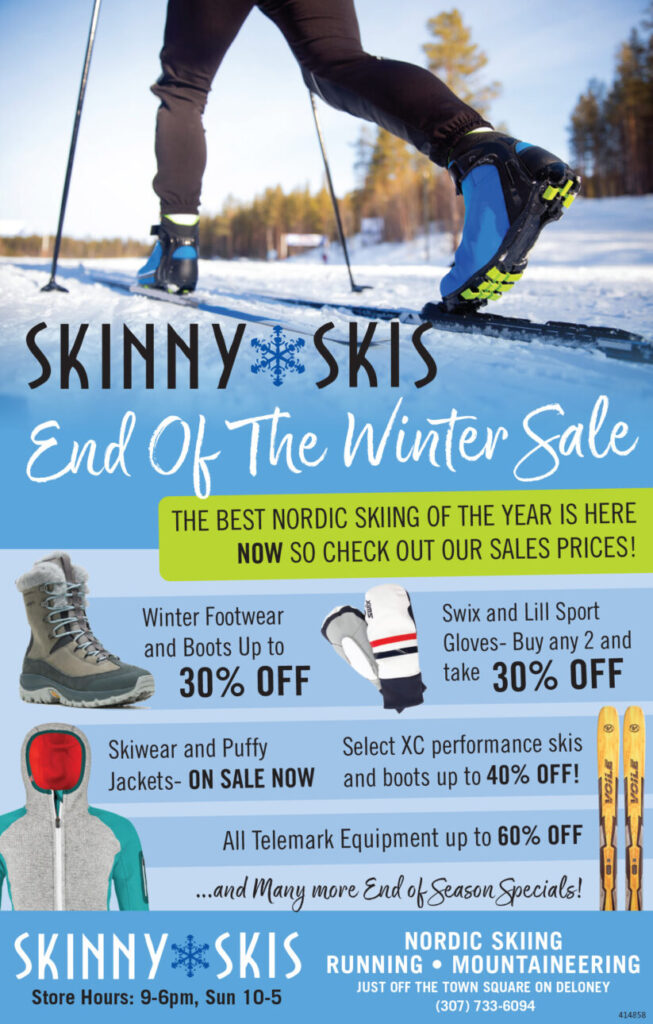 End of Winter at Skinny Skis!
Storewide markdowns of 20 to 60% on winter apparel, footwear, and XC & telemark ski equipment.
March ski service specials
Keep yours gliding at their best while the great conditions last!
Nordic Stonegrind and Wax $80 – save $35
Nordic Wax $10 – save $10
Metal Edge sharpen & wax $20 – save $10
Skinny Skis Nordic Season Finale
Saturday March 11th
Location: JHSC Trail Creek Training Facility
2.5, 5, & 10km Skate or Classic
---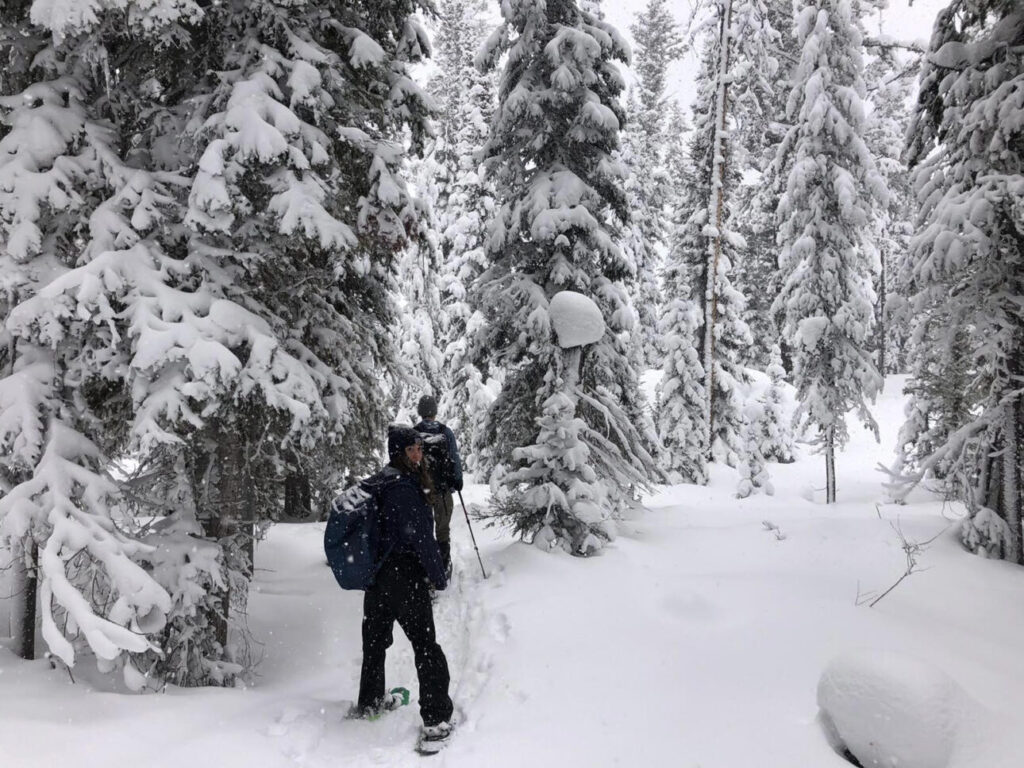 March 1, 2023 Nature Update
Provided by Cathy Shill founder of The Hole Hiking Experience
https://www.holehike.com
"There is no winter without snow, no spring without sunshine, and no happiness without companions."
-Korean Proverb
We seem to be in an ongoing storm cycle with more to come later this week. Local meteorologist, Jim Woodmency, reports that 2022 was colder, wetter, and snowier than normal. Seems to be our trend for the last 7 years. https://www.mountainweather.com/2023/01/jackson-trends-colder-wetter-snowier-than-normal/. The word around town is this winter resembles 2017 which was the winter the power lines blew down on the road to Teton Village. Still lots of winter left and March can be a wet month.
Snow piles are high, and movement is tough. As I drive the streets, I see deer all over town. Hard time for the wildlife so be extra careful to minimize any disturbance. Warmer temperatures also make the snow heavier requiring more calories. I would expect high mortality due to this long cold, snowy winter.
As March begins, we will see more changes in nature. Robins have been seen in town and I heard a Cassin's Finch singing yesterday. Warmer temperatures and longer days stimulate this change and as days lengthen more light penetrates the snowpack.
This light affects the nivean environment or the snow world. Plants and animals both respond. Rodents mass together for warmth for most of the winter. Increased light initiates hormonal changes and they become more territorial so begin to defend the territory from others. The Snow Buttercup, Ranunculus nivalis, which stores energy in its' bulb will grow at the edge of the snowpack as it seeks the light.
Join Susan Marsh, local author and naturalist, and I to explore the change of season this Saturday in Cache Creek. It's a free outing offered in conjunction with the Teton County Chapter of the Wyoming Native Plant Society. Sign up is required so shoot me an email to get on the list. Timing is 10-noon and we will travel by snowshoe. info@holehike.com | 307.690.4453 | www.holehike.com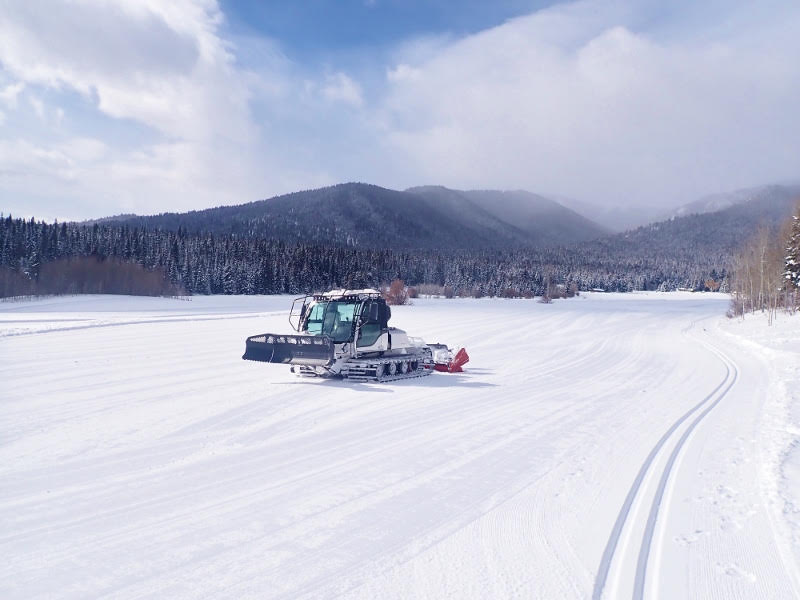 Grooming Daily
Last Update: 3/2
Miles and Miles of Beautiful Corduroy
Cold temperatures, fresh snow, clear skies, all the perfect ingredients for miles and miles(or kilometers and kilometers) of fresh, beautiful corduroy. Skiing is excellent at Trail Creek today! While winds are a bit gusty, temperatures are around 25 at the cabin, and it really would be hard to find better skiing conditions than right now.
The Lollipoppers were having a great time out on the trails this week! They explored some fresh powder, getting great backcountry experience that will come in handy some day, and then tried out the Nordic X course, which is gradually improving in direct proportion with the groomer's snow-moving skills. Thanks for the photos, Coach Cathy!
Of mild interest, the Moose and Elk were hanging out together on Woolsey today. Usually they avoid each other, but perhaps they were discussing this summer's grazing agreements? Food for thought.
Groomer's choice for today is the East Fields.
---
Grooming Today: Cache Creek, Game Creek, May Park, South Park Pathway
Last Update: 3/2
Emily's Pond Levee, High School Fields groomed 3/2.
---
Groomed by Friends of Pathways
Grooming Schedule: As Needed
Last Update: 2/28
Singletrack groomed 2/28.
---
Grooming Daily
Our 20% off sale has been extended on nearly everything in the store (skis, boots, poles, clothing, waxing accessories, etc)—we even have lots of clothing at 30% off! We have most sizes available in everything in the shop including: skate skis, classic skis, bc touring skis, boots, poles, gloves, jackets, pants, and hats.
We are open daily to the public for skiing. Click here for our current trails grooming and conditions: https://nordic-pulse.com/ski-areas/US/WY/Teton-Pines-Nordic-Center. We offer private skate and classic skiing lessons daily, skate/classic ski rental packages, and bc xc rentals for the park. We are open 9am-4pm. Please call to book lessons and with any other questions.
Note—We have a new shop phone number this season: (307) 732-4130
---
Grooming Daily
Last Update: 2/27
The snow continues! Anticipate another snowy week, with storm skiing Monday and Tuesday. More friendlier Nordic conditions are forecasted to return Wednesday. The track continues to groom out well but anticipate daytime snow accumulations and possible drifting throughout this whole week. Bundle up and enjoy!


Please help support trail grooming in GTNP by donating to the Grand Teton National Park Foundation. It's easy and encouraged. All you need to do is visit: GTNPF.org/donate/ and leave the comment "Nordic" in the designation section. There is the opportunity to leave a one time gift or reoccurring monthly donations in any amount.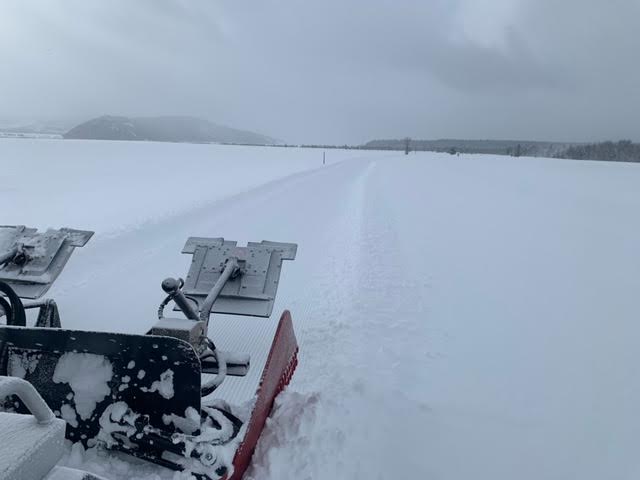 Grooming: Tuesday, Friday, Sunday
Last Update: 2/28
Groomed to signal 2/28.
Lots of fresh corduroy from Taggart to Signal, thanks to GTNP grooming! Check out JHNordic.com/Grooming/ to find other fresh grooming in our new real-time map, thanks to our partner, Nordic-Pulse.
---
Grooming Daily
Last Update: 2/28
What is a cross country skier's favorite fabric?… Corduroy! All of our ski trails are in great condition with a little new snow and attention from the pisten bully. There are some bold moose in Mule Pasture, they didn't seem to care about the grooming equipment, in fact they were a little curious! The single track was groomed this morning also. If you're thinking about an excursion to Turpin now is the time!
Turpin Meadow Ranch is open to all for skiing, lodging, dining, Nordic lessons, and tours! Closing day (March 12, 2022) is not too far away so make your plans to come to Turpin soon! Call the office (307) 543-2000 or visit our website to book your adventure and/or meal!


Please support TVTAP winter trail grooming on your favorite TV winter trails by purchasing a TVTAP Trail sticker Please remember to manage your dogs and respect dog and wildlife closures. Buy a dog trail sticker, too!
Grooming Schedule: Sunday, Tuesday, Thursday, & Saturday
Last Updated: 3/2
Classic Track: Set | Fat Bike Trails: Closed | Snowshoe Trails: Open
An unexpected 6″ of snow fell overnight! Last night's "light snow" forecast quickly ramped up around 6pm and produced significant accumulation. Clouds and light snow will continue throughout the day. The storm will ramp back up in the late afternoon. March is off to a great start!
Remember, singletracks will be closed when there is more than 3 inches of snow in a 24 hour period.
---
Grooming Schedule: Tuesday, Thursday, & Sunday
Last Updated: 3/2
Skate: Set | Classic: Set
Thursday: 2-3″ of new light snow. Set a good classic track then rolled and ginzued the skate track, which is still soft. Beautiful day out there.
---
Grooming Schedule: Monday, Wednesday & Friday
Last Updated: 2/28
Skate: Set | Classic: Set
The new snow has been rolled out and the classic track set. Of course, skate skiing is going to be soft, but it should be okay. One more groom and it should firm up nicely. Hopefully, the wind will stay gentle, and the track won't get filled back in overnight.
---
Grooming Schedule: Monday, Wednesday & Friday
Last Updated: 3/1
Skate: Set | Classic: Not Set
3 laps with the roller to try and reclaim the skate track. We'll re-set the classic track when time allows. It was deep out there! Re-established the walking path.
---
Grooming Schedule: Monday, Wednesday, Friday & Saturday
Last Updated: 3/2
Skate: Set | Classic: Set
Thursday: Rolled the 6-8 inches of very light snow. Set south classic and skate. Track remains very soft.
Trail Etiquette: Please keep your dogs leashed in the parking lot and be sure to clean up after them!
---
Grooming Schedule: Tuesday, Friday & Sunday
Last Updated: 3/2
Skate: Not Set | Classic: Not Set
I'll begin grooming at five this evening. I will report trail conditions when I'm finished. Sneak out and get a ski before the next storm!
No dogs December 1 – April 15.
---
Grooming Schedule: Tuesday, Thursday & Saturday
Last Updated: 3/2
Skate: Set | Classic: Set
Thursday morning I reset the skate and classic track on all loops. Enjoy the glide.
No dogs allowed. Please stay on the groomed trails at all times.
---
Southern Valley Singletrack
Grooming Schedule: As needed
Last Updated: 3/2
Singletrack: Set
Ladyslippers groomed 2/8 evening Hillbenders Grumpy groomed 3/1 morning Nemo, Powerline groomed 3/1 evening Variable conditions exist low pressure and if you have to dismount, please walk on the extreme edges of the single track. Thanks and enjoy!
No dogs December 1 – April 15.
---
Grooming Schedule: As needed
Groomed by USFS
Last Updated: 2/23
Groomed to Pinnacle TH only.
---
Grooming Schedule: As needed
Groomed by USFS
Last Updated: 2/17
Groomed 2/17.
---
Grooming Schedule: As needed
Groomed by USFS
Last Updated: 2/17
Groomed 2/16.
---
Pinnacle Trail
Grooming Schedule: As needed
Groomed by USFS
Last Updated: 2/1
Groomed 2/1


Mark your calendar so you don't miss out on all the wonderful events coming up! Explore the highlighted events below or find more events on our website at https://jhnordic.com/events/
---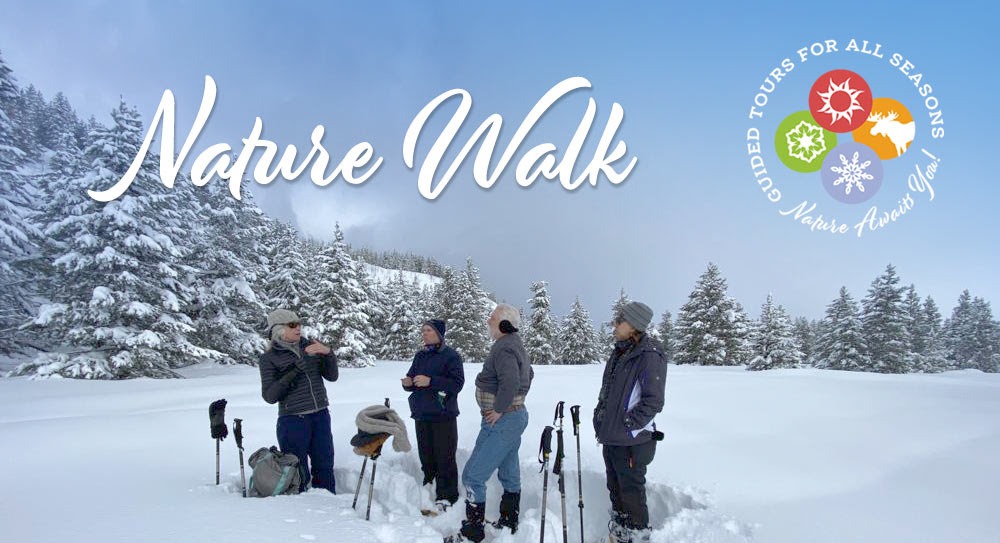 Hosted by the Teton County Chapter of the Wyoming Plant Society and The Hole Hiking Experience
Saturday, March 4
10AM-Noon
Max group size is 14 participants, Pre-registration is required: info@holehike.com or (307) 690-4453
Meet at the Cache Creek parking lot ready to walk or snowshoe by 10 a.m.
---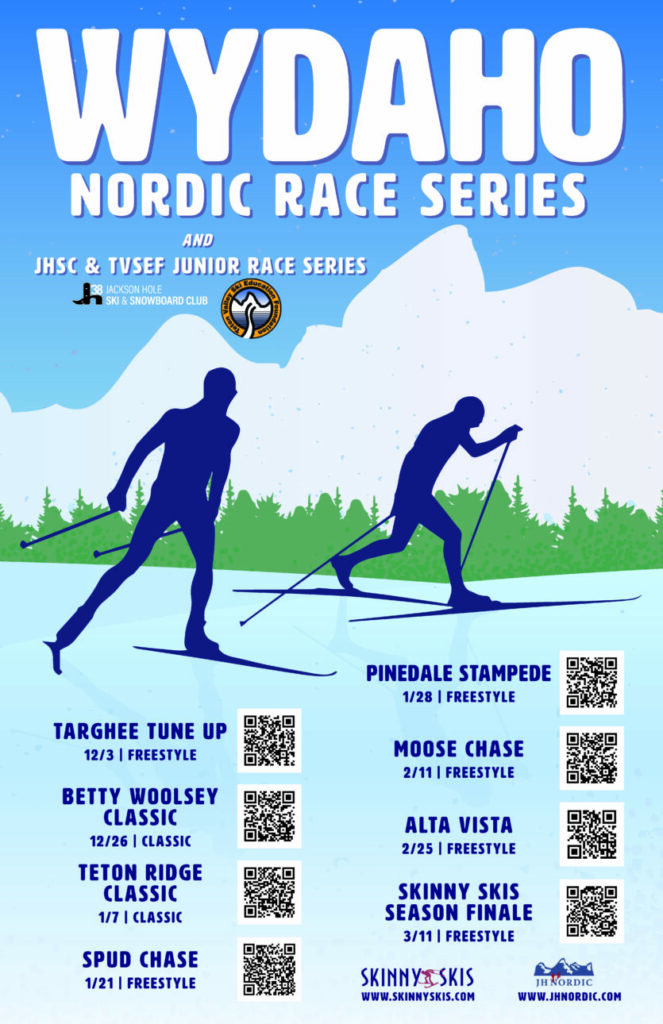 Skinny Skis Season Finale – Freestyle
Saturday March 11th
Location: JHSC Trail Creek Training Facility
2.5, 5, & 10km Skate or Classic
Get your Nordie Nerd on this season with a skate or classic race. All races are open to everyone with no cut off times. Or ski the course after the race to try it out. There is something for every level of skier including the kids!
Registration: 9am day of race. Race start time: 10am all races
Suggested entry – $20 for 5 & 10km. $10 for JHSC Junior Nordic athletes. $5 for 2.5km
Cash or check ONLY! Please make checks out to JHSC.
---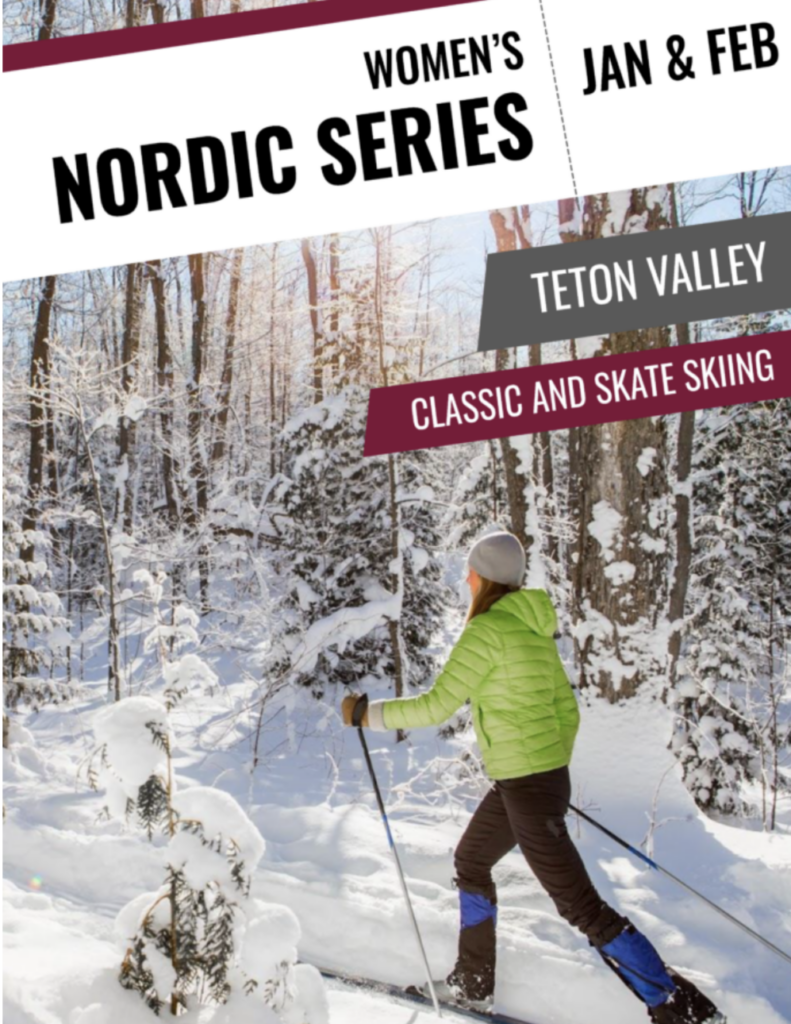 [Rescheduled 3/16]
Women's Nordic Series
Saturday, March 16
5:30PM | Alta Track
Due to the inclement weather the Women's Nordic Series is rescheduled for Thursday, March 16th at 5:30 pm at the Alta Track.
---
---
---
We'd love to hear about your outdoor adventures, what your doing to stay healthy, safe, respectful of community health guidelines – send pictures or post on FB and Insta – #JHNordic