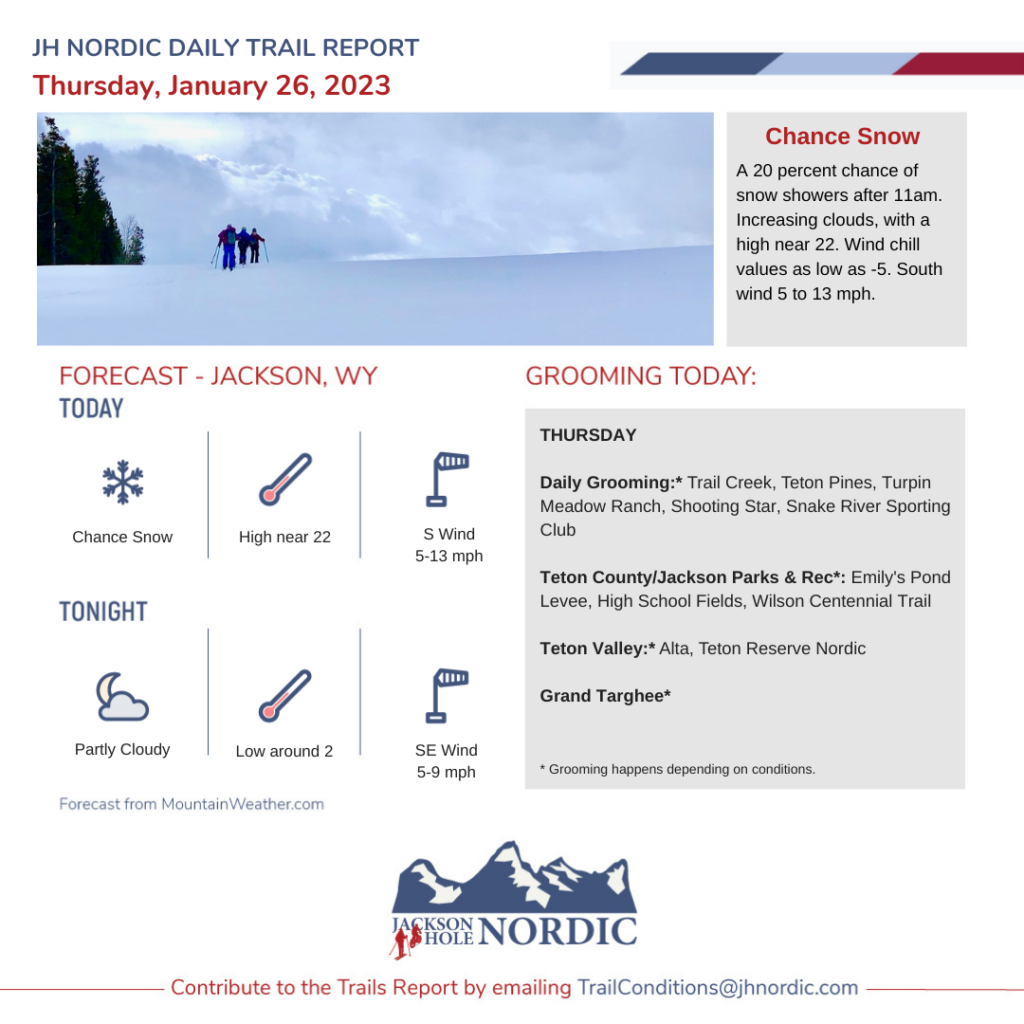 ---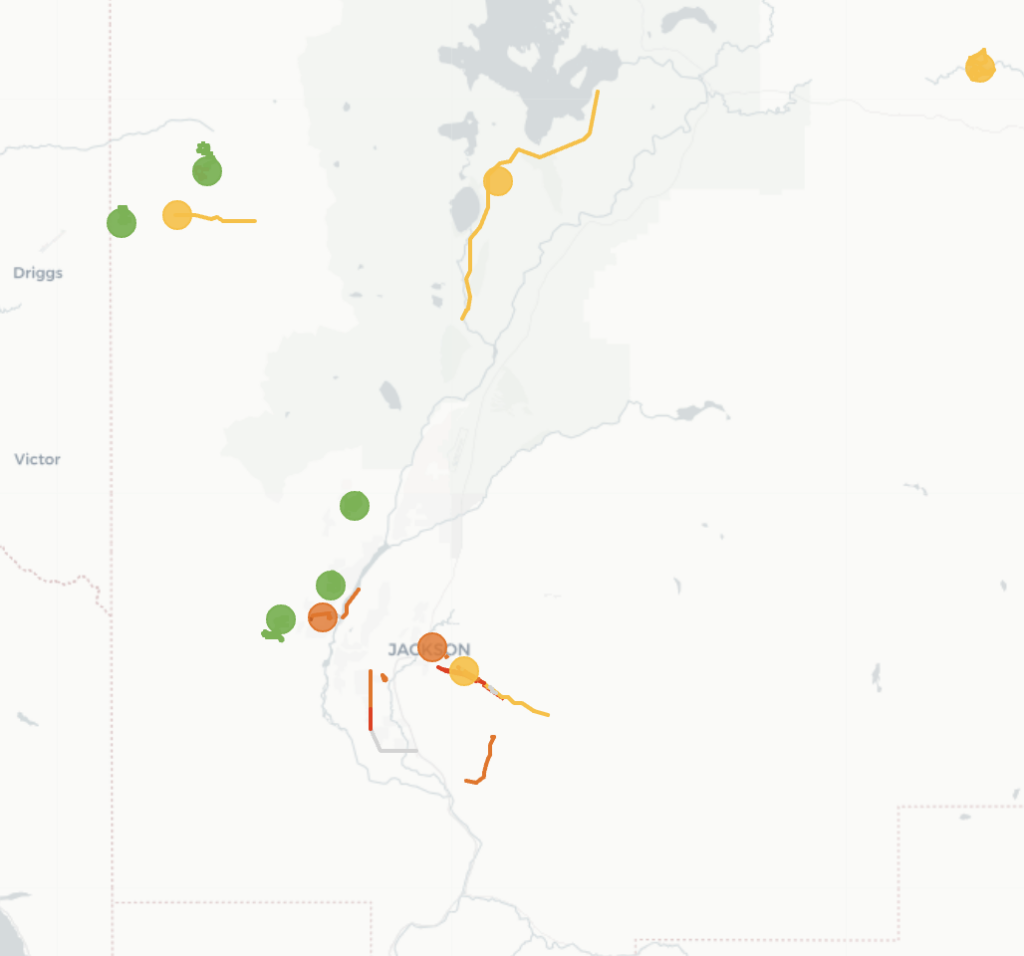 What's Groomed in Jackson Hole/Teton Valley?
See real-time grooming in the Jackson Hole/Teton Valley region. Find all the latest grooming & fresh groomed tracks. Plan your next Nordic Adventure with ease.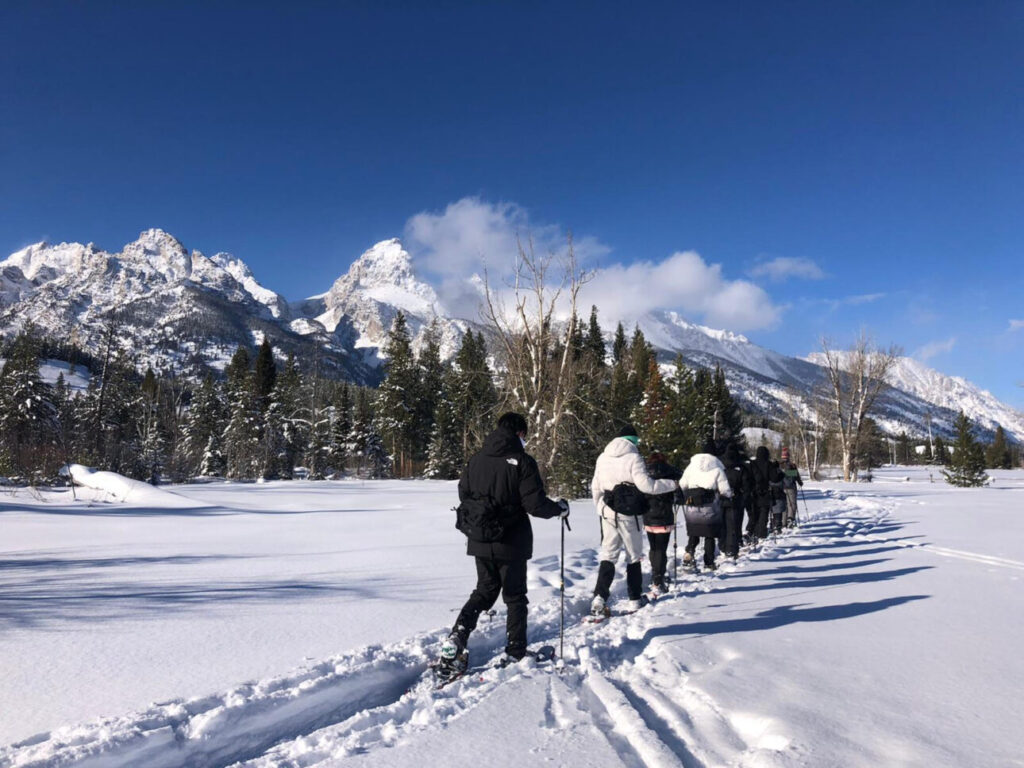 January 25, 2023 Nature Update
Provided by Cathy Shill
Founder of The Hole Hiking Experience | https://www.holehike.com/
"In seed time learn, in harvest teach, in winter enjoy." -William Blake                     
At times, it is challenging to get up and get going when single digits. It's been a chilly week. You know it's winter when days only share a bit of warmth during the mid-afternoon. Fortunately, we wear layers that allow us to stay quite comfortable during the winter months. I own a few down layers and jackets and you can't beat merino wool. It's nice as a base layer. More snow predicted this weekend and snowpack continues to be above average so we certainly can't complain.
Winter is the season of dormancy, so nature is mostly quiet. As Paul Theroux says, "winter is a season of recovery and preparation." I encourage us all to stop, breathe and take in this silence, the feeling of resting, rejuvenating. The season of winter can be a time to reflect and create. We can align with nature and burst forth with the energy of spring to support our creation or wish. Wonderful time to just listen and be.
A winter highlight is a drive out the Elk Refuge Road to catch a glimpse of the wintering Big Horn Sheep. Some of the sheep in the Gros Ventre Mountains travel lower in elevation to a rocky butte we call Miller Butte. Robert Miller homesteaded and was a prominent citizen in the early history of Jackson Hole.
Sheep prefer this butte and its' rocky habitat for forage and protection. At times they can be on the road and if so, be extra careful they DON'T lick your car. If sheep share saliva by licking, disease is easily spread. Always fun to drive out the road to look for elk, trumpeter swans, sheep and maybe even a mountain lion. Jackson Hole is wild Wyoming. #givewildlifeabreak #recreateresponsibly
Enjoy this time of the year. Allow nature to seep into your bones to give clarity and peace. Lots of great places to explore. Join our team of naturalists to delve a bit deeper by checking out a new part of the valley and learning about this amazing area and ecosystem. www.holehike.com 307.690.4453
---
We love seeing our kids on Nordic skis
It's terrific to see our community kids on Nordic skis having fun, racing, and working together as a team! It's also important to recognize the organizations who make it all possible. We thank Teton County Park & Recreation, JH Ski & Snowboard Club, Coombs Outdoors, 22 Nordic, and Teton County School District for all they do!!
Coombs participants featured below are learning new skills and spending quality time outside. Over 400 participants are out in the snow every week! Read more from Coombs Outdoors.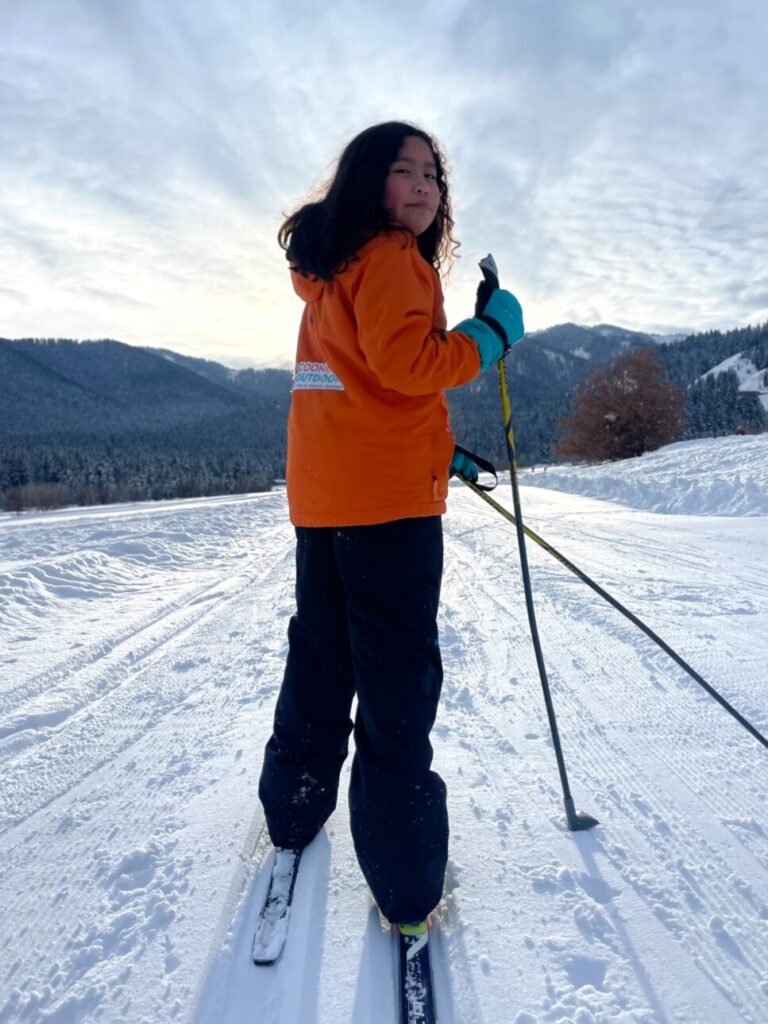 JHSC Nordic athletes featured below. These kids have MUCH to be proud of: podium sweeps, international placements, displays of teamwork and camaraderie. Summer and fall dryland training paying dividends. Read more from JHSC.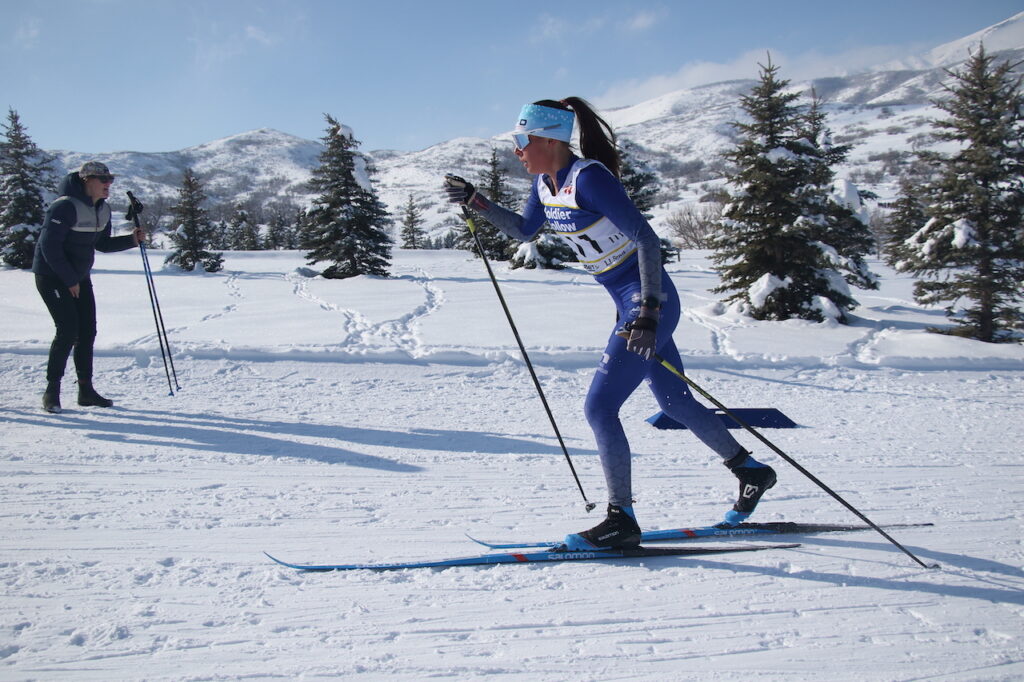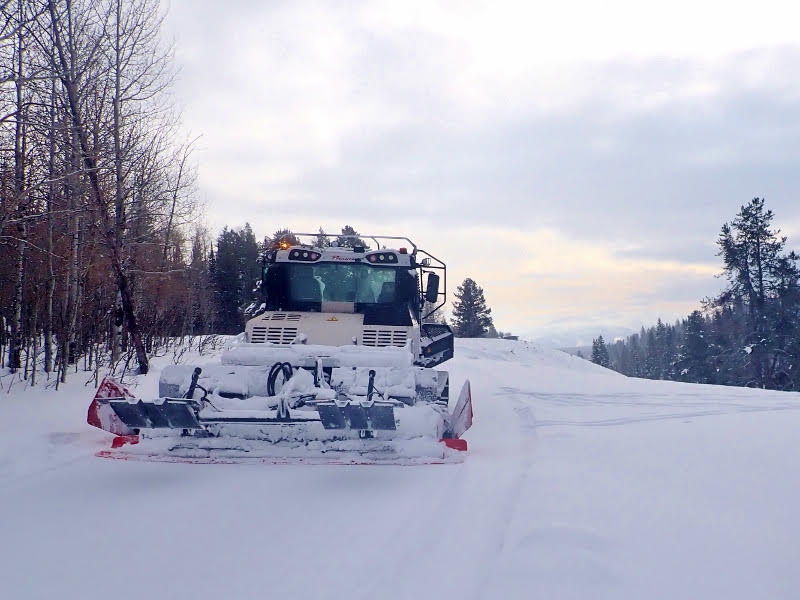 Grooming Daily
Last Update: 1/25
A "Moosey" Wednesday!
Not a huge herd, but quite a few random moose were scattered throughout the trail network today at Trail Creek.  Not to fear, our Husky was up to the challenge, buffing out all those lovely tracks left by our beloved resident moose (and elk) population!
Overnight we received 1-2 inches of fresh snow. Today's grooming began with some work in the Close Field in anticipation of an early crowd from today's winter sport kids around lunchtime. The next item on the docket was to rework nearly every trail in the woods complete with fresh classic tracks. Finally the grooming day wrapped up with additional grooming in the fields and play areas in anticipation of the second wave of youth skiers hitting the snow after school today. Temps are a bit cool in the low teens, but the recent lack of much snow along with moderate temps has resulted in firm tracks and nice skiing.
Speaking of the recent lack of snow, as of January 24th our Phillips Bench reporting station has dropped to 101% of normal, still doing ok, but not looking like a record at this time. It does however look like we'll be gaining ground in the days ahead as significant snow is returning to the forecast.
Groomer's choice for today is Moose Loop.
---
Grooming Today: Emily's Pond Levee, High School Fields, Wilson Centennial Trail
Last Update: 1/21
The levee and stilson are groomed and in good shape. The levee is very firm but should ski decently.
---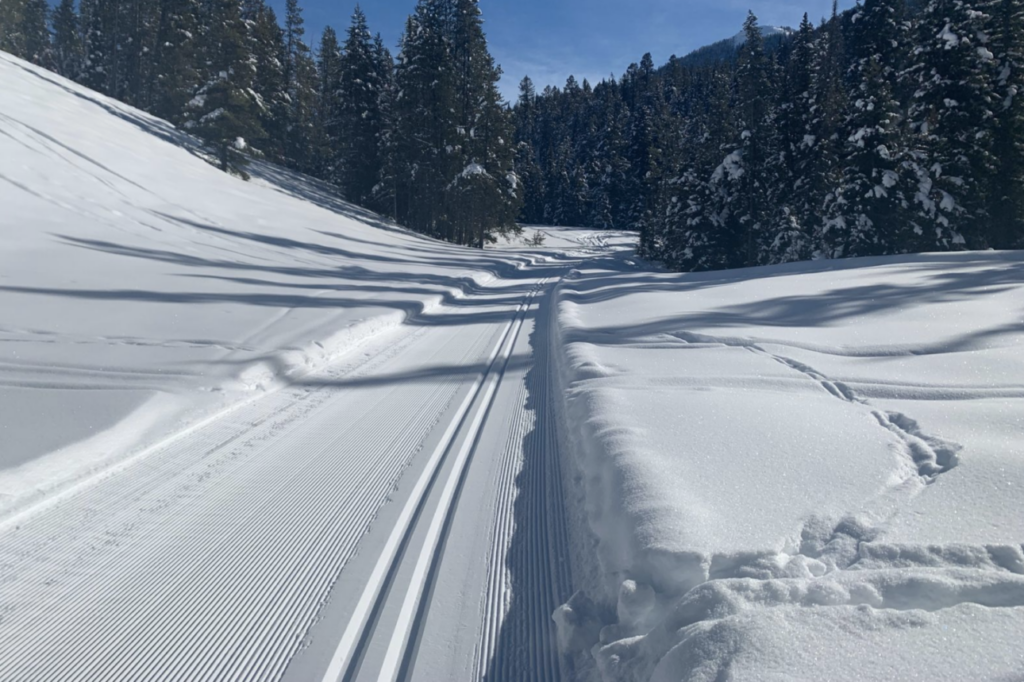 Groomed by Friends of Pathways
Grooming Schedule: As Needed
Last Update: 1/23
Cache Creek to Noker Mine – blue bird day!
---
Grooming Daily
Used ski sale!! We are currently selling our classic rentals/demos. Price for Skis, bindings, boots: $215. (Must buy whole package). We still have most sizes available. This sale won't last long so come out and see us soon! Sorry but we don't have any used skate gear for sale but we have lots of new skate boots, skis, bindings and poles available in the shop.
We are open daily to the public for skiing. Click here for our current trails grooming and conditions: https://nordic-pulse.com/ski-areas/US/WY/Teton-Pines-Nordic-Center We offer private skate and classic skiing lessons daily, skate/classic ski rental packages, and bc xc rentals for the park. We are open 9am-4pm. Please call to book lessons and with any other questions.
Note—We have a new shop phone number this season: (307) 732-4130
---
Grooming Daily
Last Update: 1/23
More calm and cold conditions are expected through Thursday which should continue to provide very enjoyable skiing. Looks for snowy weather to return Friday. Enjoy and stay warm! Next update will be Friday 1/27.More calm and cold conditions are expected through Thursday which should continue to provide very enjoyable skiing. Looks for snowy weather to return Friday. Enjoy and stay warm! Next update will be Friday 1/27.


Please help support trail grooming in GTNP by donating to the Grand Teton National Park Foundation. It's easy and encouraged. All you need to do is visit: GTNPF.org/donate/ and leave the comment "Nordic" in the designation section. There is the opportunity to leave a one time gift or reoccurring monthly donations in any amount.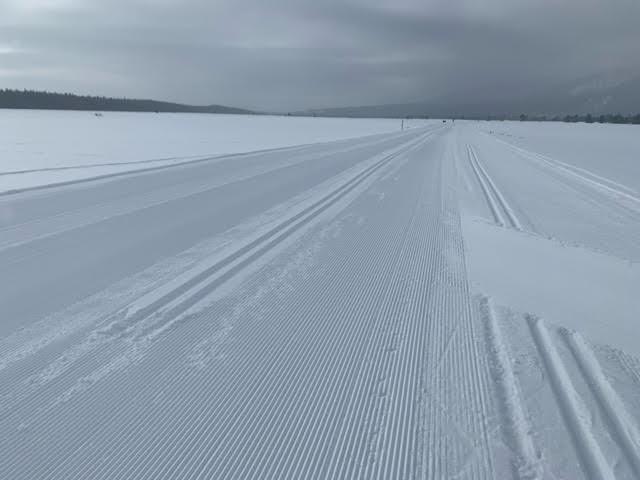 Grooming: Tuesday, Friday, Sunday
Last Update: 1/24
Today GTNP, Cold and overcast. Taggart Lake Trailhead to Signal Mountain groomed for the day.
Lots of fresh corduroy from Taggart to Signal, thanks to GTNP grooming! Check out JHNordic.com/Grooming/ to find other fresh grooming in our new real-time map, thanks to our partner, Nordic-Pulse.
---
Grooming Daily
Last Update: 1/24
The skate lane was reset last night with the ginzu and we will continue grooming that way for the next couple of days. Temps continue to be cold and trails continue to be firm: ideal conditions for Nordic skiing and fat biking. The moose are still close by and have been seen on every trail and at the lodge. Enjoy the glide and watch out for wildlife!
Turpin Meadow Ranch is open to all for skiing, lodging, dining, Nordic lessons, and tours! Ours is a short season so be sure to plan a visit this winter between now and March 13, 2022. Call the office (307) 543-2000 or visit our website to book your adventure and/or meal!


Please support TVTAP winter trail grooming on your favorite TV winter trails by purchasing a TVTAP Trail sticker Please remember to manage your dogs and respect dog and wildlife closures. Buy a dog trail sticker, too!
Grooming Schedule: Sunday, Tuesday, Thursday, & Saturday
Last Updated: 1/25
Classic Track: Set | Fat Bike Trails: Open | Snowshoe Trails: Open
Targhee recorded 7 inches of fresh snow since 5am yesterday. Temperatures will remain relatively cold throughout the week with a storm cycle blowing in tomorrow morning. More snow is on the way!
Remember, singletracks will be closed when there is more than 3 inches of snow in a 24 hour period.
---
Grooming Schedule: Tuesday, Thursday, & Sunday
Last Updated: 1/23
Skate: Set | Classic: Set
Groomed out the skate lane late Monday night. Skating will be great on Tuesday. The classic track was still in pretty good shape and I could not really improve it so I left it alone. Still good though. Have fun!
---
Grooming Schedule: Monday, Wednesday & Friday
Last Updated: 1/25
Skate: Set | Classic: Set
We got about 4″ of new snow last night. I smoothed it out and reset the classic track.
---
Grooming Schedule: Monday, Wednesday & Friday
Last Updated: 1/25
Skate: Set | Classic: Set
1 inch of super light snow. Rolled everything 4 times. Set classic tracks, but they are a tad shallow. Tried to focus on the ball fields since it's the final Wednesday night lights! and 6pm is the night flight poker event. It was super fun last week. Come join! Rules are simple ski a .5km lap get a playing card. At the end, take your cards and make up the best poker hand to win prizes.
---
Grooming Schedule: Monday, Wednesday, Friday & Saturday
Last Updated: 1/25
Skate: Set | Classic: Set
Wednesday: Looks like a bit of new snow to work with this morning. Plan to reset both classic and skate tracks. Thanks to Jeremy with USFS for grooming the snow machine track on Monday.
Trail Etiquette: Please keep your dogs leashed in the parking lot and be sure to clean up after them!
---
Grooming Schedule: Tuesday, Friday & Sunday
Last Updated: 1/23
Skate: Set | Classic: Set
Monday evening: Just finished grooming Yeti and Campground loops. They should set up well overnight and be fast and firm tomorrow! I reset all skate tracks, but left the classic track alone since it was in decent shape. Enjoy!
No dogs December 1 – April 15.
---
Grooming Schedule: Tuesday, Thursday & Saturday
Last Updated: 1/24
Skate: Set | Classic: Set
Tuesday morning I was able to groom and reset the skate and classic track. It turned out pretty nice. Enjoy the glide.
No dogs allowed. Please stay on the groomed trails at all times.
---
Southern Valley Singletrack
Grooming Schedule: As needed
Last Updated: 1/25
Singletrack: Set
Wednesday morning update: The entire singletrack trail system in great shape and therefore we don't plan to groom again until the coming storm system passes. We currently plan to groom again on Friday night. Enjoy the ride!

No dogs December 1 – April 15.
---
Grooming Schedule: As needed
Groomed by USFS
Last Updated: 1/23
Groomed 1/23
---
Grooming Schedule: As needed
Groomed by USFS
Last Updated: 1/12
Groomed 1/12 PM.
---
Grooming Schedule: As needed
Groomed by USFS
Last Updated: 1/24
Groomed 1/24 in the afternoon.
---
Pinnacle Trail
Grooming Schedule: As needed
Groomed by USFS
Last Updated: 1/24
Groomed 1/20. The bottom stretch from the Pinnacle TH to the "beaver slide" is very bumpy. After that we were able to groom it smooth.


Mark your calendar so you don't miss out on all the wonderful events coming up! Explore the highlighted events below or find more events on our website at https://jhnordic.com/events/
---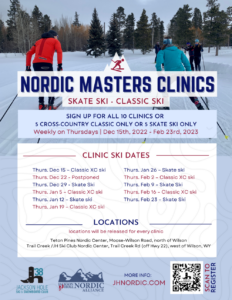 Thursdays – from Mid December to late February
TODAY!
Thursday, January 26 – Skate Ski | Teton Pines Nordic Center
The JHSC would like to encourage participants to pre-register/pre-pay for the clinics, including drop-ins.

Join us this winter season to increase your ski speed, stamina, and strength. Work on your technique and form with professional tips and exercises from USSA certified coaches. Stay and ski all day with your clinic ski pass at Teton Pines Nordic Center or Trail Creek Nordic Center (we will ski at both locations through out the winter to provide a variety of terrain and technique).
---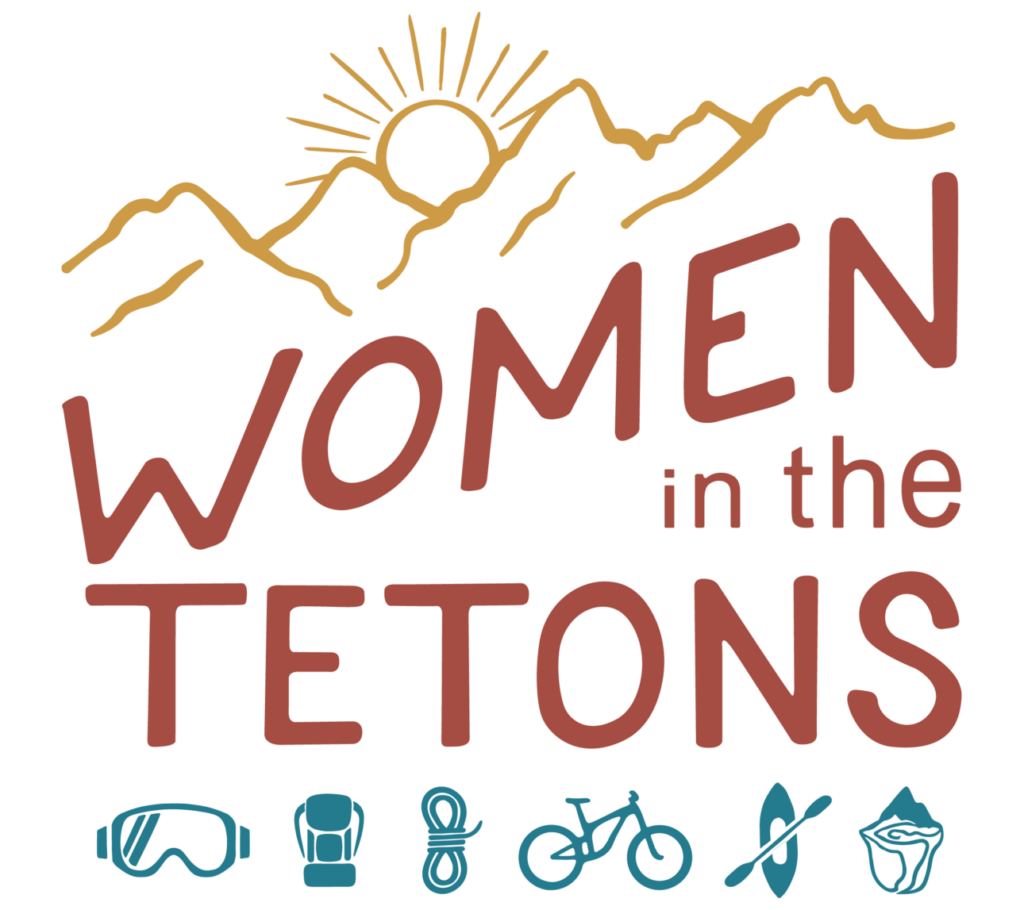 Get Your Gal Pals Together for Upcoming Nordic Ski Meet-Ups
TODAY!
Thursday, January 26 | 4:30-5:30pm
Stilson
Join us for some Nordic skiing at Stilson. This is a great chance to show off your skills or just try something new – we will have an awesome instructor to help you out, so don't be shy!
We will have classic and skate skiers and all levels are welcome.
Saturday, February 25 | 4:30-5:30pm
Cache Creek
More Nordic fun on the menu! We plan to Classic ski, but there might be some skate skiing too. Come join us!
---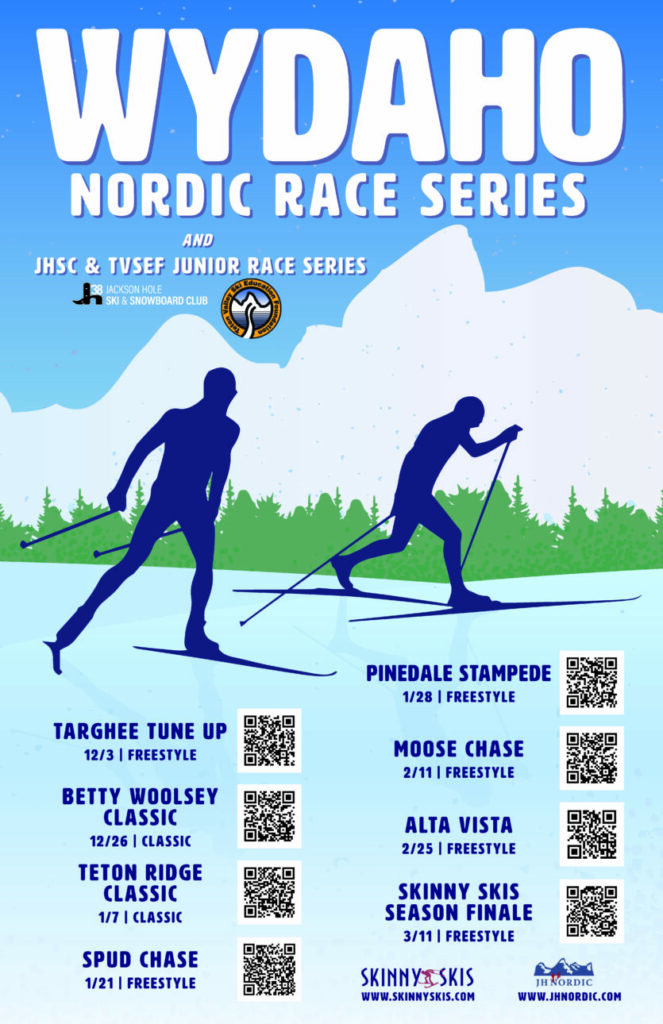 ---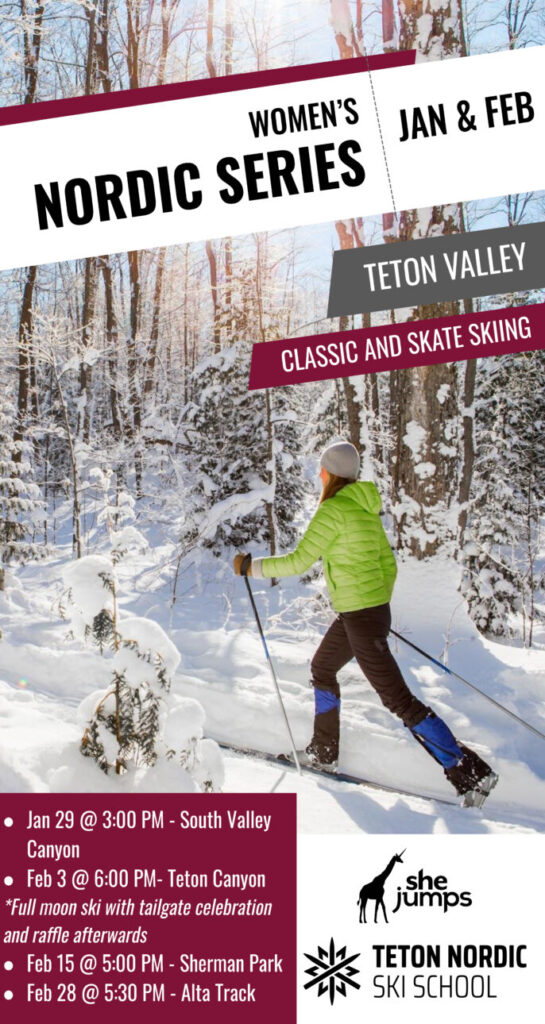 ---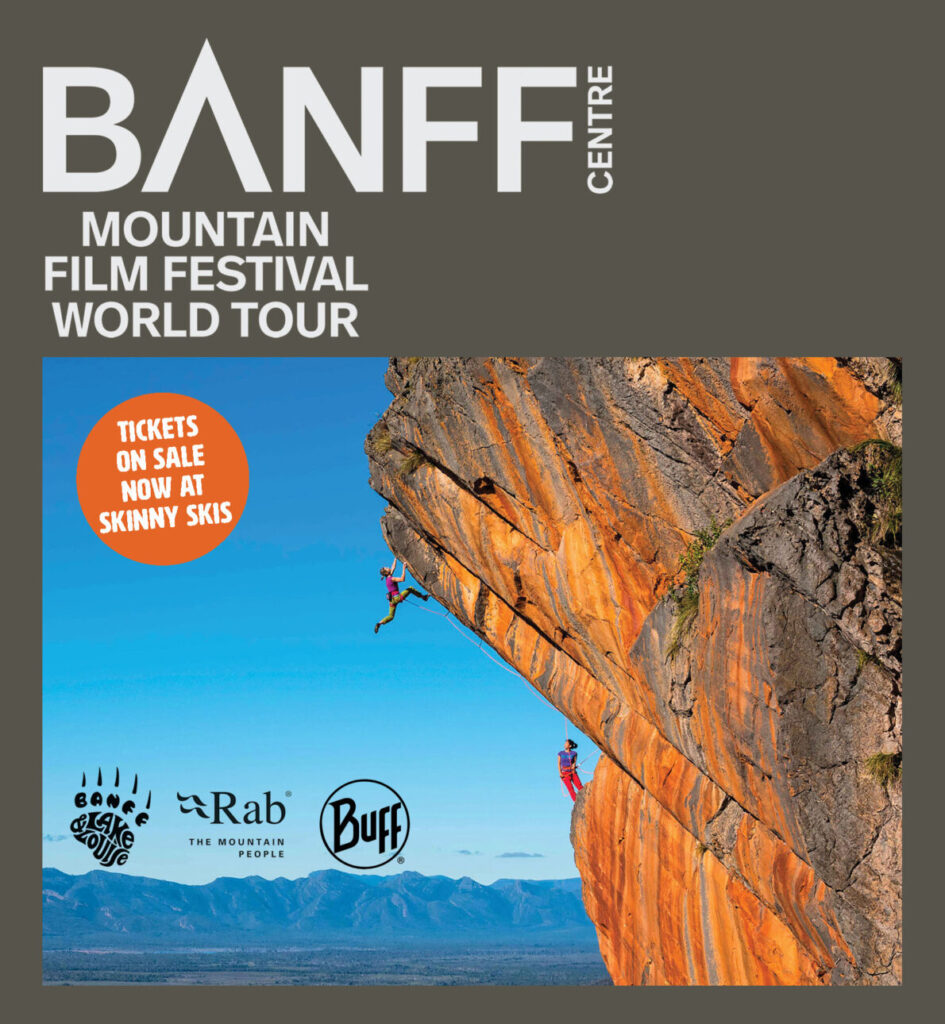 Banff Film Festival
February 10th and 11th, 2023
Jackson Hole High School
Skinny Skis presents two showings of the Banff Mountain Film Festival. The showings will be a fundraiser for the Friends of the Bridger Teton. Tickets now on sale at Skinny Skis!


---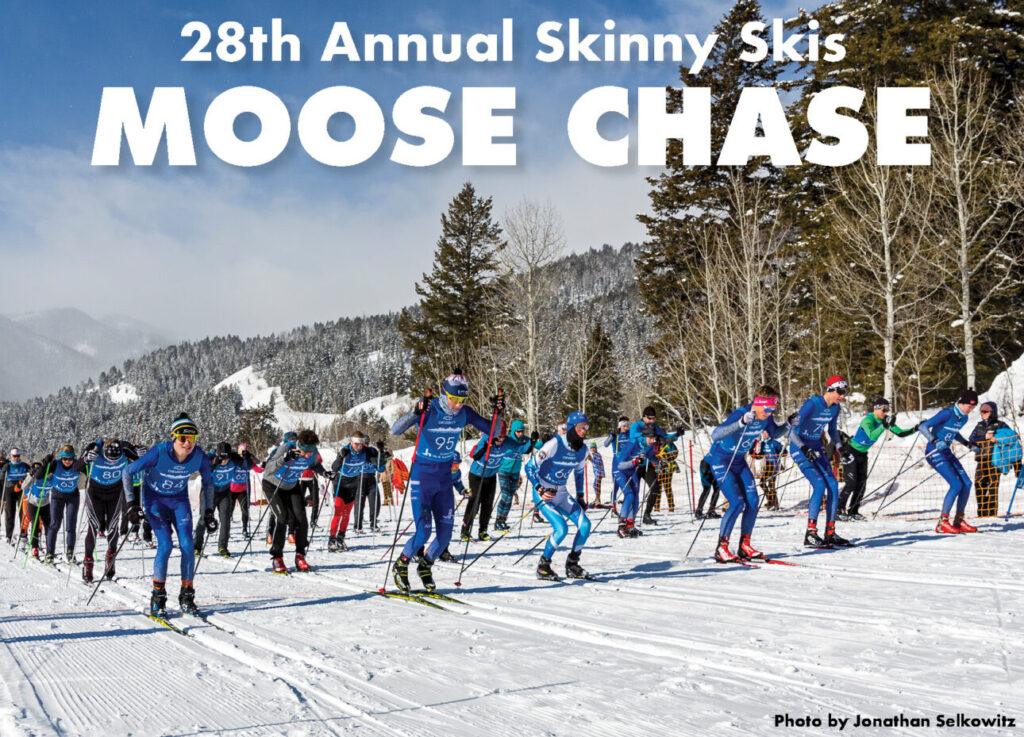 Saturday, February 11th, 2023 | 10:00AM
Trail Creek Nordic Center
THE MOOSE CHASE PRESENTED BY SKINNY SKIS IS BACK! After a four year hiatus, we are bringing back this community nordic event at Trail Creek on Saturday, February 11th. We would love to see all families, club athletes, and nordic community members on the start line to celebrate cross-country skiing in Jackson Hole. Parents are encouraged to race or volunteer, and we will be sending out volunteer shifts to sign up for shortly. We will have 20k, 10k, 5k, 3k, and free 0.5k options that accommodate all ages and abilities. Every athlete from Lollipoppers to Devos to Prep/Comp should plan on attending this event! We will have a food and awards following race completion at Trail Creek.
---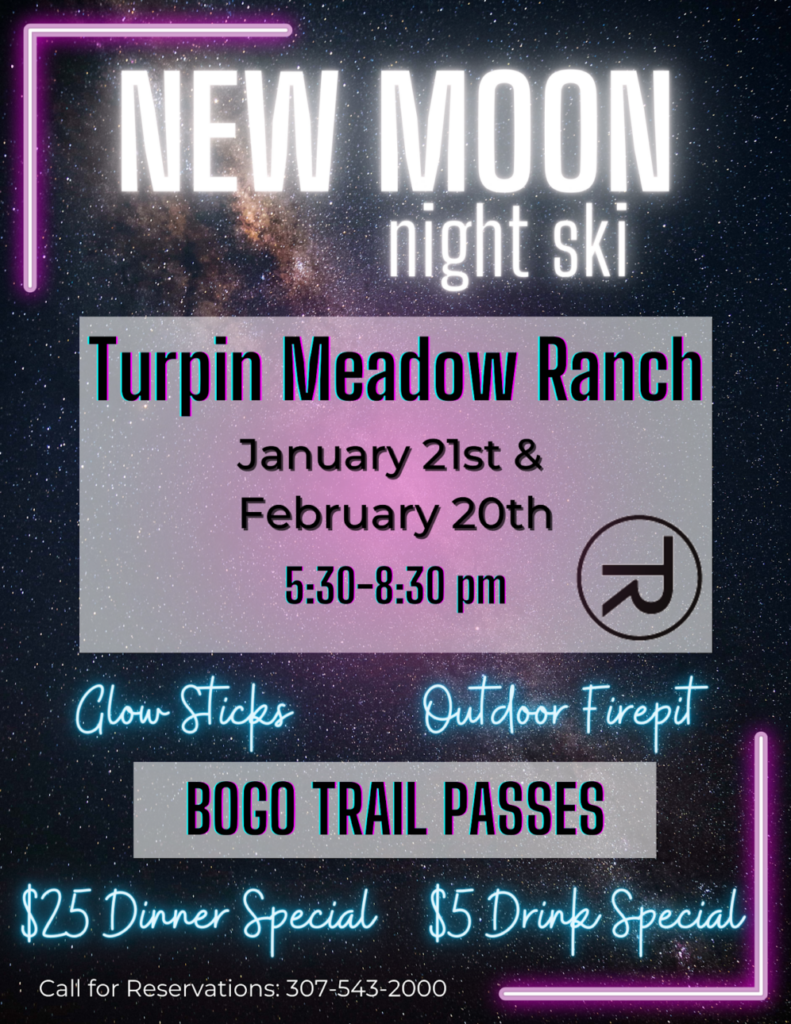 ---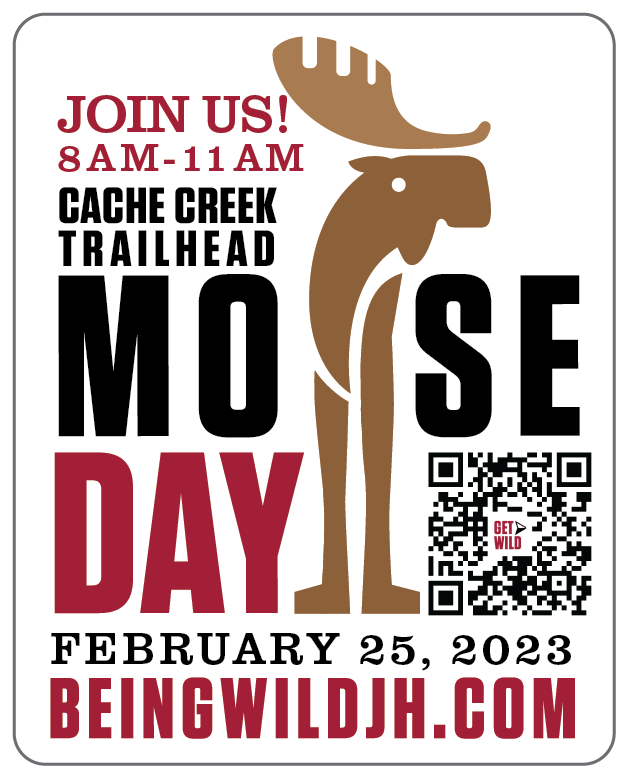 ---
---
---
We'd love to hear about your outdoor adventures, what your doing to stay healthy, safe, respectful of community health guidelines – send pictures or post on FB and Insta – #JHNordic