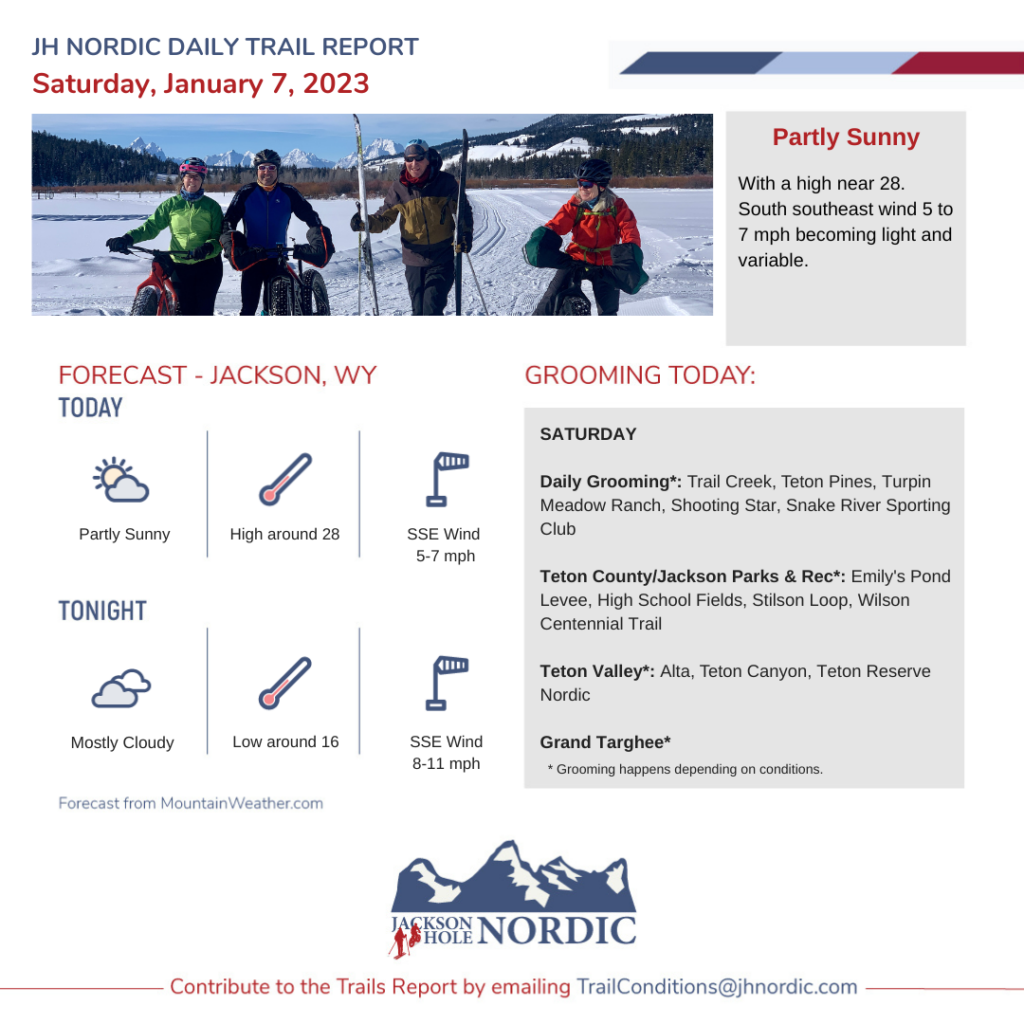 ---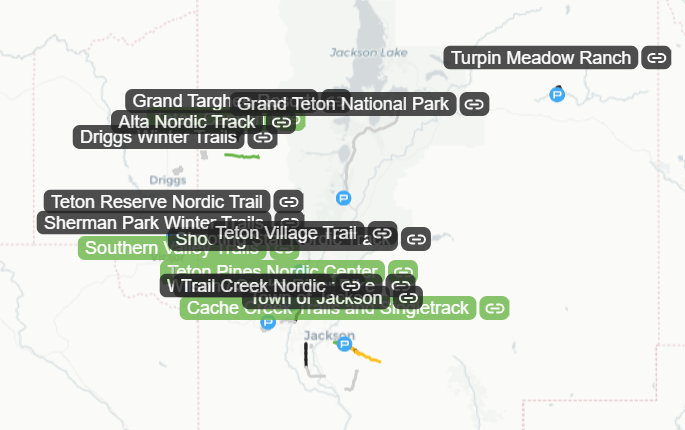 What's Groomed in Jackson Hole/Teton Valley?
See real-time grooming in the Jackson Hole/Teton Valley region. Find all the latest grooming & fresh groomed tracks. Plan your next Nordic Adventure with ease.
---
JH Nordic Alliance Free Annual Event is TOMORROW!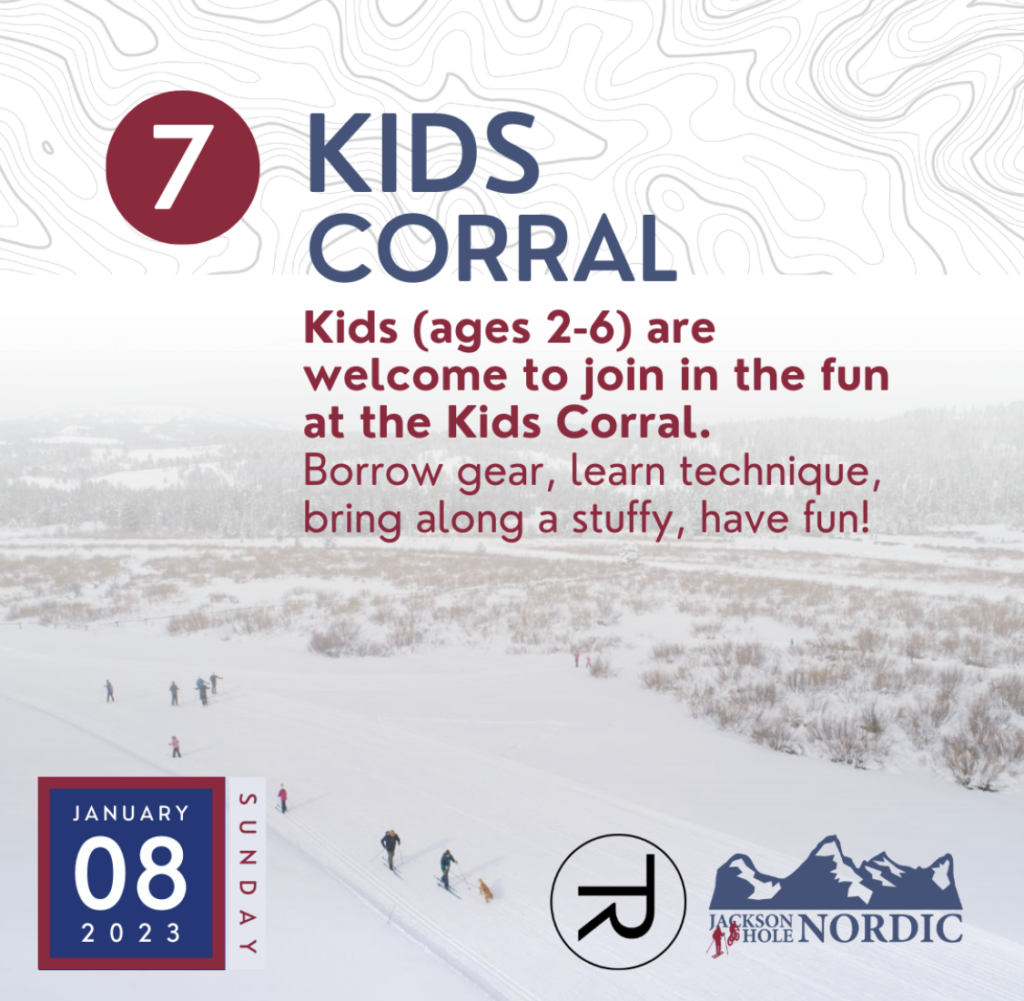 Countdown to The JH Nordic Annual Event!
We haven't hosted this event in two years and we are so excited to invite you to join this 5th Annual FREE Nordic Community Event at Turpin Meadow Ranch tomorrow, Sunday, January 8th, 2023! We are just 2 days away from the event so to celebrate let's countdown with 7 reasons to attend (a new reason will be featured each day this week).
Reason #7: KIDS CORRAL! Stoke the enthusiasm for Nordic early; kids ages 2-6 are welcome to try out xc skiing and have some fun!
This year's raffle benefits the Bridger-Teton Nordic/Winter Trails Ambassador program. Tickets are $5 each or $20 for 5! Raffle items include:
An overnight stay at Turpin Meadow Ranch, a pair of Nordic skis from Skinny Skis, a half day snowshoe tour for two with The Hole Hiking Experience, a xc ski tour for two with JH Ecotour Adventures, a half day fatbike tour for two with Teton Mountain Bike Tours, a men's puffy jacket from Stio, two Grand Targhee Nordic Season Passes for 2023/2024, and much much more!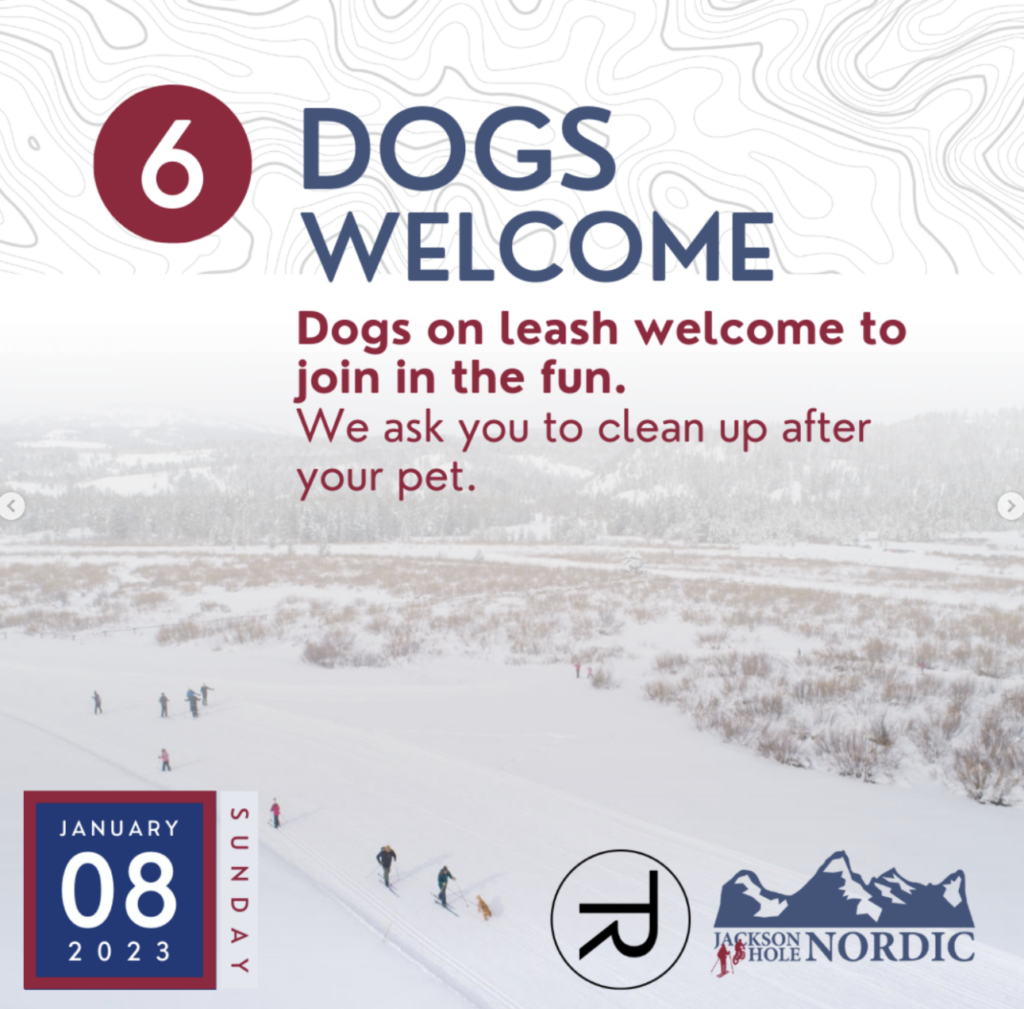 ---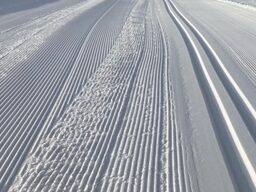 Winter Trail Etiquette
A well-cared-for winter trail can be a reprieve from the dark and cold days that come with the season.
Whether you're a cross-country skiing novice, an intermediate fat biker, or an expert winter trail enthusiast, it's good practice to review common winter trail etiquette and the specific trail map before zipping up your boots and setting out on the track.
Trail etiquette starts by abiding by The Golden Rule, as winter recreators are all out there to get fresh air, exercise, and enjoy the natural beauty of winter. A warm smile can go a long way, especially on a cold 20-degree day – an optimal temperature for snow conditions for cross-country skiing. 
---
Jackson Hole Nordic Alliance's Nancy Leon is a Community Connector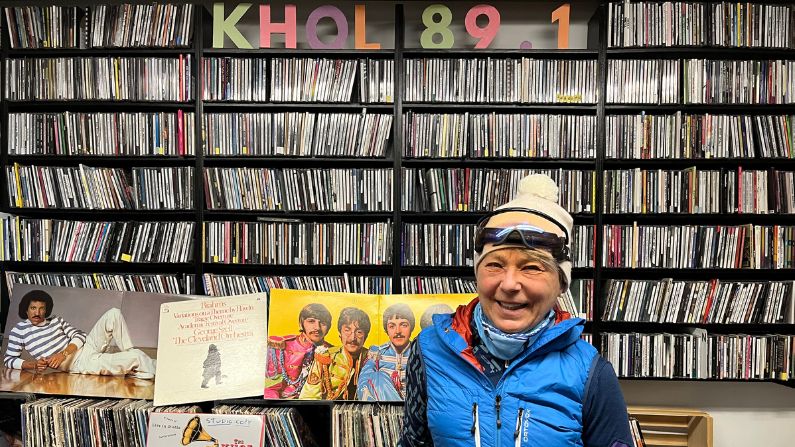 Our very own Nancy Leon was interviewed by KHOL 89.1 recently to discus building a winter sports network and the upcoming annual event at Turpin Meadow Ranch.
Jackson Hole may be best-known as an alpine skiing destination, but the Jackson Hole Nordic Alliance wants to ensure that residents are informed and supported for bevy of alternative winter activities. The organization's website, JHNordic.com, is a community-oriented resource designed to identify, map, describe, and share all the trail information on the extensive Nordic skiing, fat biking, and snowshoeing in the Jackson Hole, Teton Valley and Greater Teton region of Wyoming and Idaho.
---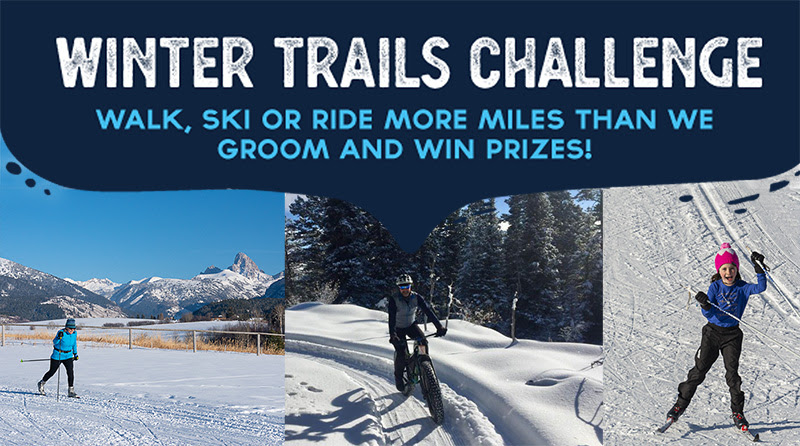 TVTAP Winter Trails Challenge is Back!
It's the 3rd year in a row for the Winter Trails Challenge, so I think we can officially now say it's a thing. Get your team and your winter stoke ready…it's time to log some miles.

So what is this Winter Trails Challenge?
It costs Trails & Pathways more than $50,000 to groom and maintain Winter Trails in a season. While your purchase of a Winter Trails Sticker helps, we need to fundraise for the bulk of the budget so that we can keep that corduroy fresh for your snowshoes, classic skis, skate skis and fat bike.
Another great way to get in some miles with smiles is to attend the TVTAP "Ski with a Buddy" event on Wednesday, January 11th at Teton Reserve Nordic and/or Saturday, January 14th at the Alta Track. These free ski events will be happening from 11AM-2PM. You can sign up for the TVTAP winter trails challenge there! 15 minute lessons will be offered at 11:15 and 12:15. These events are free to everyone, just show up ready to cross country ski in either technique (classic or skate).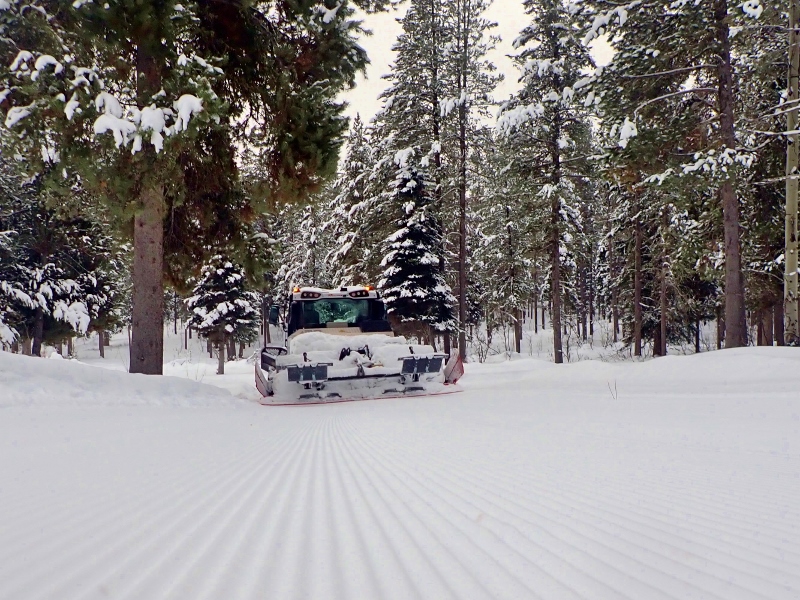 Grooming Daily
Last Update: 1/6
Miles of Corduroy!
If you are lucky enough to make it out to Trail Creek today for a Nordic ski you will discover miles of fresh corduroy and classic tracks. Overnight two to three inches of snow fell, combine that with some very Nordic friendly temps in the upper 20's and the result is lots of great skiing.
Most every trail received at least one pass with the Husky with Moose Loop and the fields receiving multiple passes. It would be a great day to punch the clock a little early and head on out to Trail Creek.
Skier pressure this afternoon will be a little on the light side as there is a high school race in Casper today and tomorrow. While it would be a great excuse for a road trip if you've been itching to head over to Casper, you might be able to watch a bit of the action on the Casper Mountain webcam if a road trip is not on your agenda and you're not able to come out for a ski this afternoon.
Groomer's choice for today is Moose Loop.
---
Grooming Today: Emily's Pond Levee, High School Fields, Stilson Loop, Wilson Centennial Trail
Last Update: 1/6
May park has been groomed with the snowmobile and in decent shape although there is no classic track. Cache and Game will be groomed by valley landscape today. Cache and Game creek are groomed and in good shape.
---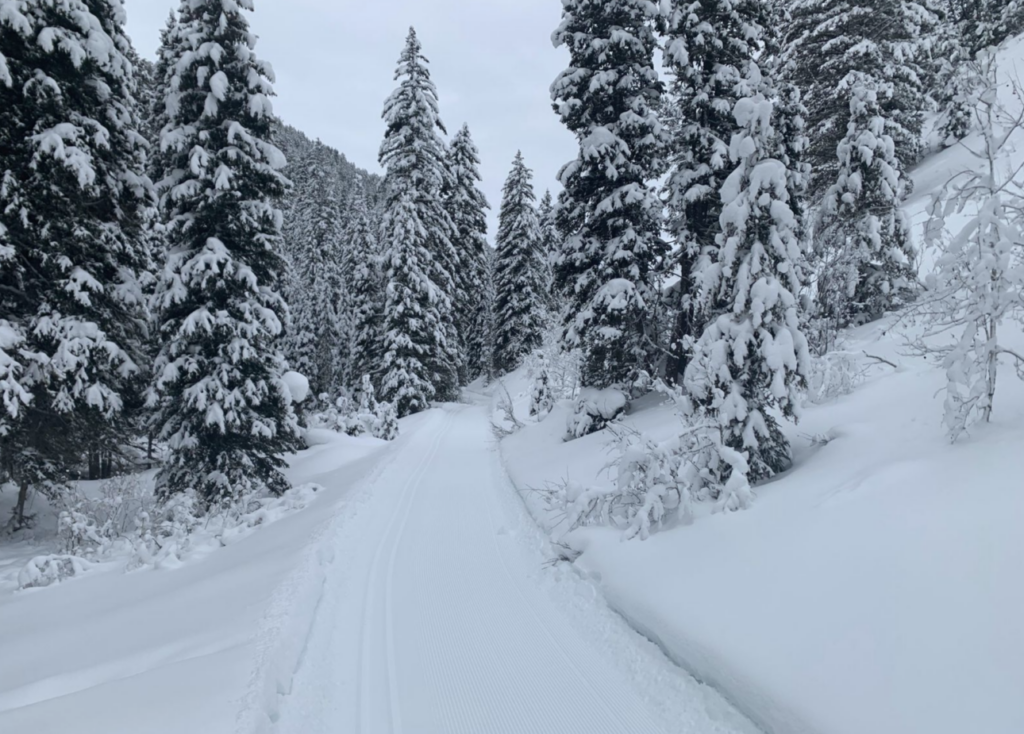 Groomed by Friends of Pathways
Grooming Schedule: As Needed
Last Update: 1/4
Cache Creek Road groomed with pistenbully by valley landscape services.
---
Grooming Daily
We are open daily to the public for skiing. Click here for our current trails grooming and conditions: https://nordic-pulse.com/ski-areas/US/WY/Teton-Pines-Nordic-Center

We offer private skate and classic skiing lessons daily, skate/classic ski rental packages, and bc xc rentals for the park. We are open 9am-4pm. Please call to book lessons and with any other questions.
Note—We have a new shop phone number this season: (307) 732-4130
---
Grooming Daily
Last Update: 1/6
Trails are in great shape and should continue to stay this way through the weekend. Daily light snow showers will likely occur, with heavier amounts developing late Sunday afternoon. Enjoy!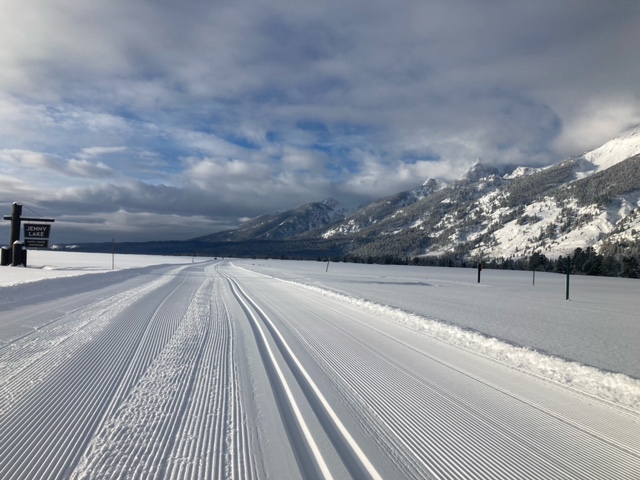 Grooming: Tuesday, Friday, Sunday
Last Update: 1/6

You can almost see the Tetons this morning! Taggart Lake Trailhead to Signal Mountain.
---
Grooming Daily
Last Update: 1/6
A little fresh snow and temps in the mid 20s has made for dreamy Nordic conditions! We are getting ready to host the JH Nordic Annual Event tomorrow so come see for yourself how awesome our location and trails are!
Turpin Meadow Ranch is open to all for skiing, lodging, dining, Nordic lessons, and tours! Ours is a short season so be sure to plan a visit this winter between now and March 13, 2022. Call the office (307) 543-2000 or visit our website to book your adventure and/or meal

Please support TVTAP winter trail grooming on your favorite TV winter trails by purchasing a TVTAP Trail sticker Please remember to manage your dogs and respect dog and wildlife closures. Buy a dog trail sticker, too!
Grooming Schedule: Sunday, Tuesday, Thursday, & Saturday
Last Updated: 1/6
Classic Track: Set | Fat Bike Trails: Closed | Snowshoe Trails: Closed
Headed out to groom for the Teton Ridge Classic Race course preview. The course may have some minor changes before the race on Saturday. Would not recommend skate skiing today (Saturday Jan, 7). Conditions should allow for an excellent skiing surface today.
Remember, singletracks will be closed when there is more than 3 inches of snow in a 24 hour period.
---
Grooming Schedule: Tuesday, Thursday, & Sunday
Last Updated: 1/4
Skate: Set | Classic: Set
Set classic and skate tracks Wednesday evening. Should be nice firm conditions in the morning
---
Grooming Schedule: Monday, Wednesday & Friday
Last Updated: 1/6
Skate: Set | Classic: Set
Enough snow fell overnight for an excellent groom of the entire track.
---
Grooming Schedule: Monday, Wednesday & Friday
Last Updated: 1/6
Skate: Set | Classic: Set
The track is skiing well! There was one point where the groomer got loaded with snow and I couldn't make the corner so I apologize for the curvy classic track in that spot.
---
Grooming Schedule: Monday, Wednesday, Friday & Saturday
Last Updated: 1/6
Skate: Set | Classic: Set
Friday: Looks like an inch or two of warm, dense snow has fallen overnight. Plan to reset both classic and skate tracks this morning.
Trail Etiquette: Please keep your dogs leashed in the parking lot and be sure to clean up after them!
---
Grooming Schedule: Tuesday, Friday & Sunday
Last Updated: 1/5
Skate: Set | Classic: Set
All groomed up and ready for sliding! Set classic tracks and skate lanes on Yeti's and Campground. Should set up nicely if it doesn't get too much fresh snow on top.
No dogs December 1 – April 15.
---
Grooming Schedule: Monday, Thursday & Saturday
Last Updated: 1/5
Skate: Set | Classic: Set
Thursday am reset the skate and classic track throughout the Reserve. This should set up nicely. Enjoy the glide.
---
Southern Valley Singletrack
Grooming Schedule: As needed
Last Updated: 1/4
Singletrack: Set
Nemo and Hilbenders user packed Powerline from Mike Harris to Pole Canyon and both Ladyslippers were hit with the Vplow at noon 1/4 so could be soft. Please, if you dismount walk on the EXTREME edge of the single-track. Thanks and enjoy.

No dogs December 1 – April 15.
---
Grooming Schedule: As needed
Groomed by USFS
Last Updated: 1/3
Groomed 1/3 in the afternoon.
---
Grooming Schedule: As needed
Groomed by USFS
Last Updated: 1/3
Groomed 1/3

Mark your calendar so you don't miss out on all the wonderful events coming up! Explore the highlighted events below or find more events on our website at https://jhnordic.com/events/
---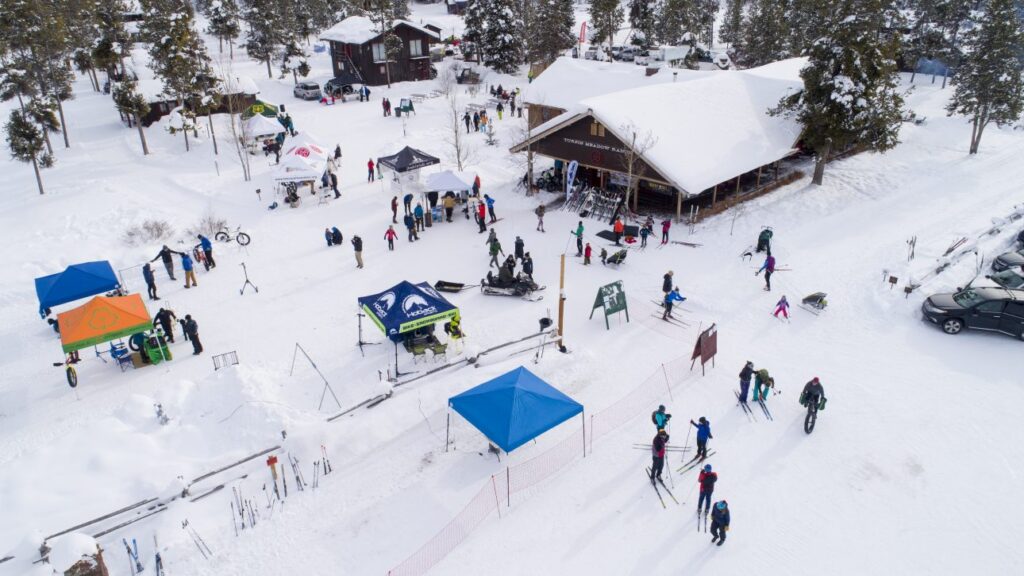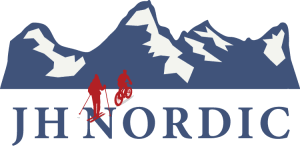 Sunday, January 8th, 2023 | 9:30AM – 3:00PM
Turpin Meadow Ranch
Fun, Free Community Day – with Raffle benefiting local Nordic Alliance non-profit. Free trail pass, Free skate & classic XC ski demo gear, Free fat bike demos, free Nordic ski lessons, Free BackCountry Nordic Ski & Snowshoe tours, Kids Corral (2-5 yr olds), Bridger-Teton USFS wildlife and wilderness info, Kates Bars, Lunch, snacks, hot & cold drinks.

Sponsored by the JH Nordic Alliance members. Family. Friends, visitors, dogs (on leash) welcome. Bring your own skis and bikes recommended to use between free demos and tours.
---
TVTAP "Ski With a Buddy"
Wednesday January 11th | Teton Reserve Nordic | 11AM – 2PM
Saturday January 14th | Alta Track | 11AM – 2PM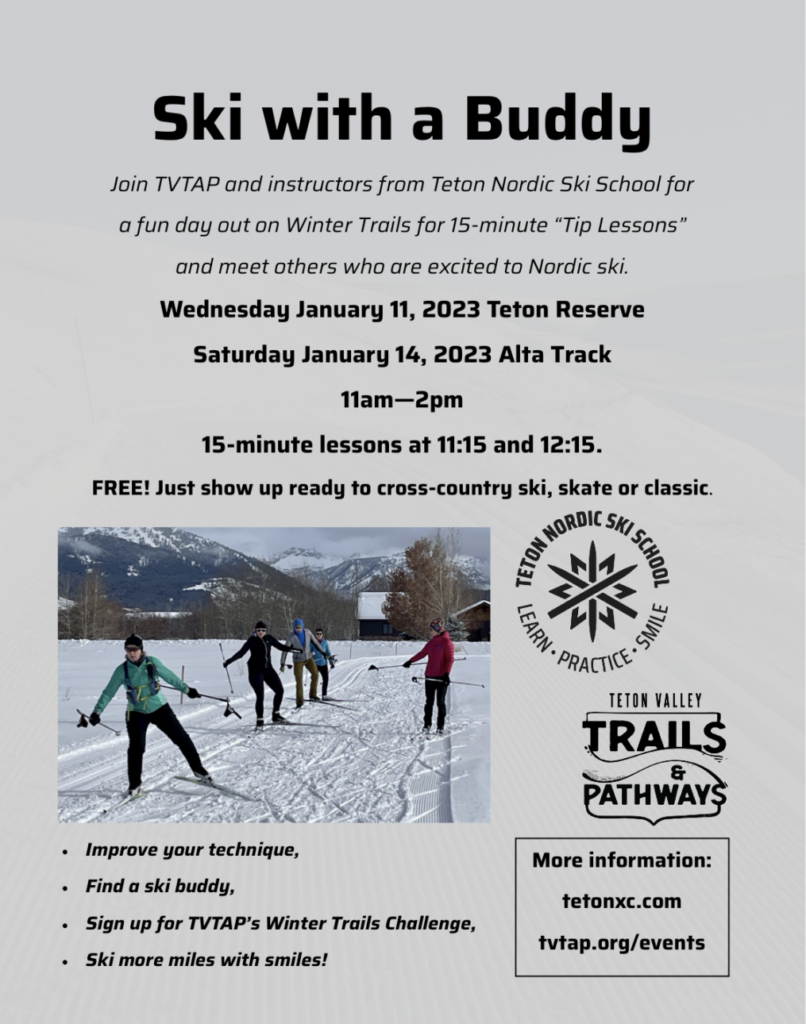 ---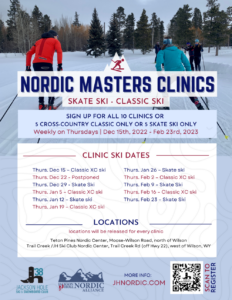 Thursdays – from Mid December to late February
Thursday, January 12 – Skate Ski at Teton Pines Nordic Center
Thursday, January 19 – Classic Ski at Teton Pines Nordic Center
The JHSC would like to encourage participants to pre-register/pre-pay for the clinics, including drop-ins.

Join us this winter season to increase your ski speed, stamina, and strength. Work on your technique and form with professional tips and exercises from USSA certified coaches. Stay and ski all day with your clinic ski pass at Teton Pines Nordic Center or Trail Creek Nordic Center (we will ski at both locations through out the winter to provide a variety of terrain and technique).
---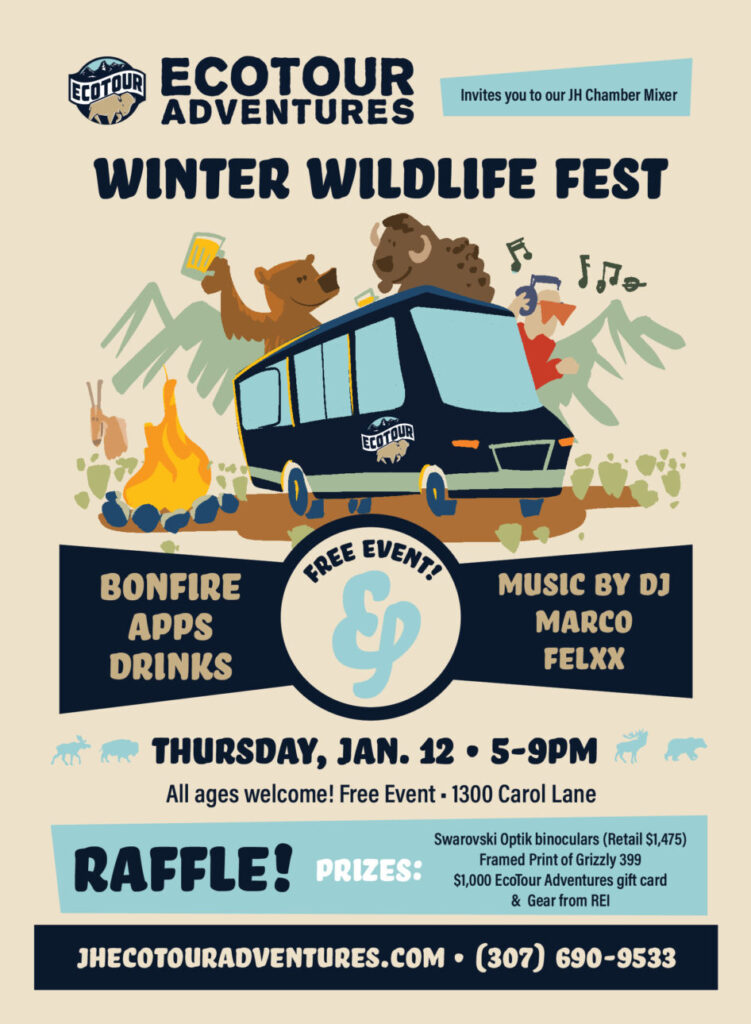 ---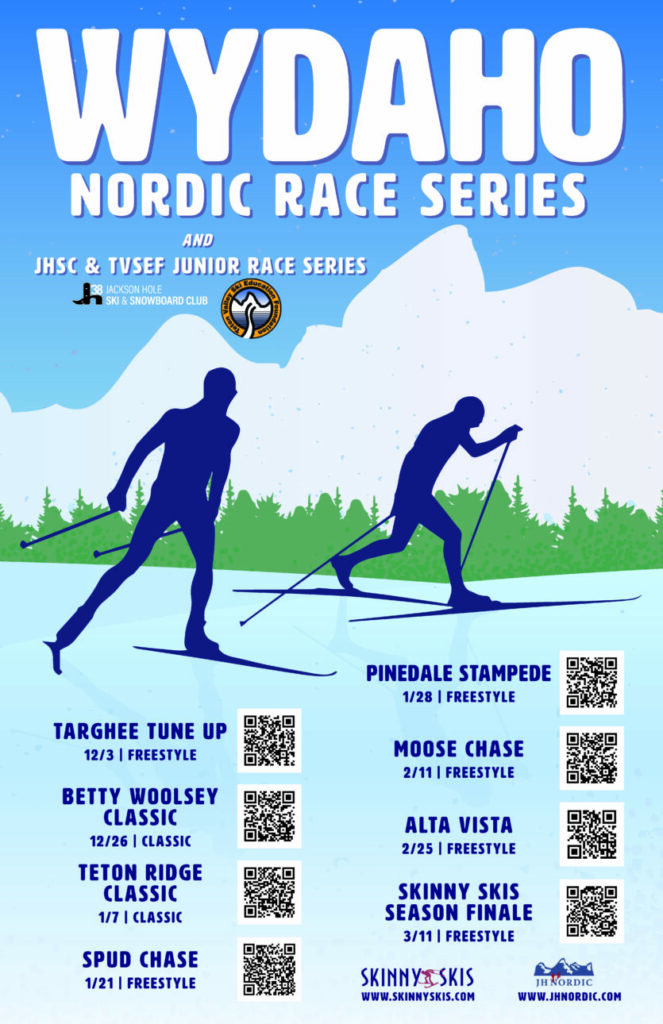 ---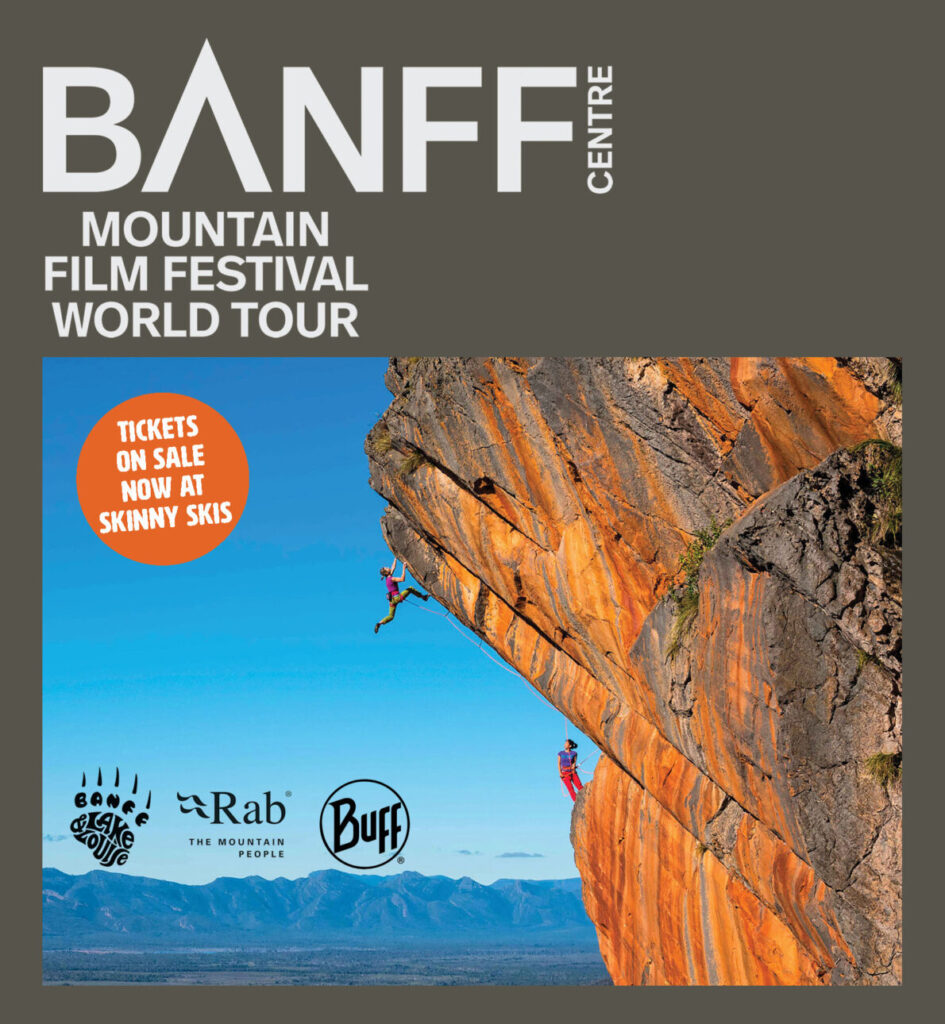 Banff Film Festival
February 10th and 11th, 2023
Jackson Hole High School
Skinny Skis presents two showings of the Banff Mountain Film Festival. The showings will be a fundraiser for the Friends of the Bridger Teton. Tickets now on sale at Skinny Skis!


---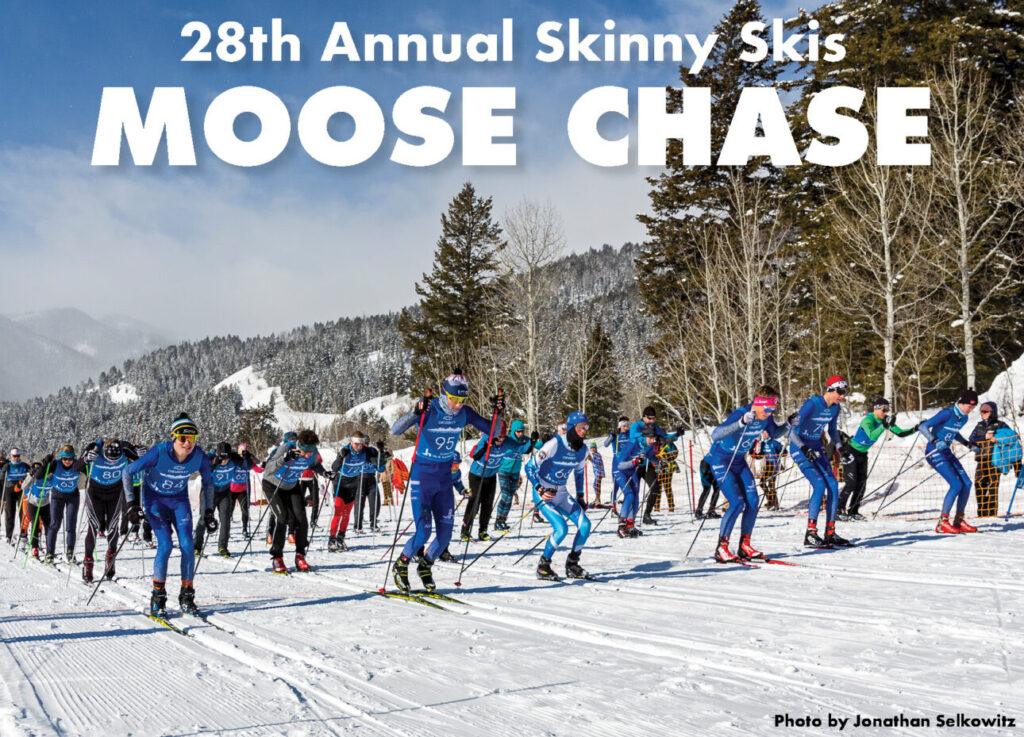 Saturday, February 11th, 2023 | 10:00AM
Trail Creek Nordic Center
The Jackson Hole Ski & Snowboard Club is bringing back the Moose Chase for the 2023 season after a three-year hiatus. We are excited to bring back this community Nordic race! This premier Nordic race includes distances for all ages and ability levels, with a 20k, a 10k, 5k, 3k, and a free 1/2k. This is a skate or freestyle Nordic skiing event. Register early for best pricing!
---
---
---
We'd love to hear about your outdoor adventures, what your doing to stay healthy, safe, respectful of community health guidelines – send pictures or post on FB and Insta – #JHNordic