---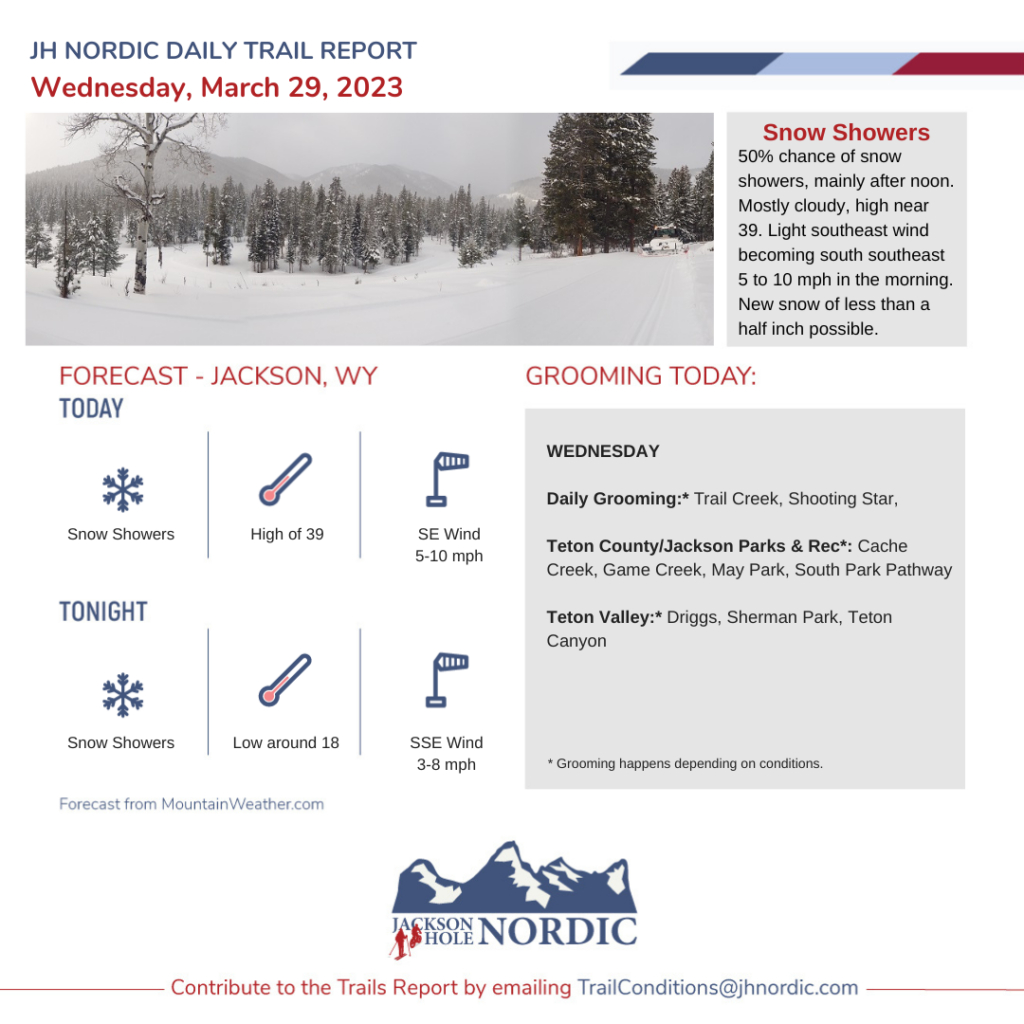 ---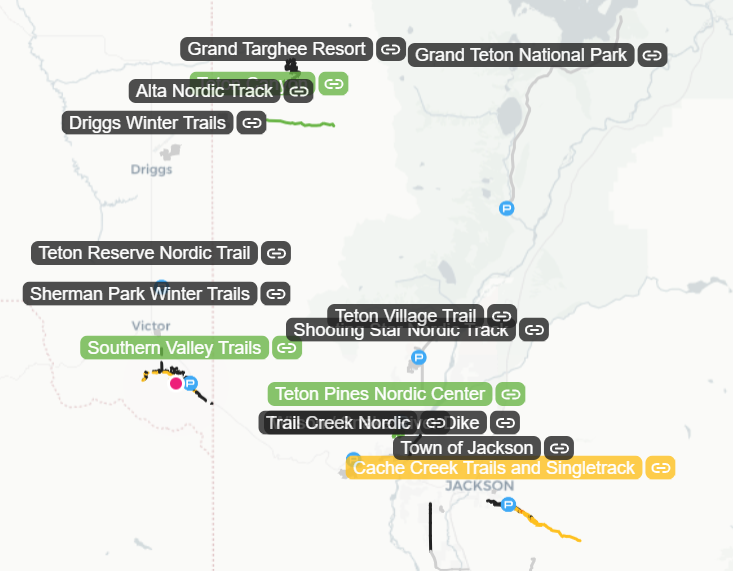 What's Groomed in Jackson Hole/Teton Valley?
See real-time grooming in the Jackson Hole/Teton Valley region. Find all the latest grooming & fresh groomed tracks. Plan your next Nordic Adventure with ease.
---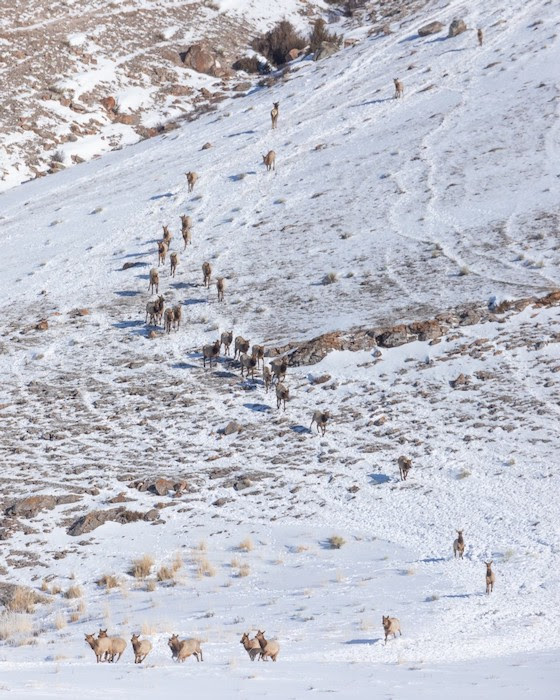 Wildlife Wednesdays with EcoTour Adventures
Where's the green in this photo? All our recent snowfall might have something to do with that…
Despite how the ground looks, spring green-up is beginning throughout the Greater Yellowstone Ecosystem. Starting in late March, plants in the southern portion of the GYE bloom. As the season progresses, this bloom trends north, creating quite literally a wave of green across the landscape. Migrating animals such as elk follow this wave, eating the new growth as they make their way to the summer range. With Jackson having one of the largest elk herds in North America–over 11,000 animals!–it's especially important to use caution on the roads during this migration season. Obey speed limits, reduce driving at dawn and dusk, and always keep your eyes on the road!
---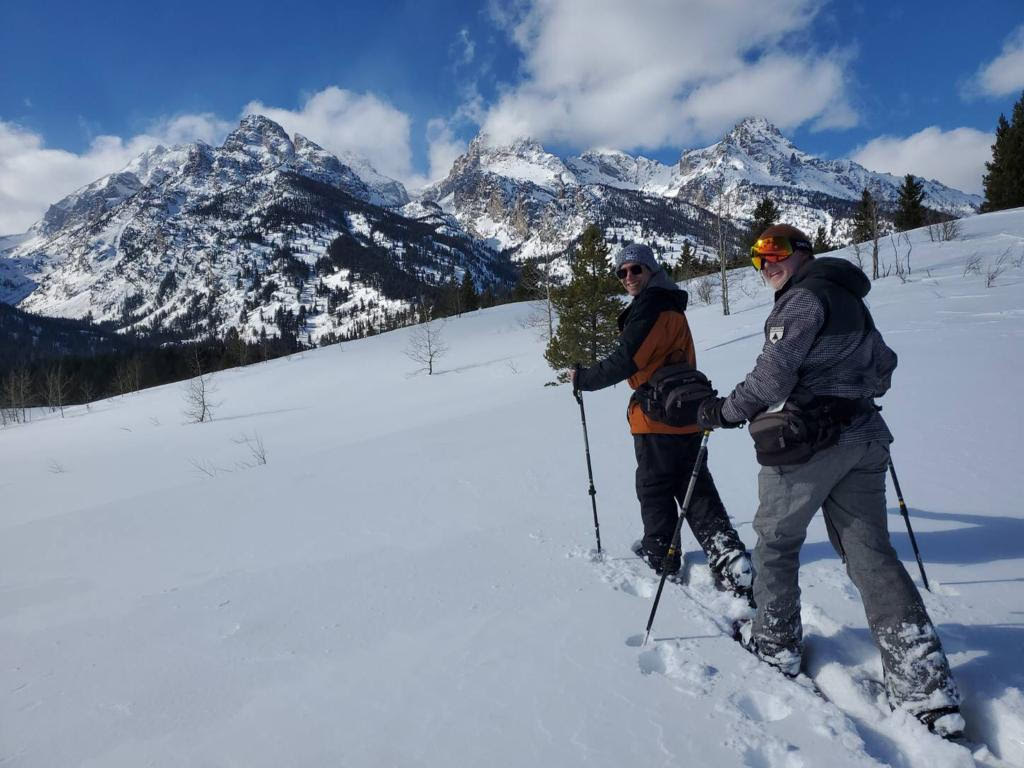 March 22, 2023 Nature Update
Provided by Cathy Shill founder of The Hole Hiking Experience
https://www.holehike.com/
"Though I do not believe that a plant will spring up where no seed has been, I have great faith in a seed… Convince me that you have a seed there, and I am prepared to expect wonders." -Henry David Thoreau
Spring! In the Tetons, it can mean a wet, snowy month and this March is no exception. Warmer temperatures have begun to melt the snowpack in town and on southern slopes. Spring break begins so town quiets as locals go on vacation. I was able to go to Florida where my brother lives to see my mom and spend some time in the sun. Nice to have a break from this long winter.
With longer days and warmer temperatures, snow begins to melt. Any obstacle in the snow world such as rocks, trees, bushes or a fallen leaf will heat in the sun and begin to melt the snow around it. The buttes near town now have some exposed ground so look for deer near the bare spots. As the snow melts, drops of water form and melt more snow. This change to the landscape changes animal behavior. Aspen trees photosynthesize through their trunks so they will be greener at this time of year. Some spring plants begin to grow at the edge of the snow. It's the time of the year where winter and spring mix as the snow world begins to change.
Besides the feel of spring, birds return and find a suitable habitat. Bluebirds and red-winged blackbirds have been seen near town. I have starlings at my feeder enjoying the suet. Robins look for open ground to forage. Magpies carry nesting materials to secure and tidy their nest. They also dance with the weather.
Varying temperatures will change the consistency of the snow so enjoy the firmness in the valley and the powder in the mountains. Each day is new and different as the pulse of life changes. Females may be heavy with young. Wildlife will be found on the roadways. Hard time of the year for them. Be extra vigilant and enjoy the signs of spring. info@holehike.com 307.690.4453
---
Don't let cloudy gray days stop you; winter snow-scapes are beautiful in every light, every condition, and are worthy of exploration. Check out the monochromatic beauty of Phelps Lake from a cloudy day.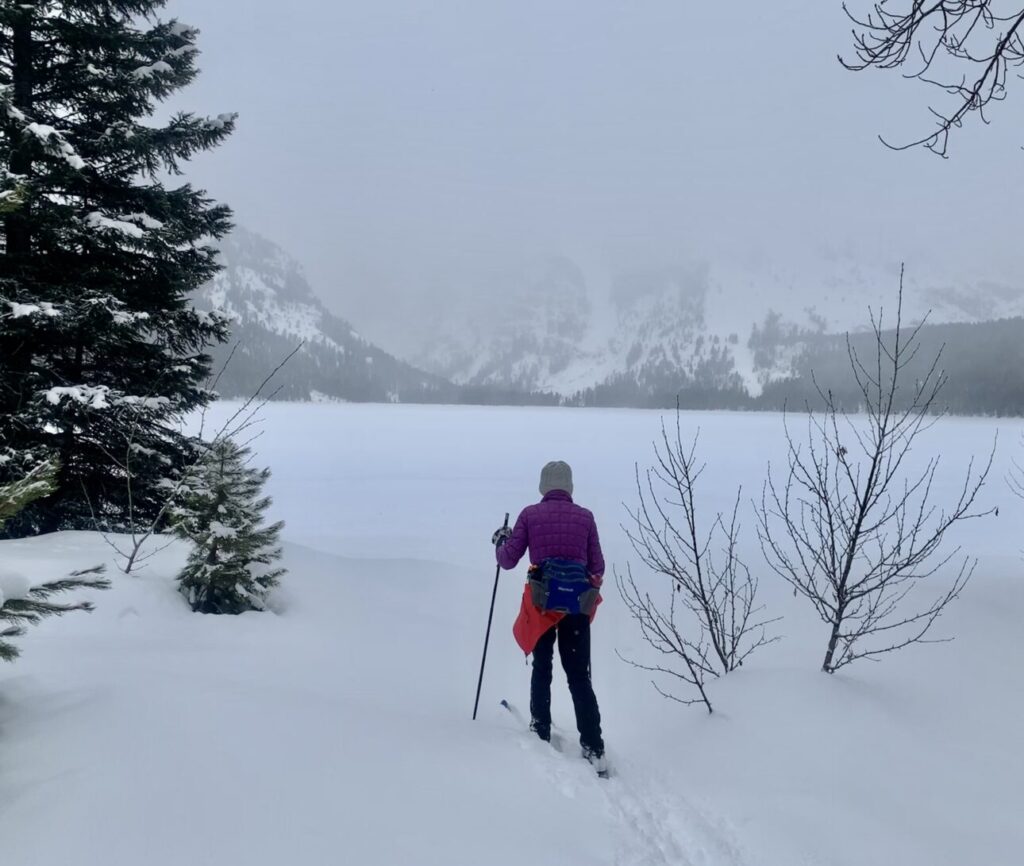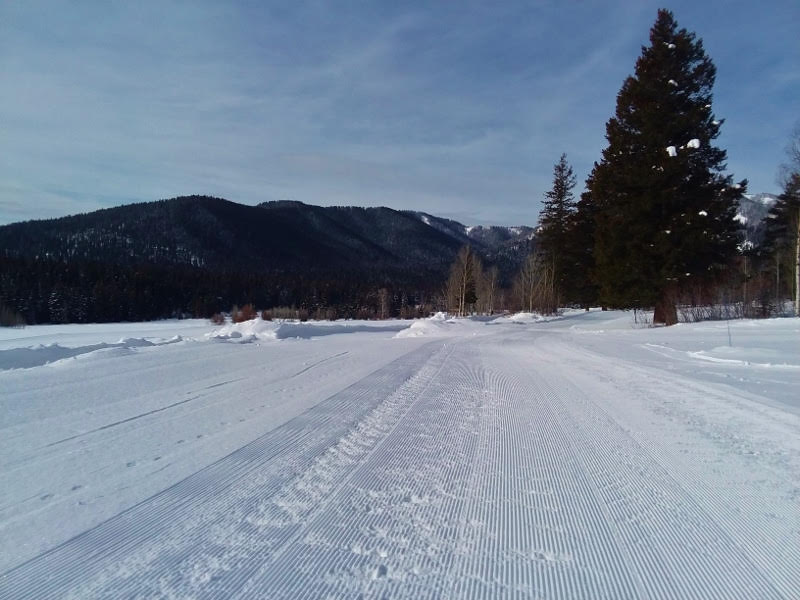 Grooming Daily
Last Update: 3/28
A Crisp and Crunchy Morning
It got chilly last night, which following the warm afternoon yesterday could have resulted in a poor grooming experience this morning. Fortunately, the groomer anticipated this, and instead did the grooming last night, resulting in some excellently firm and pleasant trails this morning, if a bit crunchy and squeaky. It's still pretty chilly out there at the time of the grooming report, so stop by the cabin and warm your fingers up over the fire if you need a break.
Today's grooming was a single best-line pass of most trails in the system, and double passes on Woolsey Woods and a few of the main Fields trails. A few moose were being chased around during the process, so there may be some tracks left over here and there, but for the most part, all trails should be in great shape.
Groomer's choice for today is Woolsey Woods.
---
Grooming Today: Cache Creek, Game Creek, May Park, South Park Pathway
Last Update: 3/28
The school fields and the levee are groomed and in decent shape. Stilson will be done around 10:30.
---
Groomed by Friends of Pathways
Grooming Schedule: As Needed
Last Update: 3/26
Singletrack groomed 3/26.
---
Closed for the Season
Teton Pines Nordic Center and trails are closed for the season. The golf crew is getting things ready for summer and we ask that everyone stay off the track until we open next December. Thanks for a great season!
---
Grooming Daily
Last Update: 3/27
Anticipate similar conditions to last weeks, as daily light snow accumulations are again forecasted with possible heavier amounts towards the weekend. Skiing should remain enjoyable but keep up with the weather in case the winds pick up. Enjoy the late season snowy weather!
Also, reminder that we will continue to groom the Nordic Course until Sunday, April 9th. After this date the course will be closed as GCM will begin removing snow from the cart paths and commence spring golf course preparations once conditions allow. Thanks.

Please help support trail grooming in GTNP by donating to the Grand Teton National Park Foundation. It's easy and encouraged. All you need to do is visit: GTNPF.org/donate/ and leave the comment "Nordic" in the designation section. There is the opportunity to leave a one time gift or reoccurring monthly donations in any amount.
Grooming Has Ended For The Season
Winter grooming of the 14-mile section of Teton Park Road between Taggart Lake Trailhead and Signal Mountain parking area ended March 10. The road will remain open for winter activities until March 20 when snow removal operations begin.
While grooming in GTNP has come to an end for the season, there are other great options of where you can track ski. Check out JHNordic.com/Grooming/ to find other fresh grooming in our new real-time map, thanks to our partner, Nordic-Pulse.
---
Closed For The Season
Thank you all for a wonderful winter season at Turpin Meadow Ranch! While our trails are on the Bridger-Teton National Forest (meaning you can still come enjoy them on your own) they are no longer being maintained. If you do make the drive, bring your bear spray and remember: the lodge and all services are closed for the season, please respect that all buildings on the resort are private.

Please support TVTAP winter trail grooming on your favorite TV winter trails by purchasing a TVTAP Trail sticker Please remember to manage your dogs and respect dog and wildlife closures. Buy a dog trail sticker, too!
Grooming Schedule: Sunday, Tuesday, Thursday, & Saturday
Last Updated: 3/28
Classic Track: Set | Fat Bike Trails: Closed | Snowshoe Trails: Open
There is a small break between storm cycles. Today, expect partly cloudy skies and temperatures in the mid 20's. Another storm is arriving later this week, so enjoy the calm weather while you can!
After reconciling snowfall data from Grand Targhee Ski Patrol and the Bridger-Teton Avalanche Center, Targhee has revised our total season snowfall to 546″.
Remember, singletracks will be closed when there is more than 3 inches of snow in a 24 hour period.
---
Grooming Schedule: Tuesday, Thursday, & Sunday
Last Updated: 3/28
Skate: Set | Classic: Not Set
Back in business. Rolled out the skate lanes 2 1/2 lanes wide over the whole track. Did not set a classic track yet. the wet snow should set up rather well tonight.
---
Grooming Schedule: Monday, Wednesday & Friday
Last Updated: 3/28
Skate: Set | Classic: Set
Reset skate and classic. Classic track is excellent. Skate lane is smooth but soft.
---
Grooming Schedule: Monday, Wednesday & Friday
Last Updated: 3/22
Skate: Not Set | Classic: Not Set
Due to equipment issues and the city excavating a part of the Nordic track grooming is suspended until further notice.
---
Grooming Schedule: Monday, Wednesday, Friday & Saturday
Last Updated: 3/27
Skate: Set | Classic: Set
Over 80"of snow In Teton Canyon since the last storm, the canyon is now ready to ski. Due to significant moose sightings I have decided to groom only as far as Reunion Flats. Please be ready to leash your dog if you come upon a moose.
Trail Etiquette: Please keep your dogs leashed in the parking lot and be sure to clean up after them!
---
Grooming Schedule: Tuesday, Friday & Sunday
Last Updated: 3/28
Skate: Set | Classic: Set
Tuesday morning: I reset the skate and classic tracks on Campground and Yeti loops. Will be soft but should ski well. I did not groom the short connector trail on Yeti's due to moose. Heads up for them on Yeti's. Enjoy!
No dogs December 1 – April 15.
---
Grooming Schedule: Tuesday, Thursday & Saturday
Last Updated: 3/28
Skate: Set | Classic: Set
Reset skate and classic. Conditions are good.
No dogs allowed. Please stay on the groomed trails at all times.
---
Southern Valley Singletrack
Grooming Schedule: As needed
Last Updated: 3/24
Singletrack: Set
Groomed Powerline, Grumpy's, and both Hill Benders tonight. Everything is setup pretty good and should ride well if it doesn't snow too much tonight. Moose seemed to be moved out of the hill benders tonight but no promises so be careful out there!
No dogs December 1 – April 15.
---
Grooming Schedule: As needed
Groomed by USFS
Last Updated: 3/24
Groomed 3/24 to Pinnacle TH only
---
Grooming Schedule: As needed
Groomed by USFS
Last Updated: 3/8
Groomed 2/24.
---
Grooming Schedule: As needed
Groomed by USFS
Last Updated: 3/23
Groomed 3/23.
---
Pinnacle Trail
Grooming Schedule: As needed
Groomed by USFS
Last Updated: 3/24
Groomed 3/24, only the lower 2 miles.

Mark your calendar so you don't miss out on all the wonderful events coming up! Explore the highlighted events below or find more events on our website at https://jhnordic.com/events/
---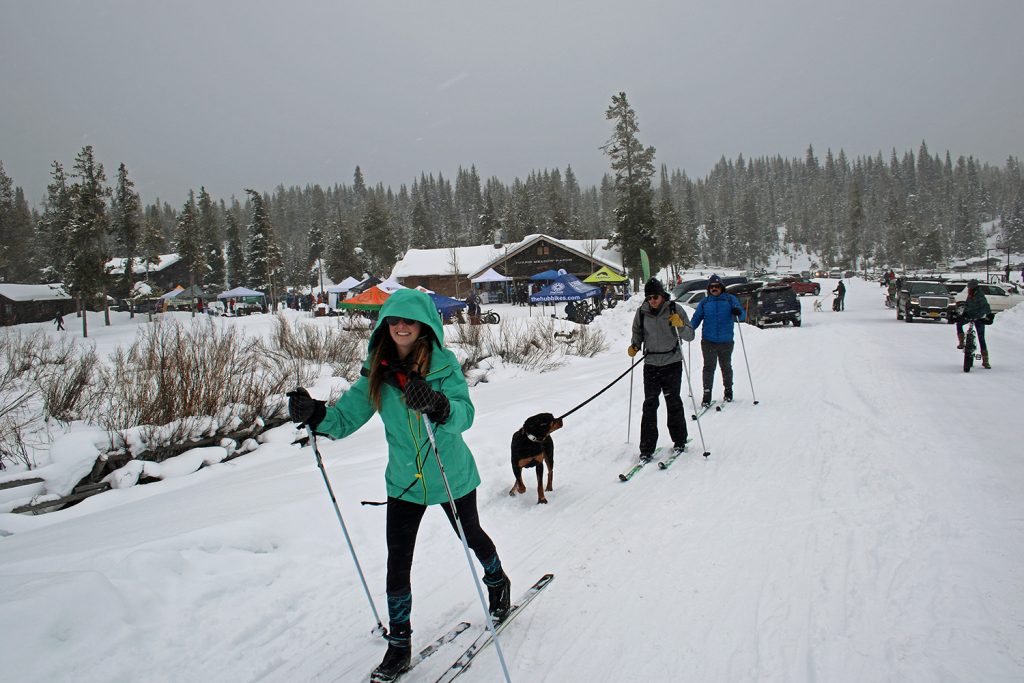 Save the Date
JH Nordic Alliance 6th Annual Free Ski, Fat Bike, & Snowshoe Day
Sunday, January 7th, 2024
Turpin Meadow Ranch
---
---
We'd love to hear about your outdoor adventures, what your doing to stay healthy, safe, respectful of community health guidelines – send pictures or post on FB and Insta – #JHNordic