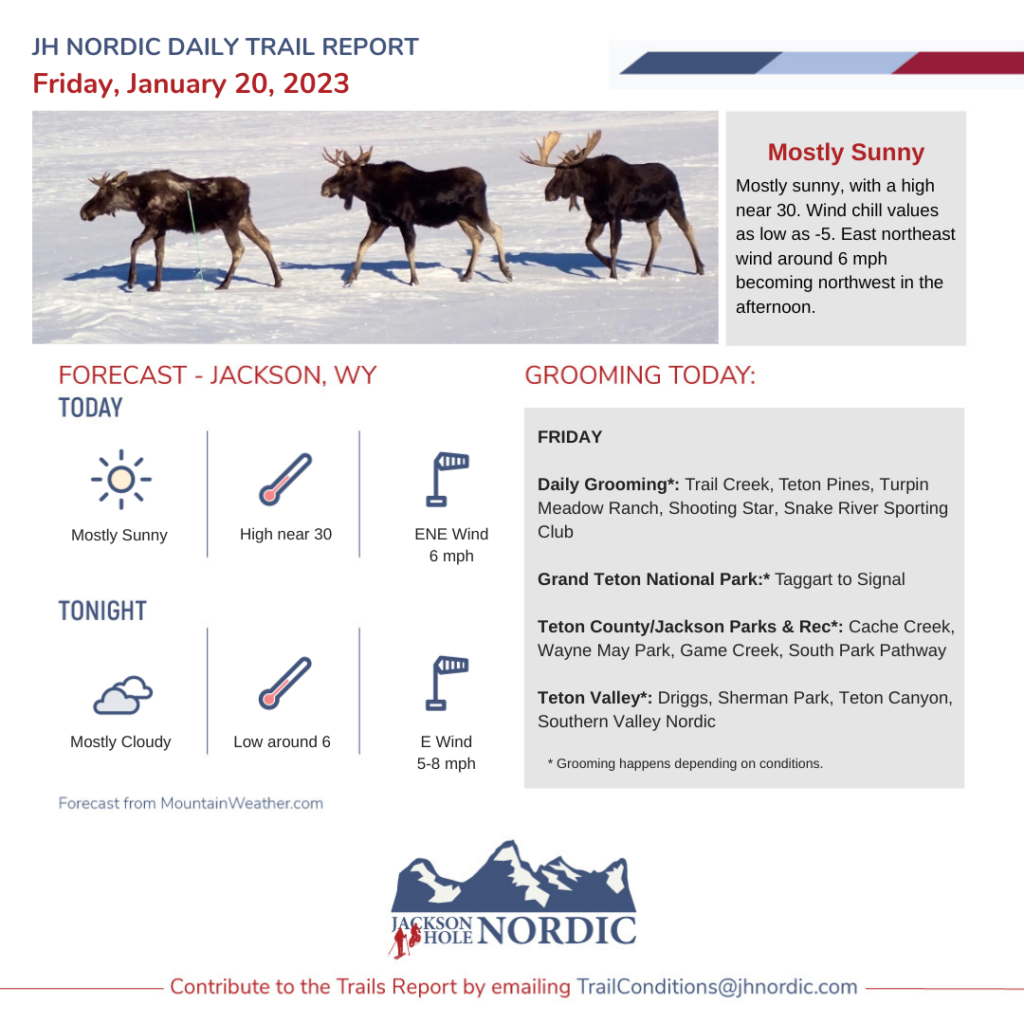 ---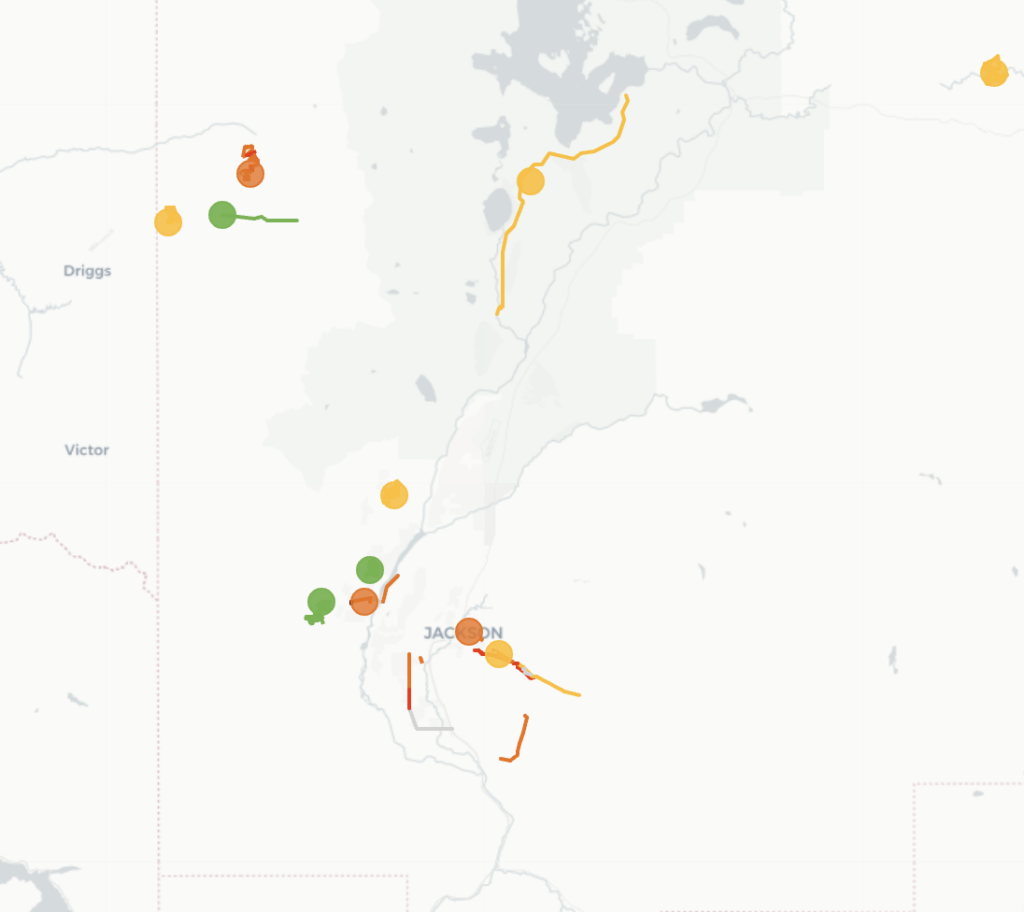 What's Groomed in Jackson Hole/Teton Valley?
See real-time grooming in the Jackson Hole/Teton Valley region. Find all the latest grooming & fresh groomed tracks. Plan your next Nordic Adventure with ease.
ICYMI: January 2023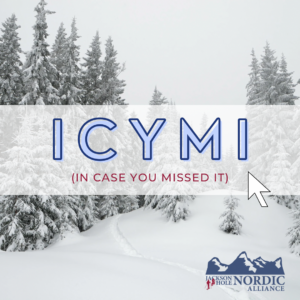 Jim Roscoe / Joe Stone / Kelli Jones / Winter Trail Etiquette
We don't want you to miss a thing. JHNordic.com brings a lot of great articles featured profiles of members of the Jackson Hole area that we know you'd enjoy.
Did you know that JH Nordic Alliance is now over the radio waves? We have a morning Daily Trail Report that shares what's grooming that given day. If you missed the Annual Event at Turpin we have a recap of the community-centered event with nearly 600 attendees! We have profiles of two Nordic luminaries, Jim Roscoe and Accessibility advocate, Joe Stone right here in our valley. As well as a sustainability entrepreneur, Kelli Jones that started up NoSo Patches, a successful startup with worldwide recognition.
---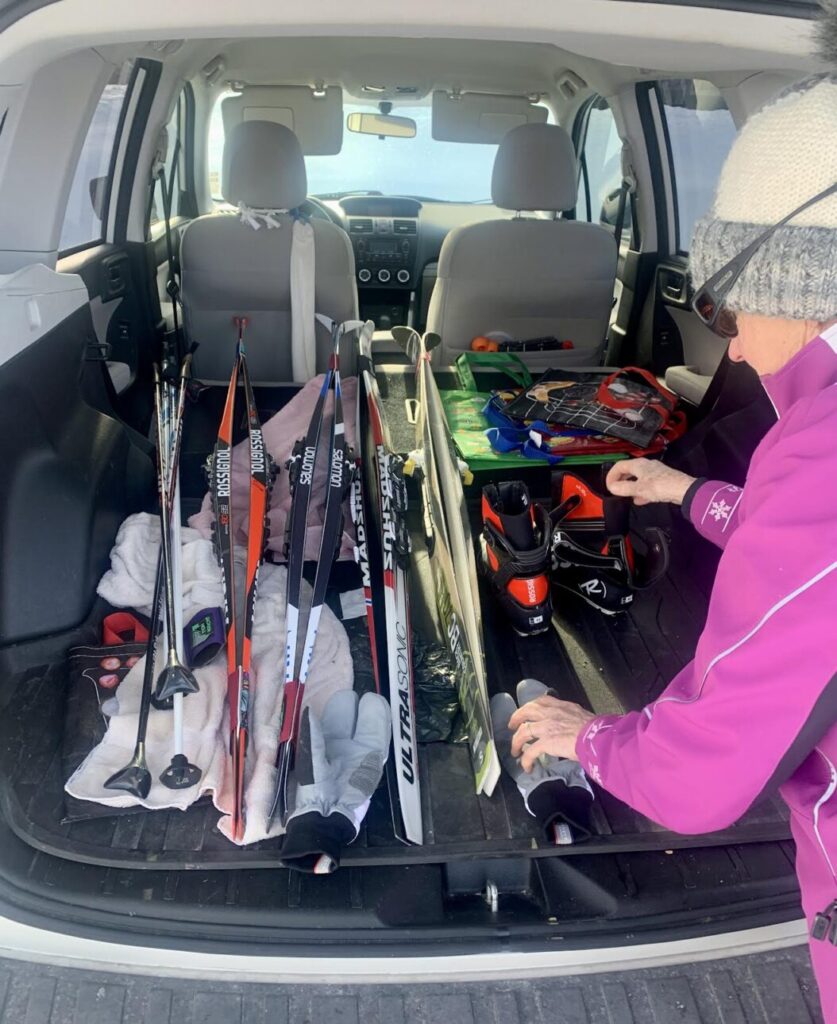 What's in your Nordic ski car??
If you're like many, many Jackson Hole/ Teton Valley locals, your car or truck is your moving ski room! Classic skis, skate skis, BC Nordic skis, and likely some Alpine Touring (AT) skis, maybe alpine resort skis ( powder, all mountain, groomer/ carve skis), plus poles, boots for each type of ski, plus accessories x members of yr family or ski buddies!
Send us your pictures of your mobile ski stash or share on IG @jhnordic #jhnordic!!
---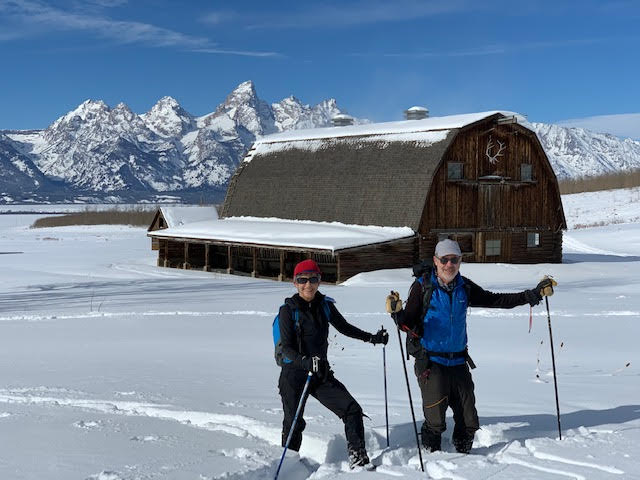 Teton Tea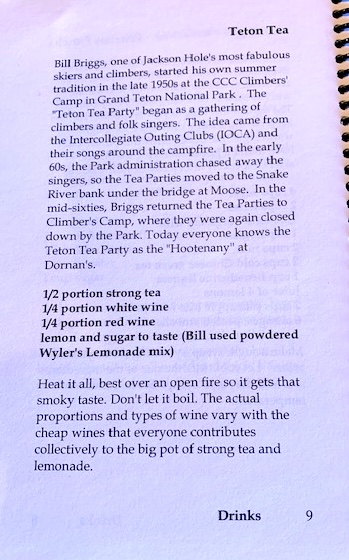 Isn't it a pleasure to visit those special places every year and to treasure annual traditions – maybe skiing up Shadow Mountain, or from Signal Mountain to Bradley-Taggart, or snowshoeing up Granite Canyon – all glorious and full of friendship and fun.
Adding to the fun, is the chance to pair it with a bit of local history – often resulting in an even greater appreciation of the sites enjoyed. For instance, Whitegrass Ranch, established in 1913, is Jackson Hole's third oldest dude ranch, with cabins restored by the National Park Service. Likewise, the restored Lucas Fabian Cabins provide a perfect resting spot north of Taggart Lake. And the Hunter-Hereford Ranch provides awe-inspiring photos with the Tetons in their background. And then there is opportunity to visit the Jackson Hole History Museum and the Grand Teton National Park Visitor Center for even more excellent storytelling.
And speaking of history, according to Inger Koedt's recipe book entitled Recipes for the Mountains, Jackson Hole's Hootenanny was started in the 1950s as a gathering of climbers and folk singers called the "Teton Tea Party" at which Teton Tea was soon a tradition: "½ portion strong tea, ¼ portion white wine, ¼ portion red wine, with lemon and sugar to taste. Heat it all, best over an open fire so it gets that smoky taste."
Here's nodding to your favorite traditions!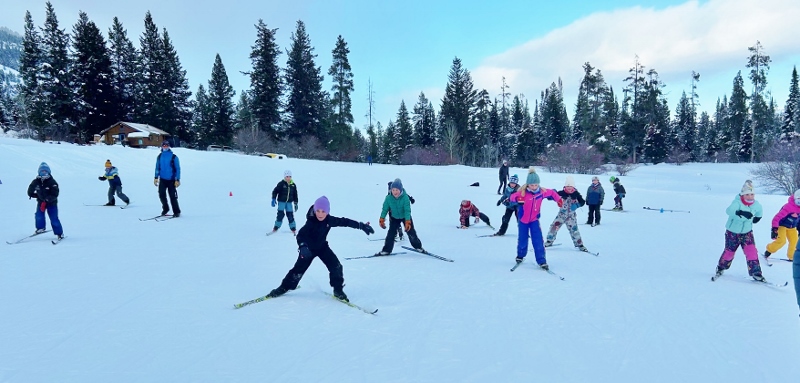 Grooming Daily
Last Update: 1/19
37 Teewinots up Grunt!
What a headline, but that was Coach Libby's report from yesterday that after a great round of games in the stadium; all 37 Teewinots climbed up Grunt and then made their way around Woolsey Woods, way to go Teewinots! In the image below, Coach Kathy reported that there was huge excitement in Wednesday's Lollipopper practice as the team found an abandoned moose paddle. It was a great day for all of our skiers.
Today is going to be an especially exciting day for our Juniors and Prep/Comp skiers as they are en route to the Olympic Nordic venue at Soldier Hollow in Utah. The IMD Superqualifier runs Friday and Saturday with around 700 skiers in attendance. If your feet were itching for some adventure, this could make for a great road trip weekend to the Salt Lake City area. While there is not much up yet except for links for purchasing tickets, hopefully more will be posted on the event website as the racing begins.
If your racing must stay closer to home, there is not a better place to go fast then at Trail Creek today. The continued cool midwinter conditions have combined with the fascinating addition of about a half inch of ultralight frost snow that has been steadily appearing from nowhere for most of the morning. The resulting new frosty moisture allowed the Husky to do a nice job on its rounds of the trails today.
The fields received a mix of grooming with mostly one of the two classic tracks being reset. The narrow sections in the woods received a classic/skate pass with the wider sections receiving a skate only pass. Existing classic tracks should ski nicely with the little bit of frost snow; also Homesite received a total rework today and is at its best of the season condition.
Groomer's choice for today is Homesite.
---
Grooming Today: Cache Creek, Game Creek, May Park, South Park Pathway
Last Update: 1/19
Stilson is groomed and in good shape. I freshened up the skate lanes but left the classic tracks. New classic track will be set on Saturday.
The school fields and the levee are groomed and in good shape. I did not set new classic tracks at the school fields since we have a long period ahead of us of no new snow. I will set new classic tuesdays and saturdays until we get new snow to preserve the depth of the tracks.
---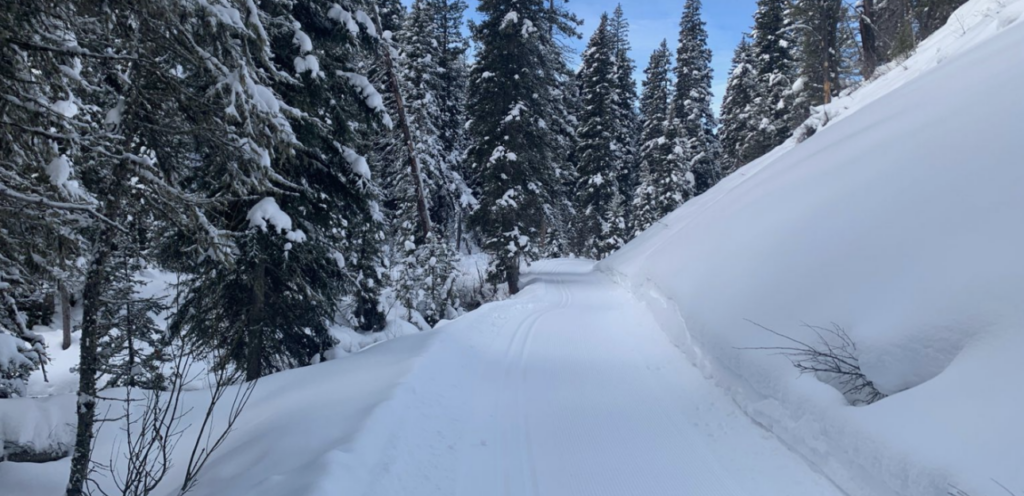 Groomed by Friends of Pathways
Grooming Schedule: As Needed
Last Update: 1/16
Blue skies and sunshine up Cache Creek to Noker mine today.
---
Grooming Daily
Used ski sale!! We are currently selling our classic rentals/demos. Price for Skis, bindings, boots: $215. (Must buy whole package). We still have most sizes available. This sale won't last long so come out and see us soon! Sorry but we don't have any used skate gear for sale but we have lots of new skate boots, skis, bindings and poles available in the shop.
We are open daily to the public for skiing. Click here for our current trails grooming and conditions: https://nordic-pulse.com/ski-areas/US/WY/Teton-Pines-Nordic-Center We offer private skate and classic skiing lessons daily, skate/classic ski rental packages, and bc xc rentals for the park. We are open 9am-4pm. Please call to book lessons and with any other questions.
Note—We have a new shop phone number this season: (307) 732-4130
---
Grooming Daily
Last Update: 1/16
Trails are in great shape and it should be an amazing week for Nordic! The forecast is calling for calm weather and lots of sunshine. Get outside and Enjoy! Next Update will be Friday.


Please help support trail grooming in GTNP by donating to the Grand Teton National Park Foundation. It's easy and encouraged. All you need to do is visit: GTNPF.org/donate/ and leave the comment "Nordic" in the designation section. There is the opportunity to leave a one time gift or reoccurring monthly donations in any amount.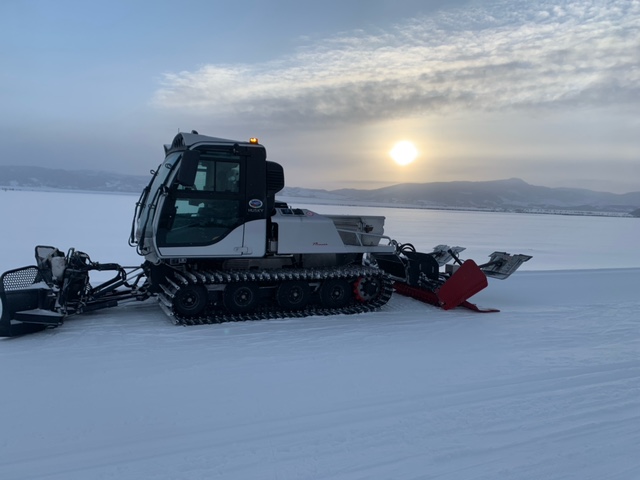 Grooming: Tuesday, Friday, Sunday
Last Update: 1/17
GTNP today – Taggart to Signal. Cold and overcast. Trail conditions are good!
---
Grooming Daily
Last Update: 1/17
We will be in a pattern of grooming later in the afternoon with the ginzu for a few days as the forecast is showing no new snow and overnight temps in the single digits. We expect the classic track to hold up well and the skate lane will be reset daily. Conditions have been and will likely continue to be firm, fast, and fun!
Turpin Meadow Ranch is open to all for skiing, lodging, dining, Nordic lessons, and tours! Ours is a short season so be sure to plan a visit this winter between now and March 13, 2022. Call the office (307) 543-2000 or visit our website to book your adventure and/or meal!


Please support TVTAP winter trail grooming on your favorite TV winter trails by purchasing a TVTAP Trail sticker Please remember to manage your dogs and respect dog and wildlife closures. Buy a dog trail sticker, too!
Grooming Schedule: Sunday, Tuesday, Thursday, & Saturday
Last Updated: 1/19
Classic Track: Not Set | Fat Bike Trails: Open | Snowshoe Trails: Open
Snowdrift, Nordic Connector and Quakie Ridge groomed 1/19.
Remember, singletracks will be closed when there is more than 3 inches of snow in a 24 hour period.
---
Grooming Schedule: Tuesday, Thursday, & Sunday
Last Updated: 1/18
Skate: Set | Classic: Set
Set skate and classic Wednesday evening. Skate track should be firmer after setting up overnight. Snowing lightly as I finished so there could be some new snow on top.
---
Grooming Schedule: Monday, Wednesday & Friday
Last Updated: 1/17
Skate: Set | Classic: Set
I did another groom today to further pack down the fluff from yesterday. Turned out very nice. Skate should be fast. Classic is perfect. Enjoy!
---
Grooming Schedule: Monday, Wednesday & Friday
Last Updated: 1/18
Skate: Set | Classic: Set
A few passes with the ginzu groomer to freshen up the tracks. The focus was on the stadium loop and widening the course in preparation for Wednesday night under the lights poker races. The family friendly event starts at 6pm. Come join!
---
Grooming Schedule: Monday, Wednesday, Friday & Saturday
Last Updated: 1/17
Skate: Set | Classic: Set
Tuesday afternoon: Made a pass in and set south classic, pass out skate track. Both good. Tomorrow morning will set north classic and skate. Road and parking plowed.
Trail Etiquette: Please keep your dogs leashed in the parking lot and be sure to clean up after them!
---
Grooming Schedule: Tuesday, Friday & Sunday
Last Updated: 1/17
Skate: Set | Classic: Set
Tuesday morning: The tracks are all smoothed out on Yeti and Campground. Classic track is a bit shallow in a few spots but otherwise everything looks great. Have fun!
No dogs December 1 – April 15.
---
Grooming Schedule: Tuesday, Thursday & Saturday
Last Updated: 1/19
Skate: Set | Classic: Set
Thursday morning reset the skate and classic track. Also groomed a couple connector trails in preparation for the Spud Chase this weekend. Please do not cut Trail's on ungroomed terrain. There are some sensitive areas on the golf course management does not want travelers on. Enjoy the glide.
---
Southern Valley Singletrack
Grooming Schedule: As needed
Last Updated: 1/17
Singletrack: Set
GROOMING REPORT Poweline and Hillbenders were groomed this AM with V-Plow. You may encounter soft conditions on those trails. All other trails are user packed with a inch or two of powder on top.

No dogs December 1 – April 15.
---
Grooming Schedule: As needed
Groomed by USFS
Last Updated: 1/19
Groomed 1/19
---
Grooming Schedule: As needed
Groomed by USFS
Last Updated: 1/12
Groomed 1/12 PM.
---
Grooming Schedule: As needed
Groomed by USFS
Last Updated: 1/9
Groomed 1/9 enjoy.
---
Pinnacle Trail
Grooming Schedule: As needed
Groomed by USFS
Last Updated: 1/5
Groomed 1/5 afternoon


Mark your calendar so you don't miss out on all the wonderful events coming up! Explore the highlighted events below or find more events on our website at https://jhnordic.com/events/
---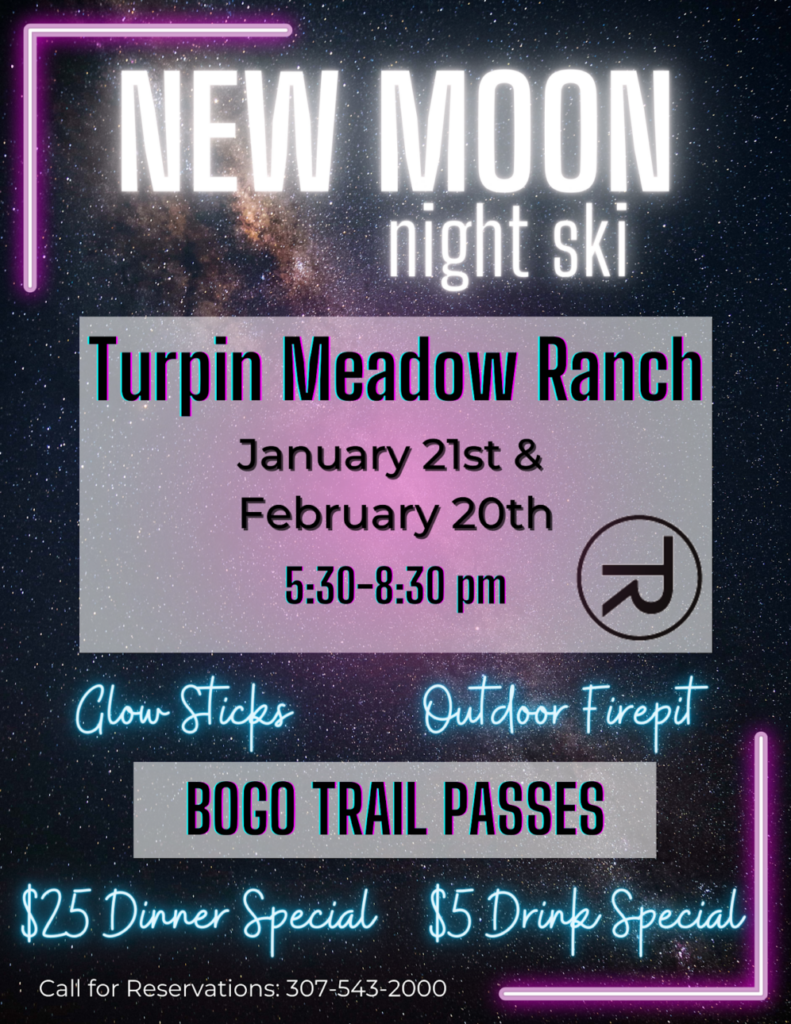 ---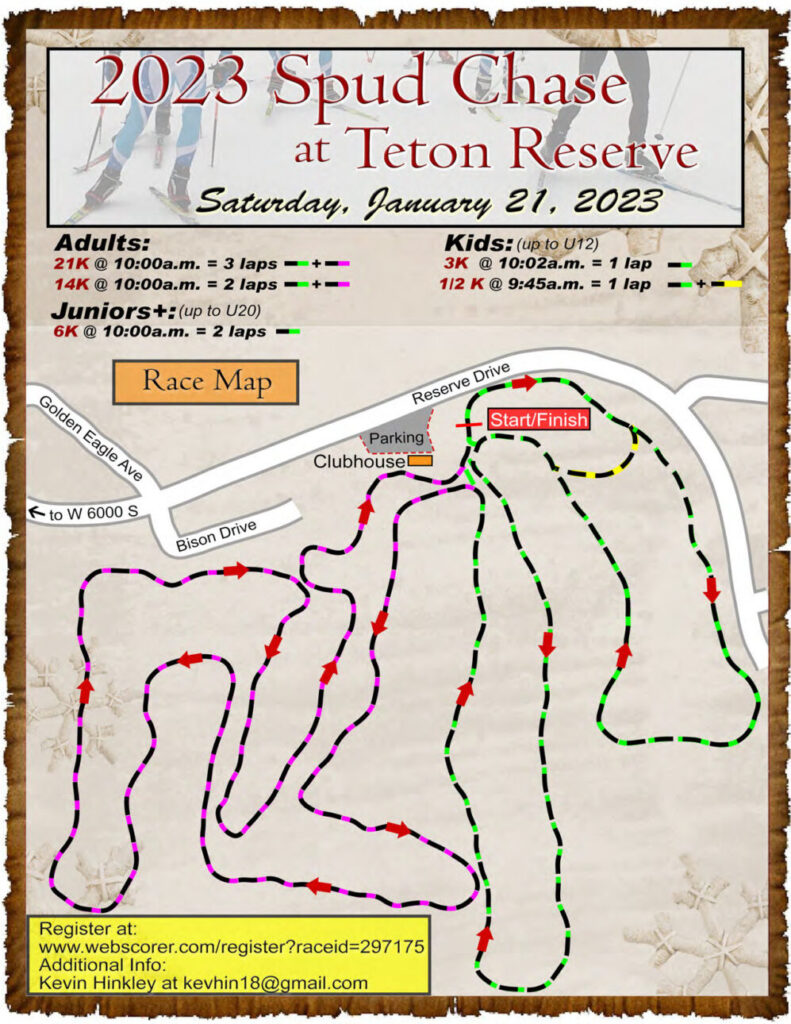 ---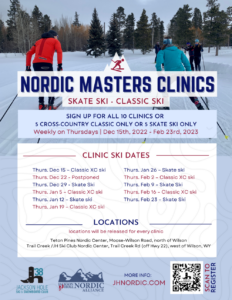 Thursdays – from Mid December to late February
Thursday, January 26 – Skate Ski at Teton Pines Nordic Center
The JHSC would like to encourage participants to pre-register/pre-pay for the clinics, including drop-ins.

Join us this winter season to increase your ski speed, stamina, and strength. Work on your technique and form with professional tips and exercises from USSA certified coaches. Stay and ski all day with your clinic ski pass at Teton Pines Nordic Center or Trail Creek Nordic Center (we will ski at both locations through out the winter to provide a variety of terrain and technique).
---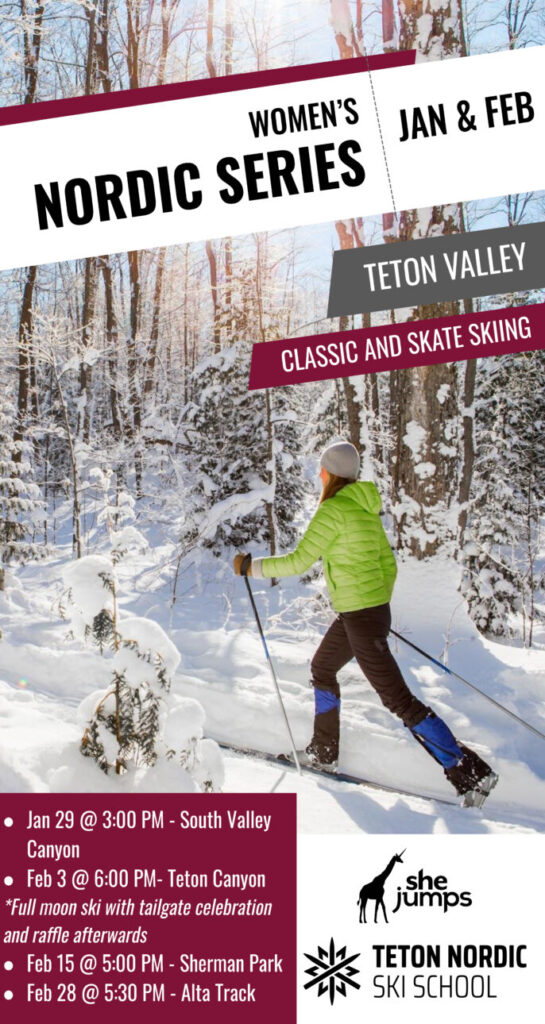 ---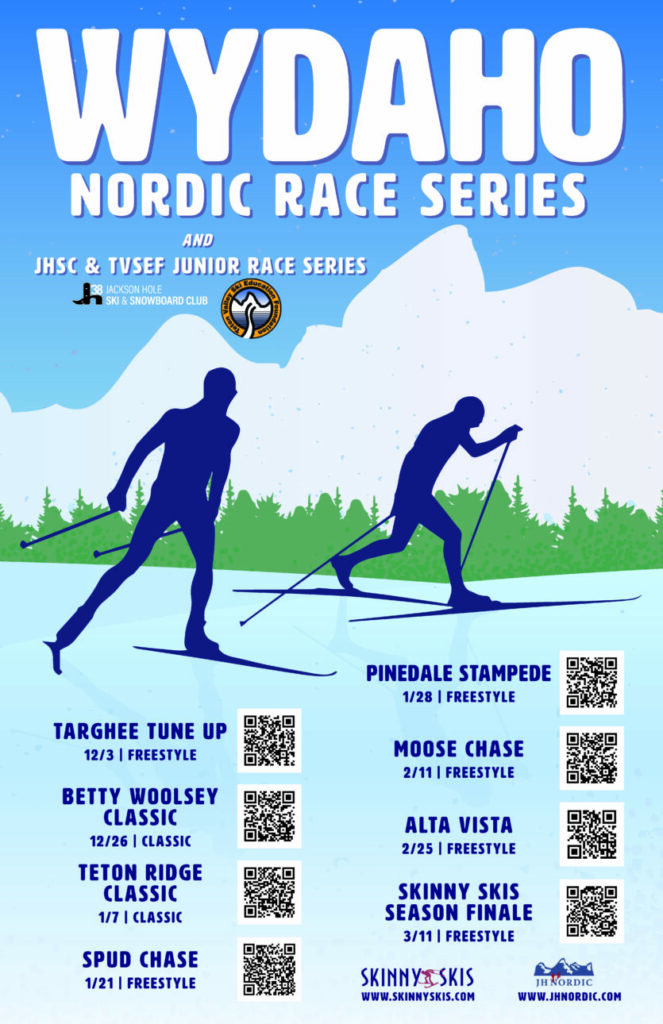 ---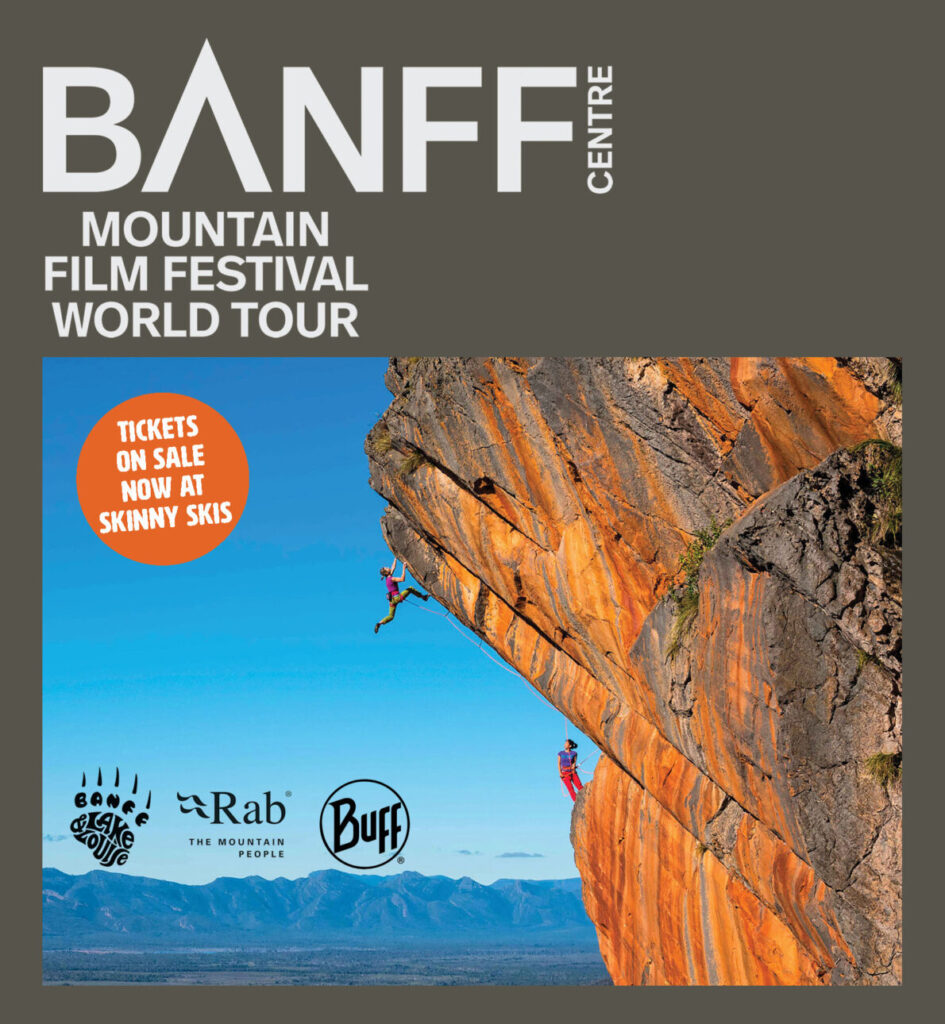 Banff Film Festival
February 10th and 11th, 2023
Jackson Hole High School
Skinny Skis presents two showings of the Banff Mountain Film Festival. The showings will be a fundraiser for the Friends of the Bridger Teton. Tickets now on sale at Skinny Skis!


---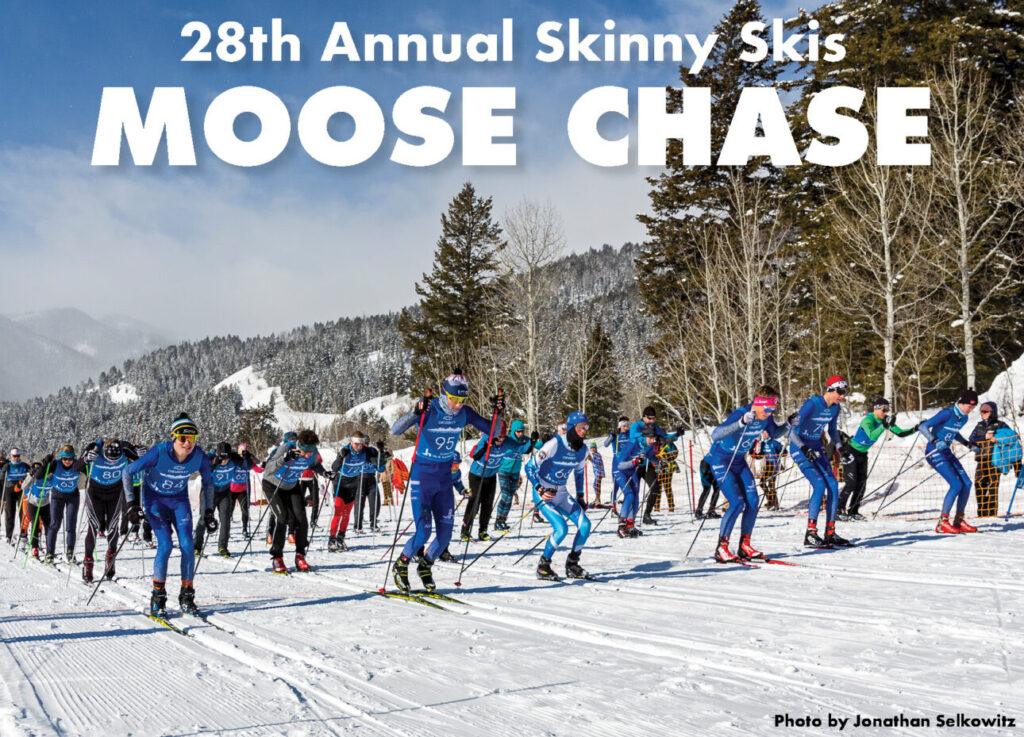 Saturday, February 11th, 2023 | 10:00AM
Trail Creek Nordic Center
THE MOOSE CHASE PRESENTED BY SKINNY SKIS IS BACK! After a four year hiatus, we are bringing back this community nordic event at Trail Creek on Saturday, February 11th. We would love to see all families, club athletes, and nordic community members on the start line to celebrate cross-country skiing in Jackson Hole. Parents are encouraged to race or volunteer, and we will be sending out volunteer shifts to sign up for shortly. We will have 20k, 10k, 5k, 3k, and free 0.5k options that accommodate all ages and abilities. Every athlete from Lollipoppers to Devos to Prep/Comp should plan on attending this event! We will have a food and awards following race completion at Trail Creek.
---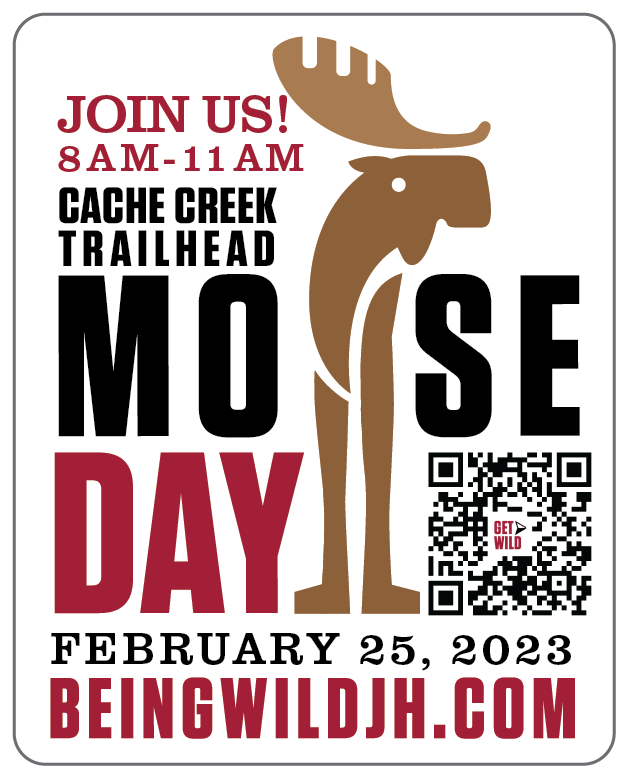 ---
---
---
We'd love to hear about your outdoor adventures, what your doing to stay healthy, safe, respectful of community health guidelines – send pictures or post on FB and Insta – #JHNordic