---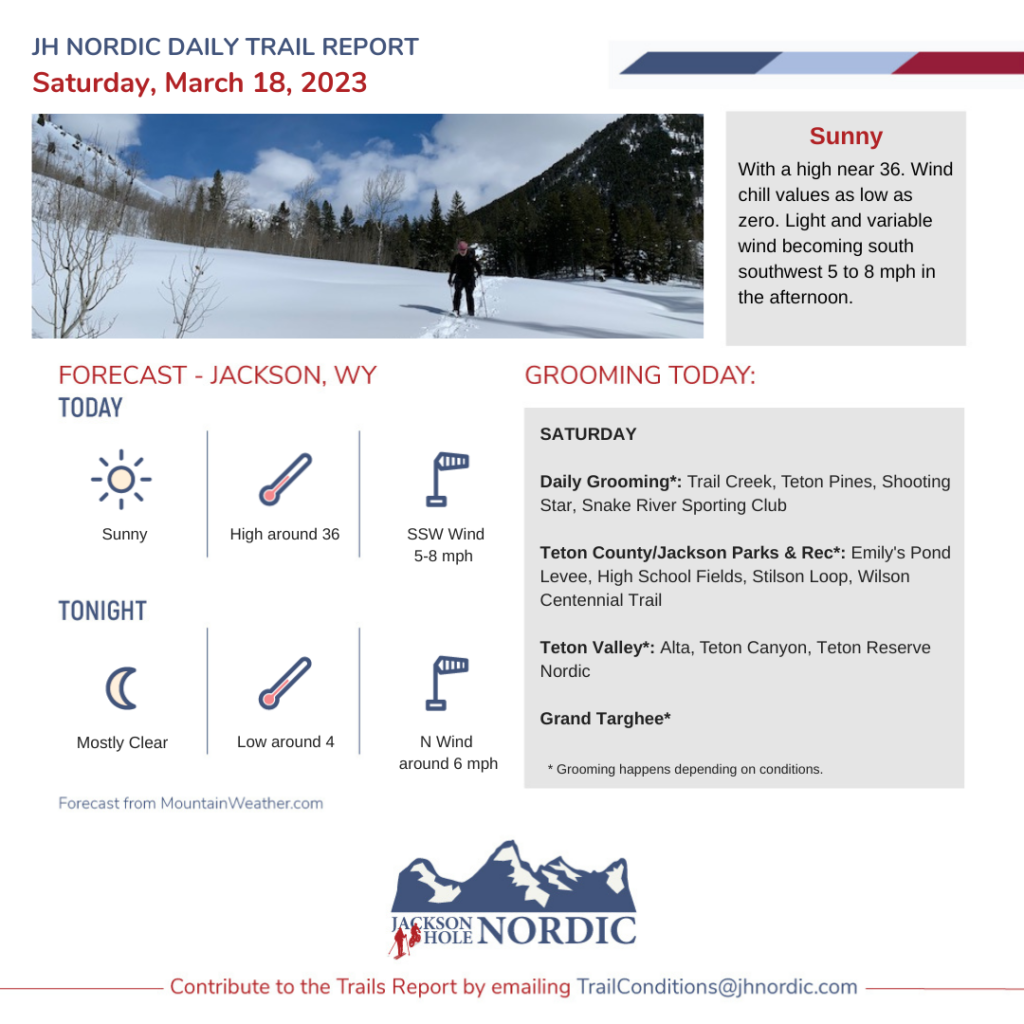 ---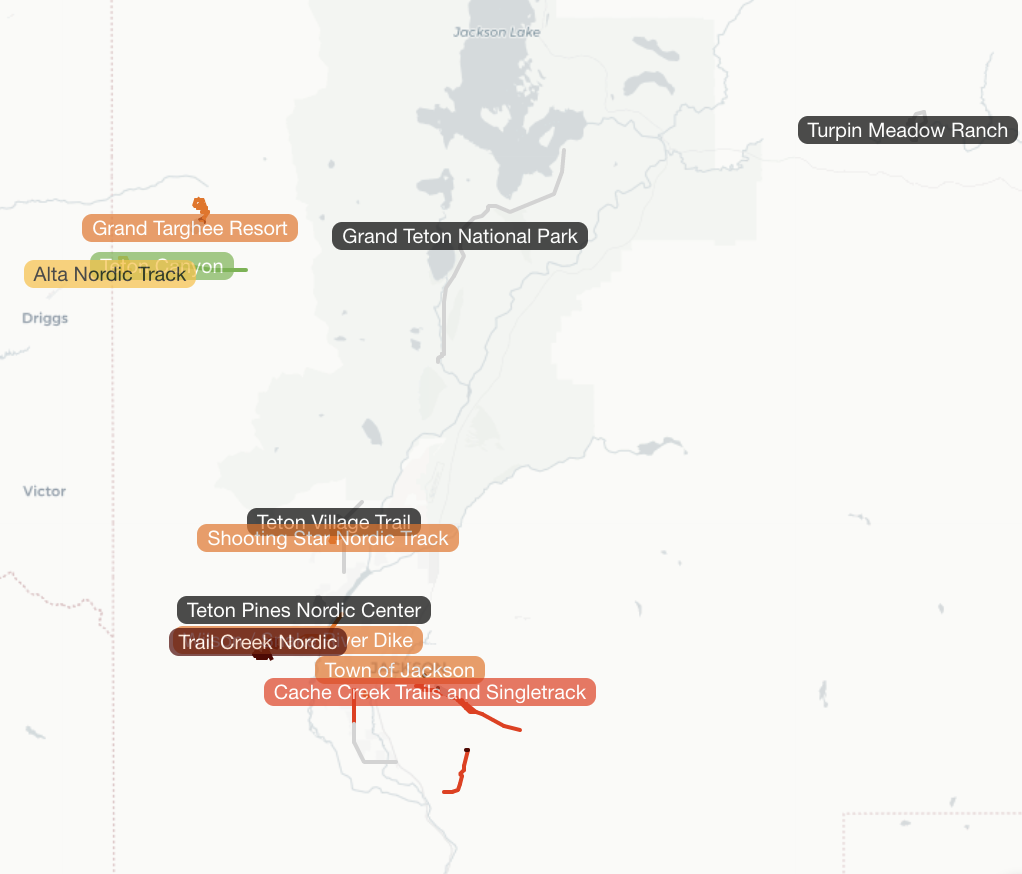 What's Groomed in Jackson Hole/Teton Valley?
See real-time grooming in the Jackson Hole/Teton Valley region. Find all the latest grooming & fresh groomed tracks. Plan your next Nordic Adventure with ease.
---
JH NORDIC HEADLINES
There have been some significant posts this week on JH Nordic but you might have missed one or some and we don't want you to miss a thing! Today's email is a recap of some of this week's JH Nordic trail report highlights. Enjoy so that you can be fully informed as you head out on your next winter trail or off piste adventure!
---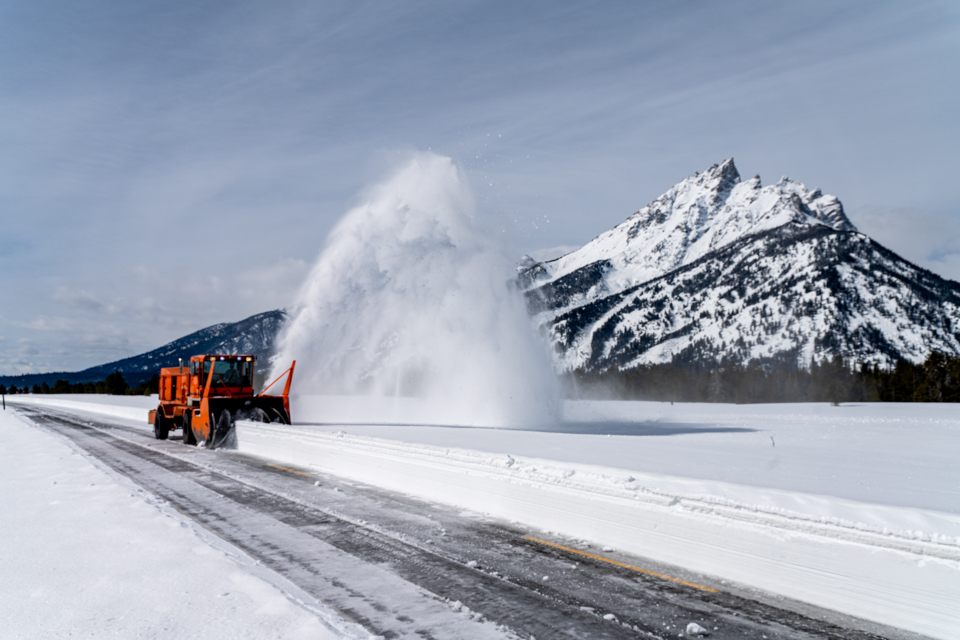 Snow removal operations will begin on Monday, March 20 on the GTNP park road. For safety reasons, visitors may not access the Teton Park Road once snow removal operations are underway. Rotary equipment and plows may be working at any time, and the roadway will be closed to all users until the snow removal operations are completed.
Skiers and those on snowshoes using areas adjacent to the roadway are cautioned to avoid the arc of snow blown from the equipment because pieces of ice and gravel may be thrown great distances. To check road status in the park, visit Grand Teton's Live Road Status Map at go.nps.gov/tetonroads or call 307-739-3682.
---
With some grooming operations done for the season (Grand Teton National Park and Turpin Meadow Ranch) you may be wondering "where do I ski now?" Don't fret, there are still plenty of great options. Did you know that there are over 100 trails mapped and described on the JH Nordic website trails section?
---
Crust Cruising Season Has Begun!
There is so much fun, freedom, and open terrain to explore that only last week was too deep to ski! The crust cruising window is often intermittent -when the snow is frozen enough to support your weight, but the surface is soft enough (just barely) to create a smooth glide.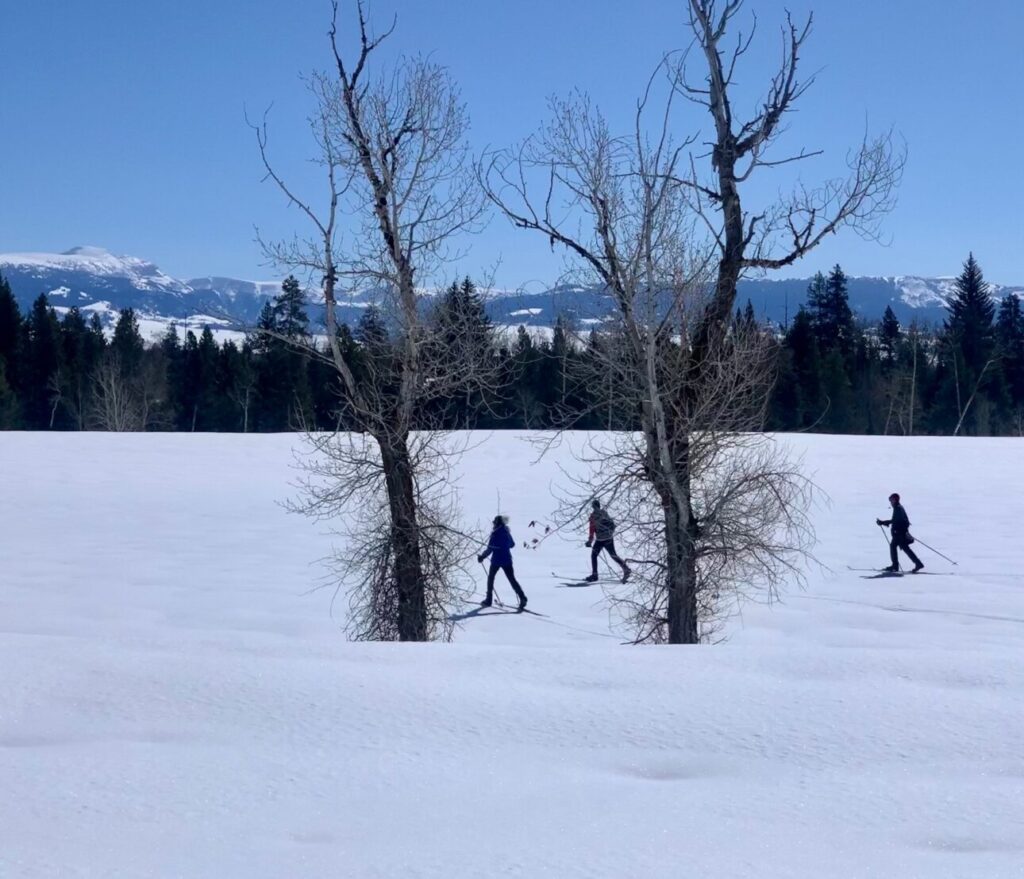 ---
GTNP – JH Nordic Web Cam Views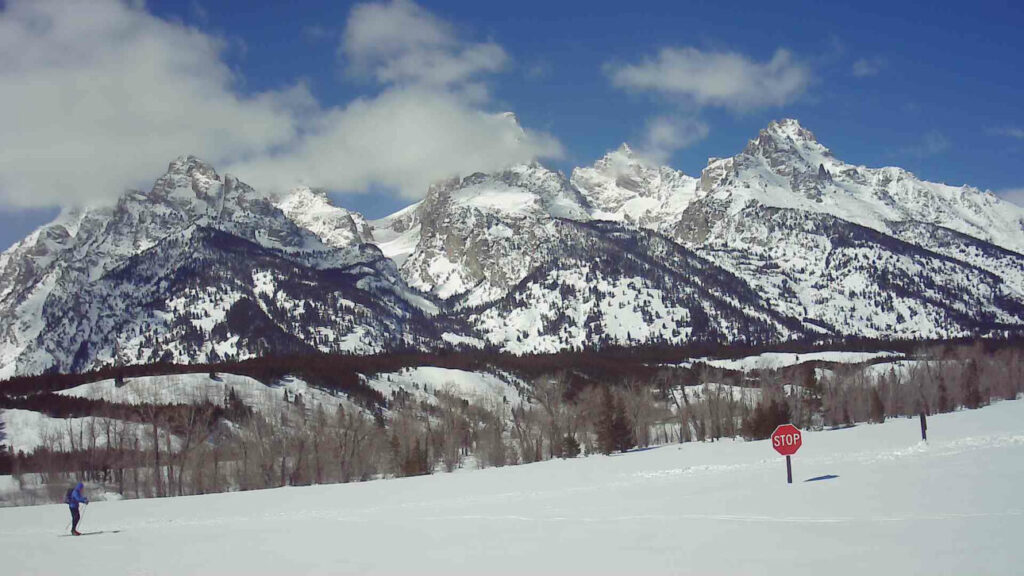 Even though GTNP's Teton Park Road is no longer groomed this season, there's still plenty of snow for some superb non-groomed skiing and stunning views of the highest peak in the Teton Range. Check out the view, weather, and snow conditions before driving to the Taggart trailhead via the web cam on the JHNordic.com home page.
---
Moose Alert!
Give our moose some space! The snow is so deep, they're using roads, driveways, parking lots, trails and pathways to get around!
Credit: Beth D. Spotted in Wilson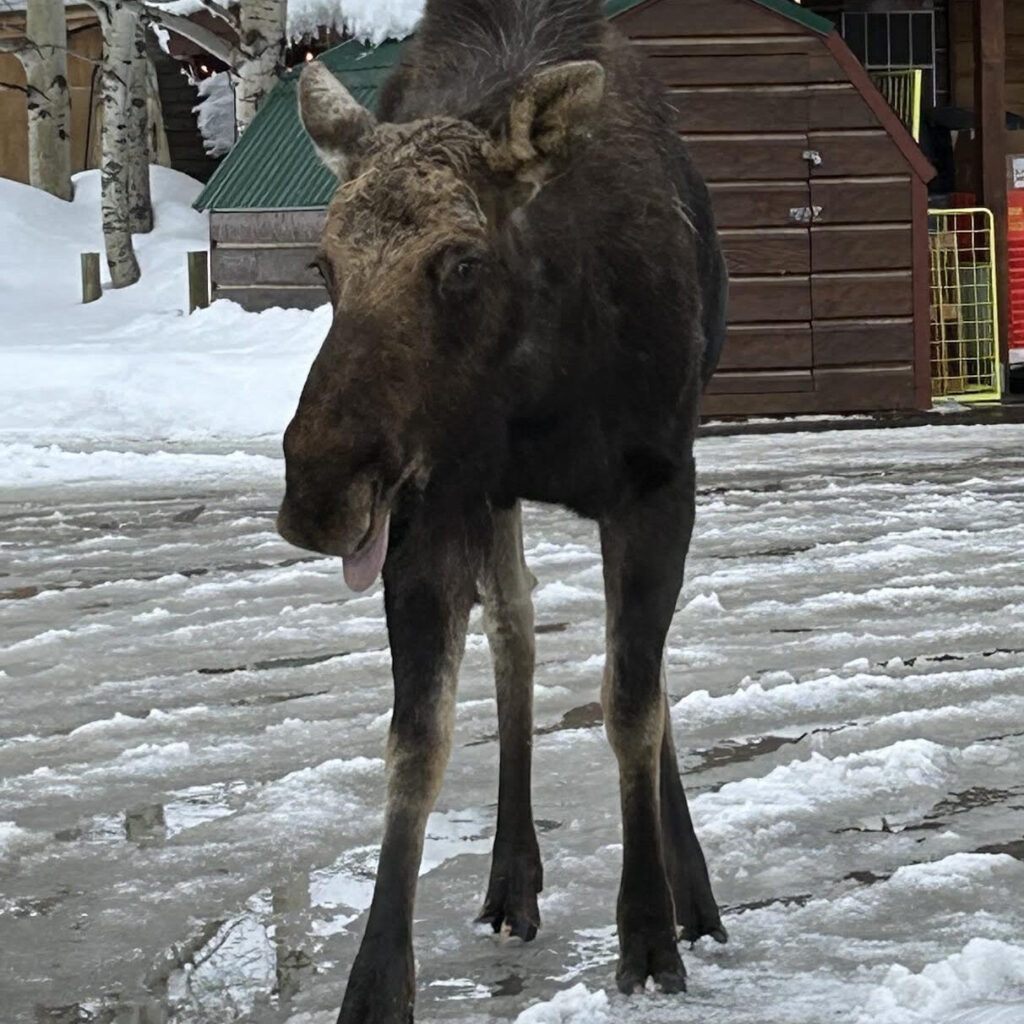 ---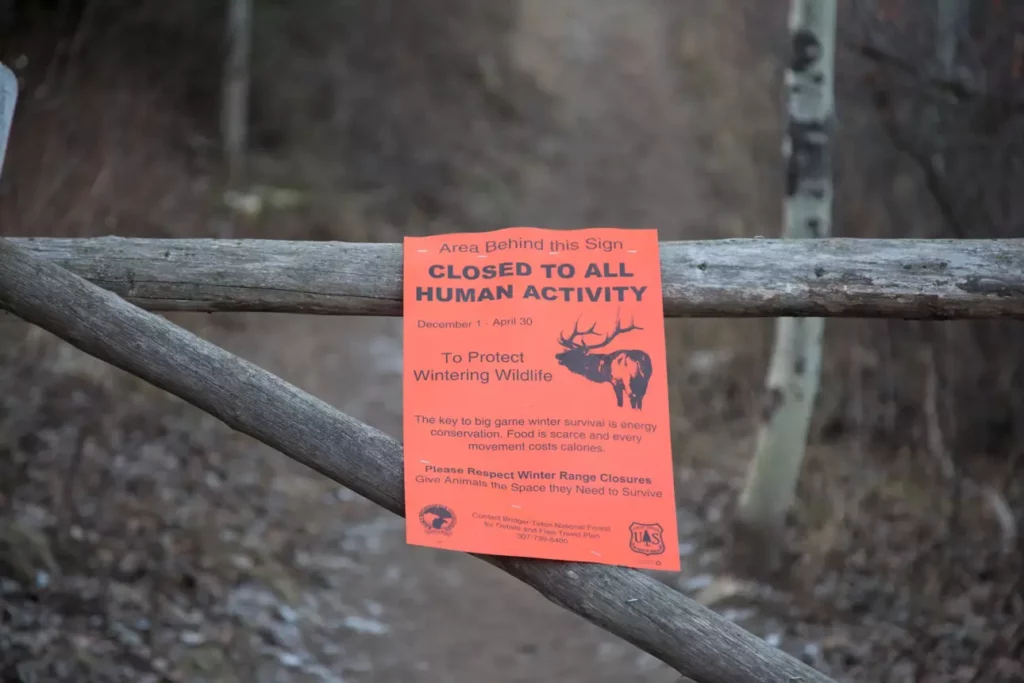 ---
It's Mid-March now; typically, this time of year, we see many signs of Spring as Spring Break approaches more daylight, warm temperatures sweep in, and wildlife emerges. But with all of this snow, it's no wonder we all feel winter will be a little longer this season. Despite what season may be upon us, recreating responsibly is the only way to enjoy the trails in this magnificent place. So here is a friendly reminder the next time you hit those winter trails to leave no trace & know before you go!
---
JHSC Nordic Ranked 3rd in Club Standings at Junior Nationals!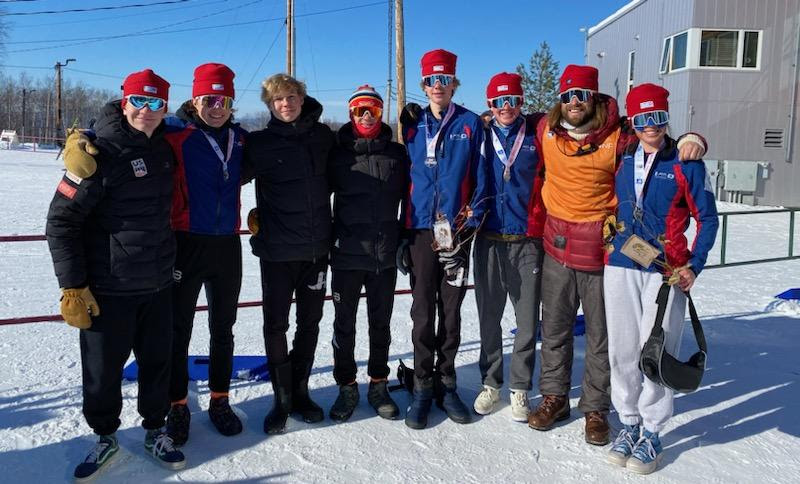 Congratulations to the JHSC Nordic Program on placing 3rd in the national club standings, moving up from their 5th-place ranking last season!

On Monday, Lena Poduska won the U16 national championship AND had the fastest women's time of the day in ALL age classes in the 7.5km Classic interval start. She wrapped up the event with another 1st-place finish in Wednesday's Freestyle mass start and was 3rd in Tuesday's freestyle sprint. CONGRATULATIONS to Lena on this incredible end to an already impressive season, following on her 11th-place finish at the Nordic Nations Cup in February.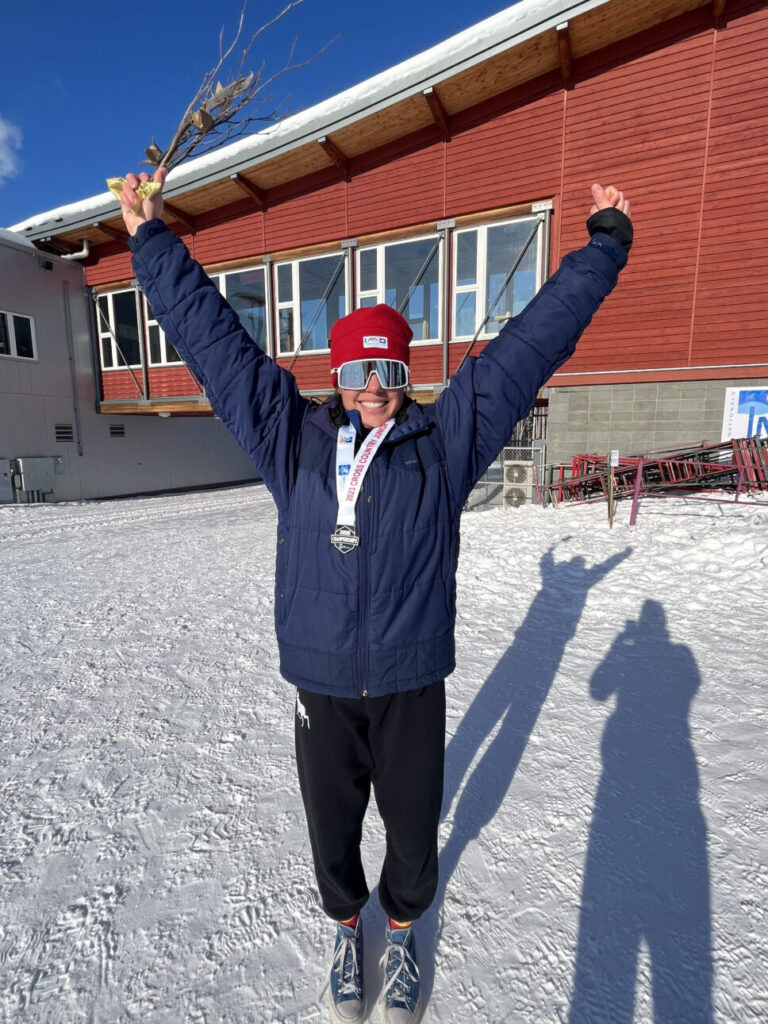 Below are JHSC results by day. See complete event results HERE.

Monday: Classic interval start
Lena Poduska: 1st U16
Lucas Wilmot: 5th U18
Nate Streubel: 8th U16
Peter Warner: 13th U18
Sam Sinclair: 16th U18
Abby Murphy: 17th U16
Mason Wheeler: 19th U20
Sam Hutchinson: 20th U16
Aurora Stiles: 26th U18
Ryan Thompson: 36th U16
Colton Petsch: 41st U16

Tuesday: Freestyle sprint
Lena Poduska: 3rd U16
Aurora Stiles: 8th U18
Nate Streubel: 11th U16
Abby Murphy: 18th U16
Peter Warner: 18th U18
Ryan Thompson: 22nd U16
Sam Hutchinson: 23rd U16
Sam Sinclair: 35th U18
Lucas Wilmot: 39th U18

Wednesday: Freestyle mass start
Lena Poduska: 1st U16
Lucas Wilmot: 3rd U18
Peter Warner: 5th U18
Nate Streubel: 5th U16
Sam Hutchinson: 12th U16
Abby Murphy: 13th U16
Aurora Stiles: 13th U18
Ryan Thompson: 22nd U16
Sam Sinclair: 26th U18
Colton Petsch: 36th U16
---

We are so proud of these athletes on an incredible season! Come celebrate our Champions next Tuesday, March 21, at Hand Fire Pizza. JHSC is the evening's sponsored nonprofit of Hand Fire's "Pizza for a Purpose": proceeds from every pizza purchased, dine in and take out, support the Club's 500 student-athletes.
---

Grooming Daily
Last Update: 3/17
Good News From The North!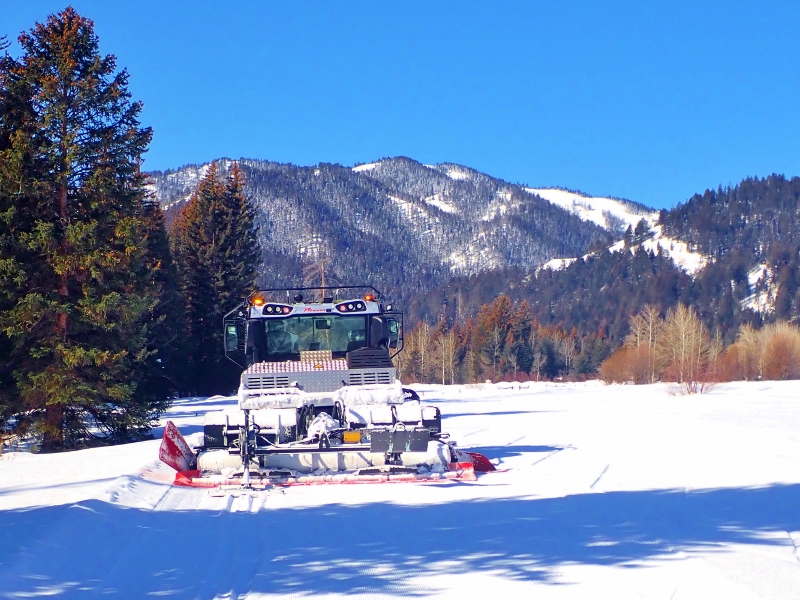 Yesterday was the final day of racing for the 2023 Junior Nordic National Championships in Fairbank, Alaska with some pretty amazing news finding its way south! A quick glance at the results from yesterday's mass start classic start race show Lucas Wilmot with a podium finish and "on fire" Lena Poduska winning the U16 girls 5 K race 31.8 seconds ahead of the closest competitor! There were lots of other great individual results as well and looking at the overall team results, JHSC appears to have come in as the number 3 team in the nation! Way to go racers and coaches.
If you are lucky enough to come out to Trail Creek today you will also be going pretty fast on the very firm conditions. We've headed into some spring weather with cool nights and warm days. The Husky covered pretty much every trail today with double passes on Moose Loop and the Close Field with most classic tracks set along the way. While there are some areas that did come up a bit crunchy, all in all conditions are pretty nice. Some early morning skaters were flying along and skiing should be nice all afternoon as temps warm.
Today is the last official day of JHSC practice, look for Juniors and a few Prep/Comp skiers out and about.  Next week the grooming schedule might back off a bit depending on weather and skier days.
Groomer's choice for today is the Close Field.
---
Grooming Today: Emily's Pond Levee, High School Fields, Stilson Loop, Wilson Centennial Trail
Last Update: 3/17
Cache creek and May park are groomed. Skate lanes are firm and classic tracks are shallow. Game creek and South Park Pathway are groomed and in decent shape.
---
Groomed by Friends of Pathways
Grooming Schedule: As Needed
Last Update: 3/17
Cache Creek Sidewalk and Road Singletrack groomed 3/17.
---
Grooming Daily
Friday the track was incredible starting around 11am, once it warmed up a bit. The weather pattern is the same for the weekend so come out and ski while you can! Closing day for the shop is this Sunday the 19th. If you are planning to ski on Sunday and need rentals, please get here before 12pm as we will begin packing things up midday. We plan to groom through the 26th if conditions permit. The track/property are closed to all skiing beginning on March 31 due to golf course spring preparations.
Saturday March 18 we are having a 30% off sale on all clothing and 20% off sale on hardgoods. Winter isn't over so come pick up some gear to get you through crust cruising season!
We are open daily to the public for skiing. Click here for our current trail grooming report and conditions: https://nordic-pulse.com/ski-areas/US/WY/Teton-Pines-Nordic-Center. Note—We have a new shop phone number this season: (307) 732-4130
---
Grooming Daily
Last Update: 3/17
Happy St. Patty's Day! It appears we'll finally have a sunny weekend and with it very enjoyable Nordic conditions. After recent warm & rainy weather, the trails have made the shift to a firm, fast, and icier surface. Typically trails will loosen up in the late afternoons and tend to be firmer/icier in the mornings. Due to the icier surface, skiers may encounter some marbley/crusty/chunky sections as the quality of snow is less pliable. Overall, skiing should be great. Soak up the sun while it lasts… more wintery winter is forecast for all next week. Enjoy!

Please help support trail grooming in GTNP by donating to the Grand Teton National Park Foundation. It's easy and encouraged. All you need to do is visit: GTNPF.org/donate/ and leave the comment "Nordic" in the designation section. There is the opportunity to leave a one time gift or reoccurring monthly donations in any amount.
Grooming Has Ended For The Season
Winter grooming of the 14-mile section of Teton Park Road between Taggart Lake Trailhead and Signal Mountain parking area ended March 10. The road will remain open for winter activities until March 20 when snow removal operations begin.
While grooming in GTNP has come to an end for the season, there are other great options of where you can track ski. Check out JHNordic.com/Grooming/ to find other fresh grooming in our new real-time map, thanks to our partner, Nordic-Pulse.
---
Grooming Has Ended For The Season
Thank you all for a wonderful winter season at Turpin Meadow Ranch! While our trails are on the Bridger-Teton National Forest (meaning you can still come enjoy them on your own) they are no longer being maintained. If you do make the drive, bring your bear spray and remember: the lodge and all services are closed for the season, please respect that all buildings on the resort are private.

Please support TVTAP winter trail grooming on your favorite TV winter trails by purchasing a TVTAP Trail sticker Please remember to manage your dogs and respect dog and wildlife closures. Buy a dog trail sticker, too!
Grooming Schedule: Sunday, Tuesday, Thursday, & Saturday
Last Updated: 3/17
Classic Track: Set | Fat Bike Trails: Closed | Snowshoe Trails: Open
No new snow to report this morning. Now that the storm has blown out of town, sunny skies should be present for the next few days. Expect colder temps in the morning, but it should warm up to the mid 20's by the afternoon.
Remember, singletracks will be closed when there is more than 3 inches of snow in a 24 hour period.
---
Grooming Schedule: Tuesday, Thursday, & Sunday
Last Updated: 3/16
Skate: Set | Classic: Set
Reset both classic and skate tracks. Classic tracks are a little rough. Skate looks good.
---
Grooming Schedule: Monday, Wednesday & Friday
Last Updated: 3/17
Skate: Set | Classic: Set
Smoothed skate track with weighted drag- left classic track as is.
---
Grooming Schedule: Monday, Wednesday & Friday
Last Updated: 3/17
Skate: Set | Classic: Not Set
Attn: ice rink loop is now not usable. City of victor is putting a new public work building in field just east of ice rink. Skating should be fantastic with a few foot prints still around. Was not enough snow to set a new classic track Walking track is still in and supported but not groomed, please clean up after your dogs!
---
Grooming Schedule: Monday, Wednesday, Friday & Saturday
Last Updated: 3/17
Skate: Set | Classic: Set
Cold nights and no snow will help grooming today.
Trail Etiquette: Please keep your dogs leashed in the parking lot and be sure to clean up after them!
---
Grooming Schedule: Tuesday, Friday & Sunday
Last Updated: 3/17
Skate: Set | Classic: Set
Skate and classic tracks set on Yeti and Campground. Classic track was tough to set in places. Some tracks in the trail didn't entirely groom out. Should ski well and improve with the next grooming.
No dogs December 1 – April 15.
---
Grooming Schedule: Tuesday, Thursday & Saturday
Last Updated: 3/16
Skate: Set | Classic: Set
Tuesday morning groomed and reset the skate and classic track. Classic is a little rough and thin in spots due to icy and firm conditions. The skate track is in great shape. Enjoy the glide.
No dogs allowed. Please stay on the groomed trails at all times.
---
Southern Valley Singletrack
Grooming Schedule: As needed
Last Updated: 3/15
Singletrack: Set
3/15 GROOMED BUT NOT RIDEABLE TILL 3/16 AM BPA to LLS U & L LADYSLIPPER GRUMPY CONNECTOR U & L HILLBENDER PLEASE DONT TIDE TILL AFTER THE HARD FREEZE TONIGHT Thanks!
No dogs December 1 – April 15.
---
Grooming Schedule: As needed
Groomed by USFS
Last Updated: 3/9
Groomed 3/9.
---
Grooming Schedule: As needed
Groomed by USFS
Last Updated: 3/8
Groomed 2/24.
---
Grooming Schedule: As needed
Groomed by USFS
Last Updated: 3/9
Groomed 3/9.
---
Pinnacle Trail
Grooming Schedule: As needed
Groomed by USFS
Last Updated: 3/8
Groomed 3/3.

Mark your calendar so you don't miss out on all the wonderful events coming up! Explore the highlighted events below or find more events on our website at https://jhnordic.com/events/
---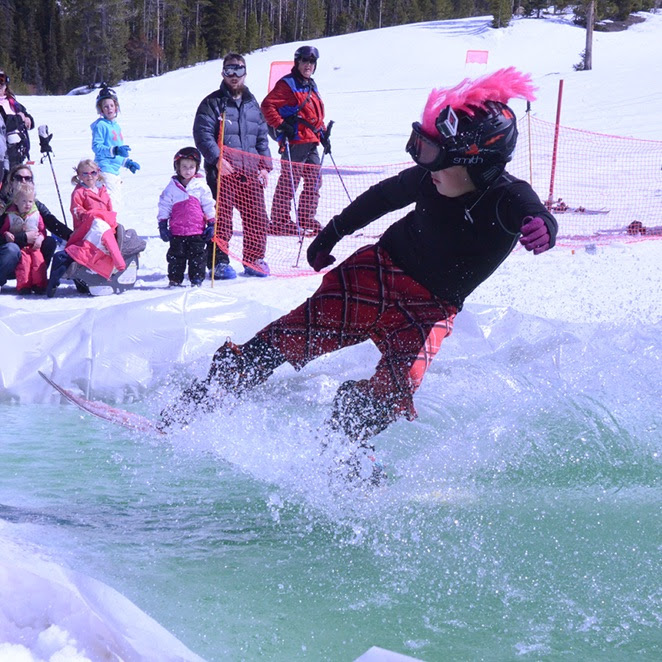 Annual Spring Fling
Cardboard Race and Pond Skim
Saturday, March 25
Whitepine Wyoming Ski Resort
It's almost time for our annual closing weekend shenanigans! Cardboard Race and Pond Skim, Saturday, March 25, 2023. Contingent upon snow conditions. If needed, we've got plenty of cardboard. Just ask!
Crazy Costumes, Saturday and Sunday, March 25-26, 2023. All and any! Just keep it clean
---
---
---
We'd love to hear about your outdoor adventures, what your doing to stay healthy, safe, respectful of community health guidelines – send pictures or post on FB and Insta – #JHNordic