It's Mid-March now; typically, this time of year, we see many signs of Spring as Spring Break approaches more daylight, warm temperatures sweep in, and wildlife emerges. But with all of this snow, it's no wonder we all feel winter will be a little longer this season. Despite what season may be upon us, recreating responsibly is the only way to enjoy the trails in this magnificent place. So here is a friendly reminder the next time you hit those winter trails…
Responsible Nordic Skiing Looks Like This..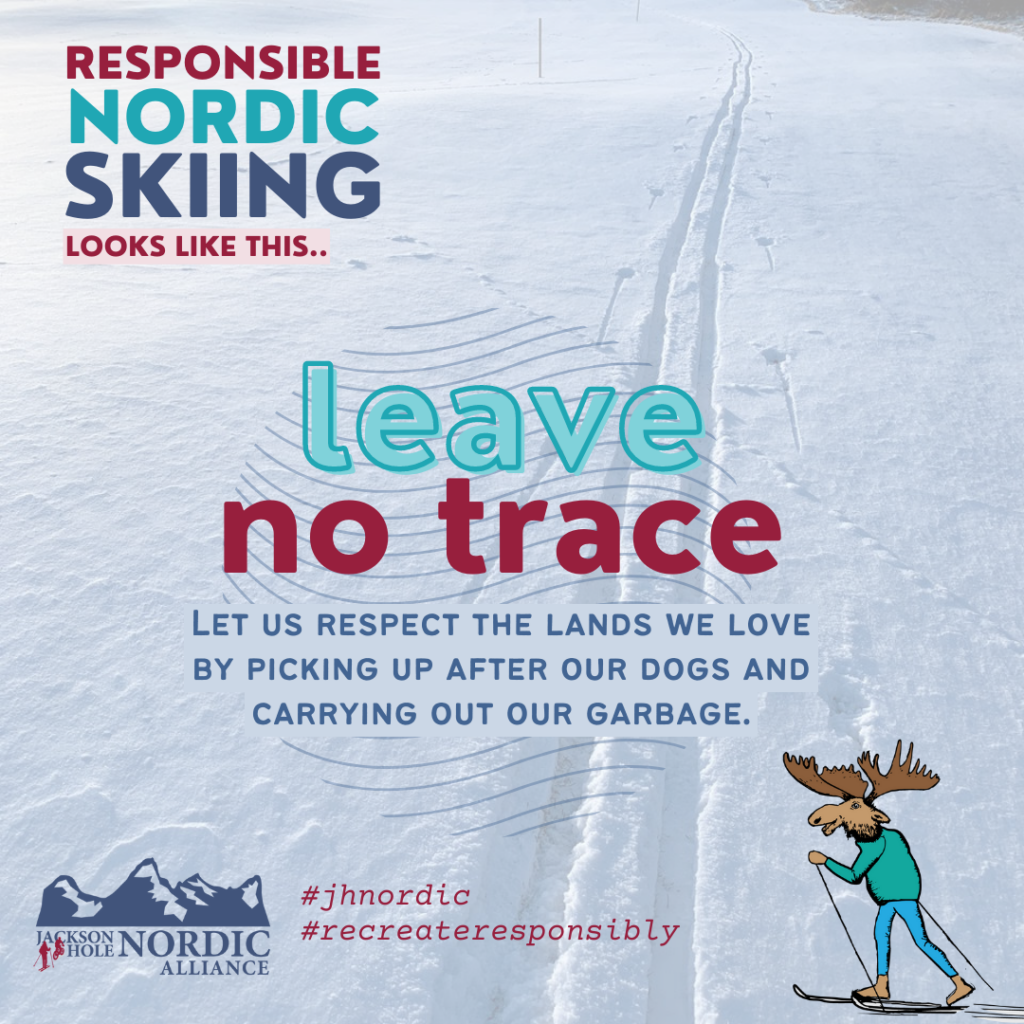 Leave No Trace
Let's respect the lands we love by picking up after our dogs and carrying out our garbage.
Poop waste contributes nutrients and pathogens to surface water, causing problems such as algae bloom and illnesses that harm people, pets, and wildlife (Mountain Neighbor Handbook)
The "Poop Fairies" reminds us (in the video below) that we can deepen our impact by picking up another bag as we return to the trash can at the end of the trail.
Know Before You Go
Plan your trip responsibly by considering the weather, snow, and terrain. Ensure you know the regulations or closures of the trails you hoped to explore. Know whether your dog is welcome to join in the adventure too.
Use JHNordic.com for smooth trip planning:
In Case of an Emergency
Speaking of Know Before You Go, have you read our "Who You Gonna Call" article about when you are in the backcountry and need help? Solid advice straight from the rescuers themselves, Teton County Search and Rescue: Download BackCountry SOS app on your smartphone now!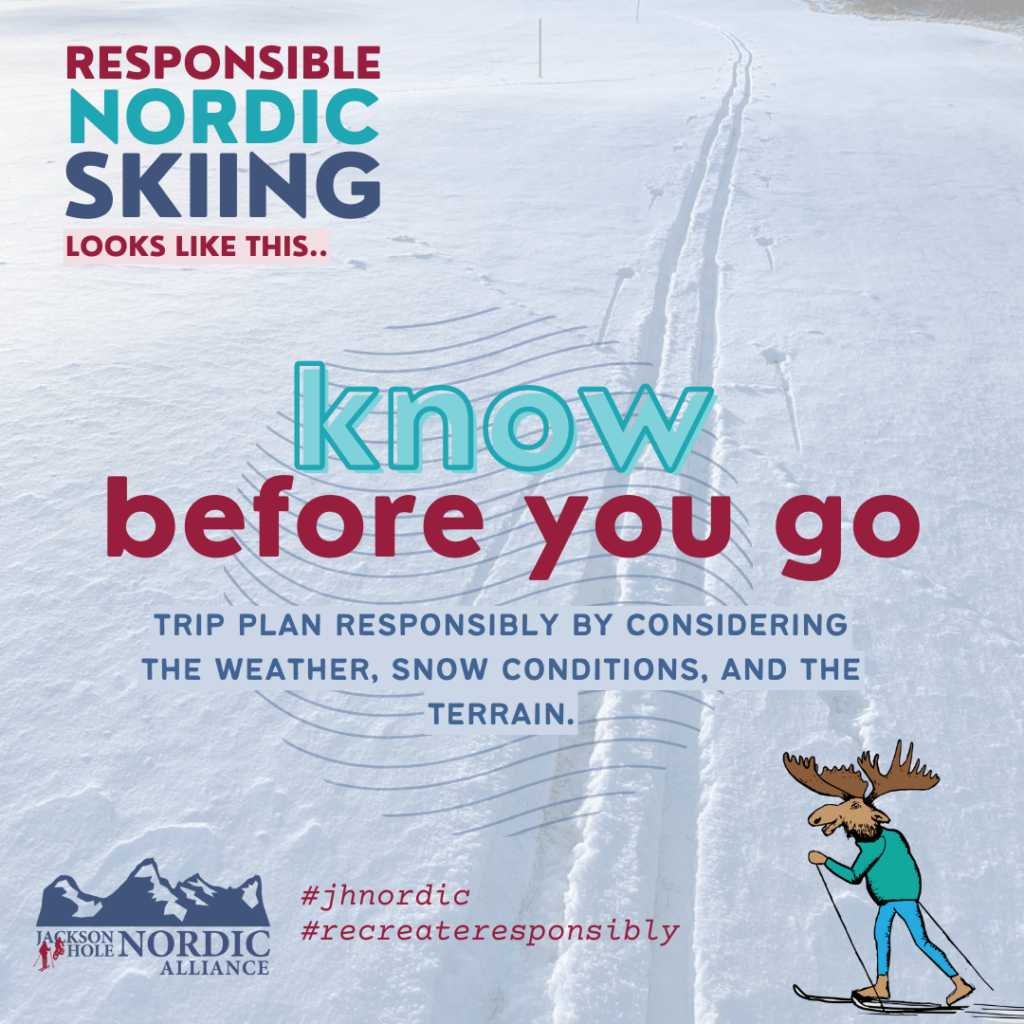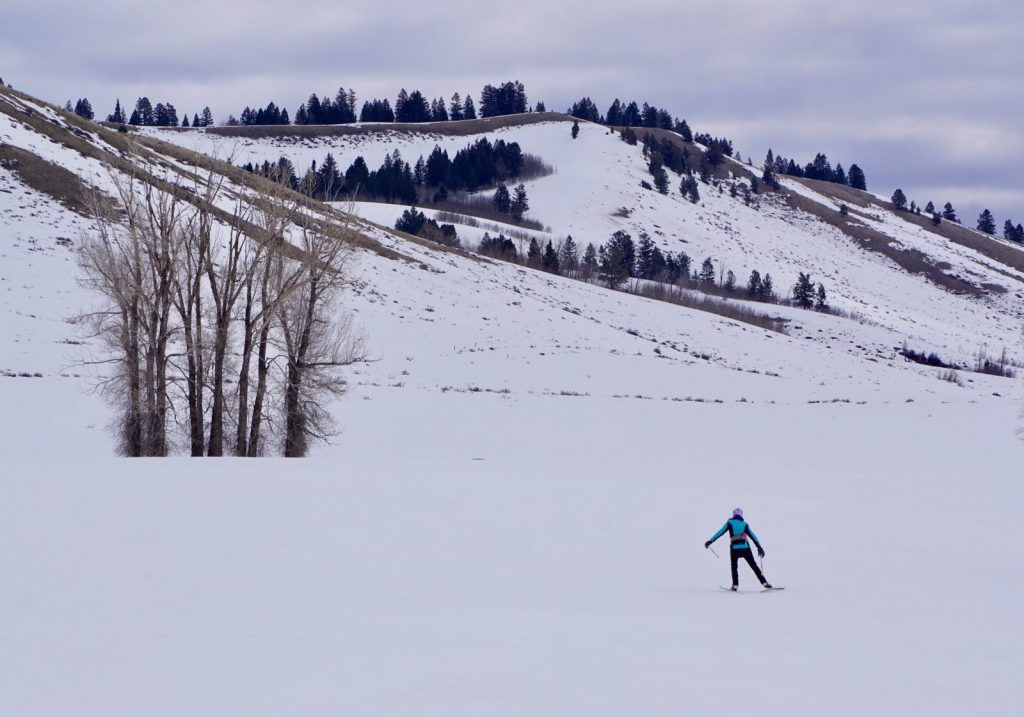 Some tips to consider:
Time of day is crucial to a good crust cruising session. It needs to be the first part of the day, around 9-12, before the snow warms up too much and get sticky. If it's slushy, don't go – this will ruin the terrain for everyone.
Crust Cruising in the Spring
MountainWeather.com's Jim Woodmency captures the essence of spring corn skiing – (aka crust skiing for Nordic skiers!). Weather, temps, sun, melt vs. freeze cycle, elevation, aspect, and timing all play a key role in getting it just right. In his article in the JH News & Guide, Woodmency details the recipe for predicting corn skiing weather.
Read more about how to recreate responsibly in the spring skiing conditions in the JH News & Guide article Mountainside: Don't ski the slush, and don't bike the mud.
GIVEAWAY: Share your JH Outdoor Adventure
We realize that now more than ever having a chance to be outside and enjoy in the fresh air is so important for everyone. Jackson Hole Nordic Alliance strives to encourage the whole family to get outside, have fun and be safe. Your storytelling enriches our community.