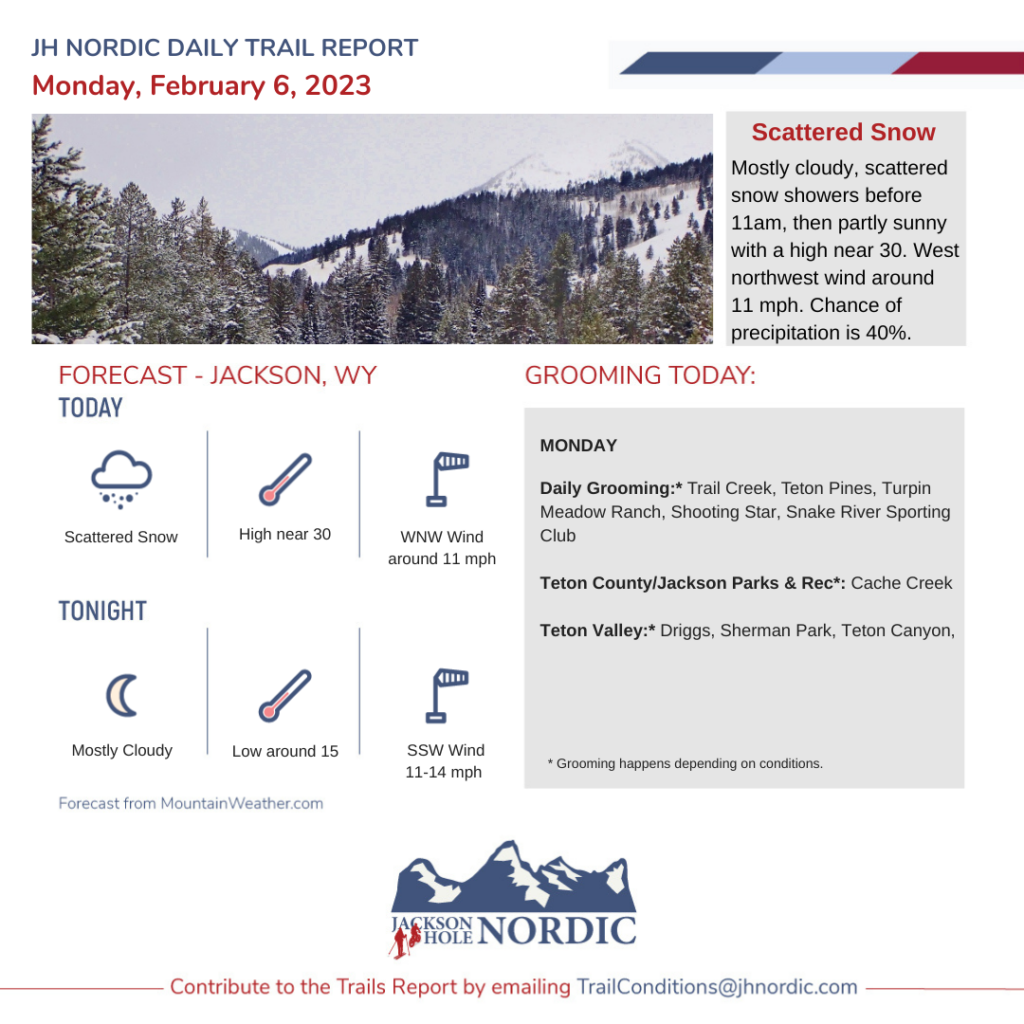 ---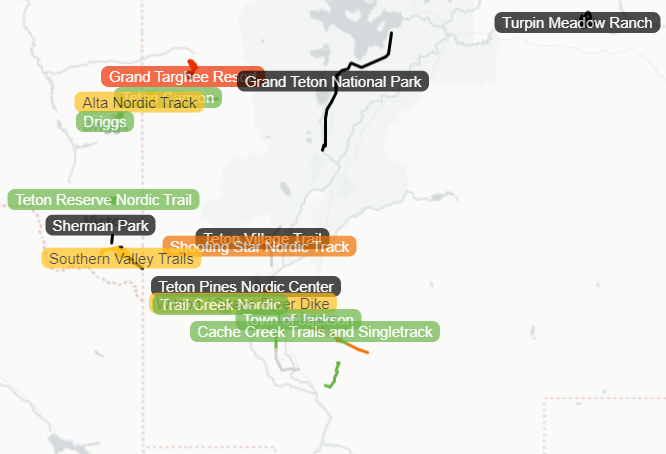 What's Groomed in Jackson Hole/Teton Valley?
See real-time grooming in the Jackson Hole/Teton Valley region. Find all the latest grooming & fresh groomed tracks. Plan your next Nordic Adventure with ease.
---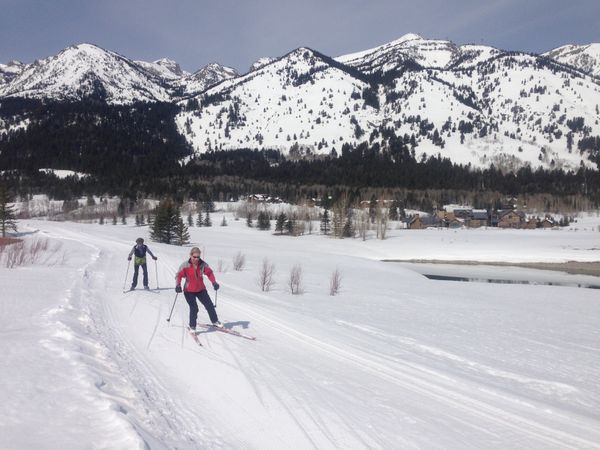 If you just finished a spectacular day of Nordic skiing, Fat Biking or snowshoeing on the Westbank and you are in need of a great spot to relax, catch up with friends, and grab a bite to eat, look no further than our most recent blog post.
---
If you are looking for a few new groomed Nordic ski trails ( with a comfortable overnight option) , and only 90 minutes south of Jackson , consider visiting the Nordic trails near White Pine Ski Resort, above Pinedale. Set on Bridger Teton National Forest public land, and supported by Sublette County, we appreciated discovering a regional, well maintained Nordic ski trail network, in a beautiful , vast, mountainous area of Wyoming with its own beauty.

A group of friends explored the Elkhart Park Road trail on classic xc skis under sunny skies, with close views of the central Wind River range and distant views of the Wyoming Range.
We stayed 2 nights at the comfortable, family run Lakeside Lodge, half way between Pinedale and White Pine. Our first day, some skied part of the perimeter of frozen Fremont Lake.
The Elkhart Park Road trail climbs approx 1000 ft over 4.1 miles going up, then a pleasant downhill run back, with excellent classic and skate grooming. Dog friendly, and very few other skiers.

There are 2 other Nordic trail loops near White Pine, In beautiful valleys, with rolling terrain ( and some decent uphills!) Note that the Lower trail loop , Kelly Park Loop, allows dogs and fat bikes, while the Upper Loop trails do not.

We stopped at Pine Creek Cafe in Pinedale for some excellent expresso coffees before driving home.

Everyone enjoyed the adventure of discovering new trails and beautiful Wyoming landscapes relatively close to home. And supporting and respecting another winter trails community with responsible recreation.
When you do visit Nordic and winter trails set on National Forest public lands, please be a good steward as well as consider supporting their maintenance via donation. We encourage you to visit Friends of Bridger Teton: https://www.btfriends.org/ and the Sublette Trails Association: https://www.sublettetrails.org/winter-trails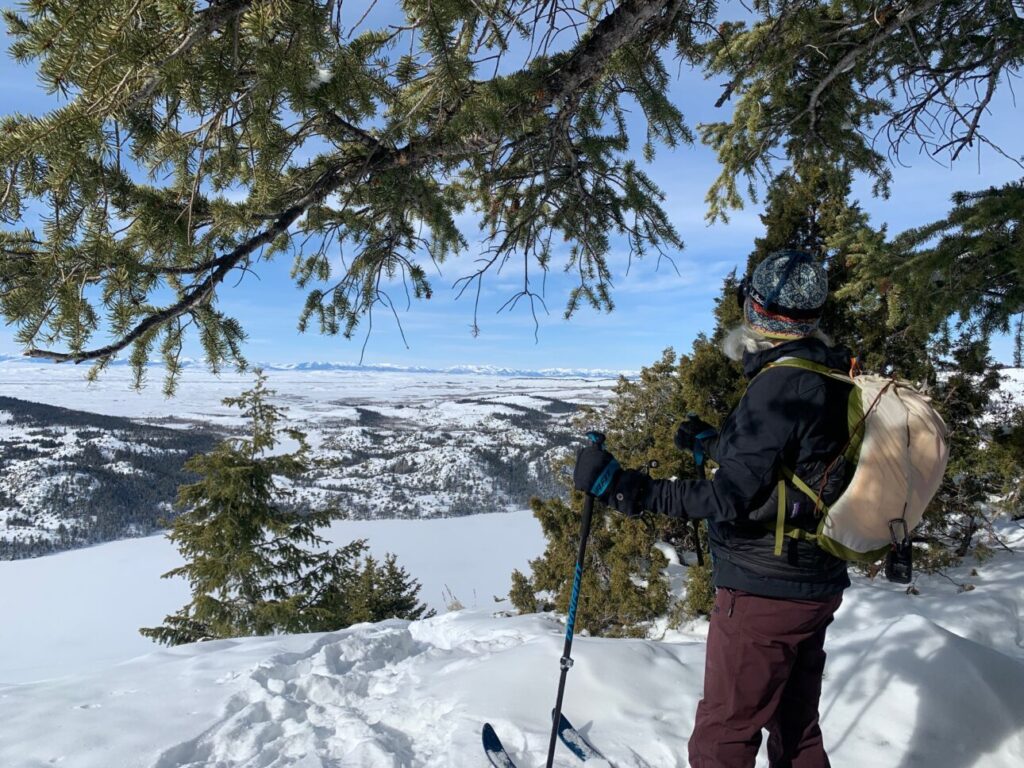 Grooming Daily
Last Update: 2/5
Elking Around!
Congratulations to our local ski teams! They managed to pull in five medals yesterday, and made a really great showing for our area. If you see them, be sure to congratulate them on their hard work and success!
The elk were enjoying our trails this morning, leaving an excellent amount of tracks across many of the wooded areas. I did my best to clean up the mess, but some tracks remained; hopefully tonight's snow will make cleaning up the rest of them a straightforward process going into tomorrow. Today's grooming was a single pass across most wooded trails and a double pass through the East Fields. Remember, tomorrow we switch to pre-Moose Chase grooming!
Groomer's choice for today is the East Fields.
---
Grooming Today: Cache Creek
Last Update: 2/4
The school fields, levee and stilson are groomed and in good shape.
---
Groomed by Friends of Pathways
Grooming Schedule: As Needed
Last Update: 1/30
Singletrack groomed 1/30.
---
Grooming Daily
Used ski sale!! We are currently selling our classic rentals/demos. Price for Skis, bindings, boots: $215. We still have most boot sizes available but only 163cm skis remaining. We have plenty of new classic skis to pair with used boots.
Our retail shop will be having a great spring sale on softgoods and hardgoods soon—stay tuned!!!
We are open daily to the public for skiing. Click here for our current trails grooming and conditions: https://nordic-pulse.com/ski-areas/US/WY/Teton-Pines-Nordic-Center. We offer private skate and classic skiing lessons daily, skate/classic ski rental packages, and bc xc rentals for the park. We are open 9am-4pm. Please call to book lessons and with any other questions.
Note—We have a new shop phone number this season: (307) 732-4130
---
Grooming Daily
Last Update: 2/3
After a sunny but very brisk week, it appears that temperatures will begin warming up today and remain "warmer" over the weekend. Trails continue to groom out nicely and skiing should ski faster as the temperatures rise. Look for calm and sunny weather through Saturday, followed by light snow Sunday & Monday. Enjoy! Next update will be Monday.


Please help support trail grooming in GTNP by donating to the Grand Teton National Park Foundation. It's easy and encouraged. All you need to do is visit: GTNPF.org/donate/ and leave the comment "Nordic" in the designation section. There is the opportunity to leave a one time gift or reoccurring monthly donations in any amount.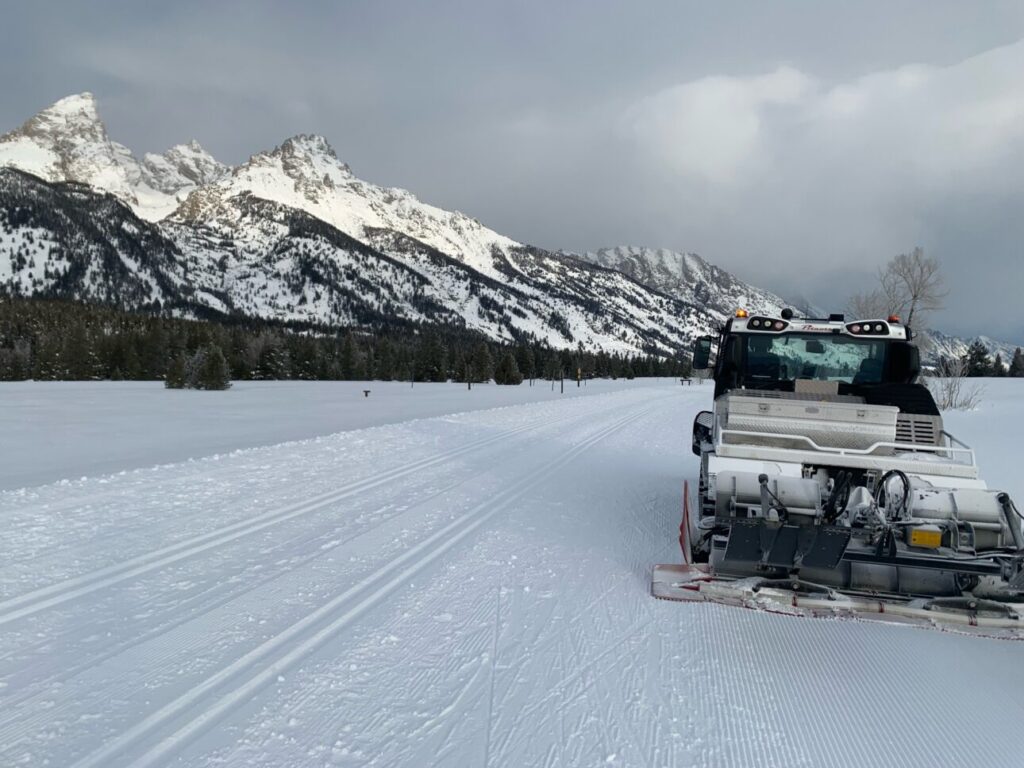 Grooming: Tuesday, Friday, Sunday
Last Update: 2/5
Taggart Lake Trailhead to Signal Mountain.
Lots of fresh corduroy from Taggart to Signal, thanks to GTNP grooming! Check out JHNordic.com/Grooming/ to find other fresh grooming in our new real-time map, thanks to our partner, Nordic-Pulse.
---
Grooming Daily
Last Update: 2/5
The pisten bully will be out early Monday morning resetting all of the trails. We will be grooming the single track Monday morning as well.
Turpin Meadow Ranch is open to all for skiing, lodging, dining, Nordic lessons, and tours! Ours is a short season so be sure to plan a visit this winter between now and March 13, 2022. Call the office (307) 543-2000 or visit our website to book your adventure and/or meal!


Please support TVTAP winter trail grooming on your favorite TV winter trails by purchasing a TVTAP Trail sticker Please remember to manage your dogs and respect dog and wildlife closures. Buy a dog trail sticker, too!
Grooming Schedule: Sunday, Tuesday, Thursday, & Saturday
Last Updated: 2/5
Classic Track: Set | Fat Bike Trails: Closed | Snowshoe Trails: Open
The Nordic center was groomed Sunday morning. The next storm will bring snow to the area this afternoon through Monday evening with moderate amounts expected. We will see highs in the low 30's with light winds throughout the day at higher elevations. 
Remember, singletracks will be closed when there is more than 3 inches of snow in a 24 hour period.
---
Grooming Schedule: Tuesday, Thursday, & Sunday
Last Updated: 2/5
Skate: Set | Classic: Set
Sunday: Plan to smooth out the skate track this morning. Will leave classic alone as still in decent shape and snow is predicted this afternoon.
---
Grooming Schedule: Monday, Wednesday & Friday
Last Updated: 2/3
Skate: Set | Classic: Set
Used the weighted drag to try and remove all the hoof and footprints in the skate track- left the classic track as is.
---
Grooming Schedule: Monday, Wednesday & Friday
Last Updated: 2/2
Skate: Set | Classic: Set
Freshened everything up with the Ginzu. Left the classic track alone as it's still in decent shape and more snow will make it better. Skating should be great , still a few footprints that might be visible but didn't want to set the ginzu too deep. Walking/single track was buffed as well Please walk on walking trail if possible and pick up after your dogs…lots of poop in the park!
---
Grooming Schedule: Monday, Wednesday, Friday & Saturday
Last Updated: 2/5
Skate: Set | Classic: Set
Skate track was reset and is fast. Classic is still very good from Mark's previous work.
Trail Etiquette: Please keep your dogs leashed in the parking lot and be sure to clean up after them!
---
Grooming Schedule: Tuesday, Friday & Sunday
Last Updated: 2/4
Skate: Set | Classic: Set
Saturday evening I reset the skate and classic track on campground loop. I only reset the skate track on yeti's since the classic track was in great shape. Enjoy the glide before the incoming storm late tomorrow.
No dogs December 1 – April 15.
---
Grooming Schedule: Tuesday, Thursday & Saturday
Last Updated: 2/3
Skate: Set | Classic: Set
Groomed early Friday evening so the track could set up overnight. Buffed out the skate lane. Reset the right side classic track but it came out kind of crumbly. Decided I could not improve the left side classic track so I left it as is. Should be great skiing!
No dogs allowed. Please stay on the groomed trails at all times.
---
Southern Valley Singletrack
Grooming Schedule: As needed
Last Updated: 2/4
Singletrack: Set
Saturday evening I groomed, happy hour, powerline and Sherman Springs access. All other trails a rider packed and some have postholes from walkers, runners and ruts from riders riding in too warm of temperatures with to high pressure. We plan to get more grooming done Tuesday evening.
No dogs December 1 – April 15.
---
Grooming Schedule: As needed
Groomed by USFS
Last Updated: 2/3
Groomed 2/3
---
Grooming Schedule: As needed
Groomed by USFS
Last Updated: 1/12
Groomed 1/12 PM.
---
Grooming Schedule: As needed
Groomed by USFS
Last Updated: 2/3
Groomed 2/2 afternoon
---
Pinnacle Trail
Grooming Schedule: As needed
Groomed by USFS
Last Updated: 2/1
Groomed 2/1


Mark your calendar so you don't miss out on all the wonderful events coming up! Explore the highlighted events below or find more events on our website at https://jhnordic.com/events/
---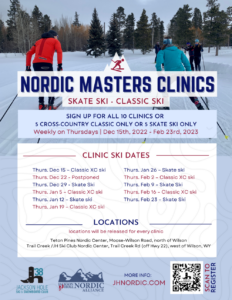 Thursdays – from Mid December to late February
Thursday, February 9 – Skate Ski | Trail Creek
Thursday, February 16 – Classic Ski | Trail Creek
The JHSC would like to encourage participants to pre-register/pre-pay for the clinics, including drop-ins.

Join us this winter season to increase your ski speed, stamina, and strength. Work on your technique and form with professional tips and exercises from USSA certified coaches. Stay and ski all day with your clinic ski pass at Teton Pines Nordic Center or Trail Creek Nordic Center (we will ski at both locations through out the winter to provide a variety of terrain and technique).
---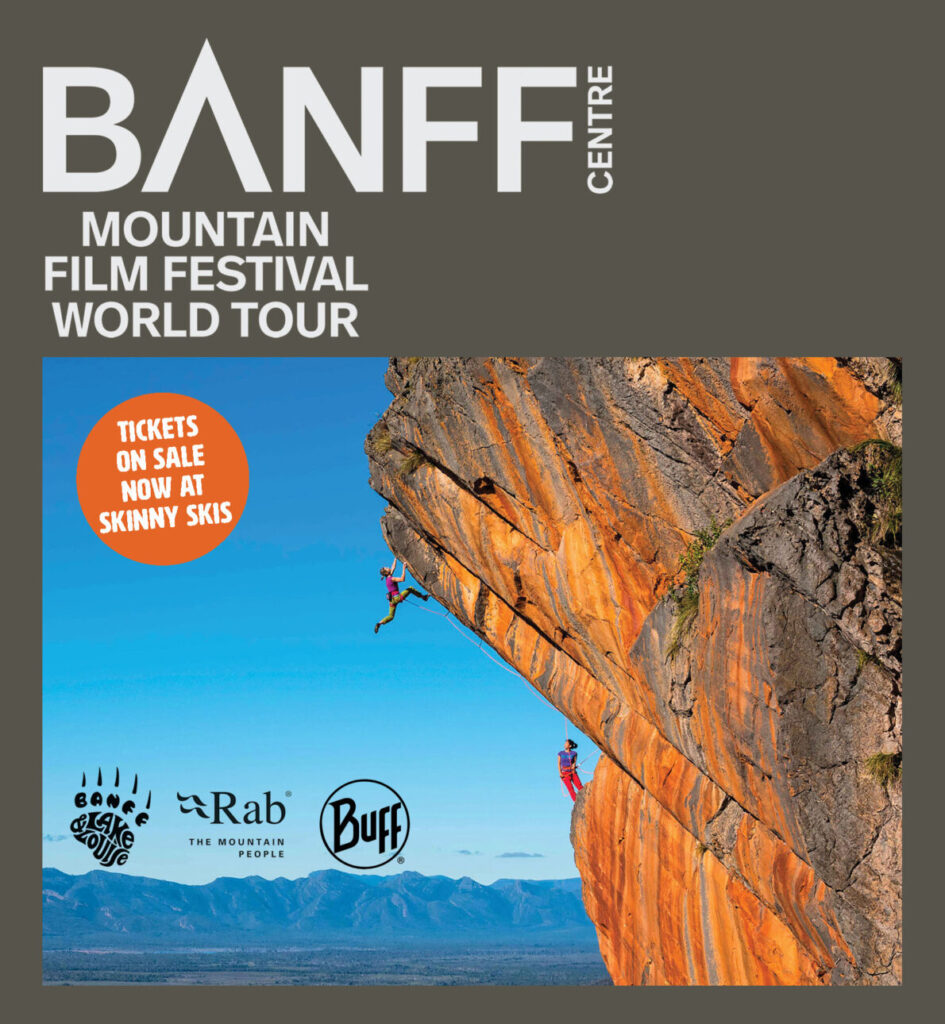 Banff Film Festival
February 10th and 11th, 2023
Jackson Hole High School
Skinny Skis presents two showings of the Banff Mountain Film Festival. The showings will be a fundraiser for the Friends of the Bridger Teton. Tickets now on sale at Skinny Skis!


---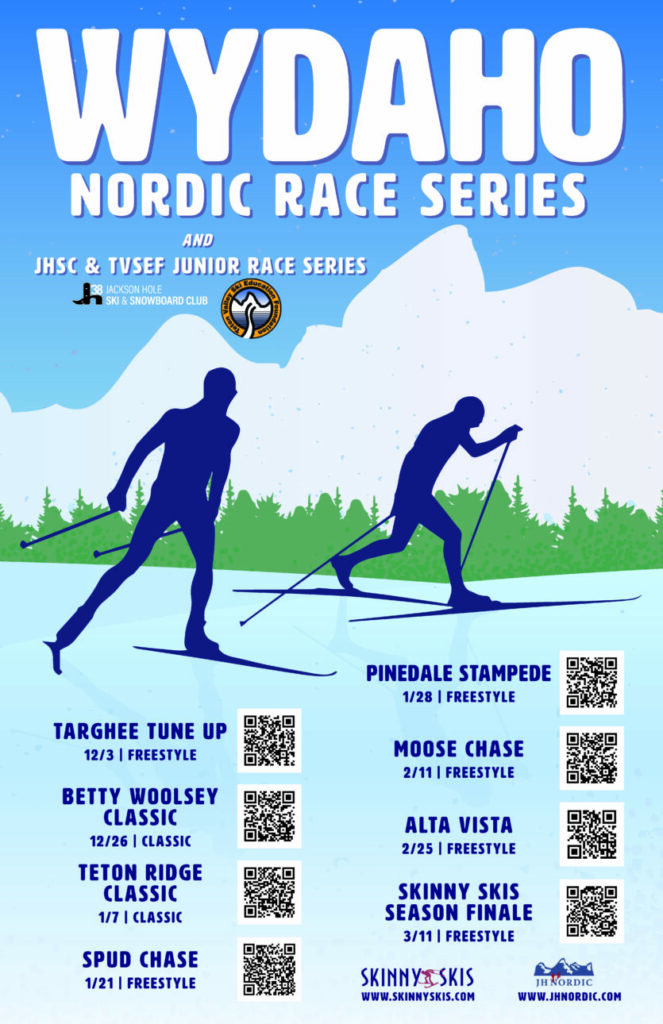 ---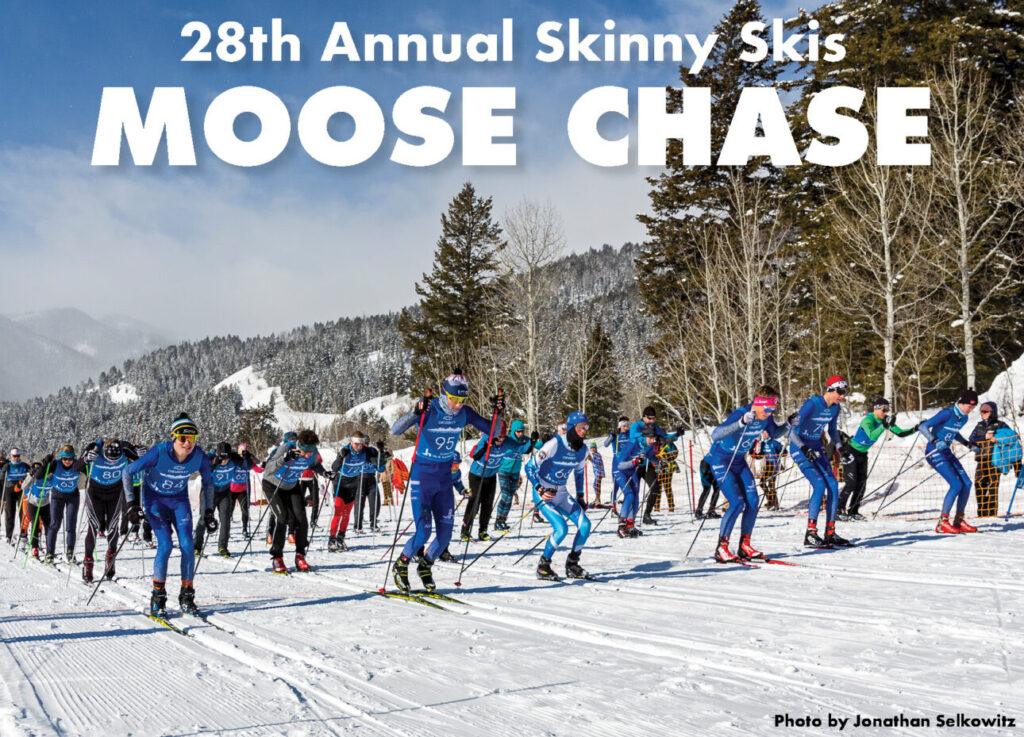 Saturday, February 11th, 2023 | 10:00AM
Trail Creek Nordic Center
THE MOOSE CHASE PRESENTED BY SKINNY SKIS IS BACK! After a four year hiatus, we are bringing back this community nordic event at Trail Creek on Saturday, February 11th. We would love to see all families, club athletes, and nordic community members on the start line to celebrate cross-country skiing in Jackson Hole. Parents are encouraged to race or volunteer, and we will be sending out volunteer shifts to sign up for shortly. We will have 20k, 10k, 5k, 3k, and free 0.5k options that accommodate all ages and abilities. Every athlete from Lollipoppers to Devos to Prep/Comp should plan on attending this event! We will have a food and awards following race completion at Trail Creek.
---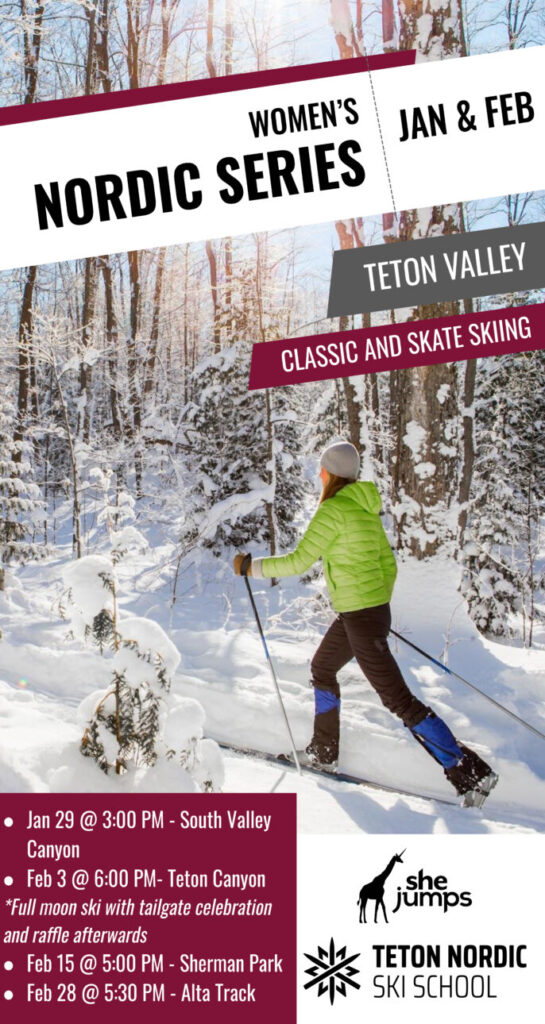 ---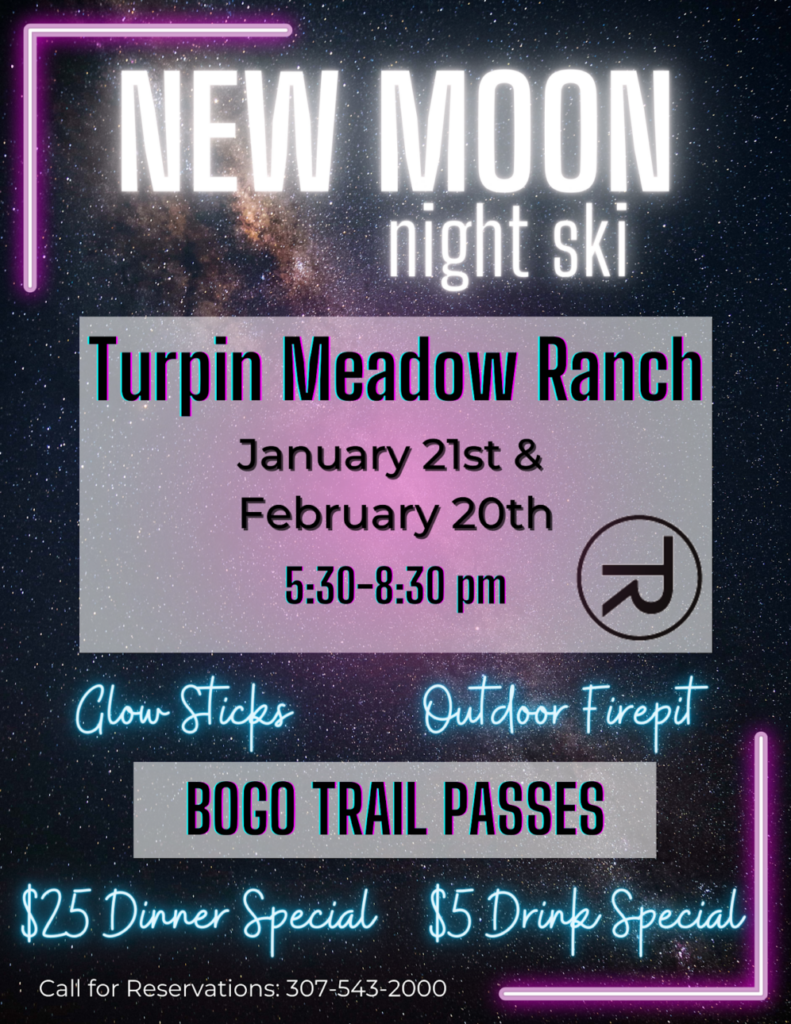 ---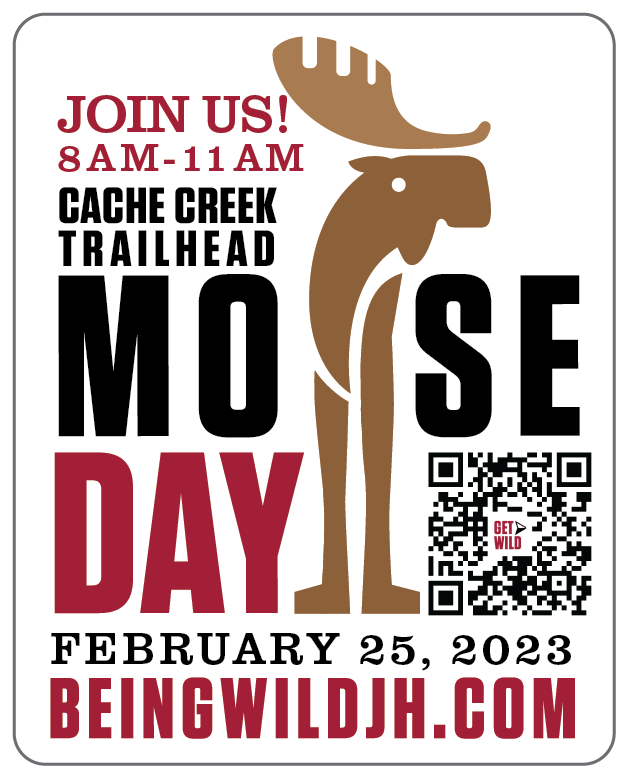 ---
---
---
We'd love to hear about your outdoor adventures, what your doing to stay healthy, safe, respectful of community health guidelines – send pictures or post on FB and Insta – #JHNordic