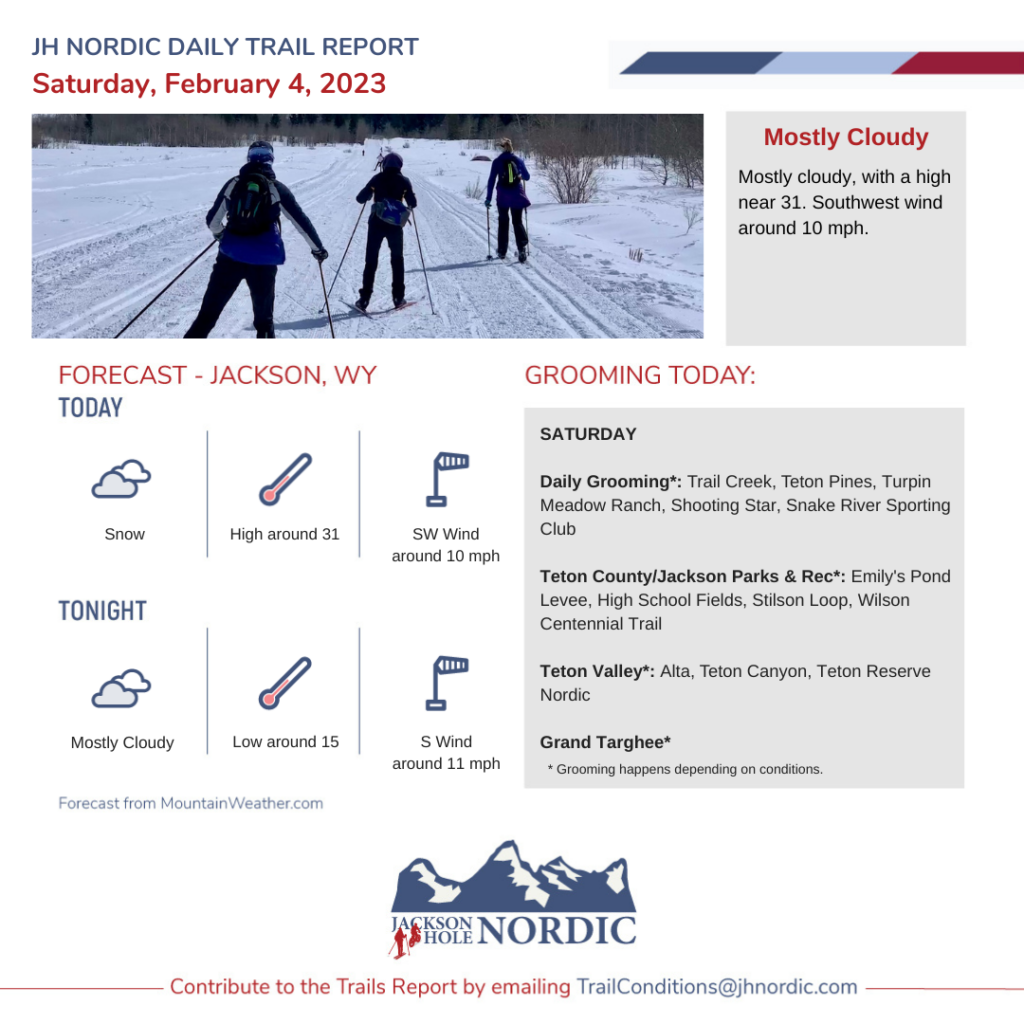 ---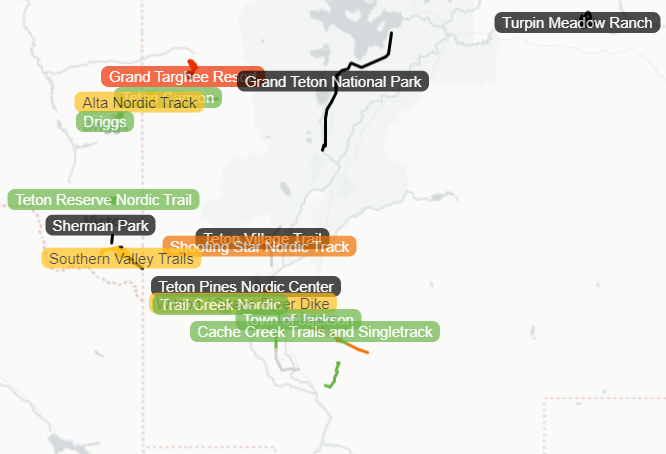 What's Groomed in Jackson Hole/Teton Valley?
See real-time grooming in the Jackson Hole/Teton Valley region. Find all the latest grooming & fresh groomed tracks. Plan your next Nordic Adventure with ease.
---
---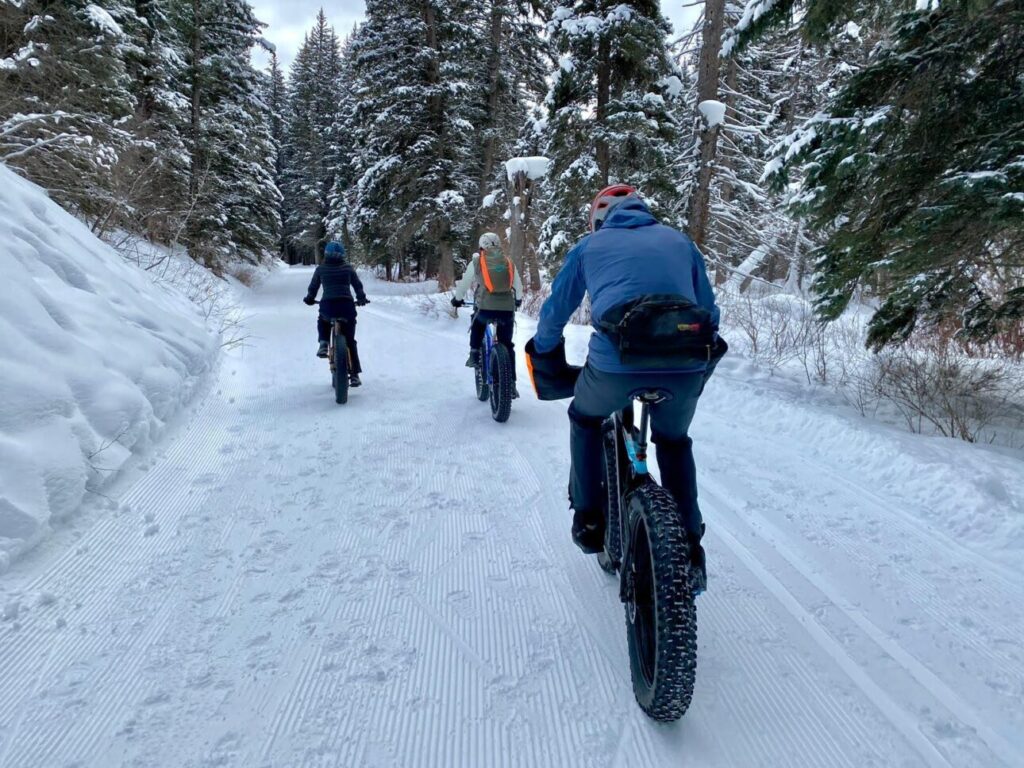 Dual Trip Report: Fat bike Cache and Cross Country Ski GTNP
GTNP Nordic Ambassador Lori shared a dual adventure trip report, bringing visiting family on a fat bike ride up the Cache Creek road to Noker and back on the single track. They had a blast! Bike rentals c/o Teton Mtn Bike Tours raffle prize at the JH Nordic Alliance Annual Event!
And they joined Lori on her ski ambassador shift up in the park yesterday.
---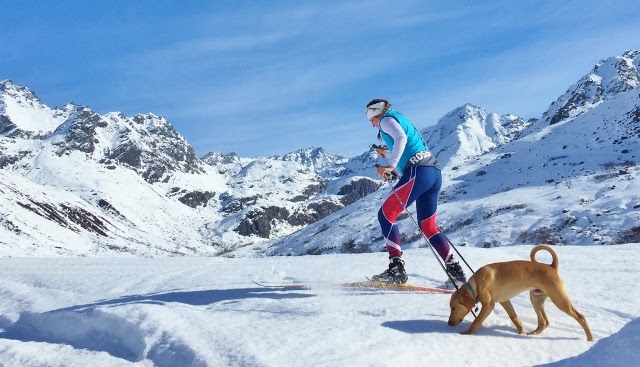 JH Ski Club Nordic Ski Youth Programs – February Nordic Newsletter
We delight in seeing how our local kids excel in teamwork, skill development, sportsmanship, fun thanks to the JH Ski Club's Nordic programs ages 5-19. Here's what the kids and wonderful, dedicated coaches have been up to!
---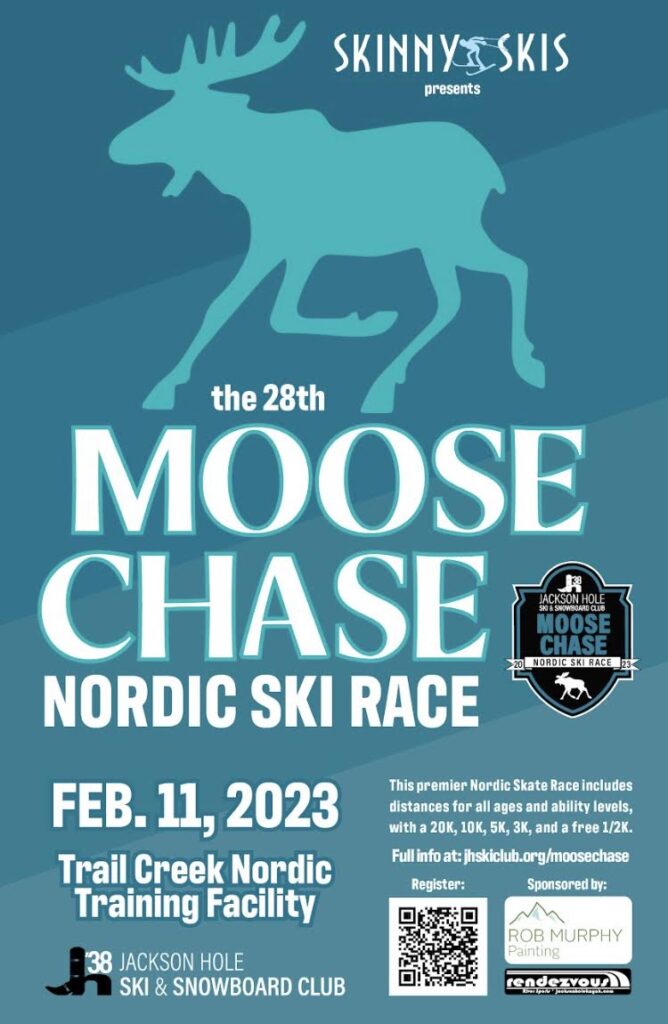 Grooming Daily
Last Update: 2/3
A Racing Reprieve!
Several of the Nordic Teams are off to Bogus Basin for the Junior National Qualifiers, so the trails may be a bit quieter today. For those interested in keeping track of their success, you can monitor the race results at http://summittiming.net/races/race_results.php (though they haven't released yet), and you can check out the details on the whole event at https://www.bbnt.ski/bogus-jnq. It's looking like it'll be a great weekend!
If you want to get in on the racing action, don't forget the upcoming Moose Chase! Coming next weekend, it'll be a great chance to meet other members of the Nordic community, get a great aerobic workout, and test yourself against friends new and old! Register online at https://jhskiclub.org/moosechase.
With what looks to be temperatures in excess of 32 degrees in the late afternoon, what a beautiful time to Nordic ski! Technical difficulties prevented the grooming report from going out yesterday, but grooming did take place, and it was supplemented this morning. Today's grooming was single or double passes on most trails in the network, including double passes on Moose Loop and Woolsey Woods. The corduroy was a bit chunky early in the morning, but it became really nice as it warmed up, and should be quite nice this afternoon. Enjoy the glide!
Groomer's choice is Woolsey Woods.
---
Grooming Today: Emily's Pond Levee, High School Fields, Stilson Loop, Wilson Centennial Trail
Last Update: 2/3
Cache creek and May park are groomed and in good shape. Game creek is groomed and in good shape.
---
Groomed by Friends of Pathways
Grooming Schedule: As Needed
Last Update: 1/30
Singletrack groomed 1/30.
---
Grooming Daily
Used ski sale!! We are currently selling our classic rentals/demos. Price for Skis, bindings, boots: $215. We still have most boot sizes available but only 163cm skis remaining. We have plenty of new classic skis to pair with used boots.
Our retail shop will be having a great spring sale on softgoods and hardgoods soon—stay tuned!!!
We are open daily to the public for skiing. Click here for our current trails grooming and conditions: https://nordic-pulse.com/ski-areas/US/WY/Teton-Pines-Nordic-Center. We offer private skate and classic skiing lessons daily, skate/classic ski rental packages, and bc xc rentals for the park. We are open 9am-4pm. Please call to book lessons and with any other questions.
Note—We have a new shop phone number this season: (307) 732-4130
---
Grooming Daily
Last Update: 2/3
After a sunny but very brisk week, it appears that temperatures will begin warming up today and remain "warmer" over the weekend. Trails continue to groom out nicely and skiing should ski faster as the temperatures rise. Look for calm and sunny weather through Saturday, followed by light snow Sunday & Monday. Enjoy! Next update will be Monday.


Please help support trail grooming in GTNP by donating to the Grand Teton National Park Foundation. It's easy and encouraged. All you need to do is visit: GTNPF.org/donate/ and leave the comment "Nordic" in the designation section. There is the opportunity to leave a one time gift or reoccurring monthly donations in any amount.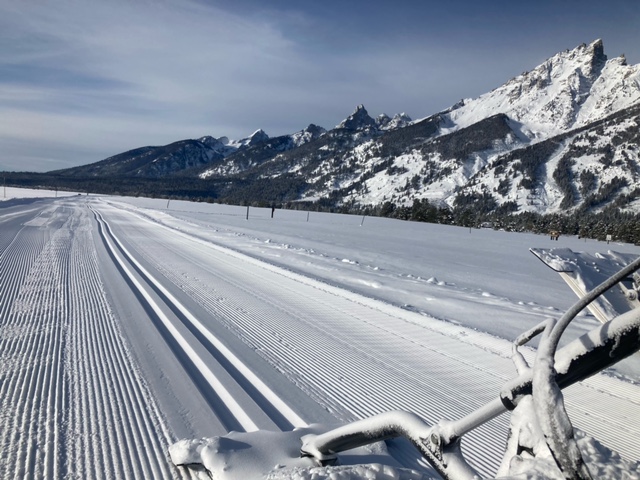 Grooming: Tuesday, Friday, Sunday
Last Update:2/3
We had a skier as well as our groomer share photos with us this morning. Blue bird day in GTNP.
Lots of fresh corduroy from Taggart to Signal, thanks to GTNP grooming! Check out JHNordic.com/Grooming/ to find other fresh grooming in our new real-time map, thanks to our partner, Nordic-Pulse.
---
Grooming Daily
Last Update: 2/3
The lodge and restaurant at Turpin Meadow Ranch are closed to the public due to a private event. We will reopen at lunchtime on Sunday 2/5.
Turpin Meadow Ranch is open to all for skiing, lodging, dining, Nordic lessons, and tours! Ours is a short season so be sure to plan a visit this winter between now and March 13, 2022. Call the office (307) 543-2000 or visit our website to book your adventure and/or meal!


Please support TVTAP winter trail grooming on your favorite TV winter trails by purchasing a TVTAP Trail sticker Please remember to manage your dogs and respect dog and wildlife closures. Buy a dog trail sticker, too!
Grooming Schedule: Sunday, Tuesday, Thursday, & Saturday
Last Updated: 2/3
Classic Track: Set | Fat Bike Trails: Closed | Snowshoe Trails: Open
Temperatures continue to rise into the upper 20's today with light winds out of the south. Groomers continue to ski well since overnight temps still dipping down into the single digits. Keep your eye on a small storm that could arrive as soon as Sunday. Enjoy!
Remember, singletracks will be closed when there is more than 3 inches of snow in a 24 hour period.
---
Grooming Schedule: Tuesday, Thursday, & Sunday
Last Updated: 2/3
Skate: Set | Classic: Set
Bonus groom 1st thing Friday morning. Get out there and enjoy!
---
Grooming Schedule: Monday, Wednesday & Friday
Last Updated: 2/3
Skate: Set | Classic: Set
Used the weighted drag to try and remove all the hoof and footprints in the skate track- left the classic track as is.
---
Grooming Schedule: Monday, Wednesday & Friday
Last Updated: 2/2
Skate: Set | Classic: Set
Freshened everything up with the Ginzu. Left the classic track alone as it's still in decent shape and more snow will make it better. Skating should be great , still a few footprints that might be visible but didn't want to set the ginzu too deep. Walking/single track was buffed as well Please walk on walking trail if possible and pick up after your dogs…lots of poop in the park!
---
Grooming Schedule: Monday, Wednesday, Friday & Saturday
Last Updated: 2/3
Skate: Set | Classic: Set
Plan to reset both classic and skate tracks this morning.
Trail Etiquette: Please keep your dogs leashed in the parking lot and be sure to clean up after them!
---
Grooming Schedule: Tuesday, Friday & Sunday
Last Updated: 2/3
Skate: Set | Classic: Set
All tuned up and ready to go. Conditions look good for sliding fast! Classics set on both yeti and CG.
No dogs December 1 – April 15.
---
Grooming Schedule: Tuesday, Thursday & Saturday
Last Updated: 2/2
Skate: Set | Classic: Set
Thursday morning I was able to reset the skate and double classic track. Enjoy the glide.
No dogs allowed. Please stay on the groomed trails at all times.
---
Southern Valley Singletrack
Grooming Schedule: As needed
Last Updated: 2/3
Singletrack: Set
With the warm temps, it looks like the singletrack trails are getting a bit hammered. With the continued warm temps and incoming snow on Sunday, we will begin grooming again at the start of next week. Ride early or late, lower your tire pressure and make good choices based on temperature.
No dogs December 1 – April 15.
---
Grooming Schedule: As needed
Groomed by USFS
Last Updated: 2/3
Groomed 2/3
---
Grooming Schedule: As needed
Groomed by USFS
Last Updated: 1/12
Groomed 1/12 PM.
---
Grooming Schedule: As needed
Groomed by USFS
Last Updated: 2/3
Groomed 2/2 afternoon
---
Pinnacle Trail
Grooming Schedule: As needed
Groomed by USFS
Last Updated: 2/1
Groomed 2/1


Mark your calendar so you don't miss out on all the wonderful events coming up! Explore the highlighted events below or find more events on our website at https://jhnordic.com/events/
---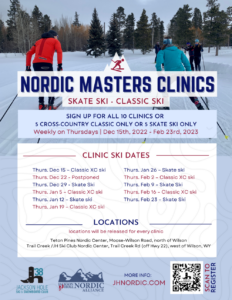 Thursdays – from Mid December to late February
Thursday, February 9 – Skate Ski | Trail Creek
Thursday, February 16 – Classic Ski | Trail Creek
The JHSC would like to encourage participants to pre-register/pre-pay for the clinics, including drop-ins.

Join us this winter season to increase your ski speed, stamina, and strength. Work on your technique and form with professional tips and exercises from USSA certified coaches. Stay and ski all day with your clinic ski pass at Teton Pines Nordic Center or Trail Creek Nordic Center (we will ski at both locations through out the winter to provide a variety of terrain and technique).
---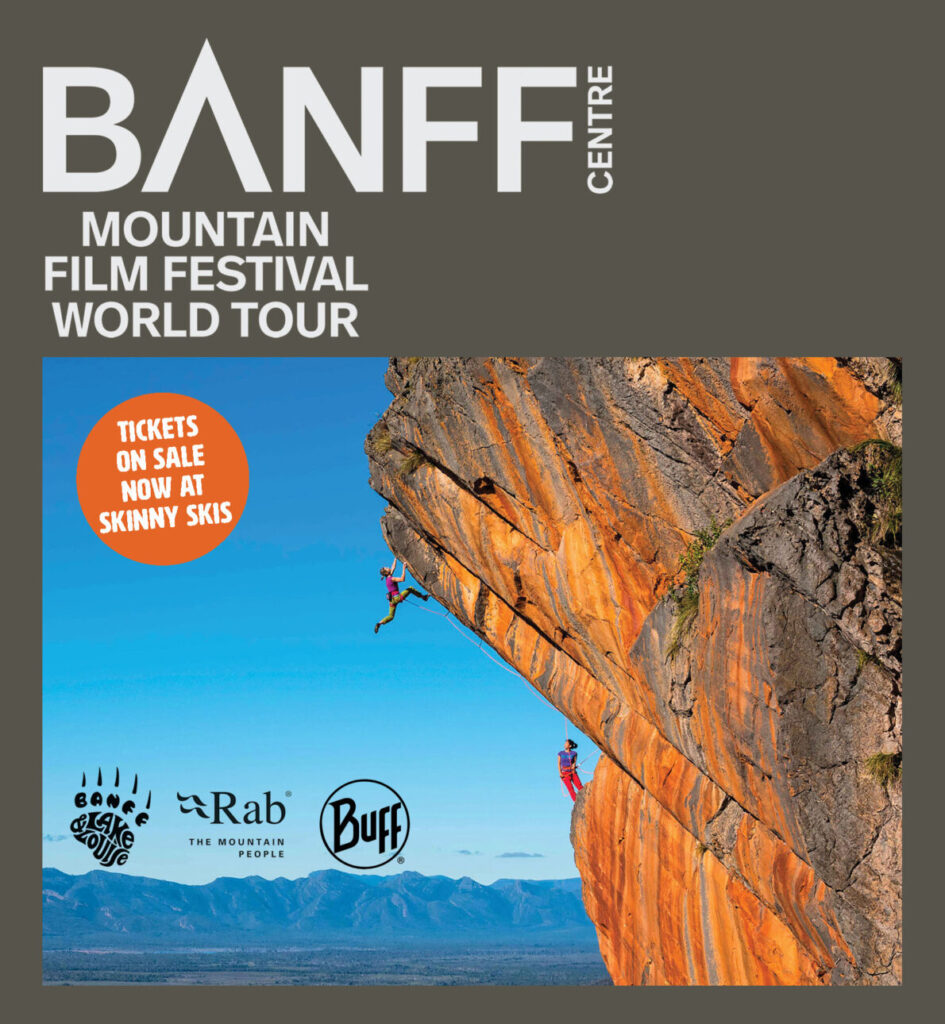 Banff Film Festival
February 10th and 11th, 2023
Jackson Hole High School
Skinny Skis presents two showings of the Banff Mountain Film Festival. The showings will be a fundraiser for the Friends of the Bridger Teton. Tickets now on sale at Skinny Skis!


---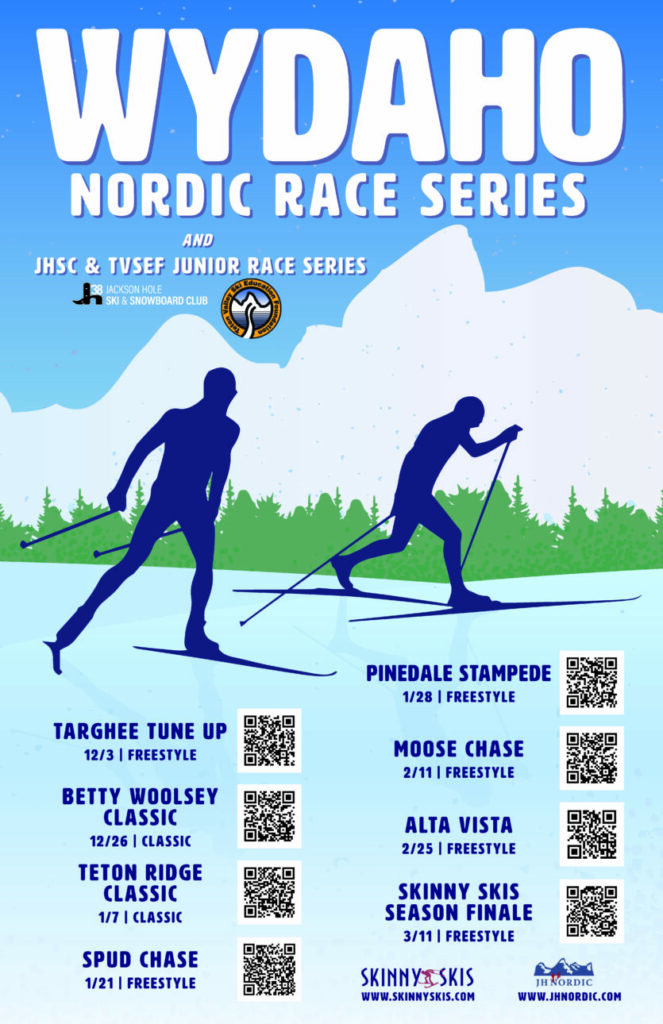 ---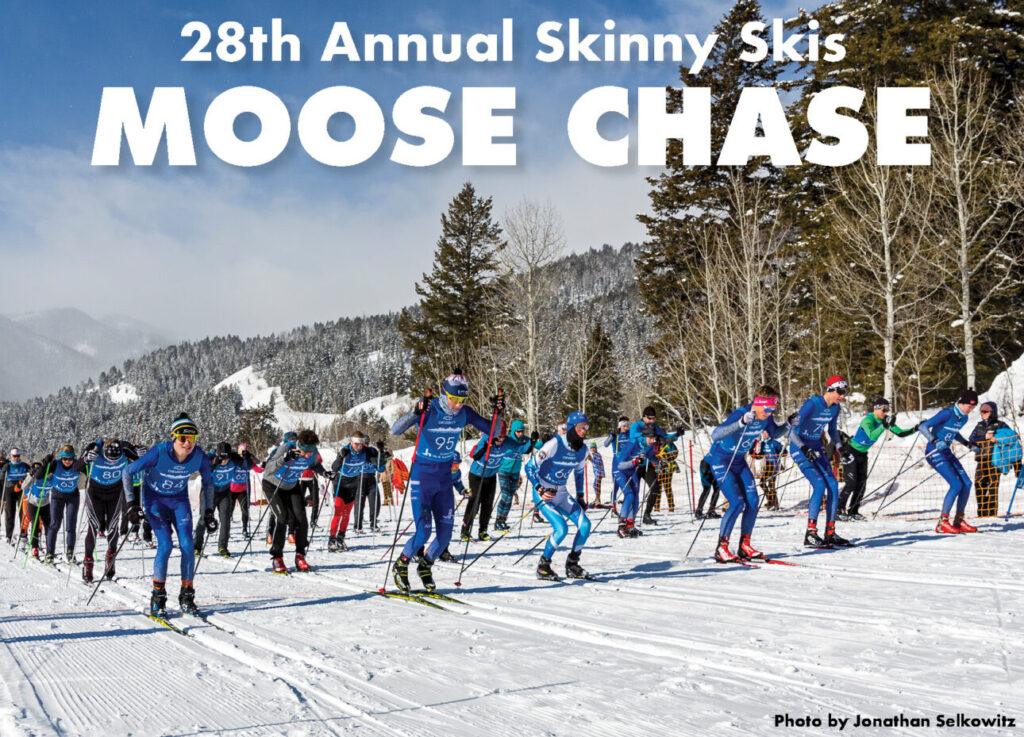 Saturday, February 11th, 2023 | 10:00AM
Trail Creek Nordic Center
THE MOOSE CHASE PRESENTED BY SKINNY SKIS IS BACK! After a four year hiatus, we are bringing back this community nordic event at Trail Creek on Saturday, February 11th. We would love to see all families, club athletes, and nordic community members on the start line to celebrate cross-country skiing in Jackson Hole. Parents are encouraged to race or volunteer, and we will be sending out volunteer shifts to sign up for shortly. We will have 20k, 10k, 5k, 3k, and free 0.5k options that accommodate all ages and abilities. Every athlete from Lollipoppers to Devos to Prep/Comp should plan on attending this event! We will have a food and awards following race completion at Trail Creek.
---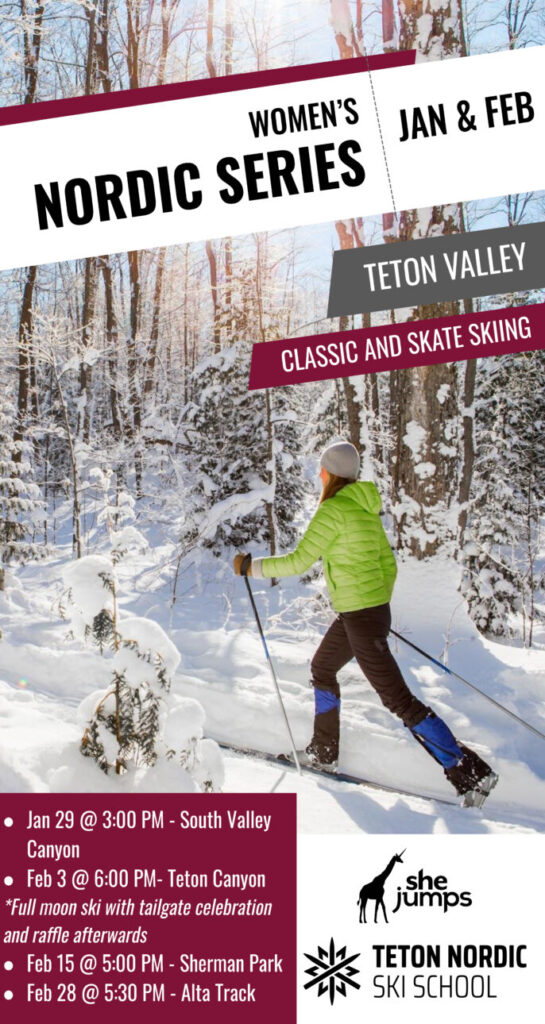 ---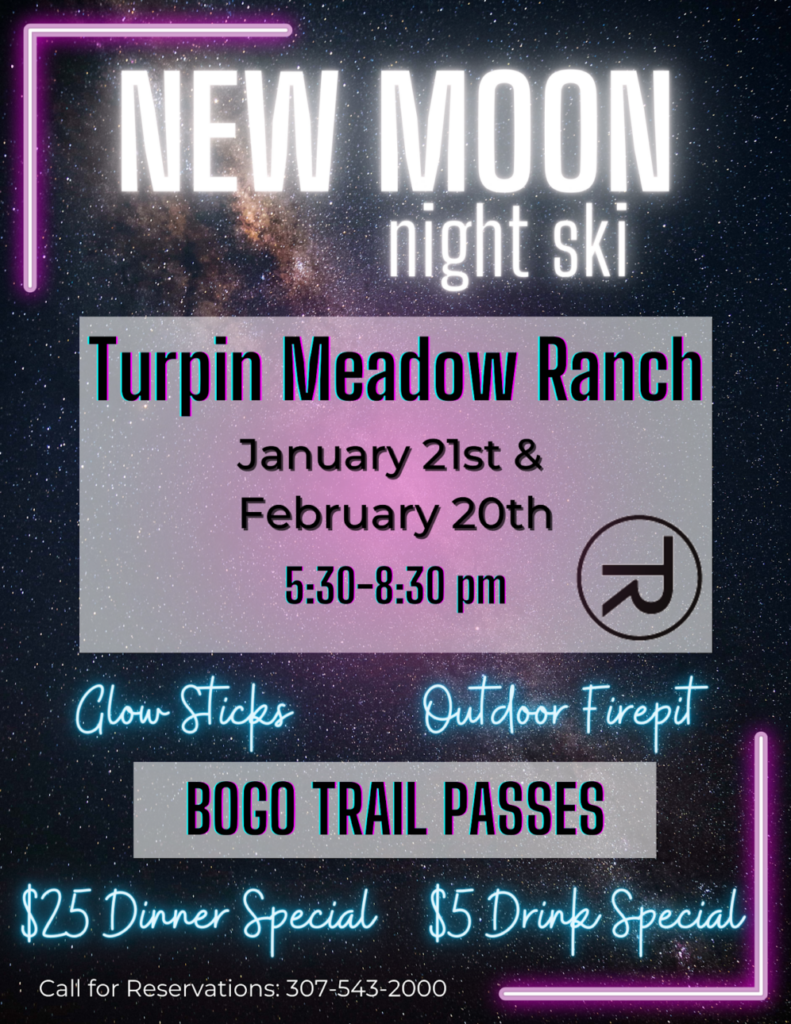 ---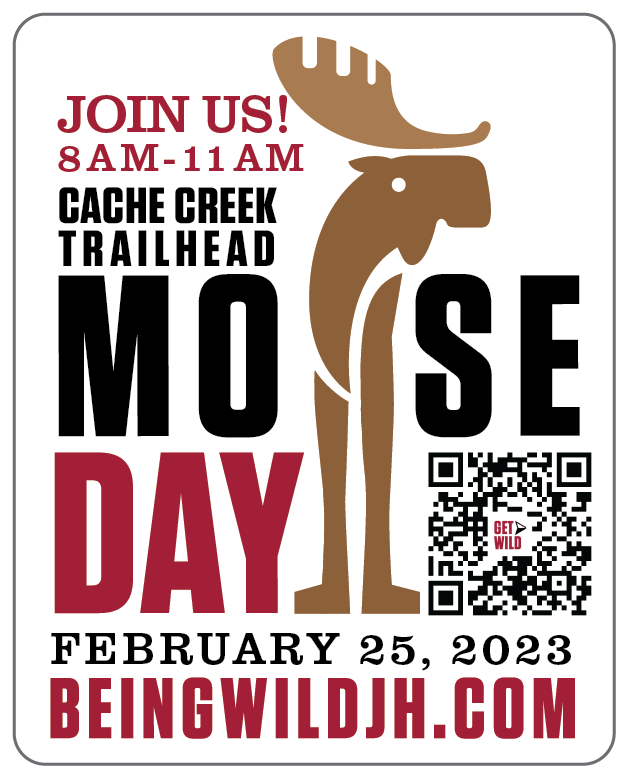 ---
---
---
We'd love to hear about your outdoor adventures, what your doing to stay healthy, safe, respectful of community health guidelines – send pictures or post on FB and Insta – #JHNordic