---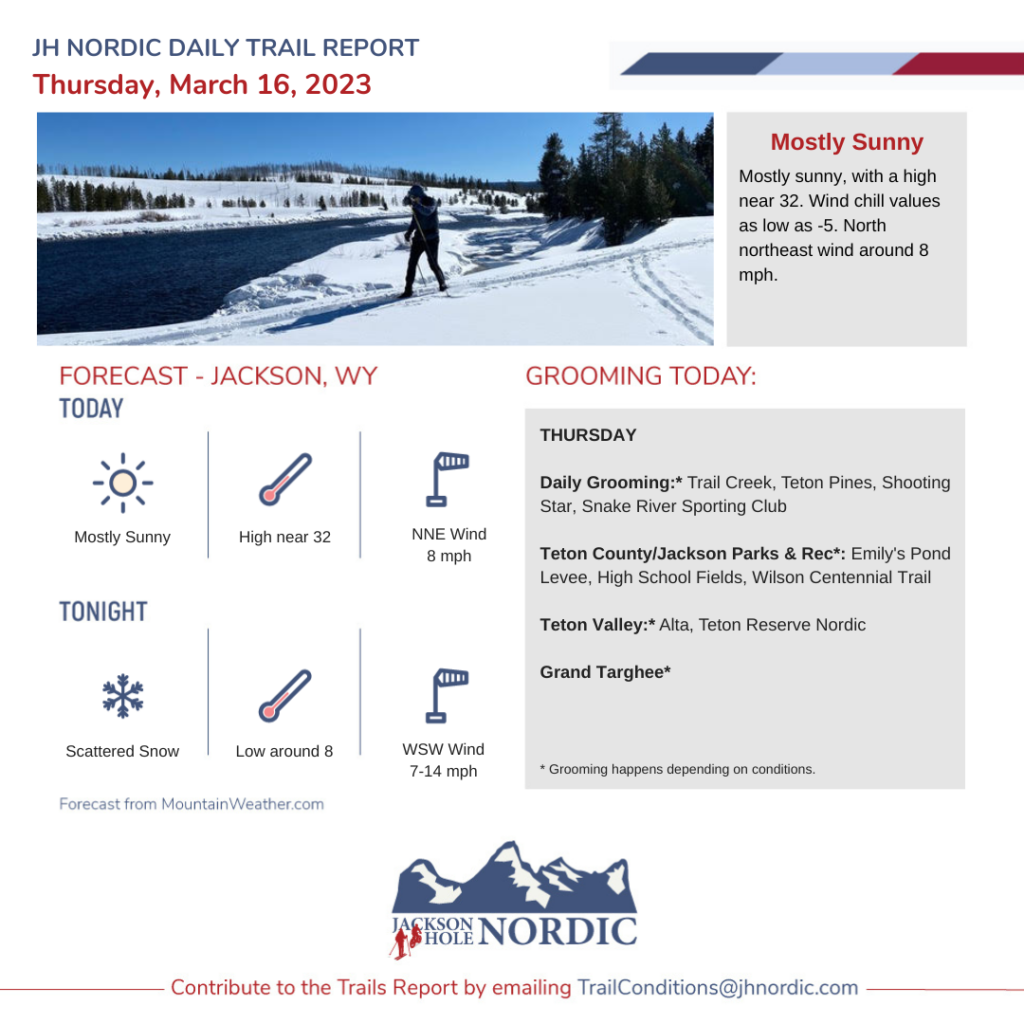 ---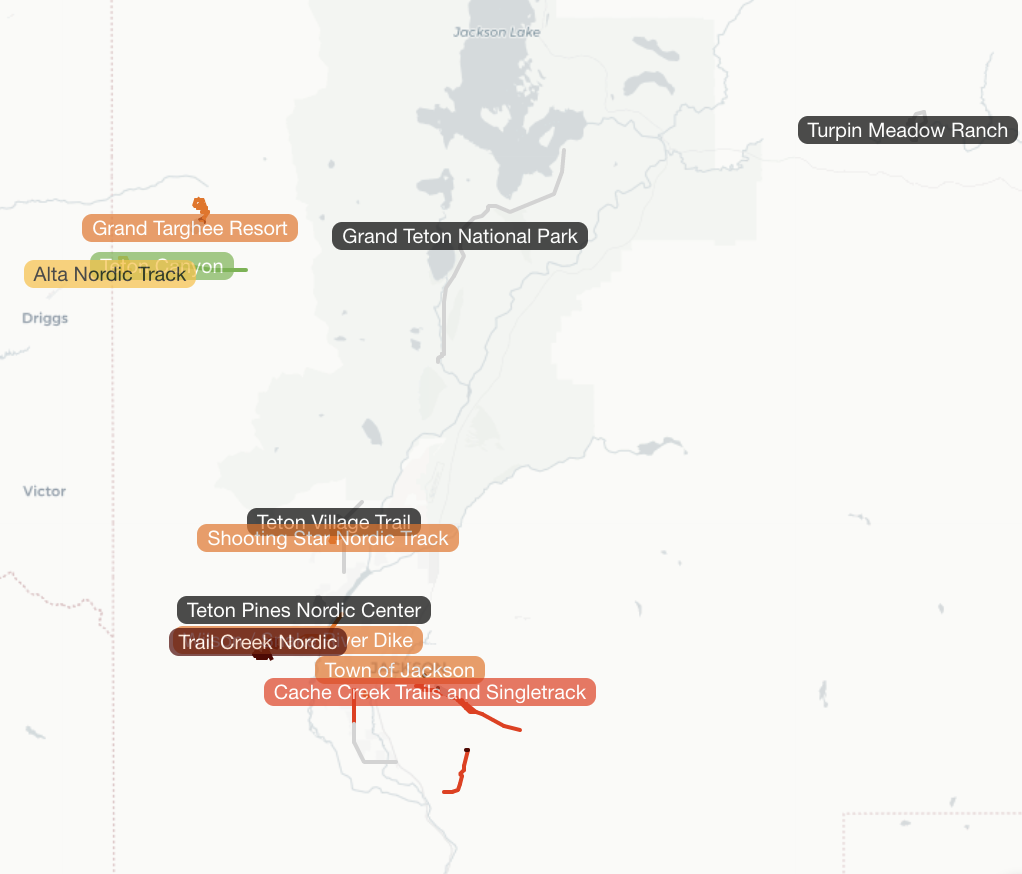 What's Groomed in Jackson Hole/Teton Valley?
See real-time grooming in the Jackson Hole/Teton Valley region. Find all the latest grooming & fresh groomed tracks. Plan your next Nordic Adventure with ease.
---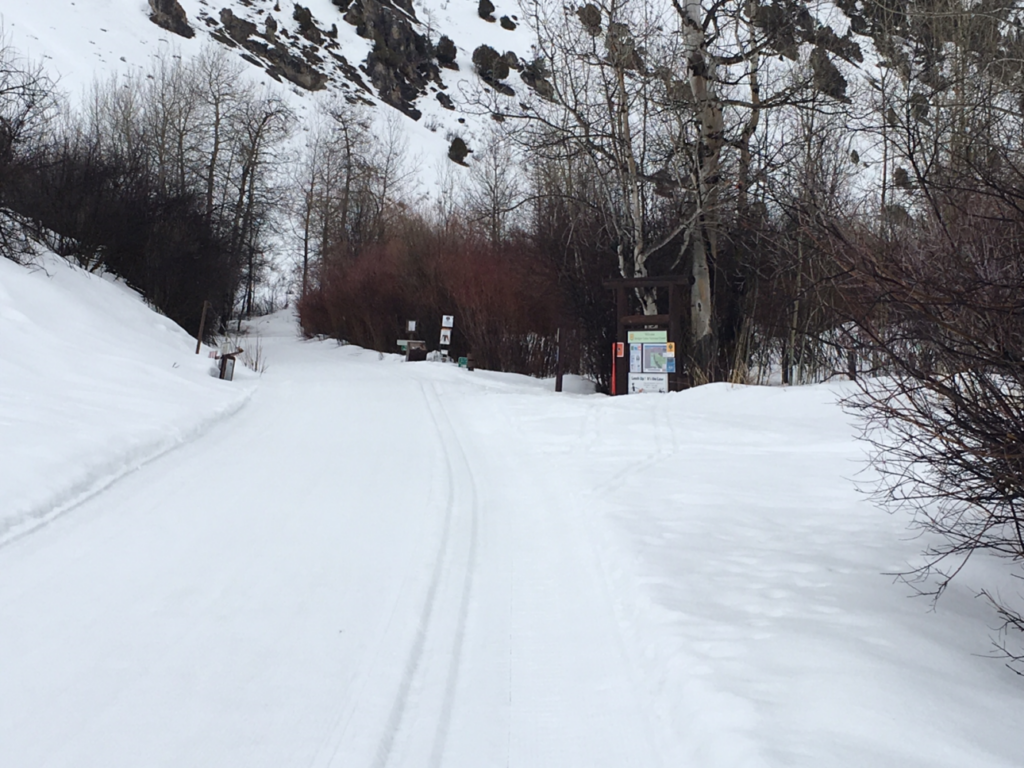 Teton County/Jackson Parks & Recreation Winter Operations team needs your input to determine if Parks & Rec will groom more often next winter, and connect pathways with snow covered pack & rolled surfaces.
Imagine daily grooming on fave trails like Emily's Pond, Cache, Game, Stilson, plus grooming on many bike paths ( vs current plowing), e.g. connecting Wilson to R Park, then to Emily's ( and more) , this is our opportunity to give input to Parks & Rec. With our input, they can possibly get a much needed new pisten bully, too!
---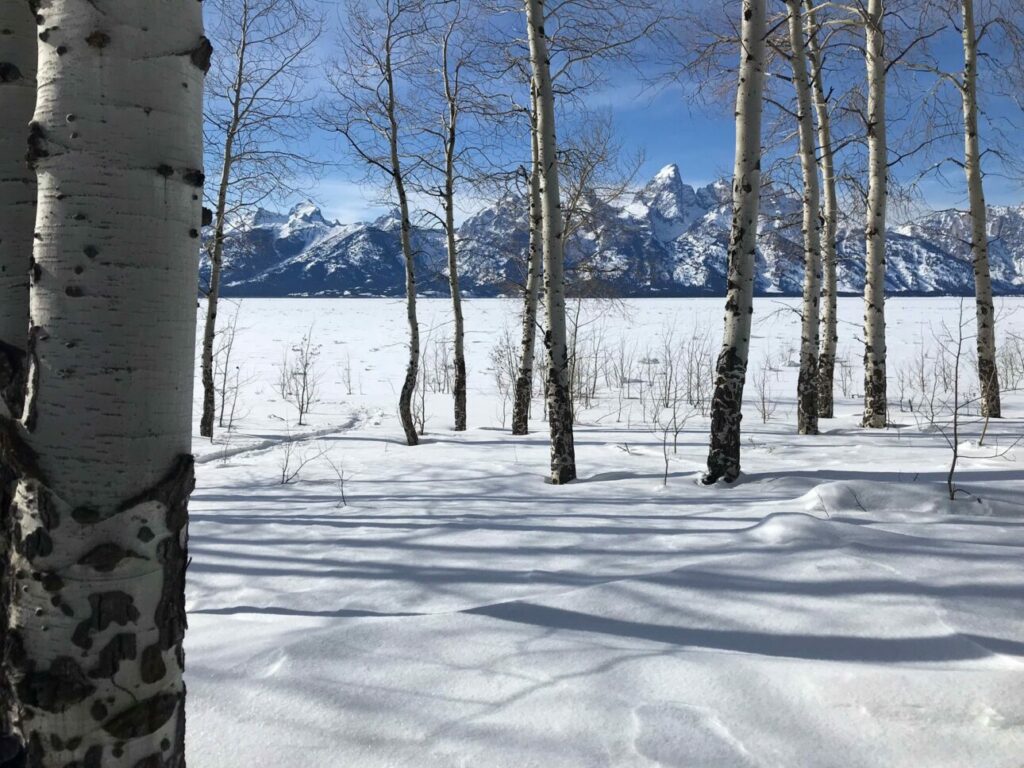 Hole Hiking Experience Nature Update
Day Light Savings time marks the beginning of change in our valley! The first bear to wake up from its peaceful hibernation was spotted in Yellowstone and the end of Nordic trail grooming has begun. For many, this time of year brings with it the rush to explore new areas while still accessible. One adventurous example is the connection between Cache Creek and Game Creek where peaceful isolation is guaranteed.
This is also a time for reading some old favorites like Finis Mitchell's Wind River Trails book – and (if you can find it) the incredible "Horses, Hitches and Rocky Trails" by Joe Black – both describing some spectacular country in our own backyard. Finis's Pledge to Future Generations, written in the 1940s, is especially inspiring:
While here on earth, I shall endeavor with all my ability and steadfast efforts to preserve and add to our wilderness so all who follow in my footsteps might have the same opportunity to use and enjoy it as I have. Remember, the Way of a Wilderness is love and kindness towards all forms of life.
---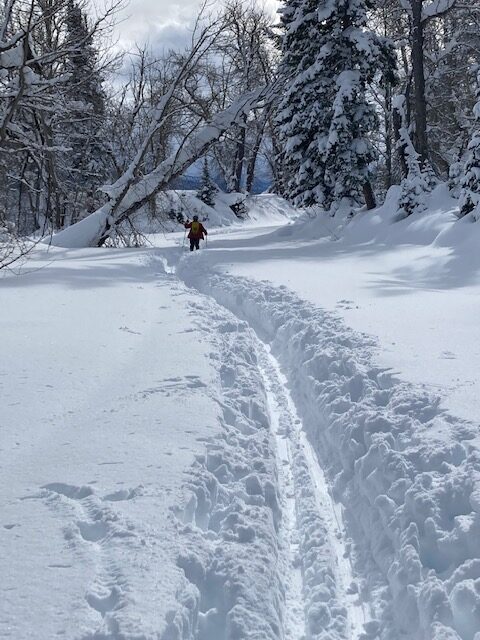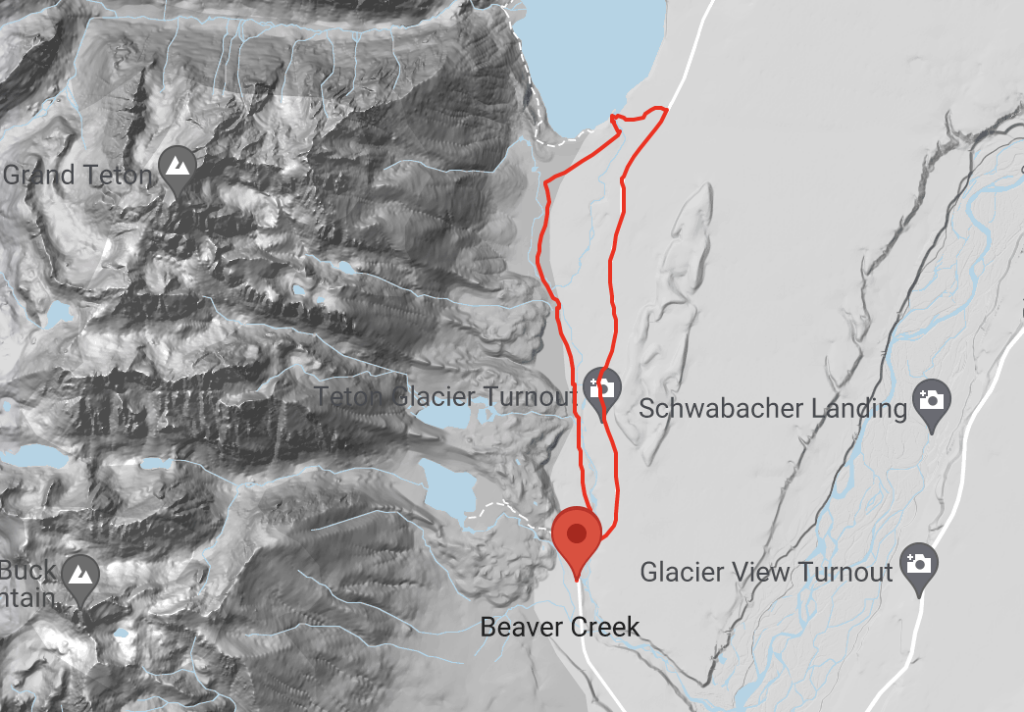 Winter wonderland in Cottonwood Creek, between Taggart trailhead and Jenny Lake in Grand Teton National Park. So many beautiful trails to explore on classic or backcountry cross country skis in GTNP! PS. Upstream from Taggart (Teton Park Road ) crossing, we don't recommend skiing in the frozen or snow covered creek). Bring bear spray just in case. -From B.C.
---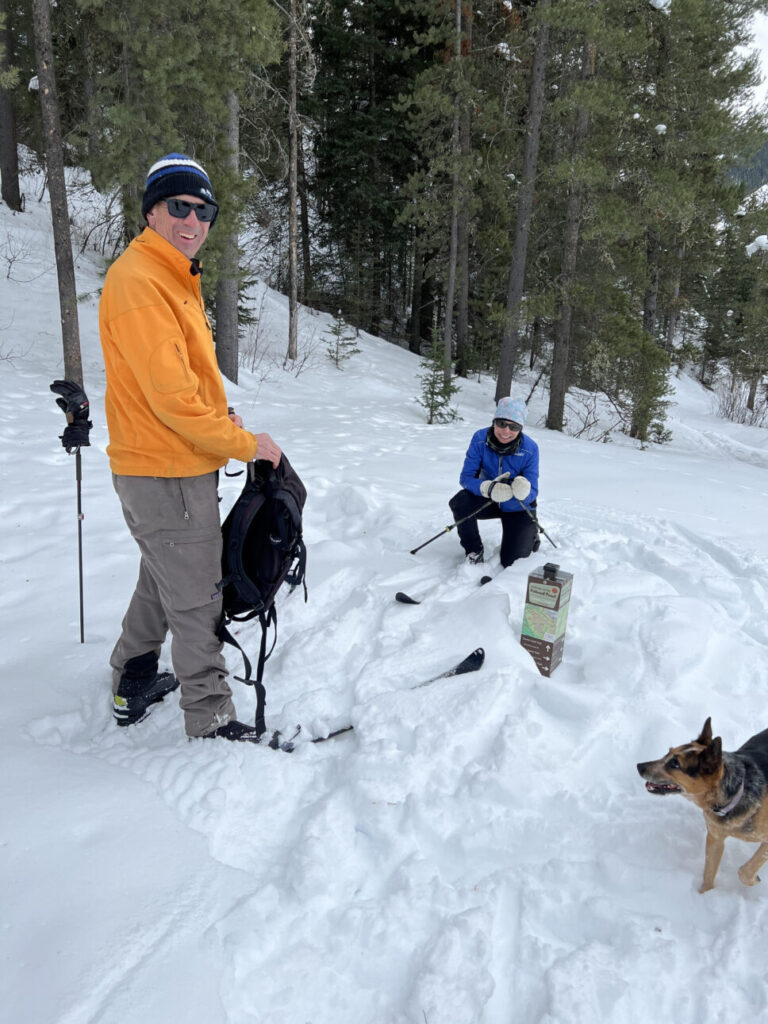 Trip Report: Cache Creek to Game Creek
Connecting Cache Creek to Game Creek – two favorite trails – has long been a goal of ours. Thanks to car shuttles and breaking trail through deep snow, this approximately 9 mile adventure was longer and harder than planned – but the spectacular scenery and isolation made for an outstanding time. Note that route-finding and avalanche safety skills are needed. Our friend's GAIA tracks helped out a lot! -From K.D.
(JH Nordic note: this trip followed the summer hiking trail – up Cache, south over the Cache to Game divide, then out Game Creek)
---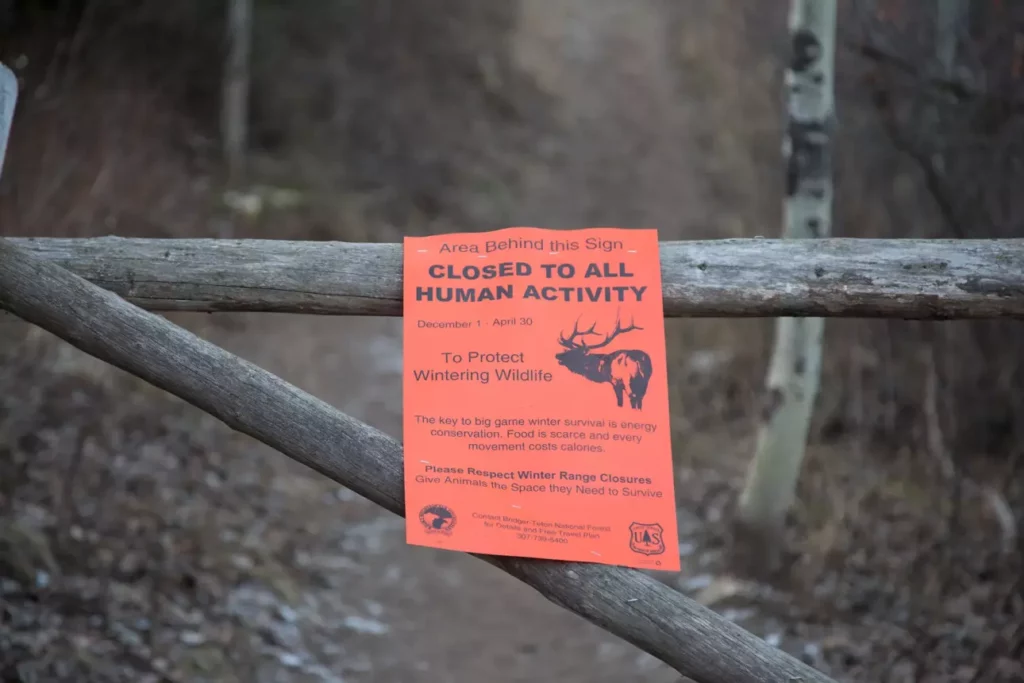 Article by Buckrail
When individuals access closed winter ranges, they cause animals using the area to become stressed or flee to new locations. This retreat requires animals, especially ungulates like deer, elk and moose, to use energy they cannot spare.
It also often places them in areas less suitable for grazing and/or browsing, preventing them from gathering the food sources they need to survive. This leads to a weakened condition, which can have a direct effect on the animals' ability to defend themselves, making them more susceptible to predation and disease, and can lead to future reproduction problems in individual animals.
BTNF also mentioned how recreating with dogs come with added responsibilities.
"Be aware that many popular trailheads on the Jackson District have leash requirements, forest employees and volunteers are out in force to curb unleashed dogs in these areas. Even outside of these areas it is imperative that visitors maintain control of their animals through a leash or voice command, this is essential to minimizing impacts on wintering wildlife and improves the experience of other forest users."
There is still a significant amount of snow throughout the forest and surrounding areas. The impacts of more snow, changing temperatures and wind loading are manifesting through natural and human-triggered avalanches. The public is encouraged to check the avalanche forecast, have the appropriate equipment and be prepared to "walk away" if the conditions are unsafe.
Avalanche forecasts are available daily here.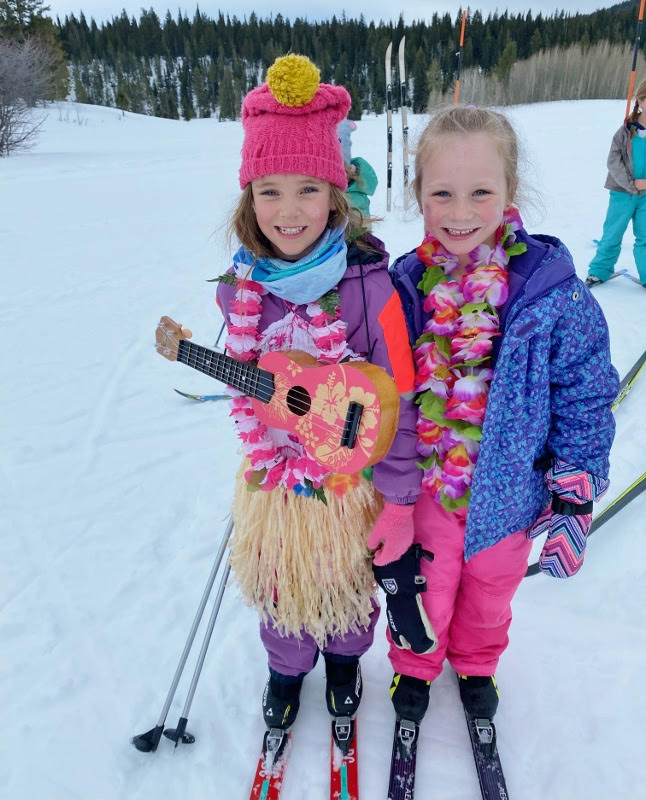 Grooming Daily
Last Update: 3/15
Party Time!
Festivities are the rule this week as the JHSC youth programs are winding down for the season. Those little skiers, who only a few months ago might have been terrified to be on a pair of skis, are masters of snow and are now able to find amazing joy sliding over the snow at Trail Creek.
Some of those once little skiers who have grown up quite a bit are going really fast in Alaska as the Junior Nordic Championships finish up today. Results from yesterday are available here, our super speedy Lena Poduska eked out the first place finish in the qualifying skate races for the U16 girls, just ahead of another Wyoming girl, Ally Wheeler from Casper. Yesterday's racing was delayed a bit as temps overnight in Fairbanks dropped to -21ºF. They are livestreaming which should get going shortly, the link for that is here.
Today at Trail Creek the Husky covered pretty much every trail with at least one skate/classic track and with multiple passes on Moose Loop, Animal Farm, and the fields. All the stadiums/play areas were buffed out for this last big day of practice as well. Overnight a couple inches of heavy snow fell with current conditions being warm and breezy. A pretty busy morning of skiers all seemed to be doing well and going fast, it is simply a lovely day for a spring Nordic ski!
Groomer's choice for today is Moose Loop.
---
Grooming Today: Emily's Pond Levee, High School Fields, Wilson Centennial Trail
Last Update: 3/15
I am just starting cache creek. I had to do a lot of work on the road just to be able to get to the trail. I would avoid driving the cache creek road, it is in poor shape. Game creek will not be groomed today because of considerable avalanche danger.
Cache creek trailhead is passable now. Cache and May are groomed. Cache is in decent shape but soft. May park is very soft so I only did the big loop.
---
Groomed by Friends of Pathways
Grooming Schedule: As Needed
Last Update: 3/11
Singletrack groomed evening of 3/11.
---
Grooming Daily
Since it looks like the snow is never going away, come get some new ski gear to get through the next round of winter! We still have most sizes available in everything in the shop including: skate skis, classic skis, bc touring skis, boots, poles, gloves, jackets, pants, and hats.
Closing day for the shop is Sunday March 19 (which happens to be Cody's 50th birthday!) We are planning to groom until the 26th—conditions permitting. Due to Golf Operations beginning their spring work immediately after closing the nordic facilities, the course is closed beginning March 31.
The last day to drop off skis for waxing is Wednesday March 15. The last day for lessons is Saturday March 18.
We are open daily to the public for skiing. Click here for our current trails grooming and conditions: https://nordic-pulse.com/ski-areas/US/WY/Teton-Pines-Nordic-Center. We offer private skate and classic skiing lessons daily, skate/classic ski rental packages, and bc xc rentals for the park. We are open 9am-4pm. Please call to book lessons and with any other questions.
Note—We have a new shop phone number this season: (307) 732-4130
---
Grooming Daily
Last Update: 3/13
More snow is forecasted through Wednesday with calmer conditions returning on Thursday. Some drifting and daytime accumulations should be expected. Overall, trails continue to groom out well. Be sure to keep up with the forecast and enjoy!

Please help support trail grooming in GTNP by donating to the Grand Teton National Park Foundation. It's easy and encouraged. All you need to do is visit: GTNPF.org/donate/ and leave the comment "Nordic" in the designation section. There is the opportunity to leave a one time gift or reoccurring monthly donations in any amount.
Grooming Has Ended For The Season
Last Update: 3/14
Winter grooming of the 14-mile section of Teton Park Road between Taggart Lake Trailhead and Signal Mountain parking area ended March 10. The road will remain open for winter activities until March 20 when snow removal operations begin.
While grooming in GTNP has come to an end for the season, there are other great options of where you can track ski. Check out JHNordic.com/Grooming/ to find other fresh grooming in our new real-time map, thanks to our partner, Nordic-Pulse.
---
Grooming Has Ended For The Season
Last Update: 3/12
Thank you all for a wonderful winter season at Turpin Meadow Ranch! While our trails are on National Forest (meaning you can still come enjoy them on your own) they are no longer being maintained. If you do make the drive, bring your bear spray and remember: the lodge and all services are closed for the season, please respect that all buildings on the resort are private.

Please support TVTAP winter trail grooming on your favorite TV winter trails by purchasing a TVTAP Trail sticker Please remember to manage your dogs and respect dog and wildlife closures. Buy a dog trail sticker, too!
Grooming Schedule: Sunday, Tuesday, Thursday, & Saturday
Last Updated: 3/15
Classic Track: Set | Fat Bike Trails: Closed | Snowshoe Trails: Open
5 inches in the last 24 hours with 3 inches falling overnight. The storm is likely to ramp back up this afternoon, so come prepared for storm skiing. Temperatures will be in the high 20's today, so expect a slightly denser snow than we have seen these past few storm cycles. It's March in the Tetons and it looks like there is more snow on the way later this week.
Remember, singletracks will be closed when there is more than 3 inches of snow in a 24 hour period.
---
Grooming Schedule: Tuesday, Thursday, & Sunday
Last Updated: 3/13
Skate: Not Set | Classic: Not Set
A little to gooey to groom tonight. We will keep an eye on the weather but it looks warm and wet for the next few days. Might have to wait for colder temps. We will update the report if we get out there to groom.
---
Grooming Schedule: Monday, Wednesday & Friday
Last Updated: 3/15
Skate: Not Set | Classic: Not Set
Wednesday is a scheduled groom day, but it is way too warm to do anything useful. It is supposed to get cold tonight, so if it isn't too icy Thursday morning, I will groom then.
---
Grooming Schedule: Monday, Wednesday & Friday
Last Updated: 3/15
Skate: Not Set | Classic: Not Set
Too warm to groom this morning. Will try and hit tonight once we reach freezing temps
---
Grooming Schedule: Monday, Wednesday, Friday & Saturday
Last Updated: 3/15
Skate: Not Set | Classic: Not Set
Wed: will take a look at the track this AM to see if it's worth grooming with these warm conditions. May hold off till Thu.
Trail Etiquette: Please keep your dogs leashed in the parking lot and be sure to clean up after them!
---
Grooming Schedule: Tuesday, Friday & Sunday
Last Updated: 3/14
Skate: Not Set | Classic: Not Set
Tuesday morning: After a few laps around the Campground loop I decided it would not be good for the track or the equipment to keep grooming. Much too warm and sticky. If my schedule allows, I'll try to groom again when temps drop. Have a good day!
No dogs December 1 – April 15.
---
Grooming Schedule: Tuesday, Thursday & Saturday
Last Updated: 3/14
Skate: Not Set | Classic: Not Set
Tuesday morning we will not groom. It's much too warm to do any good. Will try to get back to it when conditions are favorable.
No dogs allowed. Please stay on the groomed trails at all times.
---
Southern Valley Singletrack
Grooming Schedule: As needed
Last Updated: 3/15
Singletrack: Set
3/15 GROOMED BUT NOT RIDEABLE TILL 3/16 AM BPA to LLS U & L LADYSLIPPER GRUMPY CONNECTOR U & L HILLBENDER PLEASE DONT TIDE TILL AFTER THE HARD FREEZE TONIGHT Thanks!
No dogs December 1 – April 15.
---
Grooming Schedule: As needed
Groomed by USFS
Last Updated: 3/9
Groomed 3/9.
---
Grooming Schedule: As needed
Groomed by USFS
Last Updated: 3/8
Groomed 2/24.
---
Grooming Schedule: As needed
Groomed by USFS
Last Updated: 3/9
Groomed 3/9.
---
Pinnacle Trail
Grooming Schedule: As needed
Groomed by USFS
Last Updated: 3/8
Groomed 3/3.

Mark your calendar so you don't miss out on all the wonderful events coming up! Explore the highlighted events below or find more events on our website at https://jhnordic.com/events/
---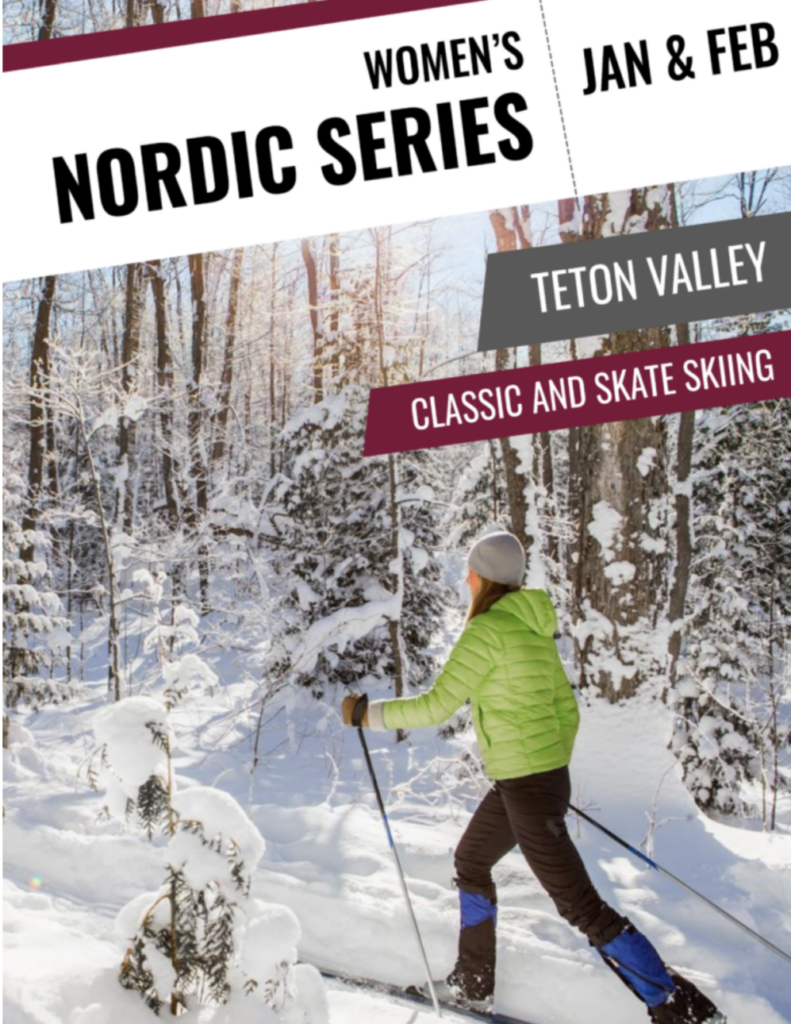 [Rescheduled 3/16]
Women's Nordic Series
Thursday, March 16
5:30PM | Alta Track
Due to the inclement weather the Women's Nordic Series is rescheduled for Thursday, March 16th at 5:30 pm at the Alta Track.
---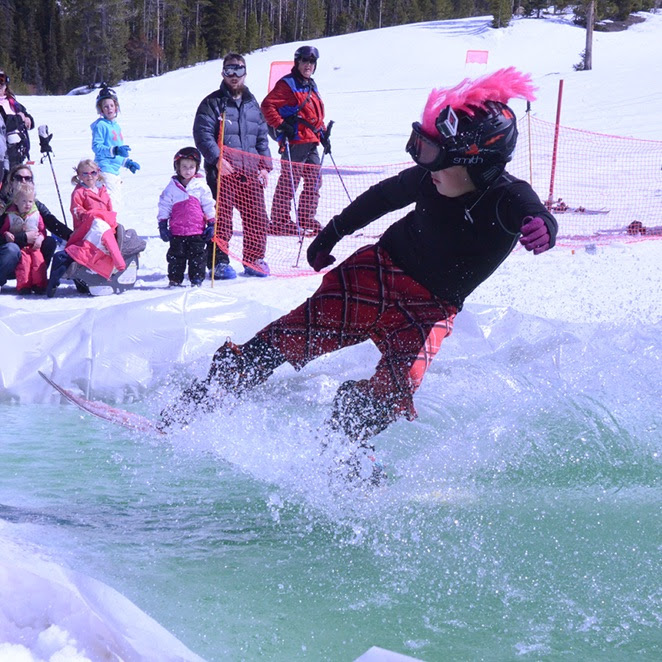 Annual Spring Fling
Cardboard Race and Pond Skim
Saturday, March 25
Whitepine Wyoming Ski Resort
It's almost time for our annual closing weekend shenanigans! Cardboard Race and Pond Skim, Saturday, March 25, 2023. Contingent upon snow conditions. If needed, we've got plenty of cardboard. Just ask!
Crazy Costumes, Saturday and Sunday, March 25-26, 2023. All and any! Just keep it clean
---
---
---
We'd love to hear about your outdoor adventures, what your doing to stay healthy, safe, respectful of community health guidelines – send pictures or post on FB and Insta – #JHNordic