---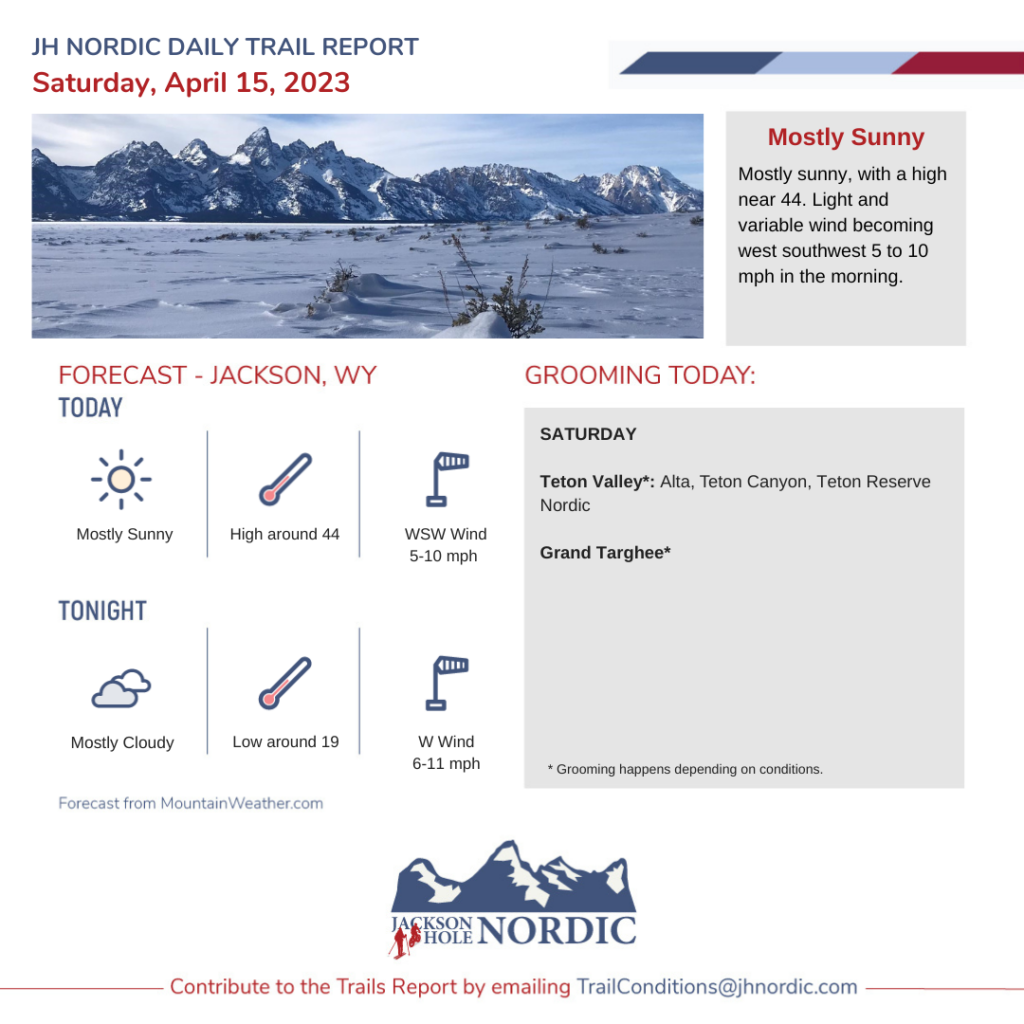 ---
Daily Trail Report Spring Schedule
As winter trail grooming is wrapping up, the JH Nordic Daily Trail Report will be transitioning towards a spring schedule which means beginning Monday, April 3 updates will happen a little less frequently. You can expect emails Mondays, Thursdays, and Saturdays until April 15 (which will be the final winter trail post of the 2022/23 winter season). You can still stay up to date on opened groomed trails and last grooming dates anytime by checking the grooming page. On May 6th we will shift to monthly JH Nordic Trail Reports delivered on the 1st Saturday of each month until late November when snow covered trails return!
---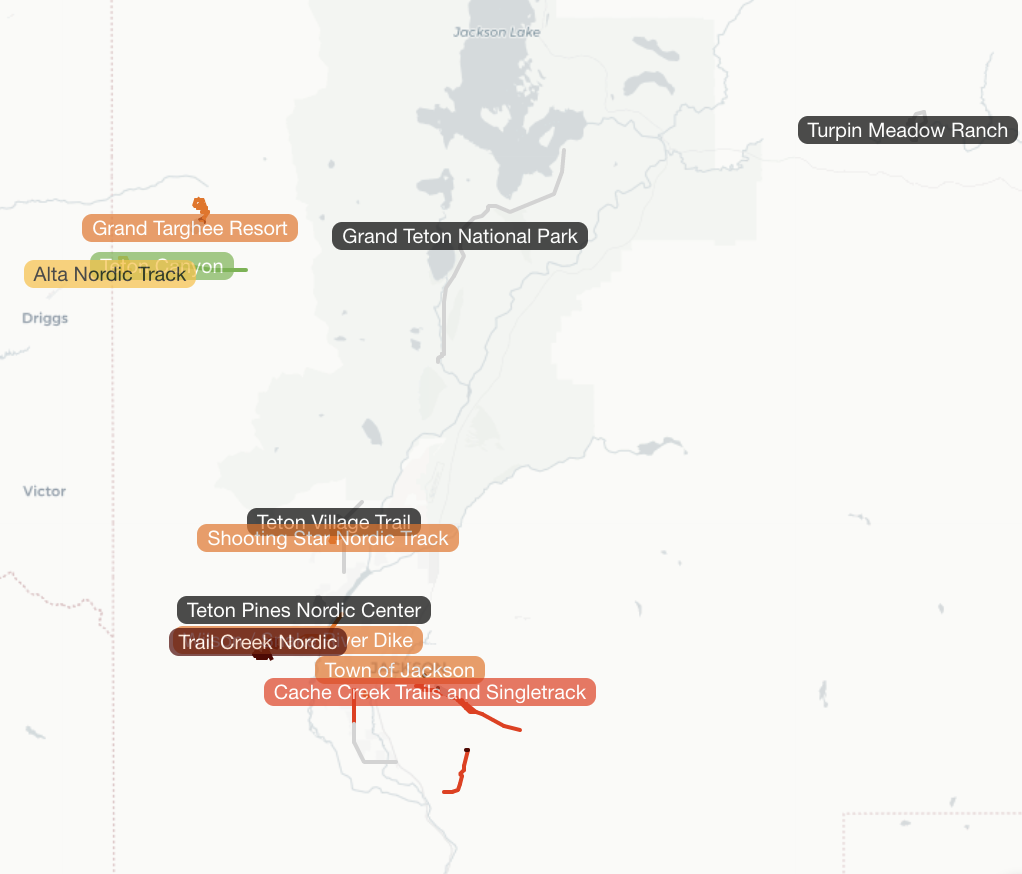 What's Groomed in Jackson Hole/Teton Valley?
See real-time grooming in the Jackson Hole/Teton Valley region. Find all the latest grooming & fresh groomed tracks. Plan your next Nordic Adventure with ease.
---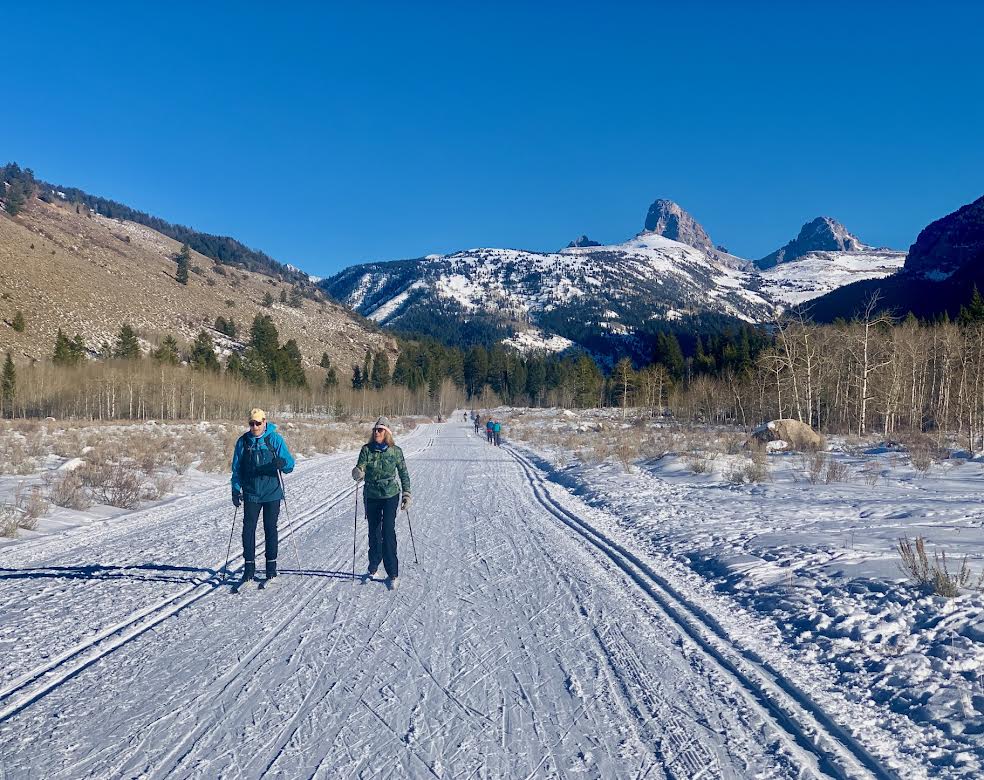 Final Weekend of Grooming!!
Get out early this weekend to grab the last of Nordic grooming – all on the Teton Valley side of the Tetons!
Thanks to TVTAP and Grand Targhee for keeping groomed trails going to April 16th. Be sure to check the trail reports carefully before heading out as some of TVTAP's trails have already wrapped up grooming for the season.
Please consider making a donation to TVTAP's Cat Campaign…imagine the grooming they will do with a new Cat next year!! Well deserved!
Watch the temps to fat bike when the trails are truly firm and nordic ski when firm begins moving into a soft top layer. Overnight temps must be well below freezing. If the trail is too soft, please leave it for another day (vs. leaving deep ruts in soft snow).
Open meadows are also in good shape for crust cruising – again, timing is everything!! (and remember to stay on lands with public access).
---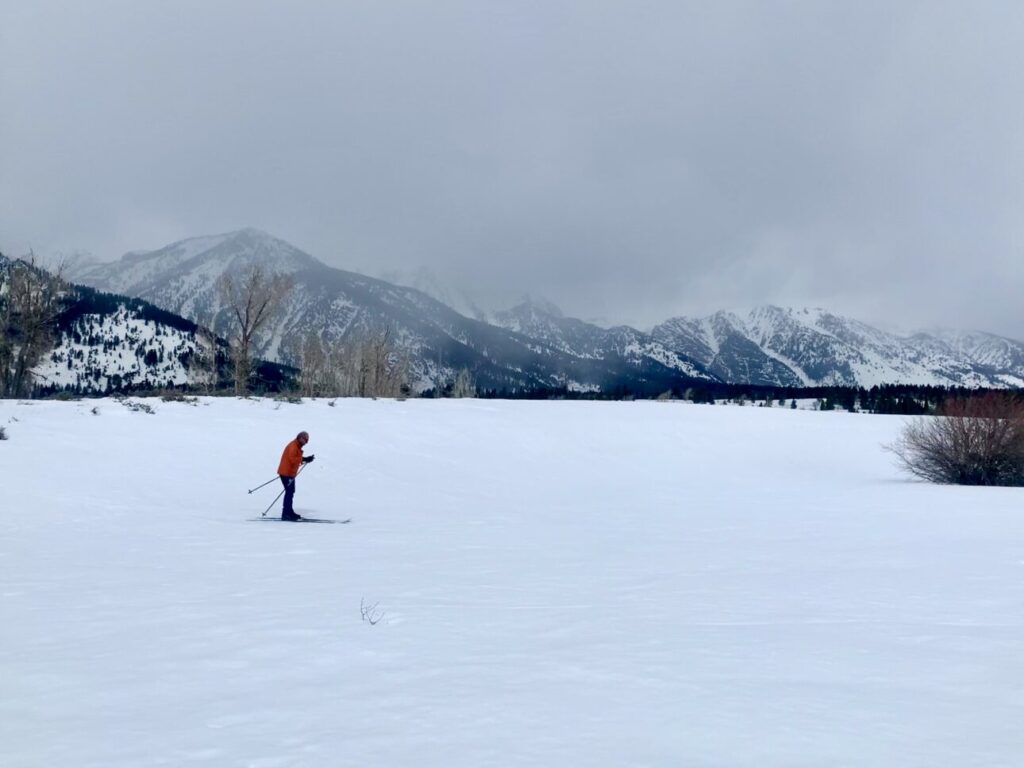 Crust Cruisin' in GTNP
We went up to GTNP today and skied across the meadows and vast, snow-covered open spaces. Thanks to cooler temps, we started at 12, finished around 2. We skied on classics to improve our portability, but also saw some skate tracks from earlier today. Conditions were firm enough and smooth, with the surface soft, but never mushy.
Keep an eye on overnight temps, as forecast is looking for some cold nights, which might refreeze the daytime softening. Early today could be good and selected mornings next week. Be sure that the overnight temps are well below freezing!
---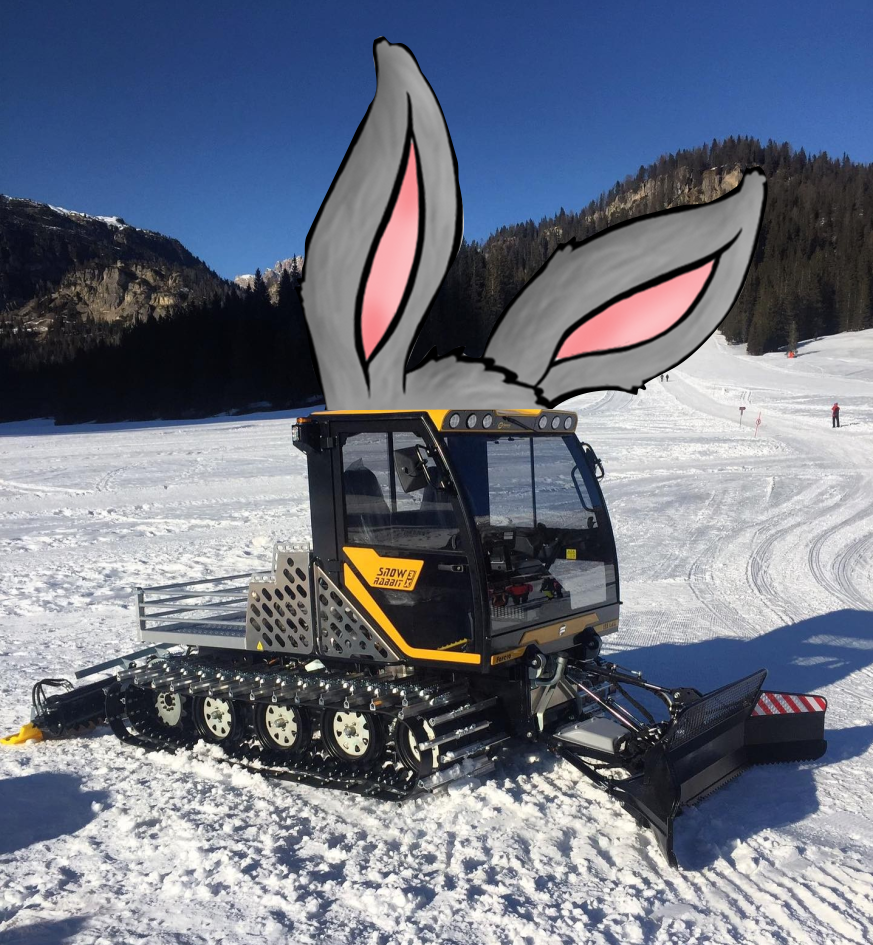 Teton Valley Winter Trails Update: Still Grooming!
We know you may not want to be seeing the W word still (sorry) but we have good news to share. We're still grooming! And we plan to groom until at least April 16. Grooming after that is weather and staff-dependent. You can find out about grooming conditions here: https://tvtap.org/grooming. Keep that wax handy!
Didn't get your Trail Support Vehicle sticker yet? If you were a regular trail user, please help us close out the season. Stickers are available for $75 and $200 for a family pass. Proceeds from Trail Support Vehicle sticker sales support the Winter Trails Program, which costs more than $50,000 to maintain every season.
If you are curious about who this bunny is in the picture…we're following it's tracks! If you are interested in helping us catch this bunny, contact Dan Verbeten, Executive Director or Peggy Boggs, Development Director.
---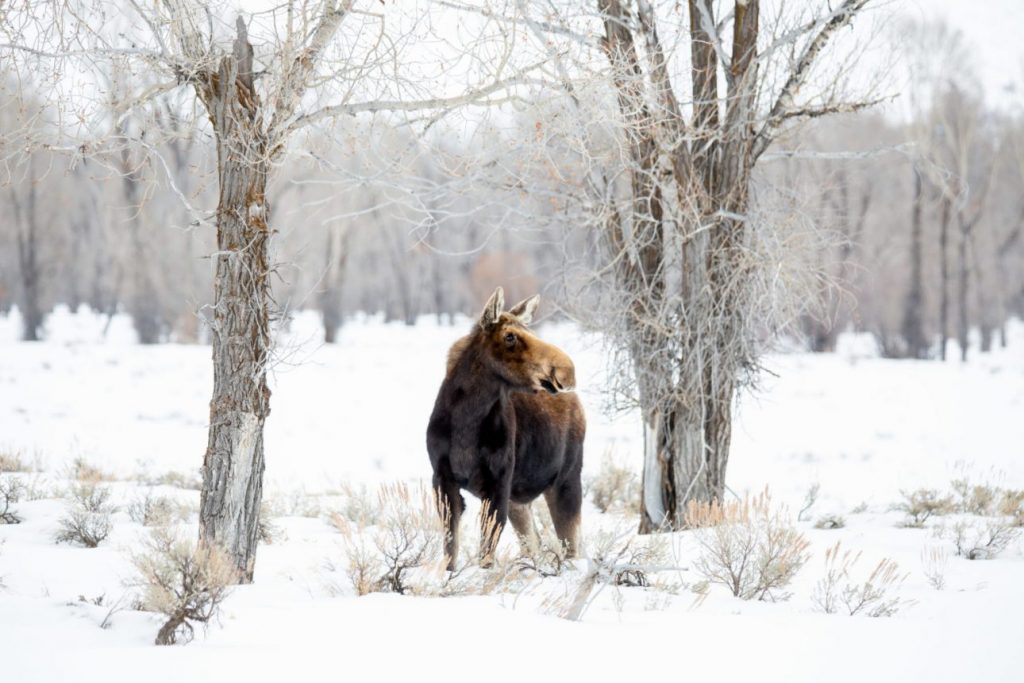 There is no denying it, thanks to record snowfall and low temperatures, this past winter was one to remember. Even as May approaches, snow continues to fall, and it feels more like December than early April.
While this might add more days to a skier's count, this also adds more stress to an already vulnerable wildlife population. "Springtime is the most challenging time for animals. The Wyoming winters are long, cold, and snowy and the animals are at their weakest," confirms Taylor Phillips, owner, and founder of Jackson Hole EcoTour Adventures.
Founder of The Hole Hiking Experience and Biologist Cathy Shill confirms, "The snow is deep. It's above average and animals are struggling, especially 4-legged animals that are dependent on plants. They're stressed because it's March and they haven't had any food or caloric intake since fall. Their saving grace is that we had such a great fall."
---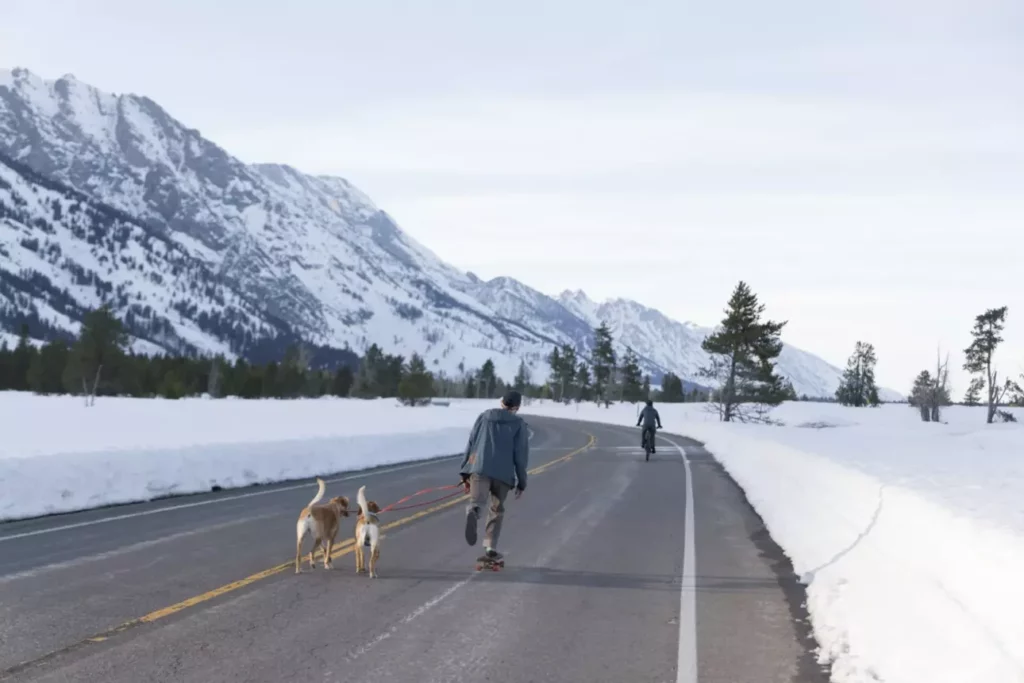 Article from Buckrail
Each year, Grand Teton National Park plows the Teton Park Road between Taggart Lake Trailhead and Signal Mountain Lodge. Currently, visitors can recreate on four miles of the road heading north from Taggart Lake parking lot to Jenny Lake Junction. In the northern part of the park, visitors may also access five miles of the Teton Park Road from Signal Mountain Lodge to the Scenic Drive Junction. During this time, recreationists can enjoy the road on wheels or on foot without the presence of motor vehicles. Dogs are also permitted on the park road but must be leashed.
---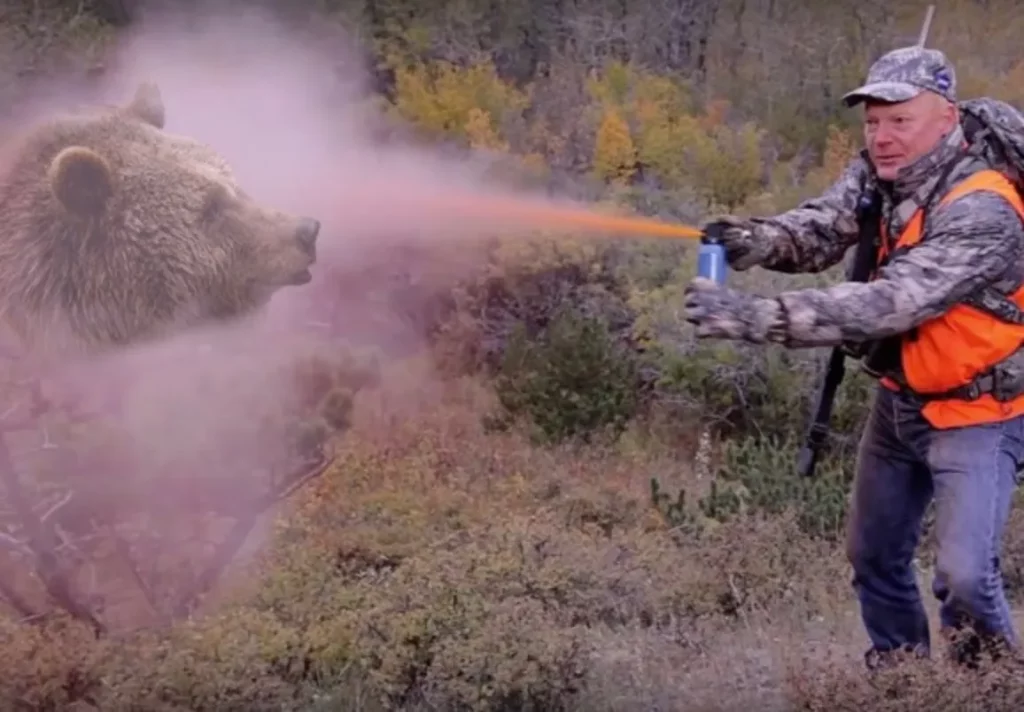 Mountain Journal's in-depth look at grizzly attacks, bear spray, and what you need to know.
Set the timer on your cell phone stopwatch to six seconds. Now click and begin the countdown.
As the notion goes, if this were the amount of time your hand was placed in a pot of boiling water or, for purposes of this story, your skull or other body part clenched in the jaws of a grizzly bear, it would seem, possibly, an eternity. But think how fast it just passed by.
A world-class human sprinter, running 21.7 miles per hour, can cover 60 yards—180 feet—in roughly that time—six seconds.
A charging grizzly can reach a speed of around 30 miles an hour and at full gait that translates into about 44 feet per second.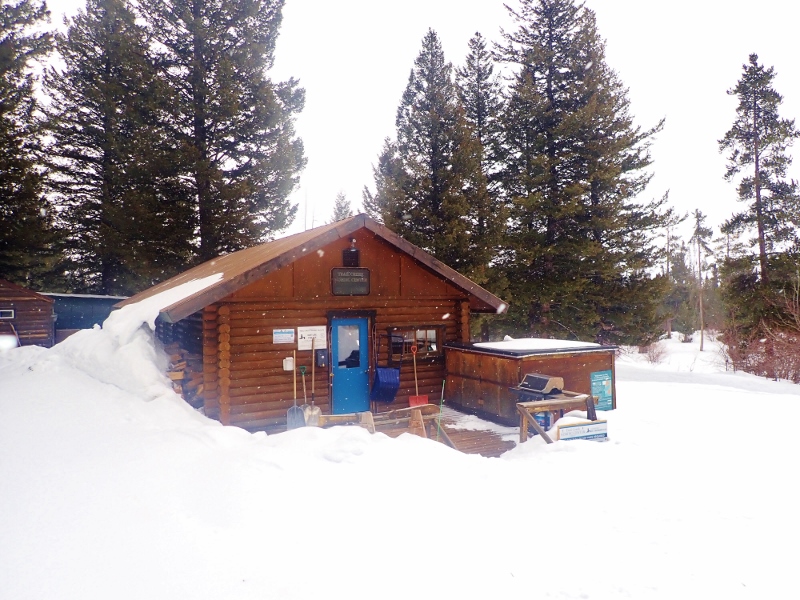 Grooming has Ended for the Season
Last Update: 3/31
Thanks For A Beautiful Season!
It's been a beautiful day, and a beautiful season. Near-record snows have kept us going in perfect condition far beyond the average, making every day a gift we should truly stop and take a moment to appreciate. Alas, all good things must come to an end, and today, Trail Creek had its final grooming of the season. The last of the signs and markers were pulled last night, leaving Trail Creek clean and unblemished. A few signs were lost under the snow, so if any start to pop out later in the season, please bring them back up to the cabin; it would be much appreciated!
Today's grooming was a near-total double pass over all the trails in the system, the Husky doing its utmost to bring every single trail to perfection before entering its long hibernation over the summer. This includes Woolsey Woods, Moose Poop Loop, Moose Loop, Déjà vu, Animal Farm, Black Hole, Boiler, Mugs Meadow, the East Fields, and the Close Fields. Take advantage of it while you can, there's an unbelievable amount of new snow on the way!
A massive thank you to the many, many people who help make grooming at Trail Creek possible!
The Coaches, who help introduce new generations to the joys of Nordic skiing.
The ski teams, who put in enormous effort to be the best they can be.
The people who work behind the scenes, building the framework we need to function.
The donors, who provide the resources needed to make Trail Creek a success.
The landowners, who generously allow us to use their property.
The volunteers, who offer up priceless time to keep Jackson Hole the skiing treasure it is.
And most importantly: You! Without the skiers, none of this would be possible.
A special thanks to Groomer 1; without your constant advice and guidance, this season could never have been as good as it was.
Thanks to all of you, and we hope to see you next season!
Signing off, Groomer 2(and, by proxy, Groomer 1).
---
Done grooming for the season
Last Update: 4/8
The levee and stilson are groomed and in decent shape for now. Expect them to get slushy by this afternoon. The school fields will be done around 10. Today is the last day of grooming for the season. See you next year.
Last day of grooming April 8th
---
Groomed by Friends of Pathways
Last Update: 4/6
Singletrack groomed 4/6.
---
Closed for the Season
Teton Pines Nordic Center and trails are closed for the season. The golf crew is getting things ready for summer and we ask that everyone stay off the track until we open next December. Thanks for a great season!
---
Closed for the Season
Last Update: 4/9
It's officially the final day to Nordic ski! We've been open for almost 130 days this season! Thanks to all the dogs, skiers, and staff for another great year! Reminder, GCM will begin snow removal on cart paths and start spring course prep tomorrow (4/10). Thanks again and enjoy the off season!

Please help support trail grooming in GTNP by donating to the Grand Teton National Park Foundation. It's easy and encouraged. All you need to do is visit: GTNPF.org/donate/ and leave the comment "Nordic" in the designation section. There is the opportunity to leave a one time gift or reoccurring monthly donations in any amount.
Grooming Has Ended For The Season
Winter grooming of the 14-mile section of Teton Park Road between Taggart Lake Trailhead and Signal Mountain parking area ended March 10. The road will remain open for winter activities until March 20 when snow removal operations begin.
While grooming in GTNP has come to an end for the season, there are other great options of where you can track ski. Check out JHNordic.com/Grooming/ to find other fresh grooming in our new real-time map, thanks to our partner, Nordic-Pulse.
---
Grooming has ended for the season
Thank you all for a wonderful winter season at Turpin Meadow Ranch! While our trails are on the Bridger-Teton National Forest (meaning you can still come enjoy them on your own) they are no longer being maintained. If you do make the drive, bring your bear spray and remember: the lodge and all services are closed for the season, please respect that all buildings on the resort are private.

Please support TVTAP winter trail grooming on your favorite TV winter trails by purchasing a TVTAP Trail sticker Please remember to manage your dogs and respect dog and wildlife closures. Buy a dog trail sticker, too!
Grooming Schedule: Sunday, Tuesday, Thursday, & Saturday
Last Updated: 4/14
Classic Track: Set | Fat Bike Trails: Closed | Snowshoe Trails: Open
0″ overnight, 3″ in the past 24 hours. High temperatures will remain in the teens with cloudy coverage.
Remember, singletracks will be closed when there is more than 3 inches of snow in a 24 hour period.
---
Grooming Schedule: Tuesday, Thursday, & Sunday
Last Updated: 4/13
Skate: Set | Classic: Set
Reset classic and skate tracks. They are a little rough because snow was sticking to the roller. Should set up hard tonight.
---
Grooming Schedule: Monday, Wednesday & Friday
Last Updated: 4/13
Skate: Not Set | Classic: Not Set
I almost got Driggs groomed today, but the ATV decided it was too tired to groom anymore and it stopped out in the middle of the field. I didn't have a bullet to put it out of its misery, so I turned it off, got down on my knees, and gave it final respects (and I cleared the ice out of the tracks while I was down there). As far as skiing goes, there is a decent lane that is usable for classic skiing. No classic track was set. Skate skiers can forget it – way too rough. This may be it for the year. Hope everybody enjoyed it. Don't forget to send in your bottle caps so that TVTAP can get a new groomer.
---
Grooming Schedule: Monday, Wednesday & Friday
Last Updated: 4/14
Skate: Not Set | Classic: Not Set
Pulling the plug on grooming for the year. Thanks for all the made it happen! Plenty of good skiing to be had at alternative places in the valley! See you next year.
---
Grooming Schedule: Monday, Wednesday, Friday & Saturday
Last Updated: 4/14
Skate: Not Set | Classic: Not Set
Plan to begin grooming around 9AM. Will set classic and ginzu the skate lane. It was rolled yesterday, so should be somewhat firm with the cold temps last night. Did you know that a snowcat is 80% more efficient at setting classic tracks in firm snow than snowmobile equipment. If you want to help TVTAP secure a snowcat for next season, and would like to donate a major gift to get our campaign rolling, please reach out.
Trail Etiquette: Please keep your dogs leashed in the parking lot and be sure to clean up after them!
---
Grooming Schedule: Tuesday, Friday & Sunday
Last Updated: 4/14
Skate: Set | Classic: Set
Yetis loop and campground turned out great this morning. One of the last times this area will be groomed this year so ski it up! Quick reminder that all winter range closures have been extended till May 1st. Thanks to TVTAP, Dan, Nick, Kevin and Mike for keeping these trails groomed and pretty through a snowy season!
No dogs December 1 – April 15.
---
Grooming Schedule: Tuesday, Thursday & Saturday
Last Updated: 4/11
Skate: Set | Classic: Set
Tuesday morning is 42° at 7 AM. We will not groom because of this.
Previous grooming report is here: Smoothed out the skate lane Saturday morning. Classic track is in good condition. Please get out early before it gets too soft. Last week of grooming so get out while you can!
No dogs allowed. Please stay on the groomed trails at all times.
---
Southern Valley Singletrack
Grooming Schedule: As needed
Last Updated: 4/5
Singletrack: Set
Wednesday evening groomed powerline all the way, Lower Lady Slipper, Upper Lady Slipper and Nemo. Enjoy the ride!
No dogs December 1 – April 15.
---
Grooming Schedule: As needed
Groomed by USFS
Last Updated: 4/4
Done grooming for the season.
---
Grooming Schedule: As needed
Groomed by USFS
Last Updated: 4/4
Done grooming for the season.
---
Grooming Schedule: As needed
Groomed by USFS
Last Updated: 4/4
Done grooming for the season.
---
Pinnacle Trail
Grooming Schedule: As needed
Groomed by USFS
Last Updated: 4/4
Done grooming for the season.

Mark your calendar so you don't miss out on all the wonderful events coming up! Explore the highlighted events below or find more events on our website at https://jhnordic.com/events/
---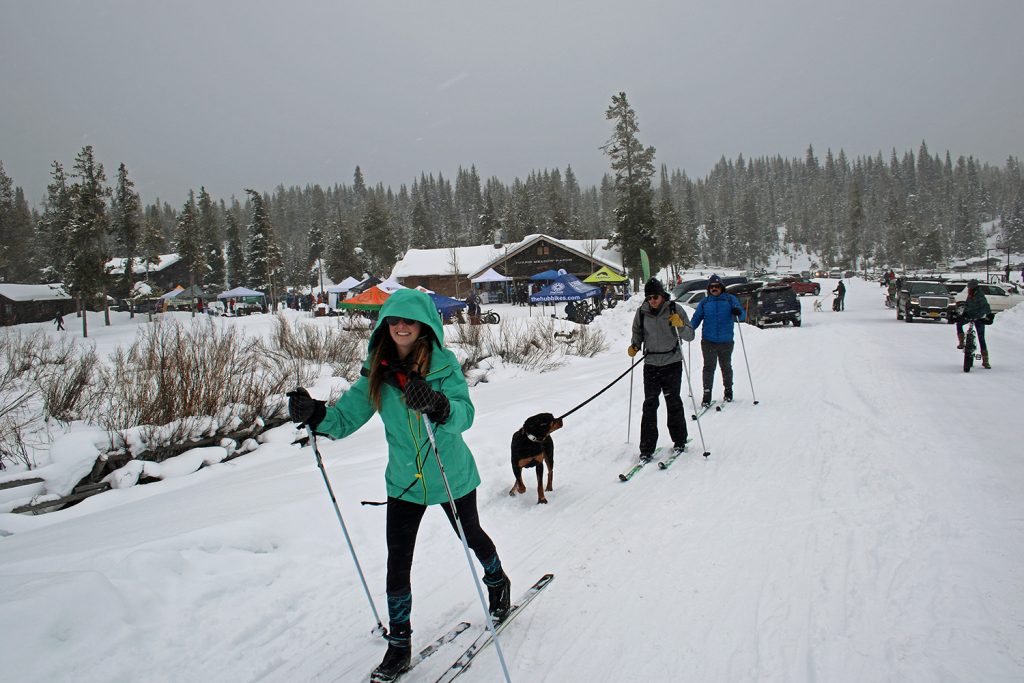 Save the Date
JH Nordic Alliance 6th Annual Free Ski, Fat Bike, & Snowshoe Day
Sunday, January 7th, 2024
Turpin Meadow Ranch
---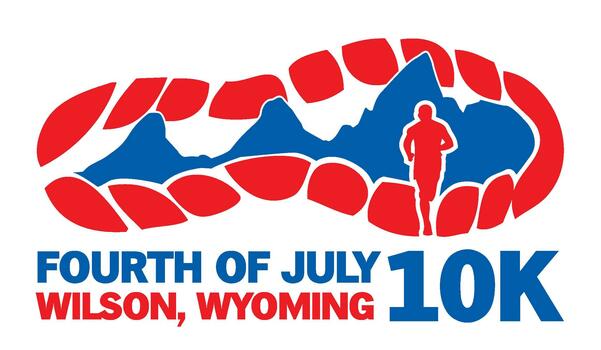 July 4, 2023
7–7:45AM: Bib pickup in Owen Bircher Park
8AM: 10K runners start
8:05AM: 5K walkers start
9:30AM: Awards and Raffle in Owen Bircher Park
Join us for the annual Skinny Skis 4th of July 10K Run! Thanks to Skinny Skis, JHSC is the nonprofit beneficiary of all proceeds from this community race. This race is for all ages and abilities with timed 10K and 5K runs and an untimed 5k walk. What a great way to start off your holiday!
---
---
We'd love to hear about your outdoor adventures, what your doing to stay healthy, safe, respectful of community health guidelines – send pictures or post on FB and Insta – #JHNordic