Part 1 of our Beginner's Guide covers a few key points to prepare for a cross-country adventure. Here in our Beginner Guide Part 2: Where to Ski, we'll lay out some of the options for easy trails to help you build your confidence and skills.
Starting out on relatively flat terrain allows you to practice your stride and timing without having to factor in climbs or descents. If you're new to the sport and still getting comfortable with your gear, consider starting out on trails near town or developed areas where help is nearby. If your boots don't feel like they're quite the right size, you take a spill and have trouble popping your boots back into your skis, or you have questions if something doesn't feel quite right, it's nice to be close for someone to help.
Groomed trails within a short driving distance from Jackson:
(See JH Nordic Grooming Reports for grooming days, and each Trail online for directions, maps , elevation profiles, fees, dog access, and more trail info)
Located right in the town of Jackson, this is a good place for beginners who want to test their ski gear with a short, flat loop. It's also lit in the evenings for night skiing, allowing you to get in some practice before you head out for an adventure the following day.
This trail has convenient access from either Jackson, Wilson, or Teton Village. It's a perfectly flat out-and-back groomed track with a short "lollipop loop" at the end. The tour includes beautiful views of several peaks in the Teton Range.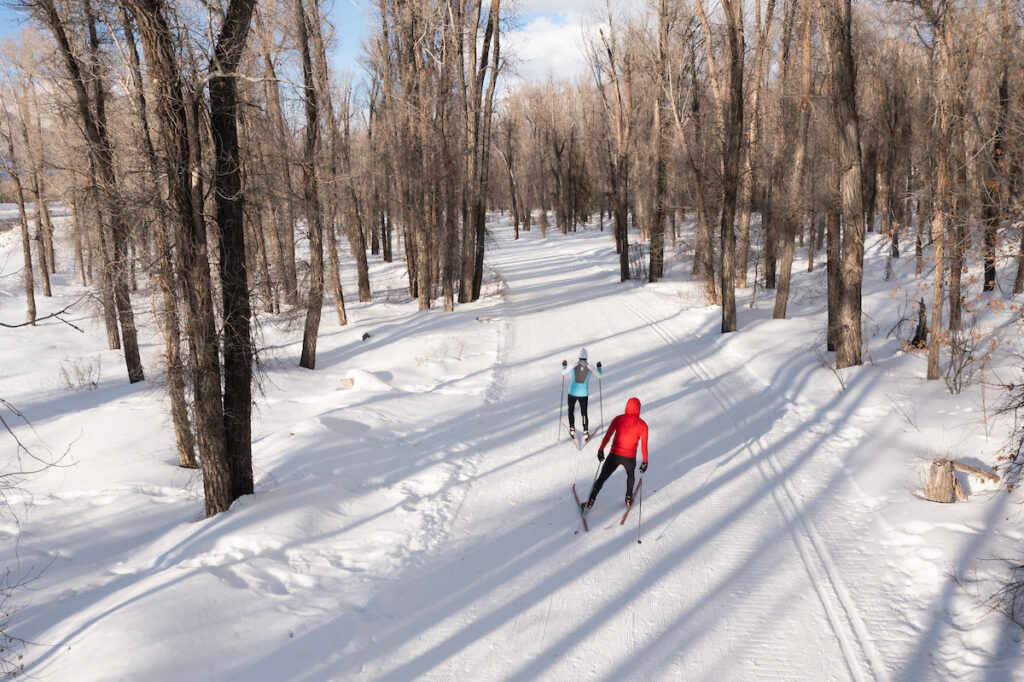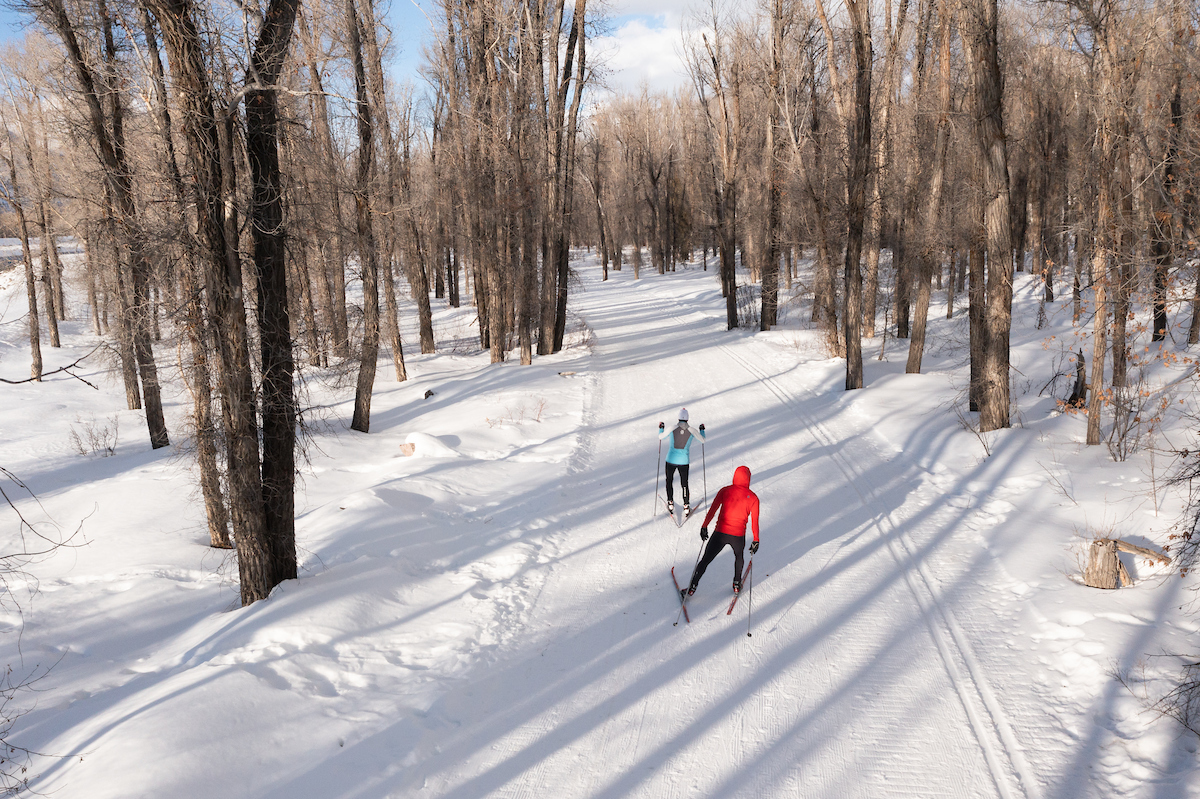 These two trails are adjacent to one another on the opposite side of the Snake River from Emily's Pond Levee. You'll have the option to combine the two short, easy favorites on flat, groomed terrain, with the latter taking you into the heart of the Wilson Meadows. The Stilson "warming hut" on the west side of the main Stilson parking area has heated bathrooms.
Here, you'll be fully supported with a ski shop, rentals, and instructors. A series of easy to intermediate loops, totaling 10 miles (16 km), range from relatively flat to rolling rises with open views of the mountains.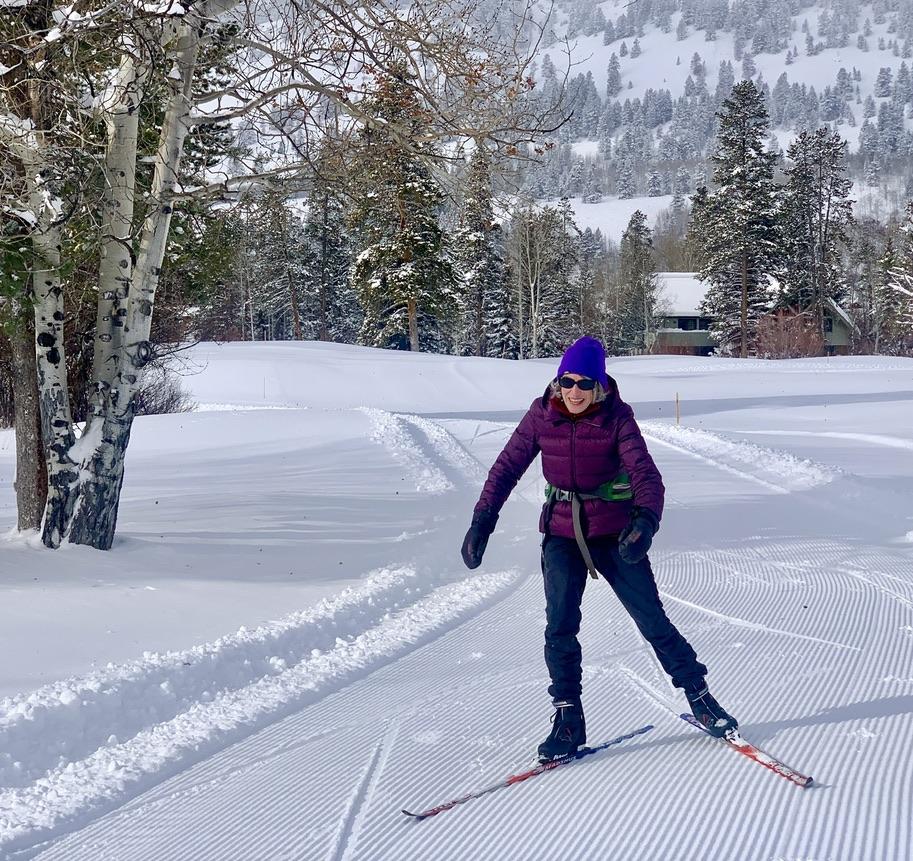 Teton Village at Jackson Hole Mountain Resort
The Teton Village Association sponsors a trail open to Nordic skiers, fat bikers, runners, and walkers. This trail overlays the Moose-Wilson Road bike path. Currently groomed 3 miles south to the Lake Creek bridge. It connects with a community pathway giving skiers connectivity to Wilson and the town of Jackson via plowed pathways.
At a combined 9.3 miles (15 km), Shooting Star offers high quality groomed skate and classic trails. These take the skier over flat to gently rolling terrain. The main track consists of one large loop around the perimeter of the golf course with optional tracks inside the loop.
Other groomed trails to consider:
You'll also find easy trails farther from Jackson, offering more terrain for a longer adventure. These locations have limited facilities, meaning you'll need to be better prepared. The trails listed here have no bathrooms or only a port-a-potty at the trailhead. Be prepared to carry out toilet paper/wipes and human waste; never leave any form of waste or trash behind! Note that cell phone service may be limited in some areas, so download the trail map while in cell service. Don't rely on your mobile phone to assist you. If you lose the trail or need to call EMS for help.
Grand Teton National Park — trail access requires a national park pass or entrance fee
This trail is flat, easy to ski, and accessible for even beginning skiers and can be done as an out- and-back for any distance you'd like. In addition to being groomed for skate and classic skiers, there is also a walker/snowshoe track on the west side of the trail. Because of the high use the area sees, pay attention to the signs that direct the various users to the proper lanes in order to preserve the grooming. Remember not to walk in the skate or classic track section of the trail if you're on foot.
If you're confident in your wayfinding skills, you can ski on the Teton Park Road for roughly two miles. After this, leave the groomed track on a non-groomed, skier-made track. The turnoff to the historic cabins, located 300 yards west, off the groomed trail, is not marked. After visiting the group of cabins and old barn, return the same way you came to the parking lot. This will take the skier on a non-groomed, unmarked route on the west side of Cottonwood Creek. There may be a crisscross of cross country and backcountry ski tracks along the way.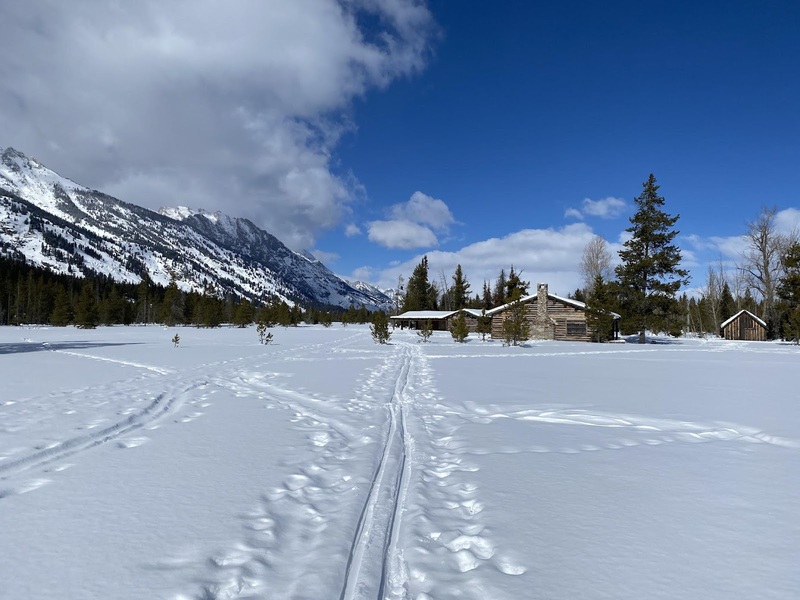 Though 40 miles north of Jackson, this gem includes a cozy restaurant, bathroom facilities, and seven connected ski loops. Though some of the trails are challenging, there are several loops on the valley floor that are fun and easy. Nordic equipment rental, tours, and lessons are also available.
Teton Valley, Idaho
Treat yourself to a visit to the west of the Teton Range and enjoy some beginner trails there:
This popular trail offers excellent classic and skate skiing on near level terrain for roughly 5 miles (10 miles out-and-back) and ends in a cul-de-sac at the summer parking lot and trailhead. A half mile from the end of the groomed section, there are a few loops off the main road you can tack on for a bit longer ski. This ski trail offers some of the best views of the Grand, Middle, and South Teton from the west side of the Tetons.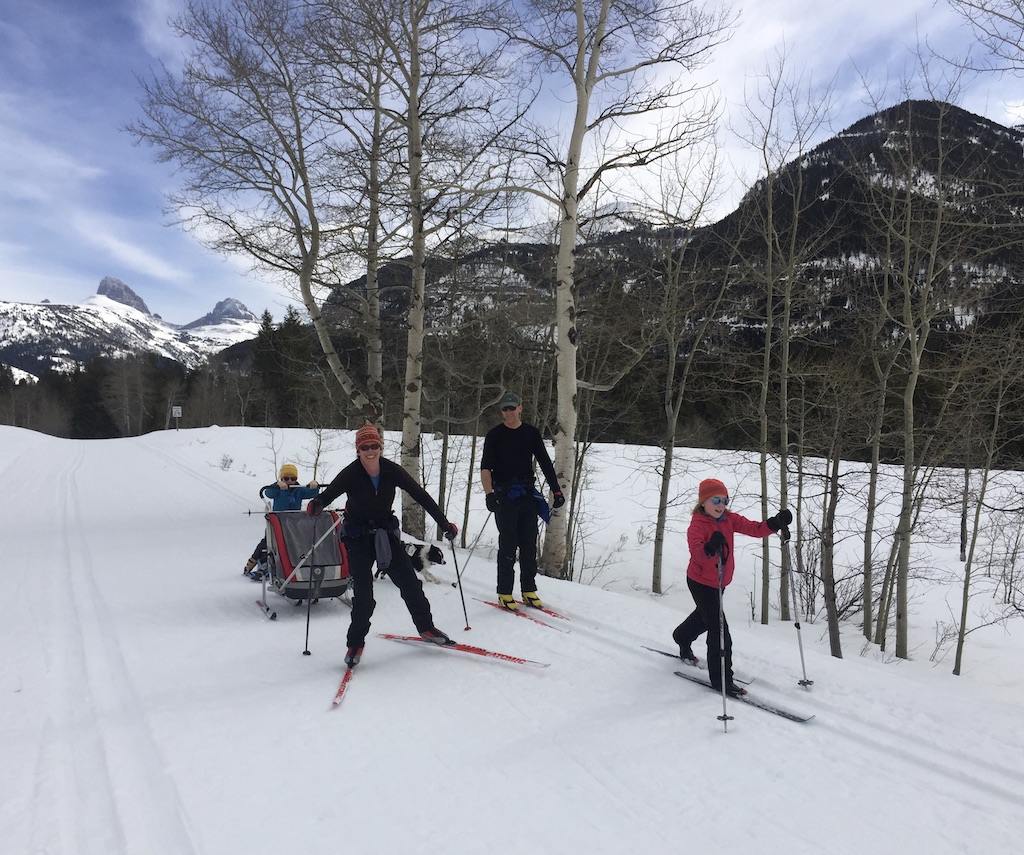 Located on the Teton Reserve Golf Course, this is a great choice for easy, gentle skiing. The trail grooming allows skiers to ski shorter loops or as one continuous 4.3 mile (7 km) loop.
Dig deeper:
Use this list as a starting point, but don't limit your skiing to just those outlined here. As your skills develop, explore leaving the groomed trails for some off-route touring.
Explore the comprehensive JH Nordic site for maps, trail descriptions, daily trail reports, and grooming schedules. Use the filters to find the perfect fit for your interest and location. Don't forget to consider guided tours so you can ski with others and add an educational component to your outdoor experience.
Recreate Responsibly
Wherever your travels take you, please demonstrate a respect for the land and communities that make this place a true winter wonderland. Follow these guidelines for an adventure that both protects the local resources and is respectful of other recreationists.
Familiarize yourself with any restrictions regarding closures, access, pets, or designated travel lanes shared by others.
Respect any ski track grooming by recreating in the lane that matches your type of travel.
Never walk in classic or skate ski tracks if you're on foot or snowshoes.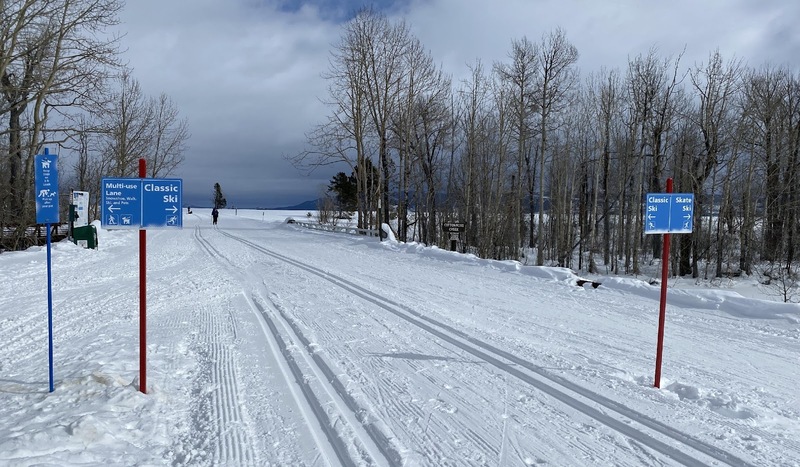 Give wildlife plenty of space and avoid all human interaction with animals. Some may seem habituated to human presence but still present a risk. Never feed wildlife.
Prepare to carry out all trash including toilet paper/wipes and human waste. Never leave any form of waste or trash behind. Don't leave bagged pet waste left along the trail with the intention to pick it up later.
Consider a small donation to the organization which provides the grooming. Each trail link on the JH Nordic trails page notes which organization funds the grooming that creates the fabulous ski conditions. Email Info@JHNordic.com for more info.
Have fun and stay safe!