---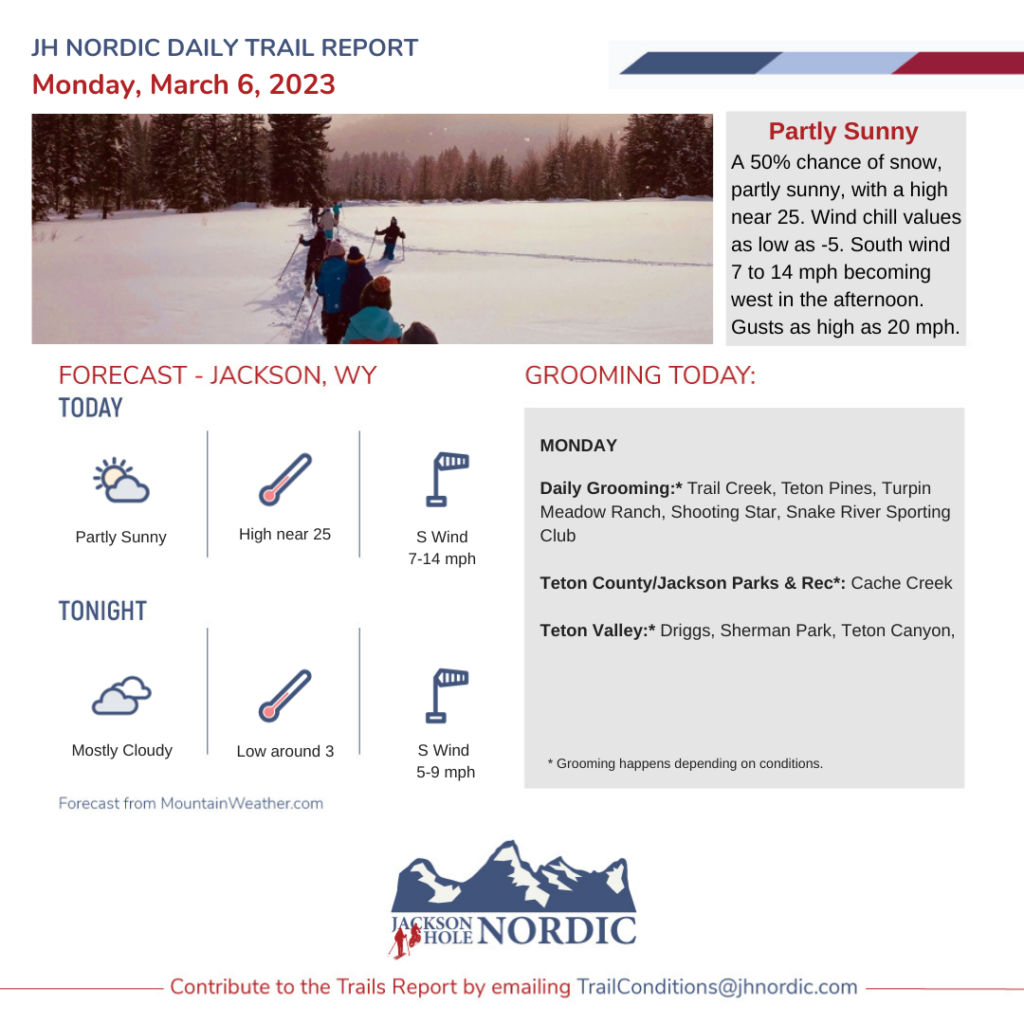 ---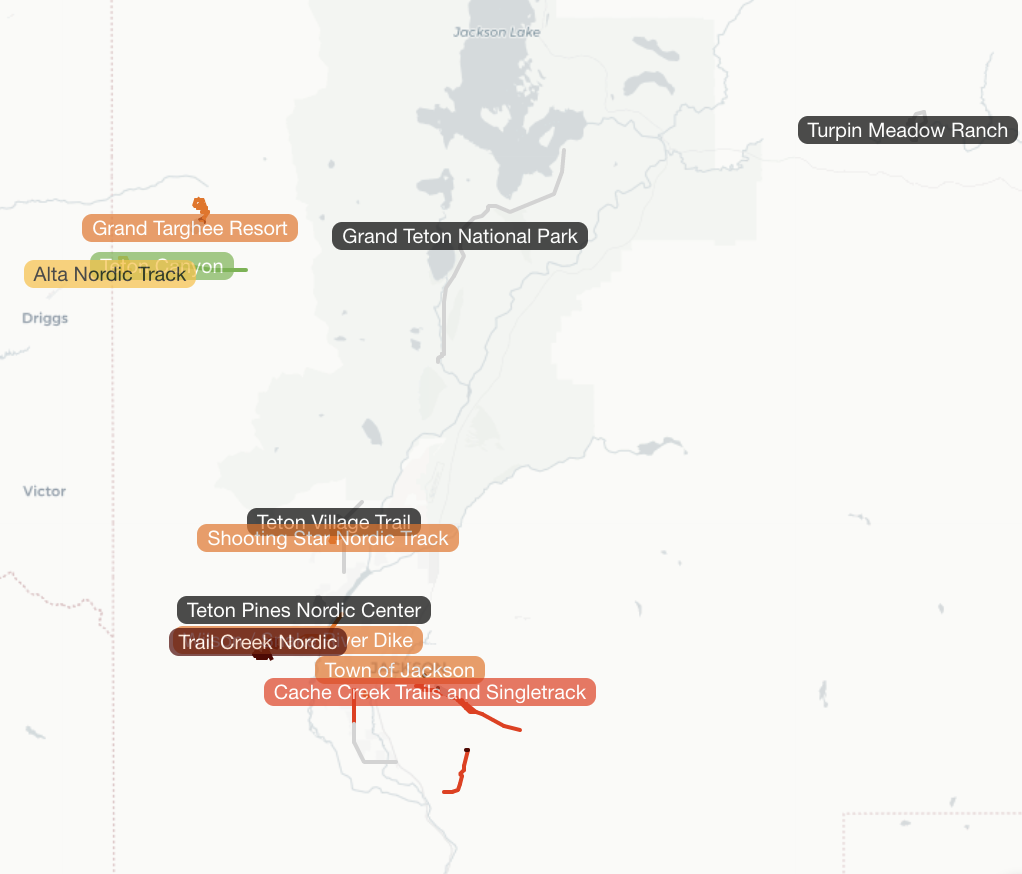 What's Groomed in Jackson Hole/Teton Valley?
See real-time grooming in the Jackson Hole/Teton Valley region. Find all the latest grooming & fresh groomed tracks. Plan your next Nordic Adventure with ease.
---
Teton Co/Jackson Parks & Rec Winter Grooming Survey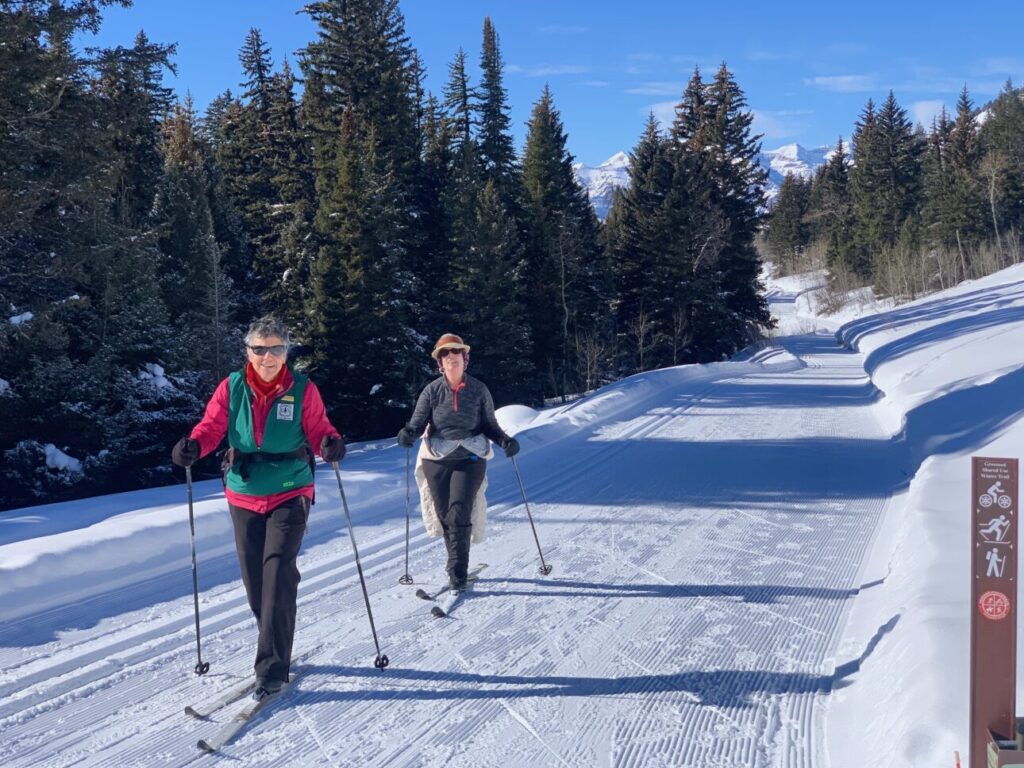 Your input as a winter trails user is valued and needed: this is your chance to determine grooming days, more groomed trails and pathways & connectivity for Winter 23-24! Please complete this Community Input survey, to help Teton County/Jackson Parks & Recreation determine next Winter Grooming service levels: such as increasing to 7 days per week of favorite trails such as Cache Creek, Game Creek, Emily's Pond, Stilson-Wilson Centennial, May Park. Community input is also valued to determine if some or all the trails and pathways currently not groomed, could be upgraded from plowed surfaces to pack & rolled/snow covered trails, allowing nordic skiing, easier fat bike biking, trail running , walking on snow. Please complete this survey ASAP for input to allow for budgets to be prepared/proposed by end of March!
---
Trip Report: Exploring Off Track in Grand Teton National Park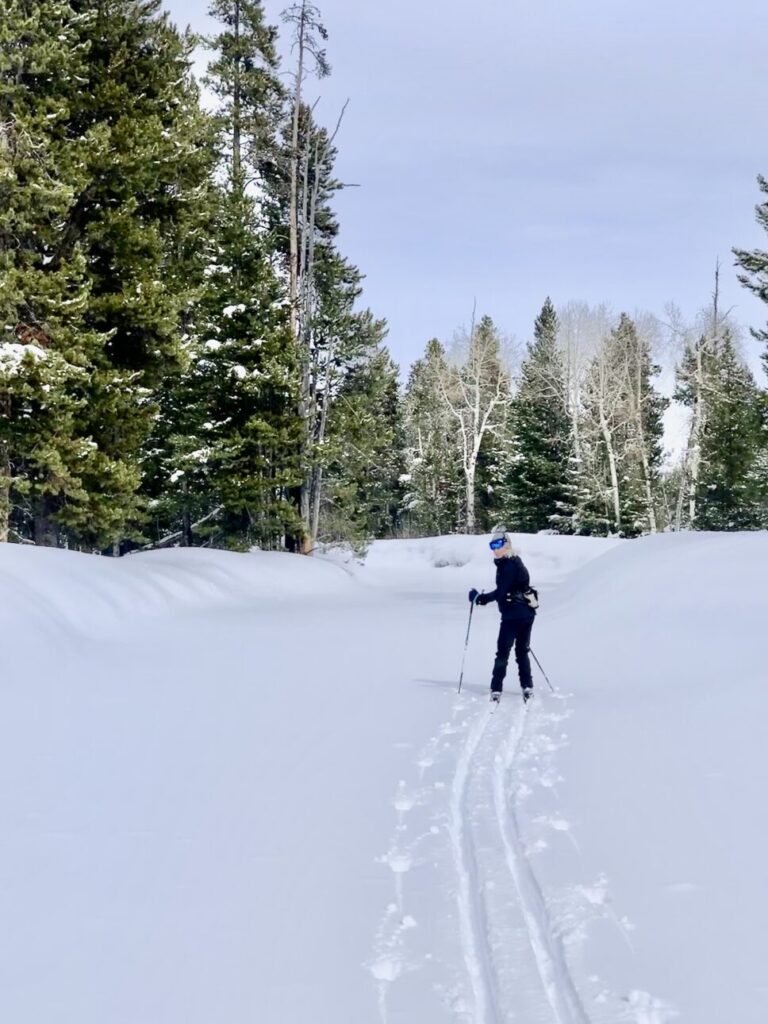 We love the easy access into wild spaces within Grand Teton National Park, in this instance, right from the Moose-Wilson Road/ Granite Canyon trailhead. There are many variations to cross country ski or snowshoe from the trailhead across to the Snake River. Via LSR, across the meadow running north-south a few hundred yards east of the road (winter trail). Or head due east until you encounter one of the frozen, snow covered irrigation water ways, and follow it north until you reach the Snake River Dike (west side inside GTNP). Notice how deep the skier track trail is! Not a lot of room to turn around! Love this big snow year! -NL
---
Trip Report: A Good Workout West Side of the Tetons: Driggs & Sherman Park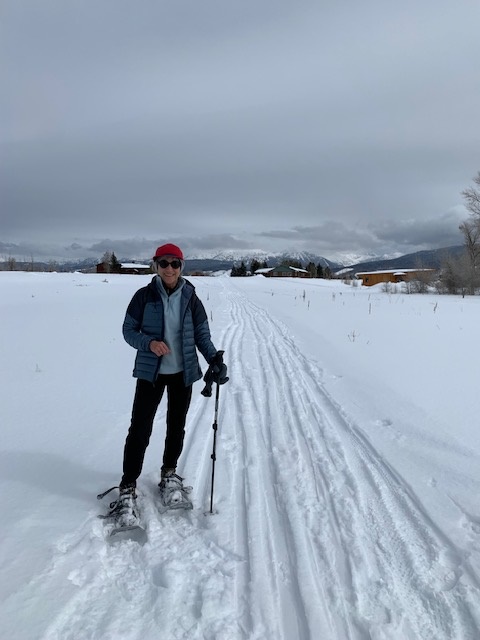 The Driggs Nordic Trail is a great multi-use groomed trail that features beautiful views of the west side of the Tetons! I met Jim, an avid fat tire biker, and we both agreed that it was a spectacular day, notwithstanding our lack of views. The trail system is flat and a great spot for a quick and fast workout.
Note: For the first-time visitor, it may take little time to find the trailhead. I ended up on Booshway Street (what a great name) and then turned right on Legrand Pierre Drive and parked at Legrand and Paiute Streets. Distances vary depending on directions, but TVTAP's 2023 winter map says 3.7 miles so I'll go with that.
Another great destination for the west side of the Tetons: Sherman Park is not far from the heart of Victor and at a flat 4 km, it makes for a great quick workout! I enjoyed a lovely conversation with a neighbor who described her skis at Sherman Park as being the highlight of every day! K.D.
---
Trail Etiquette
We learned of 2 unfortunate examples of careless Winter Trail etiquette and poor judgment of responsible recreation last weekend in 2 favorite Jackson groomed trails: Cache Creek and Game Creek.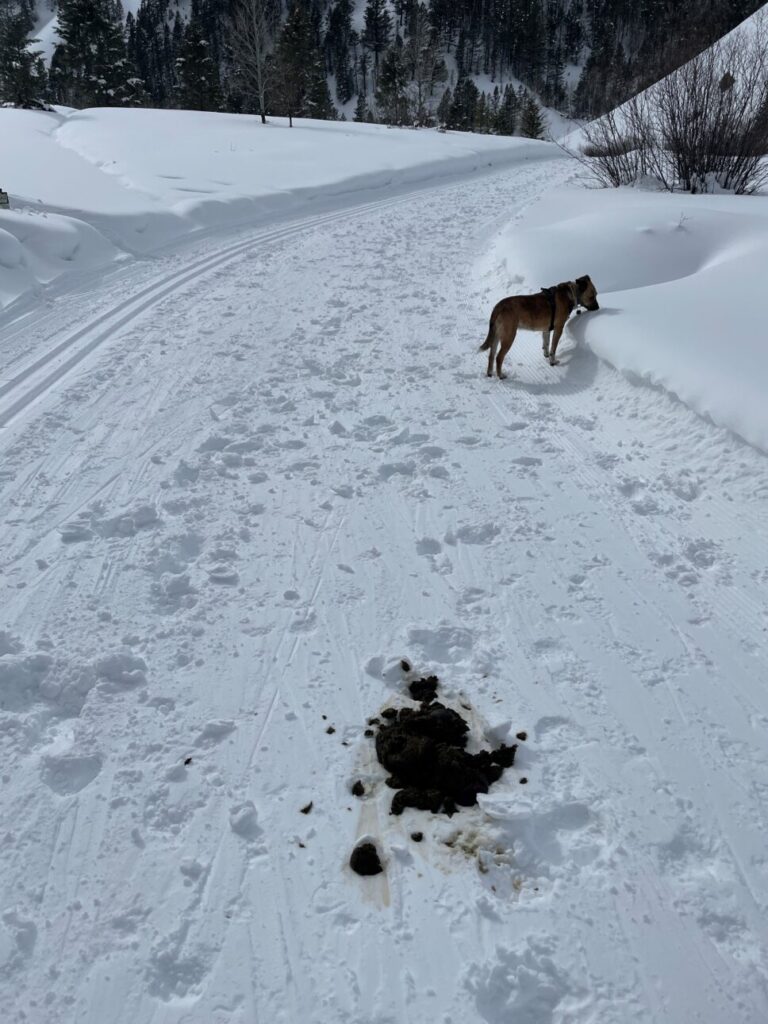 Several reports came in observing 2 horseback riders riding horses on freshly groomed corduroy up Game Creek, leaving deep divots, surface snowballs, and horse poop in the middle of the trail. As this was on a Saturday, the next grooming to remedy this wasn't until Wednesday, resulting in days of degradation for skiers and fat bikers
In Cache Creek, snowmobiles we're reported driving fast around blind corners, leaving deep tracks in the freshly groomed trail, collapsed snow banks, seemingly unaware that this is a shared trail with slower users such as nordic skiers, fat bikers, walkers, dogs.
While our Bridger Teton USFS Trails are officially open to multiple winter users, we'd like to remind everyone to be as courteous as possible and use good judgment in trail choices. With Cache and Game Creek trails so popular, and grooming only a few days a week, please consider alternatives before leaving deep tracks on groomed trails.
The BT USFS Winter Trail Ambassadors have posted signs as a friendly reminder for good Trail etiquette, Leave No Trace, how to recreate responsibly for the enjoyment of all! Thanks in advance for everybody helping out!
---

Winter Service Levels and Important Dates
Do you enjoy any of the trails that Teton County or the town of Jackson maintains during the winter season? If so, you'll be happy to know that grooming will continue through March based on the snowpack and forecast. Conditions will be evaluated the week of April 3rd to determine if grooming can continue past that date. Please continue to check the Parks and Recreation website for up-to-date information including grooming and ice rink status: http://www.tetonparksandrec.org/1338/Parks-Pathways
As a trail user and citizen of this fine area you are invited to the Parks and Recreation Public Open House at Teton County Library on Thursday, March 9th (5-7pm) and Friday, March 10th (1-3PM) to solicit public input on Winter Service Levels, as well as Karns Meadow Zoning and Melody Ranch Trailhead Bicycle Pump Track. For more information visit: https://engagetetoncountywy.com/tetonopenhouse
As a winter trail user, please take the time to have your voice heard through the winter service levels survey for 2022/2023. Teton County Parks and Recreation strives to meet the needs of the community throughout the winter grooming season, take the survey to let them know how they are doing and where they might improve: take the survey

Grooming Daily
Last Update: 3/5
Fluffy and Soft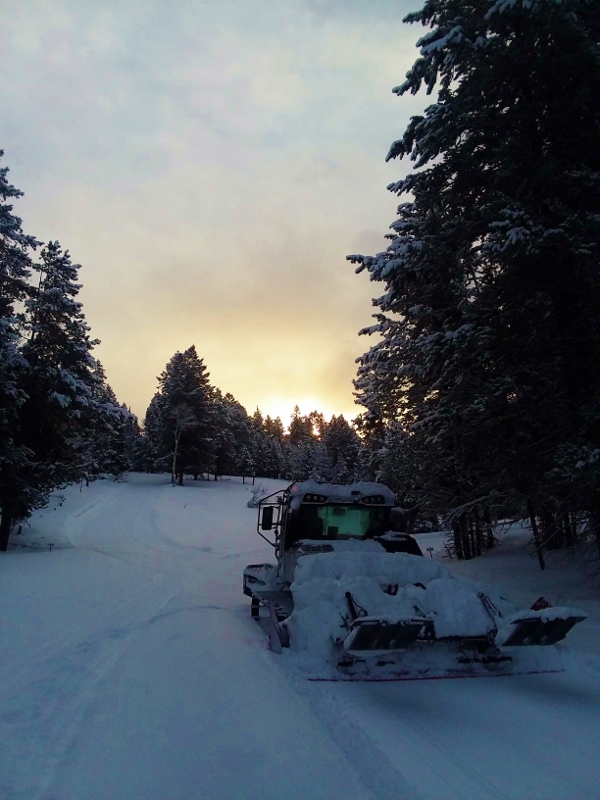 Between 6 and 10 inches of snow fell on Trail Creek last night, leaving our trails fluffy and soft across the system. Nonetheless, they remain enjoyable, especially since the snow has passed, and blue skies have emerged overhead, turning this into a beautiful Sunday morning. While the softness of the snow did leave some roughness on trail crossings, skiing should be very pleasant for the most part. A good day.
Today's grooming was a single pass across most trails, with double passes on Animal Farm and the Fields. The Darkhallow end of Déjà vu(the new trail beyond Faceplant and Armins) was skipped today, because three moose were sleeping on the trail, and waking them from a nice pleasant dream struck too close to home for the groomer today.
Groomer's choice for today is the Close Fields and East Fields.
---
Grooming Today: Cache Creek
Last Update: 3/3
Emily's Pond Levee, High School Fields, Stilson Loop, Wilson Centennial Trail groomed 3/4.
---
Groomed by Friends of Pathways
Grooming Schedule: As Needed
Last Update: 3/3
Singletrack groomed 3/3.
---
Grooming Daily
Our 20% off sale has been extended on nearly everything in the store (skis, boots, poles, clothing, waxing accessories, etc)—we even have lots of clothing at 30% off! We have most sizes available in everything in the shop including: skate skis, classic skis, bc touring skis, boots, poles, gloves, jackets, pants, and hats.
We are open daily to the public for skiing. Click here for our current trails grooming and conditions: https://nordic-pulse.com/ski-areas/US/WY/Teton-Pines-Nordic-Center. We offer private skate and classic skiing lessons daily, skate/classic ski rental packages, and bc xc rentals for the park. We are open 9am-4pm. Please call to book lessons and with any other questions.
Note—We have a new shop phone number this season: (307) 732-4130
---
Grooming Daily
Last Update: 2/27
The snow continues! Anticipate another snowy week, with storm skiing Monday and Tuesday. More friendlier Nordic conditions are forecasted to return Wednesday. The track continues to groom out well but anticipate daytime snow accumulations and possible drifting throughout this whole week. Bundle up and enjoy!

Please help support trail grooming in GTNP by donating to the Grand Teton National Park Foundation. It's easy and encouraged. All you need to do is visit: GTNPF.org/donate/ and leave the comment "Nordic" in the designation section. There is the opportunity to leave a one time gift or reoccurring monthly donations in any amount.
Grooming: Tuesday, Friday, Sunday
Last Update: 3/5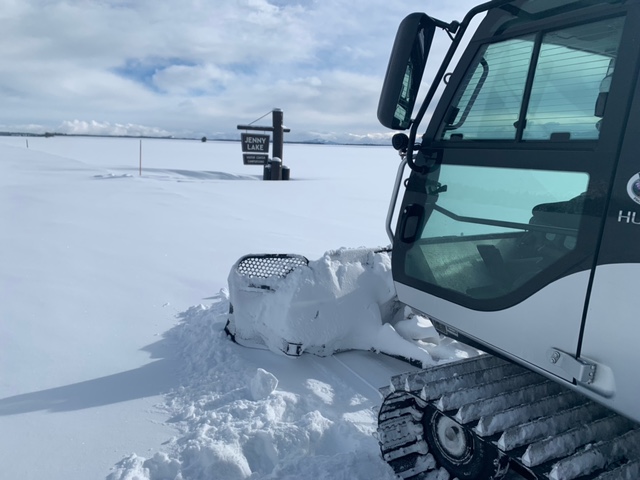 I see some blue sky peaking out in Grand Teton National Park this morning. There's lots of fresh snow and the trail conditions are good!
Lots of fresh corduroy from Taggart to Signal, thanks to GTNP grooming! Check out JHNordic.com/Grooming/ to find other fresh grooming in our new real-time map, thanks to our partner, Nordic-Pulse.
---
Grooming Daily
Last Update: 3/5
Come ski Turpin, you'll be *glide* you did! 😉 The trails are in great condition after some more fresh snow and a lap with the pisten bully. The single track was groomed Sunday morning.
Turpin Meadow Ranch is open to all for skiing, lodging, dining, Nordic lessons, and tours! Closing day (March 12, 2022) is less than a week away so make your plans to come to Turpin soon! Call the office (307) 543-2000 or visit our website to book your adventure and/or meal!

Please support TVTAP winter trail grooming on your favorite TV winter trails by purchasing a TVTAP Trail sticker Please remember to manage your dogs and respect dog and wildlife closures. Buy a dog trail sticker, too!
Grooming Schedule: Sunday, Tuesday, Thursday, & Saturday
Last Updated: 3/4
Classic Track: Set | Fat Bike Trails: Closed | Snowshoe Trails: Open
The bulk of the latest storm fell yesterday during the day. The consistent precipitation throughout the day made for phenomenal skiing conditions. An additional 4 inches overnight and light winds will make for even more great skiing today. Today, expect cold temperatures and deep snow on all aspects of the mountain.
Remember, singletracks will be closed when there is more than 3 inches of snow in a 24 hour period.
---
Grooming Schedule: Tuesday, Thursday, & Sunday
Last Updated: 3/5
Skate: Set | Classic: Set
Sunday: After 2 hours of grooming the track is blowing in to the point that it's hard to tell it was groomed. Plan to make 1 more pass all around and call it good for today.
---
Grooming Schedule: Monday, Wednesday & Friday
Last Updated: 3/3
Skate: Set | Classic: Set
Rolled the fresh powder late afternoon today, 3/3/23, and set the classic track. Skate skiing will be a workout as the track is very soft.
---
Grooming Schedule: Monday, Wednesday & Friday
Last Updated: 3/3
Skate: Set | Classic: Set
Groomed this morning. Skate, classic, and walking tracks all looking good. Will be fairly soft and still snowing.
---
Grooming Schedule: Monday, Wednesday, Friday & Saturday
Last Updated: 3/5
Skate: Set | Classic: Set
3″ of new, so rolled and set classic on both sides then followed with a lap on the skate track. Classic is great, skating soft. Should be ready for the ginzu tomorrow. Beautiful day out there!
Trail Etiquette: Please keep your dogs leashed in the parking lot and be sure to clean up after them!
---
Grooming Schedule: Tuesday, Friday & Sunday
Last Updated: 3/5
Skate: Set | Classic: Set
This morning I use the roller and was able to reset the skate and classic track. Expect extremely soft conditions.
No dogs December 1 – April 15.
---
Grooming Schedule: Tuesday, Thursday & Saturday
Last Updated: 3/5
Skate: Not Set | Classic: Set
I did three passes with the roller and reset the classic track, both sides. Classic is great. The skate track is soft, and a bit chunky in places from the roller. The sun is warm today, so the snow should setup overnight and be firmer on Monday.
No dogs allowed. Please stay on the groomed trails at all times.
---
Southern Valley Singletrack
Grooming Schedule: As needed
Last Updated: 3/4
Singletrack: Not Set
Went out and did a lap on Hillbenders and Nemo Connector with the snowmobiles only and rode a bit past the Teton Springs road on the power line. Snow is unconsolidated and undid able – this was a maintenance pass.
No dogs December 1 – April 15.
---
Grooming Schedule: As needed
Groomed by USFS
Last Updated: 2/23
Groomed to Pinnacle TH only.
---
Grooming Schedule: As needed
Groomed by USFS
Last Updated: 2/17
Groomed 2/17.
---
Grooming Schedule: As needed
Groomed by USFS
Last Updated: 2/17
Groomed 2/16.
---
Pinnacle Trail
Grooming Schedule: As needed
Groomed by USFS
Last Updated: 2/1
Groomed 2/1

Mark your calendar so you don't miss out on all the wonderful events coming up! Explore the highlighted events below or find more events on our website at https://jhnordic.com/events/
---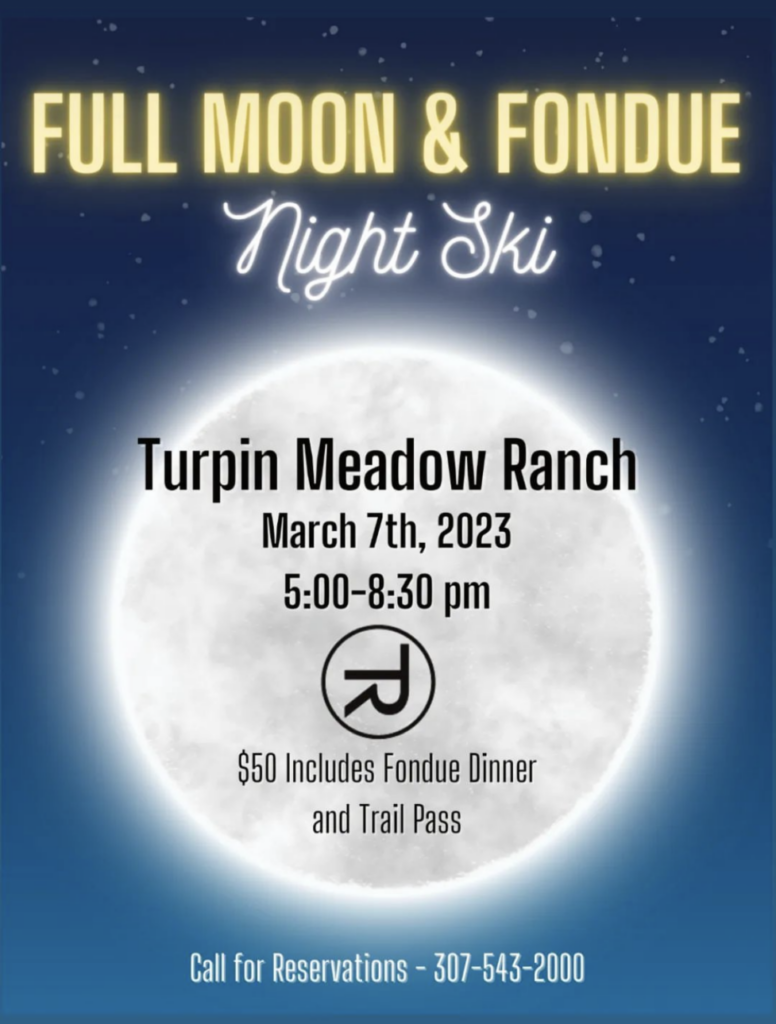 ---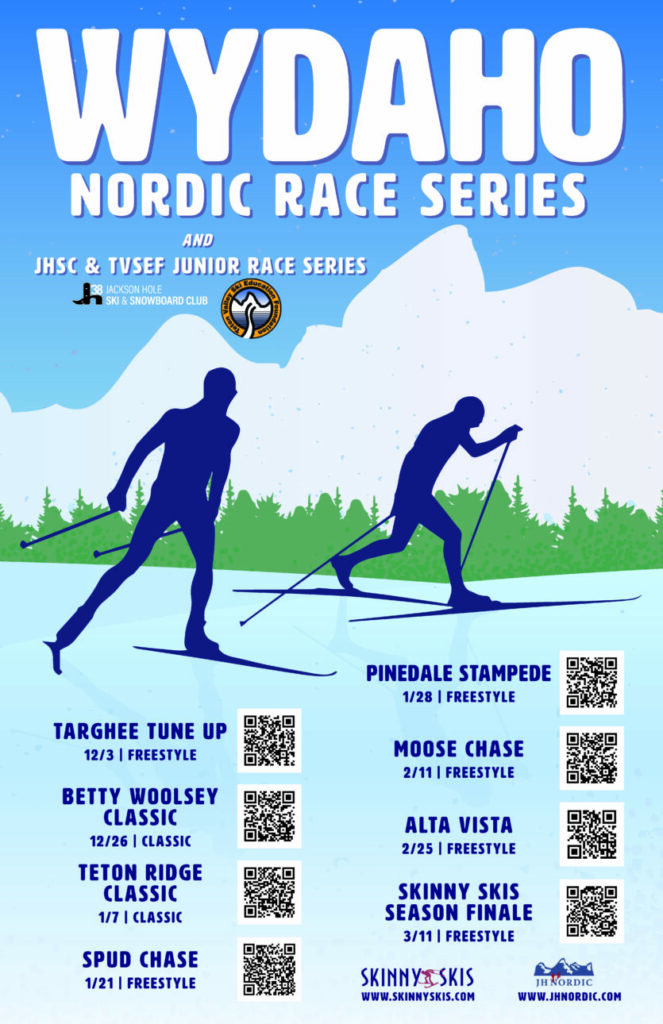 Skinny Skis Season Finale – Freestyle
Saturday March 11th
Location: JHSC Trail Creek Training Facility
2.5, 5, & 10km Skate or Classic
Get your Nordie Nerd on this season with a skate or classic race. All races are open to everyone with no cut off times. Or ski the course after the race to try it out. There is something for every level of skier including the kids!
Registration: 9am day of race. Race start time: 10am all races
Suggested entry – $20 for 5 & 10km. $10 for JHSC Junior Nordic athletes. $5 for 2.5km
Cash or check ONLY! Please make checks out to JHSC.
---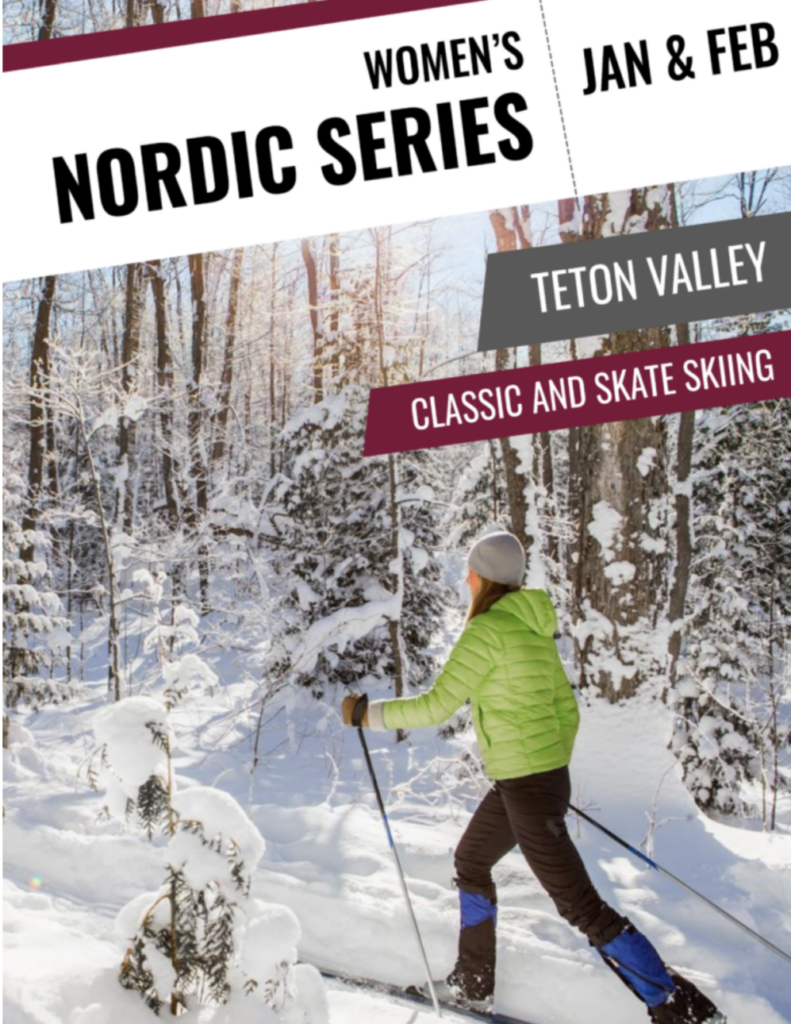 [Rescheduled 3/16]
Women's Nordic Series
Saturday, March 16
5:30PM | Alta Track
Due to the inclement weather the Women's Nordic Series is rescheduled for Thursday, March 16th at 5:30 pm at the Alta Track.
---
---
---
We'd love to hear about your outdoor adventures, what your doing to stay healthy, safe, respectful of community health guidelines – send pictures or post on FB and Insta – #JHNordic