---
---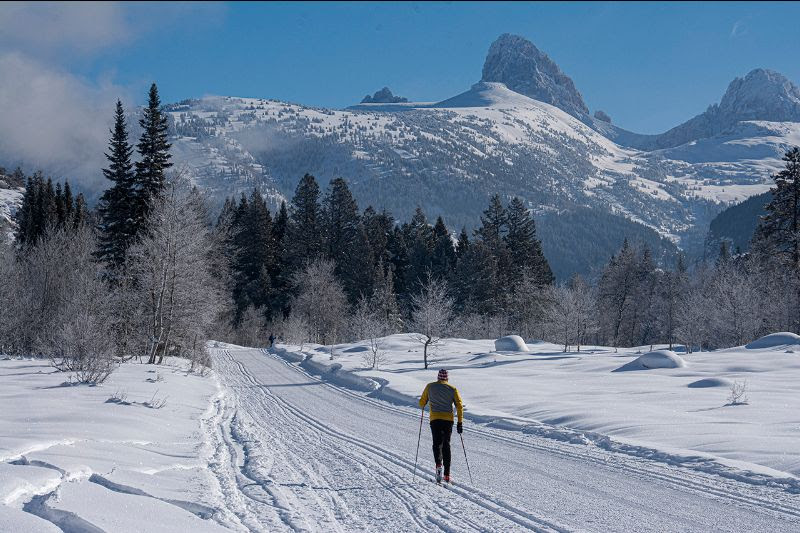 We Love that you Loved the Winter Trails Challenge!
We were overwhelmed by the participation and excitement for our first Winter Trails Challenge! You raised more than $17,000 to keep the Winter Trails program humming in Teton Valley. Thank you for getting after it in the sun, snow, dark, after work, on your lunch break, with your pup or with your team. 

You skied, walked or rode 5178 miles in 6 weeks! That is almost twice what we groomed during the same time frame.
And some shout-outs: 

Top Individual Fundraiser: John Beller – $1521 
Top Individual Mileage: John Beller – 602 miles
Top Team Fundraiser: New Driggs NorDorks – $1638
Top Team Mileage: Ski Like a Mom Squad – 502 miles

We'd also like to recognize the WHALES recreation group (Women Hikers and Literary Epicureans). These amazing ladies registered as individuals but collectively raised more than $4000 during the Challenge. 

Thank you again for your enthusiasm for this fundraiser! 

You can still contribute to TVTAP's fantastic Teton Valley winter grooming program, covering favorite trails such as Teton Canyon, Teton Springs, Alta track, Southern Valley trails and more.
Sunny, late winter days are perfect for exploring GTNP.
Check out the link below to get some ideas for adventures to fill your weekend!
---

Wildlife Calendar of Grand Teton and Yellowstone
In an ecosystem with the dramatic seasonal temperature swings of Grand Teton and Yellowstone National Parks, the landscape and wildlife can look remarkably different from month to month. If you have only visited the parks in one season, returning to visit in another time of year will reveal a whole new world of wildlife activity. Here is a calendar featuring some of the wildlife highlights from month to month across the Greater Yellowstone Ecosystem.
---
Nordic Masters Classic Ski Clinic at Trail Creek
3 groups of classic skiers enjoyed sunny conditions at Trail Creek Nordic today with JH Ski Club coaches, perfect corduroy and classic tracks. New terrain on Trail Creek trails allowed a full range of skills practice!


Last Updated: 3/5
Course Inspection Day!
The teams will be arriving today as the extravaganza of the Western Youth Championships begins. Hundreds of racers in a carefully crafted covid safe schedule will be gracing our trails over the next few days, with inspection today and racing tomorrow and Sunday. Click on the link above for all the details.
Today's grooming focused on the race courses but some grooming also happened in the woods. Most of the moose traffic section received skate grooming and Armin's received a fresh classic track. All in all trails are staying pretty pristine through this mini-drought. Except for a few sunny spots little melting has occurred; although grooming will be spotty because of the races through the weekend, look for pretty good conditions to last in the woods (which are open to public skiing) throughout the weekend.
Please be off the race courses by 5:30 PM today so evening grooming can begin for tomorrow's races.
Groomer's choice for today is to safely check out the inspectors.
---
Last Updated: 3/5
Cache creek and May park are groomed. Classic tracks are starting to get shallow but they should still ski nicely. Also, game creek And three creek pathway are groomed and in good shape. Classic tracks are shallow at three creek.

---
Last Updated: 2/20
We rolled Cache Hagen Sidewalk and Hagen Highway this evening and will snowshoe the trails near the trailhead this weekend.
Grooming provided by Friends of Pathways.
---
Last Updated: 2/27
Trip Report Sat. Feb 27th update:
Wide open spaces with friendly , occasional, passing encounters, families, friends, couples all enjoying the sunshine and perfect grooming at Teton Pines. Look forward to more of these conditions all week! Groomed every morning.

Call us for specific retail questions (307) 699-3394 or tetonpinesxc@gmail.com. Our hours are 9am-4pm daily.
---
Last Updated: 3/4
Grooming today (Thursday 3/4) will be ongoing through about 10 am, as a mechanical issue with the snowcat delayed our start. Overall, skiing should continue to be very enjoyable through this weekend with lots of sunshine and warmer temperatures in the forecast. The warm afternoon temps combined with cold overnight lows will begin to promote springtime conditions. Skiers will now encounter a hardpacked surface with icy sections and inconsistent classic track depths, as the grooming equipment struggles to cut through the evolving icier profile compared to the previous packed powder like snow. Typically, in the springtime, conditions will be icier/firmer in the morning, softer around lunchtime/early afternoon, and potentially slushy by late afternoon. Please, plan ahead and be prepared on warm days that trail conditions will be constantly changing throughout the whole day. Lastly, we finished the black sand application to the greens and a friendly reminder to always stay off these surfaces. Enjoy the skiing and soak up the sunshine! Next Update will be Monday 3/8.
Please See the following Restrictions
Dog Loops & All Nordic Skiing Trails OPEN
Sled Hill OPEN
Classic Tracks SET
Snow Shoeing Loop OPEN
Casual Walking Not Permitted
---
Last Updated: 2/17
Teton Village Pathway from Lake Creek Bridge north to just south of the GTNP moose-wilson road south entrance was groomed this morning. Nice for an easy , flat nordic ski, fat bike , or trail run. Or if you're commuting by ski or bike from Wilson or Jackson!
Groomed by Jackson Hole Mountain Resort, and funded by Teton Village Association .
---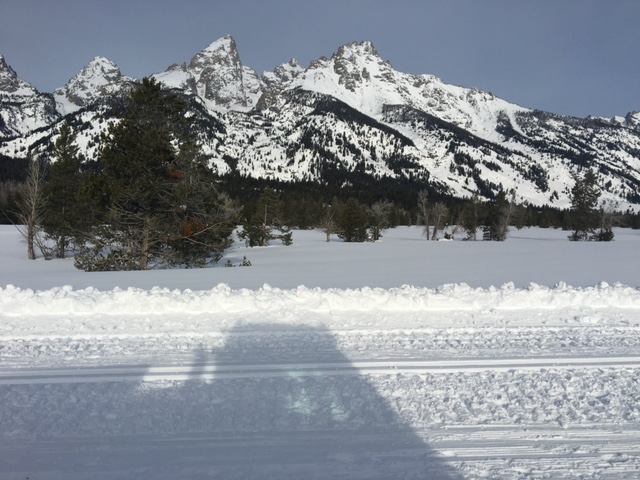 Last Updated: 3/5
Groomed trail Taggart to Signal Mtn took place today, with excellent skate and classic tracks. Great time of year to ski the full 14.5 miles (one way).
Just a reminder, there will be no grooming on the TPR on Tuesday, 3/9, as the park will be using their bombardier over snow vehicle on the TPR to move park service crews up to Lupine Meadows to do work on structures. . Grooming will resume on Friday 3/12, per normal schedule. 

The last day of the grooming for the season is currently anticipated to be Friday 3/19. Get out there and enjoy the beautiful trails while we can!
---
Last Updated: 3/4
Another blue-bird day today! Warming up quickly and the trails are going to be fast! Only a few more days to get out and enjoy the ranch while we're open! We are going to be CLOSED for lunch Sunday (4/7). If you're new to skiing or wanting to refine your skills, book a ski lesson with our professional ski instructor Elee (she also does guided tours)! She is a wealth of knowledge and can help take your Nordic skiing, whether it be skate or classic, to the next level! To help with social distancing and to get you on the trails faster please purchase your trail passes and sign your waivers online in advance (see link below). As always, remember to recreate responsibly. Bring a mask as it is required to enter the lodge. Lunch and dinner are both by reservation only.
https://www.turpinmeadowranch.com/adventures/winter-adventures/
https://www.turpinmeadowranch.com/the-ranch/live-conditions/
https://www.turpinmeadowranch.com | 307.543.2000, office
---
Last Updated: 3/5
Cross Country/Fat Bike 15k: XC OPEN (Last groomed 3/4/2021, Fat Bike CLOSED.

Trail Etiquette: Please keep your dogs leashed in the parking lot and be sure to clean up after them!
---
Grooming Schedule: Tuesday, Thursday, & Sunday
Last Updated: 3/5
Skate: Set | Classic: Not Set
Friday night groom for Saturday: Skate track set on all loops – got rid of most of the post holes – people, doggies, critters, sitzmarks, etc. – it was pretty ugly in front of me but looked pretty good behind the ginzu in the dark. Think the early skaters on Saturday will be happy – fast and hard. Tried to reset classic track, but it was pretty frozen and decided I could not improve on what is there, which is not bad.
Please do not park in the library parking lot. Please be sure to keep your dogs on a leash and to clean up after them.
---
Grooming Schedule: Monday, Wednesday & Friday
Last Updated: 3/3
Skate: Set | Classic: Set
Smoothed the skate track with drag this morning. Left the classic track alone.
---
Grooming Schedule: Monday, Wednesday, Friday
Last Updated: 3/5
Skate: Set | Classic: Not Set
I used the drag at Sherman Park to fill in all the potholes and frozen chunder. The skate track is set should be good in cooler temperatures. I did not set the classic track. You should expect it to get real soft in the warm temperatures. Be aware. Enjoy the glide.
---
Grooming Schedule: Monday, Wednesday, Friday, Saturday
Last Updated: 3/4
Skate: Set | Classic: Set
Thursday afternoon: Tried to take advantage of warm weather to smooth out skate track. Turned out well, for the most part. Reset the first mile of classic, after that I could not improve, still in fair shape. Overall, variable, spring conditions. The road going in may require 4 wheel drive, depending on time of day.
---
Grooming Schedule: Tuesday, Friday, Sunday
Last Updated: 3/2
Skate: Set | Classic: Set
A groomed Campground and Yetis loop's this morning. I think this is going to set up really well and make for an incredible day of gliding. I did not reset the classic track as it was still in good shape. Enjoy the incredible weather and beautiful sunshine.
No dogs December 1 – April 15.
---
Grooming Schedule: Tuesday, Thursday, & Saturday
Last Updated: 3/5
Skate: Set | Classic: Set | Singletrack: Set
I groomed and set the classic track, skate track and singletrack fri night. It's not perfect though it is better than it was. Watch out for the monster hole on the lollipop loop. I got a little stuck. Enjoy.
No dogs allowed.
---
5th Street Singletrack
Grooming Schedule: As needed
Last Updated: 2/18
Singletrack: Set
Got the trail packed in and buffed out yesterday afternoon. It will be good till the next round of snow arrives.
---
Southern Valley Singletrack
Grooming Schedule: As needed
Last Updated: 3/3
Singletrack: Set
Rolled the power line from Mike Harris to lower lady slipper and lower ladyslipper singletrack. Should be good once everything refreezes tonight. Enjoy!
No dogs December 1 – April 15.
---
Darby Canyon
Grooming Schedule: As needed
Last Updated: 2/26
Groomed to Pinnacle TH – 2/25
---
South Leigh Road
Grooming Schedule: As needed
Last Updated: 3/3
Grooming 3/3/2021
---
Pinnacle Trail
Grooming Schedule: As needed
Last Updated: 2/26
Groomed to upper meadows – 2/25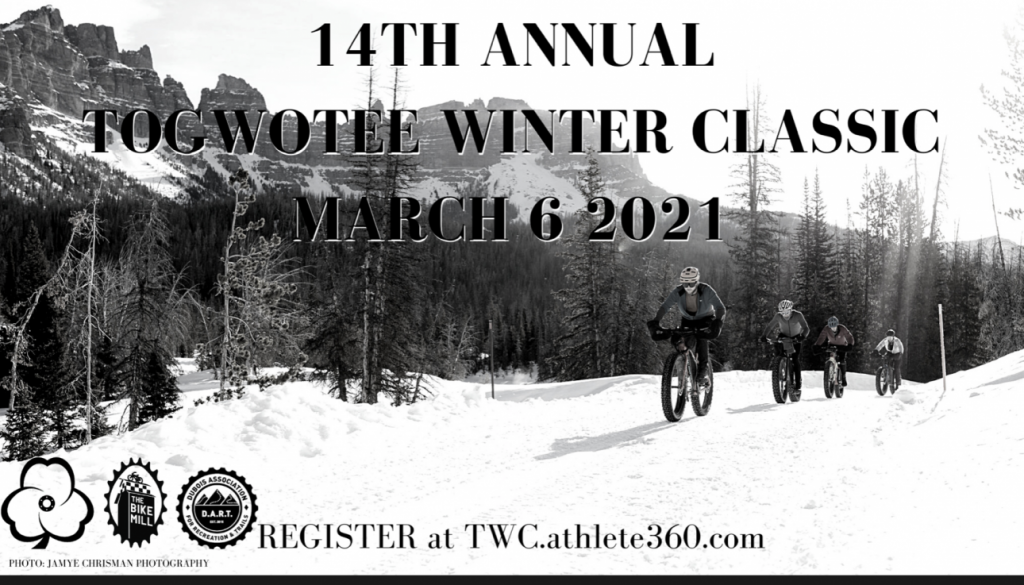 14th Annual Togwotee Winter Fat Bike Classic
BROOKS LAKE PARKING LOT | TOGWOTEE PASS EASTSIDE 7:00AM-3:00 PM
SATURDAY MARCH 06, 2021
Togwotee Winter Classic is a not-for-profit and currently the longest standing, contiguous fat bike race in the Lower 48. The ride takes place on groomed snow and/or snowmobile trails at 8000′ to 9,600′ in elevation on the Continental Divide under extreme winter conditions.
Entry Fee: Free
Registration: 74 Racer Limit — please register on Athlete360 to reserve your spot.
---
---
We'd love to hear about your outdoor adventures, what your doing to stay healthy, safe, respectful of community health guidelines – send pictures or post on FB and Insta – #JHNordic