---
---
Nordic Masters Classic Ski Clinic at Trail Creek
3 groups of classic skiers enjoyed sunny conditions at Trail Creek Nordic today with JH Ski Club coaches, perfect corduroy and classic tracks. New terrain on Trail Creek trails allowed a full range of skills practice!
---
Sunny, late winter days are perfect for exploring GTNP.
---
March 3, 2021 Nature Update

Provided by Cathy Shill, founder of The Hole Hiking Experience
www.holehike.com

There are two ways to live, one is as though nothing is a miracle. The other is as if everything is. -Albert Einstein

The month of March begins with bright sun and blue skies. The warmth of the sun brings a welcome change after all the recent storms in Jackson Hole.

In general, wildlife waits until a storm ends to move through the landscape. Animals do their best to preserve calories and reduce energy loss. They wait to move to give the new snow time to settle and condense. Animals get quite active about three days after a storm.

A highlight of winter touring is the story of the landscape. Animal tracks show us who moves through an area and what they are doing. These diverse photos show a moose track, the waddle of a porcupine, the slide of an otter and wing prints of a raven looking for a meal. It's fun to observe and interpret the scene.

Join us to learn about tracks and the stories of the forest. We discuss how animals move or travel. Four legged, long legged animals alternate when they walk such as canines, deer family, sheep and mountain lions. Members of the rodent and rabbit family hop and weasels will bound. Moving through snow leaves a story and you can observe and reflect on what happened and who it may be. Animals in the same family move in a similar way. Enjoy the photos and if you are curious whose track, just let me know.

I travelled to Sun Valley earlier this week and as soon as we left our white landscape, we began to see birds on their way to Jackson Hole. The song of red-winged blackbirds filled the air. A song sparrow came to greet us and the start of the day. We saw both northern harriers and red-tail hawks hunting over the fields. They are following the warm wind and melting snow and will soon be seen in this valley.

Enjoy the sun and warm temperatures. South slopes will be the first to melt so look for the mule deer on the hillsides above town. Spring is definitely in the air this week and more winter will come so enjoy!

The Hole Hiking Experience | www.holehike.com | 307.690.4453
---
Last Day to Nominate JHNordic for Best Family Friendly Activity and Best Website!
Nominations for Best of Jackson Hole 2021 are now open. You have until Friday, March 5 at 12 p.m. to nominate your favorites! We'd love your nomination for our website and as Best Family Friendly Activity. Nordic skiing is fun for all ages and our website provides all the tools needed to get out on the snow with 100+ GPS trail maps, grooming info and resources!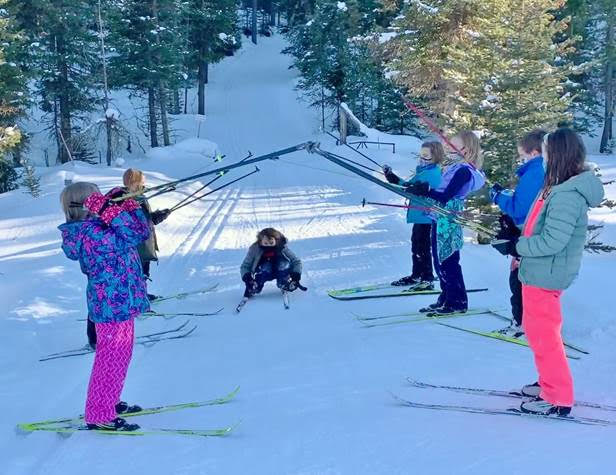 Last Updated: 3/4
Learning to Ski!
Whether it's Coach Libby's Teewinots practicing Nordic Chivalry above or Coach Scott leading a group of master skiers today at Trail Creek, skiers can continue to learn new things about the wonderful world of Nordic skiing throughout their lives, just open your mind and take advantage of the opportunities around you.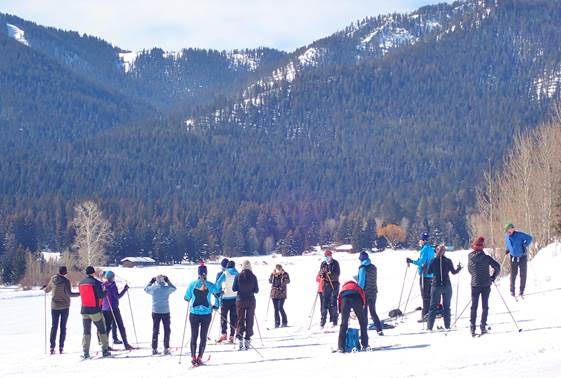 If you're looking for opportunities to learn more about skiing or simply just to ski, Trail Creek would be a great place to start today. Overnight temperatures plummeted leaving early morning hard conditions, but the Pisten Bully has been hard at it today, grooming most trails throughout today's grooming session. Special emphasis was given to the close field, not only for today's master classic class, but also in fine tuning recent additions in preparation for Saturday and Sunday's Western Youth Championships.
Except for the close field, the very sunny classic tracks are a bit melted today although the ones in the shade are skiing nicely, Most trails did receive skate grooming today and all in all conditions are nice.
Don't forget that the fields will be closed over the weekend but the woods will still be open.
Groomer's choice for today is to learn to ski.
---
Last Updated: 3/4
The school fields and the levee are groomed and will be firm and fast. Stilson will be done around 10:30.
---
Last Updated: 2/20
We rolled Cache Hagen Sidewalk and Hagen Highway this evening and will snowshoe the trails near the trailhead this weekend.
Grooming provided by Friends of Pathways.
---
Last Updated: 2/27
Trip Report Sat. Feb 27th update:
Wide open spaces with friendly , occasional, passing encounters, families, friends, couples all enjoying the sunshine and perfect grooming at Teton Pines. Look forward to more of these conditions all week! Groomed every morning.

Call us for specific retail questions (307) 699-3394 or tetonpinesxc@gmail.com. Our hours are 9am-4pm daily.
---
Last Updated: 3/4
Grooming today (Thursday 3/4) will be ongoing through about 10 am, as a mechanical issue with the snowcat delayed our start. Overall, skiing should continue to be very enjoyable through this weekend with lots of sunshine and warmer temperatures in the forecast. The warm afternoon temps combined with cold overnight lows will begin to promote springtime conditions. Skiers will now encounter a hardpacked surface with icy sections and inconsistent classic track depths, as the grooming equipment struggles to cut through the evolving icier profile compared to the previous packed powder like snow. Typically, in the springtime, conditions will be icier/firmer in the morning, softer around lunchtime/early afternoon, and potentially slushy by late afternoon. Please, plan ahead and be prepared on warm days that trail conditions will be constantly changing throughout the whole day. Lastly, we finished the black sand application to the greens and a friendly reminder to always stay off these surfaces. Enjoy the skiing and soak up the sunshine! Next Update will be Monday 3/8.
Please See the following Restrictions
Dog Loops & All Nordic Skiing Trails OPEN
Sled Hill OPEN
Classic Tracks SET
Snow Shoeing Loop OPEN
Casual Walking Not Permitted
---
Last Updated: 2/17
Teton Village Pathway from Lake Creek Bridge north to just south of the GTNP moose-wilson road south entrance was groomed this morning. Nice for an easy , flat nordic ski, fat bike , or trail run. Or if you're commuting by ski or bike from Wilson or Jackson!
Groomed by Jackson Hole Mountain Resort, and funded by Teton Village Association .
---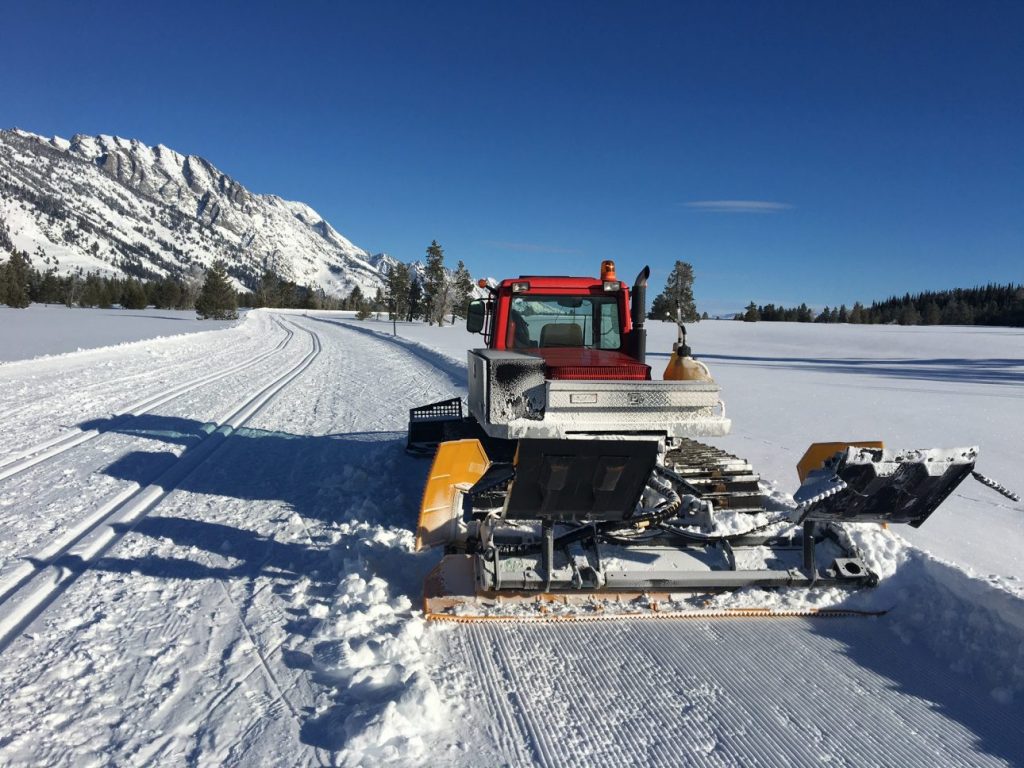 Last Updated: 3/2
What a beautiful day to be grooming in GTNP. Taggart Lake Trailhead to South Jenny
---
Last Updated: 3/4
Another blue-bird day today! Warming up quickly and the trails are going to be fast! Only a few more days to get out and enjoy the ranch while we're open! We are going to be CLOSED for lunch Sunday (4/7). If you're new to skiing or wanting to refine your skills, book a ski lesson with our professional ski instructor Elee (she also does guided tours)! She is a wealth of knowledge and can help take your Nordic skiing, whether it be skate or classic, to the next level! To help with social distancing and to get you on the trails faster please purchase your trail passes and sign your waivers online in advance (see link below). As always, remember to recreate responsibly. Bring a mask as it is required to enter the lodge. Lunch and dinner are both by reservation only.
https://www.turpinmeadowranch.com/adventures/winter-adventures/
https://www.turpinmeadowranch.com/the-ranch/live-conditions/
https://www.turpinmeadowranch.com | 307.543.2000, office
---
Last Updated: 3/4
Cross Country/Fat Bike 15k: XC OPEN (Last groomed 3/2/2021, Fat Bike CLOSED.

Trail Etiquette: Please keep your dogs leashed in the parking lot and be sure to clean up after them!
---
Grooming Schedule: Tuesday, Thursday, & Sunday
Last Updated: 3/4
Skate: Set | Classic: Set
Finished up grooming today at 8:45am (Thursday). Just hit the skate lanes and left the classic track alone- it is still firm and looking good.
Please do not park in the library parking lot. Please be sure to keep your dogs on a leash and to clean up after them.
---
Grooming Schedule: Monday, Wednesday & Friday
Last Updated: 3/3
Skate: Set | Classic: Set
Smoothed the skate track with drag this morning. Left the classic track alone.
---
Grooming Schedule: Monday, Wednesday, Friday
Last Updated: 3/3
Skate: Set | Classic: Set
Groomed the skate track and the walker\fat bike trail. Trail is in decent shape this morning. Did not reset the classic track. The set for Monday was still in decent shape and I did not think I could improve it. Get out there and ski before the sun softens everything up. Enjoy!
---
Grooming Schedule: Monday, Wednesday, Friday, Saturday
Last Updated: 3/4
Skate: Set | Classic: Set
Thursday afternoon: Tried to take advantage of warm weather to smooth out skate track. Turned out well, for the most part. Reset the first mile of classic, after that I could not improve, still in fair shape. Overall, variable, spring conditions. The road going in may require 4 wheel drive, depending on time of day.
---
Grooming Schedule: Tuesday, Friday, Sunday
Last Updated: 3/2
Skate: Set | Classic: Set
A groomed Campground and Yetis loop's this morning. I think this is going to set up really well and make for an incredible day of gliding. I did not reset the classic track as it was still in good shape. Enjoy the incredible weather and beautiful sunshine.
No dogs December 1 – April 15.
---
Grooming Schedule: Tuesday, Thursday, & Saturday
Last Updated: 3/4
Skate: Set | Classic: Set | Singletrack: Not Set
Reset skate, classic was already in decent shape. The first half of the track (for us counter clockwise skiers) is a little "kitty litter-y" due to having to go deeper to mitigate the damage done by walkers (sigh). Should be firm and fast in no time, and a ripper ride. Cheers!
No dogs allowed.
---
5th Street Singletrack
Grooming Schedule: As needed
Last Updated: 2/18
Singletrack: Set
Got the trail packed in and buffed out yesterday afternoon. It will be good till the next round of snow arrives.
---
Southern Valley Singletrack
Grooming Schedule: As needed
Last Updated: 3/3
Singletrack: Set
Rolled the power line from Mike Harris to lower lady slipper and lower ladyslipper singletrack. Should be good once everything refreezes tonight. Enjoy!
No dogs December 1 – April 15.
---
Darby Canyon
Grooming Schedule: As needed
Last Updated: 2/26
Groomed to Pinnacle TH – 2/25
---
South Leigh Road
Grooming Schedule: As needed
Last Updated: 3/3
Grooming 3/3/2021
---
Pinnacle Trail
Grooming Schedule: As needed
Last Updated: 2/26
Groomed to upper meadows – 2/25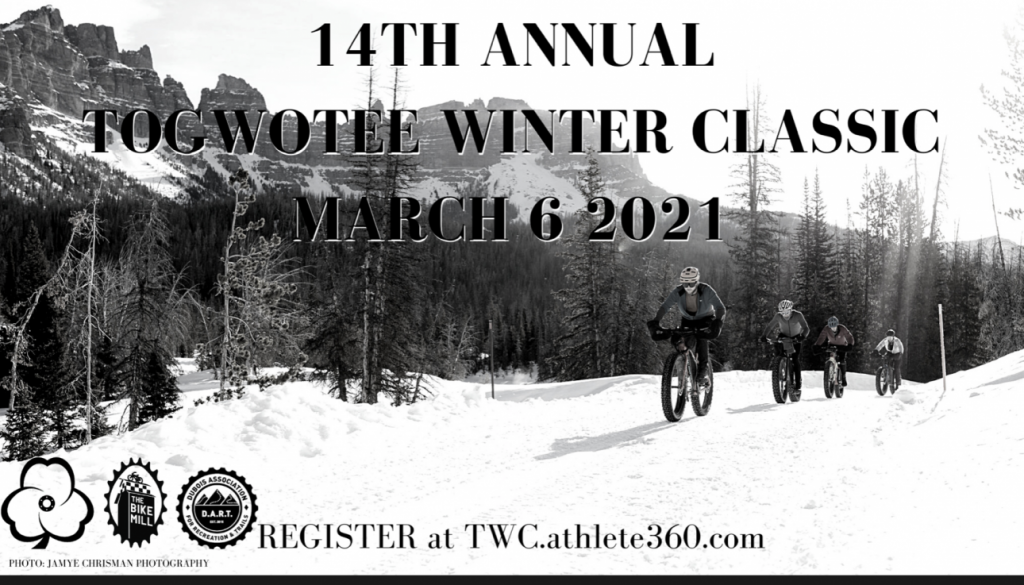 14th Annual Togwotee Winter Fat Bike Classic
BROOKS LAKE PARKING LOT | TOGWOTEE PASS EASTSIDE 7:00AM-3:00 PM
SATURDAY MARCH 06, 2021
Togwotee Winter Classic is a not-for-profit and currently the longest standing, contiguous fat bike race in the Lower 48. The ride takes place on groomed snow and/or snowmobile trails at 8000′ to 9,600′ in elevation on the Continental Divide under extreme winter conditions.
Entry Fee: Free
Registration: 74 Racer Limit — please register on Athlete360 to reserve your spot.
---
---
We'd love to hear about your outdoor adventures, what your doing to stay healthy, safe, respectful of community health guidelines – send pictures or post on FB and Insta – #JHNordic