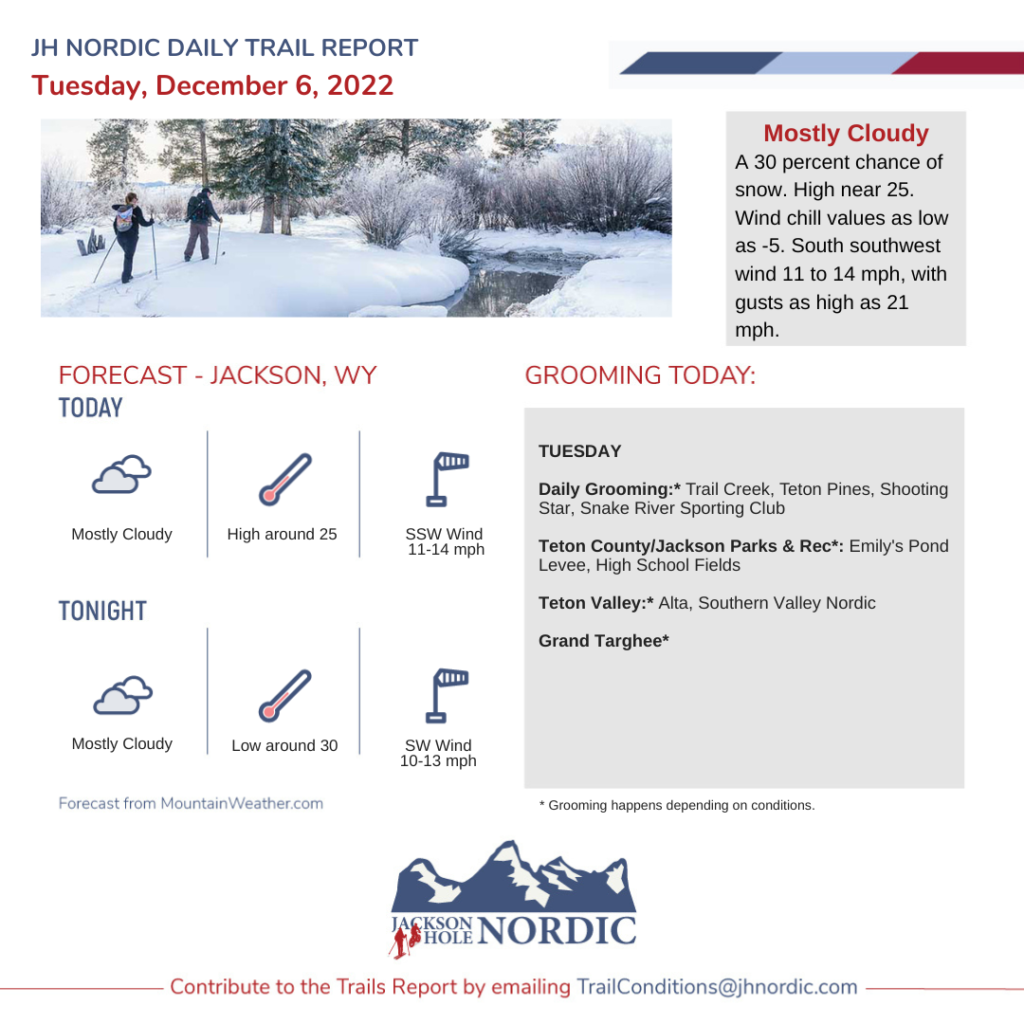 ---
Nordic Masters Clinics
Our clinics are just around the corner! Don't miss out on this opportunity to be a part of the Nordic community and improve your skiing technique! First clinic is Thursday, December 15th, focusing on classic XC ski.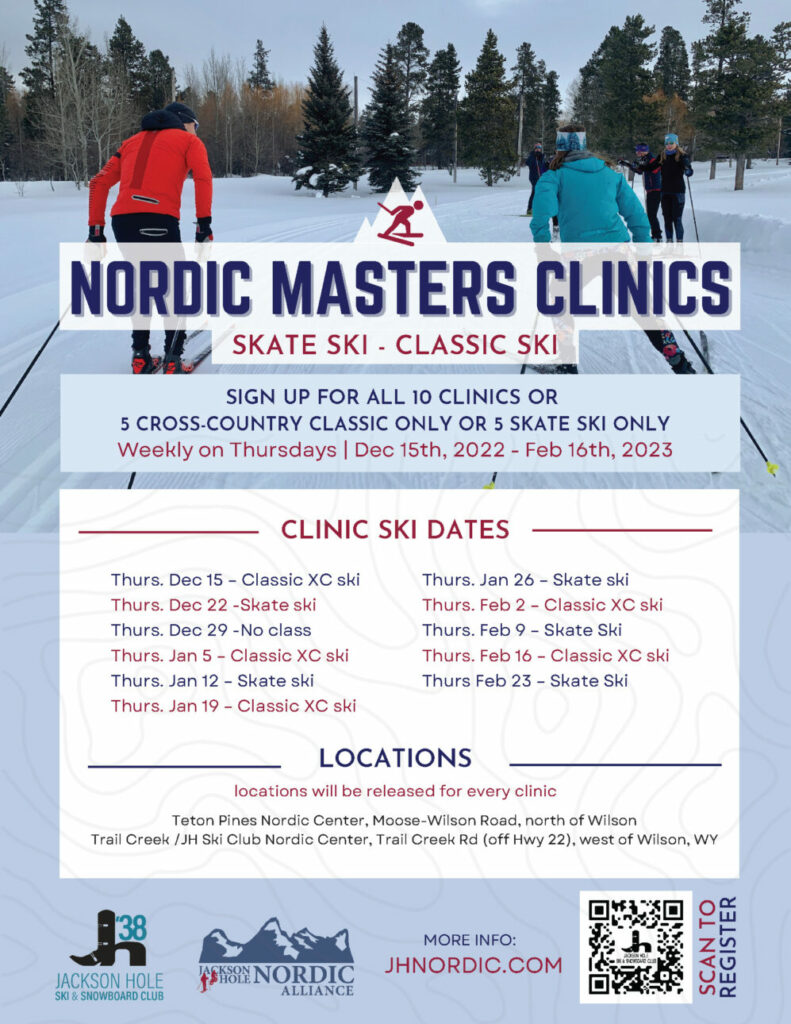 ---


Know Before You Go
As winter begins and the snow piles up, we're all excited to get out and explore! But don't forget to do your research beforehand and make a plan prior to putting on the skis. Check the weather, the avalanche report, and your equipment. Know before you go, and don't forget to #RecreateResponsibly.





---
Winter Conditions
While all of this snow has been great for recreation it is making for challenging driving conditions. Cars have been sliding off the road, please be cautious heading to and from the trailhead. Give yourself extra time to get where you're going and make sure you've got a winter kit in your car in case of an emergency.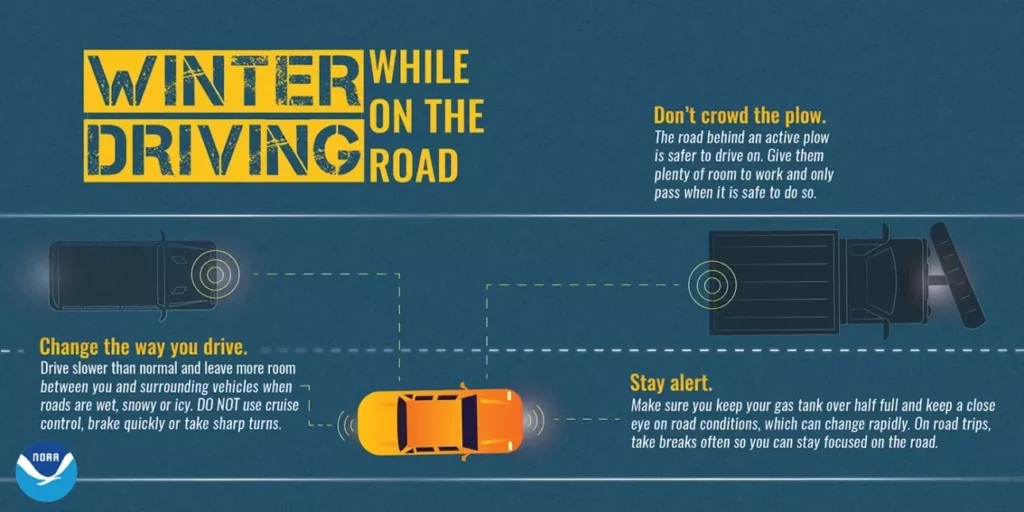 ---
We Want to Hear From You!
Now that there are many Nordic options available we at JH Nordic are hoping that you are getting out to enjoy all of the winter trails while recreating responsibly. We would love to highlight your adventures and your photos in trip reports. If you're willing to share your thoughts and photos please email your stories to info@jhnordic.com. And don't worry, you don't have to share locations if you'd like to keep your favorite spot to yourself.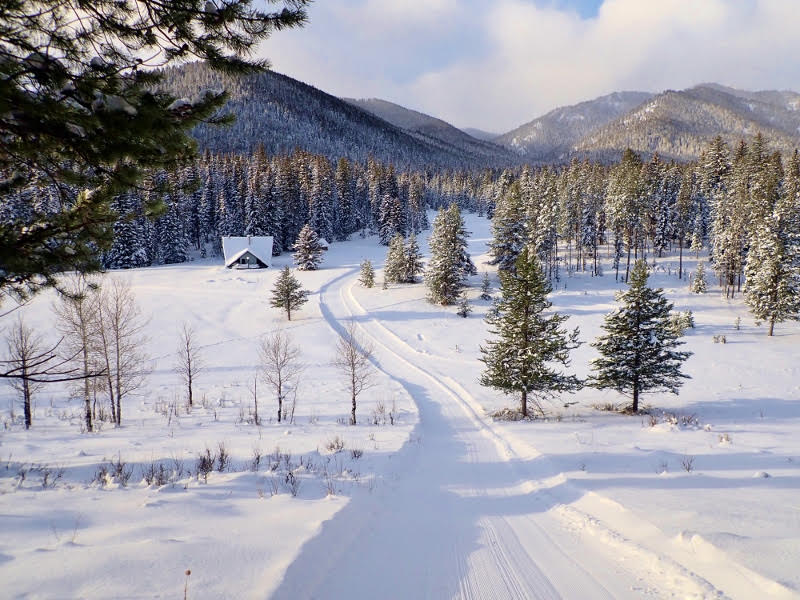 Grooming Daily
Last Update: 12/5

Breezy Monday!
The snow is dancing around the field today with the mildly gusty winds rolling down the canyon. While if you venture into the woods you will find pretty calm conditions, things are drifting rather rapidly in the Close Field as of report time.
Since yesterday's grooming we've received 6-8 inches of pretty heavy snow, just making our base deeper and deeper. The Husky was hard at it today, whomping that fresh powder into some nice ski trails. Today's route covered pretty much every trail except for the East Fields. Armin's, Moose Loop, Animal Farm, and the Close Field all received multiple passes and fresh classic tracks were placed almost everywhere.
Looking ahead, light snow showers are on and off this week, tomorrow looks to be breezy again, Thursday looks to be fantastic day to ski with more snow over the weekend.
Groomer's choice for today is Armin's
---
Grooming Today: Emily's Pond Levee, High School Loop
Last Update: 12/5
First cross country tracks set for the season at Cache Creek. Here's to a good up coming season!
---
Last Update: 11/17
Main Trail (forest service road), Hagen and Ferrin's Trails Grooming
Thanks to Friends of Pathways' Chris O., he has been out doing some early grooming for fat biking and nordic skiing up Cache. We remind walkers to keep to one side in the existing footprints, to maintain a nice smooth trail for skiers and riders. And keep the trail clean, pick up the poop. Respect wildlife and wildlife closure areas. Donate to Friends of Pathways and Friends of Bridger Teton to support these Bridger Teton Forest winter trails.
---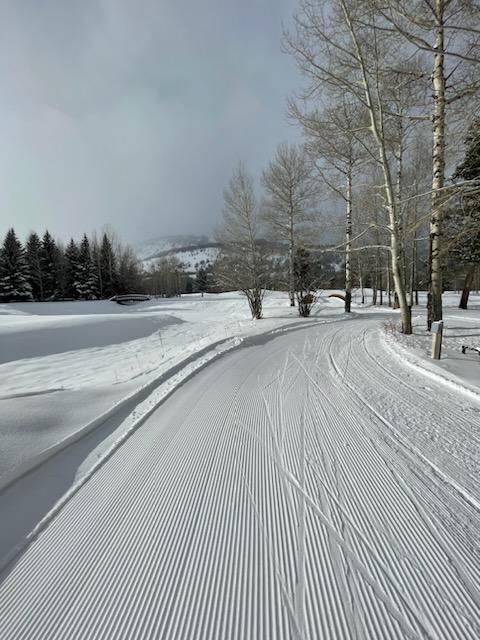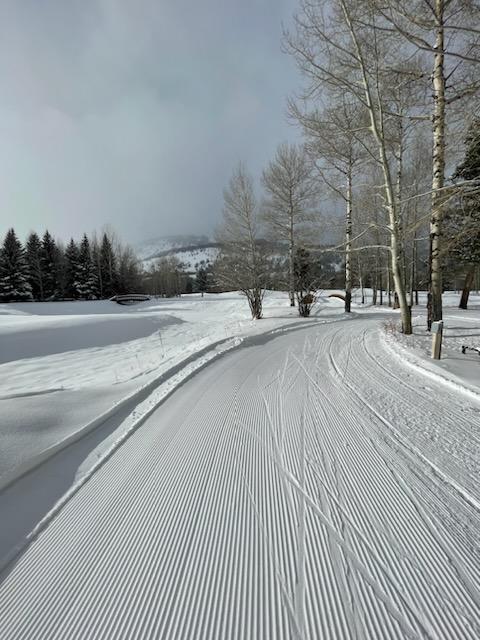 Grooming Daily
Last Update: 12/1
We are open daily to the public for skiing and we groom our 16km of trails everyday for both skate and classic skiing.
Stop by the shop and pick up your season passes and the gear you need for the season! We have a fully stocked retail shop with the latest skis, boots, poles, waxing supplies, and clothing from Swix, Salomon, Alpina, Odlo, Lillsport, Daehlie, Craft, Sauce and more. We offer private lessons daily, skate and classic ski rental packages, and bc xc rentals for the park. We are open 9am-4pm.
Note—We have a new shop phone number this season: (307) 732-4130
---
Grooming Schedule: Sunday, Monday, & Saturday
Last Update: 12/5
All trails are now open. Please be advised that drifting will continue to occur throughout the whole day on Monday (12/5). While it may be a lost day for ideal Nordic skiing, the recent heavy drifting has been very beneficial in forming our initial base, which should pay dividends in providing great early season conditions once weather calms. Look for breezy conditions again tomorrow, follow by calmer weather Wednesday and more snow returning towards the weekend. Reminder that the sled hill is closed Until Saturday (12/10) and we'll be preparing this area throughout the week. Next Update will be on Thursday (12/8).
Ongoing Trail Notes
No Walking Allowed
Sled Hill Closed Until Saturday 12/5/2022
Early Season Conditions Exists (Thin/Bare Spots)
---
Last Update: 12/2
Granite canyon Moose-Wilson road closed until Dec 16th
The portion of the Moose-Wilson Road, south of Death Canyon junction and including Granite Canyon Trailhead, remains closed due to construction activities. The road and trailhead will open to over-snow winter recreation December 16. The northern section of the Moose-Wilson Road remains open.
Taggart to Signal – closed to vehicles, not yet groomed. GTNP will begin grooming from Taggart to Signal Mtn on Friday December 16th. This groomed opening is to coordinate their "start to winter recreation" when the south entrance on the Moose-Wilson Road opens (Granite Canyon trailhead area) (skier track trail to LSR preserve and Phelps Lake ) .
Skiers are welcome to ski on the Teton Park Road on the ungroomed road between Taggart, Jenny Lake, and Signal Mountain prior to the groomed opening. If you ski with a dog, remember to stay on the road at all times, and on leash. Please pick up after your dog, too!
We encourage you to support grooming in Grand Teton National Park, one of Jackson Hole's most beautiful Nordic trails, by donating to the Grand Teton National Park Foundation, underwriter of Nordic grooming: GTNPF.org/donate/ -and note "Nordic grooming". Our community and visitor support make grooming possible!

Please support TVTAP winter trail grooming on your favorite TV winter trails by purchasing a TVTAP Trail sticker Please remember to manage your dogs and respect dog and wildlife closures. Buy a dog trail sticker, too!
Grooming Schedule: Sunday, Tuesday, Thursday, & Saturday
Last Updated: 12/5
Classic Track: Not Set | Fat Bike Trails: Open | Snowshoe Trails: Open
Scattered snowfall throughout yesterday afternoon made for great storm skiing all day long. Additional snow showers will arrive Monday and Tuesday. This snow will be lighter in density and will favor Targhee.
Remember, singletracks will be closed when there is more than 3 inches of snow in a 24 hour period.
---
Grooming Schedule: Tuesday, Thursday, & Sunday
Last Updated: 12/3
Skate: Set | Classic: Set
South loop are fully groomed with ginzu 3 lanes wide w classic set and are in great shape. On the north end, I did 3 passes with ginzu (no classic set) on all loops. The north end is skateable but still rough in a few spots.
---
Grooming Schedule: Monday, Wednesday & Friday
Last Updated: 12/4
Skate: Set | Classic: Not Set
Got a little mushy and tracked out on Sunday. It got rolled Sunday night and hopefully will firm up overnight. Classic track was too wet and did not form well but may be ok.
---
Grooming Schedule: Monday, Wednesday & Friday
Last Updated: 12/5
Skate: Set | Classic: Set
Both Skating and classic tracks have been set before 11am Monday morning. Still some shrubbery stoking through but should ski really nice. Watch out over by school and corral as it could be a little bumpy and rocky from the fireworks zone. Walking m/single track was put in with sled but smoothed out and could use a night to set. Please watch your dogs and pick up after them. Ran over a couple of 💩
---
Grooming Schedule: Monday, Wednesday, Friday & Saturday
Last Updated: 12/5
Skate: Set | Classic: Set
Monday: Plan to reset skate and classic tracks this morning. I think both should turn out all right. Road and parking lot have been plowed and in good shape.
Trail Etiquette: Please keep your dogs leashed in the parking lot and be sure to clean up after them!
---
Grooming Schedule: Tuesday, Friday & Sunday
Last Updated: 12/5
Skate: Set | Classic: Not Set
Groomed and reset the classic and skate track on campground and yetis loops. It should set up well. Enjoy the glide. The parking lot has been plowed.
No dogs December 1 – April 15.
---
Grooming Schedule: Monday, Thursday & Saturday
Last Updated: 12/5
Skate: Set | Classic: Set
Monday evening Teton reserve got a groom. Reset both the classic and skate tracks. It should firm up overnight and make for excellent conditions. Enjoy the glide.
---
Southern Valley Singletrack
Grooming Schedule: As needed
Last Updated: 11/30
Singletrack: Not Set
Spent another 4 hrs packing the snow down so we're not getting overwhelmed with the next storm. Sorry folks still not rideable.
No dogs December 1 – April 15.


Mark your calendar so you don't miss out on all the wonderful events coming up! Explore the highlighted events below or find more events on our website at https://jhnordic.com/events/
---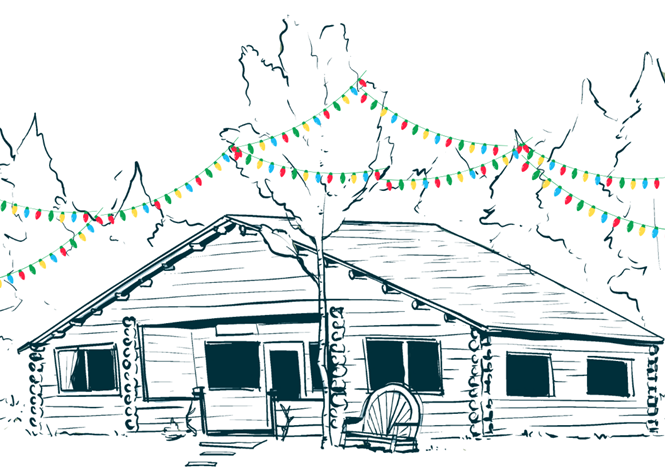 December 11, 2022 | 1:00PM – 4:00PM
Murie Ranch, Moose, WY
Join us for a Murie-inspired Cookie Swap out at the Murie Ranch on December 11th. What's a cookie swap, you might ask? Bring a couple dozen of your favorite cookies and a Tupperware container and the swapping will begin. You'll leave with an assortment of everyone else's best cookies and a very happy heart!
---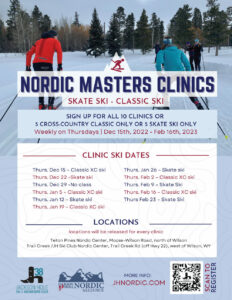 Thursdays – from Mid December to late February
First Clinic (Classic) – Thursday, December 15
Teton Pines Nordic Center
Join us this winter season to increase your ski speed, stamina, and strength. Work on your technique and form with professional tips and exercises from USSA certified coaches. Stay and ski all day with your clinic ski pass at Teton Pines Nordic Center or Trail Creek Nordic Center (we will ski at both locations through out the winter to provide a variety of terrain and technique).
---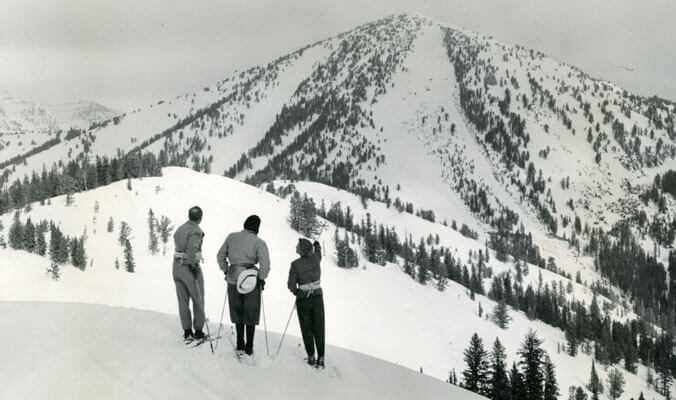 December 26, 2022
Trail Creek Nordic Center
Come work off your Christmas feast in style! This community event offers distances for every age and ability, 10 AM start time with a mass start classic format.
Racers can choose from 0.5k, 3k, 5k, and 10k options.
---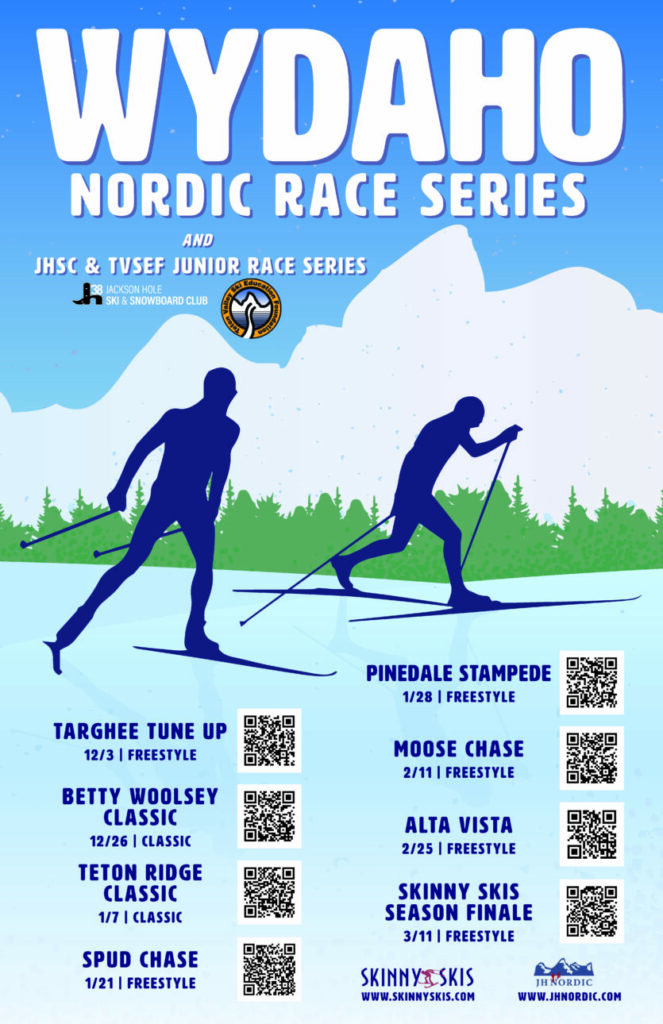 ---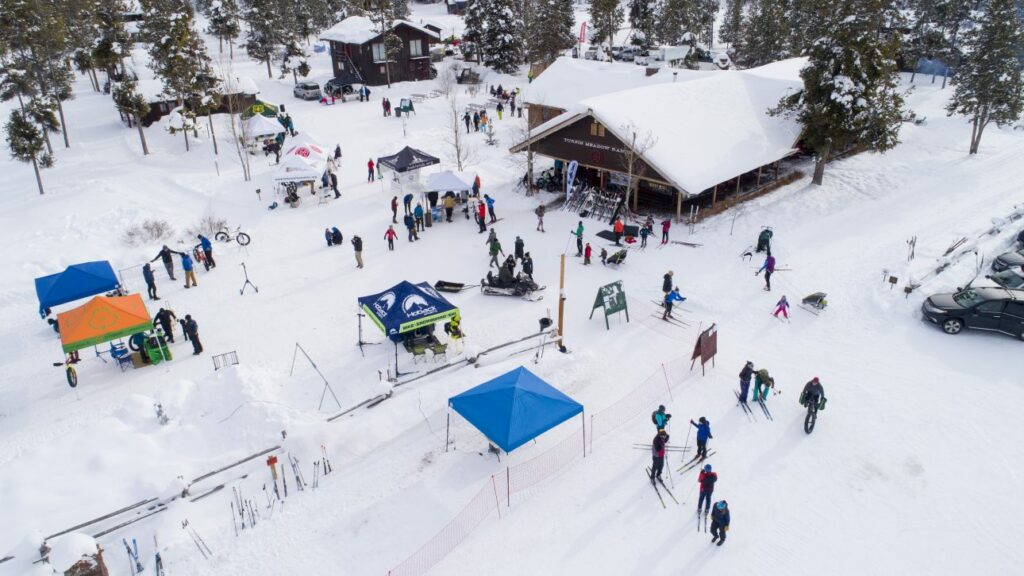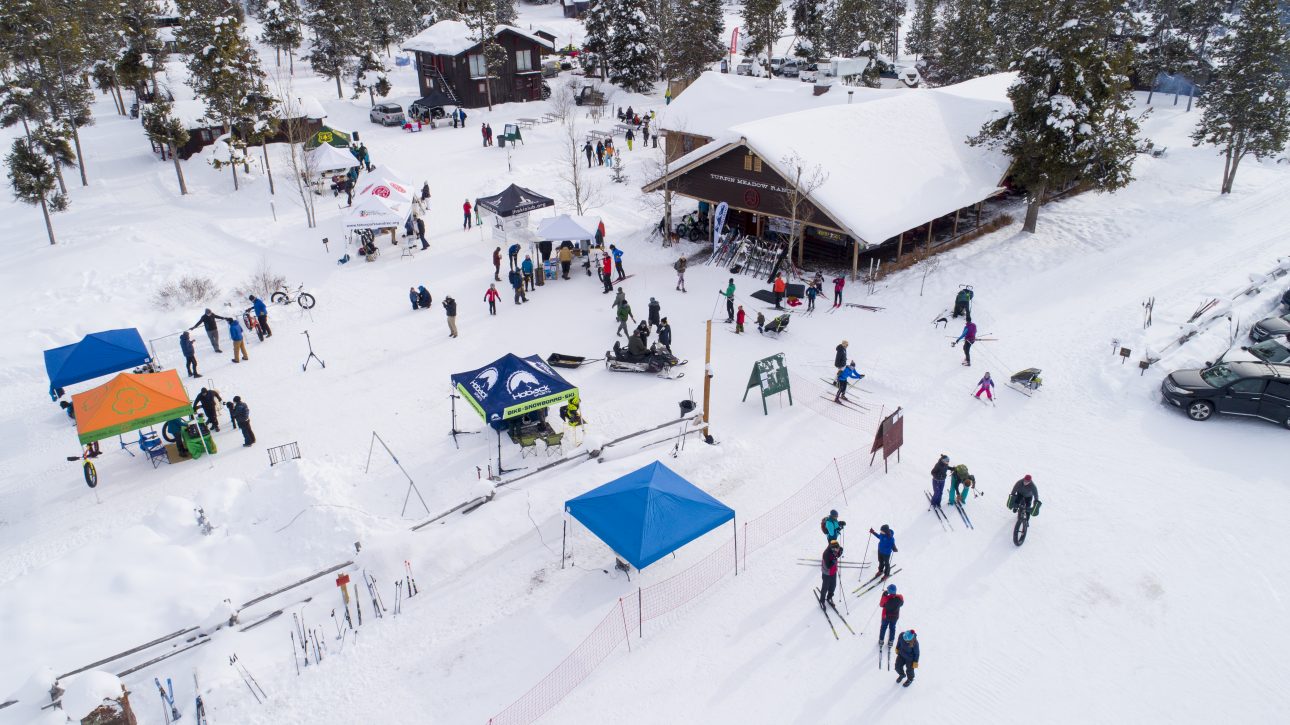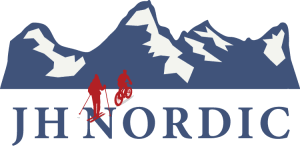 Sunday, January 8th, 2023 | 9:30AM – 3:00PM
Turpin Meadow Ranch
Fun, Free Community Day – with Raffle benefiting local Nordic Alliance non-profit. Free trail pass, Free skate & classic XC ski demo gear, Free fat bike demos, free Nordic ski lessons, Free BackCountry Nordic Ski & Snowshoe tours, Kids Corral (2-5 yr olds), Bridger-Teton USFS wildlife and wilderness info, Kates Bars, Lunch, snacks, hot & cold drinks.

Sponsored by the JH Nordic Alliance members. Family. Friends, visitors, dogs (on leash) welcome. Bring your own skis and bikes recommended to use between free demos and tours.
---
---
---
We'd love to hear about your outdoor adventures, what your doing to stay healthy, safe, respectful of community health guidelines – send pictures or post on FB and Insta – #JHNordic