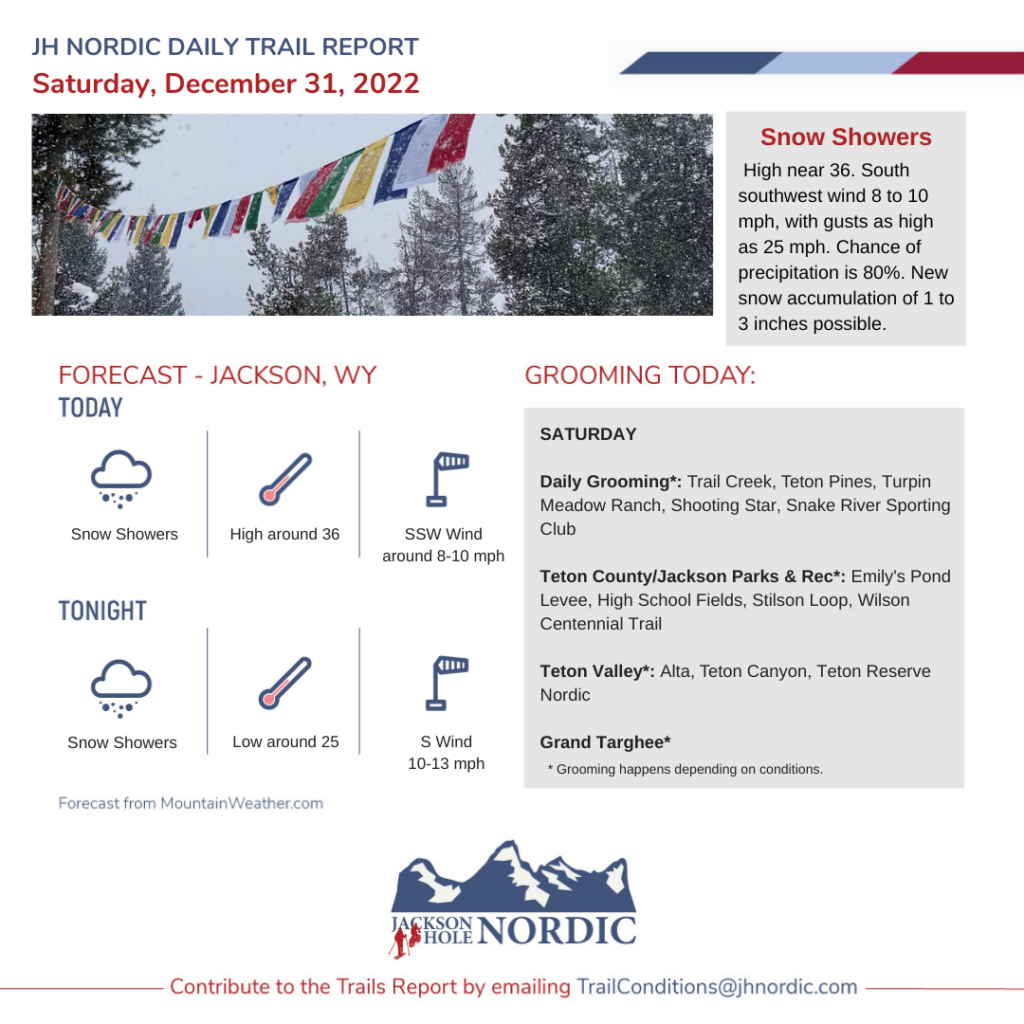 ---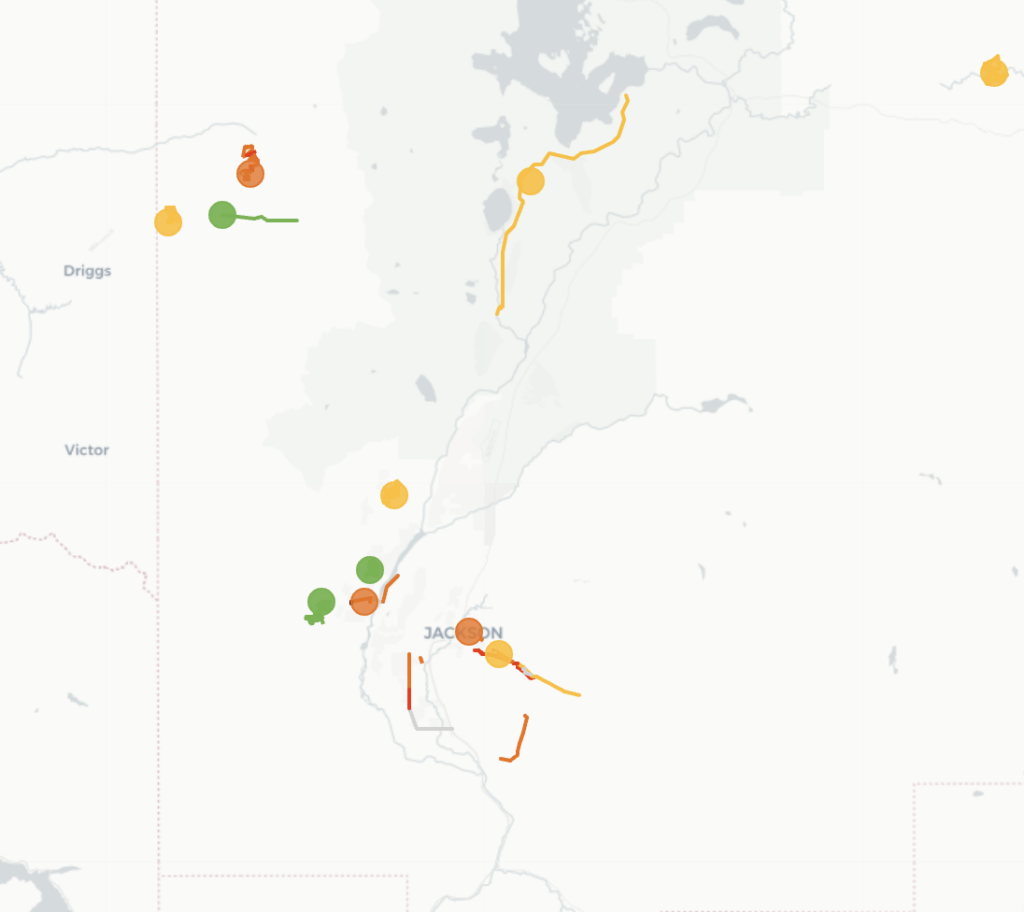 What's Groomed in Jackson Hole/Teton Valley?
See real-time grooming in the Jackson Hole/Teton Valley region. Find all the latest grooming & fresh groomed tracks. Plan your next Nordic Adventure with ease.
---
Lots of Fun at Turpin Meadow Ranch
January 6th: Celebrate the Wolf Moon with a Full Moon & Fondue Night Ski January 8th: Celebrate our Nordic community and introduce folks to Nordic sports with the JH Nordic Alliance Annual Event: Free Nordic Ski, Fat Bike, and Snowshoe Ongoing: Daily packages including shuttles, rentals, Nordic lessons & tours, and lunch!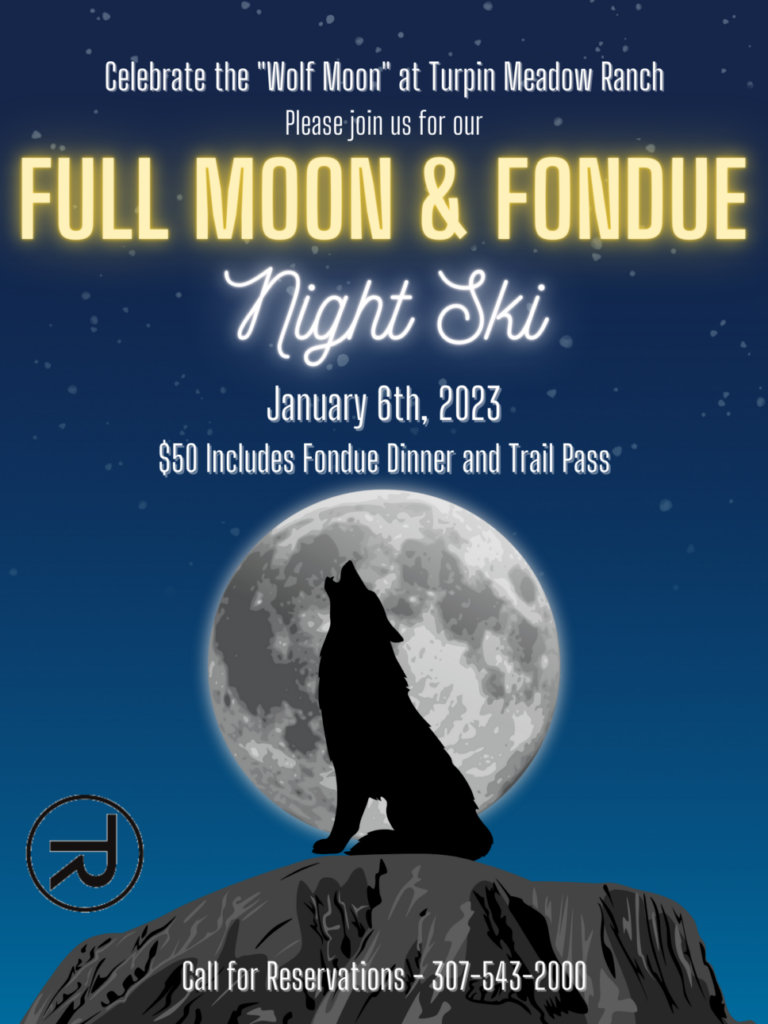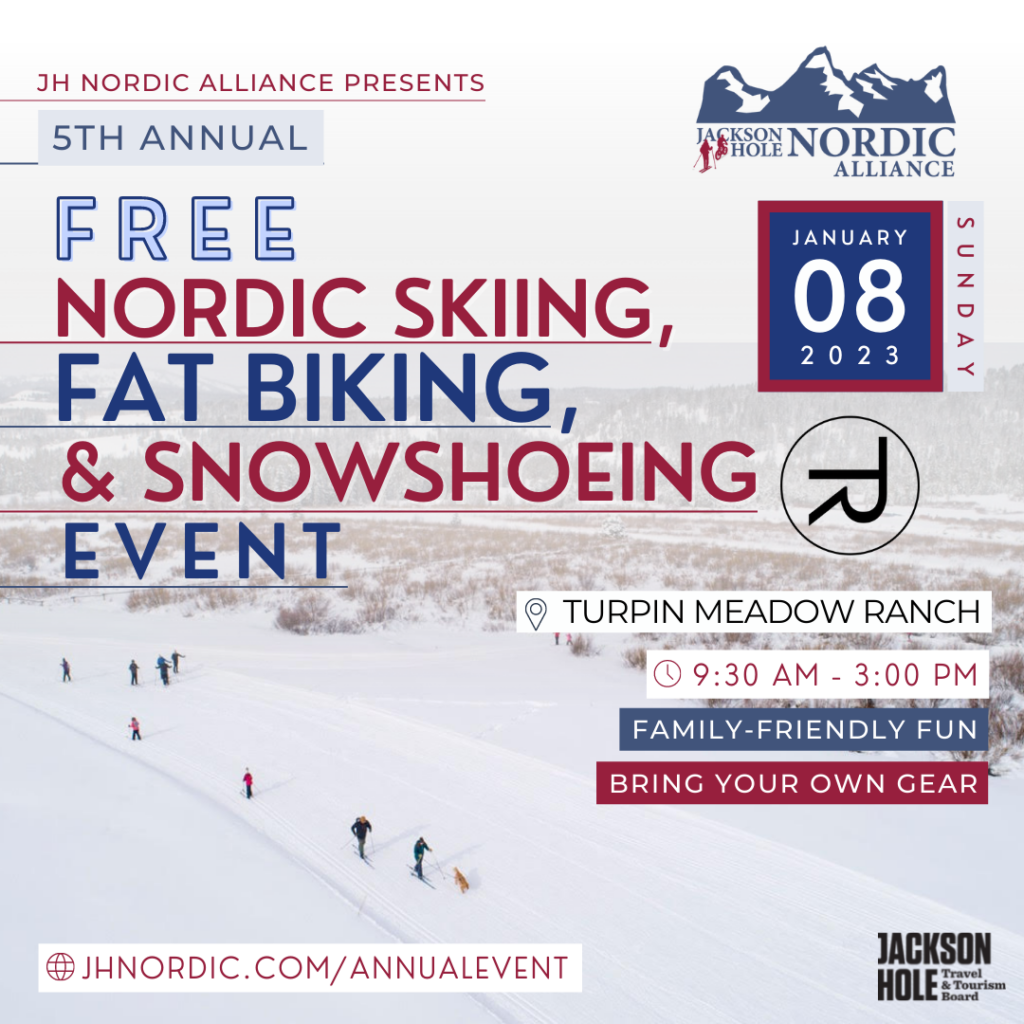 The Jackson Hole Nordic Alliance is thrilled to host our 5th Annual Free Ski, Fat Bike, and Snowshoe Day at Turpin Meadow Ranch on Sunday, January 8, 2023. Astounding scenic views, an amazing community of athletes and locals, and winter sports all come together to make our annual event in Moran a thrill for all ages. Get your blood pumping with family and friends at what has become a favorite community tradition for winter recreation in the Greater Teton Area.
There is a free town to Turpin shuttle for the event on January 8 for the first 20 participants to sign up, email info@jhnordic.com. It is encouraged that you sign your acknowledgement of risk ahead of your arrival so that you can get on the snow and demo gear ASAP. You can also buy your raffle tickets online ahead of the event.
In case you can't join the JH Nordic Alliance for our free Annual event at Turpin on Sunday, Jan 8th, here's an easy way to spend a fun day at the ranch another time!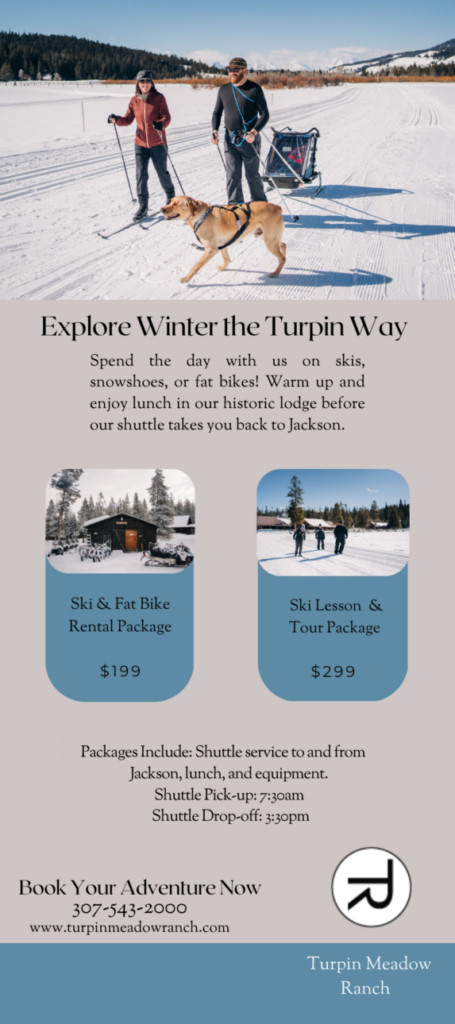 Grooming Daily
Last Update: 12/30
It's a Really Good Day!
The loaner Husky arrived late yesterday afternoon and since then we've been putting it to the test, bringing back all of your favorite trails.  In the past few weeks that Prinoth Husky in the images has travelled from Quebec to Salt Lake City and then on to Trail Creek; quite a journey.  It sounds like our own machine will be back as early as next week.  Its new engine is making a similar, but longer journey, having started in Italy and venturing through the Mercedes shop in Rock Springs along the way.
Today's grooming did cover almost every trail. Fresh classic tracks were placed everywhere and additional passes were made in the Close Field, Woolsey Woods, Armin's, Moose Loop, and Animal Farm.
About three inches of snow has fallen since the beginning of grooming and is forecast to continue at a good clip for some time to come. Skiing today while a little soft is beautiful, especially so as it is on some fresh Husky grooming.
Groomer's choice for today is Armin's.
---
Grooming Today: Emily's Pond Levee, High School Fields, Stilson Loop, Wilson Centennial Trail
Last Update: 12/30
Cache creek and May park are groomed. Both should ski nicely. Game creek is groomed and in decent shape. It will be firm.
---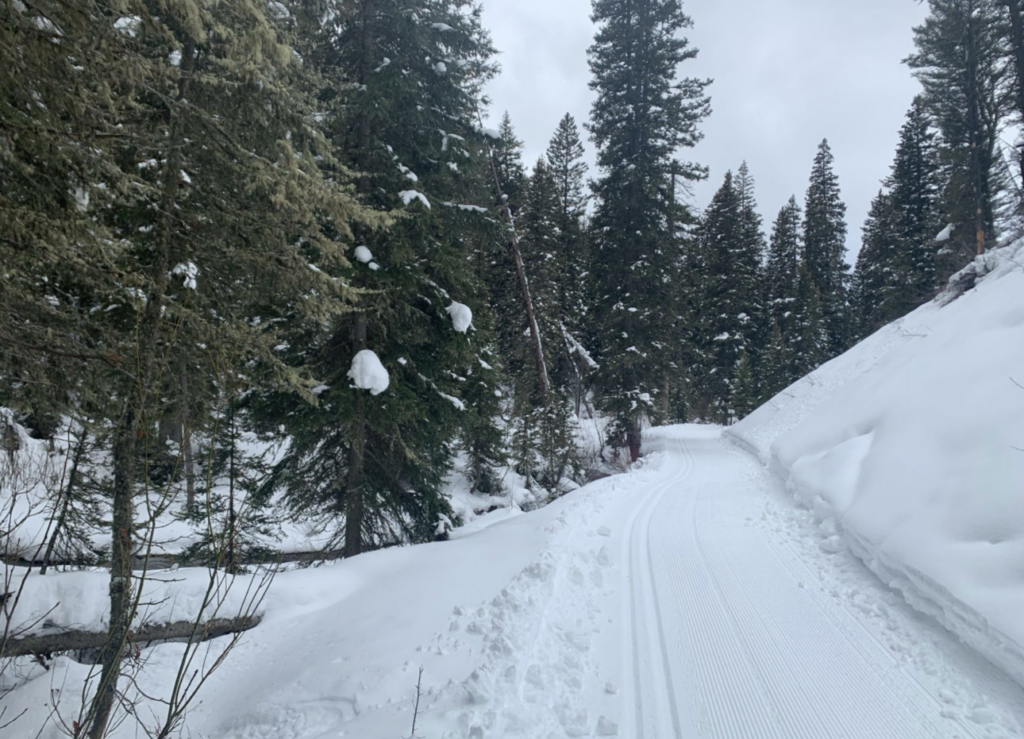 Groomed by Friends of Pathways
Grooming Schedule: As Needed
Last Update: 12/28
Poor grooming conditions. machine tracks were digging deep into the base and the tiller could not cover them up without causing other issues because of all the rain and warm temperatures yesterday. Skiing will be somewhat poor with uneven conditions. The next few days are forecasted to be colder so the bases should firm up allowing me to groom on Friday.
---
Grooming Daily
Last Update: 12/27
We are open daily to the public for skiing. Click here for our current trails grooming and conditions: https://nordic-pulse.com/ski-areas/US/WY/Teton-Pines-Nordic-Center

We offer private skate and classic skiing lessons daily, skate/classic ski rental packages, and bc xc rentals for the park. We are open 9am-4pm. Please call to book lessons and with any other questions.
Note—We have a new shop phone number this season: (307) 732-4130
---
Grooming Daily
Last Update: 12/29
Tuesday's rain/snow weather event left a several inch icy crust/slab that is not very pliable and the warm weather has caused settling throughout the trails. Today's groom will require aggressive blade work to re-level to track and grooming will be ongoing through 10am. Look for the yellow loop to be finished by 8am and the orange perimeter loop by 10am. Trails should ski better than they look, as the current snow quality is granular and coarse. Good news is we are forecasted to receive 1-2 ft of snow over the weekend, which should help freshen things up after this past week's turbulent winds, rain & snow events. Please keep up with the forecast as the next few days could get interesting.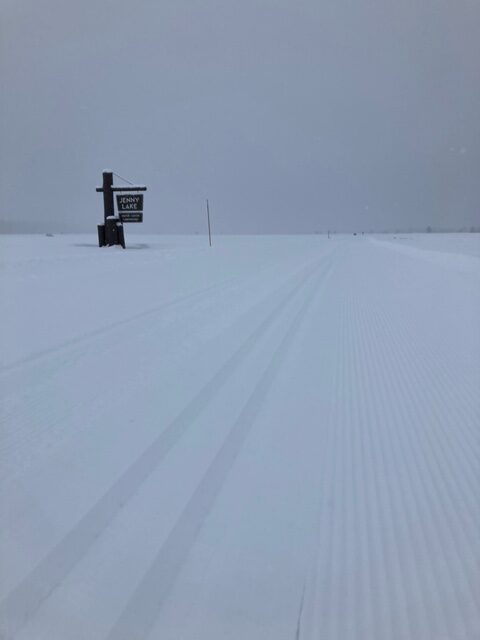 Grooming: Tuesday, Friday, Sunday
Last Update: 12/30
Happy New Year! Taggart to Signal today. (We will not be grooming on New Years Day)
---
Grooming Daily
Last Update: 12/30
We've been enjoying a snowy start to the weekend and the trails are in great condition.
Turpin Meadow Ranch is open to all for skiing, lodging, dining, Nordic lessons, and tours! Ours is a short season so be sure to plan a visit this winter between now and March 13, 2022. Call the office (307) 543-2000 or visit our website to book your adventure and/or meal!


Please support TVTAP winter trail grooming on your favorite TV winter trails by purchasing a TVTAP Trail sticker Please remember to manage your dogs and respect dog and wildlife closures. Buy a dog trail sticker, too!
Grooming Schedule: Sunday, Tuesday, Thursday, & Saturday
Last Updated: 12/30
Classic Track: Not Set | Fat Bike Trails: Closed | Snowshoe Trails: Open
Temperatures are expected to stay in the mid to high teens throughout the day with more snow predicted tomorrow. 
Remember, singletracks will be closed when there is more than 3 inches of snow in a 24 hour period.
---
Grooming Schedule: Tuesday, Thursday, & Sunday
Last Updated: 12/29
Skate: Not Set | Classic: Not Set
Delayed start today. Planning to get out there around 1PM.
---
Grooming Schedule: Monday, Wednesday & Friday
Last Updated: 12/30
Skate: Set | Classic: Set
After grooming the track this morning the snow began to fall. Conditions will improve considerably now that we have fresh snow to work with.
---
Grooming Schedule: Monday, Wednesday & Friday
Last Updated: 12/28
Skate: Set | Classic: Not Set
Set walking loop and 2 laps around the skate track. Ran out of time, so no classic track till Friday. New snow made a nice set. A bit soft, but expect it to harden up/settle with temps continuing to drop.
---
Grooming Schedule: Monday, Wednesday, Friday & Saturday
Last Updated: 12/30
Skate: Set | Classic: Set
Friday: Plan to groom skate track this morning. Don't think I'll be able to improve classic track, should still be in fair shape, as it was set yesterday.
Trail Etiquette: Please keep your dogs leashed in the parking lot and be sure to clean up after them!
---
Grooming Schedule: Tuesday, Friday & Sunday
Last Updated: 12/27
Skate: Set | Classic: Set
Tuesday morning: Despite tough conditions I was able to get a decent groom on Campground and Yeti. I was able to reset the skate and classic tracks on CG. I only reset the skate track on Yeti due to deteriorating conditions! Enjoy the soggy skiing!
No dogs December 1 – April 15.
---
Grooming Schedule: Monday, Thursday & Saturday
Last Updated: 12/29
Skate: Set | Classic: Set
Thursday morning was able to reset the skate and classic track. The classic is a little thin in the frozen areas that we cannot penetrate. Enjoy the glide.
---
Southern Valley Singletrack
Grooming Schedule: As needed
Last Updated: 12/24
Singletrack: Set
Gary and I Groomed Nemo Grumpy connector Hillbenders Powerline Have fun and Merry Christmas!
No dogs December 1 – April 15.
---
Grooming Schedule: As needed
Groomed by USFS
Last Updated: 12/28
Groomed 12/28 PM to end of road.
---
Grooming Schedule: As needed
Groomed by USFS
Last Updated: 12/23
Groomed 12/23 PM. Enjoy.


Mark your calendar so you don't miss out on all the wonderful events coming up! Explore the highlighted events below or find more events on our website at https://jhnordic.com/events/
---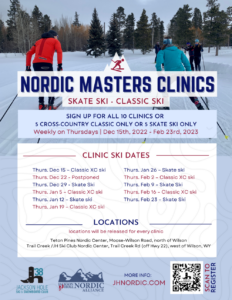 Thursdays – from Mid December to late February
Thursday, January 5 – Classic Ski at Teton Pines Nordic Center Thursday, January 12 – Skate Ski at Teton Pines Nordic Center
The JHSC would like to encourage participants to pre-register/pre-pay for the clinics, including drop-ins.

Join us this winter season to increase your ski speed, stamina, and strength. Work on your technique and form with professional tips and exercises from USSA certified coaches. Stay and ski all day with your clinic ski pass at Teton Pines Nordic Center or Trail Creek Nordic Center (we will ski at both locations through out the winter to provide a variety of terrain and technique).
---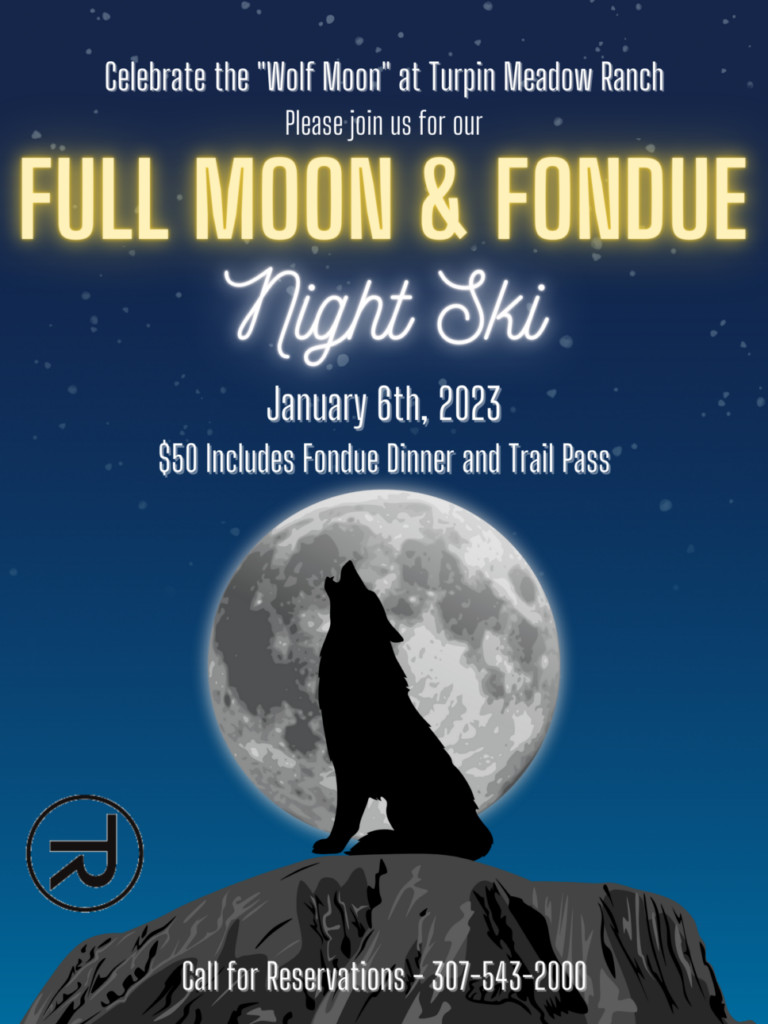 ---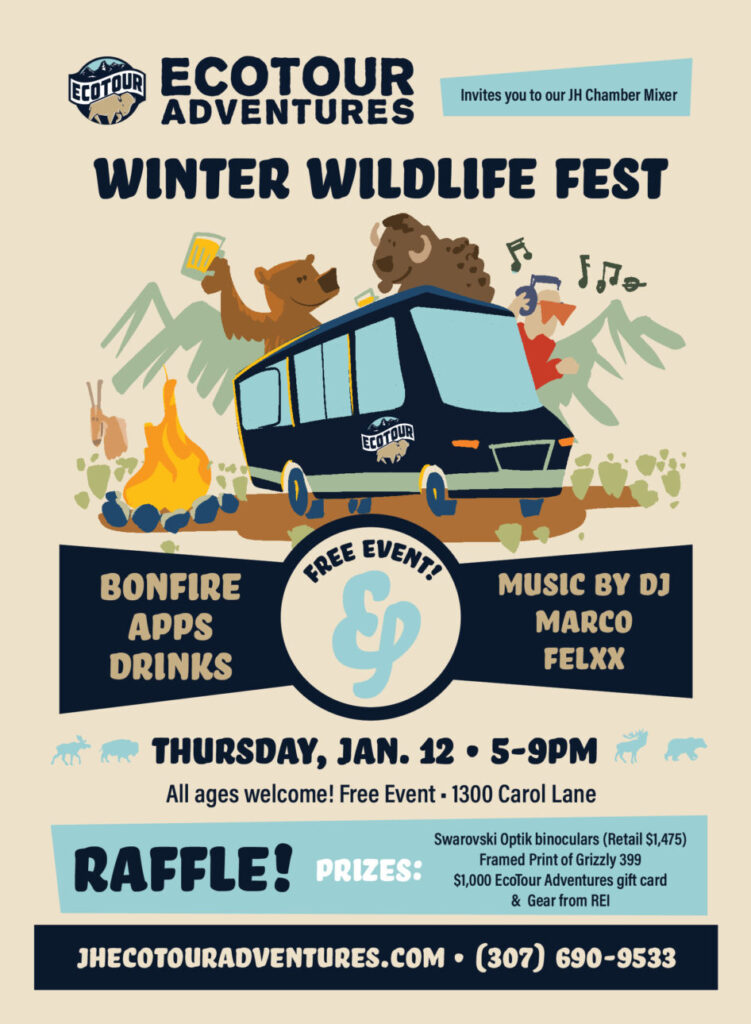 ---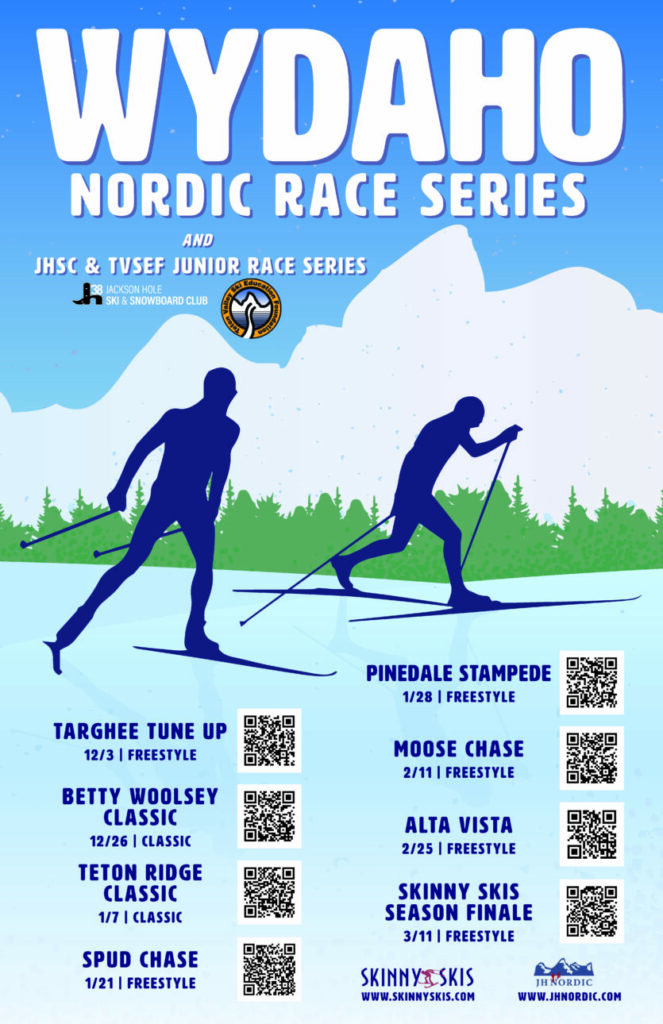 ---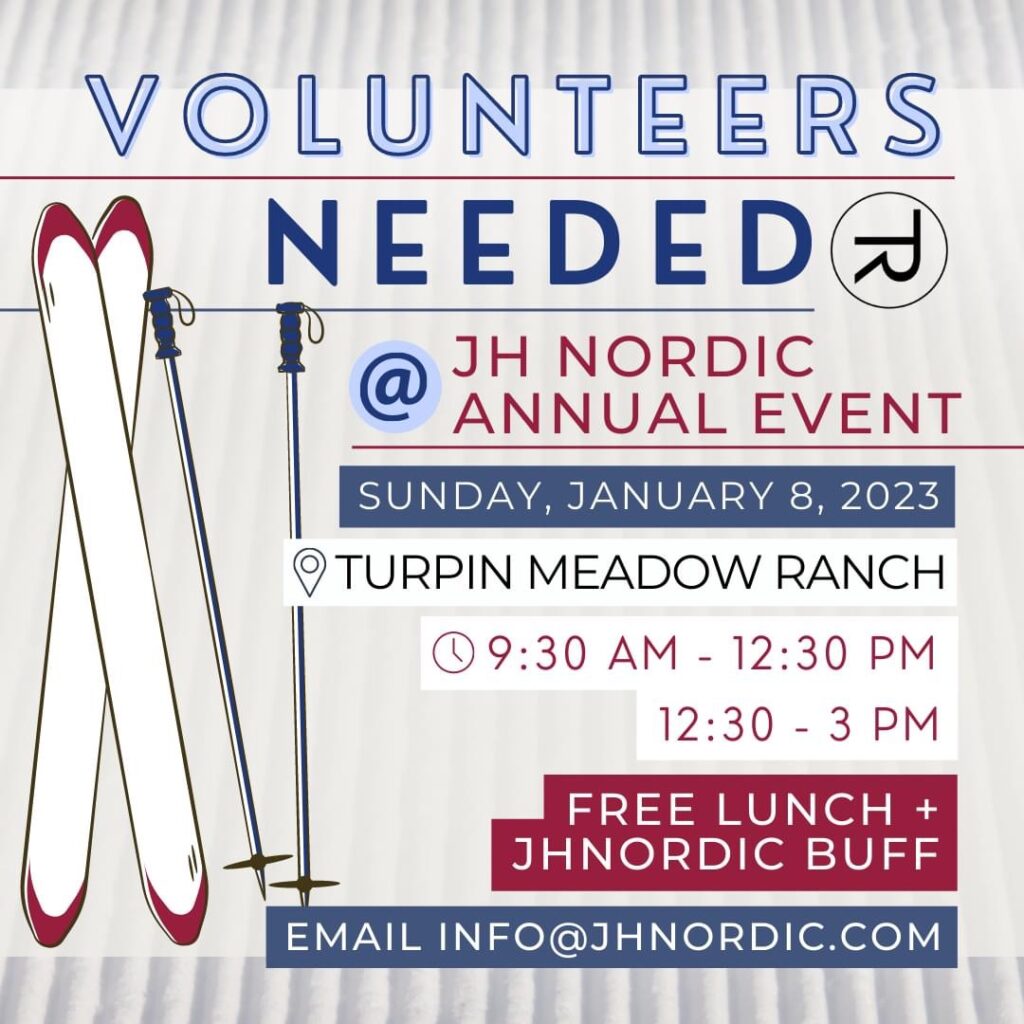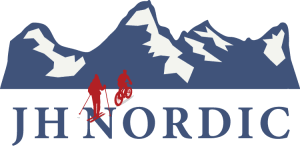 Sunday, January 8th, 2023 | 9:30AM – 3:00PM
Turpin Meadow Ranch
Fun, Free Community Day – with Raffle benefiting local Nordic Alliance non-profit. Free trail pass, Free skate & classic XC ski demo gear, Free fat bike demos, free Nordic ski lessons, Free BackCountry Nordic Ski & Snowshoe tours, Kids Corral (2-5 yr olds), Bridger-Teton USFS wildlife and wilderness info, Kates Bars, Lunch, snacks, hot & cold drinks.

Sponsored by the JH Nordic Alliance members. Family. Friends, visitors, dogs (on leash) welcome. Bring your own skis and bikes recommended to use between free demos and tours.
---
---
---
We'd love to hear about your outdoor adventures, what your doing to stay healthy, safe, respectful of community health guidelines – send pictures or post on FB and Insta – #JHNordic