---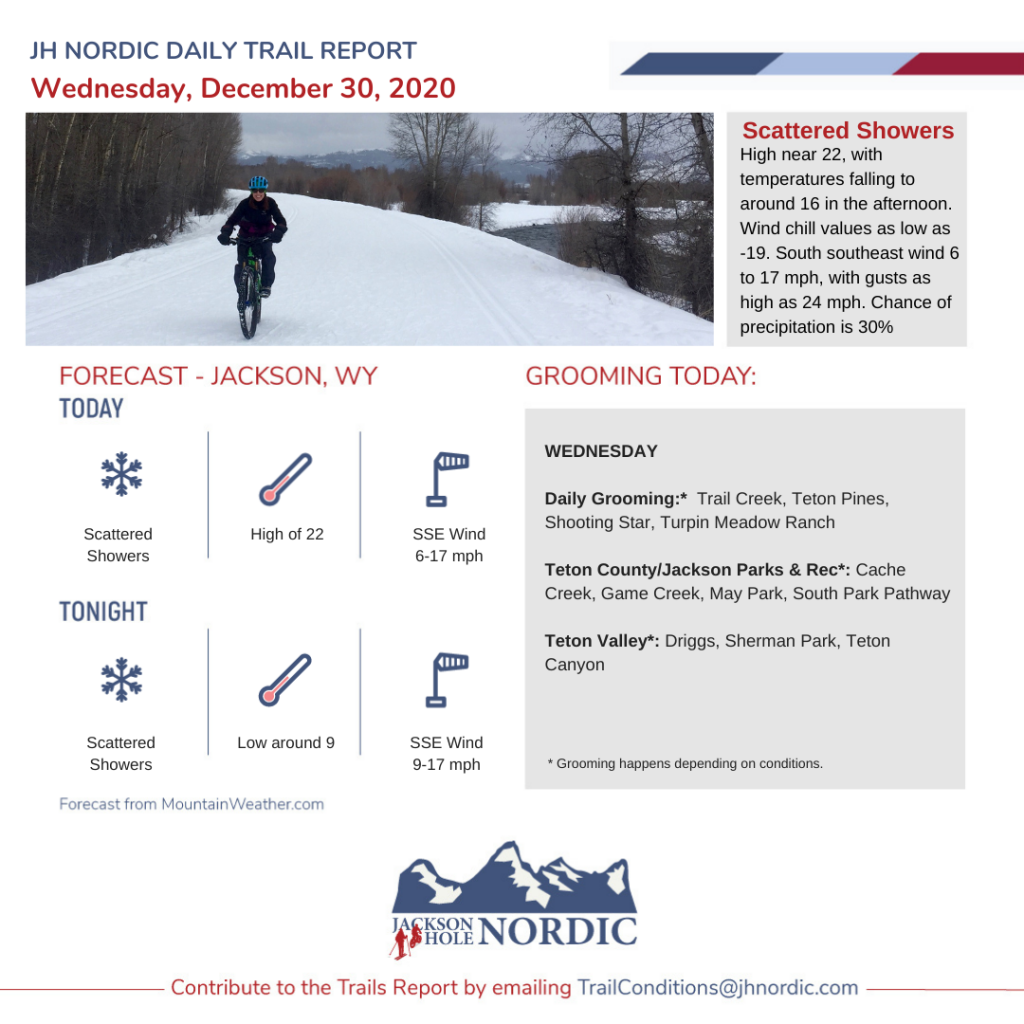 ---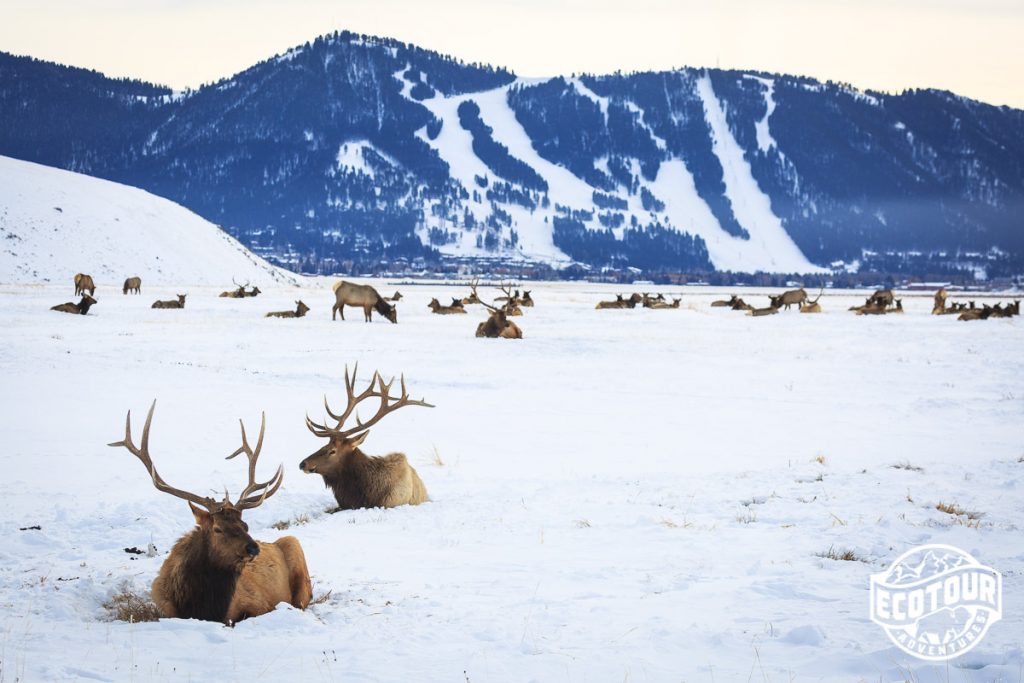 Join Jackson Hole Ecotour Adventures every Wednesday at 5:30PM MT on facebook live for the latest sightings from Jackson Hole!
---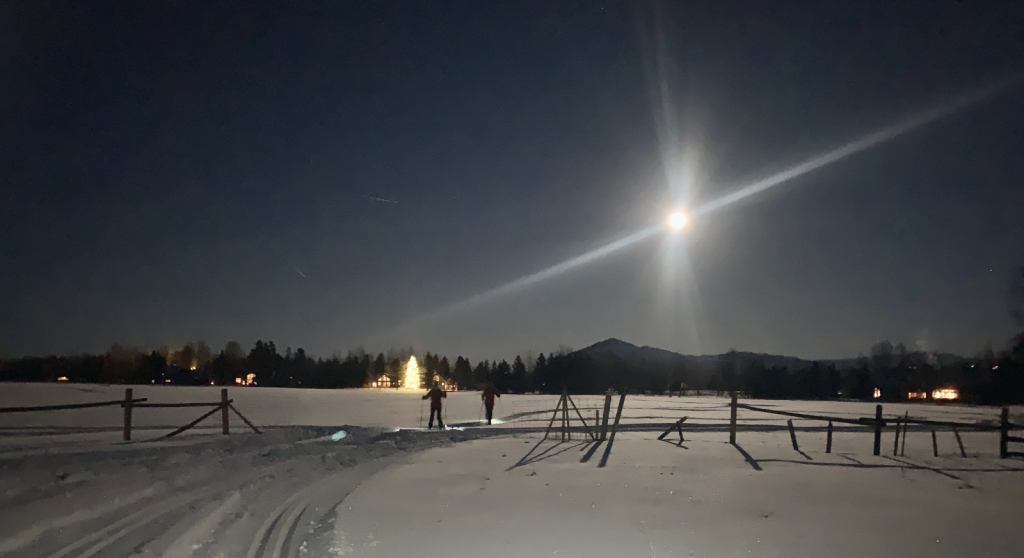 Moonlight Ski
Nice night on the Westbank by the full moon, no need for headlamps!
---
Groomed ski at Shooting Star. Nice rolling terrain, excellent conditions

Last Updated: 12/29
Happy Nordic!
The teams were hard at it yesterday, zooming around the Trail Creek trails; some of the artifacts they left along the tracks indicate that a good time was being had. While this morning did have a rather chilly sub zero start, you too can have a happy ski today if you dress appropriately and come on out to Trail Creek for a great Nordic adventure!
What you will discover today at Trail Creek is that almost all of our trail network has received fresh Pisten Bully best line skate grooming today. You will also find lots of crisp classic tracks with the double version in the fields that have been set recently and are skiing quite nicely
One thing that has been happening lately is that the elk herd that has been calling trail creek home for the past few years has really been doing some milling about in the Moose Loop area. Fortunately they are mostly active on our trails at night as they are rather shy around skiers. The Pisten Bully was able to take out most of the damage they caused to the trails, although you will see evidence of their activity if you head out to the woods.
Groomer's choice for today is Animal Farm.
---
Last Updated: 12/29
The school fields have been groomed and in decent shape except for a few grassy areas showing in the classic tracks. Once again there will be no grooming this Friday because of the New Years holiday.
The levee is groomed and in good shape. Stilson will be done around 9:30 and I will attempt to groom the school fields with the Pistenbully today.
---
Last Updated: 12/19
We are open daily 9am-4pm. We groom 16km of track each morning for both skate and classic skiing. The conditions are great right now and will continue to improve as we get more snow this week.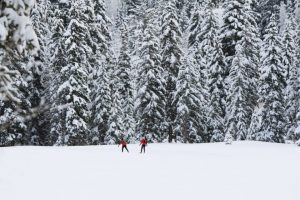 Please come ready to ski as we do not have an indoor area for getting ready this year. We have lots of covid protocols to keep everyone safe and healthy this season. Please check in with us at our outside window/intercom located on the southside of the Teton Pines Clubhouse. The main Clubhouse upper level/front door is closed to the public. The restaurant is closed to the public this winter as well.
We still have lots of nordic gear in our shop if you need to pick up some last minute gifts for the nordic skiers on your list! We currently have a good selection of sizes in skate gear ( skis/boots/poles) but our classic gear is currently in short supply. We are expecting a small shipment of classic skis around Jan 1. We have a great selection and supply of hats, jackets, pants, socks and gloves by Daehlie, Skida, and Swix. If you want to explore Grand Teton NP and the Jackson Hole area on xc skis, we carry the must have xc ski trail guidebook for our region in the shop: https://www.facebook.com/SkiYellowstone
Please call or email Cody for more details: (307) 733-1733 or tetonpinesxc@gmail.com
---
Last Updated: 12/27
The trails are in excellent shape and should remain very enjoyable through Wednesday. The snowshoe loop is now open again.
SNOWSHOEING RULES:
Stay On the Far Edges of the Actual Groomed trail Surface OR Stay within 6FT of the groomed Trail
DO NOT WANDER off the trails OR WALK ON GREENS! STAY ON DESIGNATED LOOP At All Times
Walking On the Greens Promotes Severe Damage/Injury to the Putting Surface
Don't Walk Across Lakes (Our Lakes Don't Fully Freeze Over)
NORDIC RESTRICTIONS:
Dog Loops & All Nordic Skiing Trails OPEN
Sled Hill OPEN (Will be Groomed Again once more Snow Returns)
Classic Tracks SET
Snow Shoeing Loop OPEN
Casual Walking Not Permitted
Enjoy the Nordic Course and the fun conditions during the final days of 2020! Next Update will be Thursday 12/31.
---
Last Updated: 12/23
Teton village pathway – from Lake Creek Bridge north to the end of bike path/GTNP south entrance groomed today. Thanks to JHMR for the grooming and Teton Village Association for making it happen!
---
Last Updated: 12/29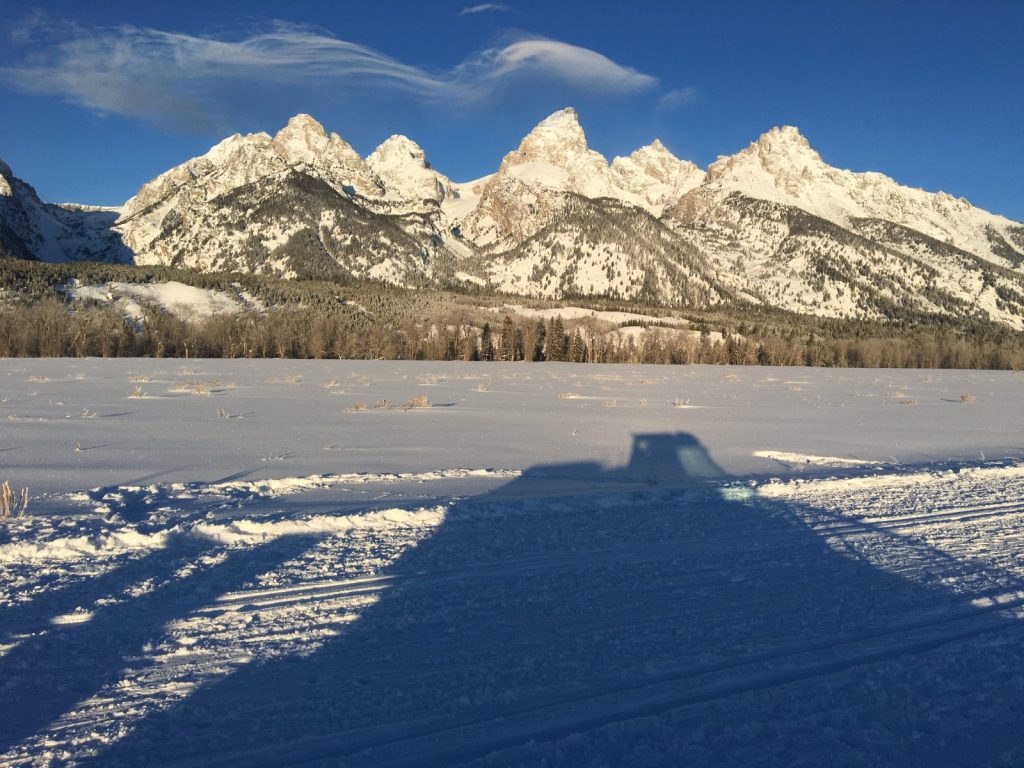 It is a beautiful day in GTNP. We are grooming all the way to Signal Mountain today. We will not be grooming on Friday – New Years Day. We hope everyone gets a chance to go out and enjoy the fresh tracks.
Grand Teton Park Foundation has provided the following modifications to the grooming schedule for Teton Park Road over the holidays:
Sunday 12/27 — Grooming to 4 passes x4 miles Taggart to south Jenny
Tuesday 12/29 — Grooming to Signal Mountain AND 4x to South Jenny
Friday 1/1 — No grooming.
Sunday 1/3 — Grooming 4x to South Jenny
Tuesday 1/5 Grooming to Signal Mountain AND 4x to South Jenny
[Back to regular schedule after 1/5]
Remember that dogs must be on leash, and are only allowed on the groomed trail in the section of GTNP. Please consider making a donation to the Grand Teton National Park Foundation for funding winter grooming -one of our most iconic trails. For bonus points, note "Nordic grooming" on your donation so we can track the involvement from our invested community members!
---
Last Updated: 12/29
Overnight lows have been well below zero, the trails have firmed up nicely, wax for cold conditions and bring your hat! For those of you with dogs remember, we require that you pick up after your furry friends and dispose of the bag properly; leaving it on the side of the trail is not an option. To help with social distancing and to get you on the trails faster please purchase your trail passes and sign your waivers online in advance. To keep an eye on live conditions, check out the webcams here.
---
Last Updated: 12/29
Cross Country/Fat Bike 15k: XC OPEN (Last groomed 12/26/2020) Fat Bike OPEN.

Trail Etiquette: Please keep your dogs leashed in the parking lot and be sure to clean up after them!
Grooming Schedule: Tuesday, Thursday, & Sunday
Last Updated: 12/28
Skate: Set | Classic: Set
Groomed the skate lanes tonight (Monday). Should be really good on Tuesday morning. I left the classic track alone. Still looked in great shape.
Please do not park in the library parking lot.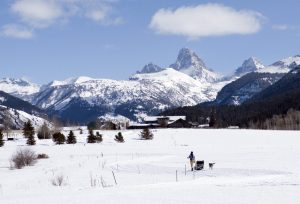 ---
Grooming Schedule: Monday, Wednesday & Friday
Last Updated: 12/28
Skate: Not Set | Classic: Not Set
Smoothed out beautifully.
---
Grooming Schedule: Monday, Wednesday, Friday
Last Updated: 12/28
Skate: Set | Classic: Set
Sherman Park got a fresh groom. The skate, classic and singletrack trails are in. Enjoy.
---
Grooming Schedule: Monday, Wednesday, Friday, Saturday
Last Updated: 12/30
Skate: Set | Classic: Set
Wednesday: Current temperature well below zero, so will wait until 9am to begin grooming. Plan to smooth out skate track and don't think ill be able to improve classic, still in fair shape from Monday reset.
---
Grooming Schedule: Tuesday, Friday, Sunday
Last Updated: 12/29
Skate: Set | Classic: Set
Great skiing awaits! Come and get it before the next cycle arrives. Classic track set with the counter clockwise skier in mind on all loops. Watch out for the track in the creek bottom just upstream of the road to the campground. I was sucked into some soft snow and had to stop setting track. I would recommend popping out of the track before it ends there. Otherwise as good as it gets!
No dogs December 1 – April 15.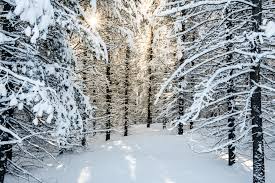 ---
Grooming Schedule: Tuesday, Thursday, & Saturday
Last Updated: 12/27
Skate: Set | Classic: Set
6-8 inches of new snow.
No dogs allowed.
---
5th Street Singletrack
Grooming Schedule: As needed
Last Updated: 12/27
Singletrack: Set
Sunday night – 5th St. is ridden in. A few inches of fluff on top packed in well and smoothed out the previous bumps. Go low on the tire pressures if these low temps stick around. Clockwise laps always easier (riding it both ways is believing).
---
Southern Valley Singletrack
Grooming Schedule: As needed
Last Updated: 12/27
Singletrack: Set
The entire Southern Valley singletrack system has a fresh haircut. We groomed everything: Happy Hour, Nemo, Hillbenders, Upper and lower Lady Slipper and Pole Canyon to the trailhead. Enjoy the ride!
No dogs December 1 – April 15.
---


THURSDAY, JANUARY 7th | TETON PINES
The third of eight in the clinic series featuring classic XC ski. Sessions run bi-weekly from 11:00am – 12:30pm through March 18th, alternating between skate skiing and classic cross-country.
SATURDAY, JANUARY 9TH | GRAND TARGHEE
The 18th annual Ridge Classic benefits both Teton Valley Trails and Pathways and Teton Valley Ski Education Foundation. The race will start at 10 am. The 24, 14, and 7 km races will be intervals starts separated by 20 seconds. Individual start times will be emailed to registered participants on Friday before the race.
---
Based on our goal to Recreate Responsibly, the JH Nordic Alliance has decided to cancel this season's Annual Free Winter Trails Nordic, Fat Bike and Snowshoe Event. Stay tuned for January 2022! In the meantime, we encourage you to get out safely, responsibly, wear a mask, keep your groups small, and space out!
---
We'd love to hear about your outdoor adventures, what your doing to stay healthy, safe, respectful of community health guidelines – send pictures or post on FB and Insta – #JHNordic