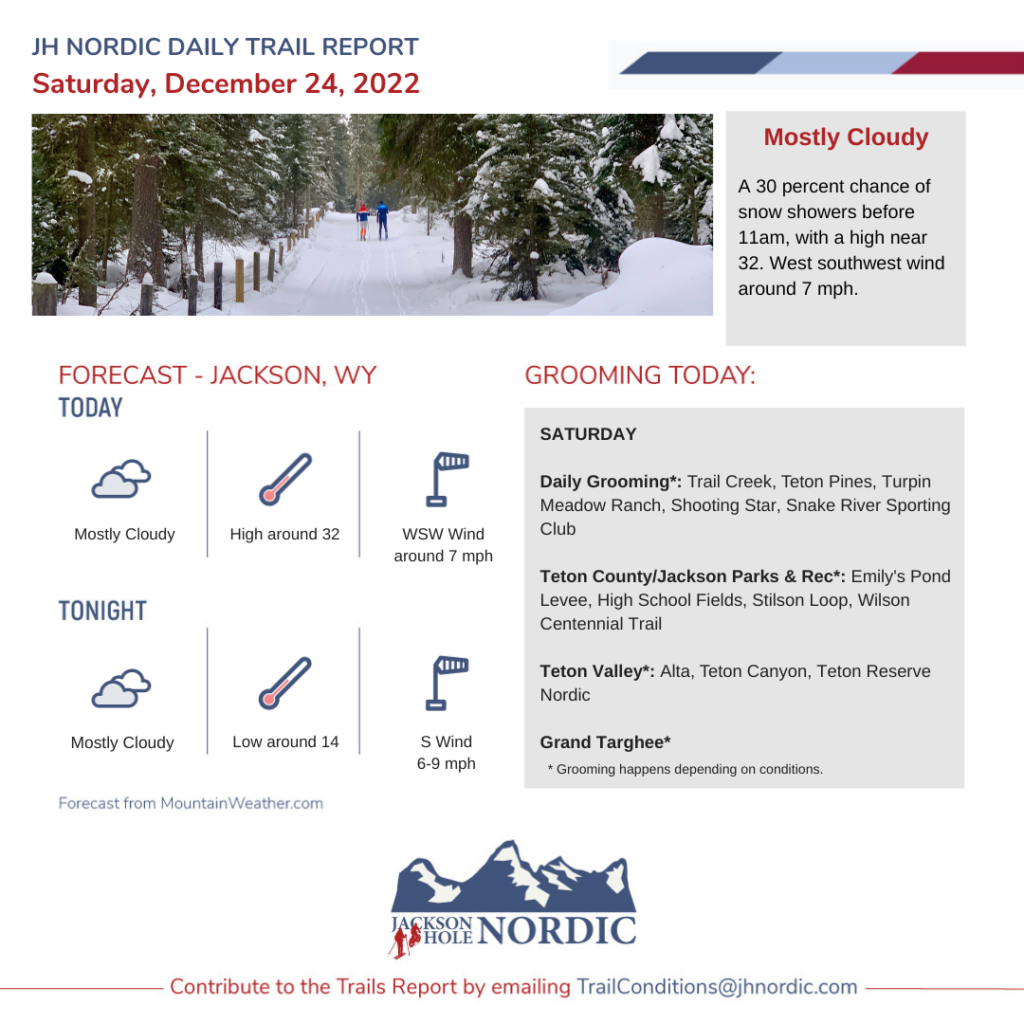 ---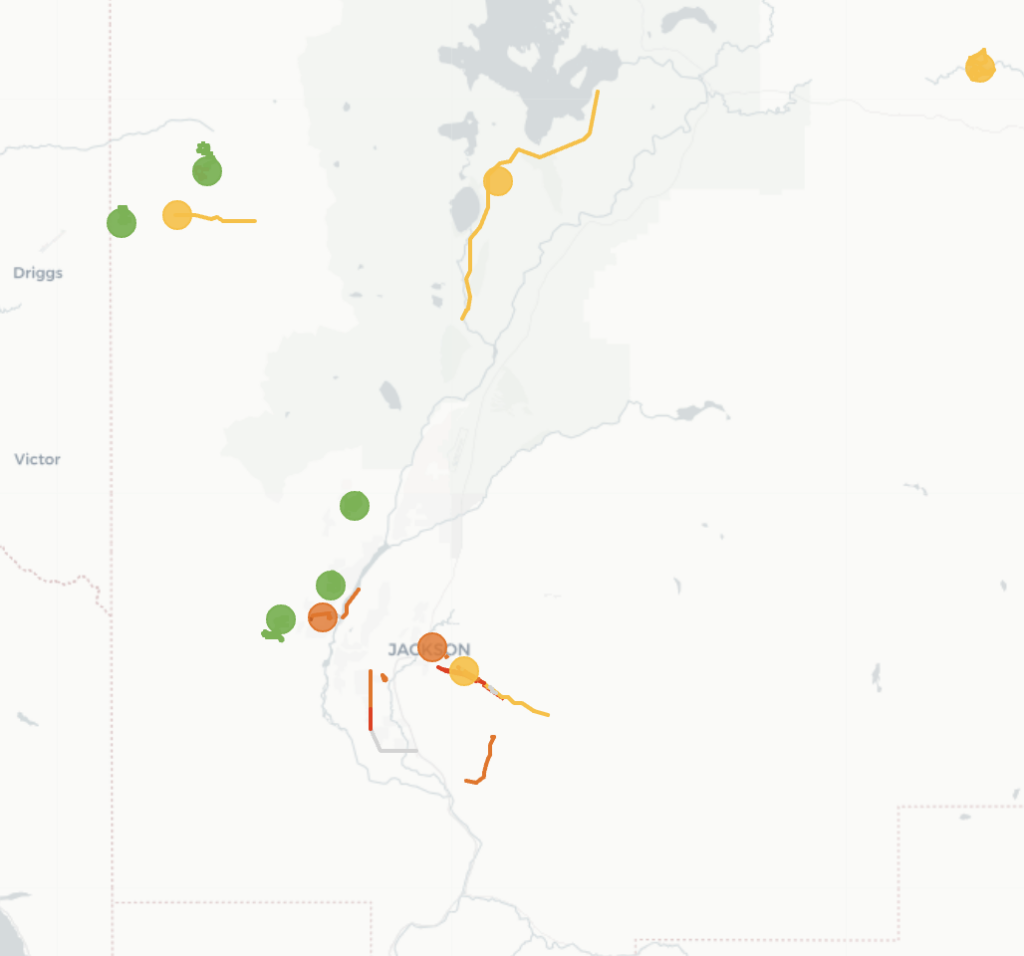 What's Groomed in Jackson Hole/Teton Valley?
See real-time grooming in the Jackson Hole/Teton Valley region. Find all the latest grooming & fresh groomed tracks. Plan your next Nordic Adventure with ease.
---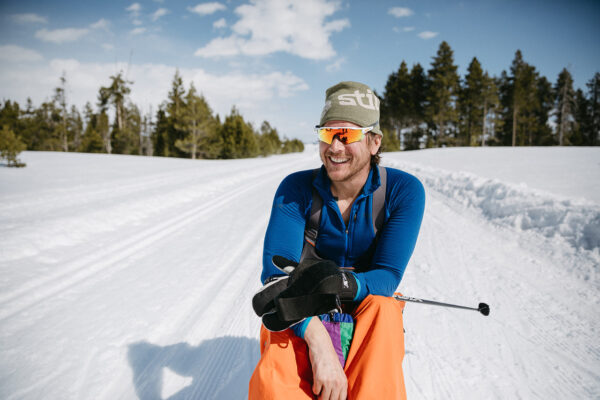 Accessibility in the Outdoors
If you live in the Tetons, are an advocate for accessibility in recreation, and/or hit the mountain bike trails a lot, you probably know Joe Stone! A key member in our community, and recently promoted as the Executive Director of Teton Adaptive Sports, Joe Stone is a force for progress in the Teton Valley.
Much to JH Nordic's liking, Joe is an avid nordic skier. He even admitted that he likes nordic skiing more than alpine skiing! Of the Tetons he says, "It's pretty neat to live in a place that has all of those opportunities where it can be as adventurous as you want it to be or as mellow. That offers it up to so many people because it has that wide range of challenges." One of his goals is to ski from Taggart to Signal and back; however, Joe is not rushing himself to complete that goal, as "that's a pretty ambitious goal for me as a C7 quadriplegic." Joe wants to ensure he is physically fit before he attempts the round-trip ski.
Of the JH Nordic website, Joe says it's "really making it easy for everyone with all the information that's being put up on the website so we can see exactly what trails are being groomed and when, seeing that schedule, seeing all the different trails and the elevation and the type of terrain you're getting into. That's a perfect example of what we want to do (to promote accessibility). For someone like myself who's a skier, it really matters what kind of terrain I'm going to get into [ . . . ] It's a difference of "is it even physically possible or not, or is it safe or not?"
---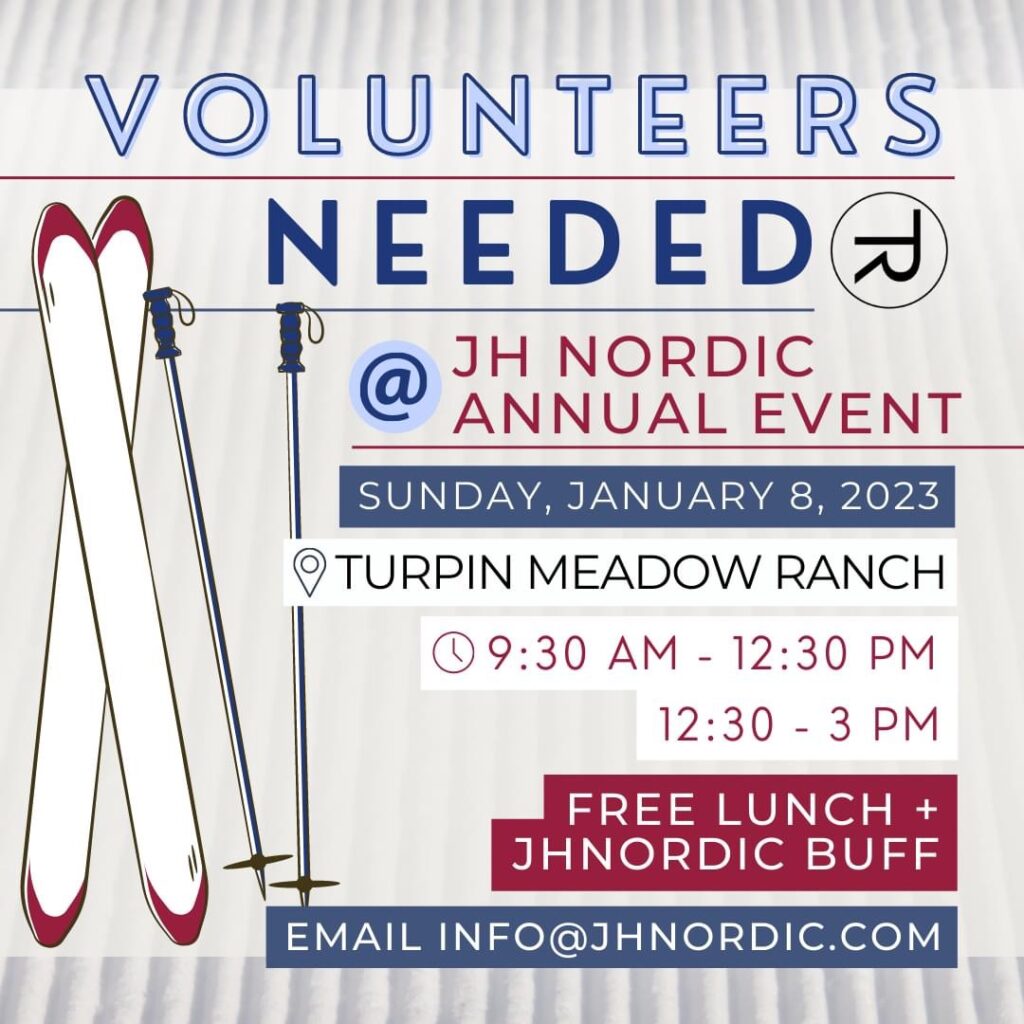 ---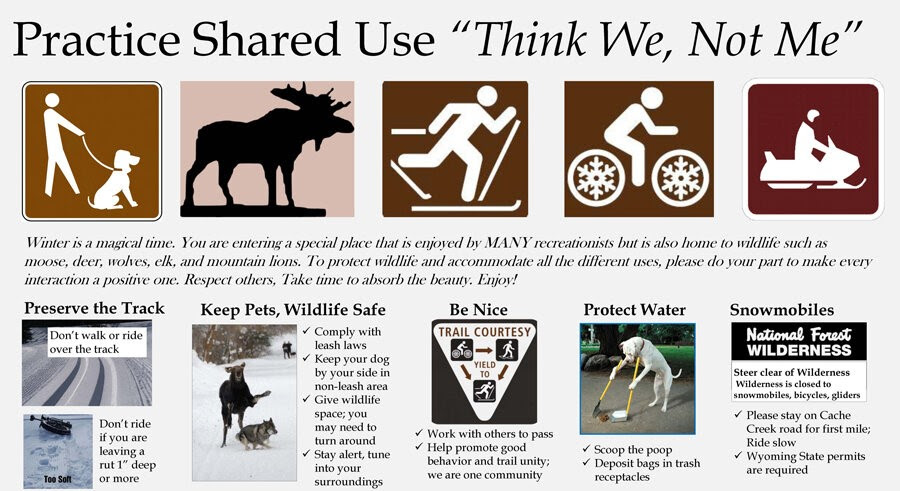 Friendly reminders from our Friends at TVTAP:
• Don't walk or ride over classic-set tracks.
• Only ride your fat bike when/where snow is firm. Groomed tracks can be variable.
• Comply with local leash laws and always have your pet under voice control.
• Pick up after your dog. No one likes brown snow.
• Walkers and snowshoers should yield trail to skiers.
• Skiers- keep speed under control when others are around.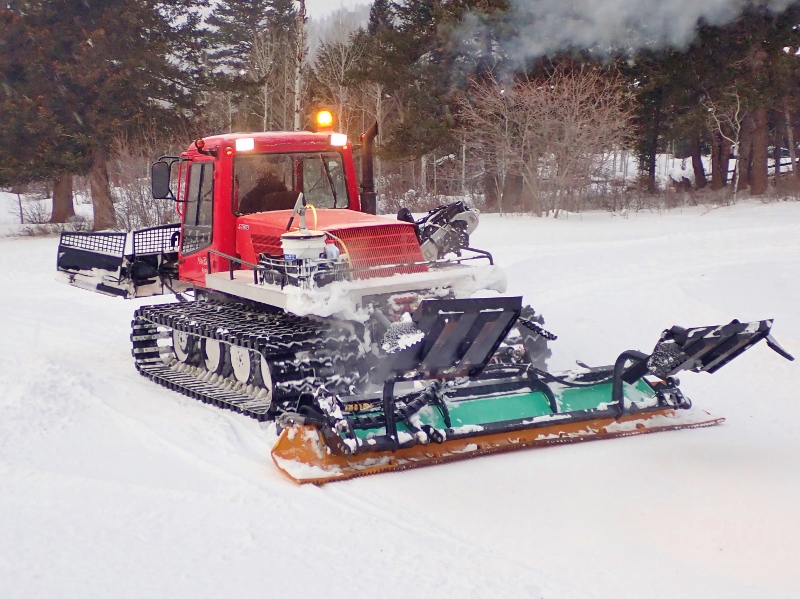 Grooming Daily
Last Update: 12/23
Onto The Course!
Our hard working substitute Pisten Bully was once again doing it best to get a great course in shape for Monday's Betty Woolsey Classic Race. While still a bit on the chilly side this morning, it has warmed overnight and the weather looks absolutely pleasant for Nordic skiers over the next few days. It does look like about an inch of snow overnight with light snow showers over the weekend.
With the current forecast the grooming plan is Christmas Eve morning Pisten Bully grooming, Christmas morning a quick Ginzu pass around the course, and then Christmas late afternoon/evening the race course will be set. Start time is 10 AM Monday with registration closing at 9 AM sharp. All the information is available on the event page.
Today's Pisten Bully grooming focused on the skiers right side of the course, widening the trails, leaving yesterday's classic track untouched which is still in pretty good shape on the left side where possible. It was also possible to run the roller around the East Field today to give skiers another option for their Nordic outing. The fallen trees also were removed from the course today.
One final wildlife note for those of you who love watching the moose, a pretty big bull moose was spotted cruising by the cabin yesterday, something to look for on your next outing.
Groomer's choice for today is the Betty Woolsey course.
---
Grooming Today: Emily's Pond Levee, High School Fields, Stilson Loop, Wilson Centennial Trail
Last Update: 12/23
Cache creek, May park, Game Creek, and South Park Pathway are groomed and in great shape.
---
Groomed by Friends of Pathways
Grooming Schedule: As Needed
Last Update: 12/21
We did a lap yesterday and again today and everything in the trees is in good shape but there is a lot of blowing snow in the open areas. It may take a while to shovel out the Sidewalk section between bridge 2 and 3.
---
Grooming Daily
Last Update: 12/23
Do you need xc gear for the skier on your shopping list? We have LOTS of skis, boots, poles, jackets, pants, hats, gloves, bliz flip glasses, and much more! We are open to the public from 9am-4pm daily (closed on Christmas Day).
Our track conditions are incredible and with today's temps you need to come out and ski! We groom for skate and classic every morning.
Our NEW shop phone number is: (307) 732-4130
---
Grooming Daily
Last Update: 12/23
Skiing conditions should be very enjoyable today but be advised that there are some awkward areas on the track, in particular along 6,7 & 12. Trail conditions should continue to improve over the weekend with "warmer" temperatures returning. Happy holidays and enjoy.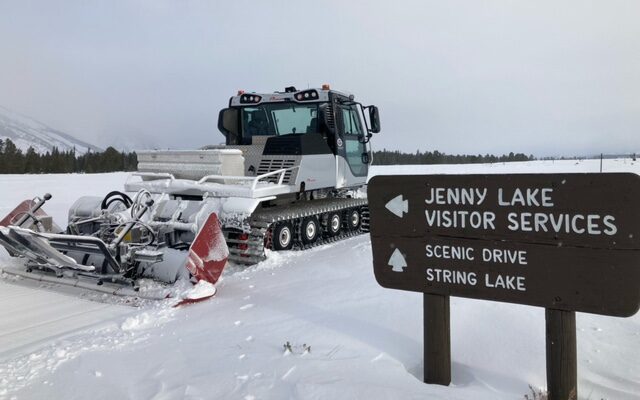 Last Update: 12/23
Grooming Grand Teton National Park – Taggart Lake Trailhead to Signal Mountain – Happy Holidays everyone.
The GTNP Groomer will be off the following two Sunday's enjoying both Christmas and New Years Day. Normal grooming schedule during the week.
---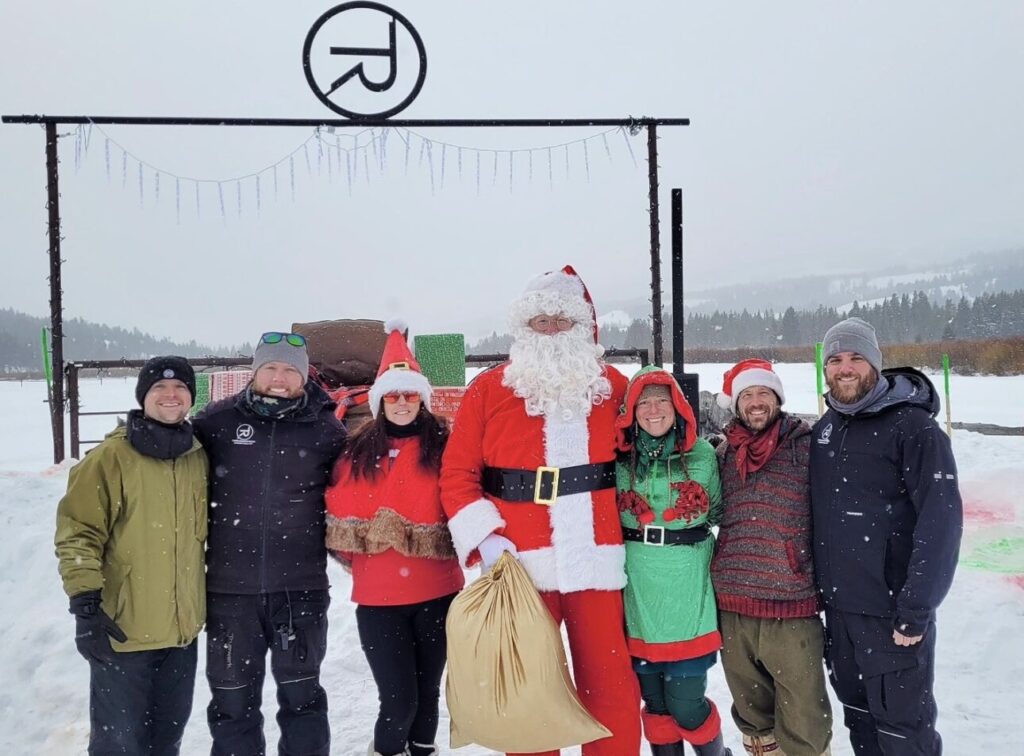 Grooming Daily
Last Update: 12/23
Friday was festive at Turpin Meadow Ranch with a visit from Santa and some of his friends. Our groomer asked for snow for Christmas; she must be on the nice list because before Santa hopped on his sleigh it began to snow and continued to snow through the rest of the afternoon. The groomer will be out in the pisten bully early morning Saturday, December 24.
Turpin Meadow Ranch is open to all for skiing, lodging, dining, Nordic lessons, and tours! Ours is a short season so be sure to plan a visit this winter between now and March 13, 2022. Call the office (307) 543-2000 or visit our website to book your adventure and/or meal!


Please support TVTAP winter trail grooming on your favorite TV winter trails by purchasing a TVTAP Trail sticker Please remember to manage your dogs and respect dog and wildlife closures. Buy a dog trail sticker, too!
Grooming Schedule: Sunday, Tuesday, Thursday, & Saturday
Last Updated: 12/21
Classic Track: Not Set | Fat Bike Trails: Open | Snowshoe Trails: Open
Cold temperatures remain throughout the day with highs in the teens and lows remaining in the negatives. We are likely to see minimal snow showers throughout the morning but this system is expected to clear out by mid-afternoon. Bundle up!
Remember, singletracks will be closed when there is more than 3 inches of snow in a 24 hour period.
---
Grooming Schedule: Tuesday, Thursday, & Sunday
Last Updated: 12/22
Skate: Not Set | Classic: Not Set
Will try to roll the track if the temps get above 0F today. I don't expect that to happen before noon if at all. Will update later today.
---
Grooming Schedule: Monday, Wednesday & Friday
Last Updated: 12/23
Skate: Set | Classic: Set
Smoothed with drag- set classic track where needed.
---
Grooming Schedule: Monday, Wednesday & Friday
Last Updated: 12/23
Skate: Set | Classic: Set
Friday morning reset the skate, classic and single track trails. Was able to use the Ginzu groomer and tracksetter which turned out really nice. Enjoy the ride and the glide!
---
Grooming Schedule: Monday, Wednesday, Friday & Saturday
Last Updated: 12/22
Skate: Set | Classic: Set
Thursday afternoon: Set both classic and skate tracks.
Trail Etiquette: Please keep your dogs leashed in the parking lot and be sure to clean up after them!
---
Grooming Schedule: Tuesday, Friday & Sunday
Last Updated: 12/23
Skate: Set | Classic: Set
Everything is good to go! Soft conditions with snow falling.
No dogs December 1 – April 15.
---
Grooming Schedule: Monday, Thursday & Saturday
Last Updated: 12/22
Skate: Set | Classic: Set
Thursday afternoon groomed and reset the skate and classic track. It's not perfect but it is pretty good considering all the drifted snow. Enjoy the glide.
---
Southern Valley Singletrack
Grooming Schedule: As needed
Last Updated: 12/23
Singletrack: Not Set
We haven't been out since the 18th and I imagine the trails are drifted in and only rider packed. We hope to get out there soon and are trying to keep up with the storm cycles. It's been an incredible year so far regarding precipitation. Standby for updates.
No dogs December 1 – April 15.
---
Grooming Schedule: As needed
Groomed by USFS
Last Updated: 12/15
Groomed 12/14, enjoy.
---
Grooming Schedule: As needed
Groomed by USFS
Last Updated: 12/23
Groomed 12/23 PM. Enjoy.


Mark your calendar so you don't miss out on all the wonderful events coming up! Explore the highlighted events below or find more events on our website at https://jhnordic.com/events/
---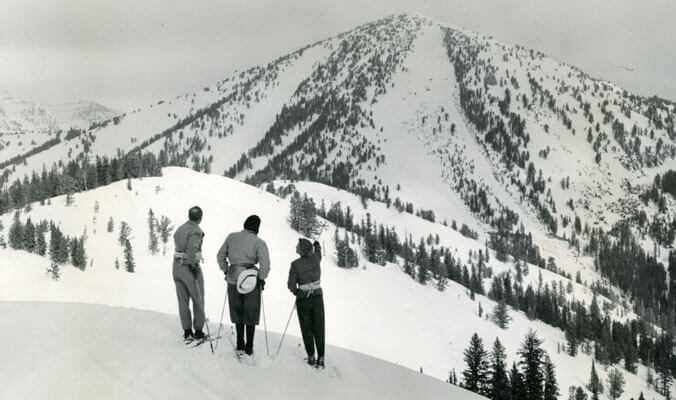 December 26, 2022
Trail Creek Nordic Center
Registration now Open!
Come work off your Christmas feast in style! This community event offers distances for every age and ability, 10 AM start time with a mass start classic format.
Racers can choose from 0.5k, 3k, 5k, and 10k options.
---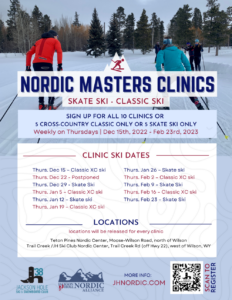 Thursdays – from Mid December to late February
Next Clinic: Thursday, December 29 – Skate Ski
The JH Ski Club would like to encourage participants to pre-register/pre-pay for the clinics, including drop-ins.

Join us this winter season to increase your ski speed, stamina, and strength. Work on your technique and form with professional tips and exercises from USSA certified coaches. Stay and ski all day with your clinic ski pass at Teton Pines Nordic Center or Trail Creek Nordic Center (we will ski at both locations through out the winter to provide a variety of terrain and technique).
---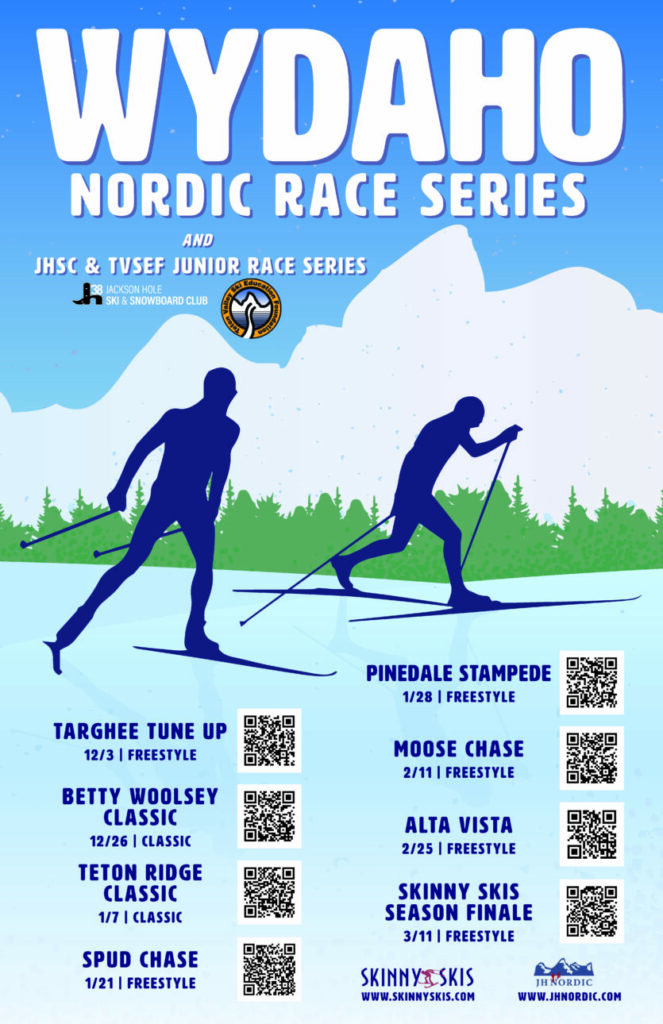 ---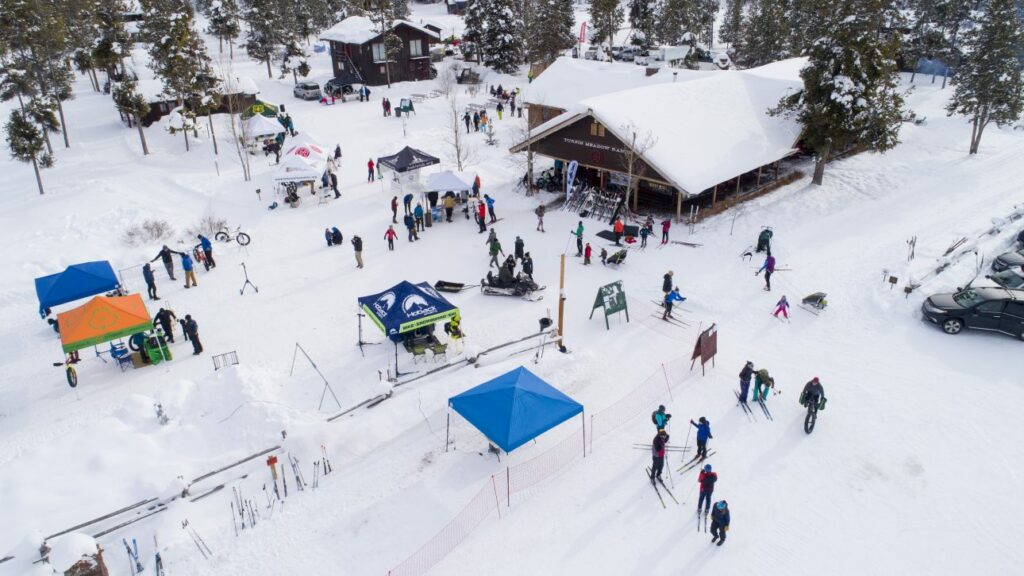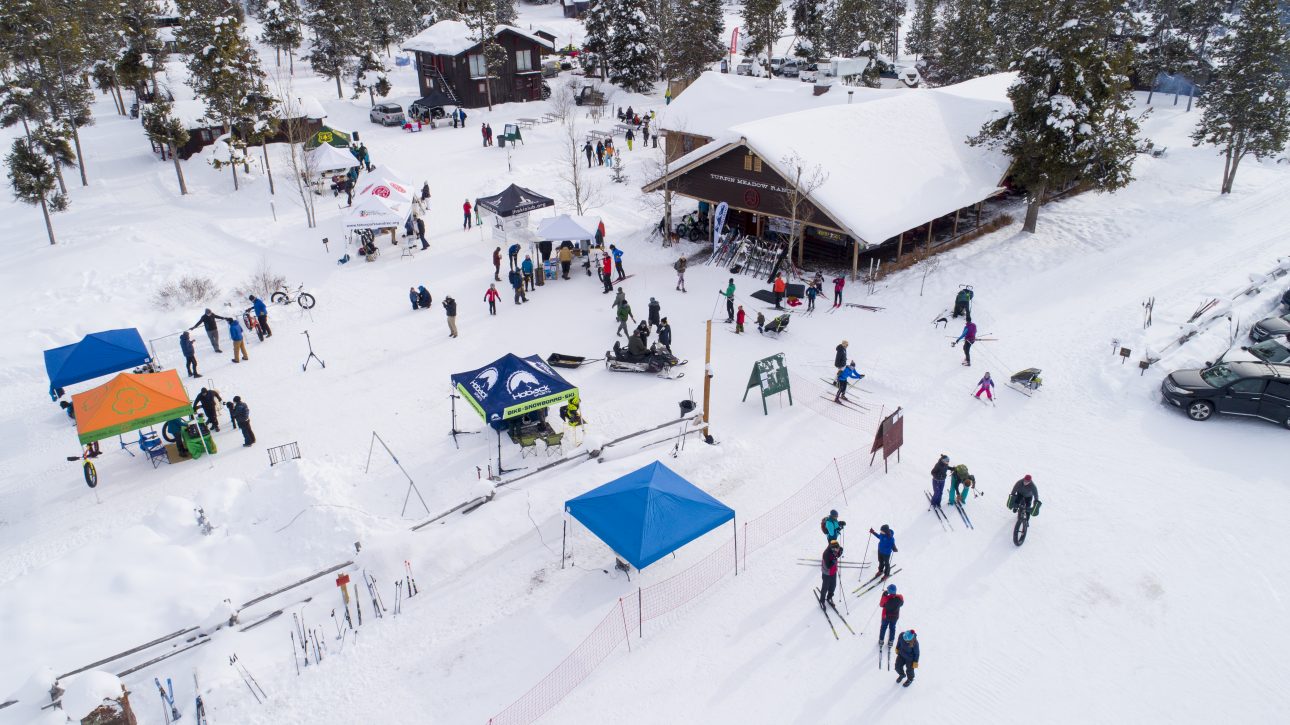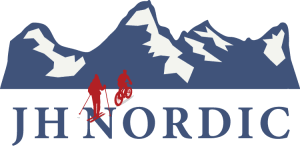 Sunday, January 8th, 2023 | 9:30AM – 3:00PM
Turpin Meadow Ranch
Fun, Free Community Day – with Raffle benefiting local Nordic Alliance non-profit. Free trail pass, Free skate & classic XC ski demo gear, Free fat bike demos, free Nordic ski lessons, Free BackCountry Nordic Ski & Snowshoe tours, Kids Corral (2-5 yr olds), Bridger-Teton USFS wildlife and wilderness info, Kates Bars, Lunch, snacks, hot & cold drinks.

Sponsored by the JH Nordic Alliance members. Family. Friends, visitors, dogs (on leash) welcome. Bring your own skis and bikes recommended to use between free demos and tours.
---
---
---
We'd love to hear about your outdoor adventures, what your doing to stay healthy, safe, respectful of community health guidelines – send pictures or post on FB and Insta – #JHNordic