If you live in the Tetons, are an advocate for accessibility in the outdoors with recreation and/or hit the mountain bike trails a lot, you probably know Joe Stone! A key member in our community, and recently promoted as the Executive Director of Teton Adaptive Sports, Joe Stone is a force for progress in the Teton Valley. 
Background about Joe
Joe Stone grew up in Minnesota, south of the Twin Cities, and began his love of physical activities in the outdoors. As a kid, Joe rollerbladed – going down handrails and doing tricks – and was introduced to camping. He says that he eventually "blended the two physical activities with the camping and stuff I was doing and got more into the outdoors. I transitioned out of the skating days and into the 'normal' outdoor activities, what we traditionally think of as outdoor activities, in the mountains and in the backcountry".
In 2009 Joe moved to Missoula, Montana so he could live where he could play, rather than saving up for one or two big mountain trips per year. Joe says his move "was the start of a whole new journey of getting out of the Midwest, living out West, spending a lot more time in the mountains. Those days, it was mostly focused on skydiving, speed flying, mountain biking, fly fishing, cross country skiing . . . I did what I really love to do."
Life-changing Injury
In 2010, while speed-flying in Missoula, Joe hit the side of Mount Jumbo at almost 50mph and sustained a spinal cord injury; he was diagnosed as a C7 quadriplegic. A C7 quadriplegic is defined as someone who has lost full use of their four limbs, and may have lost partial usage of their hand and fingers. After his diagnosis, Joe says "I was put on a whole new journey to try to rediscover life, how to get after it as a person with a permanent physical disability". And he has done exactly that!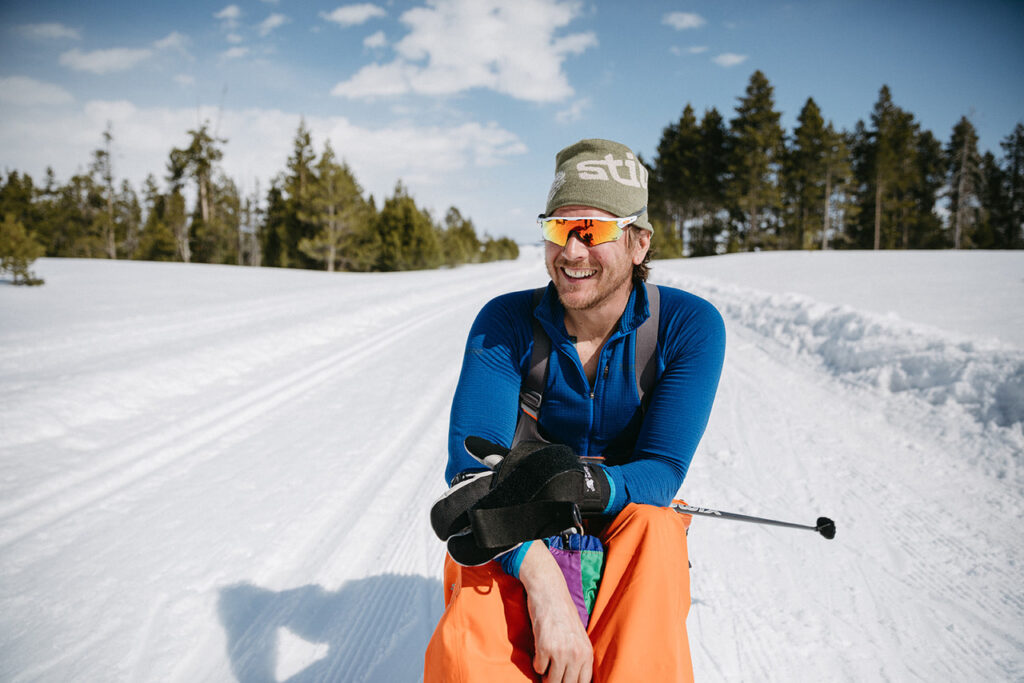 Universal Design and Accessibility in the Outdoors
Since his injury, Joe has done a lot of work focused on how to increase accessibility for disabled folks, especially in recreational settings. Beyond accessibility, Joe wants to increase universal design. Universal Design is defined by the Centre for Excellence in Universal Design as "the design and composition of an environment so that it can be accessed, understood and used to the greatest extent possible by all people regardless of their age, size, ability or disability."
In our interview, Joe explained the differences between something being inclusive and being universally designed. For example, even if a restaurant is ADA compliant, Joe says "that might mean that my family or group of friends are going to go in through the front door, but the front door has three or four steps to get in there [ . . . ] there'll be a sign on the door that says wheelchair access around the back. And in the more extreme cases, I have to go around back and up a loading dock ramp, and then pass the dumpsters into the kitchen and then join my family on the inside.
So is that accessible? Well, it did provide access so I was able to get in [ . . . ] But does that provide inclusion? And is that universally designed? If I had to go through all that when everybody else can go in through the front door, it's not an example of universal design and inclusion because I can't get in that front door just like everybody else can." Although making infrastructure ADA compliant is a good step, there is more work to be done to ensure that people of all abilities can experience the same ease of moving through space.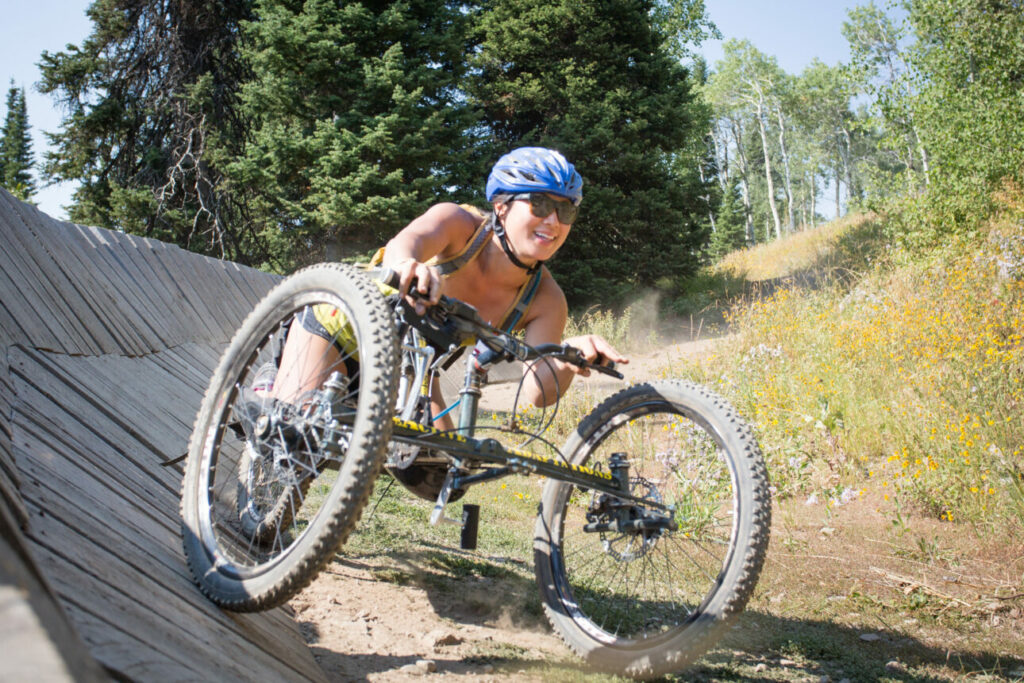 Rating Systems
Another way in which we can improve accessibility, inclusion, and universal design in sports is through improving the rating systems. Joe explains that the way ski and bike trails are rated are based off of "able bodied, two-wheeled bikers which doesn't necessarily apply to people on three wheels [in an adaptive piece of equipment]. So then there's the conversation: do we give a separate rating system? What's the answer so [people with disabilities] know whether or not that's a trail fit for them?"
We've probably all been there…you ski or bike down a trail that's rated blue and think "gosh, this is a pretty tough blue!" Or perhaps you think "this green is way easier than the green I skied down at xyz resort!" Joe and I agreed that making the technical details of the trails more readily available would increase their universal accessibility, rather than focusing on rating systems like our current green/blue/black etc and changing them for adaptive equipment.
Joe's Take on Trailhead Information
Joe says, "It doesn't really matter whether you have a disability or not. Information at the trailhead sign makes a big difference. The steepest grade, the narrowest point of the trail and how long that stretches out, the average and max camber of the trail, etc. Those kinds of basic details that can be laid out on a trailhead sign would allow someone like myself to roll out there, look at that information and go, 'that'll work for my equipment, I can go out there and make that happen (or not).'"
As someone who learned to ski in Colorado and then moved to the East Coast for a winter, so many people told me "if you can ski a green in Colorado, you can definitely ski a black on the East Coast!" Let's just say that I suffered a lot of falls on icy East Coast terrain that way…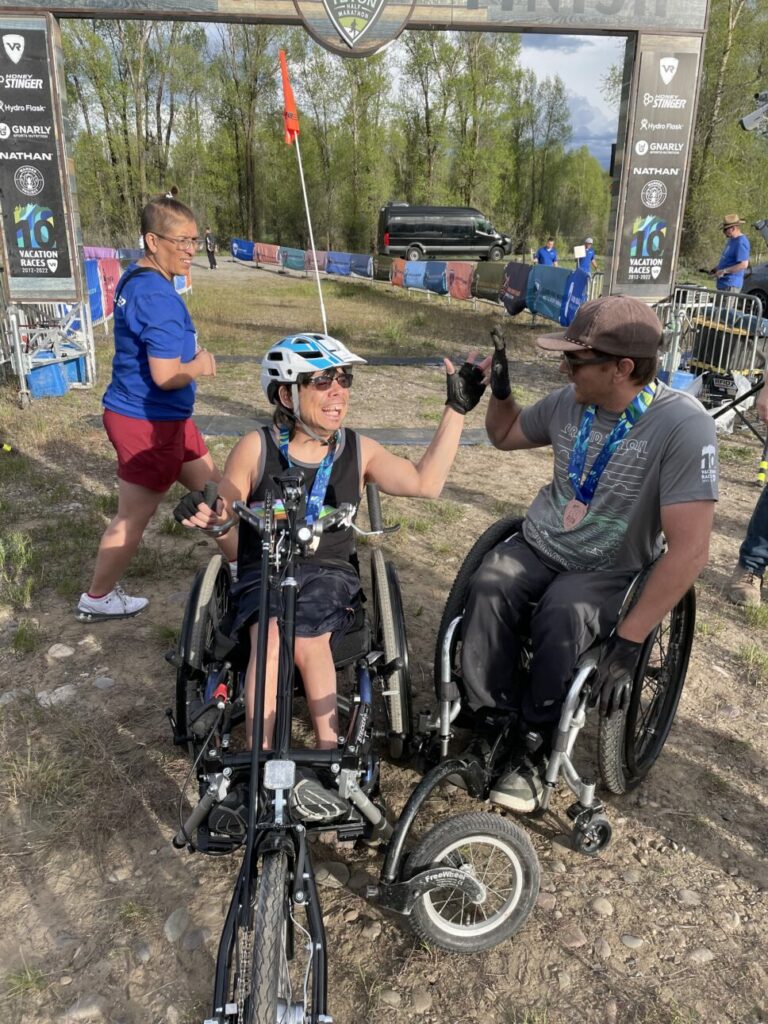 Reducing Risk, Increasing Fun
Joe and I agreed that if people were able to base their recreational choices on technical details rather than vague color and shape based rating systems, that may reduce the number of recreator rescues. Joe explains, "Every year we have people, for example, that go into Grand Teton National Park and get in over their heads on a hike and end up having to get rescued [. . .]
What would have happened if they had the proper trail information at the trailhead? Where they could have looked at it and said, 'Okay, this is going to climb 1,000 feet over two and a half miles, and the steepest grade is at 22%'. Somebody might say, 'that's more than I want to bite off, I'm not ready for that,' and they might go find a trail that's a better match for their fitness level, their skills, or whatever it might be [ . . . ]
It just makes things safer, and also takes the liability off of whoever is the manager of that land; if the proper information is out there [ . . . ] We all have a different perspective of what those current rating systems are, but nobody can argue numbers and facts. If we get adapt [. . . ] into something where there's no room for debate around the information of the trail, that puts the responsibility on the user, and not the land manager."
Joe and Nordic Skiing
Much to JH Nordic's liking, Joe is an avid nordic skier. He even admitted that he likes nordic skiing more than alpine skiing! Of the Tetons he says, "It's pretty neat to live in a place that has all of those opportunities where it can be as adventurous as you want it to be or as mellow. That offers it up to so many people because it has that wide range of challenges." One of his goals is to ski from Taggart to Signal and back; however, Joe is not rushing himself to complete that goal, as "that's a pretty ambitious goal for me as a C7 quadriplegic." Joe wants to ensure he is physically fit before he attempts the round-trip ski.
Joe and JH Nordic
Of the JH Nordic website, Joe says it's "really making it easy for everyone with all the information that's being put up on the website so we can see exactly what trails are being groomed and when, seeing that schedule, seeing all the different trails and the elevation and the type of terrain you're getting into. That's a perfect example of what we want to do (to promote accessibility). For someone like myself who's a skier, it really matters what kind of terrain I'm going to get into [ . . . ] It's a difference of "is it even physically possible or not, or is it safe or not?"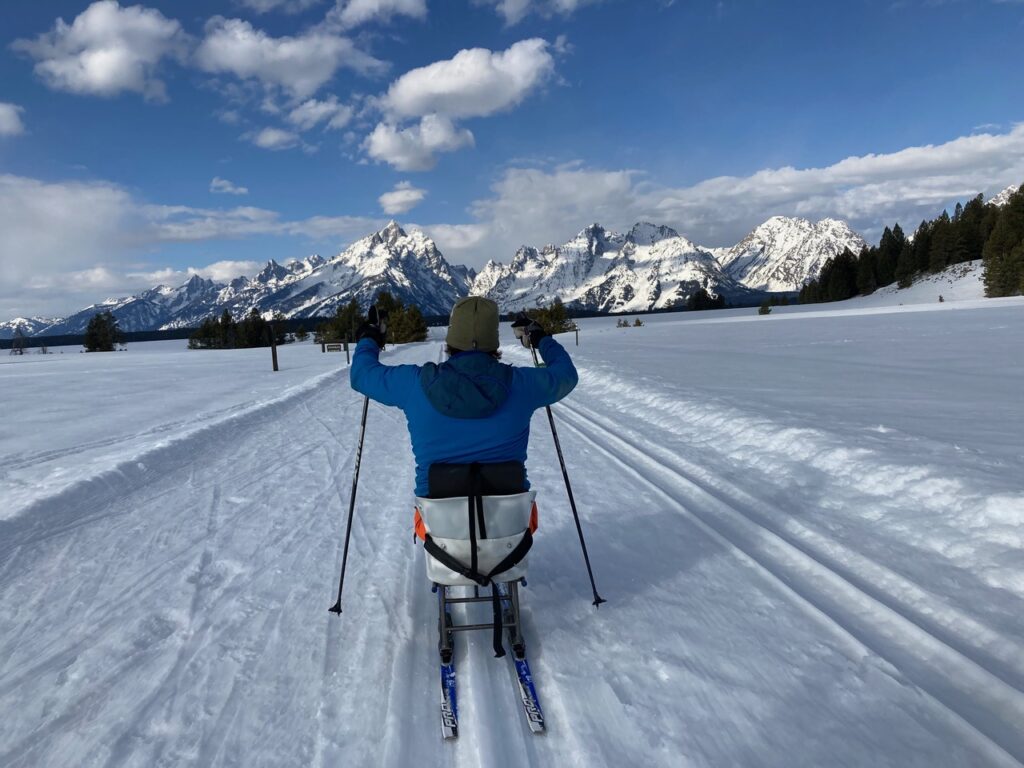 Making JH Nordic more Universally Designed
Although Joe raves about JH Nordic.com's wealth of information, there is always room for improvement! When I asked him how JH Nordic can become more universally friendly, he replied "one thing that would be great is adding in some photos of the trailheads: where the accessible parking is versus where the trailhead is and that sort of thing."
He referred back to an issue a couple of years ago that he found with accessibility in the outdoors at the Bradley-Taggart Lakes trailhead: a large snowbank from a plow blocked the entrance to the trailhead from the parking lot. This made the trail very hard for him to access without someone helping him over the snowbank with his adaptive equipment and then returning his wheelchair to his van. He also saw children and other folks struggling while getting over the steep, slippery snowbank.
A Quick Fix to Blocked Trailhead
Fortunately, JHNordic connected him with Lee Bushong, a Grand Teton National Park groomer, to solve this issue and remove the snowbank; the Park also moved the accessible parking closer to the trailhead. Joe says that photos of the trailhead and parking lot would help him know if he would be able to get out of his van and wheelchair and into his sit-ski setup by himself, or if he might need to ask for a hand to put his wheelchair back into his van.
Since universal design is universal and beneficial for everyone, pictures of the trailhead and parking area may help other folks know how they can best navigate an adventure. Joe says, "Based on our success last year (with the Bradley-Taggart trailhead), I think those are great photos to take (of the trailhead). So the people with disabilities, people who are older, people with kids, people with all of those things can look at them and go 'pretty easy, we're all going to be able to manage that. I know my three year old is going to be able to make that happen, not tumble down and hit the pavement at the bottom.'" On your next adventure, send JH Nordic a photo of the trailhead and parking so we can include those on the website!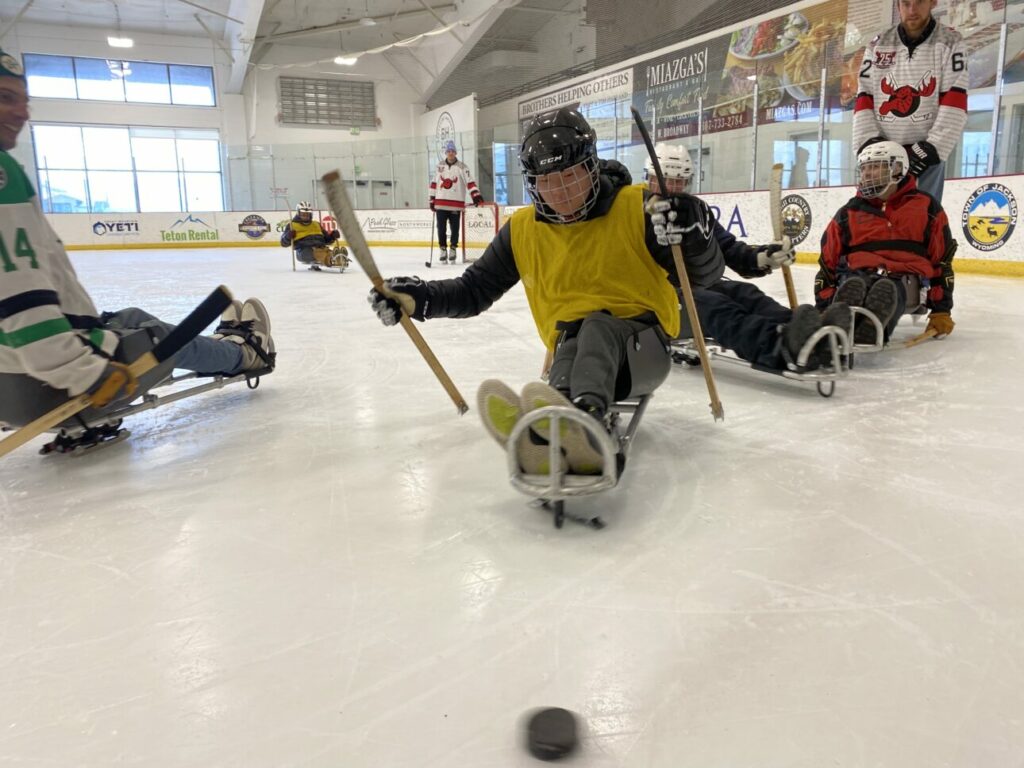 What's next for Joe in Accessibility
When I asked Joe what his next adventure is, he replied "I'm in a really interesting part of my life where it's not so much about creating these massive goals that I'm going after. 'I need to achieve this one thing and what do I have to do to get there.' I'm really just trying to get better and progress at what I'm doing. I want to be a better downhill mountain biker, and so it's just putting in the time to learn more and put myself in new situations so I can understand how to roll over different terrain.
A lot of what I'm doing in life right now is just working on building not only my own personal career, but really helping Teton Adaptive's growth, and be set up to be more sustainable in the future. I don't really have any massive thing that I'm after. I'm kind of just playing a slow game right now and, and trying to get a little bit better at a lot of things, which is an interesting place because a good chunk of my life has been, 'okay, here's the next goal and that's what I'm working on and I'm going towards that.'
Finding that balance and being able to, you know, do my own thing on top of doing the work at Teton Adaptive, and, you know, have a good relationship with my girlfriend…all of that. It takes balance, a thing we all struggle a little bit with. It's a tough one to learn." I'm sure that many readers can relate to both Joe's older and his current philosophy.
Get in Touch with Joe
Joe would love to hear from anyone that wants to learn more about Teton Adaptive Sports, check out what they're doing, wants to get involved as a volunteer for accessibility in the outdoors, etc. Joe emphasized, "just reach out and ask questions! We're a pretty open book and we want the community to be as involved as possible in what we're doing." You can reach Joe at joe@tetonadaptivesports.com and at Teton Adaptive's website. 
DIGGING FOR ANSWERS- The Story Behind Universal Trail Design in Jackson Hole