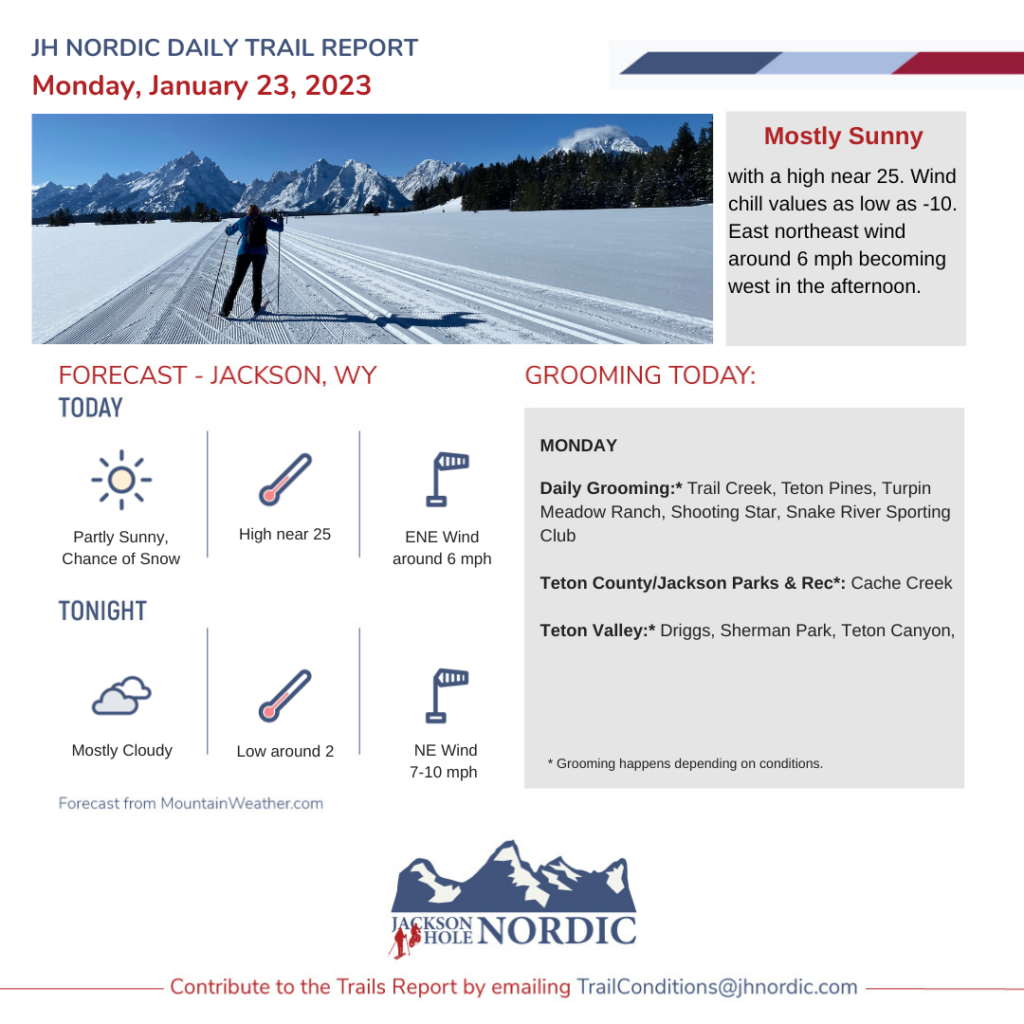 ---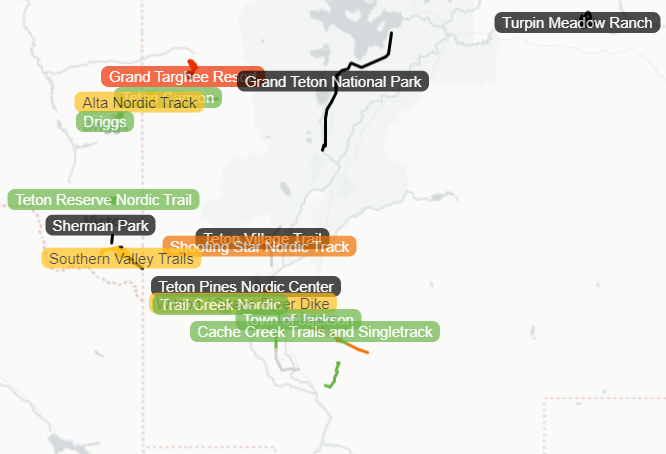 What's Groomed in Jackson Hole/Teton Valley?
See real-time grooming in the Jackson Hole/Teton Valley region. Find all the latest grooming & fresh groomed tracks. Plan your next Nordic Adventure with ease.
Get Your Gal Pals Together for Upcoming Nordic Ski Meet-Ups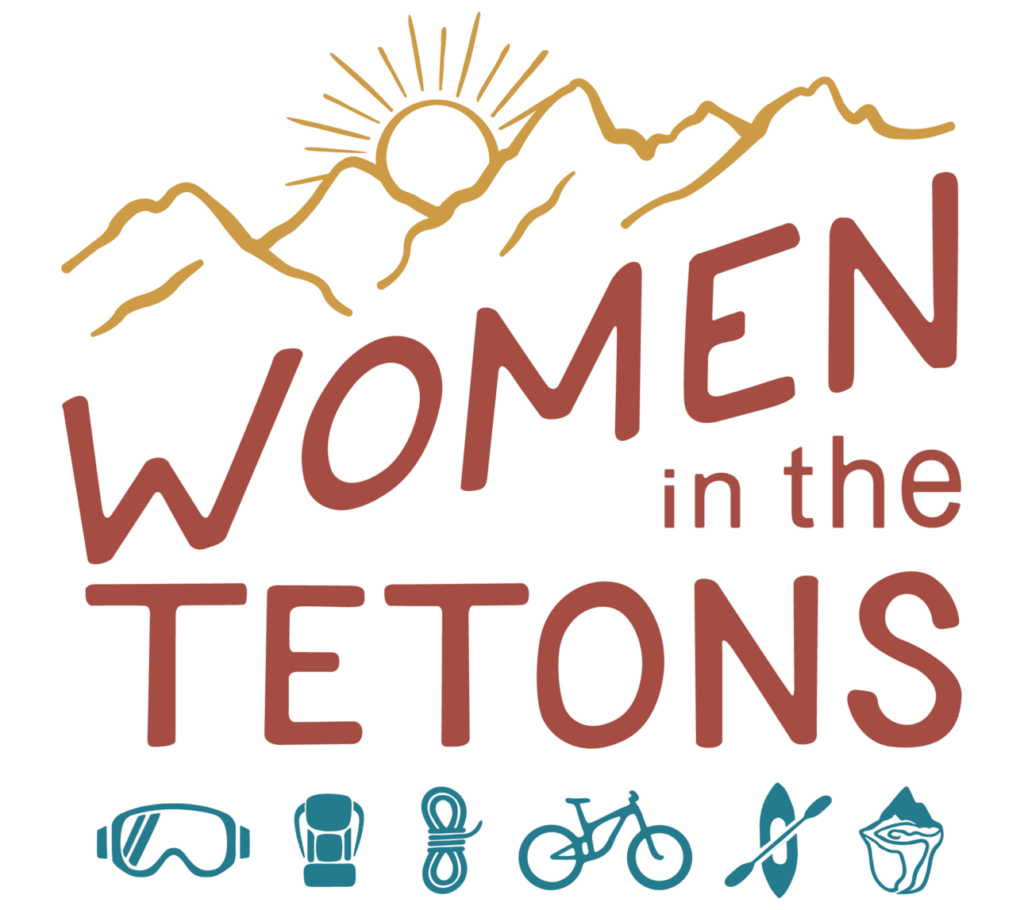 Thursday, January 26 | Stilson 4:30-5:30pm
Join us for some Nordic skiing at Stilson. This is a great chance to show off your skills or just try something new – we will have an awesome instructor to help you out, so don't be shy!
We will have classic and skate skiers and all levels are welcome.
Saturday, February 25 | Cache Creek 4:30-5:30pm
More Nordic fun on the menu! We plan to Classic ski, but there might be some skate skiing too. Come join us!
---
Reasons to Explore Winter Trails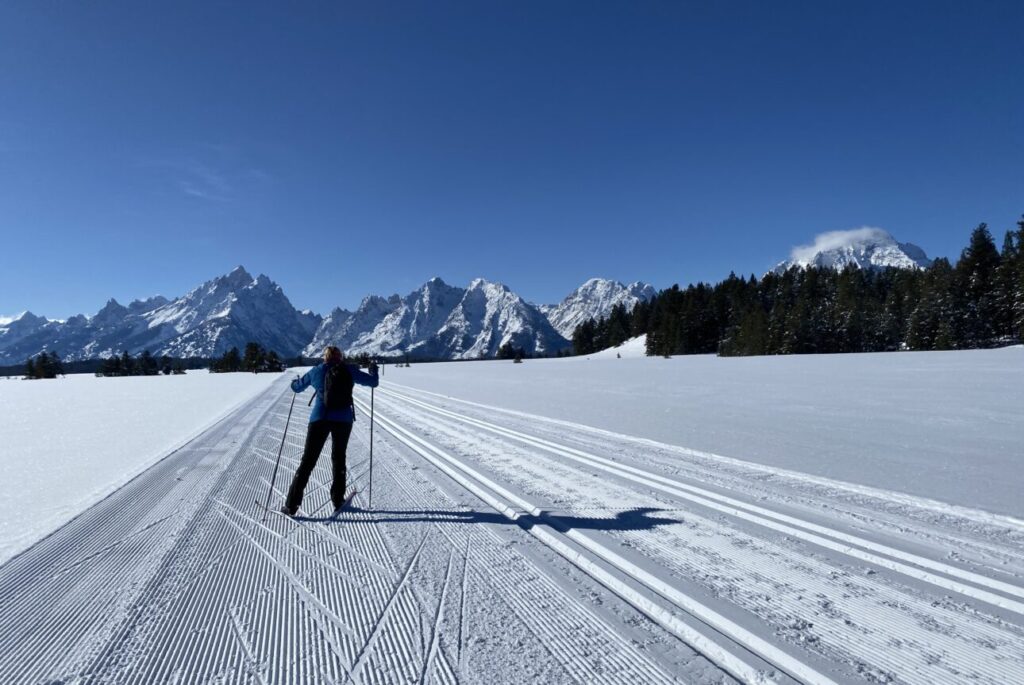 The photo above was snapped on Friday, January 20 from the North end of Grand Teton park road. According to the folks who shared the trip report, "it was a wonderful ski from Signal to Spaulding Bay and back; very few people, and most of them were folks we knew."
This brings to mind some reasons to explore winter trails: fresh air, beautiful scenery, opportunity to move your body, spend time with friends and maybe make some new ones along the way, or enjoy the solitude.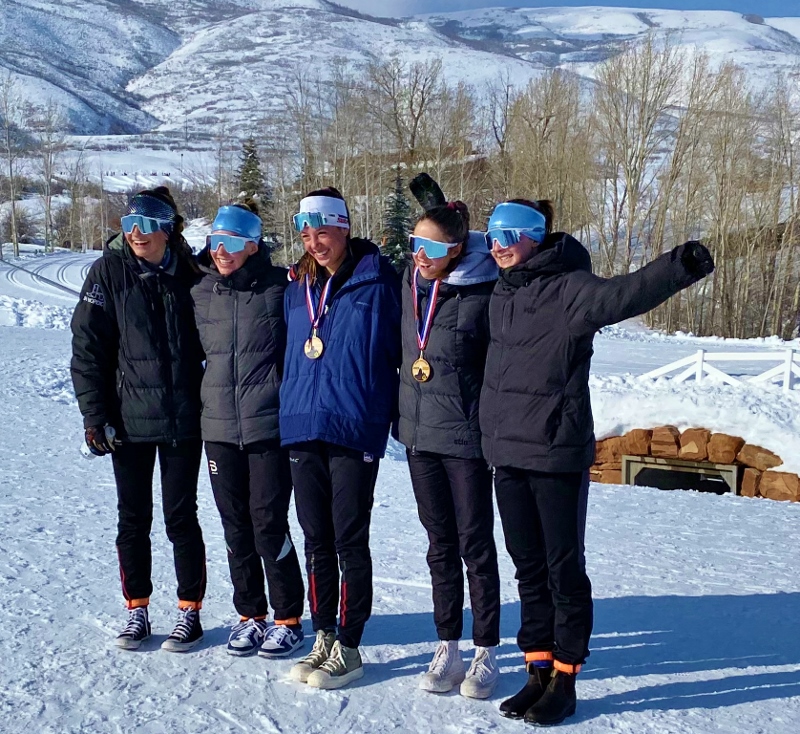 Grooming Daily
Last Update: 1/22
A Fantastic Weekend!
Lots of great skiing happened this weekend in Utah where nearly 40 of our youth were skiing very fast in the IMD Super Qualifier at Soldier Hollow. Not only Devo Annika Stanley (below) and Junior Abby Murphy, but previously highlighted Lena Poduska as well as others you can check out at the Summit Timing website made great showings at this weekend's Super Qualifier. Way to go JHSC skiers!
Closer to home you yourself can go really fast on your Nordic skis if you come out to Trail Creek today. While there is still a slight chance of snow today, the recent cool dry weather has allowed the trails to firm nicely while still having a great surface on the snow. Today's early morning grooming began with reworking the skate lanes in the fields as well as touching up some of the classic tracks on second passes. Woods grooming covered nearly every trail with fresh classic tracks on narrow sections or where needed.
Wherever you go today, you should be able to find some nice skiing.
Groomer's choice for today is Armins.
---
Grooming Today: Cache Creek
Last Update: 1/21
The levee and stilson are groomed and in good shape. The levee is very firm but should ski decently.
---
Groomed by Friends of Pathways
Grooming Schedule: As Needed
Last Update: 1/16
Blue skies and sunshine up Cache Creek to Noker mine today.
---
Grooming Daily
Used ski sale!! We are currently selling our classic rentals/demos. Price for Skis, bindings, boots: $215. (Must buy whole package). We still have most sizes available. This sale won't last long so come out and see us soon! Sorry but we don't have any used skate gear for sale but we have lots of new skate boots, skis, bindings and poles available in the shop.
We are open daily to the public for skiing. Click here for our current trails grooming and conditions: https://nordic-pulse.com/ski-areas/US/WY/Teton-Pines-Nordic-Center We offer private skate and classic skiing lessons daily, skate/classic ski rental packages, and bc xc rentals for the park. We are open 9am-4pm. Please call to book lessons and with any other questions.
Note—We have a new shop phone number this season: (307) 732-4130
---
Grooming Daily
Last Update: 1/20
The temperatures may be cold, but the views are hot! Expect mostly sunny skies this weekend with below average temps. The cold temperatures make the snow more abrasive and not as pliable for grooming, which can leave a crumble like texture in areas. Overall, the trails are in great shape and should be very enjoyable through Monday. Be sure to monitor the temps for choosing the right ski wax, as it will be a slower ski if you're not matched up correctly. Enjoy the sunshine! Next update will be Monday 1/23.


Please help support trail grooming in GTNP by donating to the Grand Teton National Park Foundation. It's easy and encouraged. All you need to do is visit: GTNPF.org/donate/ and leave the comment "Nordic" in the designation section. There is the opportunity to leave a one time gift or reoccurring monthly donations in any amount.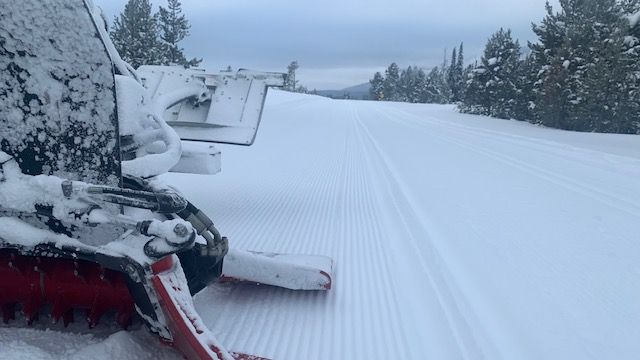 Grooming: Tuesday, Friday, Sunday
Last Update: 1/22
Taggart Lake to Signal Mountain on Sunday morning.
---
Grooming Daily
Last Update: 1/22
The skate lane was reset Sunday (1/22) evening, the classic track continues firm and deep. Conditions are prime for winter trail activities!
Turpin Meadow Ranch is open to all for skiing, lodging, dining, Nordic lessons, and tours! Ours is a short season so be sure to plan a visit this winter between now and March 13, 2022. Call the office (307) 543-2000 or visit our website to book your adventure and/or meal!


Please support TVTAP winter trail grooming on your favorite TV winter trails by purchasing a TVTAP Trail sticker Please remember to manage your dogs and respect dog and wildlife closures. Buy a dog trail sticker, too!
Grooming Schedule: Sunday, Tuesday, Thursday, & Saturday
Last Updated: 1/22
Classic Track: Not Set | Fat Bike Trails: Open | Snowshoe Trails: Open
A high pressure system will stick around for the remainder of the day. Be prepared for highs in the 20's and single digit lows. Dress warm and come prepared for another great day at the Ghee.
Remember, singletracks will be closed when there is more than 3 inches of snow in a 24 hour period.
---
Grooming Schedule: Tuesday, Thursday, & Sunday
Last Updated: 1/22
Skate: Set | Classic: Set
Groomed Sunday morning.
---
Grooming Schedule: Monday, Wednesday & Friday
Last Updated: 1/20
Skate: Set | Classic: Set
The classic track is still in great shape so I left it as is. Smoothed out the skate track- it should ski much better now.
---
Grooming Schedule: Monday, Wednesday & Friday
Last Updated: 1/20
Skate: Set | Classic: Set
Skating should be awesome! Not enough snow to reset classic track and it is mostly in except for a few spots a had to go over. Single/walking track was groomed as well. Enjoy the sunshine
---
Grooming Schedule: Monday, Wednesday, Friday & Saturday
Last Updated: 1/22
Skate: Set | Classic: Set
Skate lane reset, classic still good. Conditions are great. A little light snow which makes it even better.
Trail Etiquette: Please keep your dogs leashed in the parking lot and be sure to clean up after them!
---
Grooming Schedule: Tuesday, Friday & Sunday
Last Updated: 1/22
Skate: Set | Classic: Set
Sunday morning I groomed yeti's and campground loops. I was able to reset the skate and classic track on both. Enjoy the glide.
No dogs December 1 – April 15.
---
Grooming Schedule: Tuesday, Thursday & Saturday
Last Updated: 1/21
Skate: Set | Classic: Set
Just finished grooming for the Spud Chase race. The course is looking good!
No dogs allowed. Please stay on the groomed trails at all times.
---
Southern Valley Singletrack
Grooming Schedule: As needed
Last Updated: 1/21
Singletrack: Set
Saturday 5:30am I groomed upper and lower hillbenders. Friday morning groomed happy hour, powerline, upper Ladyslipper, lower Ladyslipper, Sherman Springs access and Nemo. Everything is in fantastic shape.

No dogs December 1 – April 15.
---
Grooming Schedule: As needed
Groomed by USFS
Last Updated: 1/19
Groomed 1/19
---
Grooming Schedule: As needed
Groomed by USFS
Last Updated: 1/12
Groomed 1/12 PM.
---
Grooming Schedule: As needed
Groomed by USFS
Last Updated: 1/9
Groomed 1/9 enjoy.
---
Pinnacle Trail
Grooming Schedule: As needed
Groomed by USFS
Last Updated: 1/5
Groomed 1/5 afternoon


Mark your calendar so you don't miss out on all the wonderful events coming up! Explore the highlighted events below or find more events on our website at https://jhnordic.com/events/
---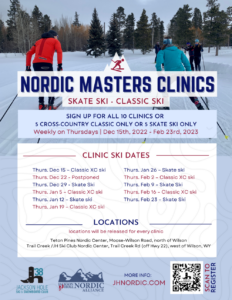 Thursdays – from Mid December to late February
Thursday, January 26 – Skate Ski at Teton Pines Nordic Center
The JHSC would like to encourage participants to pre-register/pre-pay for the clinics, including drop-ins.

Join us this winter season to increase your ski speed, stamina, and strength. Work on your technique and form with professional tips and exercises from USSA certified coaches. Stay and ski all day with your clinic ski pass at Teton Pines Nordic Center or Trail Creek Nordic Center (we will ski at both locations through out the winter to provide a variety of terrain and technique).
---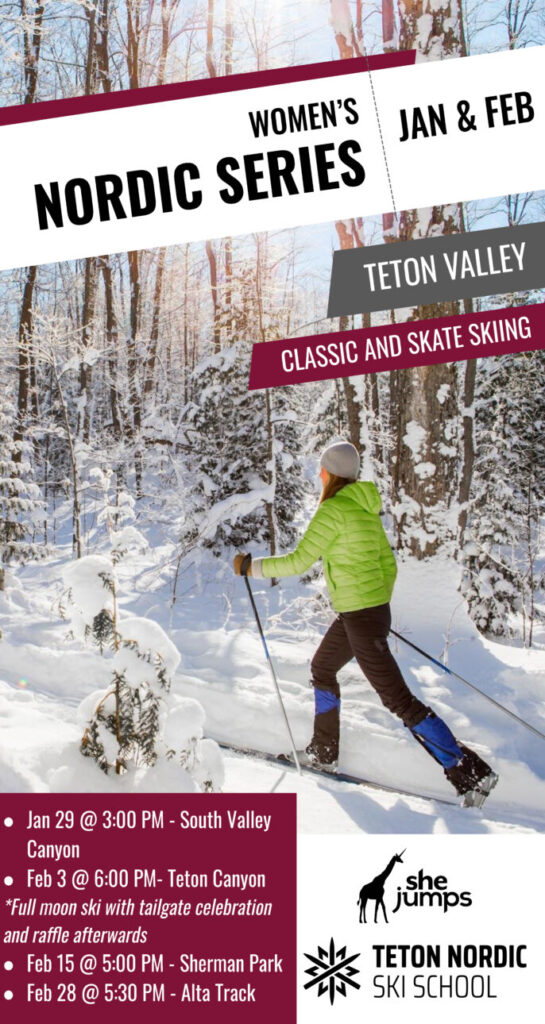 ---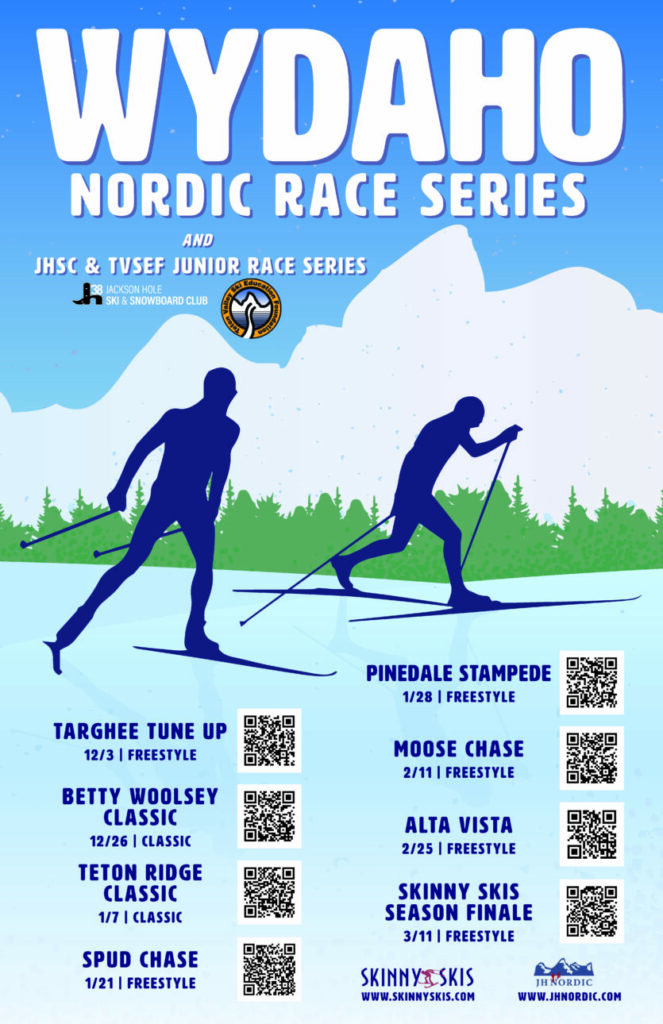 ---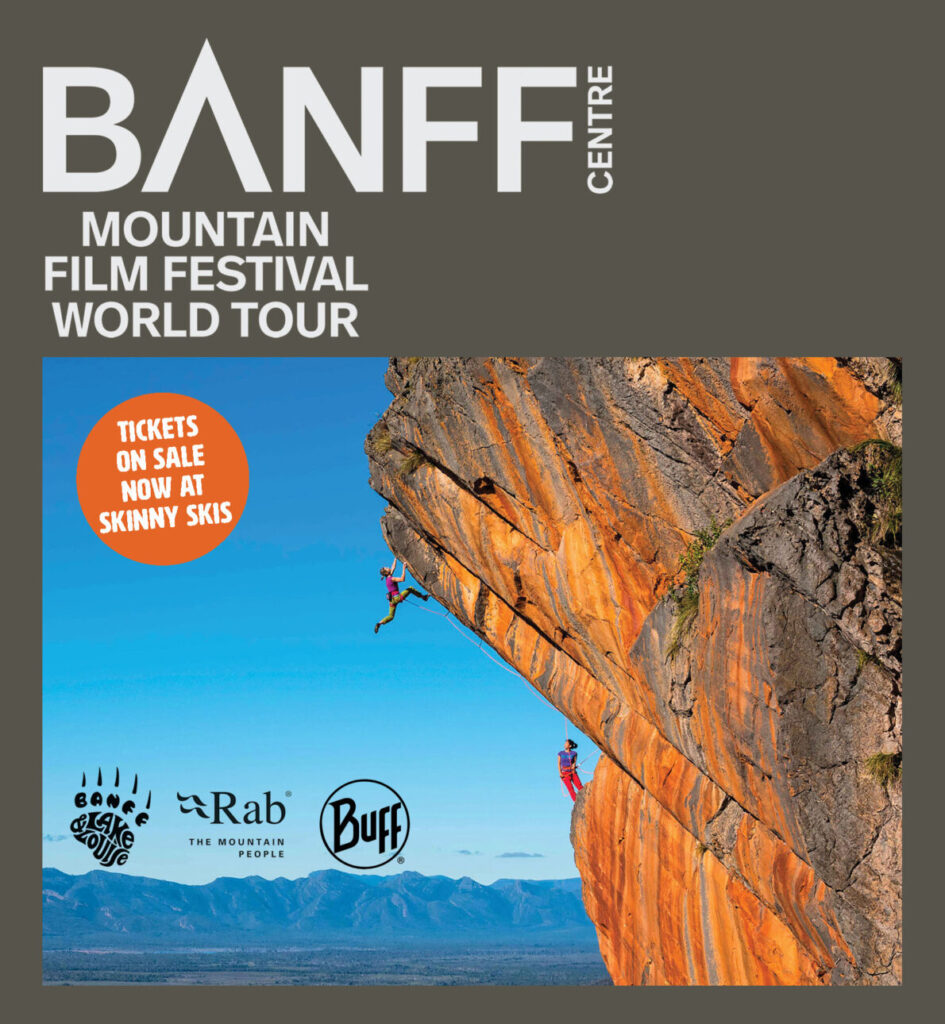 Banff Film Festival
February 10th and 11th, 2023
Jackson Hole High School
Skinny Skis presents two showings of the Banff Mountain Film Festival. The showings will be a fundraiser for the Friends of the Bridger Teton. Tickets now on sale at Skinny Skis!


---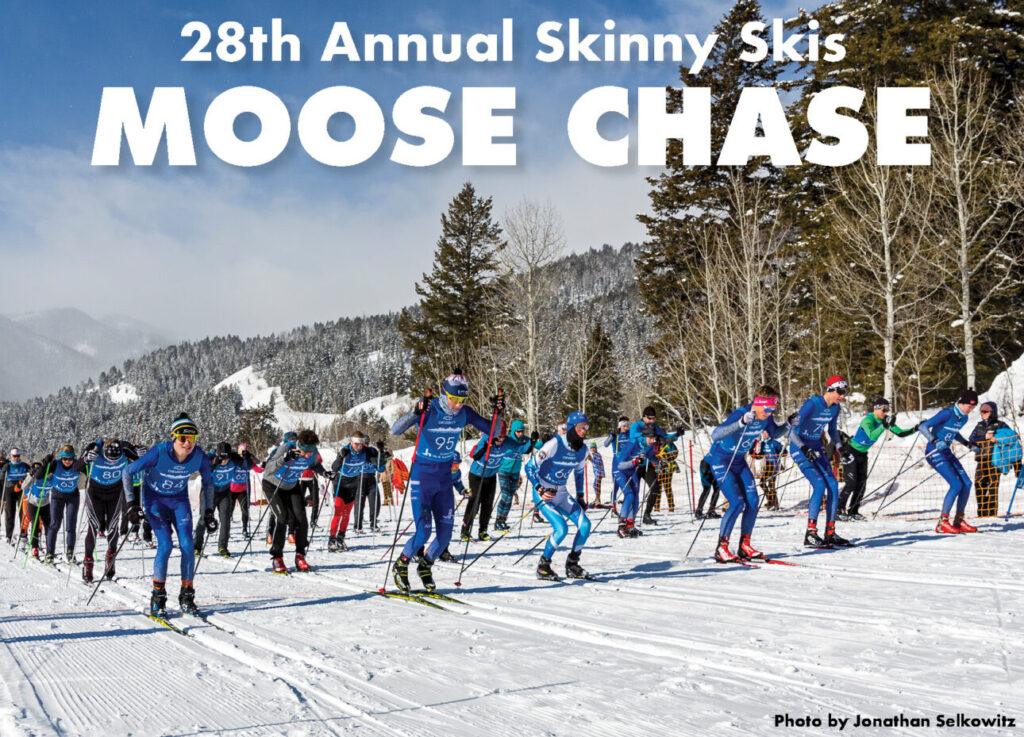 Saturday, February 11th, 2023 | 10:00AM
Trail Creek Nordic Center
THE MOOSE CHASE PRESENTED BY SKINNY SKIS IS BACK! After a four year hiatus, we are bringing back this community nordic event at Trail Creek on Saturday, February 11th. We would love to see all families, club athletes, and nordic community members on the start line to celebrate cross-country skiing in Jackson Hole. Parents are encouraged to race or volunteer, and we will be sending out volunteer shifts to sign up for shortly. We will have 20k, 10k, 5k, 3k, and free 0.5k options that accommodate all ages and abilities. Every athlete from Lollipoppers to Devos to Prep/Comp should plan on attending this event! We will have a food and awards following race completion at Trail Creek.
---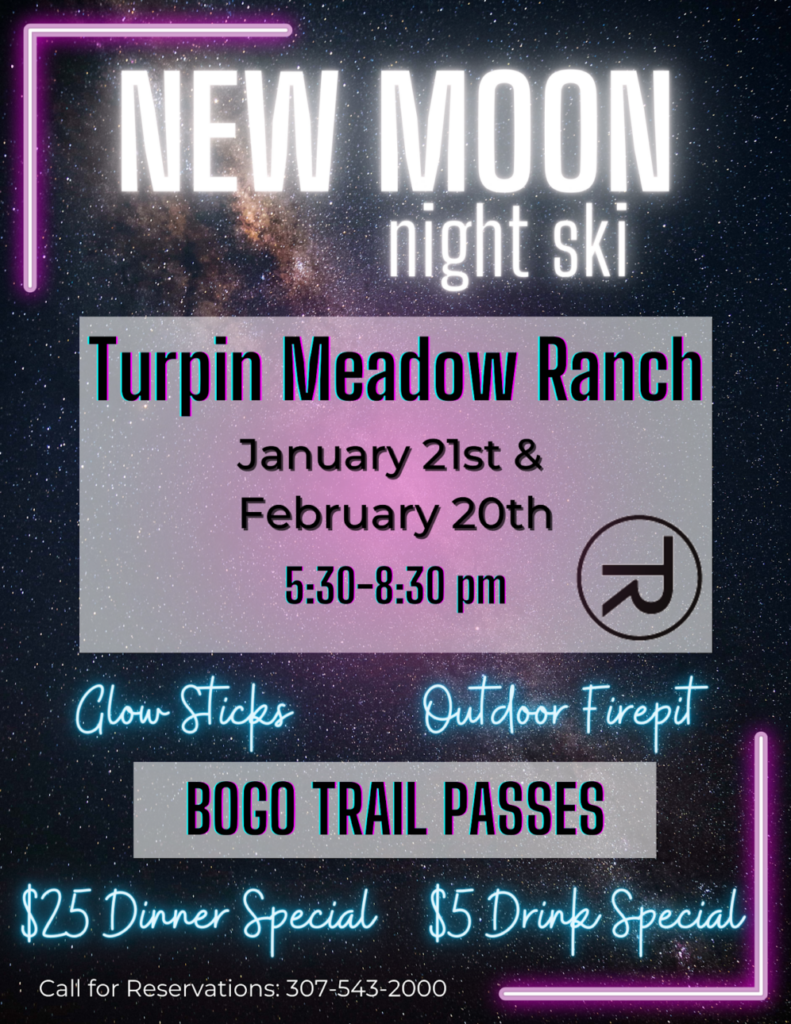 ---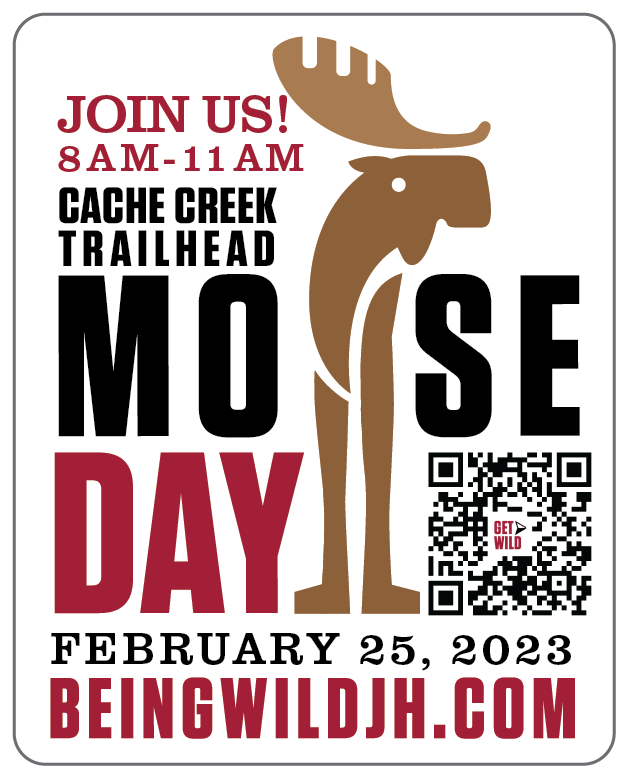 ---
---
---
We'd love to hear about your outdoor adventures, what your doing to stay healthy, safe, respectful of community health guidelines – send pictures or post on FB and Insta – #JHNordic