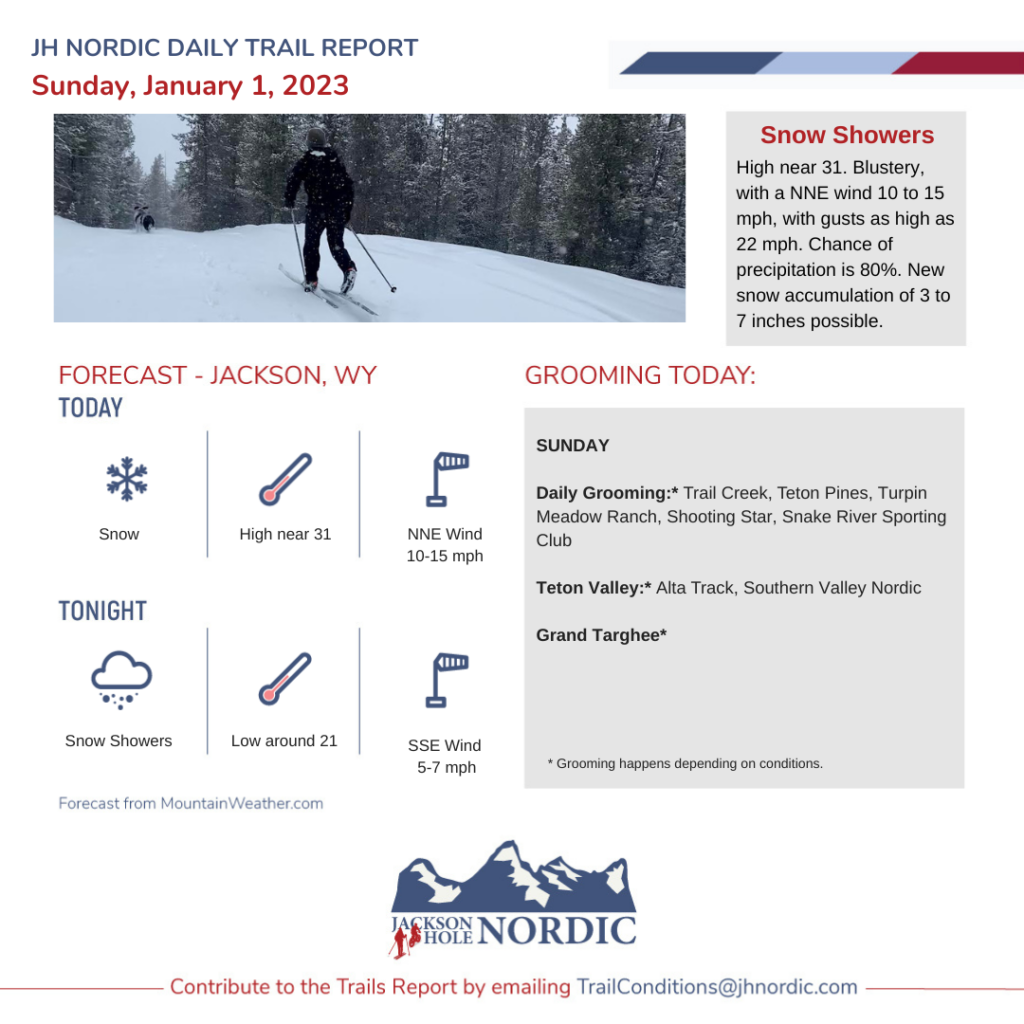 ---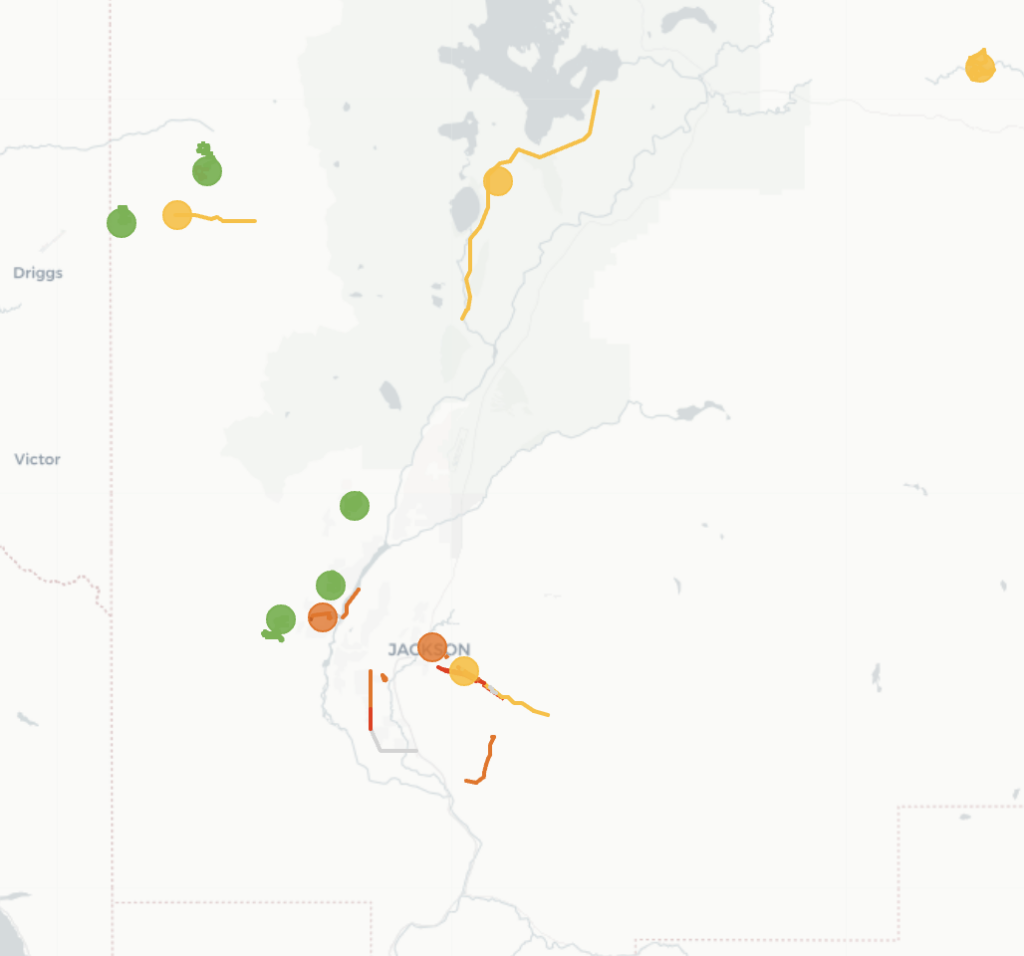 What's Groomed in Jackson Hole/Teton Valley?
See real-time grooming in the Jackson Hole/Teton Valley region. Find all the latest grooming & fresh groomed tracks. Plan your next Nordic Adventure with ease.
---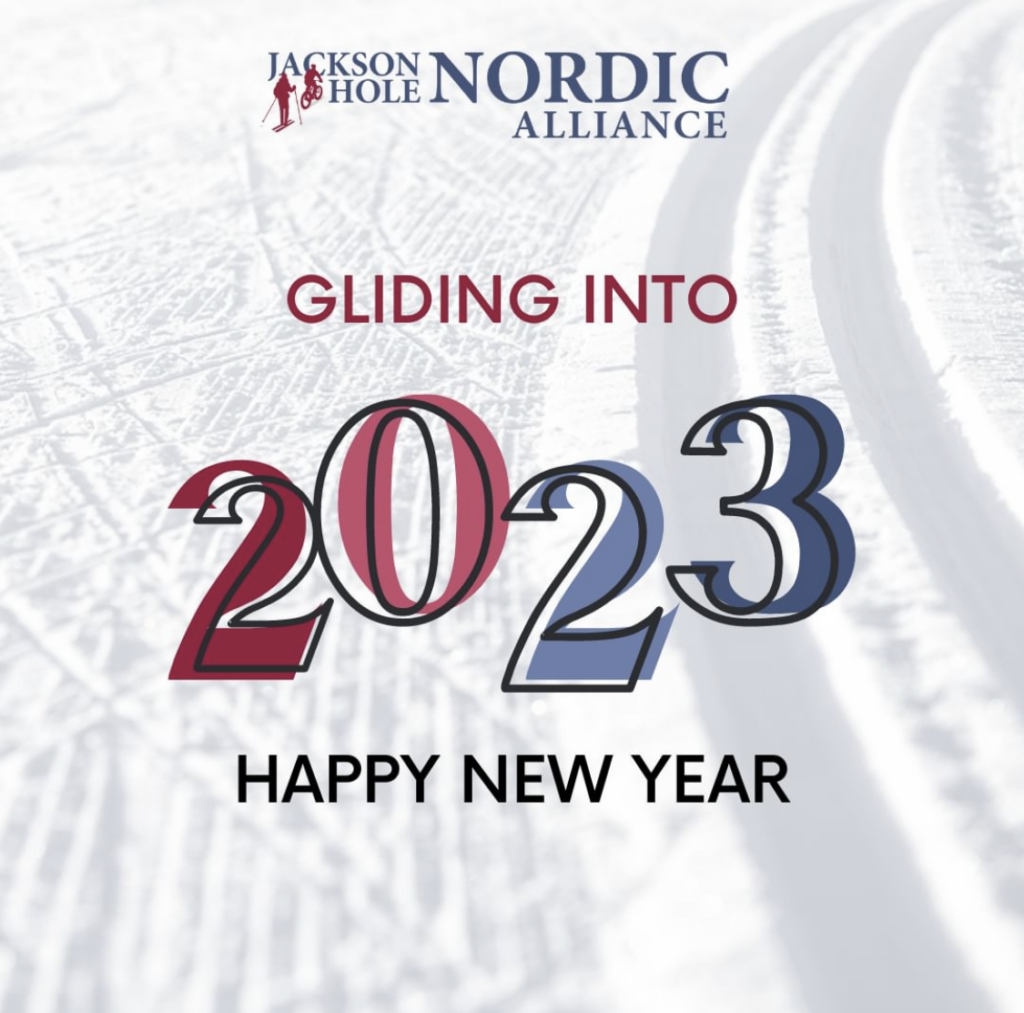 May your new year be filled with fast & firm trails, a sense of wonder, opportunities to get outside, and a community of friends who are always willing to meet you at the trailhead for an adventure.
---
Parks & Rec PSA – PistenBully in Need of Repairs
The Parks Department PistenBully groomer broke down Saturday morning mid way
through grooming efforts. Repairs will not be possible until after the Holidays. Staff will
continue to groom with snowmobile and pull behind groomer through next week.
Contractor will groom Cache to Noker Mine on Monday. Please continue to check the
Parks & Rec website and/or Twitter feeds for updates on conditions. Thank you for your
patience as we work through repairs. You can also get up to date information on other
groomed areas in Jackson Hole at: https://jhnordic.com/grooming/
http://www.tetonparksandrec.org/1353/Grooming-Report
http://www.tetonparksandrec.org/1355/Ice-Rinks
---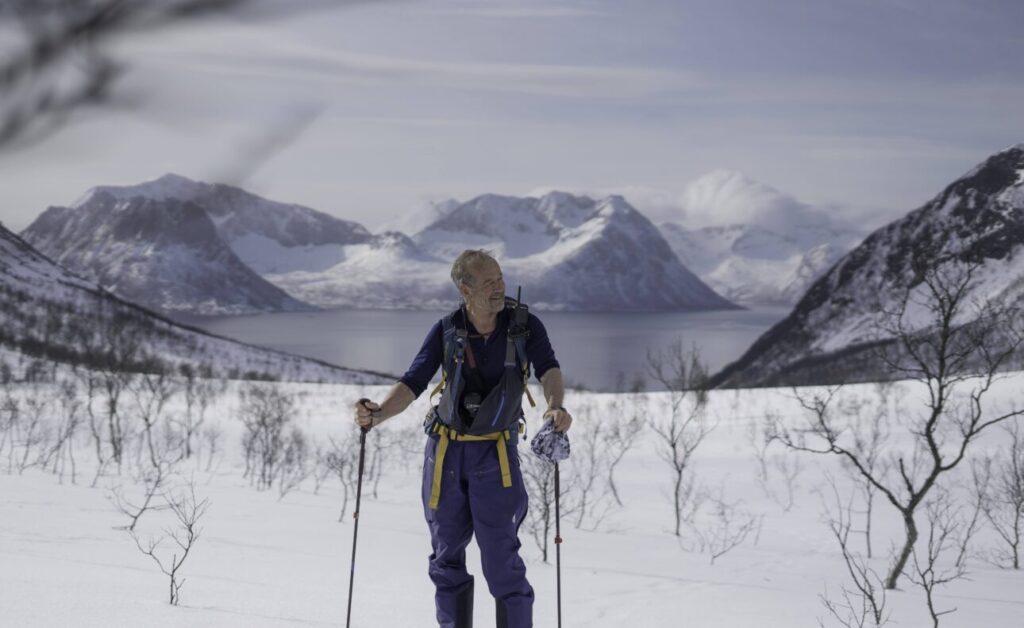 Nordic Luminary: Jim Roscoe
The editorial board at JHNordic.com, after much discussion, has come up with this definition of a Nordic luminary—a local Nordic skier who has both accomplished great things in Nordic skiing as well as contributed to the local Nordic community. Jim Roscoe is one such person.
"Tone it down," Jim said… "I just stumbled into this. Don't make me out to be anything special."
I asked Jim what he would suggest to people just getting into cross country. He recommends just getting out there and trying some of the excellent groomed Nordic tracks in the valley and supporting their grooming efforts. Coaching for kids and good lessons for grownups new to the sport are good ideas also.
I enjoyed getting to know Jim Roscoe better. He is an interesting and modest guy. And—don't listen to him—he truly is one of Jackson Hole's Nordic luminaries.
---
Countdown to The JH Nordic Annual Event!
We haven't hosted this event in two years and we are so excited to invite you to join this 5th Annual FREE Nordic Community Event at Turpin Meadow Ranch on Sunday, January 8th, 2023! We are just 7 days away from the event so to celebrate let's countdown with 7 reasons to attend (a new reason will be featured each day this week).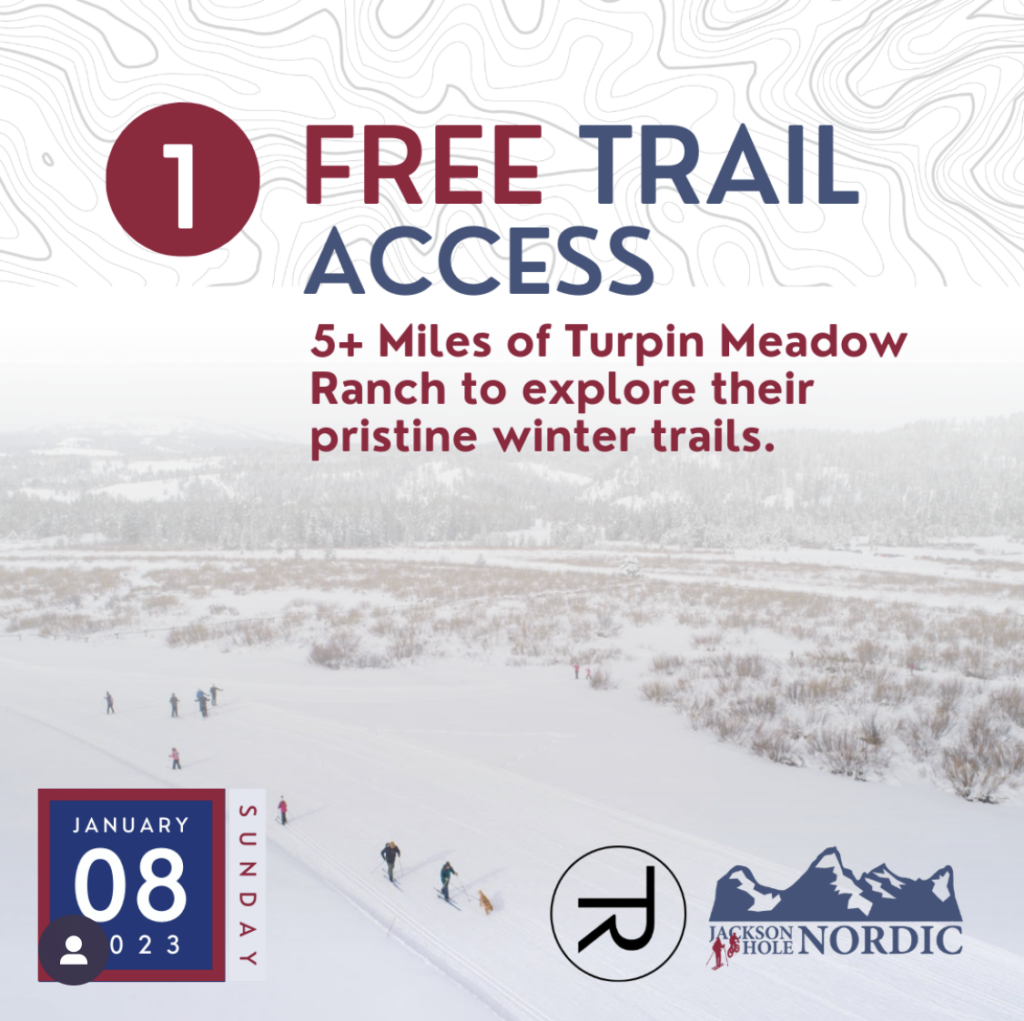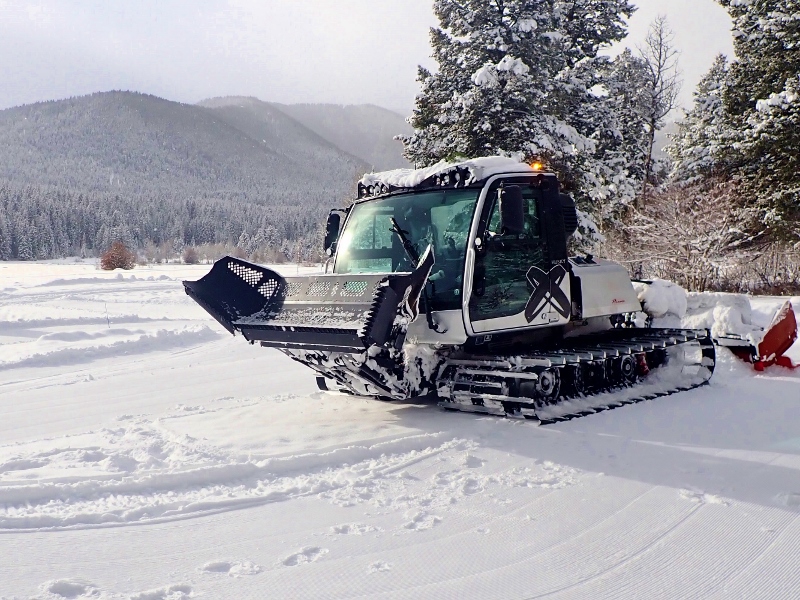 Grooming Daily
Last Update: 12/31
New Year's Eve
As we ski into a new year, you'll discover a winter wonderland today at Trail Creek. Overnight 6-10 inches of pretty heavy snow has graced our trails, once again painting the landscape a brilliant white. As of report time the sun was peeking out a bit giving the indication that perhaps the storm might be winding down, however, the forecast still calls for quite a bit more in the next 36 hours so time will tell.
Of note today, the US Cross Country Ski Championships in Houghton, Michigan are getting under way. A small crew of JHSC athletes and coaches are there to participate in this amazing event. While serious racing and live streaming doesn't get going until January 2nd, you can find all the details as well as streaming links at this link.
Today's grooming was with the Husky and reworked most every trail. An early morning start began in the woods with fresh classic tracks being placed universally. The fields were then buffed out towards the end of grooming. Double passes occurred on Moose Loop, Homesite, Suicide and major field trails. While a couple inches of snow did fall since the beginning of grooming, all in all you should be able to have a great time skiing yourself into the new year.
Groomer's choice for today is Homesite.
---
No Grooming Today
Last Update: 12/31
The levee and stilson are groomed and in good shape. Ski everything early to beat the accumulating snow! The school fields will not be groomed today. The pistenbully is down. Next week's grooming will most likely occur with our snowmobile and pull behind.
---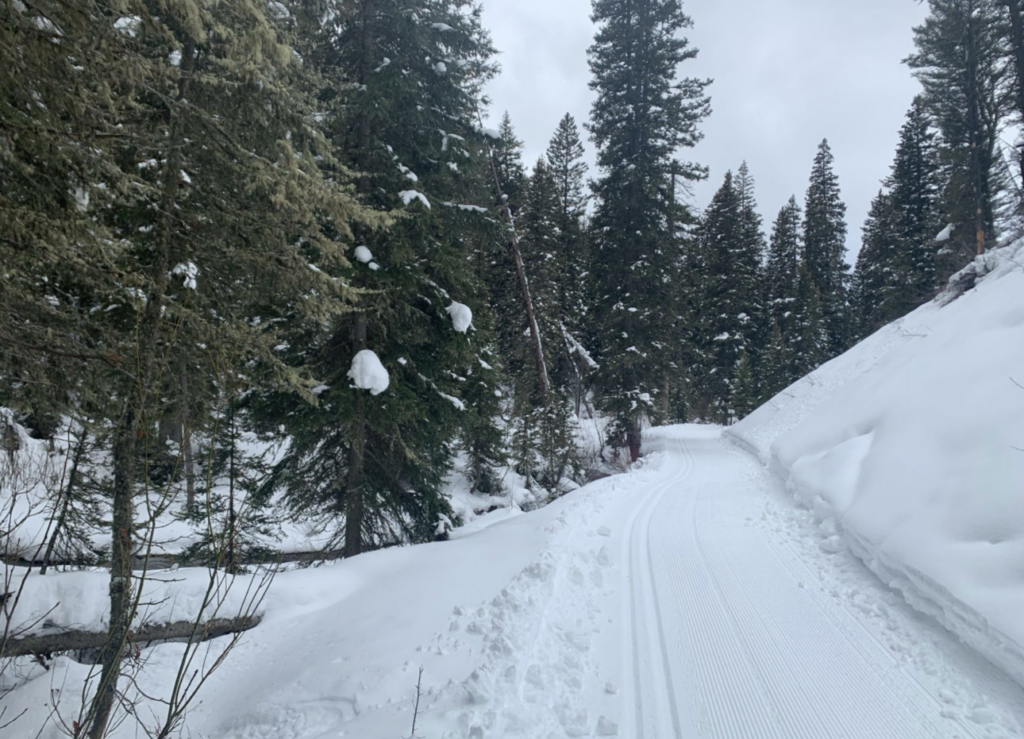 Groomed by Friends of Pathways
Grooming Schedule: As Needed
Last Update: 12/28
Poor grooming conditions. machine tracks were digging deep into the base and the tiller could not cover them up without causing other issues because of all the rain and warm temperatures yesterday. Skiing will be somewhat poor with uneven conditions. The next few days are forecasted to be colder so the bases should firm up allowing me to groom on Friday.
---
Grooming Daily
Last Update: 12/27
We are open daily to the public for skiing. Click here for our current trails grooming and conditions: https://nordic-pulse.com/ski-areas/US/WY/Teton-Pines-Nordic-Center

We offer private skate and classic skiing lessons daily, skate/classic ski rental packages, and bc xc rentals for the park. We are open 9am-4pm. Please call to book lessons and with any other questions.
Note—We have a new shop phone number this season: (307) 732-4130
---
Grooming Daily
Last Update: 12/31
6" of new snow fell overnight and more accumulations plus wind are expected throughout the day. Trails groomed out very nicely, however drifting will likely occur if windy conditions arise. Anticipate snow & wind to continue through Sunday, and calmer conditions returning Monday. Enjoy and be safe. Happy New Year!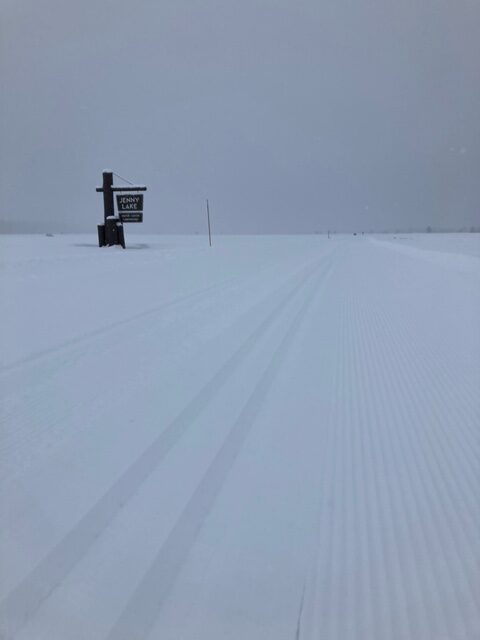 Grooming: Tuesday, Friday, Sunday
Last Update: 12/30
Happy New Year! Taggart to Signal today. (We will not be grooming on New Years Day)
---
Grooming Daily
Last Update: 12/31
New Year's Eve was a great day for classic skiing and snowshoeing. More snow is in the forecast so 2023 will be off to a wonderful start for Nordic activities!
Turpin Meadow Ranch is open to all for skiing, lodging, dining, Nordic lessons, and tours! Ours is a short season so be sure to plan a visit this winter between now and March 13, 2022. Call the office (307) 543-2000 or visit our website to book your adventure and/or meal!


Please support TVTAP winter trail grooming on your favorite TV winter trails by purchasing a TVTAP Trail sticker Please remember to manage your dogs and respect dog and wildlife closures. Buy a dog trail sticker, too!
Grooming Schedule: Sunday, Tuesday, Thursday, & Saturday
Last Updated: 12/30
Classic Track: Not Set | Fat Bike Trails: Closed | Snowshoe Trails: Open
Temperatures are expected to stay in the mid to high teens throughout the day with more snow predicted tomorrow.
Remember, singletracks will be closed when there is more than 3 inches of snow in a 24 hour period.
---
Grooming Schedule: Tuesday, Thursday, & Sunday
Last Updated: 12/31
Skate: Set | Classic: Set
Saturday update is that the track is groomed for classic & skating. Enjoy one last 22 ski!
---
Grooming Schedule: Monday, Wednesday & Friday
Last Updated: 12/30
Skate: Set | Classic: Set
After grooming the track this morning the snow began to fall. Conditions will improve considerably now that we have fresh snow to work with.
---
Grooming Schedule: Monday, Wednesday & Friday
Last Updated: 12/29
Skate: Set | Classic: Set
Looking good out there. Skate is firm and smooth, classic should set up well, and singletrack is buffed out.
---
Grooming Schedule: Monday, Wednesday, Friday & Saturday
Last Updated: 12/31
Skate: Set | Classic: Set
Saturday: Looks to be couple inches of new snow overnight. Plan to reset both classic and skate tracks this morning.
Trail Etiquette: Please keep your dogs leashed in the parking lot and be sure to clean up after them!
---
Grooming Schedule: Tuesday, Friday & Sunday
Last Updated: 12/30
Skate: Set | Classic: Set
Finished grooming late this morning. Everything is set and it turned out great. Snow still falling!
No dogs December 1 – April 15.
---
Grooming Schedule: Monday, Thursday & Saturday
Last Updated: 12/31
Skate: Set | Classic: Set
Rolled out the skate lane and reset the classic track. Skating was firm and smooth, classic lane looks a little slick in spots. Get out for your last ski of 2022!
---
Southern Valley Singletrack
Grooming Schedule: As needed
Last Updated: 12/24
Singletrack: Set
Gary and I Groomed Nemo Grumpy connector Hillbenders Powerline Have fun and Merry Christmas!
No dogs December 1 – April 15.
---
Grooming Schedule: As needed
Groomed by USFS
Last Updated: 12/28
Groomed 12/28 PM to end of road.
---
Grooming Schedule: As needed
Groomed by USFS
Last Updated: 12/23
Groomed 12/23 PM. Enjoy.


Mark your calendar so you don't miss out on all the wonderful events coming up! Explore the highlighted events below or find more events on our website at https://jhnordic.com/events/
---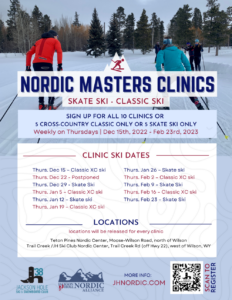 Thursdays – from Mid December to late February
Thursday, January 5 – Classic Ski at Teton Pines Nordic Center Thursday, January 12 – Skate Ski at Teton Pines Nordic Center
The JHSC would like to encourage participants to pre-register/pre-pay for the clinics, including drop-ins.

Join us this winter season to increase your ski speed, stamina, and strength. Work on your technique and form with professional tips and exercises from USSA certified coaches. Stay and ski all day with your clinic ski pass at Teton Pines Nordic Center or Trail Creek Nordic Center (we will ski at both locations through out the winter to provide a variety of terrain and technique).
---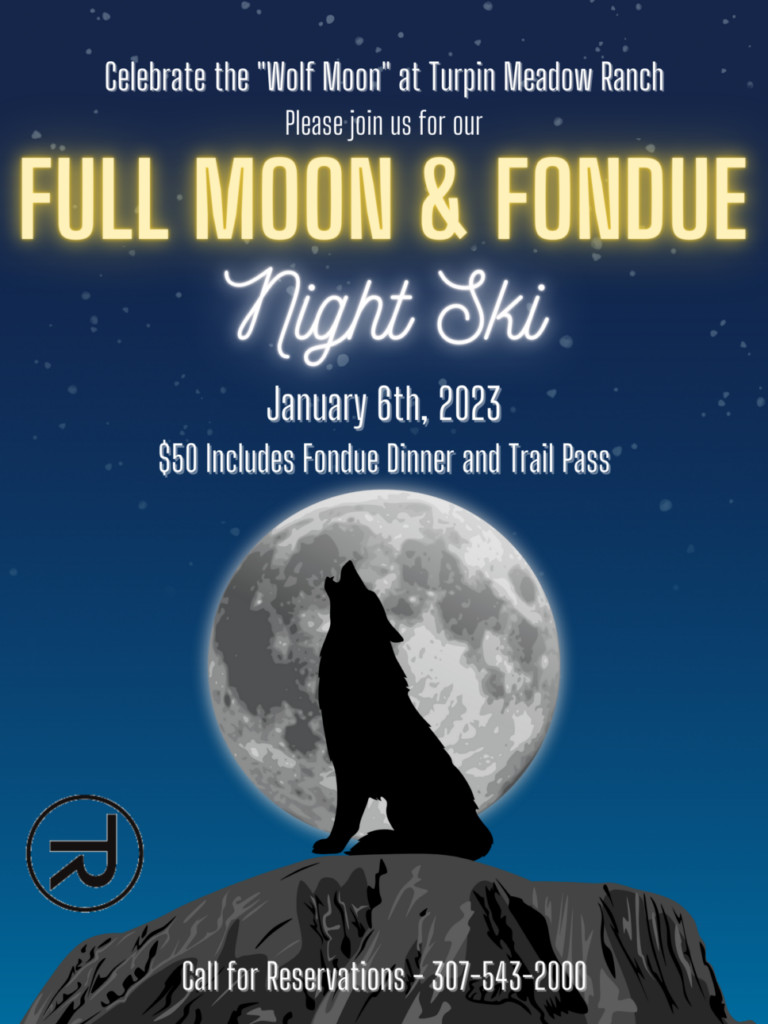 ---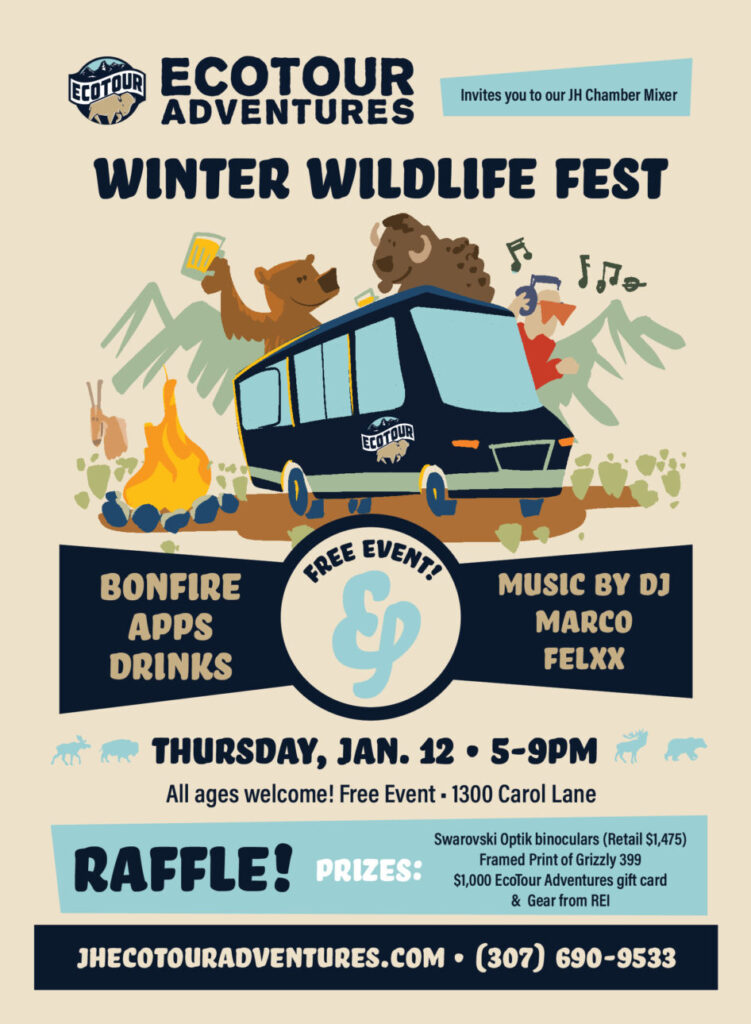 ---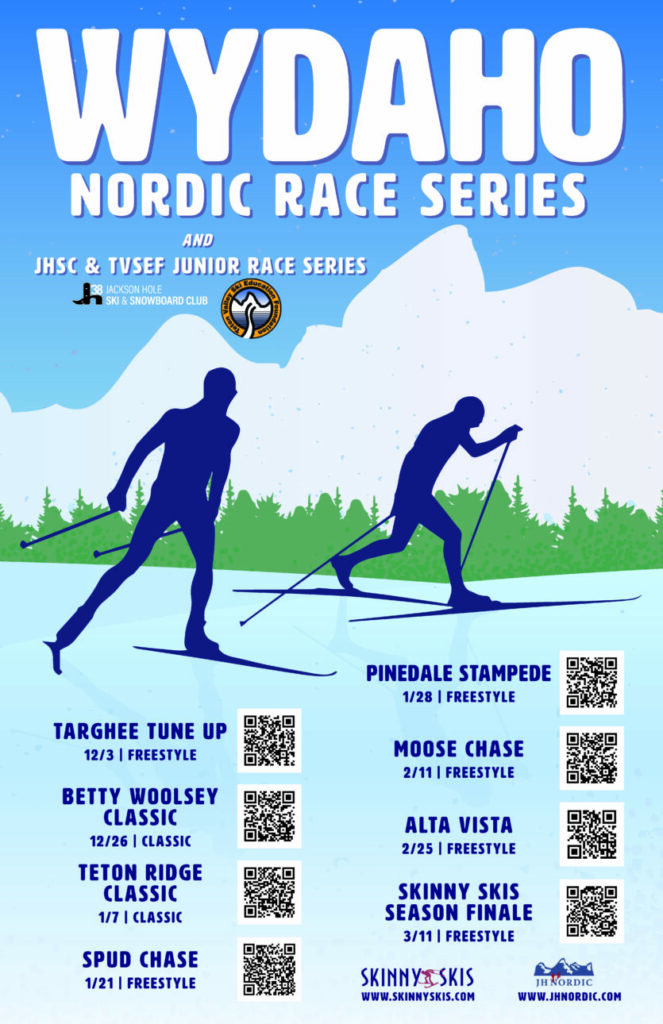 ---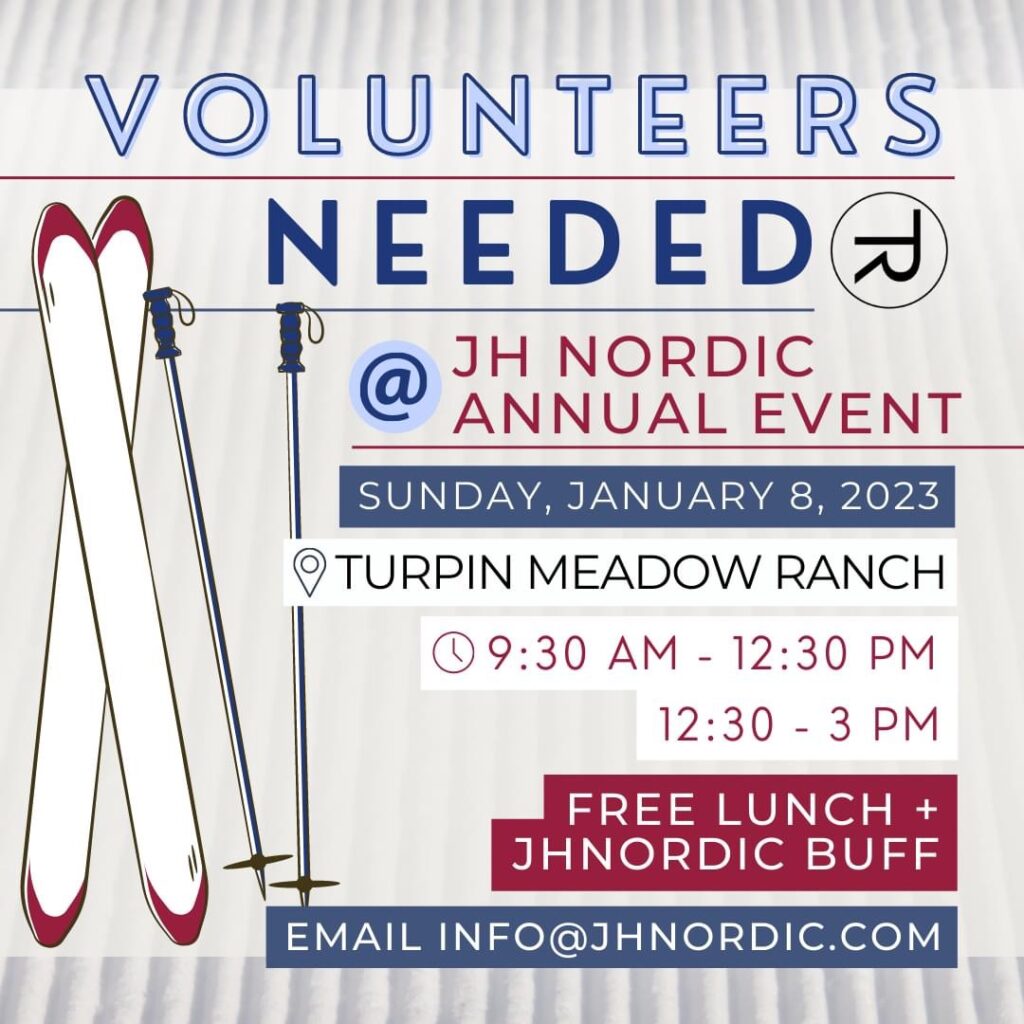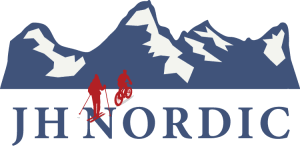 Sunday, January 8th, 2023 | 9:30AM – 3:00PM
Turpin Meadow Ranch
Fun, Free Community Day – with Raffle benefiting local Nordic Alliance non-profit. Free trail pass, Free skate & classic XC ski demo gear, Free fat bike demos, free Nordic ski lessons, Free BackCountry Nordic Ski & Snowshoe tours, Kids Corral (2-5 yr olds), Bridger-Teton USFS wildlife and wilderness info, Kates Bars, Lunch, snacks, hot & cold drinks.

Sponsored by the JH Nordic Alliance members. Family. Friends, visitors, dogs (on leash) welcome. Bring your own skis and bikes recommended to use between free demos and tours.
---
---
---
We'd love to hear about your outdoor adventures, what your doing to stay healthy, safe, respectful of community health guidelines – send pictures or post on FB and Insta – #JHNordic