---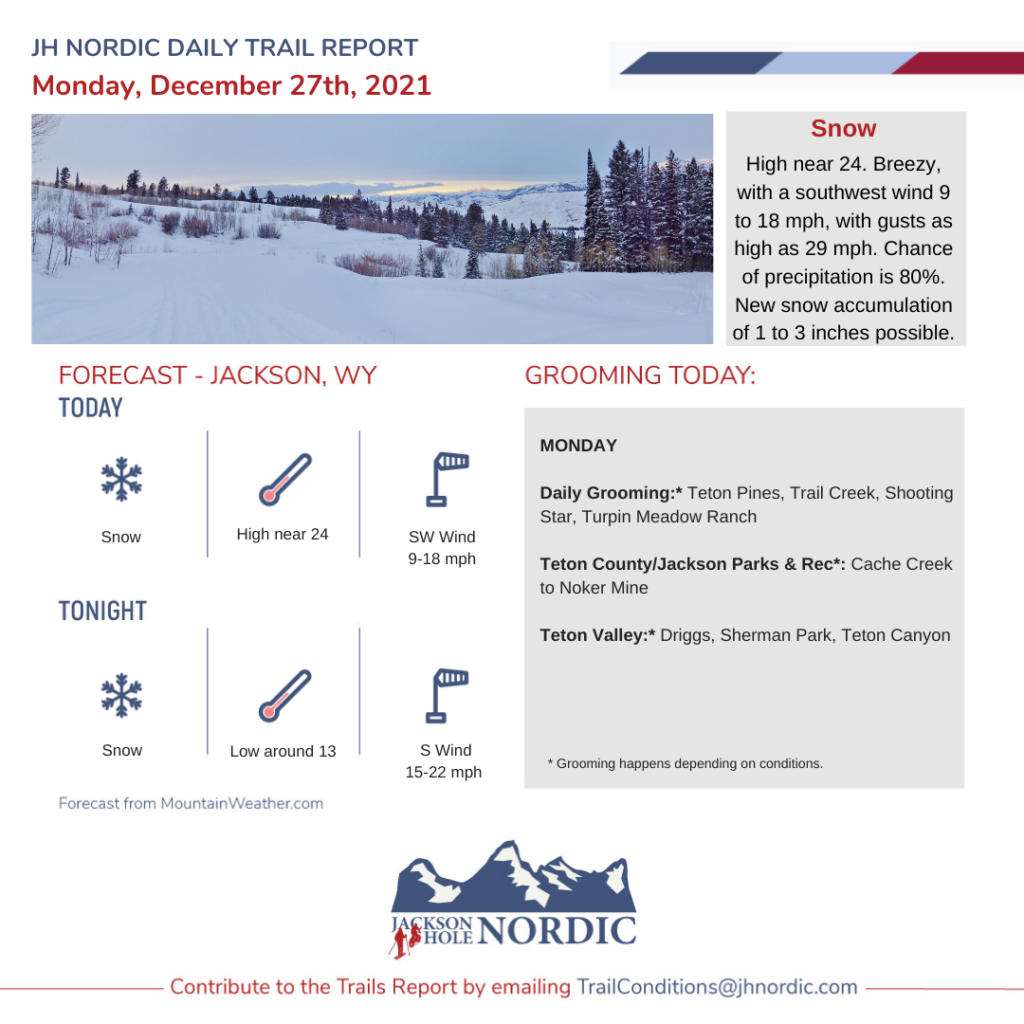 ---
Betty Woolsey Classic Race Highlights
Hosted by the JH Ski Club Nordic Program, strong turnout by the community today for the season opening race in JH. Skiers, parents, supporters, fans of all ages! Grooming was perfection!
---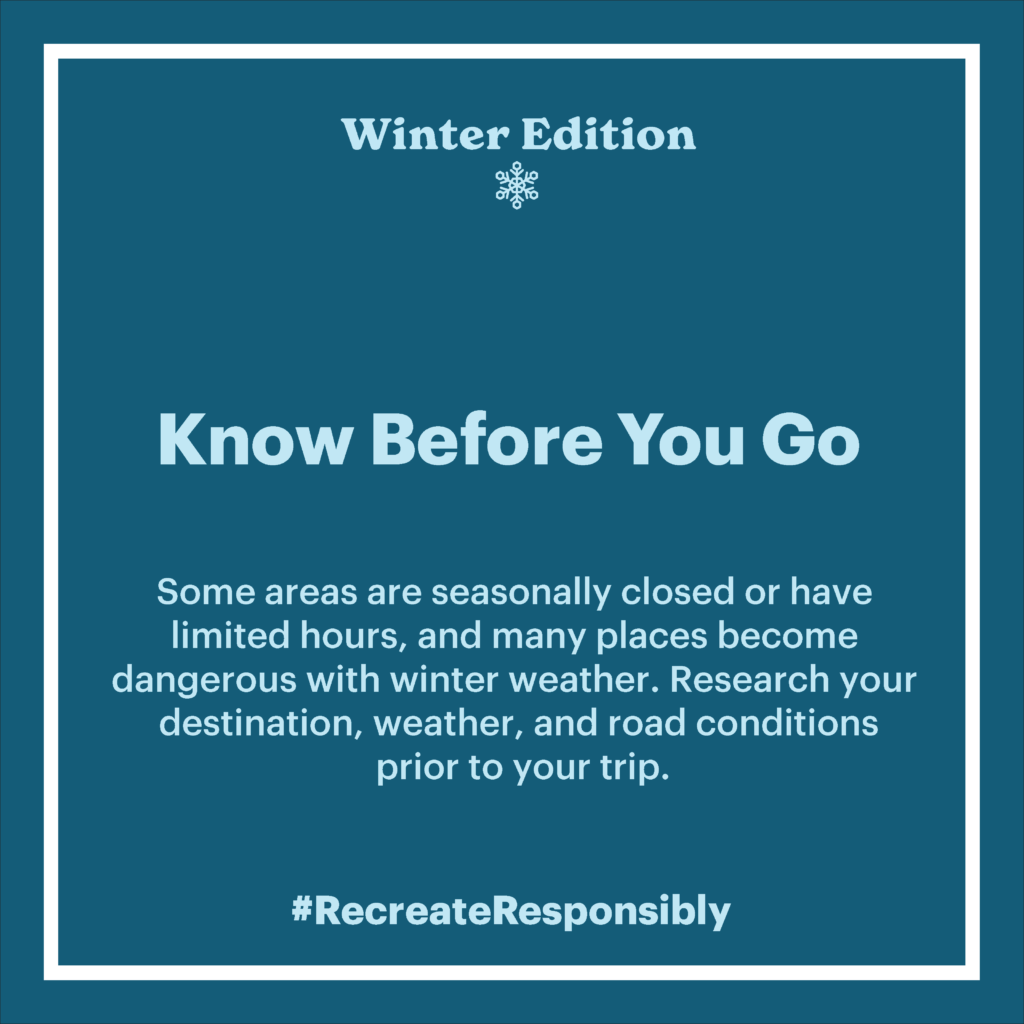 Time in nature, and outdoor recreation has proven to be essential for all. Especially during uncertain times, all of us, from seasoned outdoor enthusiasts, to families heading out to their local park for the first time, can turn to community and simple reminders about how to safely & responsibly recreate outdoors while caring for one another.
The Recreate Responsibly guidelines offer a starting point for getting outside to keep yourself and others safe while working to maintain access to our beloved natural spaces.
---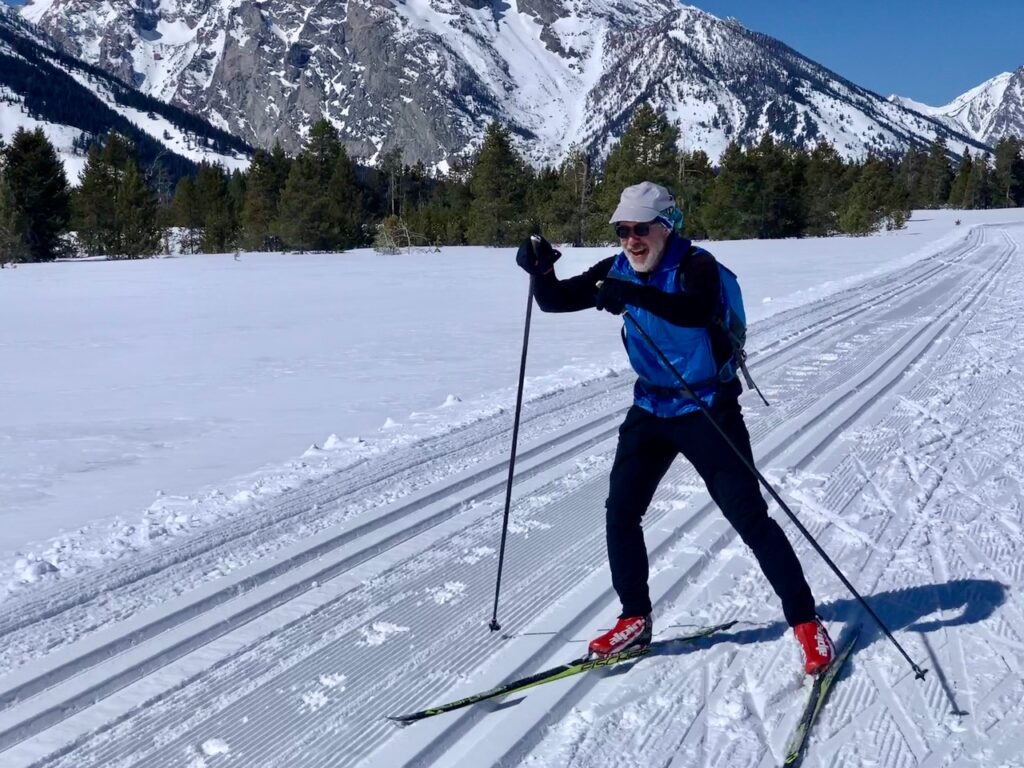 Even though the season is getting underway, there's still time to get in shape for the long winter ahead.
Trying to make it up that first small hill and having to stop to catch your breath, having to cut your ski shorter than you want because you are pooped, or waking up the next morning with burning muscles makes skiing a little less enjoyable.
Click below to learn more on how to get in shape for your winter nordic adventures so you can make the most out of this winter season.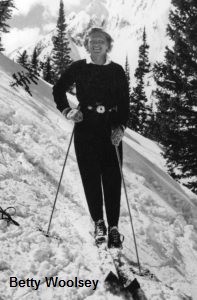 Grooming Daily
Last Update: 12/26
Betty Woolsey Classic Race 10 AM!
Come on out to Trail Creek today for some great Nordic camaraderie and the perfect opportunity to ski off that Christmas dinner on a 10K tour through the trails of Trail Creek.
Registration closes at 9 AM with mass start waves on the following schedule: 10 km start at 10:00 AM, 5 km start at 10:15 AM, 3 km start at 10:30 AM, and 0.5 km start at 10:45 AM. Don't forget your mask and please practice good covid protocols.
Grooming will be a hybrid of Husky and Ginzu grooming. It should be a great day, don't miss it.
---
Last Update: 12/24
The Pistenbully is out of hibernation! Cache creek and May park have been groomed this morning so far. Cache still has some thin spots mostly in the first mile and on the climbs. I did two passes at May park. I will be heading to the levee and stilson next.
Stilson and the levee were groomed with the pistenbully this morning also. Both came out nicely but stilson has a few ditches that can't be filled in at the moment. They are easily navigated on skis though. Because of the holidays there will be no grooming tomorrow.
We will begin our regular grooming schedule on Tuesday using the pistenbully and possibly the snowmobile depending on the snow depths at the trails south of town.
---
Last Update: 12/19
After a lot of shoveling over the last 4 days I got a groomed track on all the trails on the map below. Things are a little thin but the trails should be good to go until we get more snow later in the week.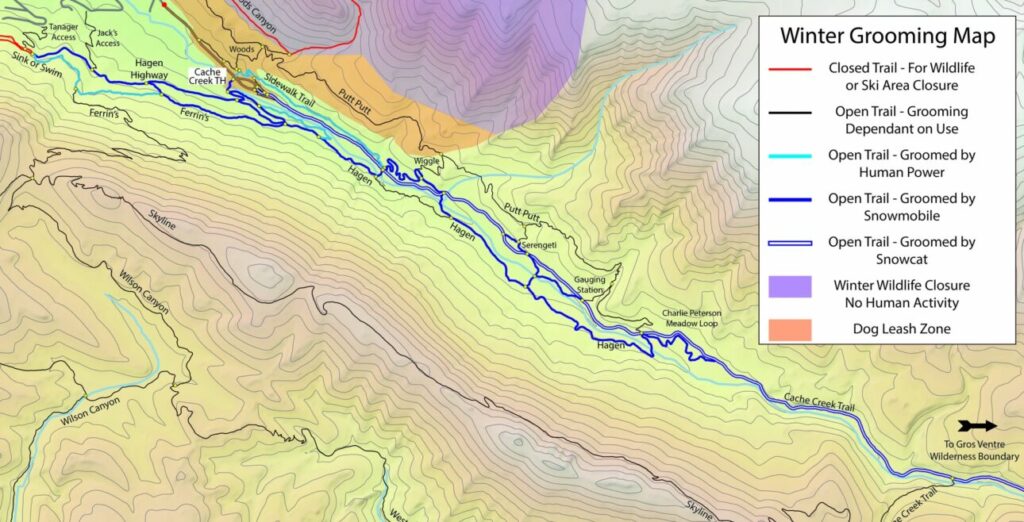 ---
Grooming Daily
Last Update: 12/19
Our track is skiing quite well for both skate and classic even with our low snowfall total. We are grooming daily with the snowmobile/ginzu and plan to begin grooming with the snowcat after we receive a few more inches of snow. This week looks snowy so the snowcat should be out very soon!
We are open to the public 9am-4pm daily (closed on Christmas Day). Please call us in advance to book lessons at: (307) 733-1733. You do not need a reservation for skiing and we don't take reservations for rentals. During the next two weeks we don't allow multi-day or off-site rentals.
We still have a shop full of classic skis, skate skis, boots, jackets, pants, gloves, and hats so come on out to pick up last minute gifts for the XC skier on your list. We are looking for part-time help with daily Nordic Instruction over the holidays. Please call Cody for more information (307) 733-1733
Visit our website for pricing and other information: www.tetonpinesnordiccenter.com
---
Grooming Daily
Last Update: 12/26
Windy/White out conditions are expected today which may cause unsuitable Nordic conditions as visibility will be difficult at times combined with drifting. Keep up with the road conditions as white out conditions may temporarily close the roads. Unfortunately, our larger Pistenbully/Snowcat has an electrical issue and is currently down for repairs. For the foreseeable until the Pistenbully is repaired, we'll continue to focus our efforts only on the Yellow Loop using the snowmobile for grooming. Grooming with the sled is very difficult and physically demanding due to our site's exposure to wind/large drifts. Currently it takes us 5+ hrs to groom the Yellow loop via the snowmobile since numerous steps are needed to work the snow. If the course has severe drifting today & tonight, we may need to delay the opening for the Nordic Course on Monday until grooming is finished. Finally, if winds continue today, I recommend holding off using the trails until conditions improve by Monday afternoon . Thanks for your patience and we'll continue to do our best with the cards we've been dealt.
TRAIL STATUS
YELLOW LOOP OPEN
CLASSIC TRACKS NOT SET
SNOWSHOEING CLOSED, NEEDS 2+ FT MORE SNOW
SLED HILL NOT GROOMED
ORANGE LOOP, CLOSED
WALKING, NOT ALLOWED
---
Last Update: 12/24
Friday morning grooming from Taggart to Signal. Merry Christmas!
Grooming is sponsored by the GTNP Foundation and generous donations from our community.
---
Last Update: 12/25
Thank you to all who wore their pajamas inside out – we have had consistent snow throughout the last few days so we have been able to groom with the pisten bully early in the mornings and will be grooming daily for the rest of the season. Most of our trails are in good shape however the mule loop is still very thin and doesn't have classic laid.
The fat bike trail in the lower pasture is in good condition – the one in the mule pasture is being worked on now that we have enough snow. Thanks to all who are following the new dog policy of keeping dogs on leash around the lodge and cabins.

https://www.turpinmeadowranch.com/the-ranch/live-conditions/
https://www.turpinmeadowranch.com | 307.543.2000
---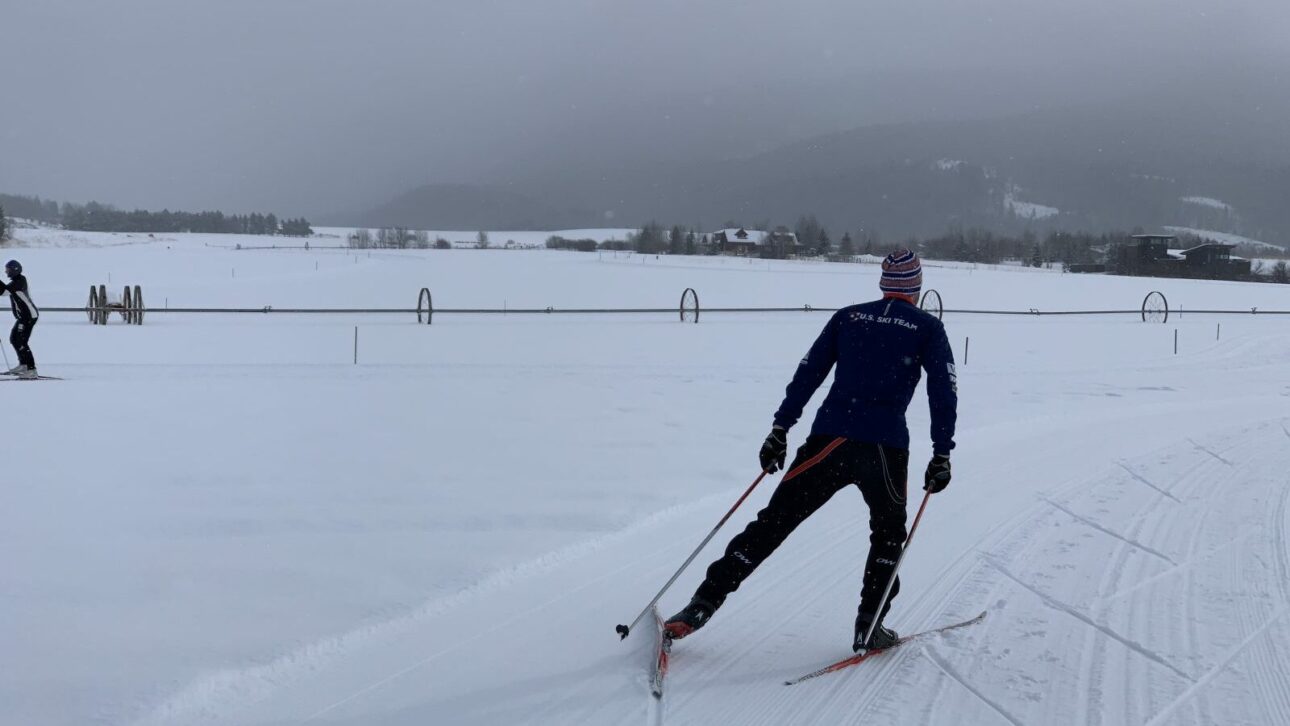 Trail Etiquette: Please keep your dogs leashed in the parking lot and be sure to clean up after them!
---
Grooming Schedule: Tuesday, Thursday, Saturday & Sunday
Last Updated: 12/26
Cross Country 15k: XC OPEN -last groomed 12/23/2021
Fat Bike Trails : Closed & Not Groomed
Snowshoe Trails: Open & Not Groomed
Targhee's Nordic trails are groomed Tuesdays, Thursdays & Sat/Sundays. Fat bike/snowshoe trails are groomed regularly but not on a set schedule – the groomer usually waits until after a storm cycle to groom the single track.
Trail day passes are $20 this winter.
Remember, singletracks will be closed when there is more than 3 inches of snow in a 24 hour period.
---
Grooming Schedule: Tuesday, Thursday, & Sunday
Last Updated: 12/26
Skate: Not Set | Classic: Not Set
We got snow for Christmas! Now we need some better visibility so we can lay out the trail system. Stay tuned for updates as we get the trail established, marked and groomed.
Please do not park in the library parking lot. Please be sure to keep your dogs on a leash and to clean up after them.
---
Grooming Schedule: Monday, Wednesday & Friday
Last Updated: 12/24
Skate: Set | Classic: Not Set
Just did one pass around and it's snowing heavily. Still some twigs poking through in a few spots, but mostly pretty good. Merry Christmas!
---
Grooming Schedule: Monday, Wednesday & Friday
Last Updated: 12/24
Skate: Set | Classic: Not Set
Groomed the Nordic track and was only able to set a skate track. It's getting better but be aware there are some limbs still sticking up. The area on the baseball fields is great. Also able to set the singletrack trail. In these warm temps that snow is really soft. But it should set up well when it cools off. It's going to fill in fast. Merry Christmas Eve.
---
Grooming Schedule: Monday, Wednesday, Friday & Saturday
Last Updated: 12/26
Skate: Set | Classic: Set
Sunday: Will use the roller to pack down new snow that has fallen since Friday. Plan to reset both skate and classic. Expect track to remain a bit soft.
---
Grooming Schedule: Tuesday, Friday & Sunday
Last Updated: 12/26
Skate: Set | Classic: Not Set
I hit campground in yetis loops with the roller to pack the nearly 2 1/2 feet of new snowfall. I did not set the classic track. It's filling in real fast and our base is going to set up nicely with the storm system.
No dogs December 1 – April 15.
---
Teton Reserve Nordic
Grooming Schedule: Monday, Thursday & Saturday
Last Updated: 12/26
We started compacting the trail, but it's not ready for skis yet. With snow in the forecast, the track should be ready for you to enjoy in the next few days. Stay tuned.
No dogs allowed.
---
Southern Valley Singletrack
Grooming Schedule: As needed
Last Updated: 12/26
Singletrack: Not Set
Heavy snow and high winds have put grooming in a holding pattern. As soon as the snow fall and winds settle down I hope to get out there and pack the track.
No dogs December 1 – April 15.
---
Darby Canyon
Grooming Schedule: As needed
Last Updated: 12/15
CLOSED TO WHEELED MOTORIZED TRAVEL. Groomed 12/15 to summer TH
---
Rammell Mountain Road
Grooming Schedule: As needed
Last Updated: 12/15
Grooming coming soon
The USFS is continuing to monitor snow levels on our roads and will close them to wheeled motorized vehicles when there is enough snow to groom
---
South Leigh Road
Grooming Schedule: As needed
Last Updated: 12/16
Grooming coming soon
Groomed 12/16. South Leigh is now closed to wheeled motorized vehicles for the winter.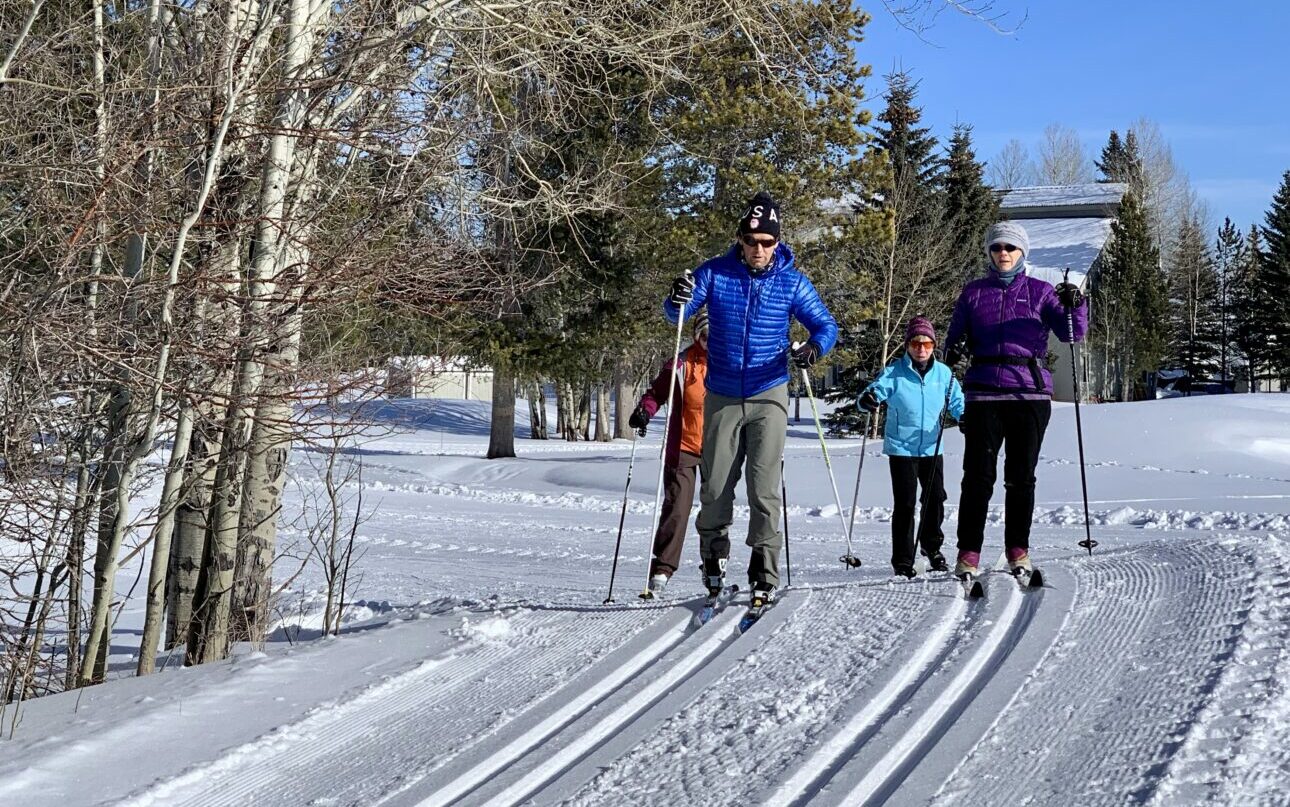 SKATE SKI CLINIC THURSDAY DECEMBER 30, 2021
11am – 12:30pm
Teton Pines Nordic Center

Hosted by Scott Horn and JH Ski Club Nordic Team Coaches
There will be 10 clinics running every Thursday in January and February from 11am-12:30pm. The Nordic Masters clinics will focus on skate ski and classic cross country skiing every other week.
Joining all 10 clinics is your best approach to developing your full Nordic skiing technique, balance, stride, stamina, and overall fitness while having fun in a small group. For those who only wish to focus on one technique, we are offering a Skate Ski Clinic series of 5 clinics or a Classic Cross country series of 5 clinics.
---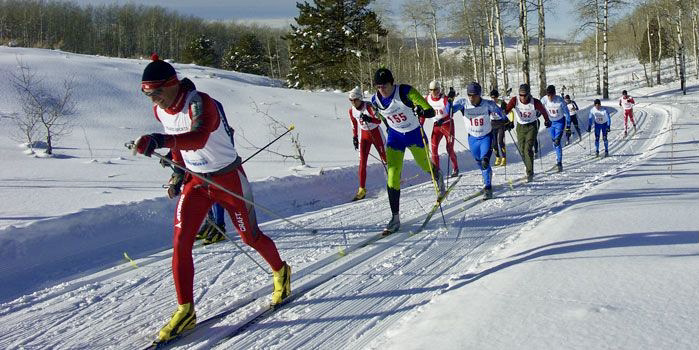 SATURDAY, JANUARY 8TH, 2022
Grand Targhee Nordic Trails, Alta Wyoming
19th Annual Classic Cross Country Ski race – Race format: wave starts based on distance; 24 km, 14 km, 7 km, and 2 km.
For more info and registration: https://tetonridgeclassic.com/registration
For race trail maps: https://tetonridgeclassic.com/maps
---
SAVE THE DATE: SUNDAY, JANUARY 9TH, 2022
Turpin Meadow Ranch – 1 hr north of Jackson- Buffalo Valley Road (off Hwy 287/26)
Parking onsite/carpooling encouraged.
Fun, Free Community Day – with Raffle benefiting a local Nordic Alliance non-profit:
Free trail pass and demo gear, though it is encouraged that folks bring their own equipment to maximize time on the snow!

Family, friends, visitors, dogs (on leash) welcome: please register in advance to secure your spot!

Sponsored by the JH Nordic Alliance members
Email : Info@JHNordic.com for more info
---
---
We'd love to hear about your outdoor adventures, what your doing to stay healthy, safe, respectful of community health guidelines – send pictures or post on FB and Insta – #JHNordic