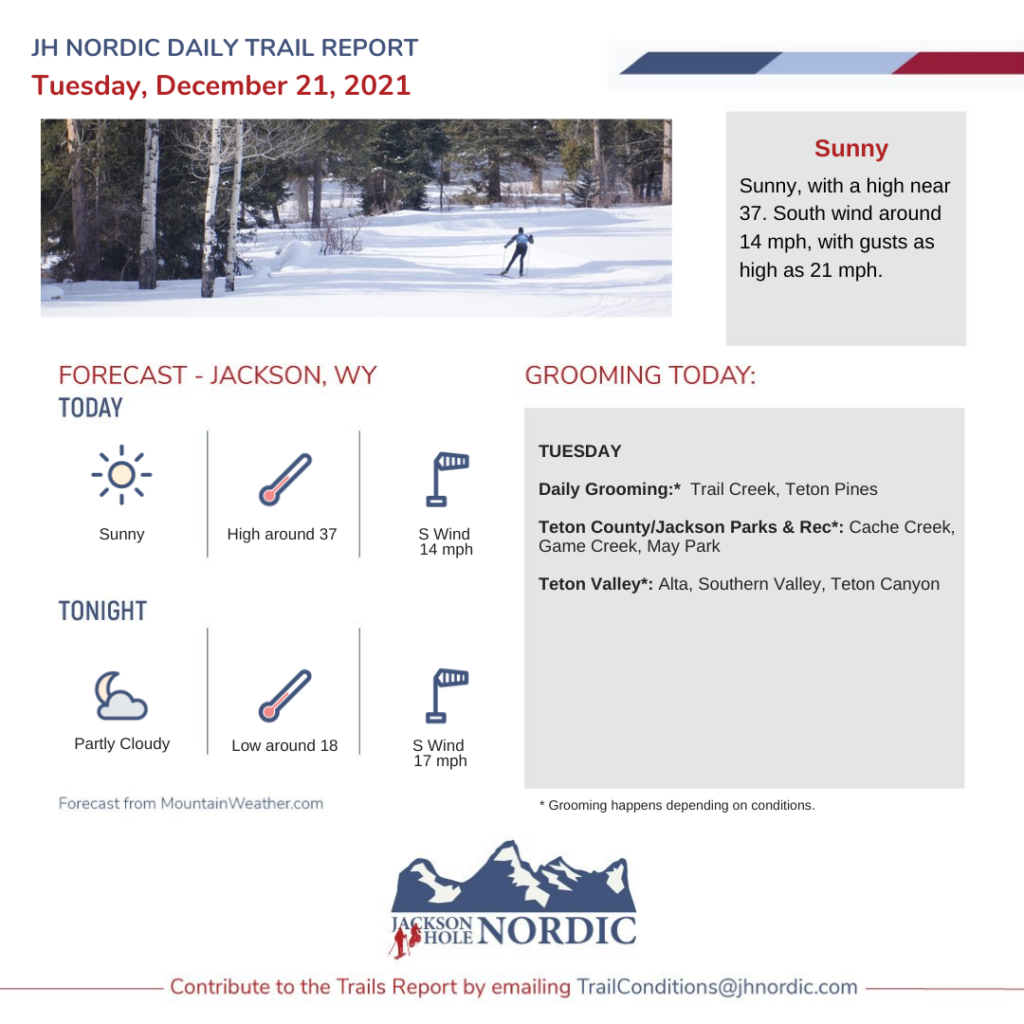 ---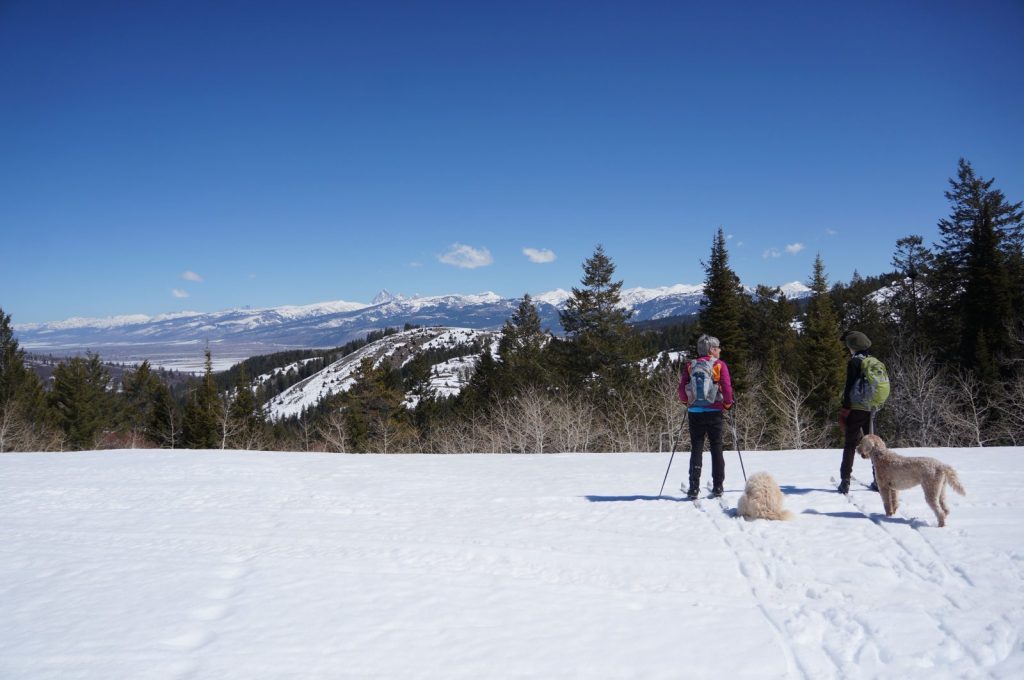 If you're looking to get into Nordic skiing, fat biking, or snowshoeing, look no further than JH Nordic! This comprehensive resource guide can help you make the most of your winter recreation experience. Find where to go, where to rent, how to get to the trails, and ways to have fun!
---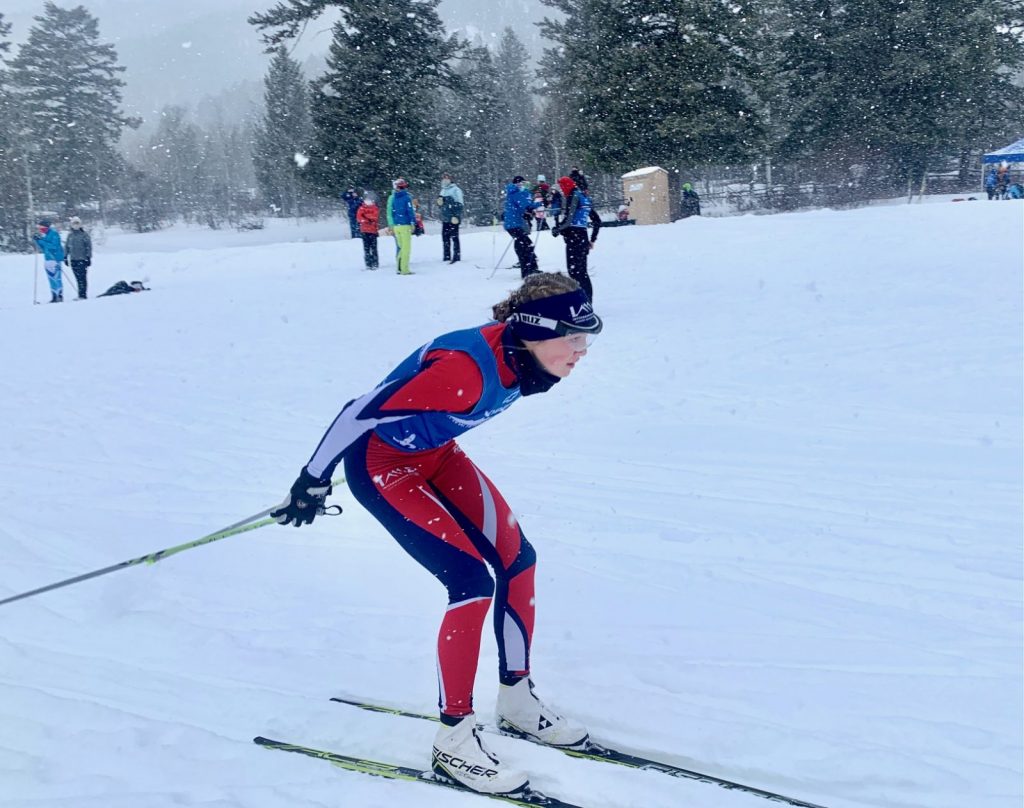 Get excited for the 2021 Betty Woolsey Classic this Sunday 12/26! This Christmas tradition is a fantastic family affair that honors the legacy of Betty Woolsey with a beautiful classic tour through the woods at Trail Creek. All ages of JHSC athletes are encouraged to participate in this fun community event.

This year we will move back to the mass-start format for 10k, 5k, 3k, and 0.5k distances. All ages are welcome for their appropriate distances: athletes under 8 years old are encouraged to race the 0.5k, under 14 the 3k, under 16 the 5k, and everyone else should race the 10k! Last year we had one family with three generations of participants, my father raced, and it was inspiring to see the whole Jackson Hole nordic community from lollioppers to seasoned masters out in force! Online registration before race day is preferred, but day-of registration is available. Race registration closes at 9:00 AM, and the first race will start at 10:00 AM. The race is classic technique so no skate skiing! Please forward this email to anyone you know who may be interested. Ages from 1-99 welcome!

Registration and information can be found at this link. See detailed schedule below:9:00 AM Day-of registration closes10:00 AM start of 10 km Classic race10:15 AM start of 5 km Classic race10:30 AM start of 3 km Classic race10:45 AM start of 0.5 km Classic raceHope to see you at Trail Creek this weekend!
---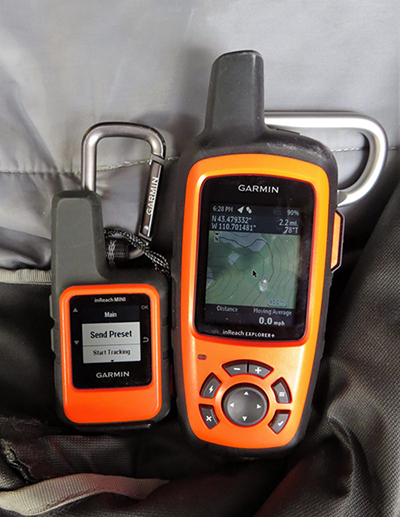 Safety net for you and reassurance for family and friends
Review by Scott Sanchez

No one plans on accidents, but they do happen. In the modern world, we have been so habituated to our cell phones that we think they can get us out of emergencies, anywhere and anytime. Well, welcome to Wyoming. The best places don't have service. 99% of the time, I think not having cell service is a blessing, but for the 1%, electronic communications can be a life saver or at least let loved ones know you are safe. While we only think of extreme adventures needing rescue, more routine situations may merit assistance. A longer than expected tour, a sudden change in the weather, a twisted ankle or broken gear. Nice to have a Garmin inReach satellite communication tool in your pack!
This year I purchased a Garmin inReach Mini. I realized I spend a lot of time in the backcountry and woods solo. Garmin inReach devices along with a service subscription give you a satellite texting network that works anywhere you can see the sky and doesn't require cell or Wi-Fi. A quick push of the SOS button will send your location to the pertinent rescue entities. Beyond this, you can send prewritten text messages, or you have rudimentary typing.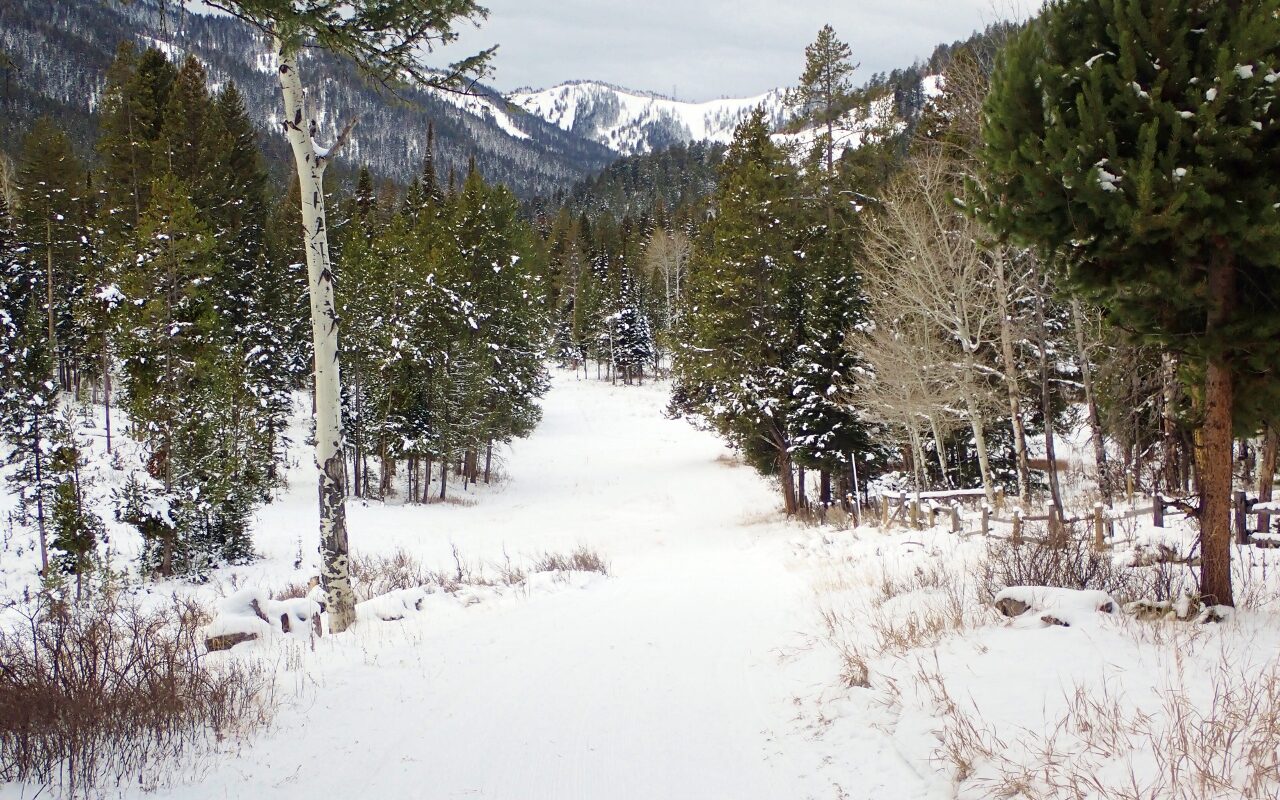 Last Update: 12/20
It's all about the Snow!
While our Nordic passions can be fulfilled with more minimal amounts of the crystalline white stuff than our Alpine cousins, we do still need a significant amount to allow our high tech synthetic ski bases to move effortlessly across the varied landscape. This year as we are all aware, the snow has been a bit slow in coming although we are skiing and conditions are pretty nice. If you've been in the woods this season however, you realize that another foot or so would be a really good thing as it would cover up a lot of the unevenness which is part of our beautiful natural environment.
The really good news is that beginning Wednesday the skies are forecast to open up. While perhaps not a record breaker, tallying totals between Wednesday and the start of the Legendary Betty Woolsey 10K Classic Race on Sunday reveals that over 15 inches of divine white snow are forecast to fall. Just what a groomer needs to pull off a great race!
While we are currently a little thin on cover, if you make it out today you can still have a great time. The majority of our trails are being groomed and both skaters and classic skiers are having fun. Today's grooming was double Ginzu passes in the fields and some of the wider trails sections with single passes on the narrower sections. Brush cutting is going as well, although as soon as the snow falls the evidence will disappear. The only classic tracks are in the field, but are quite nice.
Groomer's choice is to do a couple of up and backs on Cle's Climb: don't forget to enjoy the great view.
---
Last Update: 12/18
Cache, Game, May park, and Stilson were groomed with the snowmobile. All have shallow bases with hazards especially Game Creek. We will be using the snowmobile until we get another good storm.
---
Last Update: 12/19
After a lot of shoveling over the last 4 days I got a groomed track on all the trails on the map below. Things are a little thin but the trails should be good to go until we get more snow later in the week.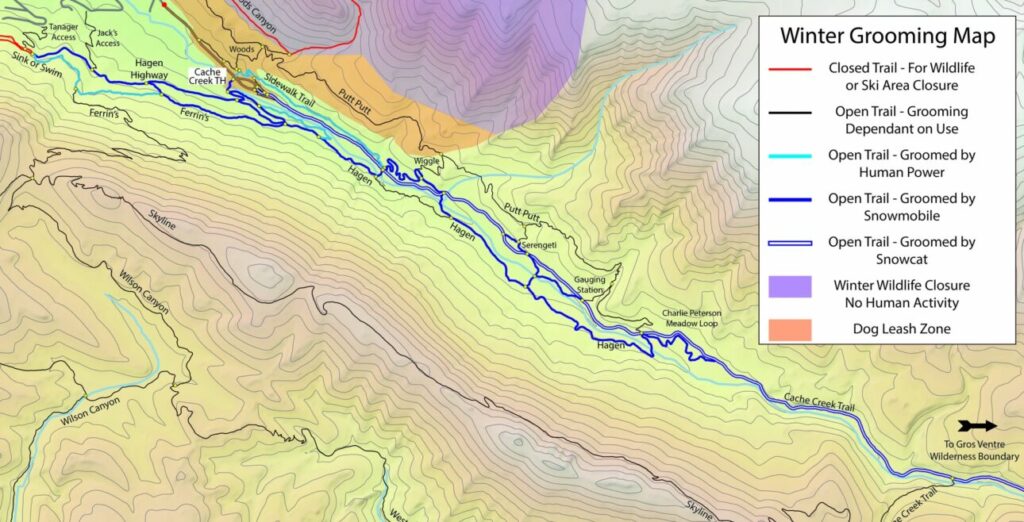 ---
Last Update: 12/19
Our track is skiing quite well for both skate and classic even with our low snowfall total. We are grooming daily with the snowmobile/ginzu and plan to begin grooming with the snowcat after we receive a few more inches of snow. This week looks snowy so the snowcat should be out very soon!
We are open to the public 9am-4pm daily (closed on Christmas Day). Please call us in advance to book lessons at: (307) 733-1733. You do not need a reservation for skiing and we don't take reservations for rentals. During the next two weeks we don't allow multi-day or off-site rentals.
We still have a shop full of classic skis, skate skis, boots, jackets, pants, gloves, and hats so come on out to pick up last minute gifts for the XC skier on your list. We are looking for part-time help with daily Nordic Instruction from 8AM-2PM over the holidays. Please call Cody for more information (307) 733-1733
Visit our website for pricing and other information: www.tetonpinesnordiccenter.com
---
Last Update: 12/14
Not yet open, grooming coming soon
NEW for 2021-22:
*ACCESS: Non-members may access the Nordic ski trails and rental gear from 12pm-5pm only.
*EXCEPTIONS:
– Purchase of a Season Pass allows Full-Access 9am-5pm
– A non-member may book a lesson with a Shooting Star Nordic Instructor during any normal operating hours.
RENTALS AND LESSONS:
A wide range of rental classic cross country, skate skis and snowshoes are available .
Nordic Instruction is available for individual and group lessons. Rentals not included.
Call Shooting Star Nordic Shop to reserve: 307 739 3270
---
Last Update: 12/20
Grooming coming soon
Grand Teton National Park will begin a test grooming run from Taggart/Cottonwood Creek to south Jenny Lake junction along the Teton Park Road on Tuesday. Thin conditions exist. We recommend classic cross country skiing until fresh grooming sets.
Sponsored by the GTNP Foundation and generous donations from our community.
---
Last Update: 12/18
The lodge and restaurant are open. Our ski trails are thin. We've laid classic track on the trails with the best conditions – if there are no classic tracks then venture onto the trail at your own risk. Until more snow we will not be able to rent skis but snowshoes and fatbikes are available.
https://www.turpinmeadowranch.com/the-ranch/live-conditions/
https://www.turpinmeadowranch.com | 307.543.2000
---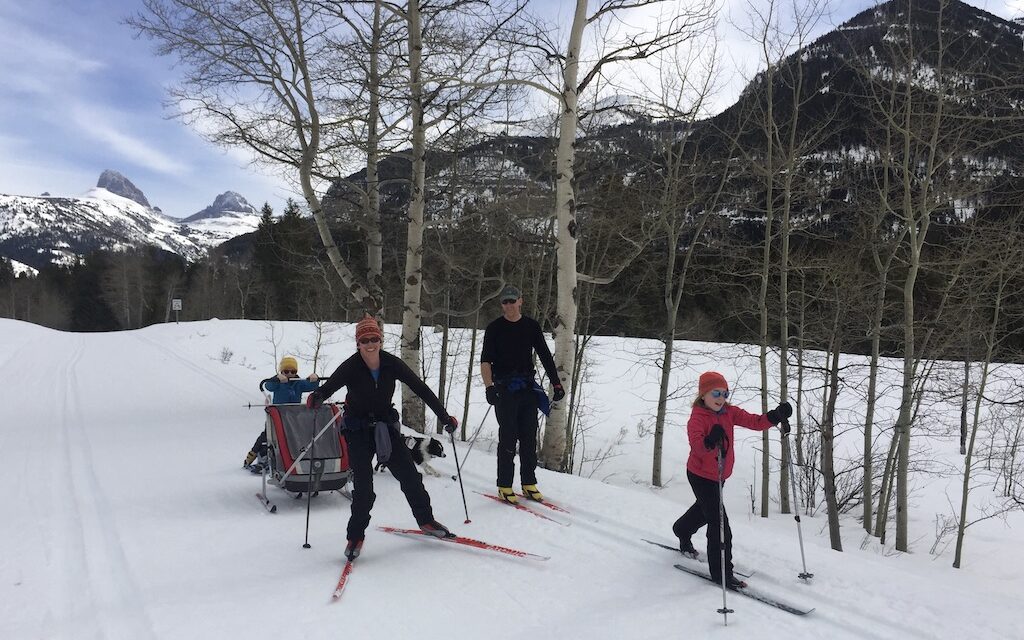 Trail Etiquette: Please keep your dogs leashed in the parking lot and be sure to clean up after them!
---
Grooming Schedule: Tuesday, Thursday, Saturday & Sunday
Last Updated: 12/20
Cross Country 15k: XC OPEN
Fat Bike and Snowshoe: Jolly Green Giant and Roundabout OPEN
Remember, singletracks will be closed when there is more than 3 inches of snow in a 24 hour period. With substantial snowfall predicted this week, be sure to check ahead to make sure trails are open!
---
Grooming Schedule: Tuesday, Thursday, & Sunday
Last Updated: 12/16
Skate: Set | Classic: Not Set
Still pretty thin at 3 pm this afternoon when I groomed the library loop and in and out. More snow is needed to expand the grooming into the tilled fields. This new snow will help, but it is going to take significant depth of snow to not have dirt showing. Hopefully this storm will allow grooming equipment to start the smoothing and packing process. That being said, what is groomed is great for the little ones to get out on snow and have fun!
Please do not park in the library parking lot. Please be sure to keep your dogs on a leash and to clean up after them.
---
Grooming Schedule: Monday, Wednesday & Friday
Last Updated: 12/15
Skate: Not Set | Classic: Not Set
Caution – Very thin snowpack. Many hazards exist! Just finished rolling out the 5" of snow on the Driggs track to stare establishing a base. We need more snow to hide all the rocks, grass and twigs. I'd recommend walking along the edges of the groom, or use your rock skis with caution. LET IT SNOW!
---
Grooming Schedule: Monday, Wednesday & Friday
Last Updated: 12/20
Skate: Not Set | Classic: Not Set
Unfortunately we need more snow before we can groom the park again.🤞🏼 For more winter snow.
---
Grooming Schedule: Monday, Wednesday, Friday & Saturday
Last Updated: 12/20
Skate: Set | Classic: Set
Monday am: Temperature right around 32 degrees should make for good grooming and fast skiing.
---
Grooming Schedule: Tuesday, Friday & Sunday
Not yet open, grooming coming soon
Last Updated: 12/19
Skate: Set | Classic: Not Set
I was able to use the Ginzu groomer on the campground inner loops and yetis and set the classic track and skate track on both. I did not use the Ginzu on the outer campground loop. Be aware that it's still a thin snow pack and there are some saplings and sticks poking through. Enjoy the glide.
No dogs December 1 – April 15.
---
Teton Reserve Nordic
Grooming Schedule: Monday, Thursday & Saturday
Not yet open, grooming coming soon
Last Updated: 12/13
It's good to see some snow on the ground, but we need quite a bit more before grooming around the golf course. It won't be long!
No dogs allowed.
---
Southern Valley Singletrack
Grooming Schedule: As needed
Last Updated: 12/19
Singletrack: Set
Happy hour, Hillbender, powerline to the summit and Nemo all got a double or triple pass tonight. It should set up well as it supposed to be quite cold this evening. ⚠️ Heads up, there is a downed aspen tree on the northern most hillbender. Enjoy the ride.
No dogs December 1 – April 15.
---
Darby Canyon
Grooming Schedule: As needed
Last Updated: 12/15
CLOSED TO WHEELED MOTORIZED TRAVEL. Groomed 12/15 to summer TH
---
Rammell Mountain Road
Grooming Schedule: As needed
Last Updated: 12/15
Grooming coming soon
The USFS is continuing to monitor snow levels on our roads and will close them to wheeled motorized vehicles when there is enough snow to groom
---
South Leigh Road
Grooming Schedule: As needed
Last Updated: 12/16
Grooming coming soon
Groomed 12/16. South Leigh is now closed to wheeled motorized vehicles for the winter.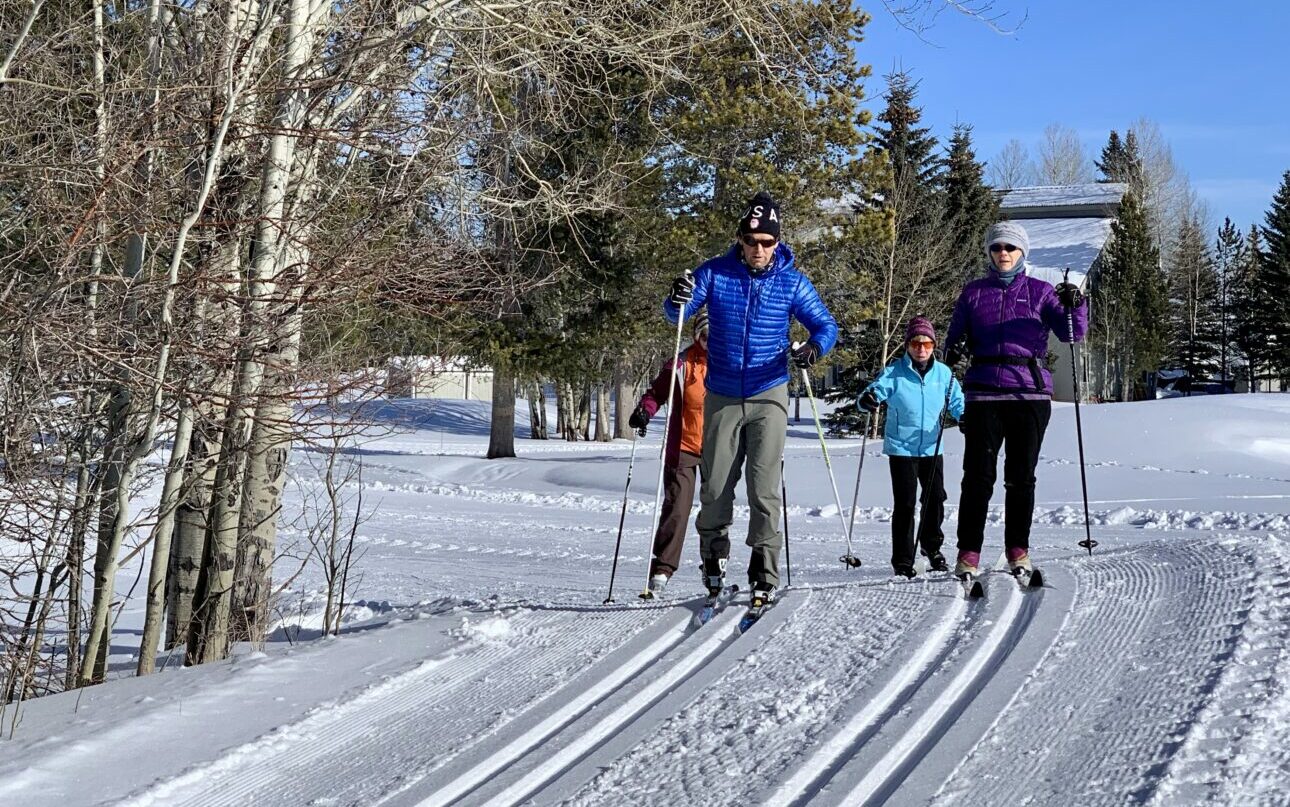 FIRST CLASSIC SKI CLINIC THURSDAY DECEMBER 23, 2021
11am – 12:30pm
Teton Pines Nordic Center

Hosted by Scott Horn and JH Ski Club Nordic Team Coaches
There will be 10 clinics running every Thursday in January and February from 11am-12:30pm. The Nordic Masters clinics will focus on skate ski and classic cross country skiing every other week.
Joining all 10 clinics is your best approach to developing your full Nordic skiing technique, balance, stride, stamina, and overall fitness while having fun in a small group. For those who only wish to focus on one technique, we are offering a Skate Ski Clinic series of 5 clinics or a Classic Cross country series of 5 clinics.
The groomed trails at Teton Pines and Trail Creek are both too shallow for skate skiing at this time so we will postpone the first skate ski clinic to Thursday Dec 30th 11a-12:30p at Teton Pines Nordic Center. Thank you for your understanding and patience for our trails to become Nordic ski ready.
There's still time to sign up! Our first classic ski clinic will be on Thursday, Dec 23rd at Teton Pines Nordic Center. We look forward to seeing you there!
---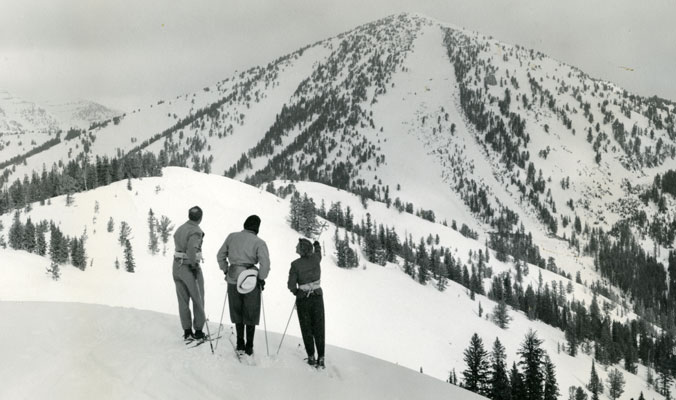 SUNDAY, DECEMBER 26
10am start
Trail Creek Nordic Center
Come work off your Christmas feast in style! This community event offers distances for every age and ability. 10 AM start time with 30 second interval start format. Racers can choose from 0.5k, 3k, 5k, and 10k options. There will be no laps or repeating loops to minimize racer overlap.
DO NOT COME to Trail Creek if you or a member of your household is feeling sick. Masks must be worn whenever 6 feet of distance cannot be maintained while not actively racing, and at all times when around the Cabin area.
Visiting racers, please complete the online Acknowledgement of Risk
---
SAVE THE DATE: SUNDAY, JANUARY 9TH, 2022
Turpin Meadow Ranch – 1 hr north of Jackson- Buffalo Valley Road (off Hwy 287/26)
Parking onsite/carpooling encouraged.
Fun, Free Community Day – with Raffle benefiting a local Nordic Alliance non-profit:
Free trail pass and demo gear, though it is encouraged that folks bring their own equipment to maximize time on the snow!

Family, friends, visitors, dogs (on leash) welcome: please register in advance to secure your spot!

Sponsored by the JH Nordic Alliance members
Email : Info@JHNordic.com for more info
---
---
We'd love to hear about your outdoor adventures, what your doing to stay healthy, safe, respectful of community health guidelines – send pictures or post on FB and Insta – #JHNordic